06 mai 2018
Photographies diverses

---
Lot 129: VINTAGE PUBLICITY IMAGES
A group of 15 vintage publicity images of Hollywood celebrities including Marilyn Monroe, Elizabeth Taylor, Elvis Presley, Betty Grable, Rita Hayworth (whose name has been written on the photograph), and Shirley Temple. Accompanied by an envelope of news clippings and other ephemera primarily related to Monroe.
Estimate: $200 - $400 | Winning Bid: $256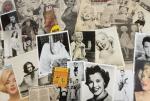 ---
Lot 130: MARILYN MONROE NEGATIVE, CIRCA 1947
A black and white negative of Marilyn Monroe, believed to have been taken on the Fox Studios back lot set by Joseph Jasgur, circa 1947. Accompanied by a black and white photograph recently printed from this negative.
Estimate: $500 - $1,000 | Winning Bid: $640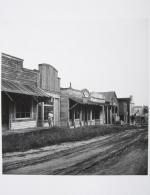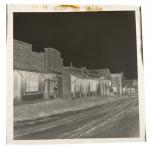 ---
Lot 141: MARILYN MONROE MILTON GREENE SILKSCREEN PRINT
A limited edition silkscreen print of a Milton Greene photograph of Marilyn Monroe, taken during the famed "Black Sitting" photo session in New York in 1956. Printed later. Signed by the artist in pencil lower right, "AP" lower left.
Estimate: $1,000 - $2,000 | Winning Bid: $1,280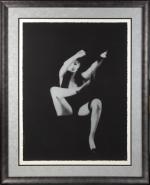 ---
Lot 142: MARILYN MONROE BERT STERN PHOTOGRAPH
A photograph of Marilyn Monroe taken in 1962 by Bert Stern during "The Last Sitting." The black and white image was printed and signed by the artist in 1994; it is numbered on the photographer's stamp 91/5000. Stern wrote in the lower margin "Marilyn 1962 Bert Stern."
Estimate: $1,000 - $2,000 | Winning Bid: $1,600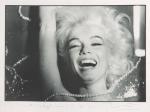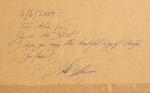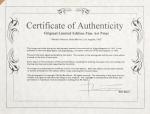 ---
Lot 145: MARILYN MONROE PHOTOGRAPH BY MANFRED KREINER
A black and white photograph of Marilyn Monroe taken by Manfred Kreiner. The image shows Monroe walking onto a photo set and is marked with red pencil. Photographer's stamp on verso (multiple times) with handwritten notation in red pencil. Accompanied by a small typed message written in German regarding Monroe and this photograph.
Estimate: $600 - $800 | Winning Bid: $448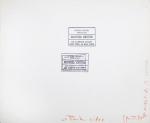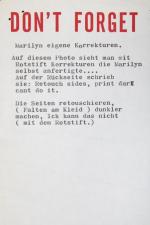 ---
Lot 146: MARILYN MONROE PHOTOGRAPH BY MANFRED KREINER
A black and white photograph of Marilyn Monroe taken by Manfred Kreiner. The image shows Monroe descending an airplane staircase and has been scribbled on in red ink. Photographer's stamp on verso with handwritten notation in pencil and the words "Kill Kill" in red ink. "Kill" here refers to the fact that Monroe did not want this image published. Accompanied by a small typed message written in German by Kreiner regarding Monroe and this photograph.
Estimate: $600 - $800 | Winning Bid: $640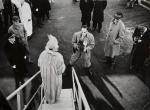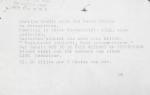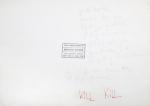 ---
Lot 147: MARILYN MONROE ORIGINAL CANDID PHOTOGRAPHS
A group of three original never before seen original color photographs of Marilyn Monroe taken on May 30, 1958, as she exited her apartment at 444 East 57th Street in New York City. Just three days prior, Monroe was photographed by Richard Avedon for Life magazine.
PROVENANCE Lot 755, "Marilyn Monroe Auction," Julien's Auctions, Los Angeles, November 17, 2016
Estimate: $800 - $1,200 | Winning Bid: $1,024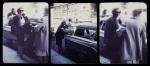 ---
Lot 156: SOME LIKE IT HOT BEHIND-THE-SCENES SLIDES WITH COPYRIGHT
A group of 23 original color slides taken on the set of Some Like It Hot (United Artists, 1959) sold with copyright to the images. The slides include approximately eight images of Marilyn Monroe and five of Tony Curtis, among others on and around the set of the film, including Coronado Beach.
While the seller confirms that this property is sold with copyright, Julien's can accept no liability in relation to any matters arising as a result of any imperfection of copyright given.
Estimate: $1,000 - $2,000 | Winning Bid: $1280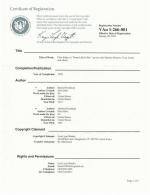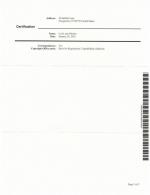 ---
Lot 159: MARILYN MONROE PRINT BY RUSSELL YOUNG (BRITISH, 1959)
A screenprint on paper titled "Marilyn in Korea (Pink + Midori Blue)" by Russell Young, signed by the artist at lower right and numbered 10/50. Additionally marked in pencil on verso in an unknown hand "56105/ 12."
Estimate: $2,000 - $4,000 | unsold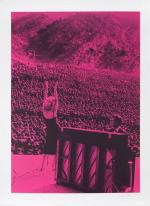 ---
Photographies Bruno Bernard

---
Lot 134: MARILYN MONROE PHOTOGRAPH BY BRUNO BERNARD
A black and white pin-up photograph of Marilyn Monroe taken by Bruno Bernard, circa 1946. According to the book Marilyn: Intimate Exposures by Susan Bernard "Marilyn said to Mr. Bernard 'Can you take some sexy pictures of me?' and he replied 'But Norma, you are the girl next door." Estate signed at lower right and numbered 1/90.
PROVENANCE From the Estate of Bruno Bernard
Estimate: $2,500 - $3,000 | unsold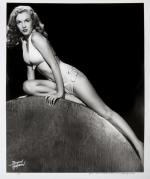 ---
Lot 135: MARILYN MONROE PHOTOGRAPH BY BRUNO BERNARD
A black and white photograph of Marilyn Monroe taken by Bruno Bernard, circa 1946, titled "Norma Jean Sailor Girl." This is a seldom seen outtake photograph from a shoot intended for magazine cover images. Estate signed at lower right and numbered 5/50.
PROVENANCE From the Estate of Bruno Bernard
Estimate: $2,500 - $3,200 | unsold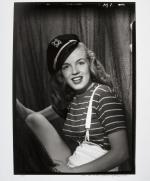 ---
Lot 136: MARIYLN MONROE PHOTOGRAPH BY BRUNO BERNARD
A black and white photograph of Marilyn Monroe taken by Bruno Bernard in 1953. This photograph was taken of Monroe backstage at the Hollywood Bowl for an appearance benefiting St. Jude's. Monroe wore a costume from the film Gentlemen Prefer Blondes (20th Century, 1953). Estate signed at lower right and numbered 6/90.
PROVENANCE From the Estate of Bruno Bernard
Estimate: $2,000 - $3,000 | unsold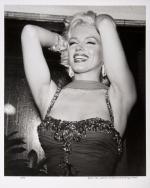 ---
Lot 137: MARILYN MONROE PHOTOGRAPH BY BRUNO BERNARD
A black and white photograph of Marilyn Monroe taken by Bruno Bernard in 1953. This photograph was taken of Monroe backstage at the Hollywood Bowl deciding what message to describe on a guest wall at a charity event benefiting St. Jude's. This image was never published and comes from a contact sheet of artist's proofs. Estate signed at lower right and numbered 6/90.
PROVENANCE From the Estate of Bruno Bernard
Estimate: $2,000 - $3,000 | Winning Bid: $2,560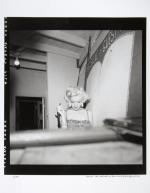 ---
Lot 138: MARILYN MONROE PHOTOGRAPH BY BRUNO BERNARD
A color photograph of Marilyn Monroe taken by Bruno Bernard in 1954. The photograph shows Monroe on the set of The Seven Year Itch (20th Century, 1955) having her makeup applied by Whitey Snyder. According to the book Marilyn: Intimate Exposures by Susan Bernard, Snyder stated that this is the only color photograph of himself and Monroe that he had ever seen. Estate signed at lower right and numbered 5/50.
PROVENANCE From the Estate of Bruno Bernard
Estimate: $1,500 - $2,500 | Winning Bid: $1,920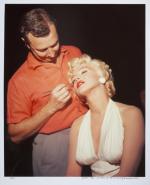 ---
Lot 139: MARILYN MONROE PHOTOGRAPH BY BRUNO BERNARD
A color photograph of Marilyn Monroe taken by Bruno Bernard in 1954. The photograph shows Monroe in a screening room at the 20th Century Fox studios wearing her iconic white dress from the film The Seven Year Itch (20th Century, 1955). Estate signed at lower right and numbered 14/50.
PROVENANCE From the Estate of Bruno Bernard
Estimate: $2,500 - $3,000 | Winning Bid: $3,437.50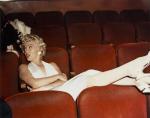 ---
Lot 140: MARILYN MONROE ORIGINAL PHOTOGRAPH BY BRUNO BERNARD
An original vintage black and white photograph of Marilyn Monroe taken by Bruno Bernard on the set of The Seven Year Itch (20th Century, 1955) and signed by Bernard on verso "Bernard of Hollywood." Housed in a Bernard of Hollywood vintage photograph folder.
PROVENANCE From the Estate of Bruno Bernard
Estimate: $10,000 - $20,000 | unsold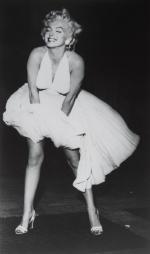 ---
Vêtements & Accessoires
---
Lot 143: MARILYN MONROE WORN BLACK COLOBUS COAT
A mid-1940s black colobus coat worn by Marilyn Monroe to the 1948 film premiere of The Emperor Waltz (Paramount, 1948). The coat has broad shoulders, a cordé collar, a satin lining, and a Jerrold's Van Nuys, Calif. label. Although the black colobus is currently on the endangered species list, it was quite fashionable in the 1940s. Monroe wrote in a letter to Grace Goddard dated December 3, 1944, "I found out that its [sic] possible to buy a Gold Coast Monkey Coat. I shall write to you about it later." The coat was gifted from Monroe to Jacquita M. Rigoni (Warren), who was the great-niece to Anne Karger, mother of Monroe's voice coach, Freddie Karger. Monroe had a close relationship with the family, and the coat has remained in their possession. Accompanied by a letter of authenticity from Jacqui Rigoni detailing the family's relationship to Monroe and the history of the coat.
The monkey species used to make this Marilyn Monroe monkey fur coat is on the Endangered Species list. U.S. Endangered Species Act regulations required by the U.S. Fish and Wildlife Service impose certain regulations on the sale of this coat. Please read the following carefully:
Please read the following carefully: The Marilyn Monroe monkey fur coat may be sold to a resident of California without requiring a Federal permit. A non-California resident may bid on this coat and if he or she were the winning bidder could apply for a Federal permit to remove the coat from the state of California. Julien's has been advised that a Federal permit would likely be REFUSED by the governing offices. It is vehemently advised that non-residents of California DO NOT bid on this Marilyn Monroe owned monkey fur coat. If you bid on this lot and are unable to obtain a permit Julien's has no liability and will be unable to refund you for your purchase.
A California resident who purchases this coat and later moves from California to another state would not be required to obtain a permit if he or she maintained ownership of the coat when changing state of residence. However, the owner would need to make sure there are no state regulations prohibiting the transfer of the coat from one state to another.
Estimate: $20,000 - $30,000 | Winning Bid: $32,000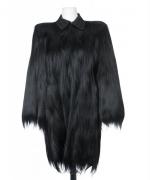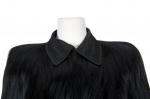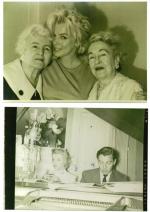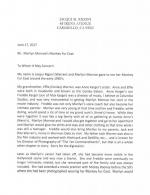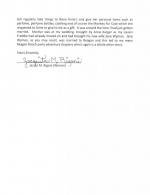 ---
Lot 144: MARILYN MONROE FAN FROM THE PRINCE AND THE SHOWGIRL
A vintage lace fan used by Marilyn Monroe in the film The Prince and the Showgirl (Warner Bros., 1957). The folding hand fan is used by Monroe in the ballroom scene in the film. The frame and guard are embellished with floral motif carvings embellished with pink, blue, and gold-metallic paint. The accompanying letter from the consignor explains that the fan was gifted by Monroe to William Louis George Le Brun, known as Louis Le Brun in the film industry, who was the Chief Production Accountant for Warner Bros. in the United Kingdom. When Monroe was taken ill while filming, Le Brun, who was responsible for overseeing the distribution of all finances, which involved the insurance and wellbeing of the cast and production team, stayed by her side. As a thank-you, Monroe gave him this fan, or more specifically gave the fan to his wife as an apology for keeping Le Brun from his family. At the time the fan was received several of the fan blades were broken, presumed to be from use during filming. The fan has remained in the possession of the Le Brun family since the gift was made by Monroe.
Estimate: $2,000 - $4,000 | Winning Bid: $10,000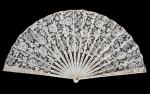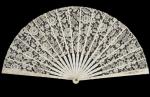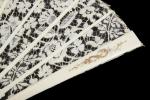 ---
Lot 149: MARILYN MONROE VINTAGE MINI PINECONE TREE GIFTED FROM JOE DIMAGGIO TO MARILYN MONROE
A mini brown wire form holiday tree made of pinecones and other tree items, dusted with glitter. Wrapped in a black tulle base. The tree was purportedly a gift from Joe DiMaggio to Marilyn Monroe one Christmas when he discovered that she did not have a tree to celebrate the holidays.
Height, 23 inches
PROVENANCE Lot 246, "Marilyn Monroe: Property from The Estate of Lee Strasberg," Julien's Auctions, Los Angeles, November 17-19, 2016
Estimate: $2,000 - $3,000 | Winning Bid: $7,500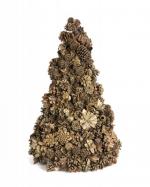 ---
Lot 150: MARILYN MONROE ROCOCO STYLE COFFEE TABLE
A carved wood coffee table with canted edges and inset parchment top.
PROVENANCE Lot 558, "Marilyn Monroe: Property from The Estate of Lee Strasberg," Julien's Auctions, Los Angeles, November 17-19, 2016
Estimate: $1,000 - $2,000 | Winning Bid: $2,880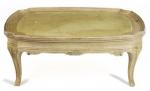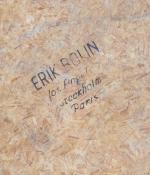 ---
Lot 151: MARILYN MONROE FLOWER SWAG
Gold tone wirework floral wall ornament, with enameled blue and purple flowers formed from Australian pennies dated 1942. Two leaves and one flower detached.
PROVENANCE Partial Lot 456, "The Personal Property of Marilyn Monroe," Christie's, New York, Sale number 9216, October 27-28, 1999
Estimate: $1,000 - $2,000 | unsold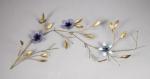 ---
Lot 153: MARILYN MONROE MIRROR
A small handheld sterling silver mirror accompanied by a handwritten note reading in full on the recto: "11/1/00/ This make-up mirror was owned/ by Marilyn Monroe. It was left in/ her 57 St Apart-/ ment when she/ moved to California./ The super of/ the building/ "liberated" it.' Hopefully, you/ will find a good/ home for it!/ Thanks./ Terry Seymour (212) 777-0157" as well as "Mrs. S:/ will write thank you/ letter when donate it"; on the verso is "Super's daughter used it/ a few years. T. Seymour/ in real estate, were (sic)/ selling MM apartment a few/ years ago./ Super gave it to her./ Super said/ MM bought it in/ London, used it/ a lot at home./ I thanked her and said/ you would like to/ donate it to Hollygrove."
Approximate diameter, 7 inches
PROVENANCE Lot 224, "Property from the Estate of Marilyn Monroe," Julien's Auctions, Los Angeles, June 4, 2005
Estimate: $2,000 - $4,000 | Winning Bid: $1,920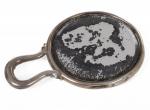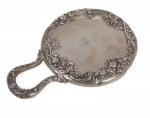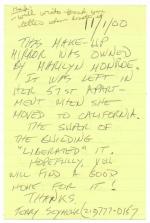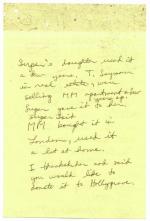 ---
Lot 154: MARILYN MONROE VINTAGE ABSTRACT PARCEL GILT FAN
A folding paper Japanese hand fan with abstract parcel gilt decoration.
15 1/2 by 24 1/2 by 2 inches
PROVENANCE Lot 244, "Marilyn Monroe: Property from The Estate of Lee Strasberg," Julien's Auctions, Los Angeles, November 17-19, 2016
Estimate: $1,000 - $2,000 | Winning Bid: $1,024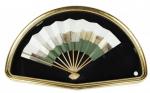 ---
Documents papiers
---
Lot 131: MARILYN MONROE RECEIVED LETTER FROM UNCLE ART
A double-sided two-page letter written to Marilyn Monroe from "Uncle Art," who was a relative of Monroe's foster mother, Grace Goddard. The letter reads in part "So glad you are making satisfactory progress in school. I advise that you be particularly diligent in the cultural subjects...sad is the fate of the young woman who has not the ambition to so model and mold her language and conduct as to have [illegible] herself to the point where she can mingle with cultured people inconspicuously." The letter is written on International Correspondence Schools of Scranton, Pennsylvania, stationery, undated and signed "Devotedly Yours, Uncle Art."
PROVENANCE Sotheby's Parke-Bernet, Sale number 94, October 21, 1973
Estimate: $500 - $1,000 | Winning Bid: $640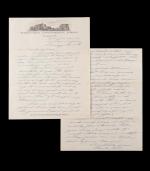 ---
Lot 133: MARILYN MONROE SIGNED CHECK TO JAX
A Marilyn Monroe completed and signed Jax counter check in the amount of $63.83; address is listed as the Beverly Carlton Hotel. Monroe did not fill in the date; the check is stamped on verso May 12, 1952.
Estimate: $500 - $1,000 | Winning Bid: $640



---
Lot 148: MARILYN MONROE 1954 SIGNED CHECK
A counter check fully completed and signed by Marilyn Monroe. The check is dated October 11, 1954, to The Christian Community in the amount of $50.00. On October 6, 1954, Monroe announced her separation from then-husband Joe DiMaggio.
Estimate: $2,000 - $3,000 | Winning Bid: $4,480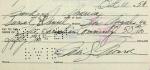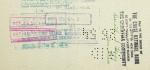 ---
Lot 152: MARILYN MONROE SKIN CARE REGIME INSTRUCTIONS
A typed instruction sheet dated June 11, 1958, for Marilyn Monroe's skin care regime from the Erno Laszlo Institute. The instructions are for morning care of skin, evening " 'if' dressing" for formal occasions, and in the evening before retiring. The sheet also includes a list of foods not to eat.
PROVENANCE Partial Lot 334, "Marilyn Monroe: Property from The Estate of Lee Strasberg," Julien's Auctions, Los Angeles, November 17-19, 2016
Estimate: $400 - $600 | Winning Bid: $3,840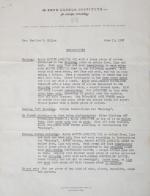 ---
Lot 155: MARILYN MONROE BREAKFAST AT TIFFANY'S SCRIPT AND REPORT
A clean copy of the screenplay for Breakfast at Tiffany's written by George Axelrod and dated July 9, 1959. Monroe was considering the part, and she sought the opinions of her professional team including the Strasbergs, her husband, and management team. The script is accompanied by a single-page, typed "report" dated September 23, 1959, which also has the name "Parone" typed to the left of the date. Literary luminary Edward Parone was at the time running Monroe's production company and most likely is the one who wrote this single-page, scathing review of the script, leading with the simple sentence, "I think not." It goes on to criticize the screenplay, determining, "I can see Marilyn playing a part like Holly and even giving this present one all the elan it badly needs, but I don't feel she should play it: it lacks insight and warmth and reality and importance." It has been long reported that Monroe declined the part upon the advice of Lee Strasberg, but this document provides further evidence that other people in her inner circle advised her not to take the role. Together with a four-page shooting schedule for November 4, 1960, for the film.
PROVENANCE Lot 441, "Marilyn Monroe: Property from The Estate of Lee Strasberg," Julien's Auctions, Los Angeles, November 17-19, 2016
Estimate: $6,000 - $9,000 | Winning Bid: $12,500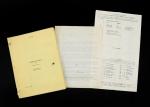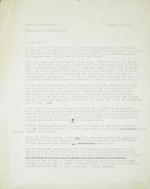 ---
Lot 160: JOHN F. KENNEDY 1962 BIRTHDAY CELEBRATION PROGRAM
A program from President John F. Kennedy's birthday celebration at Madison Square Garden, New York, in 1962. The program, with "Happy Birthday Mr. President" and an image of Kennedy on the cover, lists the entertainers of the evening: Marilyn Monroe - who sang her now-famous rendition of "Happy Birthday" to Kennedy, Ella Fitzgerald, Maria Callas, Henry Fonda, Peggy Lee, and Danny Kaye, among others.
Estimate: $600 - $800 | Winning Bid: $1,600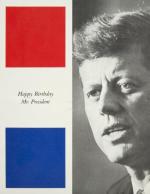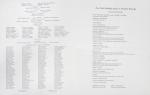 ---
Medical
---
Lot 157: MARILYN MONROE PELVIC X-RAY
A Marilyn Monroe pelvic X-ray dated November 9, 1954. Information ghost printed in the upper right of the X-ray reads "Cedars of Lebanon Hospital/ Drs. E. Freedman and S. Finck/ Name Di Maggio, Mrs. Marilyn/ No. 50612 Date 11-9-54/ Ref. By Dr. L. Krohn." Dr. Leon Krohn was Monroe's gynecologist.
Estimate: $3,000 - $5,000 | Winning Bid: $3,840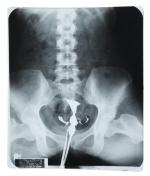 ---
Lot 158: MARILYN MONROE MEDICAL FILE
A medical file pertaining to cosmetic surgery performed on Marilyn Monroe. The file includes facial X-rays and doctors' notes from the office of Dr. Michael Gurdin, M.D., and the X-ray office of Drs. Conti and Steinberg. Dr. Gurdin's chart on Monroe begins on July 14, 1958, and lists the patient as Marilyn Miller with addresses in New York and Los Angeles. The chief complaint listed is "chin deformity" and goes on to give a medical history that begins in 1950 and ends in 1962. Listed are a 1956 bout of neutropenia in England; 1957 ectopic pregnancy in New York; and 1950 cartilage implant in chin that the doctor observed had slowly begun to dissolve. Those with knowledge of the implant procedure have explained that this was done in association with a tip rhinoplasty, a procedure involving the tip of Monroe's nose only, not the bones. The last entry is dated June 7, 1962, and reports a fall at between 2 and 3 a.m. resulting in swelling and tenderness of the nose. Monroe was brought to Dr. Gurdin by her psychoanalyst, Dr. Ralph Greenson. Monroe was referred to Drs. Conti and Steinberg for X-rays. For her visit to the radiologists she was given the alias "Miss Joan Newman," and that name appears on the paperwork with Monroe's Brentwood home address. Six X-rays are in the folder: a frontal facial bones X-ray; a smaller X-ray that is a composite of the right and left sides of her nasal bones; and four small dental X-rays into the roof of Monroe's mouth, looking upward toward the nasal bones. The conclusion, written by Dr. Conti and dated June 7, 1962, is that there was no damage to Monroe's nose due to her fall. A more recent evaluation of the X-rays indicates a very minute hairline fracture of this bone. Monroe had turned 36 less than a week earlier. On June 8, the following day, Monroe was fired from the film Something's Got to Give (20th Century Fox, 1962).
Estimate: $20,000 - $30,000 | unsold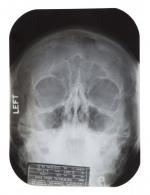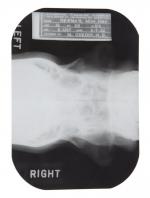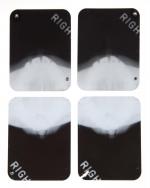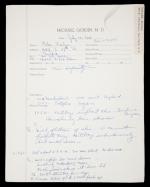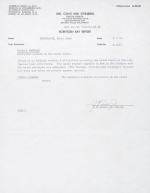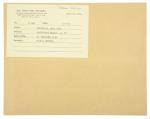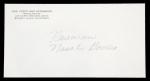 ---
Presse
---
Lot 132: PLAYBOY MAGAZINE FIRST ISSUE SIGNED BY HUGH HEFNER
An original first issue of Playboy magazine (HMH Publishing, 1953) featuring Marilyn Monroe on the cover and signed by Hugh Hefner. The magazine, which launched in December 1953, sold for 50 cents a copy. Housed in a protective plastic case.
Estimate: $6,000 - $8,000 | Winning Bid: $12,800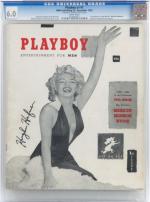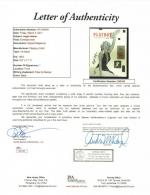 ---
Art
---
Lot 198: AL HIRSCHFELD ABE HIRSCHFELD PRINT
A print of Al Hirschfeld's "Abe Hirschfeld and Friends" caricature commissioned by Abe Hirschfeld in 1988. The image shows Abe surrounded by Shirley MacLaine, Luciano Pavarotti, Michael Jackson, Jackie Mason, Anthony Quinn, Donald Trump, Barbra Streisand, Carol Channing, Jackie Onassis, Jackie Gleason, Elvis Presley, and Marilyn Monroe. With a faded inscription that reads "To Mary [illegible] With appreciation from all of us Abe Hirschfeld."
Estimate: $100 - $300 | Winning Bid: $1,600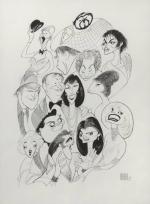 ---
© All images are copyright and protected by their respective owners, assignees or others.
29 mars 2018
Suite à la disparition de l'actrice française Stéphane Audran ce 27 mars 2018, à l'âge de 85 ans, retour en images sur une série photographique prise par le photographe Sam Lévin dans les années 1960s...
...rappelant une séance de pose de Marilyn Monroe par Milton Greene en 1956 pour le film Bus Stop:
---
© All images are copyright and protected by their respective owners, assignees or others.
copyright text by GinieLand.
09 février 2018
Photographies
(diverses)

---
Lot 151: Marilyn Monroe (3) photographs
with secretarial autographs
and (1) unsigned vintage swimsuit still. (ca. 1950s)
Collection of (3) vintage original gelatin silver double-weight matte 8 x 10 in. photographs all secretarially inscribed and signed in red ink on the image and in the borders, "Marilyn Monroe". Also includes (1) vintage gelatin silver single-weight 8 x 10 in. cheesecake photograph of Monroe in a black lace swimsuit. 3-exhibiting even toning, minor edge wear and remain in very good to fine condition. 1-exhibits a repaired 1 in. tear to lower central border as well as edge creasing. In good condition.
Estimate: $300 - $500 / Winning bid: $1,400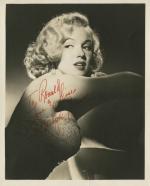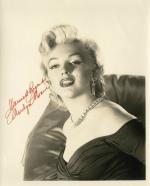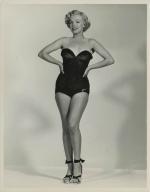 ---
Lot 152: Marilyn Monroe rare signed photograph. (TCF, 1952)
Vintage original gelatin silver 8 x 10 in. double-weight matte photograph by Frank Powolny depicting Marilyn in repose. From the publicity campaign for Monkey Business. Inscribed and signed in blue ink in lower left of image to a crewmember, "To Jack, It's a pleasure to know you, Marilyn Monroe". Exhibiting light even toning, and minor handling. In fine condition.
Estimate: $4,000 - $6,000 / Winning bid: $12,500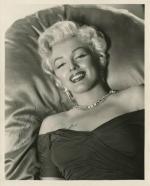 ---
Lot 415: Marilyn Monroe (45+) photographs by Avedon, Greene, Florea, Willoughby, and others. (1940s-1960s/printed later)
Collection of (45+) gelatin silver and RC color double-weight and single weight glossy and matte production photographs and portraits ranging in size from 8 x 8 in. to 16 x 20 in. Including images with Cary Grant, William Holden, Montgomery Clift and others,glamour portraits, candid shots of cast and crew, scene stills and character portraits. Some retaining photographer inkstamps and notation on the verso. Exhibiting age, minor wear, some toning, minor soiling and handling. In overall vintage very good to fine condition.
Estimate: $400 - $600 / Winning bid: $4,250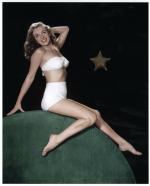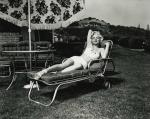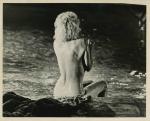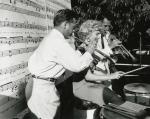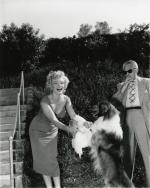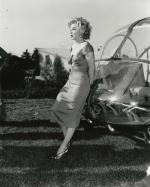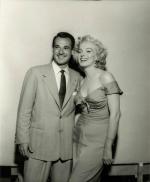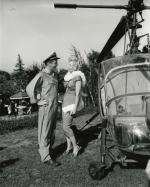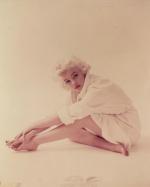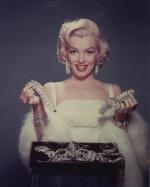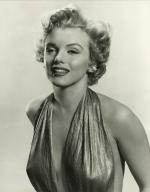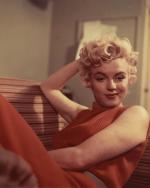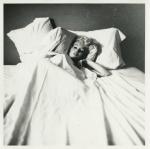 ---
Lot 444: Movie Star News archive (1 million++) Hollywood and entertainment photographs.
Massive archive of (1 million++) primarily gelatin silver 8 x 10 in. single- and double-weight glossy and matte photographs, as well as RC prints, color photos, color glos stills, and color mini lobby cards. A New York City institution for over 70 years, Movie Star News began life in 1938 as a used bookstore owned by siblings Irving and Paula Klaw. The business struggled until one day Irving noticed customers surreptitiously tearing pictures out of movie magazines. Sensing an opportunity, the Klaws began selling used film publicity photos. Demand was so high that Irving reached out to studio publicity departments directly for additional stock, and discovered that promotional materials were routinely discarded after the run of a film. He was able to acquire as many original photos as he wanted for next to nothing, and often, studio negatives, from which he started producing his own prints. The Klaws stopped selling books and started a mail order photo business in addition to the storefront operation, effectively establishing Hollywood and entertainment photography as a field of collecting. Comprising Movie Star News store stock as well as vintage source material, the breadth and scope of this resulting archive is likely unparalleled anywhere, featuring material on nearly every important star and movie in the history of American film production, from pre-Hollywood silent film period through the Golden Age, New Hollywood, the blockbuster era, and beyond. Every category, genre, and subgenre is represented, including drama, comedy, action, adventure, romance, pre-code, crime, film noir, sci-fi, horror (Universal, Hammer, and more), war, western, pin-up, cheesecake, beefcake, exploitation, sexploitation, Blaxploitation, etc. Additionally featuring television, music, stage, and adult subjects, the archive contains a near-complete narrative of American pop culture throughout the 20th century. Today, it would be virtually impossible to build a collection of entertainment material this comprehensive from scratch and prohibitively expensive to create at this level of quality—the cost of photo paper alone would run well over $1,000,000. The archive consists of roughly 40% vintage original material, the remainder primarily composed of high quality Movie Star News gelatin silver dark room prints, many made from the original negatives that Klaw acquired directly from the studios. Including actresses and female entertainers: Paula Abdul, Julie Adams, Rene Adoree, Gracie Allen, June Allyson, Judith Anderson, Mary Andrewson, The Andrews Sisters, Ursula Andress, Julie Andrews, Even Arden, Jean Arthur, Mary Astor, Lauren Bacall, Carrol Baker, Josephine Baker, Lucille Ball, Anne Bancroft, Talullah Bankhead, Vilma Banky, Brigette Bardot, Theda Bara, Lynne Bari, Ethel Barrymore, Anne Baxter, Constance Bennett, Joan Bennett, Ingrid Bergman, Linda Blair, Joan Blondell, Ann Blythe, Jacqueline Bisset, Clara Bow, Alice Brady, Mary Brian, Fannie Brice, Louise Brooks, Virginia Bruce, Carol Burnett, Mary Carlisle, Madeleine Carroll, Irene Castle, Joan Caulfield, Helen Chandler, Carol Channing, Marguerite Chapman, Cyd Cherise, Claudette Colbert, Jeanne Crane, Joan Crawford, Fifi D'Orsay, Arlene Dahl, Lili Damita, Dorothy Dandridge, Bebe Daniels, Linda Darnell, Marion Davies, Bette Davis, Doris Day, Yvonne DeCarlo, Francis Dee, Sandra Dee, Gloria DeHaven, Olivia DeHavilland, Dolores Del Rio, Myrna Dell, Catherine Deneuve, Sandy Dennis, Bo Derek, Marlene Dietrch, Faith Domergue, Carol Donell, Billie Dove, Betsy Drake, Faye Dunaway, Irene Dunne, Deanna Durbin, Ann Dvorak, Jeanne Eagles, Barbara Eden, Anita Ekberg, Dale Evans, Francis Farmer, Alice Faye, Rhonda Fleming, Bridget Fonda, Jane Fonda, Joan Fontaine, Anne Francis, Kay Francis, Mona Freeman, Anette Funicello, Eva Gabor, Zsa Zsa Gabor, Greta Garbo, Ava Gardner, Judy Garland, Terri Garr, Greer Garson, Janet Gaynor, Lillian Gish, Paulette Goddard, Betty Grable, Gloria Grahame, Katharyn Grayson, Jane Greer, Virginia Grey Corinne Griffith, Melanie Griffith, Daryl Hannah, Ann Harding, Jean Harlow, June Havoc, Goldie Hawn, Helen Hayes, Susan Hayward, Rita Hayworth, Audrey Hepburn, Katharine Hepburn, Billie Holliday, Miriam Hopkins, Lena Horne, Ruth Hussey, Angelica Huston, Betty Hutton, Janet Jackson, Gloria Jean, Zita Johann, Olivia Newton John, Grace Jones, Jennifer Jones, Shirley Jones, Janis Joplin, Ruby Keeler, Grace Kelly, Deborah Kerr, Phyllis Kirk, Eartha Kitt, Laura La Plante, Veronica Lake, Hedy Lamarr, Dorothy Lamour, Elsa Lancaster, Carol Landis, Priscilla Lane, Francis Langford, Angela Lansbury, Piper Laurie, Lila Lee, Peggy Lee, Janet Leigh, Vivien Leigh, Joan Leslie, Gina Lollabrigida, Carole Lombard, Bessie Love, Myrna Loy, Ida Lupino, Jeanette MacDonald, Ali MacGraw, Shirley MacLane, Anna Magnani, Jayne Mansfield, Ann Margret, Marilyn Maxwell, Virginia Mayo, Dorothy McGuire, Fay McKenzie, Una Merkel, Ethel Merman, Vera Miles, Ann Miller, Liza Minnelli, Mary Miles Minter, Carmen Miranda, Marilyn Monroe, Maria Montez, Coleen Moore, Mae Murray, Pola Negri, Kim Novak, Maureen O'Hara, Maureen O'Sullivan, Merle Oberon, Anita Page, Gail Patrick, Mary Pickford, Eleanor Powell, Luise Rainer, Sally Rand, Vanessa Redgrave, Donna Reed, Lee Remick, Debbie Reynolds, Ann Richards, Ginger Rogers, Diana Ross, Lillian Roth, Gail Russell, Jane Russell, Rosalind Russell, Ann Rutherford, Winona Ryder, Lizabeth Scott, Norma Shearer, Ann Sheridan, Dinah Shore, Sylvia Sidney, Jean Simmons, Alexis Smith, Barbara Stanwyck, Meryl Streep, Barbra Streisand, Gloria Swanson, Elizabeth Taylor, Shirley Temple, Emma Thompson, Gene Tierney, Thelma Todd, Claire Trevor, Kathleen Turner, Lana Turner, Twiggy, Mamie Van Doren, Lupe Velez, Martha Vickers, Rachel Ward, Tuesday Weld, Mae West, Marie Windsor, Debra Winger, Shelley Winters, Jane Withers, Anna May Wong, Natalie Wood, Fay Wray, Teresa Wright, Jane Wyman, Loretta Young, and many, many more. Actors and male entertainers: Amos & Andy, Dana Andrews, Roscoe "Fatty" Arbuckle, Louis Armstrong, Desi Arnaz, Fred Astaire, Lex Barker, John Barrymore, Lionel Barrymore, The Beatles, Warren Beatty, Wallace Beery, Harry Belafonte, John Belushi, Jack Benny, Edgar Bergen, Charles Bickford, Humphrey Bogart, David Bowie, Charles Boyer, Marlon Brando, Charles Bronson, Mel Brooks, Yul Brynner, James Cagney, Eddie Cantor, Johnny Cash, John Cassavettes, Lon Chaney, Sr., Charlie Chaplin, Montgomery Clift, Nat King Cole, Ronald Colman, Sean Connery, Gary Cooper, Jackie Cooper, Ricardo Cortez, Joseph Cotten, Bing Crosby, Tony Curtis, Sammy Davis, Jr., The Dead End Kids, James Dean, Robert DeNiro, Walt Disney, Kirk Douglas, Clint Eastwood, Duke Ellington, Douglas Fairbanks, Sr. & Jr., Jose Ferrer, W.C. Fields, Errol Flynn, Henry Fonda, Glenn Ford, Harrison Ford, Clark Gable, John Garfield, James Garner, Richard Gere, Mel Gibson, Benny Goodman, Cary Grant, Alec Guinness, Gene Hackman, Tom Hanks, Rondo Hatton, Sterling Hayden, Charlton Heston, Alfred Hitchcock, Dustin Hoffman, William Holden, Bob Hope, Rock Hudson, Tab Hunter, William Hurt, The "James Bond" franchise, Van Johnson, Al Jolson, Boris Karloff, Buster Keaton, Gene Kelly, Alan Ladd, Burt Lancaster, Harry Langdon, Charles Laughton, Laurel & Hardy, Bruce Lee, Christopher Lee, Jack Lemon, Jerry Lewis, Harold Lloyd, Peter Lorre, Dean Martin, Lee Marvin, the Marx Brothers, James Mason, Victor Mature, Joel McCrea, Roddy McDowell, Steve McQueen, Ray Milland, Sal Mineo, Robert Mitchum, Robert Montgomery, Eddie Murphy, Bill Murray, Ricky Nelson, Paul Newman, Jack Nicholson, David Niven, Chuck Norris, Peter O'Toole, Warner Oland, Laurence Olivier, Al Pacino, Jack Palance, Gregory Peck, Tyrone Power, Elvis Presely, Vincent Price, John Wayne, Johnny Weissmuller, Orson Welles, Bruce Willis, and many, many more. Movies: The African Queen, All Quiet on the Western Front, American Graffiti, Anatomy of a Murder, Animal House, the Back to the Future franchise, Beau Geste, Bell, Book and Candle, The Big Heat, The Birds, The Blue Dahlia, Blue Velvet, Bonnie and Clyde, Born Yesterday, Brigadoon, Cabin in the Sky, Captain's Courageous, Casablanca, the "James Bond" franchise, Cat People, the "Charlie Chan" franchise, Citizen Kane, Cover Girl, Dance, Fools, Dance, Dark Victory, Dead End, Dial M for Murder, Doctor Strangelove, Dracula, Duel in the Sun, Easy Rider, El Dorado, For Whom the Bell Tolls, Foreign Correspondent, Forsaking All Others, Frankenstein, From Here to Eternity, Full Metal Jacket, Funny Girl, Ghostbusters, Gigi, Gone With the Wind, Grand Illusion, The Grapes of Wrath, The Great Escape, Halloween, High Society, His Girl Friday, Holiday, The Horror of Dracula, Human Desire, Humoresque, I Wanted Wings, Imitation of Life, Inside Daisy Clover, Invasion of the Body Snatchers, Jaws, Jezebel, The Killers, The King and I, The Lady Eve, The Lady Vanishes, Lifeboat, Macao, Marked Woman, The Most Dangerous Game, Mr. Smith Goes to Washington, Mrs. Miniver, Murder, My Sweet, My Darling Clementine, My Man Godfrey, Night of the Hunter, North by Northwest, Notorious, Passage to Marseilles, Paths of Glory, Persona, Picnic, Planet of the Apes, Porgy and Bess, The Postman Always Rings Twice, Prisoner of Zenda, Psycho, Quo Vadis, Random Harvest, Rear Window, Rebecca, Rio Bravo, Robocop, Rope, Sabotage, The Set-Up, Seven Samurai, She!, Showboat, Spellbound, Stagecoach, The Stranger, Sullivan's Travels, Suspicion, the "Tarzan" franchise, Test Pilot, That Certain Woman, The Three Musketeers, To Catch a Thief, To Have and Have Not, Today We Live, Too Hot to Handle, The Untouchables, Valley of the Dolls, Vertigo, Vivacious Lady, Westside Story, White Christmas, Woman of the Year, The Women, Wuthering Heights, Young Mr. Lincoln, Zoo in Budapest, and many, many more. Includes duplicate images.Condition ranges widely, with the majority ranging from very good to very fine. The archive is housed in approx. (140) 4- and 5-drawer metal filing cabinets, measuring on average 22 x 28 x 53 in. This is a historic opportunity to own one of the most legendary and consequential collections of Hollywood and entertainment photographic material ever assembled. Interested bidders are strongly encouraged to preview the lot in person by appointment.
Estimate: $220,000 - $350,000 / Winning bid: ?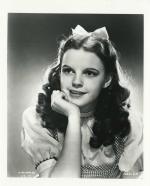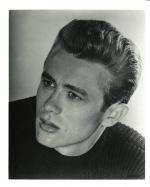 ---
Lot 868: Marilyn Monroe (3) nude calendar first-release variation collection. (ca. 1940s)
Vintage original (3) iconic Tom Kelly's legendary Golden Dreams nude calendar print, shot in 1949 when Marilyn was between studio contracts, and not published until at least 1952 for the following year. Including (1) 9 x 13 in. stapled print with advertising headboard present and 4-other prints of various models beneath Marilyn's, (1) 8 x 9.5 in. print (presumed removed from a complete calendar) and (1) 12 x 16.5 in. print with creased headboard section. All in vintage very good to fine condition.
Estimate: $300 - $500 / Winning bid: $850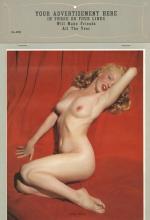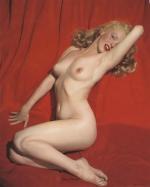 ---
Lot 872: Marilyn Monroe door panel poster. (ca. 1950s)
Vintage original rolled 62 x 21.5 in. panel door poster of Marilyn Monroe in a candy-striped bathing suit. Linen backed. Exhibiting light even fading and a slice to the upper 2 in. of the blank border, not affecting image. In vintage very good to fine condition.
Estimate: $600 - $800 / Winning bid: $3,250


---
Lot 878: Marilyn Monroe unpublished behind the scenes color camera transparency from Niagara by Frank Worth.
(TCF, 1953) Vintage original 2.5 x 2.5 in. camera color transparency of Marilyn Monroe in costume as "Rose Loomis" in an unpublished image of the Hollywood icon posing in front of a helicopter behind the scenes of Niagara. Photographed by Frank Worth. In vintage fine condition.
Estimate: $200 - $300 / Winning bid: $350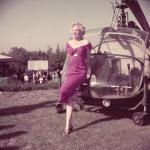 ---
Lot 879: Marilyn Monroe (3) contact sheet strips with 9-portraits by Milton Greene from his personal collection.
(ca. 1950s) Vintage original (9) gelatin silver single-weight glossy 2.5 x 2.25 in. photographs on 3-contact sheet prints measuring approx. 2.25 x 8 in. and with 3-frames per strip. Featuring outdoor portraits of Marilyn Monroe taken by her close friend and legendary photographer Milton Greene. Unevenly trimmed at top and bottom of strips. Exhibiting age, minor wear and some handling. From the personal collection of Milton Greene. In overall very good to fine condition.
Estimate: $300 - $500 / Winning bid: $600



---
Lot 885: Marilyn Monroe (3) candid photographs with Tony Curtis, Milton Greene and others.
(ca. 1960s) Vintage original (3) gelatin silver single-weight photos including (1) 8 x 10 in. Marilyn with DJ Fred Robbins and Joe Bynes, (1) 8 x 10 in. Marilyn with Milton Greene and others at Jess Rand's 1954 birthday party and (1) 4.5 x 6.5 in. Marilyn with Tony Curtis and others. Exhibiting some edge chipping, age, handling. With some mounting residue, inkstamps and writing to verso. In vintage very good to fine condition.
Estimate: $300 - $500 / Winning bid: $300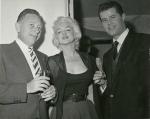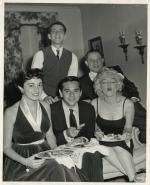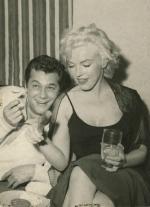 ---
Lot 886: Marilyn Monroe (3) candid photographs with Sammy Davis Jr., Tony Curtis, Milton Greene and more.
(ca. 1960s) Vintage original (3) gelatin silver single-weight photos including (1) 4.5 x 6.5 in. Marilyn with Tony Curtis and Milton Greene wearing eye patches in solidarity with Sammy Davis Jr. who'd lost his eye in a car accident, (1) 8 x 10 in. Marilyn with Milton Greene and Sammy Davis Jr. at Jess Rand's 1954 birthday party and (1) 8 x 10 in. photo card of Marilyn with Sammy Davis Jr. and Eddie Fisher. Exhibiting some edge chipping, age, handling. With some mounting residue, inkstamps and writing to verso. In vintage good to fine condition.
Estimate: $300 - $500 / Winning bid: $300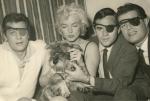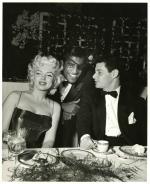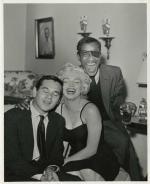 ---
Lot 888: Marilyn Monroe (10) mammoth prints signed by George Barris.
(ca. 1950s-1960s) Collection of (10) contemporary oversize posed and candid photographs of Monroe ranging in size from 17 x 22.25 in. to 21 x 28 in. Including (2) color images 1-of Monroe wearing a robe at the beach and 1-head shot and (8) black and white prints including 7-in and around a home and 1-at the beach. All signed in lower right of images, "George Barris" (Barris first signed in ballpoint over which he later signed in marking pen). Exhibiting minor wrinkling from handling. In generally fine condition.
Estimate: $1,000 - $1,500 / Winning bid: $1,900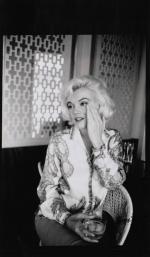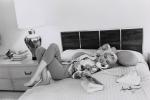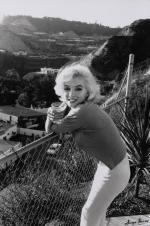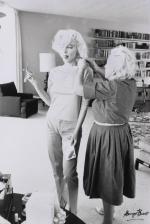 ---
Lot 889: Bert Stern signed Marilyn Monroe limited edition foil print.
(1962) Vintage original blue ink silkscreen on 40 x 40 in. silver foil limited edition print. The image is from Marilyn Monroe's last photographic sitting in 1962. Signed by the photographer, "Bert Stern" in the lower right border and numbered, "99/100" in the lower left. Presented in the original fame. In vintage fine condition.
Estimate: $2,000 - $3,000 / Winning bid: $2,000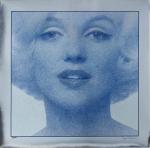 ---
Films
---
Lot 876: Marilyn Monroe (2) window cards from How to Marry a Millionaire and Niagara. (TCF, 1953)
Vintage original (2) window cards for the Marilyn Monroe titles including (1) 14 x 22 in. card for How to Marry a Millionaire featuring Marilyn in swimsuit with Betty Hutton and Lauren Bacall. With playdate field filled in and some toning to edges and including (1) 14 x 22 in. card for Niagara featuring a sultry Monroe reclining and a photo image of she and Joseph Cotten. With blank playdate field, some clean pinholes to corners, and even toning. In generally very good to fine condition.
Estimate: $400 - $600 / Winning bid: $500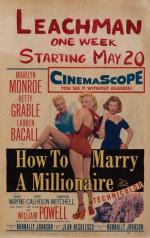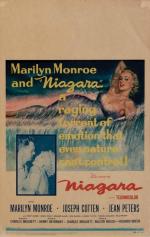 ---
Lot 877: Marilyn Monroe (41) negatives from Bus Stop. (TCF, 1956)
Vintage original (41) 5 x 4 in. black and white negatives with matching contact prints, including images from production with Monroe, Don Murray, Arthur O'Connell, Eileen Heckart and cast, behind the scenes shots, crowd scenes, and images of Monroe in her iconic green costume performing. Contained in original sleeves. Some contact prints with editorial grease pencil cropping for publication. In generally fine vintage condition.
Estimate: $600 - $800 / Winning bid: $7,000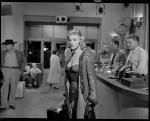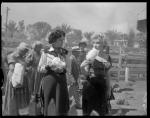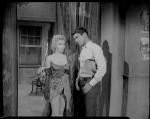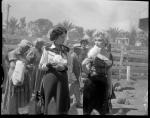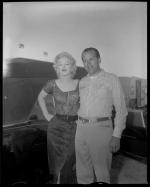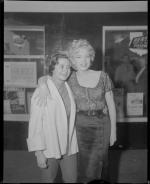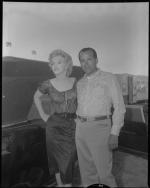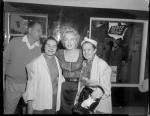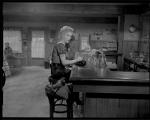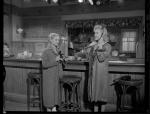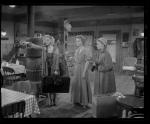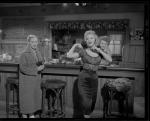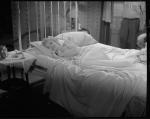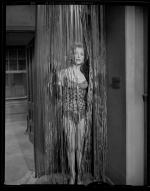 ---
Lot 880: Marilyn Monroe rolled German A0 large size format poster for The Seven-Year Itch.
Marilyn Monroe rolled German A0 large size format poster for The Seven-Year Itch. (TCF, 1955/R-1960) Vintage original German A0 46 x 33 in. large size format poster by graphic artist, stamp illustrator and art educator Dorothea Fischer-Nosbisch for the re-release of the Billy Wilder, Marilyn Monroe comedy. Rolled. With vibrant color. In vintage fine condition.
Estimate: $300 - $500 / Winning bid: $750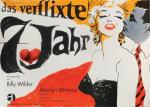 ---
Lot 881: Marilyn Monroe (11) production photographs from The Seven Year Itch and How to Marry a Millionaire.
(MGM, 1953/1955) Vintage original (11) gelatin silver single-weight glossy 8 x 10 in. production photographs featuring Marilyn Monroe and cast including (5) How to Marry a Millionaire and (6) The Seven Year Itch. All with studio slugs in lower borders. Exhibiting age, minor wear, some toning, creasing and handling. In overall vintage good to very good condition.
Estimate: $300 - $500 / Winning bid: $600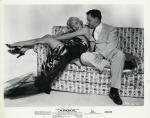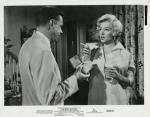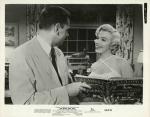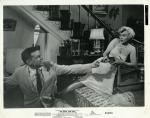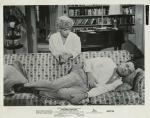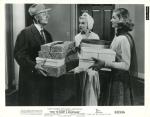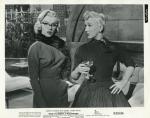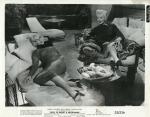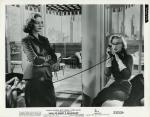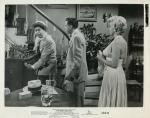 ---
Lot 882: Marilyn Monroe (5) photographs from The Seven-Year Itch and others.
(TCF, 1955) Vintage original gelatin silver single-weight production photographs ranging in size from 7.25 x 8 in. to 8 x 10 in. including (3) Seven-Year Itch with Marilyn and Tom Ewell mugging on a couch (1-with two-hole punches at the top border), (1) full-body swimsuit pose and (1) portrait in a jeweled satin gown near a car. All exhibit minor age and handling. In vintage fine condition.
Estimate: $200 - $300 / Winning bid: $650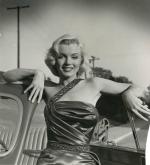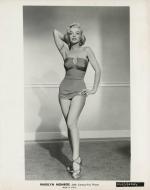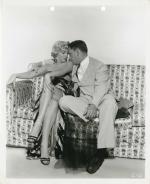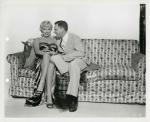 ---
Lot 883: Marilyn Monroe lobby card for Dangerous Years, her first appearance in film publicity material.
(TCF, 1948) Vintage original color 11 x 14 in. lobby card for the first film in which Marilyn appeared in publicity material. Exhibiting pinholes, border restoration, and retouching to a vertical crease through the center of the card and a crease in the lower right image. Presents in vintage good to very good condition.
Estimate: $300 - $500 / Winning bid: $300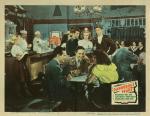 ---
Lot 884. Marilyn Monroe and Anne Baxter photograph behind the scenes on All About Eve by Frank Powolny.
(TCF, 1950) Vintage original gelatin silver 8 x 10 in. double-weight matte photograph. Retaining photographer's inkstamp on the verso. Exceedingly rare early candid moment for Marilyn. In vintage very fine condition.
Estimate: $400 - $600 / Winning bid: $650

---
Lot 890: Warner Bros. commemorative brass key to the studio. (ca. 1960s)
Consisting of a cast brass 11 x 4 in. presentation key to Warner Bros. Studios. The shield-shaped bow of the key features raised iconic "WB" letters synonymous with the studio. The key blade reads, in raised letters, "The Largest in the World" on one side and "Welcome to the Warner Bros Studio", on the other. Keys like this one were presented to special guests, celebrities, and dignitaries visiting the studio. Exhibiting expected age, wear and patina. In vintage fine condition.
Estimate: $600 - $800 / Winning bid: $1,900

---
Documents papiers

---
lot 869: Marilyn Monroe's (Norma Jeane Dougherty) first signed studio contract with Twentieth Century-Fox with original screen test request signed by Ben Lyon.
The contract is 17 pages (8.5 x 11 in.), entitled "Agreement Between Twentieth Century-Fox Film Corporation And Norma Jeane Dougherty – Artist August 24, 1946" typed on the heavy stock contract folder bound with two brass brads. The document is an agreement, "That the producer employs the artist, and the artist enters the employ of the producer, to render his services exclusively to the producer, in the capacities and for the purposes herein described, for a term of Six (6) Months, commencing on the 26th day of August, 1946… the producer shall pay to the artist, as his entire compensation hereunder, the sum of One Hundred and Twenty-Five Dollars ($125.00) per week during the term of said employment…" On page 16, the future Marilyn Monroe signed in black ink, "Norma Jeane Dougherty" and was co-signed by a studio executive an a notary public. The final page was signed by Norma Jeane's foster mother, Grace McKee, granting approval of the agreement for the 20-year-old minor. Accompanying the contract is the 1-page inter-office document, dated July 25, 1946, signed by Twentieth Century Fox executive (and former actor) Ben Lyon, written to Mr. George Wasson, stating in part: "Will you please draw up an optional contract on Norma Jeane Dougherty. We agree to make a test of her and then within ten (10) days after she completes the test, we agree to advise her whether or not we intend to exercise the option: 6 months – 20 out of 26 weeks -- $150.00." Ben Lyon was a successful actor starring in the 1930 film Hell's Angels, the film that brought Jean Harlow to prominence. After having met the young Norma Jeane on July 17, 1946, Lyon stated that she was "Jean Harlow all over again!" With this document, he arranged for Norma Jeane's screen test and her subsequent contract with the studio. Lyon later advised the starlet to change her screen name to "Marilyn Monroe". Also included is a carbon copy studio memo to Ben Lyon from George Wasson, dated October 25, 1946, stating that "Today is the last day for us to notify Norma Jeane Dougherty in the event we desire her to have any dental work done." Contract is in fine condition; both the Lyon and dental memos have paper loss from the two-hole binder. An historic assemblage marking the genesis of the silver screen's greatest star.
Estimate: $8,000 - $12,000 / Winning bid: $35,500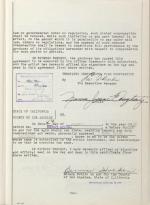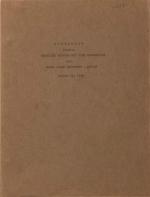 ---
lot 870: Marilyn Monroe personally hand annotated script from Gentlemen Prefer Blondes. (TCF, 1953)
Marilyn Monroe's personally-used and annotated script from Gentlemen Prefer Blondes. An incomplete script, being a block of revisions delivered by the production to Marilyn Monroe comprising 69 pages total (numbered 48 through 117, missing page 93) plus a pink title cover-sheet printed "26 November 1952, 'Gentlemen Prefer Blondes' (Revised Final Script…13 Nov. 1952)," plus "TO ALL SECRETARIES: Please place these ADDITIONAL PAGES at the back of your script of the above date. THIS IS IMPORTANT! Majority of the prompts for Marilyn's character "Lorelei Lee" are circled variously in graphite and non-repro blue pencil, with approximately 22-pages annotated in various inks and pencil in Monroe's hand with amendments and additions to the script and notes on how she proposes to deliver lines and portray Lorelei's character, with several other pages showing line deletions and other demarcations. Highlights of notes include: pg. 56, when Lord Beekman finds Lorelei stuck in Malone's porthole, next to Lorelei's line "Oh yes--Tea with Lady Beekman. Why, she must of forgot. She didn't show up," with Monroe adding an alternative line, "Well, I just wanted to see the view. It's better from here"; pg. 58, Monroe changes the line "Piggie, will you run down to my cabin and get my purse?" to "Maybe I should have that Sherry - will you get me some"; pg. 79, Monroe has written a note to herself in the margin "Feeling that feeds the words, know the lines, go over it inteligently [sic]"; pg. 92, also to herself, "sense the feeling with the body" plus several dialogue changes; pg. 94, again to herself, "grit my teeth and forget it must have my," "all of feeling in my words," and "build pull back, don't stop mutual conflict between partners." Also, the following page (95) although bearing no notations, features the scene for Monroe's classic musical number "Diamonds Are a Girl's Best Friend." In generally very good condition, with expected handling wear, soiling, and creasing, and some small edge tears and damp-staining to cover page and a few internal margins throughout. Marilyn's unique, revealing personal notations in this script reveal her private thought processes and fleeting self confidence. On set, she was haunted by her controlling acting coach Natasha Lytess, constantly striving for her approval and insisting on retakes even when director Howard Hawks had already approved. Co-star Jane Russell looked after Marilyn on set and was often one of the only people able to coax her out of her trailer during her bouts of self doubt. Despite her anxieties, it was the role of Lorelei Lee that first fabricated her 'dumb blonde' persona—a genius mixture of comedy and sexiness which Marilyn personified on screen, all the while taking her acting very seriously, as evidenced by her occasional heartfelt self-motivational notes in the margins. Monroe biographer Donald Spoto once said: "She put a twist on sexiness. It was not something wicked and shameful...it was something which was terribly funny. And Marilyn enjoyed it." A remarkable and deeply personal artifact both from Marilyn's aura imbued within it, and of Hollywood history in general.
Provenance: Christies, New York, June 22, 2006, Lot 160.
Estimate: $20,000 - $30,000 / Winning bid: $20,000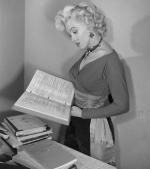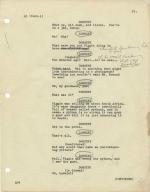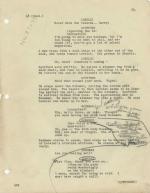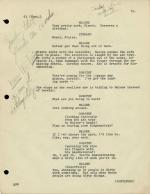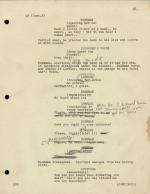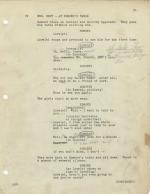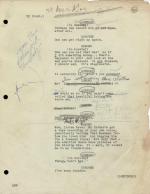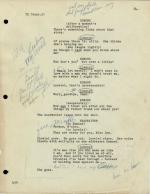 ---
Lot 871: Marilyn Monroe signed document relating to The Seven Year Itch. (TCF, 1955)
The 1-page document (8.5 x 11 in.), dated and notarized from the State of New York on December 31, 1955, states in part: "I, Marilyn Monroe of New York, New York… for valuable consideration to me in hand paid and the receipt whereof I hereby acknowledge, have and do hereby and herewith release and forever discharge Twentieth Century-Fox Film Corporation… of and from all manner of action and actions, cause and causes of action, claims, demands… that I have ever had… pertaining to the production, distribution, exploitation or other matters or things relating to a certain motion picture photoplay entitled THE SEVEN YEAR ITCH." Signed "Marilyn Monroe" in black ink. Minor staple holes on left margin. Overall, in fine condition.
Estimate: $3,000 - $5,000 / Winning bid: $3,750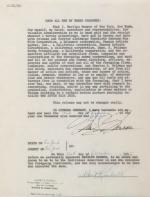 ---
Lot 873: (2) Marilyn Monroe signed documents and a block of (3) blank Marilyn Monroe checks.
A 1-page document (8.5 x 11 in.), undated, but retains "Received" stamp dated February 6, 1947. Sent by Marilyn to 20th Century-Fox Film Corporation to the attention of the legal department. In part: "This is to notify you that I am no longer being represented by the National Concert & Artists Corporation… I am now being represented by the Elsie Cukor Lipton Agency…[signed] Marilyn Monroe". Contains clerical notes in both pencil and ink. Toning at lower half with tearing by two binder holes.
The second document is the second page of a two-page document (page one is missing), dated January 16, 1952 involving Twentieth Century-Fox Film Corporation and RKO Radio Pictures, Inc., pertaining to advertisement release for Marilyn Monroe in promoting "Jantzen Play Suites, Play Clothes and Swim Suits". Signed "Marilyn Monroe" in blue ink, and co-signed by a Twentieth Century-Fox representative. Staple holes at top, pronounced wrinkling and a 3.75 x 1.25 in. portion clipped from the document.
Included with the documents is a block of (3) unused "Marilyn Monroe" printed checks from her City National Bank, Beverly Hills branch (checks numbered 1950 – 1952). Checks and attached stubs are in fine condition.
Estimate: $1,500 - $2,500 / Winning bid: $3,750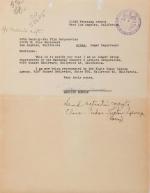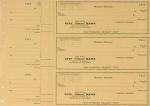 ---
Lot 874: Marilyn Monroe signed advertising release for House of Westmore Cosmetics.
The 1-page document (8.5 x 13.5 in.), dated July 3, 1952 from Los Angeles, California, states in part: "The undersigned, Twentieth Century-Fox Film Corporation, a New York corporation, hereby gives and grants to House of Westmore, the non-exclusive right to utilize the name and likeness of Marilyn Monroe… Said name and/or likeness shall be used only by House of Westmore in connection with its product Cosmetics in the following manner: Newspapers, magazines, window and counter displays, point of sale material." Signed "Marilyn Monroe" in black ink, and co-signed by representatives of Twentieth Century-Fox and House of Westmore. Minor paper loss from the binder at upper edge; minor chip at bottom edge not affecting signature.
Estimate: $2,000 - $3,000 / Winning bid: $4,250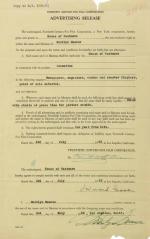 ---
Lot 875: Studio letter warning Marilyn Monroe of her breach of contract for taking off shooting days to participate in President Kennedy's Birthday Celebration. (1962)
Vintage original 2-page letter on Twentieth Century-Fox Film Corporation letterhead, dated May 16, 1962, addressed to Marilyn Monroe Productions, Inc. In part: "…the services of Miss Marilyn Monroe in the now current employment period commenced on March 6, 1962 in the motion picture tentatively entitled 'Something's Gotta Give'… Whereas said motion picture is now in the process of principal photography and is uncompleted… Miss Monroe has advised the executives of the undersigned corporation… that she intends to absent herself from Producer's studio and from Los Angeles, California, at twelve noon, May 17, 1962, for the purpose of attending a social function being held outside of the State of California, and to continue said absence for the reminder of the said calendar week… Now, therefore, please be advised that said announced action on the part of Miss Monroe constitutes a refusal by her to render services… said action of Miss Monroe will result in serious loss and material damage to the undersigned corporation… [the studio may] be relieved of any of its obligations in respect to the photoplay in which Miss Monroe is now rendering…" Signed "Twentieth Century-Fox Film Corporation" by Frank H. Ferguson, its Assistant Secretary. Included with original registered mail transmittal envelope, postmarked May 16, 1962, with attached studio slip with stamp indicating return date of May 17, 1962 with notation that the letter was refused and returned. Before shooting had begun, Monroe received approval from producer Henry Weinstein for her to perform on May 19th for President Kennedy's birthday celebration at Madison Square Garden. Despite the agreement, Marilyn's protracted health issues had delayed production and studio brass ultimately decided to release her from the picture on June 8th.
Estimate: $400 - $600 / Winning bid: $3,750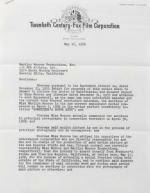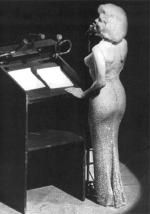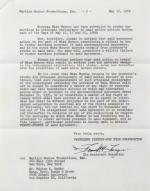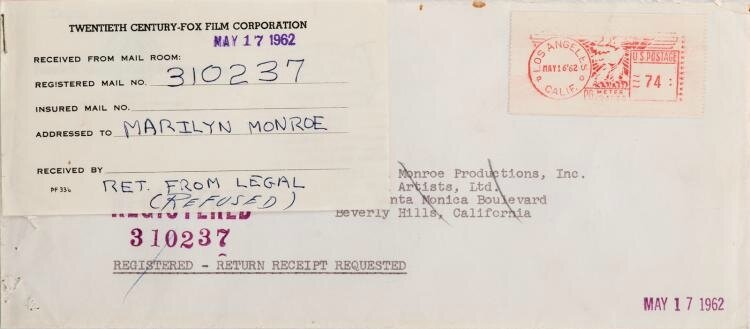 ---
Lot 887: Let's Make Love 22-pages of original sheet music for the LP record release.
(TCF, 1960) Vintage original (22) pages of musical charts including (1) 5-page printed 9.5 x 13 in. Conductor score for, "Let's Make Love" designated for "Marilyn Monroe and Frankie Vaughan", (1) 4-page handwritten 10.75 x 13.25 in. score for, "Let's Make Love", (1) 6-page printed 9.5 x 13 in. Conductor score for, "You With the Crazy Eyes" designated for "Frankie Vaughan (Vocal)" and (1) 7-page handwritten 10.75 x 13.25 in. score for "You With the Crazy Eyes" score. All exhibit edge toning, handling, minor soiling and staining. In vintage very good condition.
Estimate: $300 - $500 / Winning bid: $325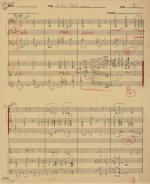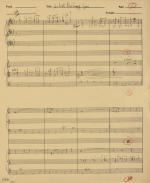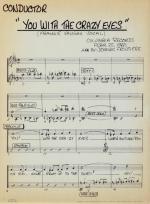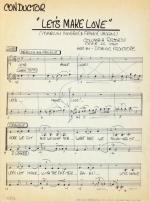 ---
Accessoires
---
Lot 1942: Loni Anderson vintage "MM" evening gloves gifted to her by Burt Reynolds as the personal property of Marilyn Monroe.
(ca. 1950s) Vintage original pair of elegant midnight blue synthetic silk evening gloves with stitched braid detail at back and stitched monogram, "MM" on underside of flared, slit cuffs. Retaining internal Hansen maker's label, printed size 6. Gifted to Loni Anderson by Burt Reynolds who attributed them to Marilyn Monroe, an idol of Anderson's. In vintage fine condition.
Estimate: $1,000 - $1,500 / Winning bid: $9,500

05 février 2018
Photographies
(diverses)

---
Lot 1: MARILYN MONROE AT NIAGARA PARTY, BRUNO BERNARD
Winning bid: $1,875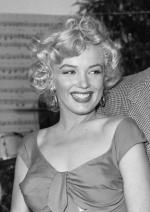 ---
Lot 2: MARILYN MONROE AT NIAGARA PARTY, BRUNO BERNARD
Winning bid: $1,875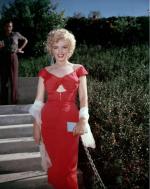 ---
Lot 3: MARILYN MONROE AT NIAGARA FALLS, BRUNO BERNARD
Winning bid: $3,750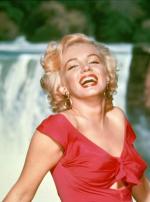 ---
Lot 4: MARILYN MONROE WITH FLOWERS, ANDRE DE DIENES
Winning bid: $1,250

---
Lot 5: MARILYN ON SET OF THE MISFITS, BRUCE DAVIDSON
Winning bid: $1,000

---
Lot 6: MARILYN ON SET OF LET'S MAKE LOVE, NAT DALLINGER
Winning bid: $1,250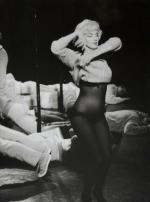 ---
Lot 7: MARILYN ON SET OF LET'S MAKE LOVE, NAT DALLINGER
unsold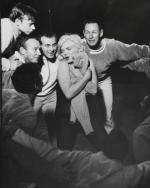 ---
Lot 8: MARILYN IN GENTLEMEN PREFER BLONDES, JOHN FLOREA
Winning bid: $ 562.50

---
Lot 9: MARILYN READING BOOK, EVE ARNOLD
Winning bid: $ 625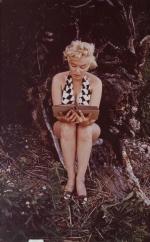 ---
Lot 10: MARILYN MONROE & JACK LEMON IN SOME LIKE IT HOT
Winning bid: $ 1,500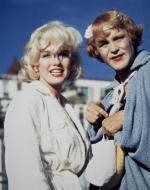 ---
Lot 11: MARILYN MONROE AND ARTHUR MILLER, JOHN BRYSON
Unsold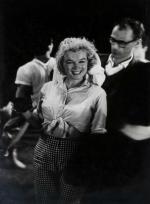 ---
Lot 12: MARILYN MONROE HOLDING CAMERA, JOSEPH JASGUR
Winning bid: $ 375

---
Lot 13: MARILYN MONROE AT ZUMA BEACH, JOSEPH JASGUR
Winning bid: $ 375.75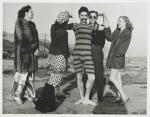 ---
Lot 14: MARILYN MONROE AT ZUMA BEACH, JOSEPH JASGUR
Winning bid: $ 625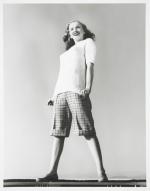 ---
Lot 15: MARILYN MONROE AT ZUMA BEACH, JOSEPH JASGUR
Winning bid: $ 531.25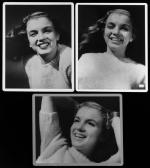 ---
Lot 16: MARILYN MONROE AT ZUMA BEACH (2), JOSEPH JASGUR
Winning bid: $ 750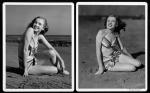 ---
Lot 17: MARILYN ON HOLLYWOOD ROOF (3), JOSEPH JASGUR
Winning bid: $ 812.50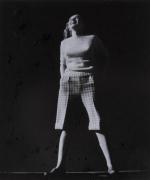 ---
Lot 58: MARILYN MONROE PUBLICITY PHOTOGRAPH
Winning bid: $ 1,250

---
Lot 59: MARILYN MONROE PUBLICITY PHOTOGRAPH, NICK DE MORGOLI
Winning bid: $ 437.50

---
Lot 60: MARILYN MONROE PUBLICITY PHOTOGRAPH, ED CLARK
Winning bid: $ 1,187.50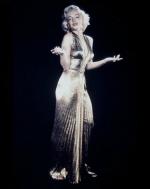 ---
Lot 61: MARILYN MONROE PUBLICITY PHOTOGRAPH, ERNEST BACHRACH
Winning bid: $ 812.50

---
Lot 62: MARILYN MONROE PUBLICITY PHOTOGRAPH, BERT REISFELD
Winning bid: $ 812.50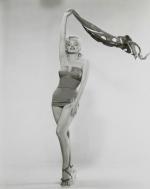 ---
Lot 63: MARILYN MONROE PUBLICITY PHOTOGRAPH, EARL THEISEN
Winning bid: $ 625

---
Lot 64: MARILYN SUPPORTING 'STOP ARTHRITIS', MILTON GREENE
Winning bid: $ 812.50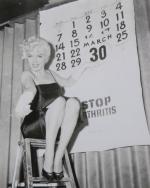 ---
Lot 65: MARILYN PHOTOS ON RIVERBANK, MILTON GREENE
unsold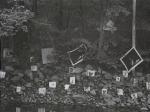 ---
Lot 66: MARILYN SUPPORTING 'STOP ARTHRITIS', MILTON GREENE
Winning bid: $ 2,000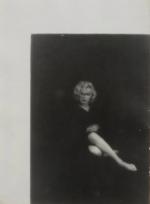 ---
Lot 67: MARILYN MONROE (BLACK RAINCOAT), MILTON GREENE
Winning bid: $ 750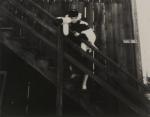 ---
Lot 68: MARILYN WITH A TIGER, RICHARD AVEDON
Winning bid: $ 937,50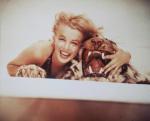 ---
Lot 69: MARILYN ON ARMY TANK IN KOREA, ROBERT H. MCKINLEY
unsold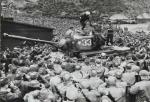 ---
Lot 70: MARILYN MONROE PUBLICITY PHOTOGRAPH
Winning bid: $ 437,50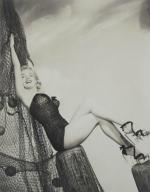 ---
Lot 71: MARILYN MONROE KOREA IMAGES WITH COPYRIGHT
Winning bid: $ 1,000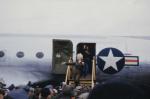 05 octobre 2017
Gala
n°1269
pays: France
paru le 4 octobre 2017
prix: 2,80 Euros
article: 4 pages sur Marilyn Monroe: "Marilyn Monroe devant l'objectif de Milton Greene. Il l'a sublimée, elle l'a brisé"
-merci à Baumgarten pour l'info-

Enregistrer
Enregistrer
28 septembre 2017
Marilyn Monroe... comme vous ne l'avez jamais vue
27/09/2017 - par Bertrand Guyard
en ligne sur le figaro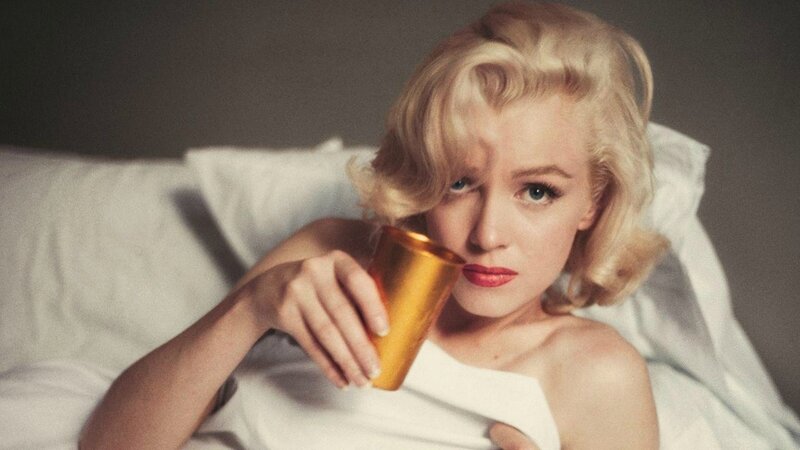 Marilyn Monroe en 1953.
Cette photo sert de couverture au livre
«Marilyn Inédite Milton H. Greene 50 séances» - 2017.
Photograph by Milton H. Greene ©2017 Joshua Greene
EN IMAGES - Les éditions Flammarion publient dans un superbe ouvrage trois cents photographies, dont la moitié inédite, de l'icône américaine prises par Milton H. Greene, entre 1953 et 1957, à l'apogée de son incroyable sex-appeal.
Elle était entièrement faite pour attirer l'œil du photographe. En 1953, Marilyn rencontre l'homme qui saura sublimer sa pulpeuse beauté lors d'une séance pour le magazine de mode Look. Milton H. Greene va devenir le Pygmalion sculpteur d'images de la star. On assiste entre les deux êtres à un véritable coup de foudre professionnel. Un an plus tard, ils fondent ensemble les productions Marilyn Monroe.
Jusqu'en 1957, les deux associés produiront deux films et laisseront à la postérité un trésor de quelque cinq mille clichés. Aujourd'hui, c'est une partie de ces archives - 280 photos dont 150 inédites - que le fils de Milton, Joshua Greene publie chez Flammarion dans un superbe ouvrage intitulé Marilyn Inédite - Milton H.Greene -50 Séances.
Le new-yorkais Milton Greene ( 1922- 1985) s'est pris de passion pour la photographie dès l'âge de 14 ans. Ce surdoué va très vite se faire un nom et un surnom: «L'enfant prodige de la photo couleur». De 1950 à 1960, il publiera dans les plus grands magazines américains de l'époque dont Life, Look, Harper's Bazaar, Town & Country et Vogue.
Dans le livre Marilyn Inédite, Joshua Greene a choisi de rassembler les photos de façon thématique en suivant l'odyssée du duo Marylin-Milton. Il faut rappeler que le photographe de mode accompagnera la superstar un peu partout durant cinq ans. Sur le tournage notamment de Sept ans de réflexion, du Prince et la Danseuse ou lors de sa cérémonie de mariage avec Arthur Miller... mais aussi à de nombreuses mondanités et rendez-vous professionnels aux quatre coins de Beverly Hills.
Les inconditionnels de Norma Jeane Baker retrouveront des images qui leur sont déjà familières. Cependant les photos prises avec Marlon Brando en novembre 1955 auront pour eux une saveur particulière. Elles montrent le monstre sacré un peu plus démonstratif qu'à l'habitude... La légende dit aujourd'hui qu'ils eurent alors une brève liaison.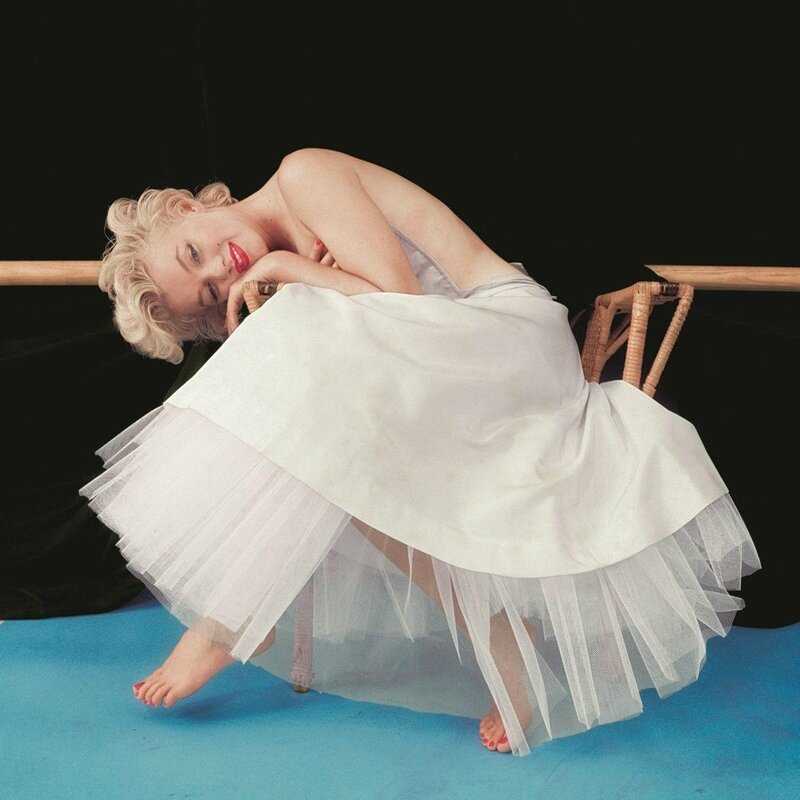 Marilyn Monroe en octobre 1954, cliché de la série «la Ballerine assise».
Photograph by Milton H. Greene © Joshua Greene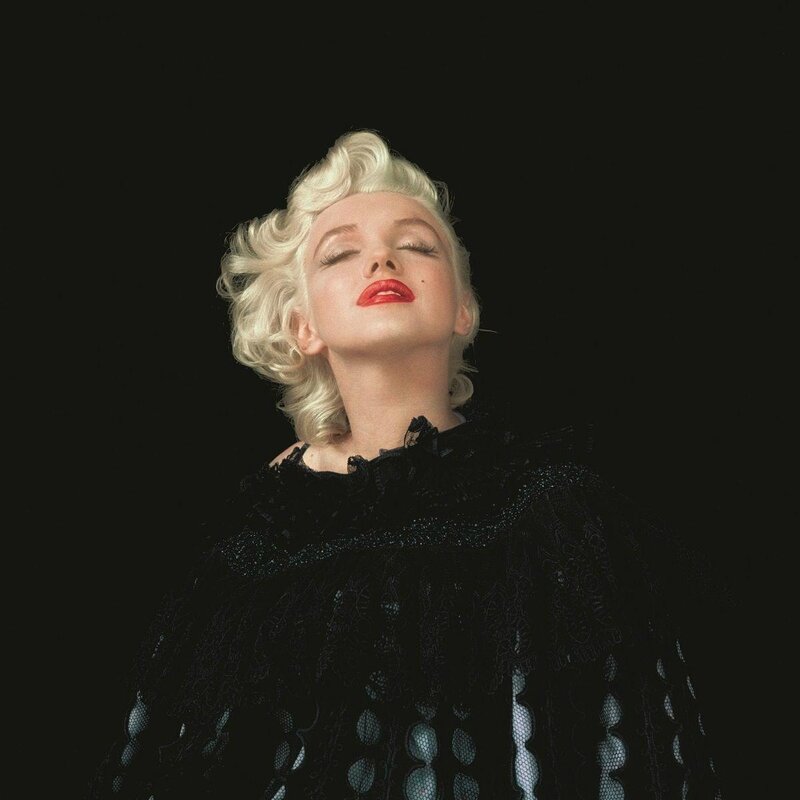 Marilyn Monroe en 1955: «la Cape noire».
Photograph by Milton H. Greene © Joshua Greene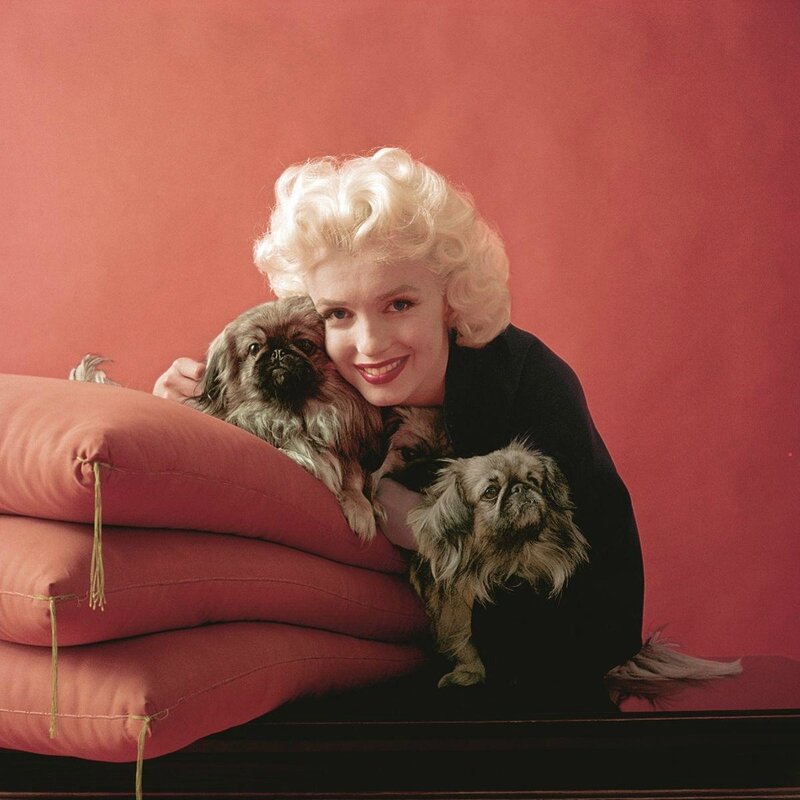 Marilyn Monroe en février 1955 pour une série «orientale»
commandée par le magazine «Look».
Photograph by Milton H. Greene © Joshua Greene

Marilyn Monroe en avril 1956, déguisée en «Gitane»
avec les costumes retrouvés dans les collections de la 20th Century Fox.
Photograph by Milton H. Greene © Joshua Greene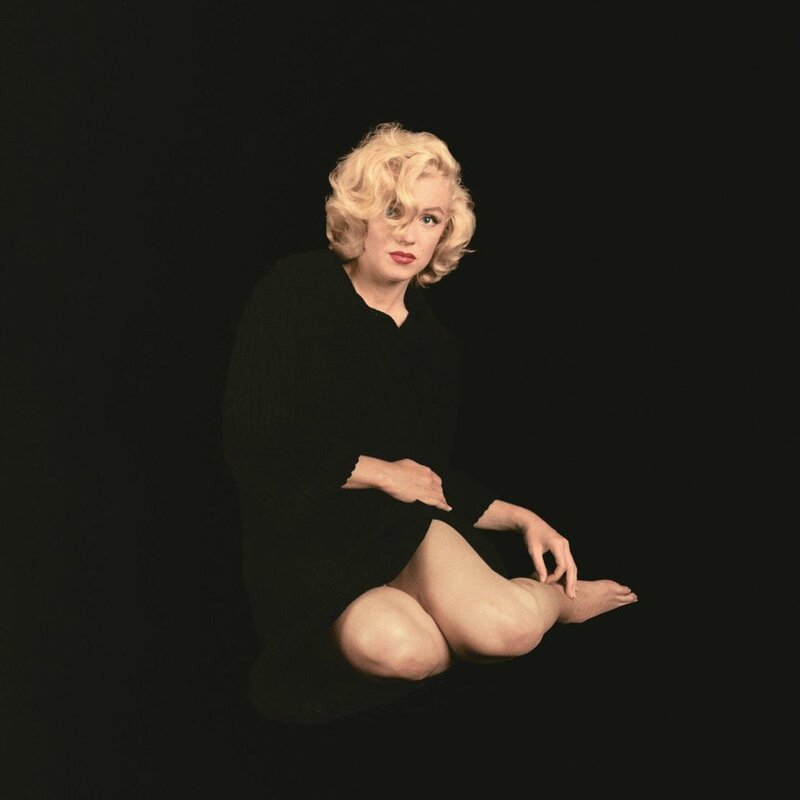 Marilyn Monroe en septembre 1953.
Cette série «Nu» sera considérée comme trop osée à l'époque.
Photograph by Milton H. Greene © Joshua Greene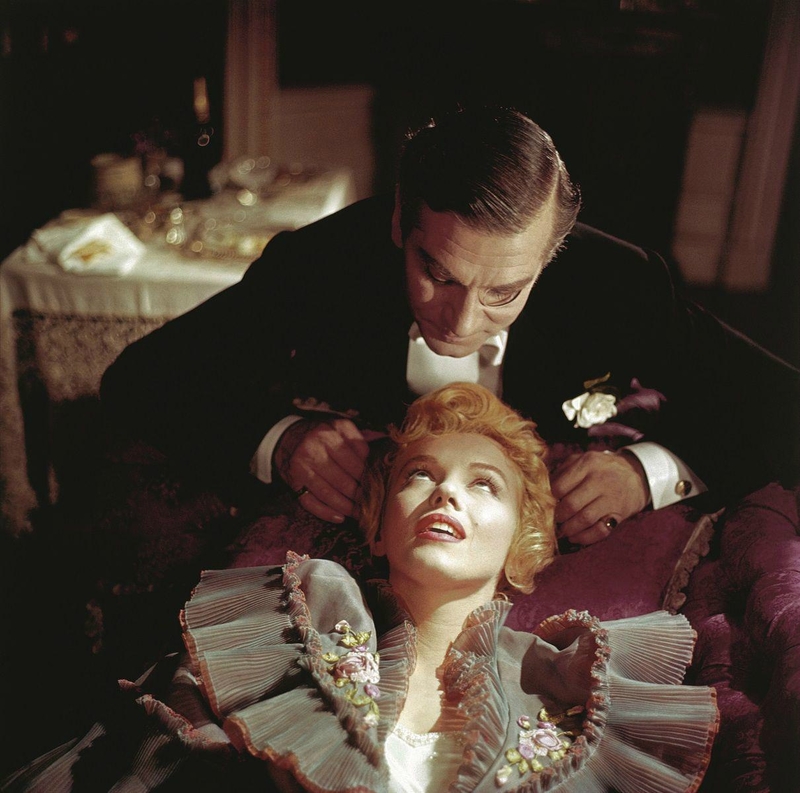 Marilyn Monroe durant l'été 1956,
l'actrice et Laurence Olivier dans «Le prince et la Danseuse».
Photograph by Milton H. Greene © Joshua Greene
26 juin 2017
The Essential Marilyn Monroe
by Milton H. Greene: 50 Sessions
Author: Joshua Greene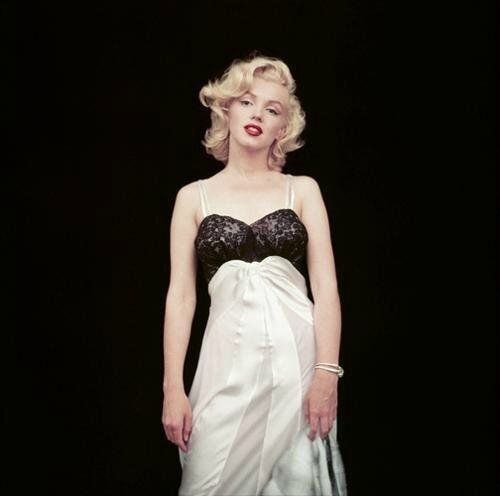 Date de sortie prévue le 27 septembre 2017
Relié 372 pages
Dimensions: ? cm
Langue: anglais
Éditeur: ACC Art Books
ISBN-10: 1851498672
ISBN-13: 978-1851498673
Prix éditeur: 59,82 Euros
Ou le commander ? sur amazon

Description:
> Including hundreds of never-before-published images, this archive immortalises Marilyn at the height of her beauty and fame
> 282 photos, a large percentage of which previously unpublished
> Photographs of Marilyn Monroe in various settings, from swimming pools to ballerina dresses, can finally be viewed as originally intended
> Taken by Milton H. Greene and restored by Greene's son Joshua, these photos document not only Marilyn's ability to light-up on camera but also the effort Joshua dedicated to restoring his father's work
Milton H. Greene (1922-1985), famous for his fashion photography and celebrity portraits from the golden age of Hollywood, met Marilyn Monroe on a photo shoot for Look magazine in 1953. The pair developed an instant rapport, quickly becoming close friends and ultimately business partners. In 1954, after helping her get out of her studio contract with 20th Century Fox, they created Marilyn Monroe Productions, Inc. Milton and Marilyn were much more then business partners, Marilyn became a part of the Greene family. By the time their relationship had ended in 1957, the pair had produced two feature films, in addition to more than 5,000 photographs of the iconic beauty. There was magic in Milton and Marilyn's working relationship. The trust and confidence they had in each other's capabilities was on full display in each photo.
Greene passed in 1985, thinking his life's work was succumbing to the ravages of time. His eldest son, Joshua, began a journey to meticulously restore his father's legacy. A photographer himself, Joshua spent years researching ways to restore his father's photographs as well as cataloging and promoting Milton's vast body of work all over the world. As a result, Joshua established "The Archives," a company committed to the restoration and preservation of photography. After spending nearly two decades restoring his father's archive, Joshua Greene and his company are widely regarded as one of the leaders in photographic restoration and have been at the forefront of the digital imaging and large-format printing revolution.
Now Joshua Greene, in conjunction with Iconic Images, presents The Essential Marilyn Monroe: Milton H. Greene, 50 Sessions. With 280 photographs, including many never-before published and unseen images, newly scanned and restored classics, as well as images that have appeared only once in publication, Greene's Marilyn Monroe archive can finally be viewed as it was originally intended when these pictures were first produced more than 60 years ago. These classic sessions - 50 in all - cover Monroe at the height of her astonishing beauty and meteoric fame. From film-sets to the bedroom, at home and at play, Joshua has curated a lasting tribute to the work of a great photographer and his greatest muse.
Poignant and powerful, joyful and stunning - these breath-taking images of an icon stand above all the rest and The Essential Marilyn Monroe: Milton H. Greene, 50 Sessions will sure to be a book that will become the platinum standard in photography monographs.
Milton H. Greene, was one of the earliest and best photographers working in the early days of colour photography. Outside his outstanding Monroe images, he has worked with a plethora of other celebrities, from Elizabeth Taylor, Frank Sinatra, Sammy Davis Jr. and Audrey Hepburn, to Grace Kelly, Marlene Dietrich, Dizzy Gillespie and Judy Garland.
>

extraits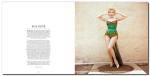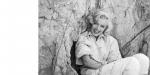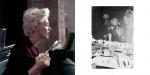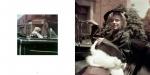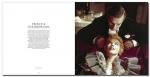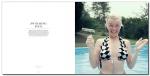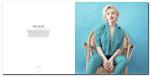 ---
The Essential Marilyn Monroe
by Milton H. Greene: 50 Sessions
Deluxe, Limited Edition
Author: Joshua Greene
Date de sortie prévue le 27 septembre 2017
Relié 372 pages
Langue: anglais
Éditeur: Acc Publishing Group Ltd; Box edition
ISBN-10: 1851498788
ISBN-13: 978-1851498789
Prix éditeur: 1881 Euros
Ou le commander ? sur iconicimages et sur amazon
Description: Coffret édité à 500 exemplaires:
> le livre en papier de haute qualité et définition (280 photos)
> 250 exemplaires contiennent une photographie ('Negligee Sitting'), accompagnée d'un certificat d'authenticité de 'Milton Greene estate'
> 250 exemplaires contiennent une photographie ('Bed Sitting'),accompagnée d'un certificat d'authenticité de 'Milton Greene estate'

> visuels
- le coffret -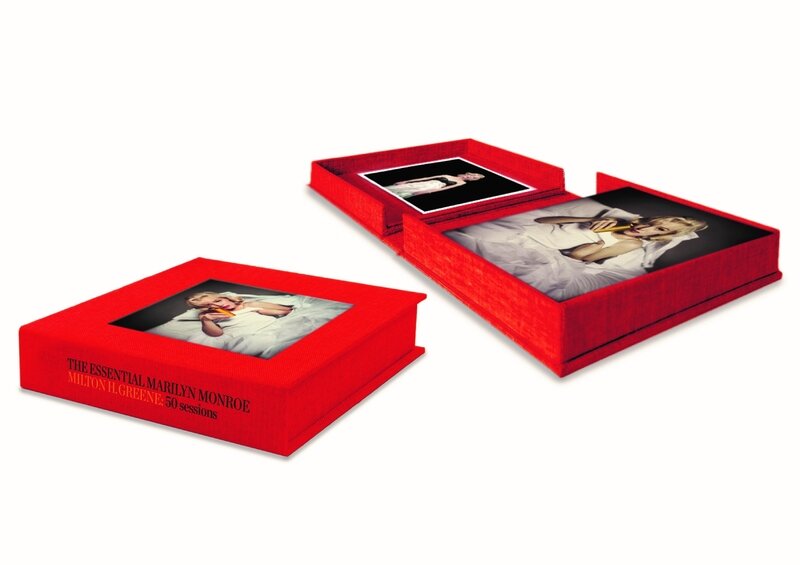 - le livre + la boîte du coffret -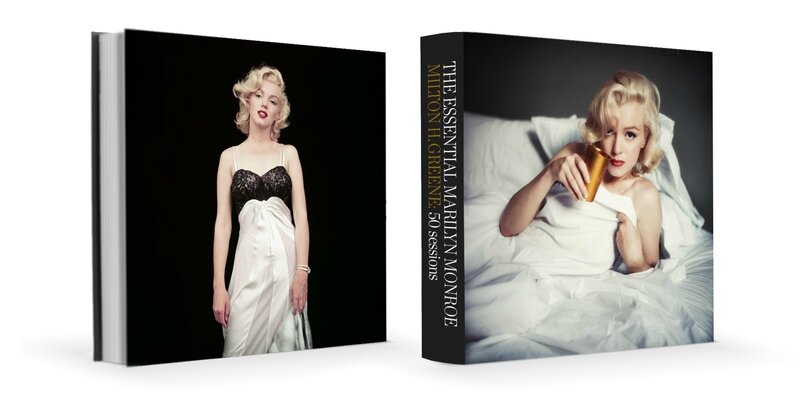 - les photographies -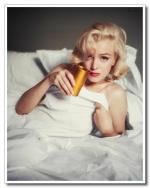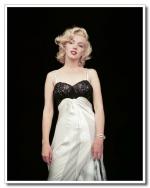 ---
Marilyn Inédite
Author: Joshua Greene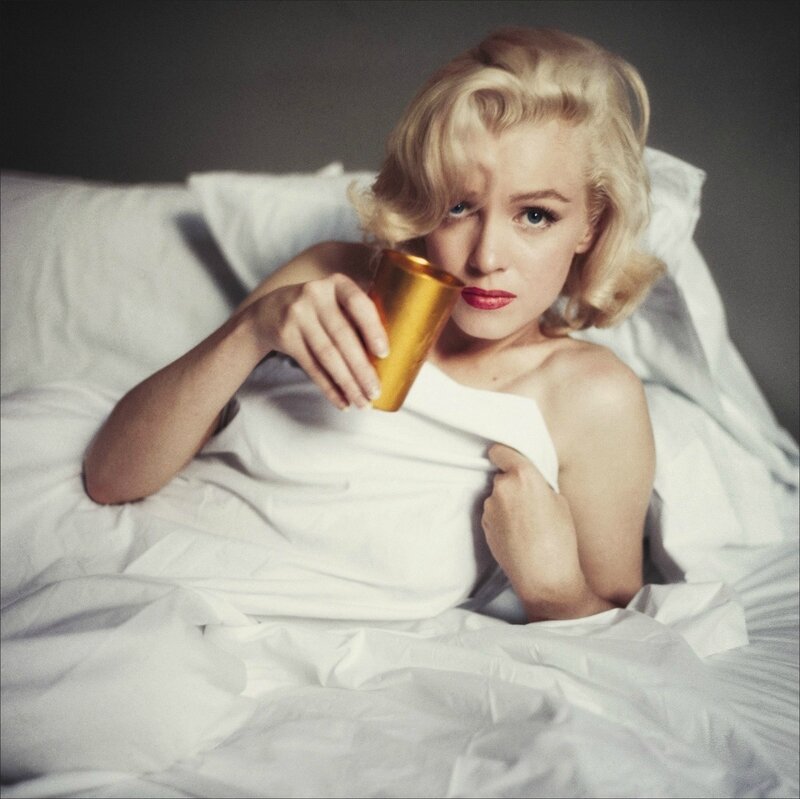 Date de sortie prévue le 27 septembre 2017
Relié 360 pages
Dimensions: 31,1 x 30,8 x 4 cm
Langue: français
Éditeur: Flammarion
ISBN-10: 2081419815
ISBN-13: 978-2081419810
Prix éditeur: 42 Euros
Ou le commander ? sur amazon

---
Vous avez le livre ? Do you have the book ?
Apportez votre critique, votre avis ou votre note (/10)
Gives your opinion, review or note (/10)
Enregistrer
Enregistrer
Enregistrer
Enregistrer
23 février 2017
Saturday Evening Post
- The New Marilyn Monroe - Part 3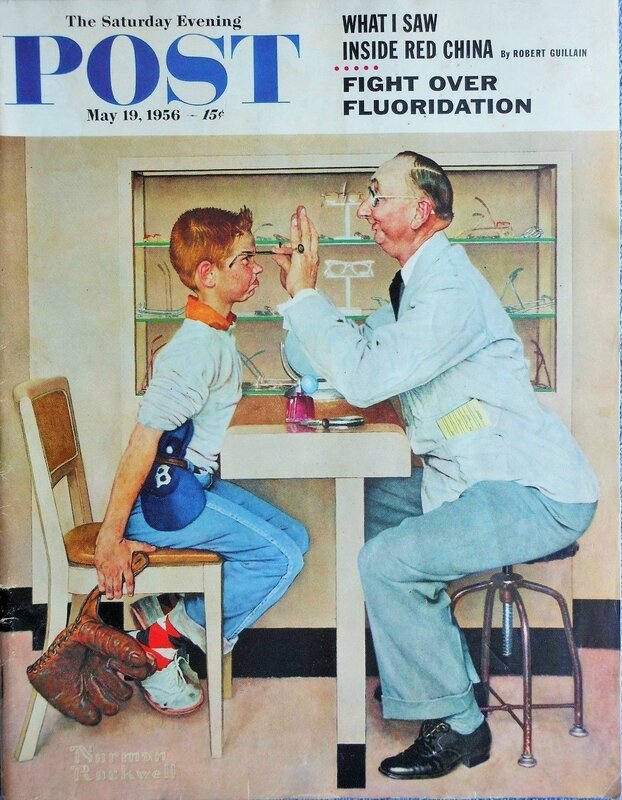 pays magazine: USA
paru le 19 mai 1956
article: 3ème partie "The New Marilyn Monroe"
en ligne sur saturdayeveningpost.com
---
Blonde, Incorporated
By Pete Martin
Originally published on May 19, 1956
The story of Marilyn's brief marriage to Joe DiMaggio, her battle with Hollywood, and her surprising new career.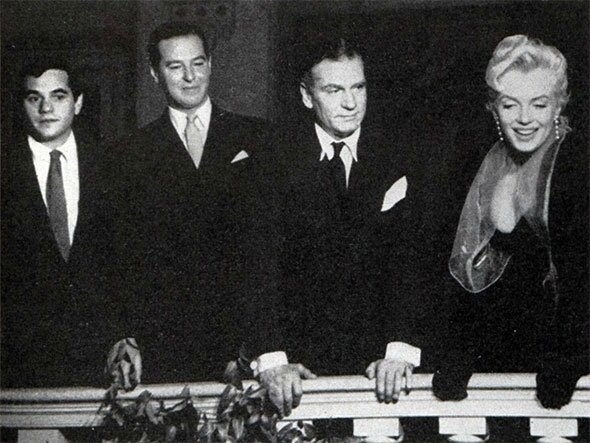 Milton Greene, vice-president of Marilyn Monroe Productions, playwright Terence
Rattigan, Sir Lawrence Olivier and Marilyn in New York. The occasion: To announce
plans for a movie version cf a Rattigan play, costarring Olivier and Monroe. (Hans Knopf, © SEPS)
I put this question to my friend and confidant, whom I call Flack Jones: "How did Joe DiMaggio happen to come into Marilyn's life?" Jones is one of my principal sources of Marilyn Monroe information. As a skilled and articulate employee of the publicity department of the 20th Century-Fox motion-picture studio, he had worked closely with Marilyn for several years before her highly publicized departure from Hollywood to live in New York and "learn to be an actress."
"Marilyn met him in a café one night on a blind double date," Jones said. "DiMaggio had heard about her and wanted to meet her. They met through friends and had dinner. Everything went just fine and dandy, until ultimately their friendship ripened into a romance which led to their marriage.
"But to complicate things, late in 1952 she decided to mix her first holdout with her romance," Flack Jones said. Then he corrected himself, "It must have been '53, for she had made River of No Return and How to Marry a Millionaire. Anyhow, she decided — or else her confidential advisers had persuaded her — that she was worth more money. But instead of stalking into Darryl Zanuck's office, slapping her next script down and saying, 'I won't do it!' she simply hid out. She sneaked down alleys, didn't answer her phone and couldn't be reached by anybody.
"This was before she ran off and married Joe DiMaggio, and the studio was taking a firm tone with her — a very firm tone. But when the romance reached full flower, the studio had to do a fast switch," Jones said. "Here we were, issuing communiqués about this 'silly and stubborn girl who was ill-advised enough not to come back and take this important part' in whatever the picture was — Pink Tights, I think — when all of a sudden she ups and marries Joe, the All-American Boy. After that, if we kept on beefing about her absence, the studio would be the big bully in the plot so far as the public was concerned.
"Then, to add to the studio's confusion, the pair went off to Korea to entertain the troops. How are you going to snap a blacksnake whip at a girl's calves for doing a thing like that? Snow White has married Prince Charming and they've gone off to Korea together to entertain the servicemen. So the studio started talking sweet in a hurry.
"However, the sharp-eyed and cynical could tell that that marriage was in danger as early as their arrival in the Orient," Flack Jones went on. "The press interviewed Marilyn in Tokyo, and a story was radioed back which said that Marilyn had talked about this and about that, and — oh yes — there was a man in the far corner of the room whose name was Joe DiMaggio. It didn't take much of a genius to figure that situation was the beginning of the end. Then, after an interval, the lovebirds flew back to Beverly Hills."
"Did the studio start having its troubles making her report for work before she married DiMaggio or after she married him?" I asked.
"We were having trouble before," Flack Jones told me.
"When was the first fly in the Monroe-Fox ointment?" I asked.
"I don't know the exact time," he said. "But it was not peculiar to Monroe alone. It's peculiar to life in Hollywood. It almost invariably happens when money and success make an impact on a male or female ego. We expect it to set in when the fan mail of the party in question zooms up to over two thousand a week. It's almost as much of a sure thing as the thermostat in your house turning on the heat. Two thousand fan letters a week is when we begin to say. 'We'll be having troubles with this doll."
"What form does it usually take?" I asked. "'I want more dough,' or 'I don't like my contract.' or 'My script stinks'?"
"A better way to answer your question is to say that when they realize they've got weight to throw around, they start throwing it," Flack Jones said. "They don't do those things you mentioned right away; they do less serious things first. They complain about wardrobe, or, if it's a musical, they complain about the songs or the dances, or, if it's a plain comedy or a straight drama, they gripe about how a certain scene is being directed. Whatever's handy, that's what they complain about. It makes no sense, but it's a means of saying that they have some weight now, and they want you to know it."
"What's the next move?" I asked.
Flack Jones rubbed his fingers over his scalp thoughtfully and said, "Ordinarily it's a preliminary test of strength, like bracing the front office for more dough for your dramatic coach.
"When she found out that she had that much weight, she decided to go out for herself, and she did. Some people think that she has always been a naive, flibbertigibbet girl moving through life. This is utter nonsense. She wasn't that way when she first was under contract; she was a grown person then. She kept her dates, she was always on time."
From now on," Jones said, "what I say is merely my own opinion, but I think that it was then that she discovered that there are people in Hollywood who respect other people who kick their teeth in. That's not just Hollywood for you. Most people do."
"Let's cut to the split-up between Joe and Marilyn," I said. "As I recall it, first there were rumors of strife, then things reached an impasse."
"Joe and Marilyn had a rented house on Palm Drive, in Beverly Hills," Jones said. "We had a unique situation there with the embattled ex-lovebirds both cooped in the same cage. Marilyn was living on the second floor and Joe was camping on the first floor. Then a famous attorney, Jerry Giesler, was brought into the act for Marilyn, although why they had to employ such a great lawyer to handle a simple divorce case I don't know. The public was all worked up, the press was, too, and they're circling the house like Indians loping around a wagon tram, waiting for somebody to poke a head out. The next move was Giesler's announcement that came Wednesday, at eleven o'clock, Marilyn would hold a press conference in his office.
"In the Fox publicity department," Jones said, "we concluded that if you call a press conference in a lawyer's office, it presupposes an obligation to say something, and what could Snow White say when she was breaking up with Prince Charming, or Cinderella say when she was splitting from the All-American Boy? Any press conference would only bring more characters out to chase Marilyn from her house to Giesler's office. And once they got there, if anybody issued one of those 'They're just a young couple who couldn't make a go of it' statements, it would only irritate everybody.
"So the studio issued a statement of its own in advance. We said that Marilyn wasn't going to hold any press conference, but she'd be leaving for work at ten o'clock from her house, to fulfill her commitment on Seven Year Itch, based on the Broadway play of the same name and costarring Tom Ewell, in Cinemascope. Once we'd got in that plug, we said that while we didn't promise an interview, the boys would get some pictures. So forty or fifty of the press congregated. In addition, there were several hundred volunteer reporters and photographers in the trees and trampling the lawn.
"Then an unbelievable thing happened," Flack Jones said. He grinned when he thought of it. "They were all there to get a picture of Marilyn going to work, because it would be the first picture since her announcement that she wanted a divorce, and all at once, in front of the house a great, big, beautiful automobile pulled up. In it was a friend of Joe's from San Francisco. As I've said, Joe's been in that house for three days on the first floor, with Marilyn on the second. There was a back alley, and a rejected husband could have snuck out of that back alley and disappeared if he'd wanted to. But Joe faced up to his responsibilities and took them like a man. So what do the press and newsreels get? A bonus! Out of the front door comes Joe, grim-lipped, walking the last long mile, with his pal carrying his suitcase.
"The press stopped him on the lawn, but Joe had no comment to make. They got pictures of him as he climbed into the car slowly, and one guy asked, 'Where you going, Joe?'
"'I'm going home,' Joe said.
"'We thought this was your home, Joe,' chirped the press like a Greek chorus.
"San Francisco has always been my home,' Joe said. He stood there waving farewell, then he drove away."
Looking at Flack Jones, I could see that he was still marveling at a scene which no press agent would have thought of inventing in his wildest dreams. He said, "I've always admired Joe for that. A lot of guys would have sneaked out the back way and gone to San Francisco, avoiding that encounter in the front yard. Not old Joe.
"About ten minutes later, Marilyn came down the stairs, sobbing, on Giesler's arm. She was all broken up. Everybody was shoving and pushing. A lady columnist kicked the crime reporter for the Los Angeles Mirror in the shins. He turned on her and asked, 'Who do you think you're kicking?' and she said, 'I'll kick you in the pants if you don't get out of my way.' All in all, there was quite a hubbub. The newsreel guys were grinding away, and somebody asked, 'How about Joe, Marilyn?' and Marilyn said, between sobs, '1 can't talk! I can't!' And she got in a car and drove off."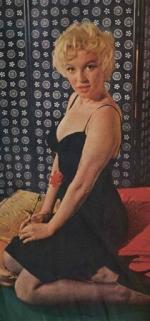 Later, when I talked to Marilyn in New York, I guided our conversation around to a story written by Aline Mosby, of the United Press. The story was about how Marilyn had told her that she had bought Joe a king-size, eight-foot bed because she didn't approve of separate bedrooms. "People say it's chic to have separate bedrooms," Marilyn told me. "That way a man can have a place for his fishing equipment and guns as well as sleeping, and a woman can have a fluffy, ruffly place with rows and rows of perfume bottles. The way I feel, they ought to share the same bedroom. With a separate-bedroom deal, if you happen to think of something you want to say, it means you have to go traipsing down the hall, and you may be tired. For that matter, you may forget what you started out to say. Besides, separate bedrooms are lonely. I think that people need human warmth even when they're asleep and unconscious."
There were other things I wanted to ask her. "I've heard that in Asphalt Jungle you displayed a highly individual way of walking that called attention to you and made you stand out. I've heard a lot of people try to describe the way you walk, and some of those descriptions are pretty lurid. How do you describe it?"
She leaned forward, placed her elbows on a table and cupped her chin in her palms. She was very effective that way. "I've never deliberately done anything about the way I walk," she said. "People say I walk all wiggly and wobbly, but I don't know what they mean. I just walk. I've never wiggled deliberately in my life, but all my life I've had trouble with people who say I do. In high school the other girls asked me, 'Why do you walk down the hall that way?' I guess the boys must have been watching me and it made the other girls jealous or something, but I said, 'I learned to walk when I was ten months old, and I've been walking this way ever since.'"
In California I had asked Flack Jones, "What would you say Marilyn does best? Is her walk her greatest asset?" Jones regarded the feathery top of a slender, swaying palm tree, as if searching for an answer. "She does two things beautifully," he said. "She walks and she stands. Also, as I've already told you she has wit enough to buy her clothes one or two sizes too small, and with a chassis like hers, this infuriates women and intrigues guys. From a woman's standpoint, there is no subtlety in such gowns. I remember when Marilyn came to a party. In a number which fitted her like a thin banana peel and the other women there thought it outrageous. Comments were made about that gown in a gossip column."
"How did Marilyn react to that?" I asked.
"Marilyn asked me, 'What should I have done?"' Jones said. "I said, 'Look, honey, the men loved it. Pay no attention to what the gossip-column cat said. You're a man's woman, so dress for men, not for other women. Any time you quit dressing for men you're out of business.'"
I told Jones that I'd been trying to find a phrase which would describe her walk, but that I hadn't been able to. "I can't help you there," Jones said. "I've heard the words 'quivering' and 'trembling' used in connection with her walk, but I don't know a description that really does the job. But when she walks across a screen a couple or three times, she attracts attention — a whole lot. That much I know.
"The public laughed at her walk in Niagara," Jones told me, "but Marilyn was only doing what the director wanted her to. It wasn't up to her to cut the picture or to tell the director not to point the camera at her during a long walk across cobblestones. I challenge any girl to walkdown a cobblestoned street in high heels without wiggling at least once."
After his analysis of Marilyn as a pedestrian, Flack Jones picked up our conversational threads where we'd broken them off with her parting from Joe DiMaggio, and tied them together again. "After that she came back and finished Seven Year Itch at Fox," he said. "Her agent, Charlie Feldman, flung a snazzy party for her at Romanoff's, and she went to New York. The next thing anybody knew, she announced that, with a New York photographer named Milton Greene, she had formed Marilyn Monroe, Inc. She's the president of the corporation; Greene's vice-president. But I have reason to think that she'd done that before she left Hollywood, for a hairdresser at the studio told me that one day when he had Marilyn in front of his mirror, she had said, 'Gee, I feel good. I'm incorporated.'"
I put it to Jones, "When she left the studio that last time, was it a clean, sharp break or did her relations with the studio gradually become fuzzy and vague?"
"After Itch," Flack Jones said, "she simply didn't show up again. I don't know whether you'd call that sharp or vague."
I said, when I finally met Marilyn, "The way I get it, you invented a whole new system of holding out; you just disappeared."
"I disappeared because if people won't listen to you, there's no point in talking to people," Marilyn told me. "You're just banging your head against a wall. If you can't do what they want you to do, the thing is to leave. I never got a chance to learn anything in Hollywood. They worked me too fast. They rushed me from one picture into another.
"I know who started all of those stories which were sent out about me after I left Hollywood the last time," she added. One paper had an editorial about me. It said: 'Marilyn Monroe is a very stupid girl to give up all the wonderful things the movie industry has done for her and go to New York to learn how to act.' Those weren't the exact words, but that was the idea. That editorial was supposed to scare me, but it didn't, and when I read it and I realized that it wasn't frightening me, I felt strong. That's why I know I'm stronger than I was."
She thought for a while; then she said, "I'm for the individual as opposed to the corporation. The way it is, the individual is the underdog, and with all the things a corporation has going for them an individual comes out banged on her head. The artist is nothing. It's tragic."
Going back to a straight question-and-answer routine, I said, "You're habitually late for appointments. What are the psychological reasons for your lateness?'
"I don't know," she said. "I've never come to any conclusion. If I knew, I'd get over it."
I said that I'd heard she was so nervous before appointments that she was sometimes became nauseated. I asked if this was caused by a feeling of pressure — of people pushing and hauling and pulling at her.
"You'd throw up, too, in some situations," she told me. "I flew into New York at eight o'clock one morning and there were photographers waiting to take pictures of me at the airport, and all that morning I had a series of interviews with newspaper people. Those interviews came twenty minutes or a half hour apart. Then I was rushed to a luncheon with a group of magazine people, and right after luncheon I tore over to the Daily News Building. I don't think anybody can take that routine very long. Another complication is that I have a certain stupid sincerity. I don't want to tell everybody who interviews me the same thing. I want them all to have something new, different, exclusive. When I worry about that, I start to get sick at my stomach."
I asked her if writers had ever prepared material for her to use in an "interview" or in a "by-line story."
"I refuse to let articles appear in movie magazines signed 'By Marilyn Monroe," she said. "I might never see that article and it might be O.K.'d by somebody in the studio. This is wrong, because when I was a little girl I read signed stories in fan magazines and I believed every word of them. Then I tried to model my life after the lives of the stars I read about. If I'm going to have that kind of influence, I want to be sure it's because of something I've actually said or written."
"I've been told that you devote hours to selecting and editing pinup pictures of yourself," I said.
"I haven't so far," she told me. "But maybe it's time I did. At least I'd like to have my pictures not look any worse than I do. I'd like them to resemble me a little bit. With some photographers, all they ask is that a picture doesn't look blurred, as if you've moved while they were taking it. If it's not blurry they print it."
"Somewhere," I said, "I've read that at least half of the photographs taken of you are killed because they are too revealing."
"That's the Johnston Office for you," she sighed. "They're very small about stuff like that, and what the Johnston Office passes, the studio ruins with retouching. After one sitting of thirty poses, twenty-eight of those poses were killed. The Johnston Office spends a lot of time worrying about whether a girl has cleavage or not. They ought to worry if she doesn't have any. That really would make people emotionally disturbed. I don't know what their reasoning is," she went on with a puzzled air. "They certainly can't expect girls to look like boys."
"I've read that your measurements are 37-23-34," I told her.
"If you're talking about my lower hips, they're thirty-seven inches," she said. "If you're talking about my upper hips, they're thirty-four." Eying her, I tried to decide where "upper" hip left off and "lower" began. I gave up.
"Nowadays," she said, "there's a vogue for women with twenty-twenty-twenty figures. Models in the high-style magazines stick out their hipbones and nothing else. But I'm a woman, and the longer I am one the more I enjoy it. And since I have to be a woman, I'm glad I'm me. I've been asked, 'Do you mind living in a man's world?' I answer, 'Not as long as I can be a woman in it.'"
"There's another thing I want to ask you," I said. "It's about something you said to a man in the Fox Studio legal department. You said, 'I don't care about money. I just want to be wonderful.' He didn't know what you meant by that."
"I meant that I want to be a real actress instead of a superficial one," Marilyn herself told me. "For the first time I'm learning to use myself fully as an actress. I want to add something to what I had before. I want to be in the kind of pictures where I can develop, not just wear tights. Some people thought that they were getting their money's worth when they saw me in The Seven Year Itch, but in future I want people to get even more for their money when they see me. Only today a taxi driver said to me, 'Why did they ever put you in that little stinker, River of No Return?'
"I thought it was a good question," Marilyn told me. "I'm with that taxi driver. He's my boy. Knowing what I know now, I wouldn't accept River of No Return today. I think that I deserve a better deal than a Z cowboy movie, in which the acting finishes third to the scenery and CinemaScope. The studio was CinemaScope-conscious then, and that meant that it pushed the scenery instead of actors and actresses." Without missing a beat, she switched gears into another subject. "One of the things about leaving Hollywood and coming to New York and attending the Actors' Studio was that I felt that I could be more myself," she said. "After all, if I can't be myself, who can I be?" I shook my head. She had me puzzled too.
Nunnally Johnson had directed How to Marry a Millionaire, costarring Betty Grable, Lauren Bacall and Marilyn. "Do her pictures make a lot of money?" I asked him in Hollywood.
"Millionaire earned a tremendous amount," Nunnally told me.
"What about The Seven Year Itch?" I asked.
"Variety reports it as the top Fox grosser for 1955," he said. "But speaking for myself, I can't say that I saw the 'new Marilyn Monroe' in The Seven Year Itch that some others did. I thought that essentially it was the same performance, just longer. Still, this could scarcely be a cause for worry for her; God had given her that equipment and it was still magnificent. She was still a phenomenon."
"Maybe she'll grow into a young Mae West and make people laugh at sex," I suggested.
Johnson agreed that it might be a good thing if she could do that. "I believe that the first time anybody genuinely liked Marilyn for herself, in a picture, was in How to Marry a Millionaire," he said. "She herself diagnosed the reason for that very shrewdly, I think. She said that this was the only picture she'd been in in which she had a measure of modesty. Not physical modesty, but modesty about her own attractiveness. In Millionaire she was nearsighted; she didn't think men would look at her twice, because she wore glasses; she blundered into walls and stumbled into things and she was most disarming. In the course of the plot she married an astigmatic; so there they were, a couple of astigmatic lovers. In her other pictures they've cast her as a somewhat arrogant sex trap, but when Millionaire was released, I heard people say, 'Why, I really liked her!' in surprised tones."
These comments of Johnson's were made before Marilyn was enlightened by exposure to the Actors' Studio. Upon her return from New York to work at Fox in Bus Stop, Johnson did see a "new Marilyn Monroe."
"In contrast to the old Marilyn, in her present incarnation she is a liberated soul, happy, co-operative, friendly, relaxed," he wrote me. "Actually, it is as if she had undergone a psychoanalysis so successful that the analyst himself was flabbergasted. Now she's different; her behavior and her manner as a member of the social order are O.K. As for her acting, that remains to be seen."
I told Marilyn that I had read an Associated Press story which estimated that her newest contract — scheduled to run for seven years — would bring her more than $8,000,000. When I mentioned this, she said, "Eight million dollars is a lot. However, no matter what they tell you, it's not for money alone that I'm going back to Hollywood. I am free to make as many pictures for my own company as I do for Fox, and I can do TV and stage shows."
Among others I'd talked to about Marilyn, before discussing her with herself, was Milton H. Greene, the New York photographer who'd become vice president of Marilyn Monroe Productions.
"I don't know where they got that figure eight million, either," Greene had told me. "Not from me or Marilyn." He went on, "I don't ask you what you make, do I? Everybody wants an exclusive release or an exclusive interview with Marilyn on the subject, and I want everybody to be happy, but things like that are confidential."
Like Marilyn, Greene asked me not to use a tape-recording machine when interviewing him. "Makes me stutter," he said. So, carefully, laboriously, and word for word, I wrote down everything he said to me. While doing it, I noticed no signs of stuttering. Evidently a notebook and pencils didn't bother him. Greene had also asked me to put the initial "H" in his name, making it Milton H. Greene. "Would you mind very much?" he said. "There're other Milton Greenes who are also in the photography business."
He had met Marilyn when he had gone to California to do a series of photographs of Grace Kelly, Elizabeth Taylor, Jean Simmons and Marilyn Monroe. It hadn't been his idea to do anything too sexy. "After all," he said, "in a national magazine you can only expose so much of a girl, even if the girl is willing. Marilyn turned out to be different from what I thought she'd be. More sensitive."
Greene had gone to California on a second assignment, and had begun to think of doing a book of photographs of Marilyn. "The book isn't out yet," he said, "but I'll show you a few of the pictures I made for it. It will be Marilyn in different moods and settings, as if she were playing different parts." He went to a shelf and brought back a box of aluminum squares. Each square contained a color transparency. "Here's one where she looks as if she's in England," he said. "As you can see, she's wearing an Edwardian hat. Here's one where she looks like Bernadette in The Song of Bernadette." I looked at that one for a long time. It was, I thought, a novel idea.
Milton H. Greene watched me write down what he'd said in my notebook; then he went off on a slight tangent. "One day I plan to do a cookbook for dogs," he said. "It would contain dog-dish recipes. I think it would be amusing." I brought him back from his dog cookbook project to his association with Marilyn. "In Hollywood," he said, "we got to talking. This was after she'd made Seven Year Itch and after her divorce from Joe, and I told her that I hoped to go into television and theatrical production. I found that all Marilyn wants is to make just enough money to be able to afford to make good pictures. That's the way I feel about it, too, so Marilyn Monroe Productions hopes to buy a good story property; then approach the right studio about making and distributing the picture."
He stood up, walked around his office and came back to his chair. "If Marilyn had been only interested in making money," he said, "she wouldn't have been interested in me."
When I asked Marilyn to tell me about her association with the Actors' Studio, she said that she not only attended classes there, but had also had private lessons from Lee Strasberg and his wife, who are the mainsprings of the project.
Greene told me, "Marlon Brando, Jimmy Dean, Kim Stanley, Julie Harris and Montgomery Clift all studied under the Strasbergs. Marilyn observes, studies and watches. She listens to lectures. Occasionally she is allowed to take part."
The Actors' Studio lets interested people like Marilyn sit in on an informal, guest basis. She is not an officially enrolled student member of the Actors' Studio, because you are not admitted there on that basis unless you have contributed something notable on the stage in a performance or have passed a series of exacting auditions. Just wanting to be in isn't enough. This is very smart of the Strasbergs, because it eliminates all those who are without talent; otherwise the studio would be full of women all seven feet tall and all trying to be actresses.
I said to Marilyn that I'd heard she'd spent some time with Terence Rattigan, the British playwright, discussing the screenplay he was adapting for her from his London stage success, The Sleeping Prince, a vehicle in which Sir Laurence Olivier had played the prince. Sir Laurence had also agreed to play the same role opposite Marilyn and also to direct the film. "I had a bad cold the evening I spent with Mr. Rattigan, and he said I sounded like Tallulah Bankhead," Marilyn told me proudly. Then she added thoughtfully, "Mr. Rattigan is young, but not too young."
I asked her what she meant. She smiled and said, "I guess you want me to say over twelve and not quite ninety. I don't know how old Mr. Rattigan is. I'd say he's kind of ageless."
I asked her to give me a hint of the story line followed by The Sleeping Prince. "I'm an American chorus girl in London, in it," she said, "and the regent of a foreign country notices me and asks me to a reception at his country's legation. I wriggle into my only formal and go, only it turns out it's not a large gathering at all. In fact, it's the same stale bit that's been tried out on girls for the last three thousand years: dinner for two, candles, wine and soft music, when she's expecting other guests. The next thing I know, I've had too much champagne and I've passed out. I won't tell you any more. You ought to be willing to spend money to find out what happens next.
"The truth is," she said, "the plot is about a man who's been asleep — at least his emotional something or other has been asleep — but little by little a relationship builds up between him and this American chorus girl, and he begins to stir in his sleep, as you might say. He's a married man, but that doesn't complicate things because he's sophisticated about the whole deal. Terence Rattigan describes it as 'an occasional fairy tale or a comedy with serious overtones.'"
Weeks before, when I'd talked to Billy Wilder about Marilyn, I'd said to him, "I should think it would take a great deal of mature mental and moral strength to cope with becoming an enormous success overnight. It must be unsettling to suddenly become a sex symbol known all over the world."
Wilder replied, "It's my opinion that she's basically a good girl, but what's happened to her is enough to drive almost anybody slightly daffy, even someone who is armored with poise and calmness by his background and bringing up. You take a girl like Marilyn, who's never really had a chance to learn, who's never really had a chance to live, and suddenly confront her with a Frankenstein's monster of herself built of fame and publicity and notoriety, and naturally she's a little mixed up and made giddy by it all. However, I'd like to go on record with this: I worked with her in Seven Year Itch and I had a good time with her. She was seldom on time, but it wasn't because she overslept. It was because she had to force herself to come to the studio. She's emotionally upset all the time; she's scared and unsure of herself — so much so that when I worked with her I found myself wishing that I were a psychoanalyst and she were my patient. It might be that I couldn't have helped her, but she would have looked lovely on a couch."
"You mean you didn't get annoyed when she was late?" I asked.
"I understood the reasons for it," Wilder told me. "There was no use getting annoyed. Even at the beginning, when I discovered that I had let myself in for a certain amount of trouble, I found myself liking her. At no time did I find her malicious, mean, capricious or anything but conscientious. There are certain urges and drives in her which make her different, but, as a director, I think it worth combating those things and living with them in order to work with her."
I found myself hoping that Josh Logan, who will direct her in her next picture, the filmed version of Bus Stop, and Buddy Adler, the producer who bought that play for Fox, would feel the same way about her Wilder feels. That's what she does to you. In spite of her spells of procrastination carried to fantastic lengths, in spite of her verbal convolutions, you wind up liking her.
By "her" I mean, of course, all of the various Marilyn Monroes — and there are several of them. There is the sexpot Marilyn Monroe; she's the one who tries so hard to live up to the legend of her sexiness that even her own stomach sometimes can't take it. Then there's the frightened Marilyn Monroe, product of a broken home and a battered childhood — a girl named Mortenson who still can't believe that she's that girl on the screen they're making all the fuss about. And last of all there is "The New Marilyn Monroe" — the one who is supposed to have emerged from the Actors' Studio as a composed and studied performer, "having achieved growth" and "developed more."
Somehow, as I neared the end of my interview, I found myself wondering if people would accept her as the new and different Marilyn Monroe she thinks she is. I had heard one man say, "Even if you hung Ethel Barrymore's and Helen Hayes' talent on Marilyn's beautiful body, people wouldn't take her acting seriously."
To my surprise, I realized that I was dreading the possibility that when she turned on her new brand of acting, audiences might laugh at her, as they laughed at Zasu Pitts when she went in for "heavy drahma" after a lifetime as a comedienne.
"It doesn't scare me," Marilyn told me bravely, when I mentioned my fears. "If I have the same things I had before I started to go to the Actors' Studio and I've added more — well, how can I lose?"
Whether she has really "added more" or not, I don't know. But, as she herself points out, she does — emphatically — still have the same things she had before. My guess is that they're still negotiable at the box office.
---
© All images are copyright and protected by their respective owners, assignees or others.
copyright text by Saturday Evening Post.
Enregistrer
Enregistrer
Enregistrer
Enregistrer
Enregistrer
21 février 2017
Marilyn Monroe en pull col roulé noir et manteau camel Dior,
New York - 1955
Marilyn Monroe in a black turtleneck sweater and Dior's camel overcoat

---
- de la collection de James Collins, fan des Monroe Six
-from the personal collection of James Collins, one of the 'Monroe Six'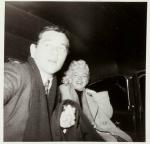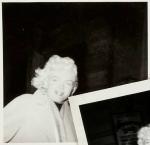 Marilyn & Milton Greene

---
- de la collection de Frieda Hull, une fan des Monroe Six
-from the personal collection of Frieda Hull, one of the 'Monroe Six'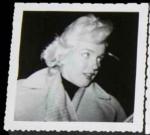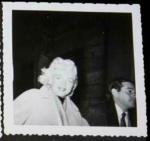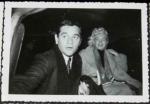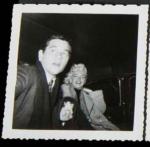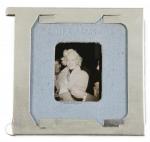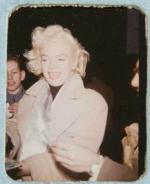 ---
- de la collection de James Haspiel, fan
-from the personal collection of James Haspiel, fan

---
© All images are copyright and protected by their respective owners, assignees or others.
copyright text by GinieLand.
Enregistrer
Enregistrer
Enregistrer
15 janvier 2017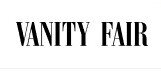 See Marilyn Monroe Giggle Through Her Wedding Reception, Movie Rehearsals, and More in Long-Lost Film
Watch photographer Milton H. Greene's lost footage of his most famous muse.
published in July 12, 2016
by Julie Miller
en ligne sur vanityfair.com
Fine-art fashion photographer Milton H. Greene captured some of the greatest stars of the 1950s and 1960s in his enduring portraits, including Grace Kelly, Elizabeth Taylor, Cary Grant, Sophia Loren, Audrey Hepburn, and Paul Newman. But it was Greene's portraits of Marilyn Monroe—his muse, friend, onetime roommate, and professional collaborator—for which he is most famous.
The two met in 1953—the same year Monroe appeared on-screen in Gentlemen Prefer Blondes—when Greene photographed the bombshell for Look magazine. Photographer and subject bonded, and their relationship over the next few years yielded one production company (Marilyn Monroe Productions, whose titles include The Prince and the Showgirl), a memoir, and over 50 photo sessions.
Beginning July 16, the Morrison Hotel Gallery at the Sunset Marquis Hotel will display some of Greene's never-before-seen photos from these sessions in its "Some Like It Hot" exhibit. The presentation will also feature 16-mm-film footage (previewed above), showing Monroe in rare and relaxed form—mostly out of the spotlight. Among the moments Greene captured: a cheerful Monroe kissing her third husband, Arthur Miller, and greeting guests at the couple's 1956 wedding reception; Monroe performing a musical number in the 1956 romantic comedy Bus Stop; and the beauty preening between the sheets for an intimate photo shoot.
In a statement to Vanity Fair, Joshua Greene said of his father's work, "There was an elegance to the simplicity of the sessions. Milton was not afraid to be vulnerable with his subjects, which created confidence and trust between them."
Photographer and Morrison Hotel Gallery co-owner Timothy White added of Greene and Monroe, "They spent a lot of time together and she often ran to Milton and his family for an escape from the pressures of Hollywood. With that trust came the access and opportunity for Milton to be with her and to photograph her freely. He became a trusted confidant who always had his still and movie camera with him as he documented her life."
"Seeing this film footage for the first time gives you the chills," continues White. "They're like home movies, yet one of the biggest stars of our time has obviously let her guard down and allows Milton to film her most playful, private, and important moments in her life. . . . It's a window into something we've never before seen . . . but always wanted to."
The "Some Like It Hot" exhibit will continue through July 24 (2016).
---
> extrait d'un JT américain - interview de Timothy White
et images des séquences tournées par Greene avec
des images inédites du mariage de Marilyn avec Miller
extract of US news - interview of Timothy White
and footages of Greene's home movies with unseen images
of Marilyn Monroe and Arthur Miller's wedding

captures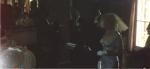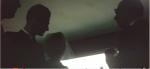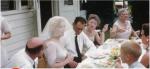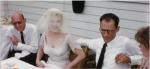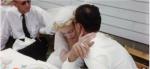 > retrouvez les captures dans l'article consacré au mariage:
find all the screen caps on the article dedicated to the wedding:
1/07/1956 Cérémonie Juive Mariage Marilyn et Arthur
---
Enregistrer
All photos are copyright and protected by their respective owners.
copyright text by GinieLand.