03 mai 2009
Splendide wallpaper de Kevin
voir son site roseloomis.com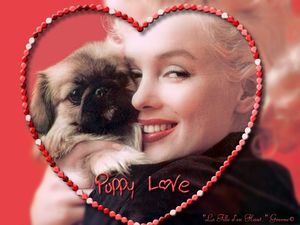 10 février 2009
captures de séquences (probablement en super huit, l'ancêtre de nos caméscopes) filmées par Milton H. Greene, qui était alors le photographe officiel sur le tournage du Prince et la danseuse à Londres.
04 août 2008
But That's Another Story:
A Photographic Retrospective
of Milton H. Greene
Livre de photographies
Auteurs: Joshua Greene, Amy Greene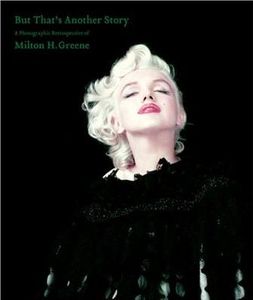 Prix éditeur: 50,61 Euros
Date de sortie: 4/12/2008
Relié 268 pages
220 photos couleur et
noir et blanc
Dimension 11,25cm x 14,25cm
Langue: anglais
Edition: PowerHouse Books
Auteurs et Editeurs: Joshua
et Amy Greene
Photos: Milton H. Greene
ISBN-10: 1576874540
ISBN-13: 978-1576874547
Ou le trouver ? sur amazon
et édition powerHouse Books

Description (traduction d'après le site de la maison d'édition powerHouse Books):
Témoin privilégié de l'esprit glamour des années 1950 et 60, Milton H. Greene photographia les plus grand artistes, acteurs et personnalités du 20ème siècle, dont Marilyn Monroe, Frank Sinatra, Grace Kelly, Marlene Dietrich, Sammy Davis Jr., Elizabeth Taylor, Cary Grant, Sophia Loren, Groucho Marx, Audrey Hepburn, Andy Warhol, Judy Garland, Alberto Giacometti, Lauren Hutton, Alfred Hitchcock, Sir Laurence Olivier, Ava Gardner, Steve McQueen, Claudia Cardinale, Paul Newman, Lauren Bacall, Dizzy Gillespie, et Catherine Deneuve, parmi tant d'autres. Renommé pour ses photographies de mode, Greene capta à la perfection la fantaisie, l'élégance et la beauté de ses modèles.
"But That's Another Story: A Photographic Retrospective of Milton H. Greene" reproduit, dans sa clareté et intégrité originelles, les images qui furent pour la plupart indisponibles depuis le décès de Greene en 1985. Organisé en thèmatiques, le livre montre autant les séries de célébrités et de la mode largement publiées, que des instantanés intimes pris en backstage. Un chapitre entier est dédié aux photos de Marilyn Monroe, avec certains de ses portraits les plus emblématiques mêlés à des moments intimes de sa vie privée.
en Bref... Un livre très attendu, où, vous l'aurez compris, figure plusieurs personnalités, mais avec tout de même un chapitre entier consacré à Marilyn, avec publication de clichés rares. A savoir: c'est Joshua Greene et Amy Greene, respectivement le fils et la veuve du photographe, qui en sont les auteurs. Il n'y a plus qu'à attendre le 4 décembre, date prévue de sortie du livre, apparemment disponible qu'en version anglaise. Petite astuce: livre en précommande sur amazon, au prix de 43 euros (frais de port gratuits).
Enregistrer
Enregistrer
07 juin 2008
Photos de Milton Greene - De gauche à droite: De la session "Black Sitting" en 1956: Lot n°316 - Lot n°317 - Lot n°318 - Estimations de chacun de ces lots: $2000-$3000
Lot n°319 photo publicitaire pour "Le Prince et la Danseuse" en 1956 - Estimations $1000-$2000
31 mai 2008
ça faisait un ptit moment que je n'avais pas mis de wallpapers !
Voici 6 merveilles à tomber par terre créées par la talentueuse Chantal
A découvrir sans tarder sur son superbe blog Marilyn Monroe Wallpapers
27 avril 2008
Le 16 avril 1957 à New York, c'est accompagnée de son mari Arthur Miller que Marilyn Monroe annonce aux journalistes le renvoie de Milton Greene (vice-président des MM Prod), de l'avocat Irving Stein et du comptable Joseph Carr de sa société Marilyn Monroe Productions. Leurs remplaçants étaient Robert H. Montgomery Jr (le conseiller juridique de Miller), George Kupchik (le beau-frère de Miller au poste de directeur financier de la société de production) et George Levine (un ami de Miller qui travaillait comme employé municipal) et bien évidemment, Miller qui succéda à Greene en tant que vice-président. Les journalistes suivent le couple jusqu'à leur voiture et Marilyn se montre plutôt glaciale face aux journalistes, ne faisant aucune déclaration; tout en saluant de la main les quelques badeaux présents.

In April, 16, 1957, Marilyn Monroe, accompanied by Arthur Miller, announced to journalists that the vice-president of Marilyn Monroe Productions, Milton Greene, the lawyer Irving Stein and the accountant Joseph Carr were dismissed. Their substitutes were Robert H. Montgomery Jr (Miller's legal advisor), George Kupchik Miller's brother-in-law), who became the production company financial manager and George Levine (a friend of Miller who worked as a city employee). And Arthur Miller succeeded him as vice-president.
The journalists follow the couple to their car and Marilyn shows rather icy face reporters, making no statement, while waving a few people present.
---
---
>> Video

---
Milton H. Greene répondit respectueusement aux attaques de Marilyn :
«Il semble que Marilyn ne veuille pas poursuivre dans la voie que nous avions prévue. J'ai pris des avocats pour me représenter, (mais) je ne veux rien faire qui puisse nuire à sa carrière. Je me suis consacré à elle pendant pratiquement un an et demi. J'ai pratiquement abandonné la photographie ».
Marilyn Monroe

ne trouva qu'à rétorquer séchement: "Mon entreprise n'a pas été fondé pour verser pendant sept ans 49,5% de tous mes revenus à Monsieur Greene." Marilyn garda toutes les parts de leur société mais, fair-play, elle laissa à Milton le copyright des deux seuls films qui ont été tournés (Bus Stop et The prince and the Showgirl). Il est évident que même si les rapports entre Marilyn et Milton se dégradèrent sur le tournage du Prince et la Danseuse à Londres l'année précédente, c'est Arthur Miller qui poussa Marilyn à se débarasser de Milton. Certains pensent que Miller voulait contrôler totalement sa femme en profitant de son statut de célébrité; cependant, on peut aussi penser que Miller avait voulu écarter Milton de Marilyn, afin de protéger la santé de sa femme, Milton prenant beaucoup de médicaments et ayant contribué à l'initiation de Marilyn à ce rythme médicamenteux (enchaînant les barbituriques pour trouver le sommeil avec des amphétamines pour retrouver la forme).
Milton H. Greene's public answer was quite dignified :
"It seems that Marilyn wouldn't want to continue the way we've planned. I have some lawyers to represent me, (but) I don't want to do anything which could be harmful to her career. I have devoted myself quite completely to her for a year and a half. I have practically given up photography".

Marilyn Monroe answered dryly : "My company was not founded to pay 49.5 %

of my income

for

seven years

to Mr. Greene." Marilyn kept all the parts of their society, but fair play , she let to Milton the copyright of the only two films that were shot (Bus Stop and The Prince and the Showgirl) . It is obvious that even if the relationship between Marilyn and Milton soured on the set of Prince and the Showgirl in London the previous year, this is Arthur Miller that pushed Marilyn to get rid of Milton.

Some believe that Miller wanted to completely control his wife enjoying his celebrity status, but we can also think that Miller had wanted to exclude Milton from Marilyn, to protect the health of his wife, as Milton taking a lot of drugs and have contributed to

the initiation of this drug to Marilyn (taking barbiturates to find sleep with amphetamines to get into shape).
---
© All images are copyright and protected by their respective owners, assignees or others.
copyright text by GinieLand.
10 avril 2008
Action Caritative

Marilyn Monroe participe au show de mode annuel March of Dimes, qui se déroulait au Waldorf-Astoria de New York le 28 janvier 1958, accompagnant les jumelles de 6 ans Lindy et Sandy Sue Salomon. Les bénéfices de ce show sont reversés à la recherche de vaccination de la polio. Marilyn porte un ensemble veste et jupe longue de couleur champagne en soie et satin, et dont la veste fut conçue par John Moore pour Talmack. Les participants au show étaient composés des membres du groupe de haute-couture de l'institut New York Gress, ainsi que de designers new-yorkais, californiens et italiens.
(Pour en savoir plus sur les actions menées, visitez le site March of Dimes )
> photographie de Henri Dauman

---
---
>> Video

---
>> Campagne vaccins contre la polio (1957)
Photographies de Milton H. Greene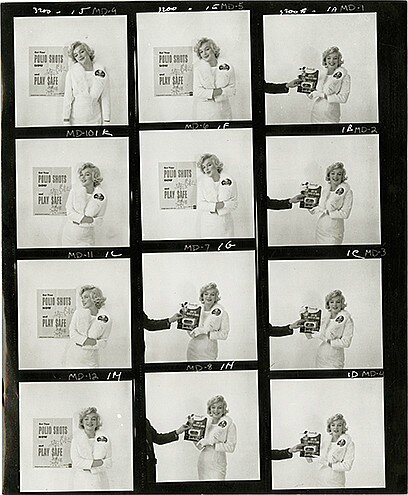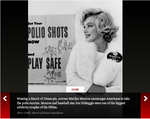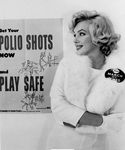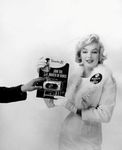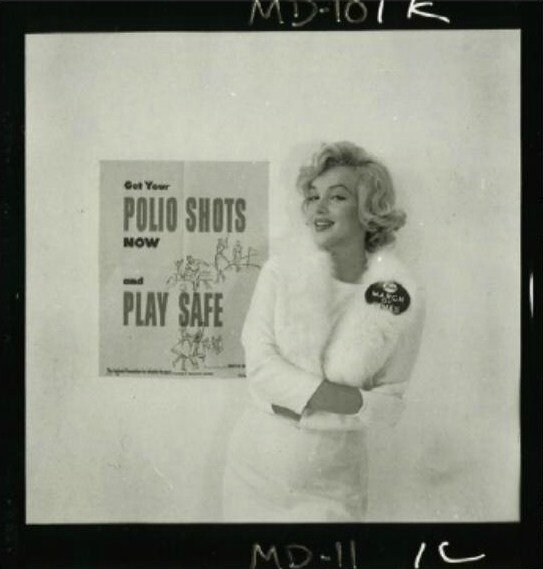 18 janvier 2008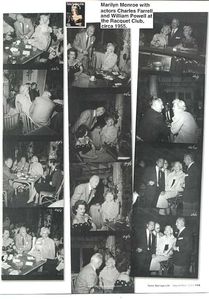 Des instantanées de Marilyn Monroe portant son manteau beige
le 4 décembre 1954 au Palm Spring Racquet Club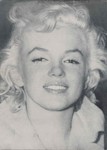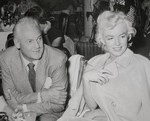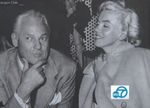 ci-dessus, avec Charlie Farrell (propriétaire du Racquet Club)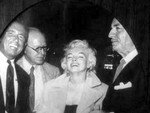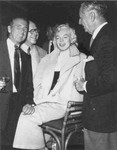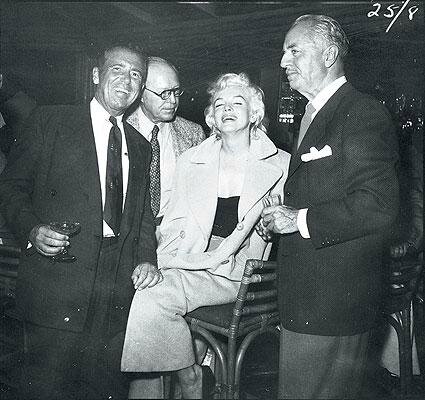 > à la "Bamboo Room" avec William Powell, Charlie Farrell,
Charles Feldman et Milton Greene (assis en second plan)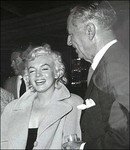 ---
> photo de presse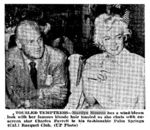 ---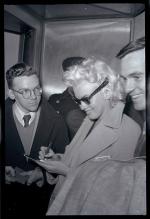 ci-dessus, avec Milton Greene (à droite)
et John Reiley des Monroe Six
---
© All images are copyright and protected by their respective owners, assignees or others.
copyright text by GinieLand.
Enregistrer
09 décembre 2007
Montage féerique de Marilyn du site ladyshalene