04 juin 2010
Le vendredi 19 juin 1942, Norma Jeane Mortensen épouse Jim Dougherty. Le mariage a lieu dans la maison de la famille Howell (Chester et Doris Howell), des amis de Grace Goddard, au 432 South Bentley Avenue, à Los Angeles. Norma Jeane vient de fêter ses 16 ans (le 1er juin) et James Dougherty est âgé de 21 ans. C'est Grace Goddard qui a "arrangé" ce mariage afin d'éviter à Norma Jeane le retour à l'orphelinat; et Ana Lower a organisé les préparatifs, notamment en envoyant les invitations et en confectionnant la robe de mariée.

On Friday, June 19, 1942, Norma Jeane marries Jim Dougherty. The wedding takes place at the home of the Howell family (Chester and Doris Howell), friends of Grace Goddard, at 432 South Bentley Avenue, Los Angeles. Norma Jeane just turned 16 (on June 1st) and James Dougherty is 21. It is Grace Goddard who has "arranged" this marriage in order to prevent Norma Jeane from returning to the orphanage; and Ana Lower has organized the preparations, including sending out the invitations and making the wedding dress.
- Le carton d'invitation -
- Personal invitation -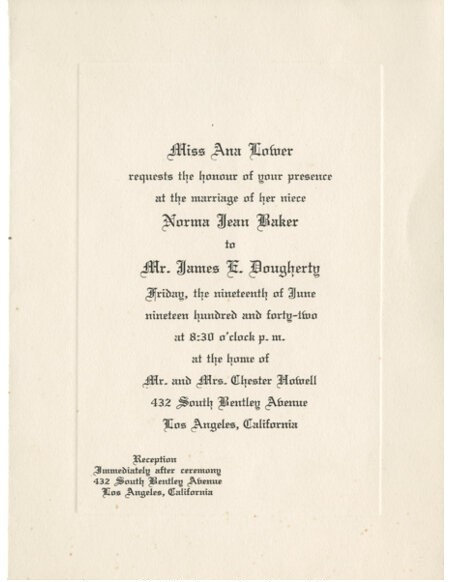 ---
Une annonce du mariage est aussi publiée dans la presse locale, dans le journal "Westwood Hills Press" rubrique "social" du 19 juin 1942 (soit le jour du mariage): "Norma Jeane Baker épousera James E Dougherty vendredi".
An announcement of the marriage is also published in the local press, in the newspaper "Westwood Hills Press", in the "social" section of June 19, 1942 (the day of the wedding): "Norma Jeane Baker to Marry James E Dougherty on Friday".
---
La cérémonie débute à 20h30 et est orchestrée par le révérend Benjamin Lingenfelder, appartenant à l'Eglise de la science chrétienne (dont faisait parti Gladys -la mère de Norma Jeane- et Norma Jeane).
Peu d'invités représentent la famille de Norma Jeane: en effet ni son ancienne tutrice Grace Goddard (partie vivre en Virginie), ni sa demie-soeur Berniece (qui vivait dans le Kentucky), ni sa mère Gladys (hospitalisée) ne sont présentes. Seuls les Bolender (famille d'acceuil de Norma Jeane quand elle était enfant) et Ana Lower sont là, Ana amenant Norma Jeane devant l'autel.
Les témoins des mariés sont: Marion Dougherty, le frère de Jim; et Lorraine Allen, une camarade de classe de Norma Jeane. Et c'est le neveu de Jim, Wesley (fils de sa soeur Billie) qui amène les alliances disposées sur un coussin. Les filles des Howell, les jumelles Loralee et Doralee Howell sont les "flower girls", ces petites demoiselles d'honneur tenant les bouquets de fleurs devant la mariée.
Un photographe professionnel est même engagé: Axel Togg.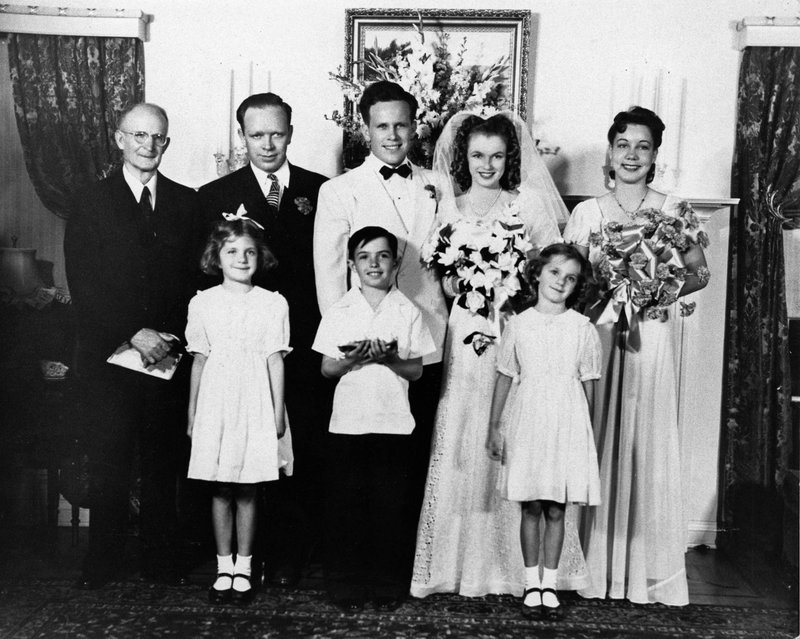 The ceremony begins at 8:30 p.m. and is orchestrated by the Reverend Benjamin Lingenfelder, belonging to the Church of Christian Science (of which belonged Gladys -Norma Jeane's mother- and Norma Jeane herself).
Few guests represent the family of Norma Jeane: indeed neither her former tutor Grace Goddard (left to live in Virginia), nor her half-sister Berniece (who lived in Kentucky), nor her mother Gladys (hospitalized) are present. Only the Bolenders (Norma Jeane's foster family when she was a child) and Ana Lower are there, Ana bringing Norma Jeane to the altar.
The bride and groom's witnesses are: Marion Dougherty, Jim's brother; and Lorraine Allen, a classmate of Norma Jeane. And it is Jim's nephew, Wesley (son of his sister Billie) who brings the wedding rings laid out on a cushion. The Howell daughters, twins Loralee and Doralee Howell are the "flower girls", these little bridesmaids holding the bouquets of flowers in front of the bride.
A professional photographer is even hired: Axel Togg.
---
D'après le certificat de mariage, Norma Jeane a remplit le formulaire sous le nom de jeune fille "Mortensen"; à "nom du père", elle indique "E. Mortensen" et "inconnu" pour lieu de naissance du père; à "nom de la mère", elle inscrit d'abord un point d'interrogation puis l'inscription "inconnue" suivie de "Monroe" et "Oregon" pour le lieu de naissance.
Quand à James Edward Dougherty, ses parents Edward et Ethel sont nés tous deux dans le Colorado.
According to the marriage certificate, Norma Jeane completed the form under the maiden name "Mortensen"; at "father's name", she indicates "E. Mortensen" and "unknown" for father's birthplace; in "mother's name", she first writes a question mark then the inscription "unknown" followed by "Monroe" and "Oregon" for the place of birth.
As for James Edward Dougherty, his parents Edward and Ethel were both born in Colorado.
- Les certificats de mariage -
- Certificate of Marriage -
---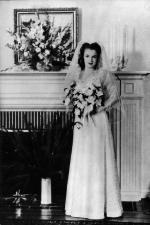 La robe de mariée que porte Norma Jeane a été confectionnée par "tante" Ana Lower: d'un col large arrondi, permettant un décolleté profond mais sage pour qu'ainsi la mariée puisse porter un grand collier de perles blanches autour du cou; les manches longues sont faites d'un voilage transparent, le reste de la robe est doublé d'un tissu en dentelle; elle porte aussi un voile transparent sur la tête.
Norma Jeane portera à nouveau la robe pour une séance photo (lors de ses jeunes années de mannequinat) le 23 mars 1946, photographiée en studio par Richard C Miller (mais elle empruntera le missel de l'épouse du photographe) et dont l'une des photographies fera la couverture du magazine Personal Romance de juin 1947.
The wedding dress worn by Norma Jeane was made by "aunt" Ana Lower: with a wide rounded collar, allowing a deep but wise neckline so that the bride could wear a large necklace of white pearls around her neck; the long sleeves are made of transparent veiling, the rest of the dress is lined with lace fabric; she also wears a transparent veil over her head.
Norma Jeane would wear the dress again for a photo shoot (during her younger modeling years) on March 23, 1946, photographed in the studio by Richard C Miller (but she will borrow the missal from the photographer's wife) and one of whose photographs will be on the cover of the magazine Personal Romance in June 1947.
Click 23/03/1946 - Norma Jeane en mariée par Richard C Miller


Lorsque Norma Jeane deviendra la star Marilyn Monroe, il semble qu'elle ait conservé sa robe pour la donner à sa nièce, Mona Rae Miracle (la fille de sa demie-soeur Berniece Baker) qui racontera l'avoir eu en cadeau pour ses 14 ans (soit en 1952):
"Marilyn a été ravie quand j'ai porté sa robe de mariée de 1942 pour mon premier rendez-vous à quatorze ans, une danse formelle. Marilyn l'avait portée à seize ans pour son mariage avec Jim Dougherty et une autre fois pour une photo de couverture pour Personal Romances. "Ton premier rendez-vous", dit Marilyn. "Wow, quel repère !" Ensuite, nous avons soigneusement emballé la robe dans du tissu et réfléchi aux changements qui se profilent."
La robe est vendue aux enchères en mars 2001 par Sotheby's, qui proposait les effets personnels appartenant à Berniece et Mona Rae Miracle; la mise à prix se situait entre 60 000 et 80 000 Dollars.
[extrait catalogue: Catalogue "Personal Property of Marilyn Monroe: The Berniece & Mona Miracle Collection", Sotheby's, 02/2001 ]
When Norma Jeane will become the star Marilyn Monroe, it seems that she kept her dress to give it to her niece, Mona Rae Miracle (the daughter of her half-sister Berniece Baker) who will say that she got it as a gift for her 14 years (i.e. in 1952):
"Marilyn was delighted when I wore her 1942 wedding gown for my first date at fourteen, a formal dance. Marilyn had wore it at sixteen for her wedding to Jim Dougherty and one again for a cover photo for Personal Romances. "Your first date", said Marilyn. "Wow, what a landmark !" Afterwards, we packed the dress carefully in tissue and pondered the changes looming ahead."
The dress was sold at auction in March 2001 by Sotheby's, which offered the personal effects belonging to Berniece and Mona Rae Miracle; the starting price was between 60,000 and 80,000 Dollars.
[excerpt from catalog "Personal Property of Marilyn Monroe: The Berniece and Mona Rae Miracle Collection"]
---
© All images are copyright and protected by their respective owners, assignees or others.
copyright text by GinieLand.
02 juin 2010
L'automne 1944, Norma Jeane part en voyage pour rendre visite à ses proches; elle se rend d'abord dans le Tennessee à Huntington pour revoir Bebe Goddard, puis dans le Michigan à Détroit pour rencontrer sa demie-soeur Berniece Miracle: mariée à Paris Miracle, ils ont une fille, Mona Rae; Niobe, la soeur de Paris, vivent avec eux.
In the fall of 1944, Norma Jeane goes on a trip to visit her relatives; she goes first to Tennessee in Huntington to see Bebe Goddard, then in Michigan to Detroit to meet her half-sister Berniece Miracle: married in Paris Miracle, they have a daughter, Mona Rae; Niobe, Paris's sister, lives with them.
---
Tout commence par la venue de Grace Mc Kee et de son mari Doc Goddard à Détroit courant l'année 1944. Berniece Miracle et son mari Paris Miracle rencontrent Grace et son mari pour un dîner au Cadillac Hotel. C'est la première fois qu'elles se voient, après avoir échangées des lettres pendant plusieurs années. Grace lui révèle l'enfance de Norma Jeane et lui parle beaucoup de leur mère Gladys.
Suite à cette recontre qui a fait une forte impression auprès des deux femmes, Grace décide que le temps est venu pour Norma Jeane de rencontrer sa soeur: elle écrit donc à Berniece que Norma Jeane peut venir à Détroit. Comme la venue de Norma Jeane se ferait sur une période indéterminée et que Berniece et Paris hébergeaient déjà Niobe (la soeur de Paris) sur le canapé, ils achètent un lit de l'armée pour coucher Norma Jeane.
Puis Berniece et Norma Jeane s'écrivent à leur tour pour convenir du rendez-vous de rencontre: la date, l'heure, et la tenue qu'elle portera pour qu'ils la reconnaissent (un ensemble tailleur en laine de couleur bleu cobalt et un chapeau en forme de coeur sur le rebord).
C'est à l'automne 1944 - (fin septembre / début octobre, il n'y a pas de dates précises sur sa venue ni sur la durée de son séjour; elle restera jusqu'à fin octobre, passant les derniers jours du mois d'octobre à Chicago avec Grace Goddard) - que Norma Jeane Dougherty arrive à Détroit: Berniece, son mari Paris Miracle et la soeur de celui-ci Niobe, ainsi que leur petite Mona Rae, âgée de 5 ans, attendent sur le quai de la gare et reconnaissent immédiatement Norma Jeane, tel le racontera Berniece:
"Je me souviens d'avoir attendu à la gare de Detroit que Marilyn apparaisse pour la première fois - bien sûr, elle était alors toujours Norma Jeane. Nous nous étions écrit au fil des années et avions échangé des photos, mais nous ne nous étions jamais rencontrées face à face. Elle m'avait dit qu'elle porterait un costume bleu cobalt et un chapeau avec un bord en forme de cœur, mais j'avais peur de ne pas la reconnaître lorsqu'elle descendrait du train."
"Eh bien, il n'y avait aucune chance de la manquer ! Elle s'est démarquée immédiatement de tous les autres passagers, si grande et jolie et fraîche, une fille magnifique. Nous étions ravies de nous rencontrer enfin, et nous ne pouvions pas arrêter de nous regarder. Nous avions les mêmes cheveux blonds foncés avec une pointe de veuve (nb: pointe en forme de V de la ligne des cheveux au front), la même bouche, mais nos yeux étaient différents - les miens sont bruns et ceux de Norma Jeane étaient bleus comme ceux de notre mère. J'étais si heureuse d'avoir une sœur. Et si fière."
La petite Mona Rae, âgée de 5 ans, se souvient que Norma Jeane "sentait bon", lui faisant "pleins de câlins".
Elles s'embrassent, pleurent et rient. Pour Berniece, les photos que Norma Jeane lui avaient envoyées d'elle sont loin de la réalité: sa beauté est naturelle, d'une fraîcheur éclatante. Elle rougit légèrement, son sourire est spontané, ses cheveux sont ondulés et entourent un visage de porcelaine aux traits fins et réguliers; elle est mince et non voluptueuse (telle est la sensation décrite par Berniece quand elle s'est remémorée leur rencontre).
Ils font la route de la gare à leur appartement 3 pièces - situé dans le quartier Polonais de Detroit - dans la Pontiac bleue de Paris: Berniece, Mona Rae et Norma Jeane assises à l'arrière, se serrant dans les bras et s'observant.
Norma Jeane s'accomode de l'hébergement, expliquant même à Berniece que quand elle était bébé, leur mère la couchait dans un tiroir.
Puis elles passent la soirée à s'observer physiquement, comparant même leurs pieds identiques (Berniece, Norma Jeane et même Mona Rae ont cette particularité d'avoir le 2ème orteil le plus grand du pied).
Berniece fait découvrir à Norma Jeane une photographie de leur mère Gladys quand elle était jeune (avant la vingtaine) et Berniece de demander à Norma Jeane comment est leur mère à ce jour; Norma Jeane répond qu'elle est toujours jolie, mais ne sourit jamais. Elle lui a rendu visite à l'institution avec Grace, mais ne la reconnait plus; elle explique à Berniece qu'elle ne considère pas Gladys comme sa mère, mais plutôt Grace et même Tante Ana, comme des mères pour elle.

Berniece, Paris et Niobe continuent à travailler pendant le séjour de Norma Jeane chez eux; ils n'ont que quelques journées de libres.
Norma Jeane propose d'emblée d'aider à tenir le foyer en faisant la cuisine (notamment sa spécialité des petits pois carottes car elle adore le mélange des couleurs des deux).

Parmi les sujets de discussion entre les deux soeurs:
-Elles discutent de leur mère, du père de Berniece, de leur frère Jack (Robert Kermit, décédé d'une tuberculose osseuse à 14 ans), de leur enfance; Norma Jeane parlera même du piano blanc que Gladys possédait et racheté ensuite par Tante Ana.
-Elles se trouvent des points communs (le chant et la danse).
-Norma Jeane tente à plusieurs reprises de convaincre Paris de s'engager dans la Marine marchande, comme son mari Jim Dougherty, dans le but que Berniece et Paris viennent la rapprocher et s'installer en Californie. Elle suggère même l'idée à Paris que Jim peut le pistonner pour intégrer l'usine de Lockheed Aircraft, où Jim était superviseur avant de s'engager dans la Marine.
---
It all starts when Grace McKee and her husband Doc Goddard comes to Detroit in 1944. Berniece & her husband Paris Miracle meet Grace and her husband for a dinner at the Cadillac Hotel. This is the first time they have seen each other, after having exchanged letters for several years. Grace reveals Norma Jeane's childhood to her and talks her a lot about their mother Gladys.
Following this meeting which made a strong impression on the two women, Grace decides that the time has come for Norma Jeane to meet her sister: she therefore writes to Berniece that Norma Jeane can come to Detroit. As Norma Jeane's coming would be for an indefinite period and Berniece and Paris were already hosting Niobe (Paris's sister) on the couch, they buy an army bed to sleep Norma Jeane.

Then Berniece and Norma Jeane write to each other to agree on the meeting: the date, the time, and the outfit she will wear so that they recognize her (a cobalt blue wool suit and a hat with a heart shaped dip in the brim).
It is in the fall of 1944 - (late September / early October,there are no specific dates on her arrival or the duration of her stay; she will stay until the end of October, spending the last days of October in Chicago with Grace Goddard) - that Norma Jeane Dougherty arrive in Detroit: Berniece, her husband Paris Miracle and his sister Niobe, as well as their little daughter of 5-year-old Mona Rae, are waiting on the station platform and immediately recognize Norma Jeane, as will tell Berniece:
"I remember waiting at the train station in Detroit for Marilyn to appear that first time - of course, then she was still Norma Jeane. We had been writing to each other over the years and had exchanged pictures, but we had never met face to face. She'd told me she'd be wearing a cobalt blue suit and a hat with a heart shaped brim, but I worried that I wouldn't recognize her when she stepped off the train."
"Well, there was no chance to missing her ! She stood out immediately from all the rest of the passengers, so tall and pretty and fresh, a gorgeous girl. We were excited to finally meet, and we couldn't stop staring to each other. We hed the same dark blond hair with a widow's peak, the same mouth, but our eyes were different - mine are brown and Norma Jeane's were blue like our mother's. I was so happy to have a sister. And so proud."
Five-year-old Mona Rae remembers Norma Jeane "smelling good", giving her "lots of hugs".
They kiss, cry and laugh. For Berniece, the photos that Norma Jeane had sent her of her are far from reality: her beauty is natural, radiantly fresh. She blushes slightly, her smile is spontaneous, her hair is wavy and surrounds a porcelain face with fine and regular features; she is thin and not voluptuous (such is the sensation written by Berniece when she recalled their meeting).
They drive from the station to their 3-room apartment - located in the Polish district of Detroit - in the blue Pontiac of Paris: Berniece, Mona Rae and Norma Jeane sitting in the back, hugging and observing each other.
Norma Jeane makes do with the accommodation, even explaining to Berniece that when she was a baby, their mother slept her in a drawer.
Then they spend the evening observing each other physically, even comparing their identical feet (Berniece, Norma Jeane and even Mona Rae have the particularity of having the 2nd largest toe of the foot).
Berniece shows to Norma Jeane a photography of their mother Gladys when she was young (before her twenties) and Berniece to ask Norma Jeane how their mother is to this day; Norma Jeane replies that she is always pretty, but never smiles. She visited her at the institution with Grace, but no longer recognizes her; she explains to Berniece that she doesn't consider Gladys as her mother, but rather Grace and even Aunt Ana, as mothers to her.

Berniece, Paris, and Niobe continue to go to work during Norma Jeane's stay with them; they only have a few free days. Norma Jeane immediately offers to help keep the household by cooking (especially her specialty of peas and carrots because she loves the mix of colors of the two).
Among the topics of discussion between the two sisters:
- They discuss on their mother, on Berniece's father, on their brother Jack (Robert Kermit, who died of bone tuberculosis at 14), their childhood; Norma Jeane will even talk about the white piano that Gladys owned and later bought by Aunt Ana.
- They find common points (singing and dancing).
-Norma Jeane tries several times to convince Paris to join the Merchant Marine, like her husband Jim Dougherty, with the aim that Berniece and Paris come to bring her closer and settle in California. She even suggests the idea to Paris that Jim can boost him to join the Lockheed Aircraft factory, where Jim was a supervisor before joining the Marine.
---
- DETROIT -
---
Pendant son séjour, Norma Jeane découvre la ville de Détroit (le centre-ville, les immeubles, les parcs).
During her stay, Norma Jeane discovers the city of Detroit (the city center, the buildings, the parks).
- Norma Jeane, Berniece, Mona Rae Miracle -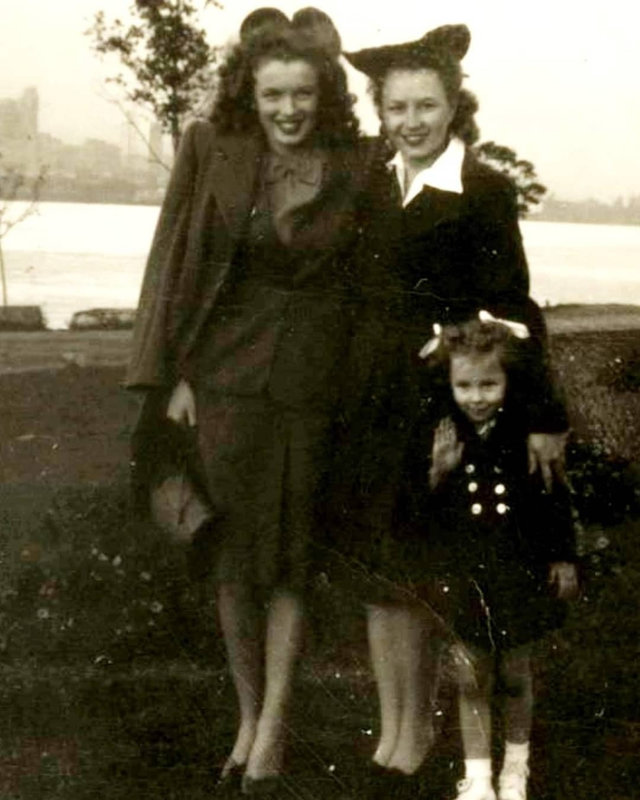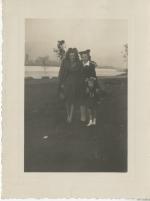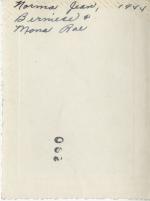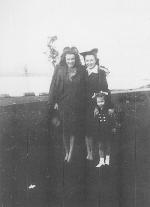 - Norma Jeane, Paris Miracle, Berniece -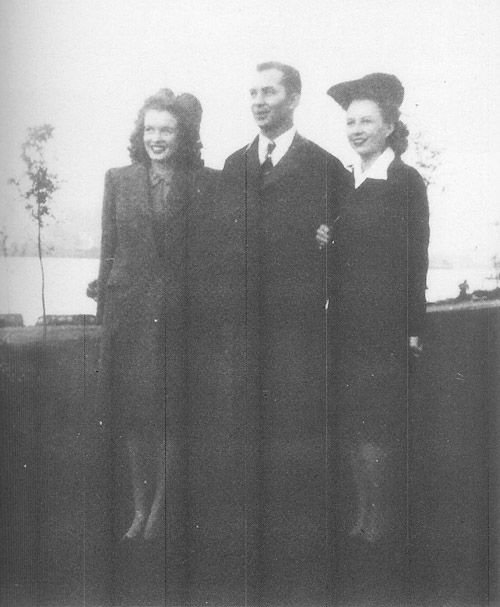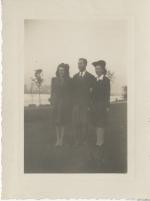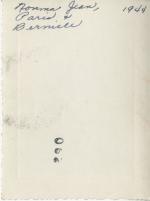 ---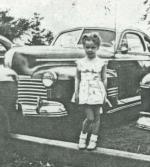 Norma Jeane donne des conseils de pose à Mona Rae pour être photographiée:
"Ne te tiens pas droite. Incline la tête sur le côté, fais un sourire idiot. Plie un genou pour avoir l'air un peu courbée... voilà, chérie, c'est mignon".
Norma Jeane gives Mona Rae posing advices to be photographied:
"Don't stand straight. Tilt your head to the side, make a silly smile. Bend one knee so you look a little curvy... there you go honey – that's cute."
---
- CANADA -
---
Il vont aussi au Canada, situé juste en face de la rivière (c'est Paris, le mari de Berniece, qui avait planifié toutes les ballades touristiques).
They're going also to Canada, located just across the river (it is Paris, Berniece's husband, who has planned all the tourist ballads).
- Berniece, Norma Jeane & Niobe -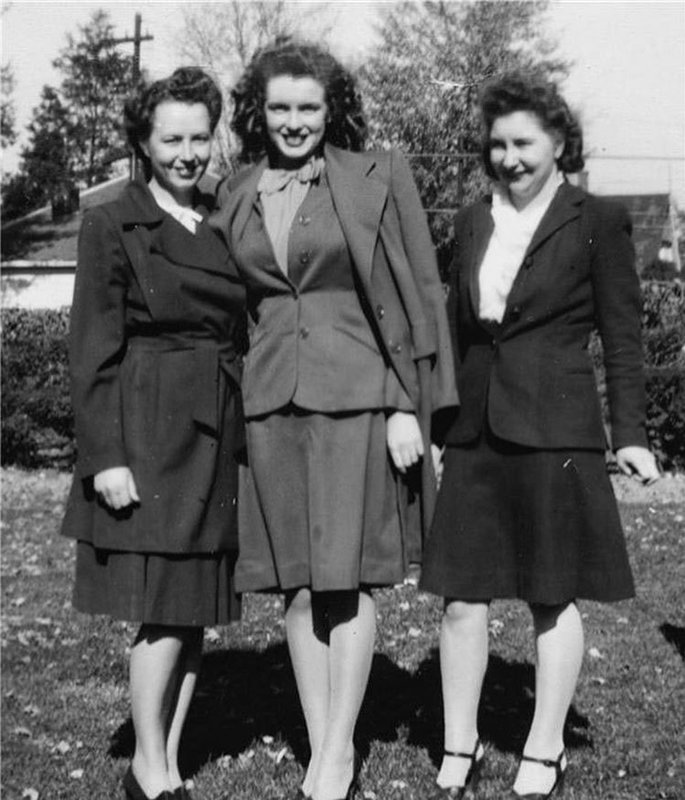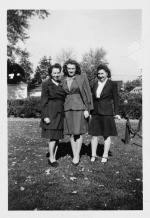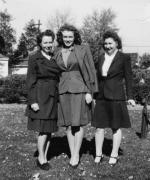 Ils visitent le parc d'oiseaux (Miner's Bird Sanctuary) à Kingsville, dans l'Ontario, au Canada. Norma Jeane est très excitée par ce lieu très coloré (avec des plantes de toutes les couleurs) et le fait d'être avec sa soeur: "Pouvons-nous prendre des photos ici ? Pouvez-vous le croire - c'est la première fois que je quitte les États-Unis ! Prenons une photo de nous pendant que nous sommes au Canada !"
They visit the Miner's Bird Sanctuary in Kingsville, Ontario, Canada. Norma Jeane is very excited by this very colorful place (with plants of all colors) and being with her sister: "Can we take pictures here? Can you believe it - this is my first time out of the United States! Let's take a picture of us while we're in Canada!"
- Norma Jeane, Berniece & Niobe -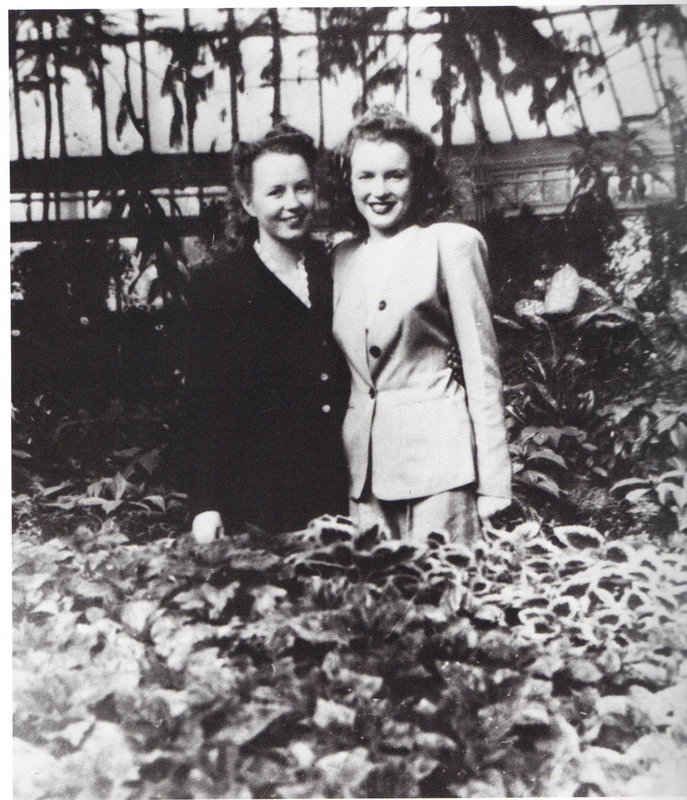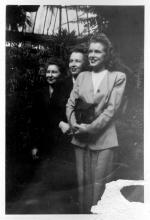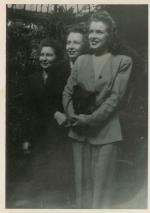 ---
source
Livre de Berniece & Mona Rae Miracle My Sister Marilyn
Article "My auntie Marilyn Monroe" sur Mirror
---
© All images are copyright and protected by their respective owners, assignees or others.
copyright text by GinieLand.
16 juin 2007
Catalogue de la vente aux enchères "Personal Property of Marilyn Monroe: The Berniece & Mona Miracle Collection" par Sotheby's de la vente aux enchères organisée uniquement en ligne du 8 février au 01er mars 2001 sur le site internet de Sotheby's.

Catalogue à spirale en anglais qui présente 15 lots mis aux enchères.
Désormais impossible de le commander, le catalogue est parfois revendu aux enchères (comme par Julien's en 2020 avec une mise à prix de 25 Dollars, il s'est vendu 320 Dollars !).
Catalog of the auction "Personal Property of Marilyn Monroe: The Berniece & Mona Miracle Collection" by Sotheby's organized only online from February 8 to March 01, 2001 on the Sotheby's website.
Spiral catalog in English which presents 15 auction lots.
Now impossible to order, the catalog is sometimes resold at auction (as by Julien's in 2020 with a starting price of $ 25, it sold for $ 320 !).
---
La vente comportait 78 lots appartenant à Berniece Miracle, la demie-soeur de Marilyn Monroe; et organisée avec Mona Rae Miracle (fille de Berniece, nièce de Marilyn) qui revendent ainsi des effets personnels que leur avait donné Marilyn, ou encore des lettres qu'elles leur avaient envoyées. Sans doute la motivation de Berniece et Mona Rae de revendre ces effets provenait du fait que deux ans auparavant la vente organisée par Christie's (en octobre 1999, 576 lots) avait rapporté près de 13 millions de Dollars.
Parmi les lots:
- Sa première robe de mariée portée en 1942 que Marilyn avait donné à Mona Rae - estimée entre 60 000 et 80 000 Dollars
- Une robe à paillettes de Norman Norell
- Une robe noire de Bergdorf Goodman
- Un portrait de son premier mariage d'avec Jim Dougherty (estimé entre 6 000 et 8 000 Dollars)
- Des portraits photographiques dédicacés (de Norma Jeane, de Marilyn star)
- Des lettres personnelles envoyées par Marilyn (une carte postale envoyée de Chicago le 28 octobre 1944)
- Une lettre de la Maison Blanche remerciant Marilyn pour sa participation au gala d'anniversaire de JFK en 1962 (estimé entre 20 000 et 30 000 Dollars)
- L'esquisse de la robe qu'elle portait à ce gala par le couturier Jean-Louis et un échantillon de tissu (estimé entre 20 000 et 30 000 Dollars)

Les effets vendus ont été précédés d'une exposition - la semaine précédent la vente. La créatrice d'accessoires britannique Lulu Guinness dira alors: "C'est incroyable comme elle était petite" !
The sale featured 78 lots belonging to Berniece Miracle, Marilyn Monroe's half-sister; and organized with Mona Rae Miracle (daughter of Berniece, niece of Marilyn) who thus resell personal effects that Marilyn had given them, or even letters that they had sent to them. Undoubtedly the motivation of Berniece and Mona Rae to resell these effects came from the fact that two years before the sale organized by Christie's (in October 1999, 576 lots) had brought in nearly $ 13 million.
Among the lots:
- Her first wedding dress worn in 1942 that Marilyn had given to Mona Rae - estimated between $ 60,000 and 80,000
- A sequin dress by Norman Norell
- A black dress by Bergdorf Goodman
- A portrait from her first marriage to Jim Dougherty (estimated between $ 6,000 and $ 8,000)
- Autographed photographic portraits (of Norma Jeane, of Marilyn star)
- Personal letters sent by Marilyn (a postcard sent from Chicago on October 28, 1944)
- A letter from the White House thanking Marilyn for her participation in JFK's birthday gala in 1962 (estimated between $ 20,000 and $ 30,000)
- The sketch of the dress she wore at this gala by designer Jean-Louis and a fabric sample (estimated between $ 20,000 and $ 30,000)
The lots sold were preceded by an exhibition - the week preceding the sale. The British accessories designer Lulu Guinness will then say: "It's amazing how small she was"!
---
Sources article
article "More Marilymania" sur Artnet news
article "Collecting Marilyn" sur wwd
article "Marilyn's calendar" sur Forbes
---
All photos are copyright and protected by their respective owners.
Copyright text by GinieLand.