21 décembre 2019
Cela semble totalement farfelu, mais cette théorie est apparue il y a plusieurs années et trouve une certaine ampleur en se développant, surtout aux Etats-Unis où les théoriciens des complots en tous genres sont légions.
A vrai dire, cette théorie semble s'appuyer sur les dires de Robert Slatzer (bien qu'il n'est pas cité), qui avait affirmé que Marilyn voulait dévoiler au grand public des secrets que Kennedy lui aurait dévoilé.
Les complotistes avancent ici que l'un des sujets de ces secrets est l'existence des extraterrestres. Un théoricien scientifique Dr Steven Greer a tenté de développer et démontrer cette théorie, et a participé à un documentaire intitulé 'Unacknowledged' qui développe le fait que des aliens sont venus plusieurs fois sur notre planète et que le gouvernement en avait connaissance. Marilyn ayant été informé des projets de Roswell par John Kennedy (sur l'oreiller évidemment), elle souhaitait tenir une conférence de presse. La malheureuse étant mise sur écoute, la CIA l'aurait alors supprimée.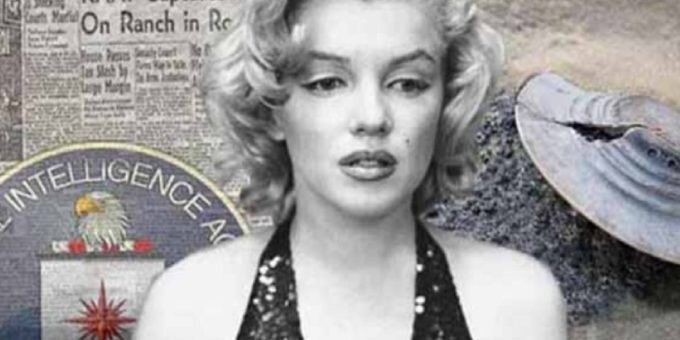 Pour en savoir plus, voici deux articles (un en français, un en anglais), qui expliquent cette théorie:
---
Marilyn Monroe assassinée pour avoir menacé de révéler le crash extraterrestre de Roswell
> article de lumieresurgaia (18/04/2013)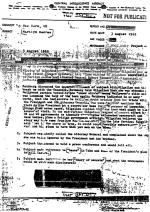 Il s'agit d'un document de la CIA qui est apparu dans le courant des années 1990 et a été (involontairement) authentifié par la CIA elle-même, lorsque le Dr Donald R. Burleson, auteur d'un livre sur les ovnis et le meurtre de Marilyn Monroe, a déposé plainte contre la CIA pour refus de libérer les écoutes téléphoniques du gouvernement sur Marilyn Monroe, qui reposait en grande partie sur le mois d'août 1962 et 3 documents en question. L'appel fut accepté par le tribunal.
Finalement les enregistrement téléphoniques n'ont pas été livrés, mais le processus judiciaire a démontré que ces enregistrements existaient bel et bien et étaient authentiques.
La CIA aurait nié leur existence ou leur authenticité; or, ce n'est pas ce qui s'est passé puisqu'ils ont refusé de les divulguer. Il est contraire à la politique de la CIA d'accepter toute demande d'accès à l'information ou appel en se fondant sur les documents que la CIA ne reconnait pas d'être authentique, donc, tacitement, ils ont reconnu que le document est authentique.
Non seulement le Freedom Act of Information démontre que le "mémo Marilyn" est authentique et en provenance de la CIA, mais cela prouve aussi que les transcriptions des écoutes sur les téléphones de Marilyn existent.
Quand un procès en appel est accepté et que le plaignant est informé que sa plainte est au tableau de presse de l'Agence de la CIA, cela signifie qu'un débat est en cours sur l'opportunité de publier des preuves existantes, preuves en possession de l'Agence.
Les transcriptions d'écoute électronique indéniablement existent, et compte tenu de ce qui est maintenant connu sur la mort de Marilyn, ils doivent être extrêmement révélateur.
En Août 1962, 3 documents de la CIA dévoilent qu'un jour seulement avant la mort de Marilyn Monroe, certains hauts responsables gouvernementaux étaient dans un état d'extrême anxiété sur le fait que les frères Kennedy (Jack et Bobby) avaient diffusés des informations extrêmement sensibles à Marilyn, et qu'elle écrivait toutes ses informations dans son petit livre rouge "journal intime".
Un intérêt particulier dans ce journal est la mention de la CIA relatant du fait que l'un des plus grand secret au monde révélé "sur l'oreillé" par JFK à Marilyn avait fait peur à Marilyn, laquelle aurait écrit en bas de page "la visite du Président sur une base aérienne secrète dans le but d'inspecter des choses de l'espace".
La conclusion évidente est que JFK avait raconté à Marilyn le crash d'OVNI de Roswell et la récupération, en 1947, de débris et de corps étrangers.
Lorsque les Kennedy ont commencé à se mettre à distance de Marilyn, elle se mit en colère et (en parlant à une de ses amie par téléphone, malheureusement) elle a commencée à planifier de tenir une conférence de presse et de "tout révéler."
Selon l'hypothèse énoncée dans le livre du Dr Burleson, le procureur général Robert Kennedy a eu extrêmement peur de cette divulgation du GRAND secret : la récupération par le gouvernement de l'OVNI et la dissimulation des corps d'extra terrestres retrouvés.
Ce dernier aurait tout simplement décidé qu 'il ne pouvait pas se permettre de la laisser vivre plus longtemps pour tenir une telle conférence de presse comme elle l'avait anoncée.
Le livre du Dr Burleson explore la probabilité que la divulgation de Marilyn avait en effet permit l'inculpation de JFK pour avoir divulgué des informations hautement confidentielles à un destinataire non autorisé, une infraction très probablement interprétée comme étant de la haute trahison. Les Kennedys ne pouvaient pas risquer la potentielle catastrophe politique, et Marilyn est devenue la victime de leurs craintes.
Pour plus de commodité, voici une transcription du texte du document de la CIA:
Bande enregistrée d'une conversation téléphonique entre la journaliste Dorothy Kilgallen et son ami proche, Howard Rothberg (A); d'écoute d'une conversation téléphonique de Marilyn Monroe et procureur général Robert Kennedy (B).
Contenu: [Une partie a été expurgée]
1. Rothberg a discuté du retour apparent du sujet avec Kilgallen et la rupture avec les Kennedy.
Rothberg a dit Kilgallen qu'elle entendait souvent parler de ce sujet dans les soirées hollywoodiennes organisées par le «cercle intérieur» parmi l'élite d'Hollywood.
Rothberg indique en toutes lettres, qu'elle avait des secrets à raconter, sans doute résultant de ses confidences [.] avec le président et le procureur général.
Un de ces «secret» mentionne la visite du président à une base aérienne secrète dans le but d'inspecter des choses venues de l'espace.
Kilgallen a répondu qu'elle savait ce qui pourrait être la source de cette visite.
Au milieu des années cinquante Kilgallen a appris les efforts secrets des gouvernements américain et britannique pour identifier les origines de vaisseau spatial écrasé à Roswell et de ses cadavres, de la bouche fonctionnaire du gouvernement britannique.
Kilgallen croit que cette histoire relate du crash au Nouveau-Mexique vers la fin des années quarante (Roswell).
Kilgallen a dit que si l'histoire est vraie, cela causerait un embarras terrible pour Jack et ses plans pour que la NASA envoie ses hommes sur la lune.
2. Marilyn se plaignait de la façon dont elle était ignorée par le président et son frère.
3. Elle menace de tenir une conférence de presse ou "elle dirait tout".
4. Elle parle des bases de Cuba et du plan du président pour tuer Fidel Castro.
5. Elle fait référence a son journal intime et au fait que les journaux l'utiliserai pour lancer les révélations.
[Un bloc de texte indenté est expurgé près du bas de la page, et le document est signé JAMES ANGLETON, qui était à l'époque le chef du contre-espionnage de la CIA.]
La connexion UFO est d'autant plus convaincante avec la découverte, décrite dans les ovnis de Burleson et le meurtre de Marilyn Monroe, d'un tampon en haut à gauche du document "TOP SECRET"; ce tampon, lorsque Burleson le fit analyser par des techniques d'imagerie par ordinateur, révèla contenir le nom du général de brigade George Shulgen, qui était auparavant le chef enquêteur coordinateur sur le sujet OVNI pour l'US Air Force. (Le tampon se réfère également au protocole de collecte de renseignements du général Schulgen, un document connu pour avoir existé.)
Ce tampon figurant sur un document de la CIA à propos de Marilyn Monroe, établit un lien clair entre l'assassiner et la question du secret sur les OVNIS, que quelqu'un, quelque part à un moment donné, a évidemment pensé qu'il était logique d'archiver les documents ensemble.
Lorsque tous les éléments de preuve sont considérés, il devient évident de conclure que les gens du gouvernement ont assassiné Marilyn en raison de ce qu'elle savait de la dissimulation ovni.
---
Marilyn Monroe 'murdered by CIA to stop her exposing Roswell UFO truth JFK told to her'
article de express.co.uk (May, 24, 2017)
MARILYN Monroe was "murdered because she knew the truth about aliens and was about to blow the lid on the truth", a shocking new film claims.
New documentary 'Unacknowledged' claims to expose years of cover-ups within the US government over the alleged truth of alien visitations of Earth being kept hidden from the public. The film is directed by Michael Mazzola and follows conspiracy theorist Dr Steven Greer, who is a major player in the so-called disclosure movement, which is calling for an end to an alleged truth embargo which ensures the cover up continues.
The extensive documentary touches on the death of Monroe, which it suggests was a murder coordinated by the CIA, because of an alleged affair with president John F Kennedy.
Dr Greer has produced an alleged top secret CIA memo written two days before the star was found dead on on August 5, 1962, in Brentwood, Los Angeles, California. He claims it shows how she was wire tapped by the agency which had concerns about her liaison with the president.
The alleged memo suggests JFK told her he had seen evidence of "things from outer space" at a secret air base and officials panicked that she may disclose this at a press conference.
Dr Greer claims the memo was referring to the remains of the alleged infamous Roswell UFO crash said to have landed in the New Mexico desert in July 1947.
On his website, Dr Greer states: "We have a number of smoking gun documents, including a wiretap of Marilyn Monroe the day [sic] before she died, which has never been declassified.
"She was threatening to hold a press conference to tell the world what Jack Kennedy had told her during pillow talk about having seen debris from an extraterrestrial vehicle at what the document calls a 'secret air base'."
"She was murdered for this."
Dr Greer is well respected among some UFO circles, but has been branded a hoaxer by more sceptical investigators, something he vehemently denies. However, he has been behind some extraordinary claims in the past, including stating that the US government has obtained technology from aliens that could provide the world with free energy, but suppresses it to ensure the fossil fuel industry can thrive. He also claims to be able to summon UFOs and that he once did this in conjunction with the French ministry of defence.
---
extrait documentaire "Unacknowledged"
---
© All images are copyright and protected by their respective owners, assignees or others.

09 août 2019
Histoire de folles rumeurs. Marilyn Monroe assassinée
05/08/2019 | en ligne sur francetvinfo.fr
La vie de l'actrice a été compliquée, l'explication de sa mort l'est également.
Personne n'a jamais mis en cause le fait que Marilyn Monroe soit morte le 5 août 1962 à Brentwood, Los Angeles, Californie, à l'âge de 32 ans. Mais à peine quelques jours après l'annonce du probable suicide de la comédienne, la rumeur d'un assassinat commence à prendre corps. 35 minutes, c'est la durée entre la constatation du décès par le médecin de Marilyn et l'arrivée de la police. Pas une éternité, mais un laps de temps particulièrement long dans lequel s'est engouffré... le doute.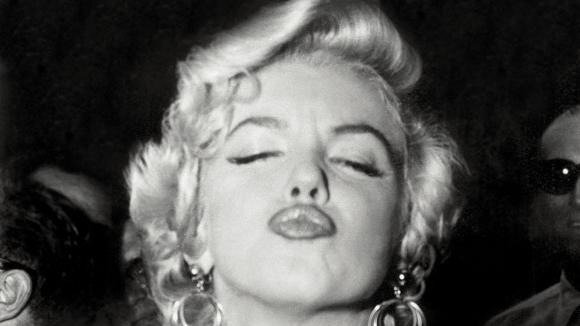 Marilyn est morte depuis plusieurs heures déjà lorsque sa gouvernante la découvre sans vie dans son lit au milieu de la nuit. Un probable suicide est rapidement évoqué, consécutif à l'absorption de très nombreuses capsules de Nembutal, un puissant barbiturique, dont on ne retrouva pourtant pas la trace dans l'estomac lors de l'autopsie. Mais pourquoi la gouvernante était-elle en train de nettoyer les draps du lit de Marilyn quand le sergent Jack Clemmons entra dans la chambre à 4h25 du matin. S'agissait-il de nettoyer les traces d'un lavement décidé par le psychiatre de Marilyn et qui aurait en réalité causé la mort ? S'agissait-il de nettoyer d'autres traces, celles d'un meurtre ? La machine à rumeur est lancée. Elle repose comme toujours sur la sidération face à la mort d'une icône. Mais il y a aussi des faits plus rationnels : pourquoi se donner la mort moins d'une semaine après avoir remporté un bras de fer avec Fox qui avait accepté de revoir son contrat à la hausse ?
Accident ou Assassinat ?
Pourquoi se donner la mort alors qu'elle disait vouloir repartir sur de bonnes bases, sans son psychiatre, en se remariant avec Jo DiMaggio, et quatre jours avant un rendez-vous de travail pour préparer un nouveau rôle, une comédie musicale avec Frank Sinatra ? Oubliant que l'on ne retrouve pas forcément la trace des barbituriques dans l'estomac, les tenants de la rumeur ont oscillé entre l'accident et l'assassinat. Un assassinat commandité par John F. Kennedy, par son frère Bobby, par Fidel Castro ou par la mafia. En 1973, le journaliste et romancier Norman Mailer publie son livre sur Marilyn, qui fera beaucoup pour la rumeur, et dont on entend parfaitement ici le mécanisme de la propagation.
Quelques mois plus tard sur le plateau de "60 minutes", le même Norman Mailer avouera qu'il avait imaginé un assassinat commandité par Robert Kennedy pour vendre beaucoup de livre. "J'avais besoin d'argent", explique-t-il. Le succès de ce livre fut en effet phénoménal. Il reste aujourd'hui un mystère qui entoure la mort de Marilyn. Ce mystère se résume en une question : a-t-elle voulu ou non se donner la mort ?
---
© All images are copyright and protected by their respective owners, assignees or others.
08 mars 2019
Un zeste de mafia, une once de liaison sulfureuse et une bonne dose de chantage… Dans ses mémoires Hollywood Godfather, à paraître le 12 mars, Gianni Russo expose sa théorie sur l'intrigante disparition de la légendaire actrice américaine.
Depuis 1962, le décès de Marilyn Monroe alimente les théories les plus folles, entre récits de vengeance, supposées erreurs médicales et même… histoires d'aliens. Dans ses mémoires Hollywood Godfather, à paraître aux États-Unis le 12 mars 2019 et coécrits avec l'écrivain Patrick Picciarelli, Gianni Russo expose sa propre version des faits. L'interprète de Carlo Rizzi dans Le Parrain, 2e partie (1975) affirme avoir entretenu une liaison discontinue avec l'actrice américaine, entre 1958 et 1962 – jusqu'à la mort de cette dernière, dans la nuit du 4 au 5 août 1962. La vedette s'éteint alors à l'âge de 36 ans - officiellement à cause d'une overdose de médicament. Gianni Russo, qui fête la même année ses 19 ans, a une théorie bien arrêtée sur les raisons de cette disparition.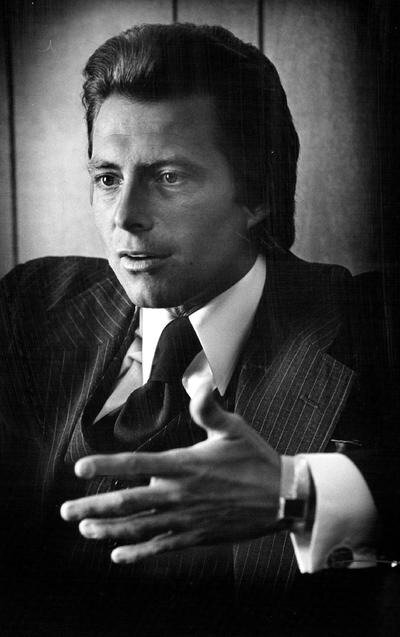 Gianni Russo n'avait que 16 ans
lorsqu'il a entamé une liaison avec Marilyn Monroe.
L'acteur ne croit pas à la thèse du suicide. Selon lui, l'actrice aurait été assassinée par un sbire de «Bobby» Kennedy, le cadet de John F. Kennedy. Terrifié à l'idée que la liaison entre la vedette et l'ancien président des États-Unis ne soit révélée au grand jour, Robert Kennedy, alors procureur général, aurait préféré faire éliminer l'actrice américaine. «Personne d'autre n'aurait pu la tuer, affirme Gianni Russo dans une interview au New York Post, parue le 2 mars. La mafia ne l'aurait pas fait. Ils l'aimaient bien. C'était une fille qui aimait faire la fête.»
Pourtant, l'organisation criminelle aurait un temps nourri de sombres desseins à l'égard de la vedette. D'après Gianni Russo, la mafia projetait de filmer une sextape impliquant un «plan à trois» entre Marilyn Monroe, Robert Kennedy et son frère John dans un hôtel du Nevada, le Cal-Neva Lodge. L'objectif de cette trahison ? Faire chanter le 35e président des États-Unis, afin qu'il envahisse Cuba et permette à la mafia de reprendre la main sur les casinos locaux. Seul bémol, John F. Kennedy ne se montrera jamais au rendez-vous. Après avoir découvert le projet mafieux, Marilyn Monroe, quant à elle, aurait menacé de tout raconter aux médias. Signant par là même son arrêt de mort, affirmera Russo 57 ans plus tard.
---
source web
> article de madamelefigaro (04 mars 2019)
© All images are copyright and protected by their respective owners, assignees or others.
copyright text by GinieLand.
28 octobre 2017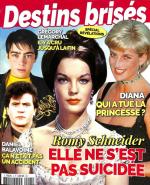 Destins Brisés
n°5
pays: France
paru le 11 octobre 2017
prix: 2,99 Euros
article: 1 page: "Marilyn Monroe, victime d'un complot !"
27 avril 2017
Qui veut dormir avec le fantôme de Marilyn Monroe ?
25/04/2017
par Marc Fourny
en ligne sur lepoint.fr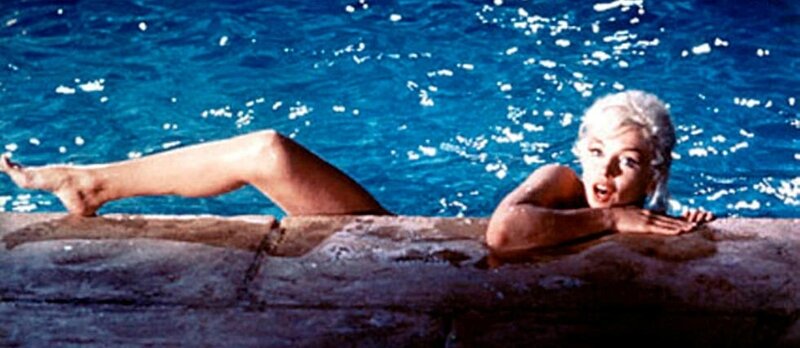 La dernière demeure hollywoodienne de la star est en vente pour 6,9 millions de dollars. Avec la fameuse chambre où elle poussa son dernier soupir.
La bâtisse n'a rien d'un château hollywoodien doré sur tranche comme on peut en trouver dans la Cité des anges. Il s'agit d'une modeste hacienda des années 1920, construite par un comptable des studios hollywoodiens au fond d'un cul-de-sac, dans le quartier de Brentwood, proche du Pacifique. Quatre chambres, trois salles de bain, une piscine et une cour à l'ombre des palmiers. Un petit havre de paix, chic et bohême, sur un terrain de plus de 2 000 mètres carrés, avec ses pièces de plain-pied, ses toits de tuiles, ses grilles en fer forgé et des bougainvilliers qui s'accrochent au crépi blanc.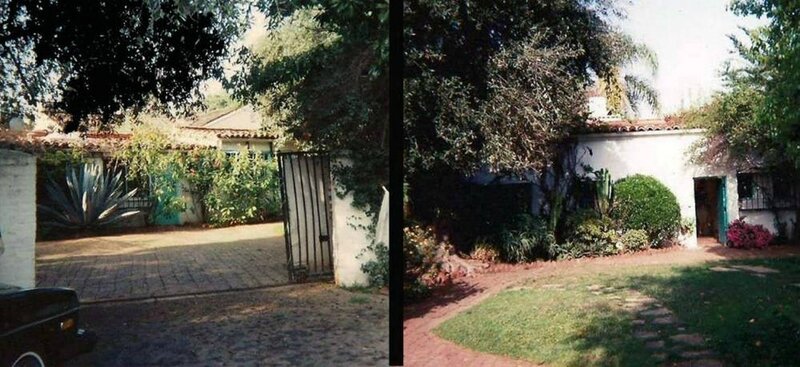 Quand Marilyn Monroe découvre la maison, en 1961, c'est le coup de foudre : elle adore le solarium, le pavillon d'amis, son cachet espagnol vintage... Elle l'achète pour moins de 100 000 dollars et entreprend de la meubler dans le style colonial, en allant dévaliser les boutiques de décorateurs à Mexico. À l'époque, elle tente de remonter la pente tant bien que mal... Shootée aux médicaments, accro à l'alcool et épaulée par son médecin personnel et son psychiatre Ralph Greenson, ses caprices ont fini par agacer les studios.
Overdose
Elle a commencé le tournage difficile de Something's Got to Give, en conflit avec la Fox, et sa vie privée est un fiasco complet : après son récent divorce avec le dramaturge Arthur Miller, elle vient de se faire larguer par le président John Kennedy... Malgré tout, elle n'abandonne pas et projette même de se remarier avec son ex Joe DiMaggio. Une date a même été fixée : le 8 août 1962. En attendant, elle déballe ses cartons, prend la pose pour le magazine Life, fait un saut sur les plateaux, et tient le coup avec des somnifères.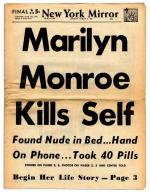 Mais, le 5 août, la police investit subitement le 12305 5th Helena Drive, LA. Le corps sans vie de la star gît sur son lit, un drap sur la tête, laissant apercevoir quelques mèches blond platine. Sa gouvernante et son psychiatre, qui n'habite pas loin, ont donné l'alerte après avoir découvert la scène. Officiellement, Marilyn, 36 ans, a succombé à une overdose de Nembutal, un barbiturique. Mais la version du suicide n'a cessé d'être remise en cause depuis plus de cinquante ans. L'actrice a-t-elle été supprimée par la mafia ? Par les Kennedy qui craignaient un chantage ? Emportée par un mélange fatal de médicaments mal dosés par ses différents médecins ? Si les murs pouvaient parler...
Star sur écoutes
Les théories complotistes n'ont fait qu'empirer quand on a découvert tout un système illégal d'écoutes dans les pièces de la maison, lors de gros travaux de rénovation entrepris dans les années 1970... Depuis, la villa est passée de main en main, prenant de la valeur à chaque revente. En 2010, elle était estimée à 3,6 millions de dollars, en 2012 à déjà 5 millions et aujourd'hui à presque 7. Le prix à payer pour dormir dans les murs de la star défunte. Si les fantômes ne vous effraient pas...
Enregistrer
22 avril 2017
Destins Brisés
n°3
pays: France
paru le 12 avril 2017
prix: 2,99 Euros
article: 2 pages "Marilyn Monroe: Sa dernière journée"
> scan sommaire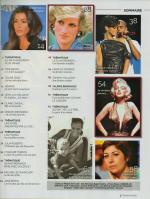 10 juillet 2016

45 things you didn't know about Marilyn Monroe
published on June, 1st, 2016
by Horatia Harrod - online Telegraph

Norma Jeane Mortenson - better known as Marilyn Monroe

1. Marilyn was relatively poorly paid. Jane Russell was paid around 10 times as much as Marilyn when they co-starred in Gentlemen Prefer Blondes. Her salary for her final unfinished film, Something's Got to Give, was $100,000. Compare that with Elizabeth Taylor, who was getting a million dollars for Cleopatra; or even Marilyn's co-star in the film, Dean Martin, who was on $500,000. Today, her estate makes around five million dollars a year.

2. But she died having become a million-dollar movie star. In 1962 she was fired by Twentieth-Century Fox from the production of Something's Got to Give because of her chronic lateness and no-shows (she didn't appear for the first two weeks of filming). But on August 1, four days before her death, she was rehired by Fox on a $1million, two-picture deal.

3. She found it almost impossible to learn lines, and took 60 takes to deliver the line "It's me, Sugar", in Some Like it Hot.

4. She was Playboy's first Sweetheart (later Playmate) of the Month, in 1953. Marilyn had been paid $50 to model for the picture in 1949; Hugh Hefner bought it for $500.

5. Several of the burial vaults near to Marilyn's have been put on sale. When Elsie Poncher, the widow of the man in the vault above Marilyn's, put his space up for sale on eBay, she received dozens of bids, including one for £2.8million.

6. Hugh Hefner owns the burial vault next to Marilyn at the Westwood Memorial Park in Los Angeles. He bought it in 1992 for £50,000.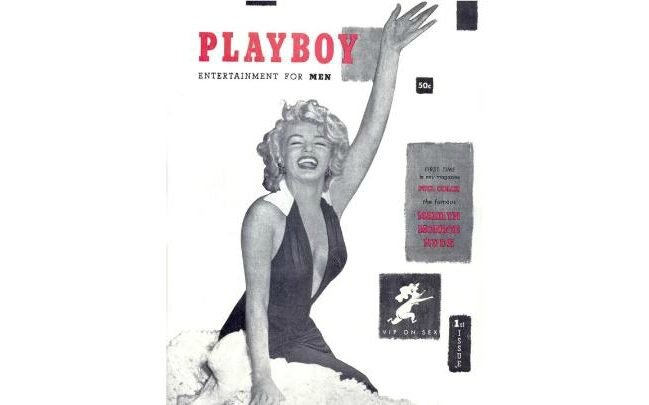 Marilyn Monroe on the cover of the first issue of 'Playboy'
7. She went by many names. On her birth certificate she is Norma Jeane Mortenson; she was baptised Norma Jeane Baker; she modelled under the names Jean Norman and Mona Monroe; her initial idea for a screen name was Jean Adair; she signed into hotels as Zelda Zonk and into a psychiatric clinic as Faye Miller. She only legally changed her name to Marilyn Monroe in March 1956, when she was already a star.

8. She was placed with 11 sets of foster parents after her mother, Gladys, was institutionalised. She also spent almost a year in the Children's Aid Society Orphanage in Los Angeles.

9. Goya was her favourite artist: "I know this man very well, we have the same dreams, I have had the same dreams since I was a child."

Marilyn Monroe poses over the updraft of a New York subway grating
during a photo session to promote the film The Seven Year Itch in September 1954
Credit: Matty Zimmerman
10. Marilyn became a Christian Scientist at the age of 18; later in her life she dabbled in alternative spiritualities, including Anthroposophy, the philosophy espoused by Rudolf Steiner. She converted to Judaism before her 1956 marriage to Arthur Miller.

11. Her weight went up and down so dramatically during the filming of The Prince and the Showgirl that the costume designer, Beatrice Dawson, had to create facsimile dresses in different sizes. "I have two ulcers from this film," she said, "and they're both monogrammed MM."
12. She was rarely without an acting coach. Her first, Natasha Lytess, worked with her for six years and 22 films, clashing with directors, whose authority she challenged, and studio heads, who paid her bills. (Marilyn also paid her a wage – and settled her £11,000 debt at the dentist.)
Later, Paula Strasberg took Lytess's role; unlike Lytess, who tried to direct Marilyn's every movement from behind the camera, Strasberg was consulted between takes. To coach Marilyn in The Prince and the Showgirl, she was paid $25,000 – as much as some of the featured actors were getting.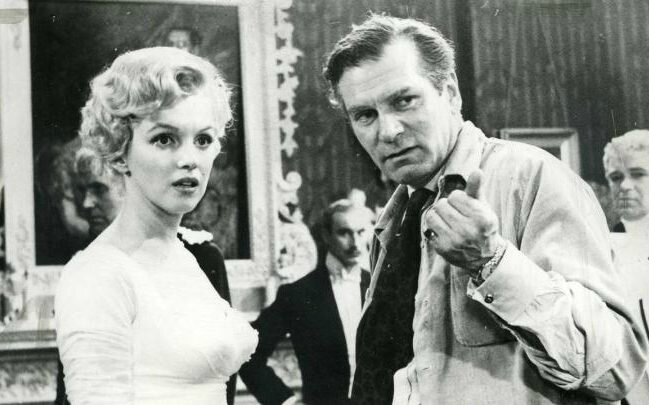 Marilyn Monroe and Laurence Olivier on the set of The Prince and the Showgirl
13. For 20 years after Marilyn's death, Joe DiMaggio arranged to have roses sent to her crypt three times a week.

14. In January 2011, Authentic Brand Groups bought the licensing rights to the Marilyn Monroe estate, for a price in the range of $30million. "On the media and entertainment side," said the company's chief executive, Jamie Salter, "I think she's got a career in front of her, just based on technology."

15. At the 1999 auction of Marilyn's effects, her white baby grand piano was bought by Mariah Carey, the singer, for $662,500. (The estimate had been $10,000-$15,000.) The piano had been bought by Marilyn's mother, and sold after she had her breakdown, but Marilyn eventually found it and bought it back, keeping it with her until her death.

16. There was an open casket at her funeral. She wore an apple green Pucci sheath dress made of nylon jersey and a platinum wig (her head had been partially shaved during the autopsy).

17. She was thought to have been planning to remarry Joe DiMaggio at the time of her death. After the failure of their marriage, DiMaggio had undergone therapy, stopped drinking alcohol and expanded his interests beyond baseball: he and Marilyn read poetry together in these later years.

Marilyn Monroe and Joe DiMaggio Credit: Reuters
18. Marilyn's beaded Jean Louis gown, worn when she sang Happy Birthday to President Kennedy, was sold in 1999 for £820,000. At the time it was the record price for a single item of clothing, until Marilyn's billowing white Seven Year Itch dress was put up for sale by Debbie Reynolds in 2011, where it made £2.8 million.

19. Marilyn owned many dogs during her life; her last was a Maltese terrier given to her by Frank Sinatra, which she named Maf (short for Mafia Honey). At the Christie's sale in 1999, two Polaroids of Maf sold for £220,000.

20. Marilyn left 75 per cent of her estate to the Strasbergs; eventually this fell to Anna Strasberg, Lee Strasberg's third wife. She vetoes the use of all images in which Marilyn wears fur, citing Marilyn's love of animals as a reason.

21. The Anna Freud Centre, a child therapy clinic in Hampstead, north London, owns the remaining 25 per cent of Marilyn Monroe's estate. The centre was left its share by Dr Marianne Kris, one of Marilyn's therapists, and the original beneficiary of her will.

22. Before her marriages to Joe DiMaggio and Arthur Miller, Marilyn was married to James Dougherty. She was 16 when they tied the knot. Dougherty, who later became a detective in the LAPD, was forbidden by his second wife from going to see any of Marilyn's films.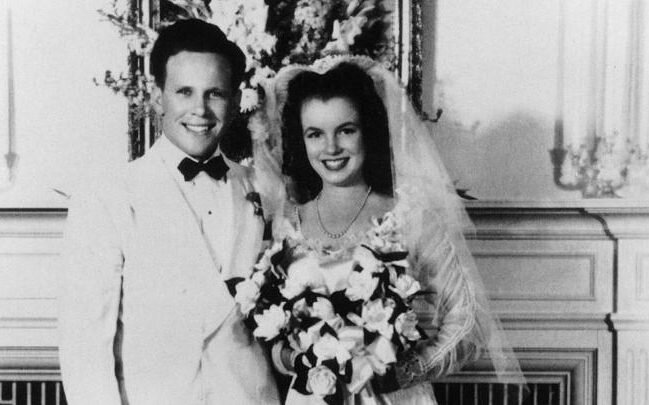 Marilyn Monroe with her first husband, James Dougherty Credit: EPA
23. Marilyn whitened her skin with hormone cream, one side effect of which was to encourage the growth of blonde down on her face; Marilyn would not remove this peach fuzz, believing that it gave her face a soft glow on camera.

24. She was never nominated for an Academy Award, but she was voted the "Oomph Girl" at Emerson Junior High in 1941; crowned Castroville's first Artichoke Queen in 1948; and was Stars and Stripes magazine's Miss Cheesecake of 1950.

25. She was named "The Most Advertised Girl in the World" by the Advertising Association of the West in 1953. Among the brands she represented were American Airlines, Kyron Way Diet Pills, Pabst Beer, Tan-Tan Suntan Lotion and Royal Triton Oil.

26. In 1950, Johnny Hyde, her agent, paid for her to have two plastic surgeries: a tip rhinoplasty (reshaping the soft cartilage at the end of her nose); and a chin implant.

27. She was an early devotee of yoga, and was taught by Indra Devi, a Swedish-Russian Bollywood film star who also taught Greta Garbo and Gloria Swanson.

28. Marilyn's intervention got Ella Fitzgerald her first major engagement at a Los Angeles nightclub. In 1955 the colour bar was still in force, but Marilyn convinced the management to let Fitzgerald play by promising to sit in the front row for a week.
29. Marilyn was only the second woman to head her own production company (Mary Pickford was the first).

30. Marilyn had a fixation on Clark Gable, her co-star in The Misfits; as a young girl, Marilyn dreamed that he was her father. When he died, she said that she cried for two days.

31. She preferred to go naked. Among female studio employees – wardrobe mistresses, hairdressers, make-up artists – she often went without clothes. She gave interviews in the nude and often went out wearing nothing under the black mink that Joe DiMaggio had given her.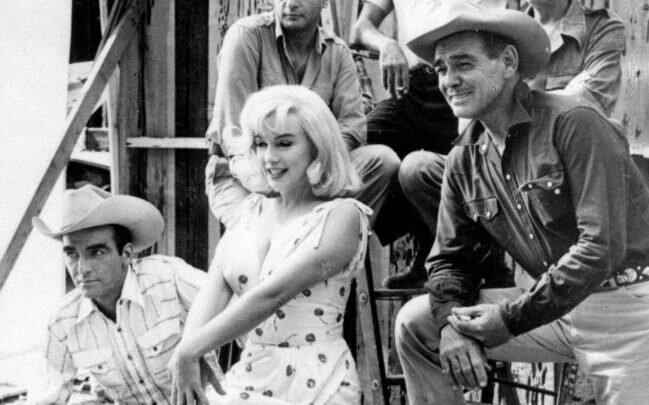 Montgomery Clift, Marilyn Monroe and Clark Gable, stars of 'The Misfits' Credit: AP
32. Writers loved her. Jean-Paul Sartre wanted her to play the role of a hysterical patient in the film Freud, for which he wrote the first draft of a screenplay; she was Truman Capote's first choice for the part of Holly Golightly in Breakfast at Tiffany's.

33. Marilyn's death was ruled a "probable suicide", but toxicology tests were only carried out on her liver. When the deputy coroner, Thomas Noguchi, tried to obtain her other organs for testing, he was told they'd been destroyed.

34. Veronica Hamel, an actress, bought Marilyn's house in 1972. She claimed that when she was renovating the house she discovered an extensive system of wire-taps.

35. Marilyn's hero was Abraham Lincoln: "I used to read everything I could find about him," she wrote in her (ghosted) autobiography, My Story. "He was the only famous American who seemed most like me, at least in his childhood."

36. The books she was reading at the time of her death were Harper Lee's To Kill a Mockingbird and Captain Newman MD, a novel by Leo Rosten based on the life of Monroe's psychiatrist, Ralph Greenson.

37. Two men claimed paternity of Marilyn on their deathbeds: C Stanley Gifford, who both Marilyn and her mother believed was her father, but who refused to meet Marilyn when she was alive; and Edward Mortensen, who was married to her mother at the time of her birth, and whose (misspelled) surname appears on her birth certificate.

38. She was athletic. As a young married woman on Catalina Island in the early Forties, she studied weightlifting with a former Olympic champion named Howard Corrington. She later went tandem surfing with a boyfriend, Tommy Zahn, balancing on his shoulders as they cut through the waves.

39. She was a talented producer. Marilyn Monroe Productions, which she formed in 1955 with Milton Greene, the photographer, only solely produced one film, The Prince and the Showgirl. Marilyn showed her nous in winning the script: she managed to wangle a meeting with the writer, Terence Rattigan, in New York, where he was stopping over en route to Hollywood to discuss the script with the director William Wyler, luring him from the airport to a downtown bar. When Wyler failed to make him a concrete offer, Rattigan went with Monroe.

40. Many of her friends believed she was murdered. Among the potential suspects: Robert Kennedy (with whom she had had an affair); John F Kennedy (ditto); mafioso Sam Giancana; the FBI; the CIA; her psychiatrist, Ralph Greenson.

41. During the filming of Let's Make Love, Marilyn's no-shows added 28 days to the shooting time and $1 million to the budget.

Allan 'Whitey' Snyder applying Marilyn Monroe's makeup
on the set of 'Let's Make Love' Credit: AP
42. Her career in front of the camera began when she was discovered working on the assembly line at Radioplane, a munitions factory, by a photographer called David Conover.

43. Arthur Miller's play After the Fall is generally thought to be a thinly veiled portrayal of his marriage to Marilyn. The writer James Baldwin walked out of the play because he thought that "Maggie", the Monroe character, was written so cruelly.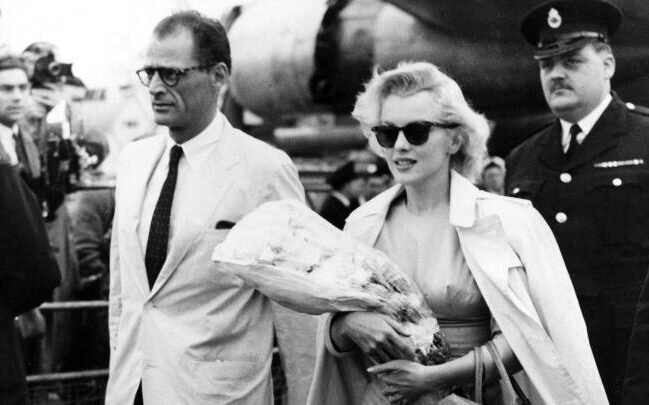 Marilyn Monroe with then-husband Arthur Miller in July 1956 Credit: AP
44. She only owned one home by herself: the house she died in at 12305 Fifth Helena Drive, Brentwood.

45. When she met Nikita Khrushchev, they discussed The Brothers Karamazov. She dreamed of playing the part of Grushenka in a film of the book.
22 mai 2016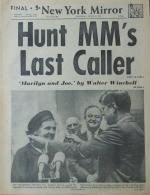 Le journal américain de New-York New York Mirror du mercredi 8 août 1962, titre en Une "Hunt MM's Last Caller".

Enregistrer
12 mars 2016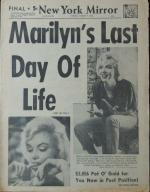 Le journal américain de New-York New York Mirror du mardi 7 août 1962, titre en Une "Marilyn's Last Day Of Life".
Enregistrer
06 mars 2016
Faux-semblants
Les révélations morbides du croque-mort de Marilyn Monroe
publié le 10/06/2015
en ligne sur vanityfair.fr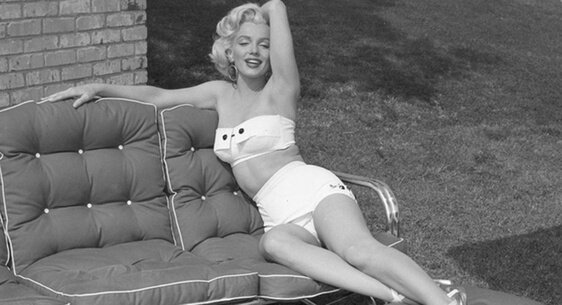 Un mythe s'effrondre. Après avoir conduit des stars à la morgue toute sa vie, Allan Abbott, le croque-mort de Hollywood, a publié ses mémoires dans un livre intitulé Pardon My Hearse. Et stupeur entre deux anecdotes à propos de John F. Kennedy ou Nathalie Wood, il dresse un portrait morbide du sex-symbol américain : fausses dents, lèvres gercées, jambes mal épilées, faux seins, peau abîmée, pédicure douteuse...

« Elle ne ressemblait pas à Marilyn Monroe mais à une femme banale, qui prend de l'âge et qui ne prend pas beaucoup soin d'elle », raconte Allan Abbot, qui s'est dit choqué par l'état dans lequel il a retrouvé la jeune femme, décédée à 36 ans d'une overdose de barbituriques.

Le croque-mort explique que, compte tenu de la position de Marilyn Monroe à sa mort, son visage n'était plus reconnaissable : « Marilyn est morte face contre terre. Elle avait des taches violettes sur ses joues et son cou était particulièrement enflé. » Ses cheveux, eux, étaient courts et crépus. « Ses jambes n'étaient pas épilées, ses lèvres en mauvais état. Elle avait besoin d'une manucure et d'une pédicure », continue-t-il.

L'état de sa poitrine a laissé les employés des pompes funèbres perplexes : « Elle ne ressemblait pas à Marilyn Monroe », révèle la femme du thanatopracteur, qui a rembouré le soutien-gorge de coton pour lui donner plus de formes.

Des révélations surprenantes pour cette incarnation du glamour, qui aurait néanmoins confié plusieurs fois à son psychiatre s'examiner régulièrement devant son miroir pour constater les effets de l'âge sur son corps.

> A lire sur le Daily Mail
---
EXCLUSIVE: Marilyn Monroe had purple blotches on her face, falsie breasts and 'didn't take care of herself' reveals mortician who prepared her and other stars for burial
Article published in 9 June 2015
by Caroline Howe - online on dailymail
Allan Abbott and Ron Hast first job delivering flowers from the mortuary to the cemetery led to top funeral company - and limo service
They picked up Marilyn Monroe's remains and Abbott describes the shocking state of her body in new book
'She looked like a very average, aging woman who had not been taking very good care of herself,' he writes
They drove Natalie Wood's mother and her sister, Lana Wood to Natalie's funeral in 1981
Their limos drove John F. Kennedy and his entourage all over Los Angeles during the 1960 Democratic Convention
They picked up Elizabeth Taylor and Richard Burton in 1963 at the San Bernardino train station for an incognito arrival into Los Angeles
From Marilyn Monroe's hairy legs, to Natalie Wood's bruises, two morticians to the stars share their last unique and final glimpse of some of the cream of Hollywood.
Abbott & Hast became the funeral service of choice for Los Angeles' rich and famous during the 1960s.
When celebrities died, the firm would be relied on to pick up the bodies and chauffer them away.
So it was perhaps unsurprising when, on August 5, 1962, the company received a call to pick up the body of Marilyn Monroe after she was found dead in her home from a suspected overdose.
Abott revealed they had been shocked by the state of the starlet who bared almost no resemble so her stunning onscreen persona.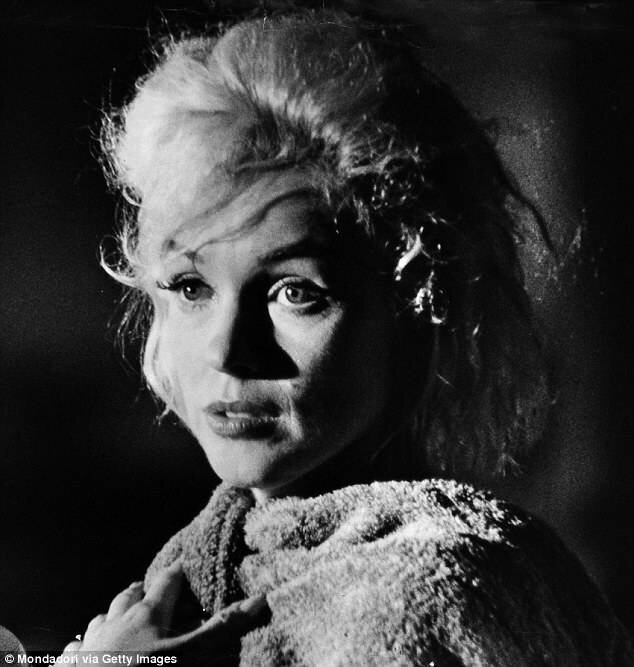 Fallen star: Allan Abbott and Ron Hast were shocked when they saw the condition of Marilyn Monroe's body. Abbott and his brother write about it in gruesome detail in new book Pardon My Hearse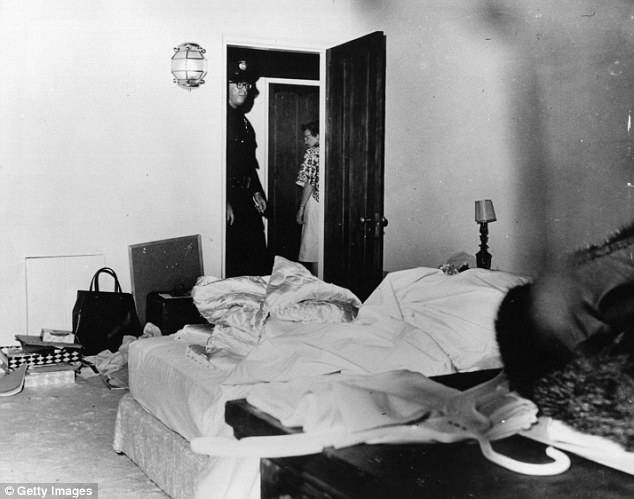 Marilyn's bedroom: The room where film actress Marilyn Monroe's body was found on August 9, 1962
He added that her face had been marred by purple blotches, her roots were showing and she was in need of a manicure and pedicure.

The company also transported screen stars Clark Gable and Ernie Kovacs to their respective funerals, with Frank Sinatra and Jack Lemmon serving as pallbearers at the latter.
But it wasn't just the dead famous they transported.
Their limo service chauffeured married actors Elizabeth Taylor and Richard Burton and even presidential nominee John F. Kennedy.
High school friends Allan Abbott and Ron Hast had bought their first old hearse to use on camping trips while prospecting rocks and fossils in the 1950s.
It also brought their first summer job during college, delivering flowers from the mortuary to the cemetery.
From standard hearses, to flower trucks, to rental limos, to an 'air hearse', a boat for scattering ashes at sea, funeral prop rentals - the company that Abbott and Hast created evolved into the leading hearse, mortuary and funeral service company in Hollywood.
Allan Abbot candidly writes about transporting famous corpses as well as driving celebrities and renting his cars and props to movie studies in Pardon My Hearse, a Craven Street Books publication to be published on June 15.

A 1941 morbid-looking black Packard hearse the pair purchased for a mere $40 started it all. They fitted what they called the 'black elephant' with a mattress and used it for long camping trips.
It felt creepy knowing that it had a history of transporting corpses and 'it took awhile to get used to seeing people make the sign of the cross or remove their hats as we drove by', Abbott writes.
Even Ron's parents made him park it a block away from their house.
When they were offered $400 for it, they sold it, bought two more hearses so that each of them owned their own hearse as their personal vehicle.
Their lucrative move to a venture in undertaking was serendipitous and began when they accepted a summer job to deliver flowers from a mortuary to a cemetery.
That segued into a request to pick up bodies for $95 - a big sum of cash for the two, new to the shroud business. They practiced on Abbott's mother – picking her up off the floor and placing her on an old ambulance cot.

'Now the time had come for us to decide if we were really prepared to be in such a predictably disquieting line of work, and we needed to know if we were mentally resolved to deal with what was sure to come', Abbott writes.
They rented an old building on the west side of Los Angeles in an area dubbed 'Death Row', zoned for mortuary operations and set up shop. In the basement they found old mortuary paraphernalia that included artificial arms, legs, dentures, wicker caskets, early embalming equipment.
And they were in business with calls from San Quentin State Prison to remove bodies after executions. They were called to remove a body at a candy factory after the worker had fallen into a vat of chocolate and drowned.

Movie studios starting calling requesting funeral cars to use in films.
The pair added a large flower truck in their fleet of vehicles using it for funerals of Jack Warner, head of Warner Brothers, actor Jimmy Durante, singer Mario Lanza, to name a few.
They were called on in the early 1960s to pick up Swedish film actress, Inger Stevens who was in a popular television show at the time, The Farmer's daughter, and drive her to Los Angeles International Airport.
When Abbott knocked on the door of her Hollywood apartment, he was informed by a man on the other side of the door that she had left for the airport in her own car.

Rigor: Marilyn Monroe's body was first taken to the Los Angeles County Medical Examiner's office. Early stages of rigor mortis had begun indicating she had been dead longer than the presumed three hours.. Monroe was found dead of a suspected barbiturate overdose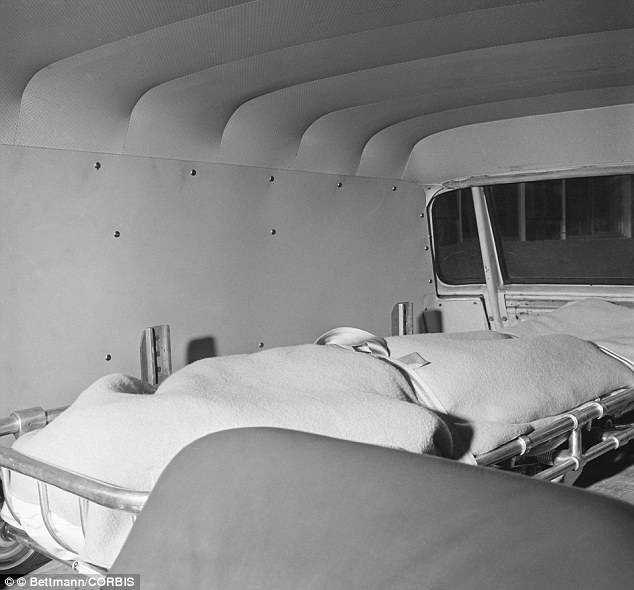 Shock: The body of actress Marilyn Monroe arrives at the mortuary. 'When we removed the sheet covering her, it was almost impossible to believe this was the body of Marilyn Monroe,' writes Abbott. 'She looked like a very average, aging woman who had not been taking very good care of herself'

All-purpose: Allan Abbott and Ron Hast first job delivering flowers from the mortuary to the cemetery led to top funeral company - and limo service
Abbott and his girlfriend took it upon themselves to investigate the unidentified voice. It turned out to be Isaac Jones, President of Nat King Cole's Kell-Cole Productions and the first black person to produce an A-list picture when he was a producer of 'A Man Called Adam', starring Sammy Davis Jr.
Jones and Stevens had secretly married in Mexico in 1961 and kept it a secret believing an interracial relationship would ruin her career. Nine years later, after dating Burt Reynolds for a year in a reportedly volatile relationship, she was discovered unconscious on her kitchen floor and died of acute barbiturate intoxication en route to the hospital.
Friends never believed that she took her own life. She was still married to Jones at the time of her death.
Abbott & Hast were called for cars and drivers for Inger's funeral.

The following year, a call came into the West Los Angeles Police Station in the early hours of August 5, 1962. Dr. Hyman Engelberg identified himself to Sergeant Jack Clemmons on the desk and stated that Marilyn Monroe was dead in her house at 1230 Fifth Helena Drive in Brentwood.
Engelberg said Dr. Ralph Greenson had informed him that her death was from an overdose of Nembutal and stated it was suicide. Clemmons jumped into a squad car and headed out to her house.
The Los Angeles County Coroner's Office called Westwood Village Memorial Cemetery and instructed them to remove her body. Manager Guy Hockett took the assignment and discovered her body was in the early stages of rigor mortis, a condition that typically begins six to eight hours after death but he had been informed that death had occurred three hours prior to his arrival.
Hockett delivered her body to the mortuary.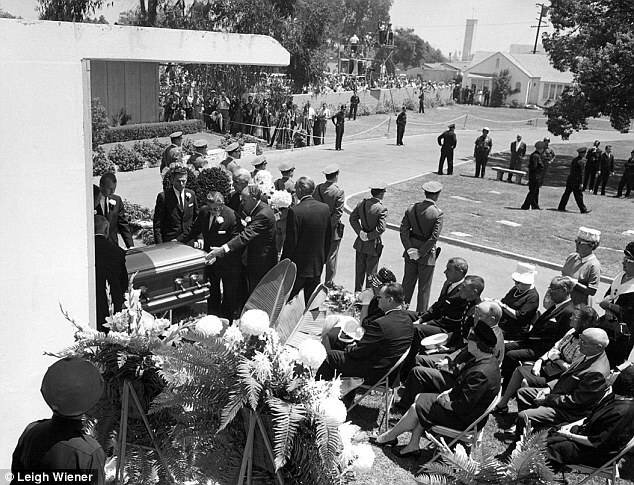 Ron Hast and Allan Abbott stand next to Monroe's casket prior to the service at the cemetery crypt. Their hearse drove Marilyn Monroe's casket in her funeral procession on August 8, 1962 to Westwood Village Memorial Park Cemetery in Los Angeles

Incognito: Richard Burton and Elizabeth Taylor arrive in San Bernadino in 1963 by train in an effort to avoid large unruly crowds in LA. But Liz was put off that there weren't more fans waiting to see her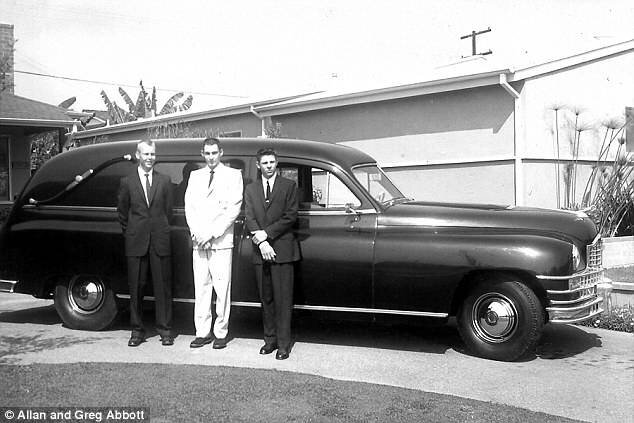 The mortuary men picked up bodies for $95 - a big sum of cash for the two new to the shroud business. They practiced on Abbott's mother – picking her up off the floor and placing her on an old ambulance cot
Abbott's company was called and they sent Leonard 'Chris' Kreminski to assist in removing the body. It was later transported downtown for the postmortem.
'Because of the tremendous implications of this case, it took much longer for Coroner Theodore Curphey to finally make some statements. His best and most dedicated pathologist, Thomas Noguchi, known to some as 'The Knife,' spent about three times as much time as it usually took him to do a full postmortem.
'The deputies at the coroner's office informed me that Dr. Noguchi had been extremely thorough with his examination of her body. He spent a great deal of time looking for hypodermic needle marks, which he did discover in her arm pit, but this area is often used by doctors when treating female movie stars.
'He continued to search in unusual places like inside her nose, between her toes and fingers, under her tongue, and in her genitals, but was unable to discover any additional injection points', Abbott writes.

Abbott was present and entered the embalming room with the embalmer, identified only as 'Frenchie'.
'When we removed the sheet covering her, it was almost impossible to believe this was the body of Marilyn Monroe. She looked like a very average, aging woman who had not been taking very good care of herself. Obviously, the circumstances surrounding her death had greatly exacerbated her poor appearance and she was unrecognizable.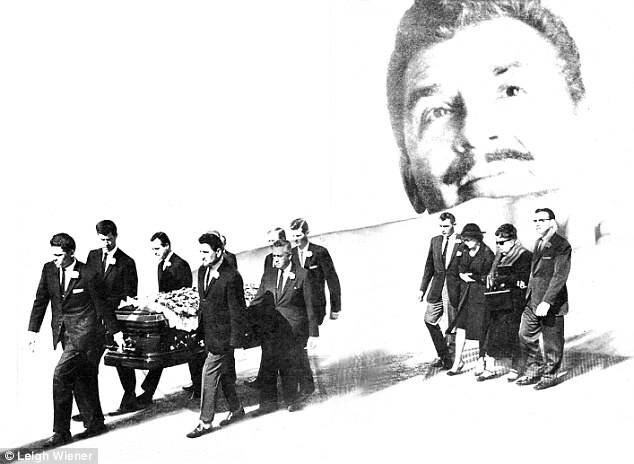 Abbott drove the hearse for the 1962 funeral of actor Ernie Kovacs with Frank Sinatra and Jack Lemmon serving as pallbearers. Kovacs had been killed in a Chevrolet Corvair, one of the early rear-engine American cars that were discontinued because the car was known to go out of control after hard braking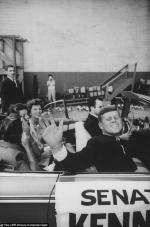 Their limos drove John F. Kennedy and his entourage all over Los Angeles during the 1960 Democratic Convention. Abbott says they had a hard time collecting payment from the candidate
'When someone dies, gravity causes the blood to settle to the lowest point of the body. This condition is called lividity, and considering that many people die lying on their backs, the discoloration that occurs is seldom visible.
'In Marilyn's case, she died face down, so there were purple blotches on her face, and her neck was very swollen. They had bathed her at the coroner's office, and her hair was frizzy and fairly short.
'You could tell she had not bleached it for some time, because the roots were darker and had grown out about half an inch.
'Her natural hair color was a light brown, not blonde. Her legs hadn't been shaved for at least a week, and her lips were badly chapped. She was also in need of a manicure and pedicure.'

'We began discussing the terrible swelling in her neck, and Frenchie decided that a surgical procedure was needed. This was out of my area of expertise, so I deferred to his decision. Frenchie knew how to correct the problem, but it wasn't going to be pretty.
'He instructed me to hold her on her side so he could make an incision in the back of her neck in the shape of a marquis diamond and remove about two square inches of skin. He then pulled the sides together and stitched it up. It wasn't pleasant to watch, but it was quite effective in reducing the swelling.
'Marilyn's executrix had just brought in her clothing, so Mrs. Hockett, wife of the cemetery's manager, rang me to come up to the office and pick up the package. She also informed me that the lady said Marilyn didn't wear panties, and she couldn't find any among her clothing.

In 1981, Natalie Wood mysteriously drowned in the waters off of Catalina Island, California where she and her husband Robert Wagner and guest and actor Christopher Walken had been partying . Natalie's body was bruised from hitting the rocks and the coroner's pathologist chose to surgically remove some of that tissue to examine closely. Natalie was dressed in a full-length fur coat so that the bruising was not visible when the casket was open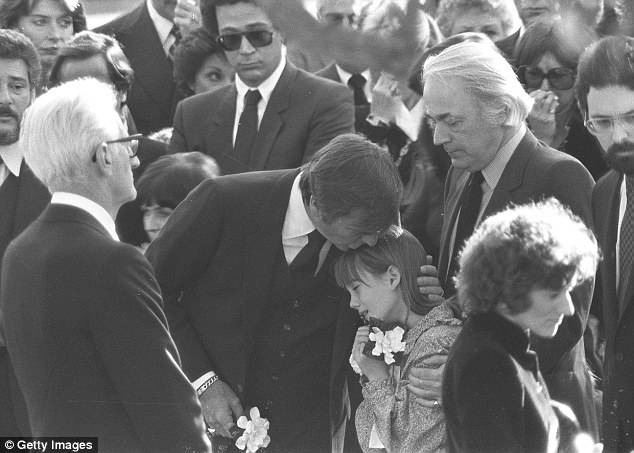 Robert Wagner comforts his daughter Courtney Brooke Wagner at Natalie's funeral. The casket was carried from the hearse to the device used to lower it into the grave. Moving over to stand next to Abbot who was at the head of the casket was Christopher Walken – separated from the other attendees
'I also noticed that among the items was a small pair of false breasts. I had seen falsies before, but these were much smaller than any I'd seen'.

'That doesn't look like Marilyn Monroe,' Mrs. Hamrock stated. 'What happened to her boobs ?' In his own defense, Frenchie told her that the cutting of the ribs during the autopsy had caused this condition. He further stated that he had even used the falsies that were brought in with her clothing, but they had been much too small to enhance her physique'.
Mrs. Hamrock reached down and pulled at the neck of the dress, which was a very springy material. She reached in with her other hand to remove the falsies and threw them into the trash can. She then pulled some clumps of cotton off a roll and formed much larger breasts by stuffing her bra. At this point she stepped back and proudly exclaimed, 'Now that looks like Marilyn Monroe !'
Abbott later retrieved the falsies from the trash and took them home.

Sydney Guilaroff, Monroe's makeup man, and Allan 'Whitey' Snyder, arrived at the mortuary. Sydney brought the wig that was made for her for the film, Something's Got to Give, and Whitey applied her makeup.
Whitey told Abbott that Marilyn's breasts at age thirty-six were beginning to sag. She wore a bra but placed the little falsies between her bra and the sweater to make it look like she was unsupported and braless.

Joe DiMaggio kept a vigil at the mortuary. He stood by the casket for a while and then he walked in the cemetery outside and cried. They had married in January 1954 and Marilyn had filed for divorce 274 days later. They remained close and Joe never stopped loving her. Monroe was buried in Westwood Cemetery.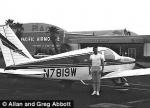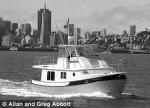 Eventually the mortuary partners bought a plane and a boat so they could offer burial at sea or to have ashes scattered from the air or over the water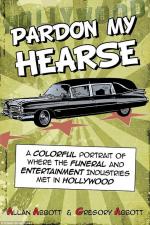 That same year, 1962, Abbott was called to drive the hearse for actor Ernie Kovacs funeral. He directed pallbearers Frank Sinatra, Jack Lemmon and four others during the funeral ceremony with actress Kim Novak in attendance.

Kovacs had been killed in a Chevrolet Corvair, one of the early rear-engine American cars that were discontinued because the car was known to go out of control after hard braking. Ralph Nadar's book Unsafe at Any Speed sped up the demise of the Corvair.

In 1981, Natalie Wood mysteriously drowned in the waters off of Catalina Island, California where she and her husband Robert Wagner and guest and actor Christopher Walken had been partying. The call came in to Abbott to drive the family car and pick up Natalie's mother as well as her sister, Lana Wood.

The casket was carried from the hearse to the device used to lower it into the grave. Moving over to stand next to Abbot who was at the head of the casket was Christopher Walken – separated from the other attendees.

Natalie's body was bruised from hitting the rocks and the coroner's pathologist chose to surgically remove some of that tissue to examine closely. Natalie was dressed in a full-length fur coat so that the bruising was not visible when the casket was open.

'People have often asked me if my line of work was depressing. Sometimes that was the case but all things considered, it was certainly never dull'. Abbott admits to developing a gallows sense of humor. If asked how's business, he answered, 'Dead'. A slogan for the company was 'We'll be the last ones to let you down'.

- - - - -
A MORTICIAN TO THE STARS
- They picked up Marilyn Monroe's remains and helped prepare it for burial, witnessing the shocking state her body was in at the time of death.
- Two years earlier, Abbott drove a family car for screen star Clark Gable's funeral at Forest Lawn in Glendale, California in 1960.
- Abbott drove the hearse for the 1962 funeral of actor Ernie Kovacs with Frank Sinatra and Jack Lemmon serving as pallbearers and attended by Kim Novak.
- They drove Natalie Wood's mother and her sister, Lana Wood to Natalie's funeral in 1981.
- Their limos drove presidential nominee John F. Kennedy and his entourage all over Los Angeles during the 1960 Democratic Convention – and had a hard time collecting from the candidate.
- They picked up Elizabeth Taylor and Richard Burton in 1963 at the San Bernardino train station for an incognito arrival into Los Angeles sixty miles away, to have Elizabeth complain of no stargazers and Richard needing a drink
- They drove Carly Simon and a girlfriend to the Shrine Auditorium in Los Angeles in the Sixties listening to her complain that her new boyfriend resented her latest song. Carly then pulled two joints out of her handbag and the girls lit up. Allan didn't want to be high while driving but neither did he want to close the divider and not hear their gossip.
- - - - -
Pardon My Hearse by Allan Abbott and Gregory Abbott published by Craven Street Books is available on Amazon June 15, 2015