07 août 2019
La séance "en osier" de Marilyn Monroe photographiée par Milton Greene à New York en septembre 1954 la représente assise sur un siège en osier.
The "Wicker" sitting of Marilyn Monroe photographed by Milton Greene in New York in September 1954 depicts her sitting on a wicker chair, called peacock chair.
---
Marilyn reprendra la pose dans un siège en osier blanc, sous l'objectif de Cecil Beaton et de son assistant Hans Knopf le 22 février 1956 à l'hôtel Ambassador de New York.
Marilyn will strike a similar pose in a white wicker chair, photographed by Cecil Beaton and his assistant Hans Knopf on February 22, 1956 at the Ambassador Hotel in New York.
---
Il s'agit de fauteuils d'origine Tahitienne, appelés fauteuils Pomare. Avec son allure de "trône", qu'il tient de ses origines car était l'assise des rois de Tahiti (la dynastie des Pomare, d'où il tient son nom), il fait son apparition à la fin du XIXème siècle, quand le prince Hinoï, neveu de Pomare V (le dernier roi de la dynastie des Pomare), meurt dans l'un de ces fauteuils.
Mi-élégant, mi-décontracté, son dossier est plus ou moins haut et évasé, l'osier est travaillé et ajouré par des lignes entrelacées formant des jeux géométriques, figuratifs ou non.
These are chairs of Tahitian origin, called Pomare armchairs. With its appearance of "throne", which it holds from its origins because it was the seat of the kings of Tahiti (the Pomare dynasty, from which it takes its name), he made its appearance at the end of the XIX century, when Prince Hinoï, nephew of Pomare V (the last king of the Pomare dynasty), dies in one of these armchairs.
Mid-elegant, half-relaxed, with its backrest is more or less high and flared, the wicker is worked and perforated by intertwined lines forming geometric shapes, figuratives or not.
---
Hollywood et le cinéma européen, autant que les photographes, vont se l'approprier; déjà au début du XXème siècle (dès les années 1920s), des femmes sont photographiées assises dans un grand siège en osier.
Hollywood and european cinema, as much as photographers, will appropriate it; already in the early twentieth century (years 1920s), women are photographed sitting in a big wicker seat.
- Katharine Hepburn, 1935 -

- Mary Astor, 1937 -

---
Peu d'hommes sont photographiés assis dans une chaise en osier; ce petit fauteuil reste principalement "féminin" dans l'iconographie.
Few men are photographed sitting in a wicker chair; this little chair remains mainly "feminine" in the iconography.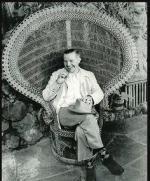 ---
L'assise du fauteuil en rotin va devenir un accessoire très utilisé dans la photographie mettant en scène les plus belles femmes du monde entier: actrices, chanteuses et mannequins.
The seat of the rattan chair will become a widely used accessory in the photography featuring the most beautiful women in the world: actresses, singers and models.
- Natalie Wood, 1960s -

- Virna Lisi, 1960s -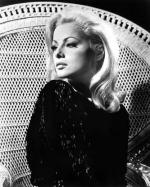 - Carolyn Jones, "The Addams Family", 1965s -

- Jean Shrimpton & Cecil Beaton, 1965 -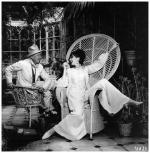 - Claudia Cardinale - 1960s -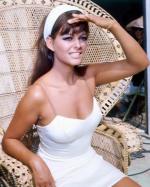 - Audrey Hepburn, septembre 1966, William Klein -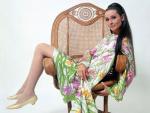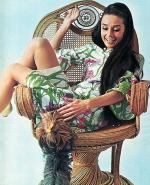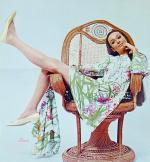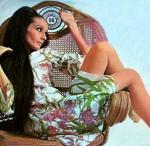 - Hailey Mills, 1967 -

- Sharon Tate, 1967s -

- Marlène Jobert, 1968 -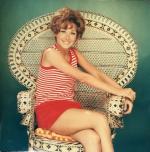 - Marianne Faithfull, fin 1960s -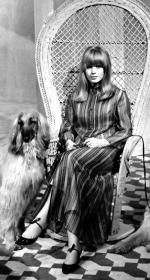 ---
L'actrice Sylvia Kristel va érotiser le fauteuil en rotin: elle y est représentée dénudée sur l'affiche du film érotique français Emmanuelle en 1974 (film qui va connaître un succès mondial). A partir de cette photographie iconique qui va devenir culte, le fauteuil en rotin devient alors indissociable de la féminité et la sensualité et l'incarnation des moeurs libérées et de la vie de bohème des années 1970s; et il est désormais nommé et connu sous le nom du "fauteuil d'Emmanuelle" !
The actress Sylvia Kristel will eroticize the rattan armchair: she is represented naked on the poster of the French erotic film Emmanuelle in 1974 (a film that will be a worldwide success). From this iconic photograph that will become cult, the rattan armchair becomes inseparable from femininity and sensuality and incarnation of liberated mores and bohemian life of the 1970s; and it's now named and known as the "Emmanuelle's chair" !
- Sylvia Kristel, "Emmanuelle", 1974 -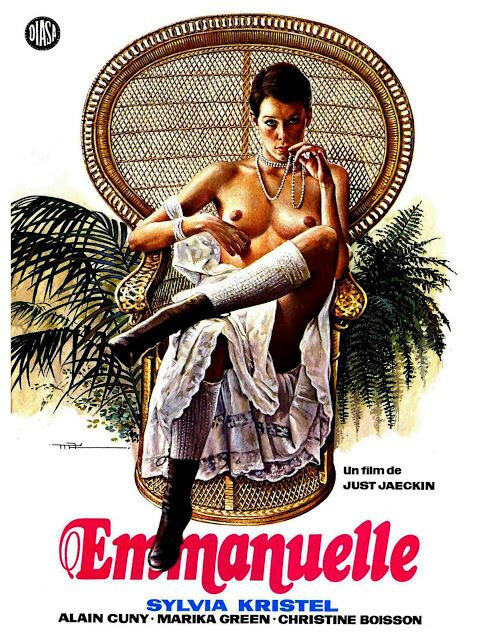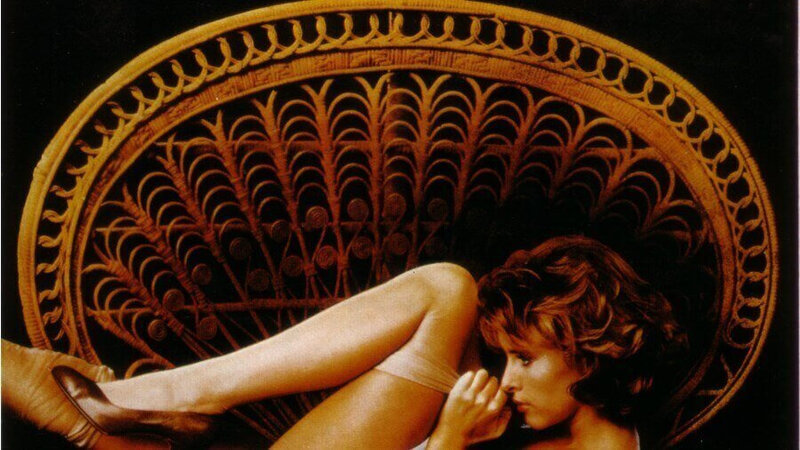 ---
- Dolly Parton, 1970s -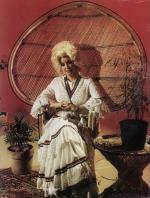 - Françoise Hardy, 1970s -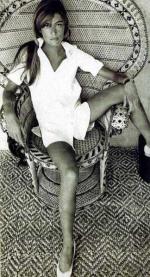 - Suzanne Somers, 1970s -

- Juliet Prowse, danseuse et actrice, 1970s -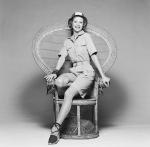 - Al Green, 1972, illustration de son album -

- Romy Schneider en famille 1979 -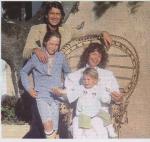 - Michelle Obama, 1980s -

- Ornella Mutti, 1980s -

- David Bowie, 1980s -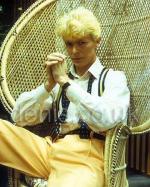 - Kate Bush, 1980s -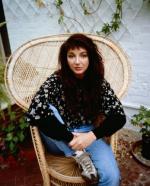 - Marc Bolan, 1983, illustration de son album -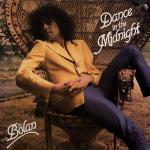 ---
Dans les années 2000s et 2010s, des mannequins sont représentées assises dans un siège en rotin pour souvent illustrer une mode à tendance hippie ou folk. Le fauteuil reste indémodable dans les intérieurs à tendance déco, qu'il soit placé dans une chambre ou dans un salon, ou à l'extérieur sur une terrasse ou dans une véranda, et comporte des connotations bohèmiennes d'authenticité, par son aspect vintage et de sensualité par l'imagerie d'Emmanuelle.
In the years 2000s and 2010s, models are represented sitting in a rattan seat to often illustrate a trend with hippie or folk tendency. The armchair is timeless in deco-style interiors, whether in a bedroom or in a living room, or outside on a terrace or veranda, and has Bohemian connotations of authenticity, with its vintage look and sensuality through Emmanuelle's imagery.
- Madonna, 2000s -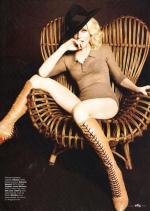 ---
All photos are copyright and protected by their respective owners.
copyright text by GinieLand.
15 janvier 2017
*extrait du livre Natalie Wood: Reflections on a Legendary Life, écrit par Manoah Bowman et la fille de Natalie, Natasha Gregson Wagner (2016)

I had known her and seen her days before her death. Her beauty, charming wit, and joy of life seemed paradoxical to the tense loneliness which she faced in her life, and was to me, clearly apparent. I realized that her tragedy reminds us all how vulnerable we are, and I chose to try to be stronger.

Je l'ai connue et l'ai vue les jours précédents sa mort. Sa beauté, son esprit charmant et sa joie de vivre paraissaient paradoxales à la solitude tendue qu'elle affrontait dans sa vie, et me paraissait évidente. J'ai réalisé que sa tragédie nous rappelle combien nous sommes vulnérables, et j'ai choisi d'essayer d'être plus forte.
> article Vanity Fair
22 novembre 2015
Vente aux enchères 'TMC PRESENTS... TREASURES FROM THE DREAM FACTORY' le 23 novembre 2015 par Bonhams à New York. Les lots avec leur description sont en consultation libre sur le site de Bohams.
---
Lot 2: A Natalie Wood bound screenplay of Scudda Hoo! Scudda Hay!
US$ 700 - 900 - €650 - 840
Twentieth Century-Fox, 1948. Mimeographed manuscript, revised final screenplay by F. Hugh Herbert, 149 pp, February 19, 1947 (with revision pages dated as late as March 4), burgundy leather cover stamped in gilt to upper cover with film's title and "F. Hugh Herbert." Some pages annotated in ink by Wood, who also inscribed her name, character's name address, and phone number on the title page, and some of her dialogue in pencil on the verso of the last page. This was Wood's eighth film, but is better remembered as the movie in which Marilyn Monroe utters her first speaking role.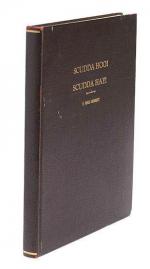 ---
Lot 206: A Marilyn Monroe signed contract for The Asphalt Jungle
US$ 20,000 - 30,000 - €19,000 - 28,000
Document signed ("Marilyn Monroe"), 2 pp, Hollywood, November 29, 1949, a Twentieth Century-Fox/Screen Actors Guild contract "for Free Lance Players," countersigned and dated on the verso beside Monroe's signature, inscribed in ink on the recto, "12-8-49 M. Monroe / J.S.," with additional partial page stapled to verso.
John Huston's film noir The Asphalt Jungle marked one of Marilyn Monroe's most important early, breakthrough roles, as gangster Emmerich's (Louis Calhern's) much younger moll, Angela. At the time, Monroe was virtually unknown and this contract states she received only $300 per week for her work on the film.
9 x 23 in.

---
Lot 207: A Marilyn Monroe suit from Gentlemen Prefer Blondes
US$ 350,000 - 500,000 - €330,000 - 470,000
Twentieth Century-Fox, 1953. Gray wool jacket with cream-colored embroidered linen collar, wired so that it stands, hook-and-eye and black button closure at the center, fitted at the hips, with partial gray crepe lining; together with a matching knee-length pencil skirt with a navy grosgrain waistband and buttons that attach to the jacket (to prevent the skirt from moving when Monroe danced), and a small slit in the back, bearing a bias label inscribed in black ink, "1-69-1194 M. Monroe A-698-40." Monroe, as Lorelei Lee, wears this suit when she and Dorothy (Jane Russell) go shopping in Paris, the hotel refuses them, and they wind up at a sidewalk café, singing "When Love Goes Wrong."
Provenance: Purchased by Debbie Reynolds from Fox in 1971; Butterfield & Butterfield, Entertainment Memorabilia, March 14, 2000, lot 5842.
A 1949 musical based on a novel by Anita Loos, Gentlemen Prefer Blondes was initially purchased by Fox as a vehicle for Betty Grable. However in light of Grable's waning popularity and comparatively high salary (almost ten times Monroe's), studio head Darryl Zanuck decided to cast the starlet Monroe instead, borrowing Jane Russell from RKO to serve as her costar. Gentlemen Prefer Blondes was a massive success and 1953 became Monroe's breakout year. She and Jane Russell put their handprints in cement at Grauman's Chinese Theater to celebrate the film's premiere, Monroe appeared on the cover of Photoplay and received its Fastest Rising Star award, and also appeared on the cover of the inaugural issue of Playboy.
A report by leading costume conservator Cara Varnell is available upon request.


---
Lot 208: A Marilyn Monroe red saloon gown from River of No Return
US$ 300,000 - 500,000 - €280,000 - 470,000
Twentieth Century-Fox, 1954. 19th century style saloon gown with a red cotton bodice adorned with large black sequins in a swirling pattern with black sequin trim along the neckline and each of the three shoulder straps, a black satin bustled skirt with matching red cotton trim with black sequins on either side of a high slit, and a yellow silk rose at the hip, bearing a label inscribed in black ink, "1-25-1-4413 A713-06 / M. Monroe"; and a matching pair of red cotton panties with red lace and green ribbon trim, bearing a label inscribed in black ink, "1-25-1-4413 A713-06 / M. Monroe" and a Fox cleaning tag. Monroe wears this dress while singing "One Silver Dollar" in the saloon.
Provenance: Purchased by Debbie Reynolds from Fox in 1971; Butterfield & Butterfield, Entertainment Memorabilia, March 14, 2000, lot 5843.
River of No Return stars Monroe as Kay Weston, a singer in a mining tent city in the Northwestern United States. Matt Calder (Robert Mitchum) arrives there in search of his son Mark and meets Kay, who has been looking after the child. Kay and her fiancé (Rory Calhoun) later set off on a rafting trip to Council City, and Matt rescues them after they run into trouble on the river. River of No Return was directed by Otto Preminger and shot on location in national parks in Canada to take advantage of the beautiful appearance of the landscapes on CinemaScope.
Monroe wears this dress in her first scene of the film. As Robert Mitchum enters the tent and walks around the stage, watching Monroe sing and strum a guitar, neither he nor the audience can take his eyes off of her. The image of Monroe in the dress also appears on the original one sheet poster and features prominently in the other promotional material surrounding the film.
A report by leading costume conservator Cara Varnell is available upon request.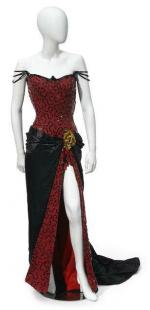 ---
Lot 209: Gentlemen Prefer Blondes
US$ 1,000 - 1,500 - €940 - 1,400
Twentieth Century-Fox, 1953. Three sheet poster, linen-backed. A vibrant poster with outstanding portraits of stars Marilyn Monroe and Jane Russell.
41 x 81 in.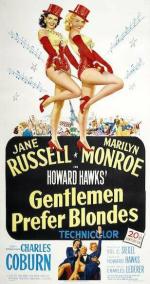 ---
Lot 213: An original title for River of No Return
US$ 1,200 - 1,400 - €1,100 - 1,300
Twentieth Century-Fox, 1954. Carved wood, reading "River of / No Return." Created by Pacific Title for the film's opening credits but not used. River of No Return, a Western set in the Pacific Northwest in the 19th century, was directed by Otto Preminger and starred Marilyn Monroe and Robert Mitchum.
36 x 14 3/4 in.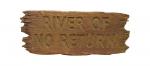 ---
Lot 214: A Bert Stern photograph of Marilyn Monroe
US$ 1,000 - 1,500 - €940 - 1,400
C-print signed ("Bert Stern") in green ink at lower right, and numbered 27/250. New York: Sherwood Atelier, 1978. Celebrity photographer Bert Stern is intimately linked with Monroe by the 2,500 photographs he took of her for Vogue less than two months before her untimely death. Stern later compiled those photographs for his book The Last Sitting, and this photograph was printed as part of a portfolio of ten prints in 1978. This sultry close-up of Monroe is a classic example of her vamping for Stern's camera.
Sheet: 20 x 24 in.; image: 19 7/8 x 19 7/8 in.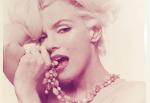 ---
Lot 215: A Marilyn Monroe signed U.S. Dept. of Defense identification card
US$ 10,000 - 15,000 - €9,400 - 14,000
Card serial no. 129279, undated, signed ("Norma Jeane DiMaggio"), inscribed under the signature by the military policeman who issued the ID, with "VOID" across the body of the document. On the verso of the card, Monroe has stamped her fingerprints in black ink. Accompanied by a press photograph of Monroe visiting the Tokyo Army Hospital on February 5, 1954.
This is the file copy of the ID card issued to Marilyn Monroe during her famous visit to entertain the American soldiers in Korea. Monroe had just married Joe DiMaggio on January 14 of that year, and they traveled to Japan for their honeymoon. She received this ID card from the US Army Provost Marshall's Office in Tokyo before flying to Korea. Monroe performed in ten shows over four days before a total audience of 100,000 soldiers.
In 2008, Bonhams sold Monroe's copy of this ID card, with the date February 8, 1954, the preceding serial number of 128278 and an identical inscription from the MP on duty, for $57,000.
Provenance: Accompanied by a notarized letter of provenance from the consignor, describing how he purchased the ID card from the estate of one of the military policemen on duty that day.
3 5/8 x 2 3/8 in.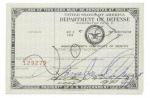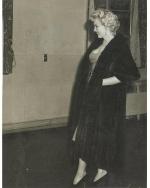 ---
Lot 218: A revised final screenplay of Let's Make Love
US$ 500 - 700 - €470 - 650
Twentieth Century-Fox, 1960. Mimeographed manuscript, revised final screenplay by Norman Krasna, 162 pp, December 20, 1959 (with revision pages as late as January 11, 1960), bound in brads in yellow Twentieth Century-Fox wrappers printed "Revised Shooting Final," with some notations in pencil to upper cover.
George Cukor's Let's Make Love was Marilyn Monroe's penultimate completed film role. Yves Montand stars as a man impersonating an actor impersonating himself in a play costarring actress Amanda Dell (Monroe). The finished film runs 119 minutes, which indicates that various scenes were probably deleted from this lengthy script. Monroe's then-husband Arthur Miller and Hal Kanter also contributed to the screenplay.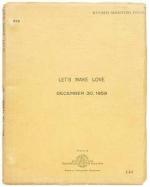 ---
Lot 219: A large collection of rare contact sheets of Marilyn Monroe in Let's Make Love
US$ 50,000 - 80,000 - €47,000 - 75,000
Twentieth Century-Fox, 1960. 134 contact sheets, in two sets bound at tops in clasps (one set totaling one-hundred and twenty-one sheets; the other, thirteen), each with twenty (though sometimes less) 2 3/4 x 1 3/4 in. black and white photographs, "Approved Set" inscribed on first sheet of smaller set in permanent marker, Advertising Code Administration "Approved" and "Disapproved" stamps on versos with dates in green and red ink, housed in a Kodak Photographic Paper box inscribed, "Monroe / Somethings [sic] Got to Give" (though the photographs are from Let's Make Love).
Taken throughout the production of Marilyn Monroe's penultimate film, there are approximately 2,700 individual black and white images in this collection. Monroe is pictured in almost every shot, though her costars Yves Montand, Tony Randall, Gene Kelly, Bing Crosby, and others are also prominently featured, as is director George Cukor. Most of the photographs were taken during filming, but there are also many candid, behind-the-scenes images. Monroe herself went through the contact sheets and crossed out dozens of images she didn't like, using a thick black or red ink pen, and sometimes crossing herself out so thoroughly that she couldn't be seen at all. Thankfully, she left hundreds of shots untouched.
11 x 14 in.
24 janvier 2013
Le Chateau Marmont et ses célébrités !
article publié sur news.celemondo.com
le 31 août 2012

James Dean, Jim Morrison, Marilyn Monroe, Jean Dujardin, … Le Château Marmont est l'un des hôtels les plus connus de Los Angeles. Mais plus que la beauté des lieux, c'est le passage de stars connus mondialement qui a permis d'écrire l'histoire et la renommée des lieux. Celemondo vous emmène donc faire une visite des chambres où les célébrités ont vécu !


Inauguré en février 1929, l'immeuble est destiné à accueillir des appartements. Mais deux ans plus tard, la Grande Dépression oblige son propriétaire à revendre les lieux à Albert E. Smith, un Anglais passionné de cinéma, qui décide d'en faire un hôtel. Aujourd'hui, l'hôtel a un charme particulier : il n'est en rien semblable aux hôtels modernes de Los Angeles avec son style très « old school » dirons-nous !

1 – Bungalow n°2 pour James Dean et Natalie Wood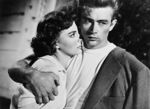 James Dean et Natalie Wood sont convoqués dans le bungalow n°2 de l'hôtel pour passer une audition pour le réalisateur Nicholas Ray. Natalie Wood enchaîne les cigarettes en attendant celui qui est déjà considéré comme la nouvelle tête brulée d'Hollywood. Avec une demi-heure de retard, James Dean arrive et entre par la fenêtre du bungalow. Natalie Wood se souvient : « Nick [Ray] a essayé de le faire s'asseoir à côté de moi, il s'est même moqué un peu de lui en lui disant : « Allez Jimmy, tu vas même devoir lui faire l'amour à l'écran ». Mais Jimmy ne m'a même pas regardée. Il a juste grogné ».
Le film à venir va marquer les esprits et la carrière du jeune acteur puisqu'il s'agit de La Fureur de Vivre. Ce film sort sur les écrans américains le 27 octobre 1955, soit environ un mois après le décès de James Dean dans un accident de voiture. Sa mort tragique renforce le mythe naissant et fait de lui l'une des plus grandes idoles du cinéma mondial.

2 – Un Blues Brothers décède dans le bungalow 3 !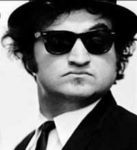 John Belushi est le visage le plus connu des Blues Brothers ! L'acteur américain est connu pour avoir été un grand consommateur de drogues, et c'est ce qui lui sera fatal ! Il passe la dernière nuit de sa vie dans le bungalow 3 avec sa petite amie : la chanteuse Cathy Evelyn Smith. Le 5 mars 1982, il est retrouvé mort après avoir passé la nuit à consommer cocaïne et héroïne. Il meurt donc d'une overdose accidentelle par injection. Une injection préparée par sa petite amie, qui après essayé de fuir au Canada, finit par se rendre et écope d'une peine de trois ans d'emprisonnement. Robin Williams et Robert De Niro, (un habitué des lieux), séjournaient au Chateau Marmont le soir de la mort de John Belushi.
Le cossu bungalow dispose de son propre jardin privé et de sa cuisine toute équipée. Vous pouvez aujourd'hui le louer pour la modique somme de 4 000€ la nuit !

3 – La chambre 29 : de Marilyn Monroe à Jean Dujardin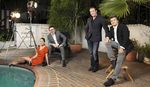 Marilyn Monroe est une cliente régulière du Chateau Marmont. Elle y vient régulièrement le week-end afin de trouver de la tranquilité. Et, à chaque fois, elle séjourne dans la même chambre : la chambre 29.
Juste après avoir reçu son Oscar de meilleur acteur, Jean Dujardin a rejoint toute l'équipe du film The Artist au Chateau Marmont pour faire la fête… Dans la chambre 29 !
4 – Stratégique, Howard Hughes choisit le dernier étage !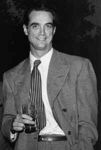 Howard Hughes est presque autant connu pour avoir été l'un des hommes les plus riches et les plus puissants des Etats-Unis, que pour sa vie décalée. Producteur de films à gros budgets, il permet la sortie de Hell's Angels et Scarface pour la petite anecdote. L'homme vient souvent au Chateau Marmont et loue la suite au dernier étage de l'hôtel. De là, il s'équipe de jumelles et repère les starlettes dans la piscine. Il leur crie alors de monter, ce qu'elles font généralement… La suite appartient au mythe du play-boy !
5 – Le toit pour Jim Morrison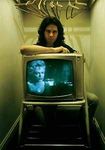 Selon ses propres dires, c'est ici que Jim Morrison a perdu « la 8ème de ses 9 vies » ! Complètement défoncé, il a voulu sauter du toit pour rentrer dans sa chambre par la fenêtre, en s'accrochant à un tuyau d'évacuation… Manque de pot, il a atterrit sur le béton, ou dans la piscine, selon les versions. Toujours est-il qu'il n'a souffert d'aucune grave blessure !
Chateau Marmont
8221 Sunset Boulevard
West Hollywood,
CA 90046
États-Unis
05 juin 2011
*actrice, elle tourna avec Marilyn dans Scudda Hoo! Scudda Hay!
When you look at Marilyn on the screen, you don't want anything bad to happen to her. You really care that she should be all right... happy.
Quand on regarde Marilyn à l'écran, on ne veut qu'il ne lui arrive rien de mal. On se soucie vraiment qu'elle devrait être très bien... heureuse.

Enregistrer
17 novembre 2007
Les Dates de sorties dans le monde
USA: 14 avril 1948
Suède: 27 septembre 1948

Le titre du film à travers le monde
Aux USA: Scudda Hoo! Scudda Hay!
En Angleterre: Summer Lightning
En France: Scudda Hoo! Scudda Hey!
En Belgique: Bagarre pour une blonde
En Suède: Tjo, vad vi har livat !
Au Brésil / Venezuela: Tormentas de odio
Fiche technique
Réalisateur : Frederick Hugh Herbert
Scénariste : F. Hugh Herbert
scénario d'après un roman de George Agnew Chamberlain
Producteur : Walter Morosco
Image : Ernest Palmer
Musique : Cyril Mockridge
Son : Eugene Grossman et Roger Heman
Montage : Harmon Jones
Direction artistique : Albert Hogsett et Lyle Wheeler
Décorateur de plateau: Stanley Detlie et Thomas Little
Création des costumes : Bonnie Cashin
Maquillage : Ben Nye , Ernie Parks et Franz Prehoda
Coiffures: Myrtle Ford
Costumes: Charles Le Maire et Sam Benson
Directeur de production : R.E. Goux
Assistants réalisateur : Bert Briskin et Eli Dunn
Production Pays : Etats-Unis
Société de production: 20th Century Fox [us]
Genre : comédie dramatique
Format: couleur
Durée : 95 min

Distribution
June Haver : Rad McGill
Lon McCallister : Snug Dominy
Walter Brennan : Tony Maule
Anne Revere : Judith Dominy
Natalie Wood : Bean McGill
Robert Karnes : Stretch Dominy
Henry Hull : Milt Dominy
Tom Tully : Roarer McGill
> reste de la distribution non mentionné dans le générique,
par ordre alphabétique:
Guy Beach : Elmer (non crédité)
Ken Christy : Sheriff Bursom (non crédité)
G. Pat Collins : Malone (non crédité)
Edward Gargan : Ted (non crédité)
Herbert Heywood : Dugan (non crédité)
Eugene Jackson : Stable Hand (non crédité)
Les MacGregor : Ches (non crédité)
Matt McHugh : Jim (non crédité)
Marilyn Monroe : Une paysanne (non créditée)
Tom Moore : Judge Stillwell (non crédité)
Colleen Townsend : Girl Friend (non crédité)
Charles Wagenheim : Barber (non crédité)
Geraldine Wall : Mrs. McGill (non créditée)
Charles Woolf : Jeff (non crédité)
Synopsis
Le jeune paysan Snug rachète à son patron deux mulets que personne ne semble pouvoir maîtriser, mais le jeune employé va tenter alors de les dresser pour impressionner son employeur car Snug est aussi fou amoureux de Rag, la fille de son patron, mais ses tentatives de lui signifier son amour se soldent par des échecs. Finalement, il parviendra à la séduire et le couple s'engage dans une romance et Snug va devoir dompter tout ce petit monde.
>> Sur le web:
- infos sur le film sur wikipedia (en français)
- fiche sur imdb (en anglais)
- le film sur sur CinEmotions (en français)
- critique sur the new york times (en anglais)
Scudda Hoo! Scudda Hay!

Secrets de tournage ...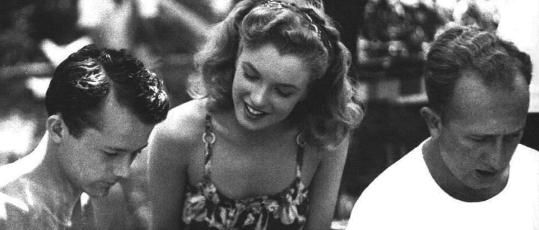 ... et anecdotes
"Scudda Hoo! Scudda Hay!" est le cri de ralliement du muletier à ses mulets
Il s'agit déjà du 7ème film de la jeune Natalie Wood, née le 20 juillet 1938.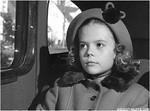 Marilyn Monroe n'est pas mentionnée au générique de Scudda Hoo! Scudda Hay! qui doit être en fait considéré comme le tout premier film qu'elle ait tourné, même s'il est sorti après Dangerous Years (ce-dernier est sorti sur les écrans le 7 décembre 1947). Elle y joue une paysanne qui prononce un "Hello June !" qui a été coupé au montage. On ne peut ainsi que l'apercevoir que brièvement, descendant les marches d'un perron d'église, elle adresse un "Hi Rad !" à l'actrice June Haver. On l'aperçoit à nouveau rapidement dans une autre scène, elle est dans un canoë avec une amie, mais vues seulement de loin sur le lac.
Marilyn Monroe donnera à nouveau la réplique à l'actrice June Haver dans Nid d'amour (en 1951) et à l'acteur Walter Brennan dans A Ticket to Tomahawk (en 1950). Puis elle tournera encore sous la direction du metteur en scène F. Hugh Herbert dans Chéri, divorçons (en 1951).
Scudda Hoo! Scudda Hay!
Photos d'exploitation cinéma
---
- lobby cartes Venezuela -

Scudda Hoo! Scudda Hay!
Photos
La scène de barque où apparaît Marilyn Monroe
a été malheureusement coupée au montage
Cependant, on peut l'apercevoir quelques secondes à l'écran,
lors de la séquence montrant de jeunes gens nageant dans un lac,
dans le lointain se distingue deux silhouettes de femmes
Marilyn et Miss Townsend qui rament dans un canöé