09 novembre 2016
---
Photographies - Instantanés en public & privé
Photographs - Public & Private Snapshots

---
Lot 197: MARILYN MONROE AND ELI WALLACH SNAPSHOTS
Three vintage black and white glossy photographs of Monroe, two with Eli Wallach, at a party in the late 1950s. Two images have creases from being folded, and one has distortion in the emulsion of the photo paper.
3 1/4 by 4 1/4 inches
Estimate: $700 - $900


---
Lot 209: MARILYN MONROE PHOTOGRAPHS OF JOE DIMAGGIO
A group of 17color snapshots likely taken by Monroe while relaxing in Canada with Joe DiMaggio during filming of River of No Return in 1953. Six images feature DiMaggio on a boat and against scenic backdrops. Four images feature an elk; six feature scenic views. Two images feature Jean Negulesco, who was uncredited for his work on the film.
3 1/2 by 3 1/2 inches
Estimate: $1,000 - $1,500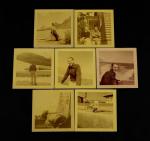 ---
Lot 267: MARILYN MONROE OWNED PHOTOGRAPHS OF ARTHUR MILLER
Five images of the famous American author and then husband of Monroe: a vintage candid photo of Miller as a young man, a photograph of Miller playing baseball, two smaller photographs of Miller by David Gahr with photographer's stamp on verso, and a snapshot of Monroe and Miller as they attended a ceremony to receive the American Friends of the Hebrew University award in Philadelphia September 27, 1959.
Largest, 8 by 10 inches
Estimate: $400 - $600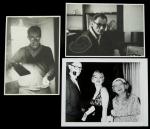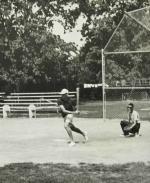 ---
Lot 315: MARILYN MONROE SNAPSHOTS
Three vintage black and white glossy photographs of Monroe playing badminton with Hedda and Norman Rosten in Amagansett, New York, 1955.
3 1/2 by 5 inches
Estimate: $600 - $800


---
Lot 317: MARILYN MONROE PARAKEET PHOTOGRAPHS
Four color snapshots of pet parakeets including Butch, a pet parakeet kept by Monroe and Arthur Miller. The images are stamped with a date of October 1958. Additional birds named Bobo, Clyde, and another illegibly named in the margin are visible in the photographs.
3 1/2 by 3 1/2 inches
Estimate: $300 - $500

---
Lot 496: PHOTOGRAPH OF MARILYN MONROE WITH MAF
A small trimmed color photograph of Monroe holding Maf, her poodle, with super fan and friend of Monroe James Haspiel taken in June 1961. The photograph was printed subsequently in December of the same year.
2 1/2 by 3 1/2 inches
Estimate: $300 - $500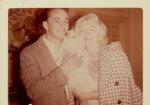 ---
Lot 498: MARILYN MONROE PHOTOGRAPHS OF MAF
Two small color snapshots of Monroe's pet Maltese Maf, short for Mafia, a gift from Frank Sinatra.
3 1/2 by 3 1/2 inches
Estimate: $400 - $600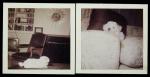 ---
Lot 572: MARILYN MONROE INCOGNITO SNAPSHOT
A small color snapshot of Monroe wearing a brunette wig and scarf around her head in disguise. A number of stories have been told regarding Monroe dressing in a brunette wig and going out to bars to see how men responded to her when she wasn't "being" Marilyn. This image documents Monroe as she appeared in a brunette disguise.
3 1/2 by 2 1/2 inches
Estimate: $800 - $1,200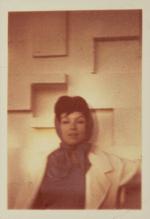 ---
Lot 587: MARILYN MONROE PHOTOGRAPHS OF FIFTH HELENA DRIVE PROPERTY
A group of four vintage black and white photographs, most likely of the kitchen and laundry room of the guest house at Monroe's Fifth Helena Drive property prior to her renovations and decorating.
8 by 10 inches
Estimate: $300 - $500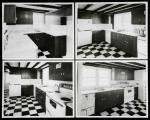 ---
Lot 627: MARILYN MONROE ORIGINAL CANDID PHOTOGRAPHS
A group of three original black and white photographs of Marilyn Monroe, circa 1953. In the photographs, Monroe wears her costume from the thriller Niagara (20th Century, 1953). One image is marked on verso "Leaving the El Capitan Theater."
Largest, 5 by 4 inches
PROVENANCE From the Estate of Frieda Hull
Estimate: $200 - $400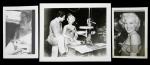 ---
Lot 633: MARILYN MONROE ORIGINAL CANDID PHOTOGRAPHS
A group of four original black and white photographs of Marilyn Monroe, circa 1953, with "La Rue Restaurant" inscribed on verso of three of the images. Some photographs from this lot are likely never before seen.
Largest, 5 by 3 1/2 inches
PROVENANCE From the Estate of Frieda Hull
Estimate: $300 - $500

---
Lot 635: MARILYN MONROE ORIGINAL CANDID PHOTOGRAPHS
A group of four original black and white photographs of Marilyn Monroe, circa 1953. One photograph is marked on verso "In front of the Mocambo," and two are marked "Mocambo Club." All are likely never before seen images of Monroe.
Largest, 3 1/2 by 2 1/2 inches
PROVENANCE From the Estate of Frieda Hull
Estimate: $300 - $500

---
Lot 643: MARILYN MONROE ORIGINAL CANDID PHOTOGRAPHS
A group of seven original color and black and white photographs of Marilyn Monroe taken on September 9, 1954, the same day she was interviewed by Ed Wallace at the St. Regis Hotel in New York City. This lot contains three color and four black and white photographs.
Largest, 3 1/2 by 3 1/2 inches
PROVENANCE From the Estate of Frieda Hull
Estimate: $600 - $800

---
Lot 644: MARILYN MONROE COLOR SLIDES
A group of three color slides of Marilyn Monroe from September 9, 1954, the day she was interviewed by Ed Wallace at the St. Regis Hotel in New York City.
PROVENANCE From the Estate of Frieda Hull
Estimate: $200 - $400

---
Lot 645: MARILYN MONROE ORIGINAL CANDID PHOTOGRAPH
An original black and white photograph of Marilyn Monroe taken with a young fan, likely in New York City, circa 1954.
5 1/2 by 3 1/2 inches
PROVENANCE From the Estate of Frieda Hull
Estimate: $200 - $300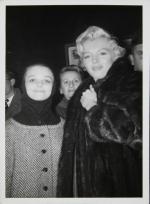 ---
Lot 650: MARILYN MONROE ORIGINAL CANDID PHOTOGRAPHS
A group of five original color and black and white photographs of Marilyn Monroe in New York City from September 12, 1954, one of which includes superfan James Haspiel. Monroe had arrived days earlier to film The Seven Year Itch (20th Century, 1955). This lot includes one color photograph and four black and white photographs, some possibly never before seen.
Largest, 5 by 7 inches
PROVENANCE From the Estate of Frieda Hull
Estimate: $400 - $600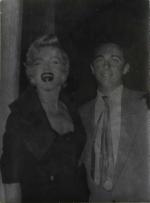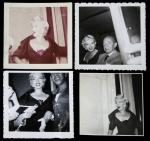 ---
Lot 656: MARILYN MONROE ORIGINAL CANDID PHOTOGRAPH
An original color photograph of Marilyn Monroe taken on November 6, 1954, at a party thrown for Monroe at Romanoff's restaurant in Beverly Hills to mark the end of shooting for The Seven Year Itch (20th Century, 1955).
3 3/4 by 2 1/4 inches
PROVENANCE From the Estate of Frieda Hull
Estimate: $100 - $200

---
Lot 658: MARILYN MONROE ORIGINAL CANDID PHOTOGRAPHS
A group of eight original black and white photographs of Marilyn Monroe taken on various occasions, circa 1955. Most images in this lot are likely never before seen.
Largest, 5 by 3 1/2 inches
PROVENANCE From the Estate of Frieda Hull
Estimate: $700 - $900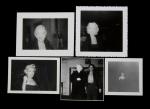 ---
Lot 659: MARILYN MONROE ORIGINAL CANDID PHOTOGRAPHS
A pair of original black and white photographs of Marilyn Monroe, circa 1955. One photograph shows Monroe leaving the Gladstone Hotel in New York City; the other shows her with husband Joe DiMaggio in the background. Both images are possibly never before seen.
Larger, 3 1/2 by 3 1/2 inches
PROVENANCE From the Estate of Frieda Hull
Estimate: $100 - $300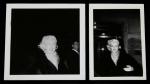 ---
Lot 660: MARILYN MONROE ORIGINAL PHOTOGRAPHS
A group of 15 original black and white photographs of Marilyn Monroe, circa 1955, taken in front of the Gladstone Hotel in New York City. Some images show her with her press agent Jay Kantor. Several images in this lot are likely never before seen.
Largest, 5 by 7 inches
PROVENANCE From the Estate of Frieda Hull
Estimate: $1,400 - $1,600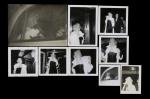 ---
Lot 661: MARILYN MONROE SIGNED SNAPSHOT
A black and white snapshot of Marilyn Monroe driving a car and posing through the driver's side window taken in the mid-1950s. The image is signed in blue ballpoint pen "Marilyn Monroe." The autograph was obtained by Frieda Hull, one of the "Monroe Six," a group of legendary fans with whom Monroe became friendly.
3 1/2 by 2 1/2 inches
PROVENANCE From the Estate of Frieda Hull
Estimate: $2,000 - $3,000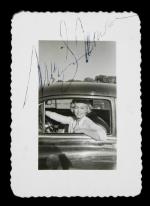 ---
Lot 662: MARILYN MONROE ORIGINAL CANDID PHOTOGRAPHS
A group of six original black and white photographs of Marilyn Monroe taken at a party she attended with friend and Hollywood reporter Sidney Skolsky. Some photographs from this lot are likely never before seen.
Largest, 5 by 3 1/2 inches
PROVENANCE From the Estate of Frieda Hull
Estimate: $500 - $700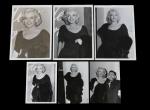 ---
Lot 666: MARILYN MONROE ORIGINAL CANDID PHOTOGRAPHS
A pair of original Marilyn Monroe color photographs that show Monroe seated in the backseat of a vehicle, circa January 1955.
3 1/2 by 3 1/2 inches
PROVENANCE From the Estate of Frieda Hull
Estimate: $200 - $400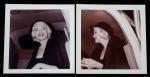 ---
Lot 668: MARILYN MONROE ORIGINAL CANDID PHOTOGRAPHS
A group of nine original black and white photographs of Marilyn Monroe; one reads "1/55" on verso, believed to have been taken on January 26, 1955, at the Gladstone Hotel.
Largest, 5 by 3 1/2 inches
PROVENANCE From the Estate of Frieda Hull
Estimate: $900 - $1,100

---
Lot 671: MARILYN MONROE COLOR PHOTOGRAPH
An original color photograph of Marilyn Monroe, circa 1955, from when she attended Skin of Our Teeth at the ANTA Theatre in New York City. "Skin Of Our Teeth/Anta Theatre" is written in pencil on verso. This play, written by Thornton Wilder, opened in New York on August 17, 1955, and starred Helen Hayes, George Abbott, Mary Martin, and Florence Reed. The director was Alan Schneider.
5 by 3 1/2 inches
PROVENANCE From the Estate of Frieda Hull
Estimate: $100 - $200

---
Lot 672: MARILYN MONROE ORIGINAL CANDID PHOTOGRAPH
An original black and white photograph of Marilyn Monroe, possibly taken on September 7, 1955, when she was going to a birthday party for Elia Kazan that had been organized by the Actors Studio. This is likely a never before seen photograph of Monroe.
5 by 3 1/2 inches
PROVENANCE From the Estate of Frieda Hull
Estimate: $100 - $200

---
Lot 673: MARILYN MONROE COLOR SLIDE
A color slide of Marilyn Monroe, circa 1955, showing her in the driver's seat of a convertible wearing sunglasses. It is a candid image of Monroe "caught in the moment."
PROVENANCE From the Estate of Frieda Hull
Estimate: $100 - $200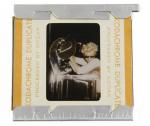 ---
Lot 674: MARILYN MONROE COLOR SLIDES
A group of five slides of Marilyn Monroe, from various events, circa 1955.
PROVENANCE From the Estate of Frieda Hull
Estimate: $400 - $600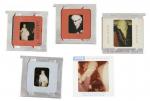 ---
Lot 675: MARILYN MONROE ORIGINAL CANDID PHOTOGRAPHS
A group of nine color original photographs of Marilyn Monroe, circa 1955. Monroe is shown smiling and laughing and signing autographs for fans. Several images in this lot are likely never before seen.
Largest, 3 1/2 by 3 1/2 inches
PROVENANCE From the Estate of Frieda Hull
Estimate: $800 - $1,000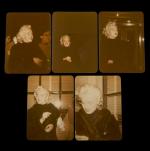 ---
Lot 677: MARILYN MONROE SIGNED PHOTOGRAPH
A black and white photograph of Marilyn Monroe in New York City circa 1955 wearing a black gown, white fur and white evening gloves. The photo is signed in blue ink "Marilyn Monroe." The autograph was obtained by Frieda Hull, one of the "Monroe Six," a group of legendary fans with whom Monroe became friendly.
7 by 5 inches
PROVENANCE From the Estate of Frieda Hull
Estimate: $2,000 - $3,000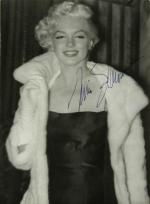 ---
Lot 678: MARILYN MONROE SIGNED PHOTOGRAPH
A black and white photograph of Marilyn Monroe in New York City circa 1955 wearing a black gown and white fur. The photo is signed in blue ink "Marilyn Monroe." The autograph was obtained by Frieda Hull, one of the "Monroe Six," a group of legendary fans with whom Monroe became friendly.
7 by 5 inches
PROVENANCE From the Estate of Frieda Hull
Estimate: $1,500 - $2,000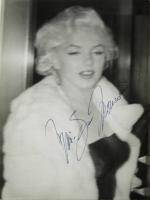 ---
Lot 679: MARILYN MONROE SIGNED PHOTOGRAPH
A black and white photograph of Marilyn Monroe in New York City circa 1955 wearing a black gown, white fur and black evening gloves, signed in blue ink "Marilyn Monroe." The autograph was obtained by Frieda Hull, one of the "Monroe Six," a group of legendary fans with whom Monroe became friendly.
7 by 5 inches
PROVENANCE From the Estate of Frieda Hull
Estimate: $2,000 - $3,000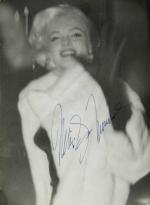 ---
Lot 680: MARILYN MONROE COLOR SLIDE
A color slide showing Marilyn Monroe in New York City, circa 1955, signing autographs for fans.
PROVENANCE From the Estate of Frieda Hull
Estimate: $100 - $200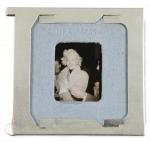 ---
Lot 681: MARILYN MONROE COLOR SLIDES
A group of five slides of Marilyn Monroe, from various events, circa 1955.
PROVENANCE From the Estate of Frieda Hull
Estimate: $400 - $600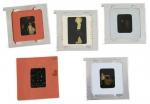 ---
Lot 682: MARILYN MONROE ORIGINAL PHOTOGRAPHS
A group of nine original color photographs of Marilyn Monroe, circa 1955, likely taken in front of the Gladstone Hotel in New York City. Some images in this lot are likely never before seen.
Largest, 3 1/2 by 2 1/2 inches
PROVENANCE From the Estate of Frieda Hull
Estimate: $800 - $1,000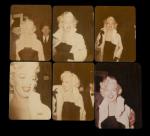 ---
Lot 683: MARILYN MONROE ORIGINAL CANDID PHOTOGRAPHS
A group of five original color and black and white photographs of Marilyn Monroe taken on February 26, 1955, when she attended Jackie Gleason's birthday party with husband Joe DiMaggio. This lot contains four black and white photographs and one color photograph. Some images in this lot are likely never before seen.
Largest, 5 by 3 1/2 inches
PROVENANCE From the Estate of Frieda Hull
Estimate: $400 - $600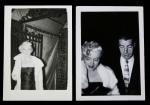 ---
Lot 684: MARILYN MONROE SIGNED PHOTOGRAPH
A black and white photograph of Marilyn Monroe taken on February 26, 1955, when she attended Jackie Gleason's birthday party with husband Joe DiMaggio. The photo is signed in blue ink "Marilyn Monroe." The autograph was obtained by Frieda Hull, one of the "Monroe Six," a group of legendary fans with whom Monroe became friendly.
7 by 5 inches
PROVENANCE From the Estate of Frieda Hull
Estimate: $2,000 - $3,000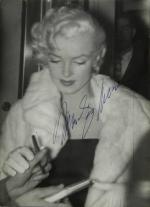 ---
Lot 685: MARILYN MONROE ORIGINAL CANDID PHOTOGRAPHS
A group of four original color photographs of Marilyn Monroe, circa 1955, from an unidentified event. One image shows Monroe with friend, photographer, and business partner Milton Greene. Some images in this lot are likely never before seen.
Largest, 5 by 3 1/2 inches
PROVENANCE From the Estate of Frieda Hull
Estimate: $500 - $600

---
Lot 690: MARILYN MONROE SIGNED PHOTOGRAPH
A black and white photograph of Marilyn Monroe in New York City circa 1955 smiling while signing an autograph for a fan. The photo is signed in ballpoint pen "To Frieda, Love & Kisses Marilyn Monroe." The image is signed to Frieda Hull, one of the "Monroe Six," a group of legendary fans with whom Monroe became friendly. The corners of the photo are trimmed, and there is a crease on the right side of the photograph.
7 by 5 inches
PROVENANCE From the Estate of Frieda Hull
Estimate: $2,000 - $3,000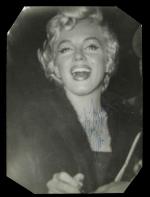 ---
Lot 694: MARILYN MONROE COLOR SLIDES
A group of four slides, three showing Marilyn Monroe and one showing Arthur Miller, at various events, circa 1955.
PROVENANCE From the Estate of Frieda Hull
Estimate: $300 - $500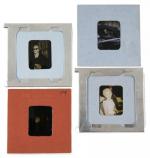 ---
Lot 695: MARILYN MONROE COLOR SLIDES
A group of four slides of Marilyn Monroe, from various events, circa 1955.
PROVENANCE From the Estate of Frieda Hull
Estimate: $300 - $500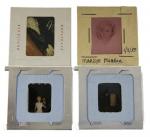 ---
Lot 698: MARILYN MONROE ORIGINAL CANDID PHOTOGRAPHS
A group of five original black and white photographs of Marilyn Monroe believed to have been taken in April 1955. A very casual Monroe is seen interacting with and signing autographs for fans.
Largest, 5 by 3 1/2 inches
PROVENANCE From the Estate of Frieda Hull
Estimate: $400 - $600

---
Lot 699: MARILYN MONROE SIGNED PHOTOGRAPH
A black and white photograph of Marilyn Monroe in New York City circa 1955 wearing a black gown, white fur and black evening gloves, signed in blue ink "Marilyn Monroe." The autograph was obtained by Frieda Hull, one of the "Monroe Six," a group of legendary fans with whom Monroe became friendly.
7 by 5 inches
PROVENANCE From the Estate of Frieda Hull
Estimate: $2,000 - $3,000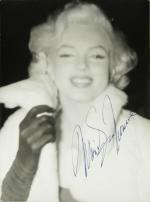 ---
Lot 700: MARILYN MONROE ORIGINAL CANDID PHOTOGRAPHS
A group of four original black and white photographs of Marilyn Monroe from June 1955, taken when she was returning home following an acting lesson with Lee Strasberg.
Largest, 3 1/2 by 3 1/2 inches
PROVENANCE From the Estate of Frieda Hull
Estimate: $300 - $500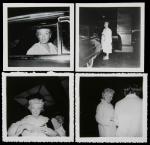 ---
Lot 701: MARILYN MONROE ORIGINAL CANDID PHOTOGRAPHS
A pair of original black and white photographs of Marilyn Monroe taken on July 27, 1955, when she was on her way to see Inherit the Wind on Broadway in New York City.
Largest, 5 by 3 1/2 inches
PROVENANCE From the Estate of Frieda Hull
Estimate: $100 - $300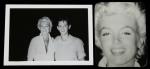 ---
Lot 702: MARILYN MONROE ORIGINAL CANDID PHOTOGRAPHS
A group of three original color photographs of Marilyn Monroe in New York City taken on June 7, 1955, when she was on her way to see Damn Yankees on Broadway. One photo includes Nathan Puckett, president of one of Monroe's fan clubs, in the background.
Largest, 2 3/4 by 1 3/4 inches
PROVENANCE From the Estate of Frieda Hull
Estimate: $200 - $400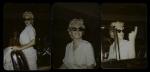 ---
Lot 705: MARILYN MONROE COLOR SLIDES
A group of nine slides of Marilyn Monroe, circa 1955. Monroe is shown smiling and laughing and signing autographs for fans. Several slides in this lot are likely never before seen.
PROVENANCE From the Estate of Frieda Hull
Estimate: $800 - $1,200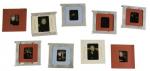 ---
Lot 707: MARILYN MONROE COLOR SLIDES
A group of 10 slides of Marilyn Monroe, circa 1955, from in front of the Gladstone Hotel in New York City. Some images show her with her press agent Jay Kantor and friend, photographer, and business partner Milton Greene. Some slides in this lot are likely never before seen.
PROVENANCE From the Estate of Frieda Hull
Estimate: $900 - $1,100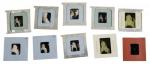 ---
Lot 709: MARILYN MONROE ORIGINAL PHOTOGRAPHS
A group of five original color and black and white photographs of Marilyn Monroe taken on various occasions, circa 1955. This lot contains one color and four black and white images. Some images in this lot are likely never before seen.
Largest, 5 by 3 1/2 inches
PROVENANCE From the Estate of Frieda Hull
Estimate: $400 - $600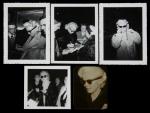 ---
Lot 710: MARILYN MONROE ORIGINAL CANDID PHOTOGRAPHS
A group of nine original color photographs of Marilyn Monroe taken on various occasions, circa 1955. Some images in this lot are likely never before seen.
Largest, 3 1/2 by 2 1/2 inches
PROVENANCE From the Estate of Frieda Hull
Estimate: $800 - $1,000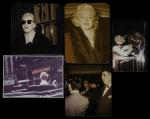 ---
Lot 715: MARILYN MONROE ORIGINAL CANDID PHOTOGRAPHS
A group of three original black and white photographs of Marilyn Monroe taken circa 1955 on a New York City street. Monroe superfan James Haspiel can be partially seen in one of the photographs.
Largest, 5 by 3 1/2 inches
PROVENANCE From the Estate of Frieda Hull
Estimate: $300 - $500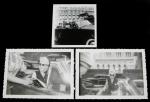 ---
Lot 716: MARILYN MONROE ORIGINAL CANDID PHOTOGRAPHS
A group of seven original black and white photographs of Marilyn Monroe taken in New York City, circa 1955. Some images show friend, photographer, and business partner Milton Greene. Some images in this lot are likely never before seen.
Largest, 5 by 3 1/2 inches
PROVENANCE From the Estate of Frieda Hull
Estimate: $600 - $800

---
Lot 717: MARILYN MONROE ORIGINAL CANDID PHOTOGRAPHS
A group of 10 original black and white photographs of Marilyn Monroe, circa 1955. Monroe is shown smiling and laughing and signing autographs for fans. Several images in this lot are likely never before seen.
Largest, 5 by 3 1/2 inches
PROVENANCE From the Estate of Frieda Hull
Estimate: $900 - $1,100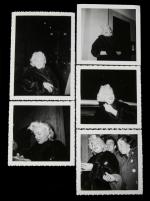 ---
Lot 725: MARILYN MONROE ORIGINAL CANDID PHOTOGRAPHS
A pair of original color photographs of Marilyn Monroe and husband Arthur Miller walking their basset hound Hugo and entering their apartment located at 444 East 57th Street in New York City. These images are likely never before seen.
Larger, 2 1/2 by 2 inches
PROVENANCE From the Estate of Frieda Hull
Estimate: $100 - $300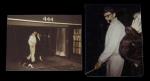 ---
Lot 733: MARILYN MONROE PHOTOGRAPHS COLLECTED BY FRIEDA HULL
A collection of 23 color and black and white photographs of Marilyn Monroe by multiple photographers (including Milton Greene and Andre de Dienes), taken at various locations and events throughout Monroe's career, including on the set of Bus Stop (20th Century, 1956) and meeting Princess Margaret in England. Many images in this lot have stamps on the reverse from various news agencies/outlets.
Largest, 8 by 10 inches
PROVENANCE From the Estate of Frieda Hull
Estimate: $1,000 - $1,500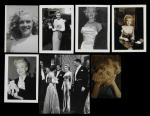 ---
Lot 770: MARILYN MONROE ORIGINAL CANDID PHOTOGRAPHS
A group of five original black and white photographs of Marilyn Monroe, taken as she exited the Actors Studio in New York City, circa 1960. Several images in this lot are likely never before seen.
Largest, 3 1/2 by 3 1/2 inches
PROVENANCE From the Estate of Frieda Hull
Estimate: $400 - $600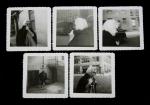 ---
Lot 771: MARILYN MONROE COLOR SLIDES
A group of six slides of Marilyn Monroe, from July 8, 1960, after she had completed costume and hair tests for The Misfits (United Artists, 1961).
PROVENANCE From the Estate of Frieda Hull
Estimate: $500 - $700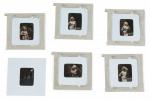 ---
Lot 772: MARILYN MONROE ORIGINAL CANDID AND CONTACT SHEET PHOTOGRAPHS
A group of 12 color and black and white photographs of Marilyn Monroe taken on July 8, 1960, when she completed costume and hair tests for The Misfits (United Artists, 1961). Five sepia-toned photographs of Monroe show her posing for the cameras following the test, and six photographs appear to be shots of the costume and makeup tests, four having been cut from actual contact sheets, two are reproduction photographs. Some images in this lot are likely never before seen.
Largest, 4 1/2 by 3 1/4 inches
PROVENANCE From the Estate of Frieda Hull
Estimate: $800 - $1,000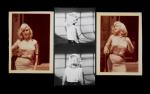 ---
Lot 776: MARILYN MONROE COLOR SLIDE
A color slide of Marilyn Monroe, from January 21, 1961, when she returned from Mexico, where she divorced third husband Arthur Miller. This slide is likely never before seen.
PROVENANCE From the Estate of Frieda Hull
Estimate: $100 - $200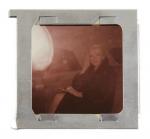 ---
Lot 777: MARILYN MONROE ORIGINAL CANDID PHOTOGRAPHS
A pair of original photographs and one copied color photograph of Marilyn Monroe taken on January 21, 1961, after returning from Mexico, where she divorced her third husband, Arthur Miller. One image is likely never before seen.
Larger, 5 by 3 1/2 inches
PROVENANCE From the Estate of Frieda Hull
Estimate: $100 - $300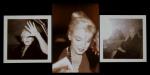 ---
Lot 778: MARILYN MONROE ORIGINAL CANDID PHOTOGRAPHS
A group of four original color photographs and one copied color photograph of Marilyn Monroe taken on January 20, 1961, when Monroe left New York City to travel to Mexico to divorce third husband Arthur Miller. Some images in this lot are likely never before seen.
Largest, 5 by 3 1/4 inches
PROVENANCE From the Estate of Frieda Hull
Estimate: $300 - $500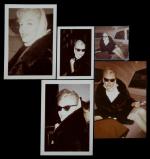 ---
Lot 781: MARILYN MONROE JOE DIMAGGIO NEGATIVES
A set of 16 negatives of Joe DiMaggio vacationing in Florida, most likely on March 22, 1961. Five of the negatives show DiMaggio inside the hotel, and the remaining 11 show him on the beach under a sun cover; some shots are of DiMaggio with fans. Marilyn Monroe accompanied DiMaggio on this trip and was actually on the beach with him at some point this same day, though she's not pictured in these negatives.
PROVENANCE From the Estate of Frieda Hull
Estimate: $200 - $400

---
Lot 782: MARILYN MONROE COLOR SLIDES
A pair of color slides of Marilyn Monroe with her dog Maf, one with superfan James Haspiel, from June 15, 1961, upon Monroe's arrival in New York from Los Angeles. The slide of Monroe with Maf is likely never before seen.
PROVENANCE From the Estate of Frieda Hull
Estimate: $100 - $300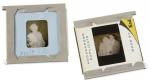 ---
Lot 783: MARILYN MONROE ORIGINAL CANDID PHOTOGRAPHS
A pair of original color photographs of Marilyn Monroe with her dog Maf, one with superfan James Haspiel, taken on June 15, 1961, upon Monroe's arrival in New York from Los Angeles. The photo of Monroe with Maf is likely never before seen.
Larger, 3 1/2 by 2 1/2 inches
PROVENANCE From the Estate of Frieda Hull
Estimate: $300 - $400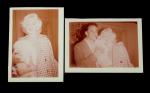 ---
Lot 788: MARILYN MONROE ORIGINAL PHOTOGRAPHS COLLECTED BY FRIEDA HULL
A group of 27 original color and black and white candid Marilyn Monroe related photographs. Monroe is shown in nearly all photograps, which were taken at various times and events throughout her career. One image shows her with superfan James Haspiel and members of the "Monroe Six," and another shows her with third husband Arthur Miller at an airport. Three photographs are on the set of Bus Stop (20th Century, 1956). Many of the candid photographs show Monroe "caught in the moment." Some images are likely never before seen. One photograph in this lot is of Miller only. One photograph shows a woman, perhaps Frieda Hull herself, standing near a cutout of Monroe from the subway grate scene in the Seven Year Itch (20th Century, 1955). One photograph shows a theater marquee displaying titles of two Monroe films, Bus Stop and Let's Make Love, possibly being screened after Monroe's death as the photograph is dated September 1962. One photograph shows a member of the "Monroe Six" with an array of cameras and equipment.
Largest, 5 by 3 1/2 inches
PROVENANCE From the Estate of Frieda Hull
Estimate: $1,000 - $1,500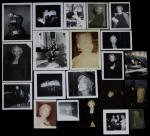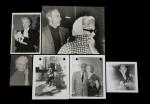 ---
Lot 902: MARILYN MONROE SIGNED AND INSCRIBED PHOTOGRAPH
A black and white photograph of Marilyn Monroe leaning against a tree. Inscribed "Dear Linda, I wish you luck with your acting. Love and kisses, Marilyn Monroe Miller." This inscription was written for child star Linda Bennett.
23 by 19 inches, overall; 10 1/2 by 8 inches, sight
Estimate: $3,000 - $5,000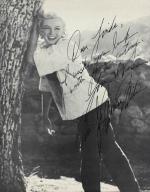 ---
Lot 941: MARILYN MONROE CANDID PHOTOGRAPHS
A group of eight vintage black and white candid photographs of Marilyn Monroe contained in a small paper album. Accompanied by a small candid color photograph of Monroe with Lois Weber. The photographs are believed to be previously unpublished.
Album, 3 3/4 by 6 inches
PROVENANCE From the Estate of Lois Weber
Estimate: $800 - $1,200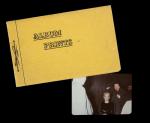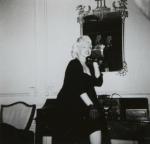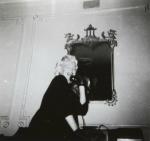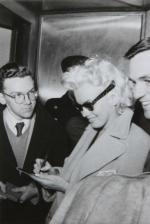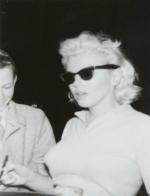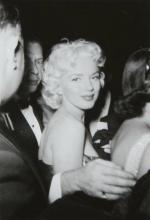 ---
Lot 942: MARILYN MONROE SMALL-FORMAT PHOTOGRAPHS
A group of 14 small vintage black and white images of Marilyn Monroe. Many of the photographs are candid and date from different points in her career.
Largest, 3 1/2 by 2 1/2 inches
PROVENANCE From the Estate of Lois Weber
Estimate: $800 - $1,200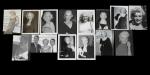 ---
Lot 943: MARILYN MONROE CANDID PHOTOGRAPHS
A group of seven vintage black and white candid photographs of Marilyn Monroe. Three were taken on the set behind the scenes of Bus Stop (20th Century, 1956).
Largest, 3 1/4 by 4 3/4 inches
PROVENANCE From the Estate of Lois Weber
Estimate: $600 - $800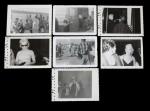 ---
Bobines films & Matériel photographique
Home Movies & Photographic Equipment

---
Lot 76: MARILYN MONROE JOHN F. KENNEDY 1962 BIRTHDAY CELEBRATION FILM REEL
An 8mm film reel of clips from the May 19, 1962, John F. Kennedy 45th birthday celebration held at Madison Square Garden. The eight-minute film shows clips of the venue, performers, and attendees, including John F. Kennedy; Marilyn Monroe, who appears for approximately 30 seconds; Robert Kennedy; Maria Callas; Henry Fonda; Jack Benny; Peter Lawford, who hosted the event; and Lyndon B. Johnson among others. The film was transferred from its original tin reel to a plastic reel. Accompanied by a DVD of the footage.
Reel, 5 3/4 inches
PROVENANCE Lot 41, "Entertainment Memorabilia," Christie's, New York, Sale number 1391, June 24, 2004
Estimate: $4,000 - $6,000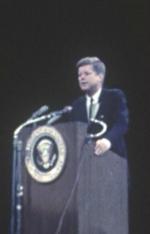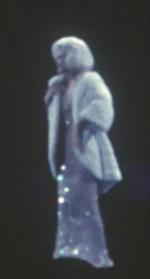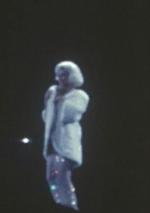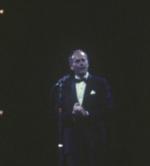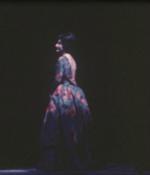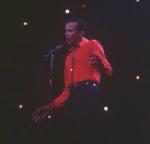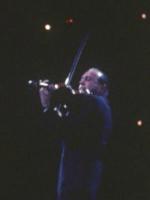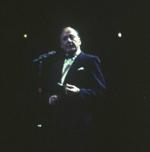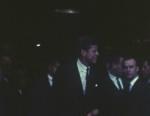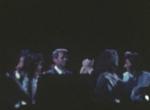 ---
Lot 248: MARILYN MONROE IN KOREA FILM
An 8mm film reel containing five minutes and 34 seconds of silent film footage, in both black and white and color, of Monroe in Korea in 1954. The first minute and a half features Monroe arriving to camp via helicopter and being escorted by various military personnel. The footage then shifts to color and shows approximately one minute of footage of some of the performers leading up to Monroe. Monroe appears for another minute of footage performing "Diamonds Are a Girl's Best Friend" and then signing autographs for the crowd. The remaining footage features atmospheric shots of the camp and soldiers. The footage has been transferred to a DVD that is included with this lot.
Estimate: $2,000 - $3,000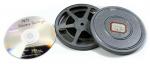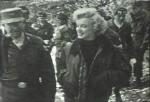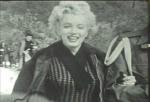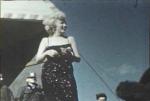 ---
Lot 696: MARILYN MONROE FRIEDA HULL'S PERSONAL SLIDE INDEX AND VIEWER
A 1950s era Fodeco photography slide index and viewer, manufactured by Technical Devices Corporation, that originally belonged to Frieda Hull.
10 1/2 by 5 1/2 by 2 1/2 inches
PROVENANCE From the Estate of Frieda Hull
Estimate: $500 - $700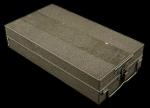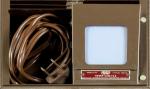 ---
Lot 697: MARILYN MONROE FRIEDA HULL 35MM CAMERA
A Mercury II, model CX, serial no. 164404, with Universal 2.7 Tricor lens and original leather case. Together with an external flash and reflector, unrelated lens hood and telephoto lens accessory. Frieda Hull can be seen using this camera in lot 726.
Largest, 4 1/4 by 6 1/4 inches
PROVENANCE From the Estate of Frieda Hull
Estimate: $200 - $300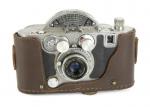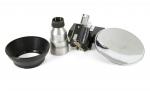 ---
Lot 727: MARILYN MONROE HOME MOVIE REEL
A vintage home movie reel featuring Marilyn Monroe at multiple locations. June 29, 1956, Monroe, soon-to-be husband Arthur Miller, and Miller's parents are seen at a press conference at Miller's farm in Roxbury, Connecticut. Monroe and Miller were married later this day. This scene from the film is approximately 23 seconds. Note that parts of this scene are repeated at the end of the film. Various footage from 1956 shows Monroe at airports traveling to and from Los Angeles to film Bus Stop (20th Century, 1956). These scenes from the film are approximately 40 seconds in length. Total length: one minute, 37 seconds.
PROVENANCE From the Estate of Frieda Hull
Estimate: $3,000 - $4,000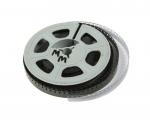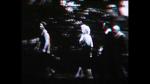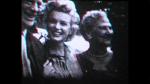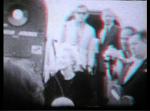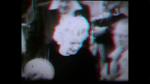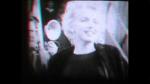 ---
Lot 769: MARILYN MONROE JAMES HASPIEL HOME MOVIE REEL
A vintage home movie reel in the original box addressed to James Haspiel, featuring Marilyn Monroe at multiple locations. May 30, 1958, Monroe is seen leaving her 444 East 57th Street apartment in New York City. She carries a large bouquet of flowers as she, husband Arthur Miller, and others pack luggage into a station wagon and then depart. Just three days prior, Monroe was photographed by Richard Avedon for Life magazine. This scene from the film is approximately one minute, two seconds and likely never before publicly seen. May 13, 1959, Monroe and Miller are seen arriving at the Italian Consulate on Park Avenue in New York City, where Monroe received the David di Donatello Award, the equivalent of the Academy Award, for her work in The Prince and the Showgirl (Warner Bros., 1957). This film includes extensive coverage of Monroe inside the Consulate and waving to fans from an upper floor window in the building. This scene from the film is approximately one minute, 22 seconds. July 8, 1961, Monroe is seen posing after having just completed hair and costume tests for The Misfits (United Artists, 1961). Haspiel appears with Monroe in part of this footage. This scene from the film is approximately 38 seconds. Total length: three minutes, three seconds.
PROVENANCE From the Estate of Frieda Hull
Estimate: $4,000 - $6,000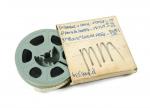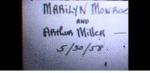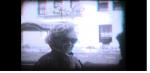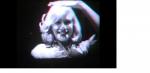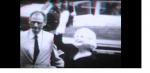 Enregistrer
Enregistrer
Enregistrer
Enregistrer
Enregistrer
Enregistrer
Enregistrer
Enregistrer
Enregistrer
Enregistrer
28 février 2014
Le 24 juin 1956, Marilyn Monroe quitte son appartement de Sutton Place, à New York, en taxi, afin d'éviter les reporters. Arthur Miller l'attend à trois blocks de là, dans son break où sont assis, sur les sièges arrières, la mère de Miller (Augusta Miller), ses deux enfants (Jane et Robert) et le chien Hugo; et Marilyn monte dans la voiture, pour se rendre à Roxbury, dans la propriété de Miller.
In 1956, June, 24 Marilyn Monroe leaves from her apartment in Sutton Place, New York, takes a taxi to avoid reporters. Arthur Miller waits her three blocks away, in his station wagon where wait the Miller's mother (Augusta), his children (Jane and Robert), and his basset dog Hugo; Marilyn gets into the station wagon and they all go to Roxbury, in the Miller's home.
> Marilyn Monroe et Arthur Miller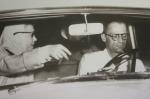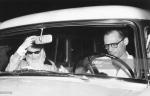 ---
extrait de "Marilyn- The Ultimate Look At The Legend" de James Haspiel:
Le 24 juin 1956 , s'est avéré être une soirée incroyable. La presse traquait Monroe et Arthur Miller, car maintenant le mot était qu'il y allait y avoir un mariage. Cette nuit là Miller essayait de faire sortir Monroe de la ville pour la quiétude de la campagne du Connecticut. Miller était au volant d'un break , maintenant garé devant le 2 Sutton Place South; chargé des bagages de Monroe, et la presse de regarder avec vivacité le break tels des faucons. Soudain, Miller est sorti du bâtiment seul, monta dans le véhicule et pris rapidement la fuite. Les journalistes et les photographes n'étaient pas vraiment intéressé par lui tout seul, ils étaient intéressés par elle, par eux ! Ainsi, le break disparu au-dessus de la zone de l'avenue York et la 61e rue , à rester là à attendre Monroe . Un taxi a été appelé à l'alcôve de stationnement du 2 Sutton Place South, la portière du passager maintenant ouverte et en attendant son prochain tarif. Un peu dans le flou, Marilyn est soudainement apparue à travers la porte d'entrée et a boulonné dans le taxi avec les flashs d'éclairage sur son chemin, et le taxi a démarré.

Le groupe des Monroe Six n'étaient pas là ce soir, et je traînais avec Nathan Puckett , qui était venu à New York du Michigan pour voir Marily , et a été le président de l'un des nombreux clubs de fans de Monroe. Nate a proposer de payer un taxi pour suivre celui de Marilyn, nous en avons donc pris un après elle, et l'un des photographes de presse a également suivi. Je me souviens très bien que le taxi de Marilyn remontait sur le côté ouest de l'avenue York, à la 61e rue; le break était garé sur le côté Est de l'avenue, et l'avenue était alors (et probablement encore) pavée. Elle sortit du taxi, et elle courait à travers les pavés dans ses très hauts talons, courant à travers le trafic dense venant en sens inverse pour atteindre le break, avec le photographe de presse solitaire à sa poursuite, et Nate et moi assis en émoi dans notre taxi, à une cinquantaine de mètres. Monroe a couru vers le côté passager de la voiture familiale, Miller avait déjà mis le moteur en route, et comme elle a atteint la porte, le photographe parvint jusqu'à elle, posa sa main sur son épaule et, avec tous ses muscle , se balançait autour de Monroe et la jeta durement contre le côté du break ! Elle est presque tombée par terre alors qu'il soulevait son appareil photo pour prendre une photo d'elle. Miller est sorti de la voiture et, sans faire attention que ce soit un photographe de presse, il aida simplement Marilyn à monter dans le break, se tenant lui-même derrière la roue, et ils ont démarré, accélérant sur l'avenue York . Et nous avons redémarré aussi.

Nous avons grillé cinq feux rouges pour suivre le véhicule de Miller, et enfin, à un certain point de uptown, je pense aux alentours de la 110ème rue, la voiture est entrée dans la East River Drive, pour aller dans le Connecticut! Notre taxi s'est rangé près du trottoir et (rappelez-vous , c'était encore en 1956) le compteur affichait 95 cents. Rappelez-vous, aussi, que ce chauffeur avait traversé cinq feux rouges pour nous, et maintenant, le jeune garçon du Michigan, sans le bon sens du citadin, lui a remis un billet unique d'un dollar, accordant: "Vous pouvez garder la monnaie !" Un pourboire nickel ! Si je me souviens bien, je sors du taxi et paris vite à toute hâte.

June 24th 1956, turned out to be an incredible evening. The press was hounding Monroe and Arthur Miller, because by now the word was out that there was going to be a marriage. That night Miller was trying to get Monroe out of the city and up to the quietude of the Connecticut countryside. Miller was driving a station wagon, now parked in front of 2 Sutton Place South; it was packed with Monroe's luggage, and the Press were keenly watching the station wagon like hawks. Suddenly, Miller came out of the building alone, got into the vehicle and quickly sped away. The reporters and photographers really weren't interested in him solo, they were interested in her, in them! So, the station wagon disappeared over to the area at York Avenue and 61st Street, to sit there and wait for Monroe. A taxicab was summoned to the parking alcove at 2 Sutton Place South, the passenger door now open and awaiting its next fare. Not unlike a blur, Marilyn suddenly appeared through the front door and bolted into the taxicab with flashbulbs lighting her way, and the cab took off.

The Monroe Six were not around that evening, and I was hanging out with Nathan Puckett, who had come to New York City from Michigan to see Marilyn, and was the president of one of Monroe's many fan clubs. Nate offered to pay for a taxicab to follow Marilyn's cab, so we took off after her, and one of the press photographers also followed. I vividly recall that Marilyn's taxicab pulled up to the west side of York Avenue at 61st Street; the station wagon was parked on the east side of the avenue, and the avenue was then (and probably still is) paved with cobblestones. She got out of the cab, and she was running across the cobblestones in her very high heels, running through the oncoming traffic to reach the station wagon, with the lone press photographer in hot pursuit, and Nate and I sitting agog in our taxicab, some fifty feet away. Monroe raced around to the passenger side of the station wagon, Miller already gunning the motor, and as she reached for the door, the photographer got right up to her, put his hand on her shoulder and, with all his muscle, swung Monroe around and threw her hard up against the side of the station wagon! She almost fell to the ground as he raised his camera to take a picture of her. Miller got out of the car and, paying no attention whatsoever to the press photographer, he simply assisted Marilyn into the station wagon, got himself back behind the wheel, and they took off, speeding up York Avenue. And we took off too.

We drove through five red lights following the Miller vehicle, and finally at some point uptown, I think around 110th Street, the car entered into the East River Drive, to go on up to Connecticut! Our cab pulled over the curb and (remember, it was still 1956) the meter read 95 cents. Remember, too, that this driver had gone through five red lights for us, and now the young lad from Michigan, with no sign of city-savvy, handed him a single dollar bill, allowing, 'You can keep the change!' A nickel tip! As I recall, I hustled myself out and away from the taxicab in a hurry.
---
source:
forum everlasting-star
---
© All images are copyright and protected by their respective owners, assignees or others.
copyright text by GinieLand.
22 mai 2010
Marilyn Monroe à New York - le 27 juillet 1955
Elle assiste à la pièce "Inherit The Wind" à Broadway.
Marilyn Monroe in New York - July, 27, 1955
She attends the play "Inherit The Wind" in Broadway.
> Marilyn avec Nathan Puckett, president d'un fan-club de Marilyn
Marilyn with Nathan Puckett, president of one of Monroe's fan clubs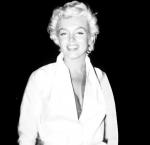 - de la collection de James Haspiel, fan
-from the personal collection of James Haspiel, fan
---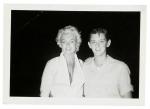 - de la collection de James Collins, un fan des Monroe Six
-from the personal collection of James Collins, one of the 'Monroe Six'
---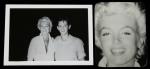 - de la collection de Frieda Hull, une fan des Monroe Six
-from the personal collection of Frieda Hull, one of the 'Monroe Six'
---

- de la collection de Peter Leonardi, secrétaire de Marilyn
-from the personal collection of Peter Leonardi, Marilyn's personal assistant
---
© All images are copyright and protected by their respective owners, assignees or others.
copyright text by GinieLand.
Enregistrer