15 octobre 2022
Norma Jeane avec Lester Bolender et Wayne Bolender vers 1935
Norma Jeane with Lester Bolender and Wayne Bolender - circa 1935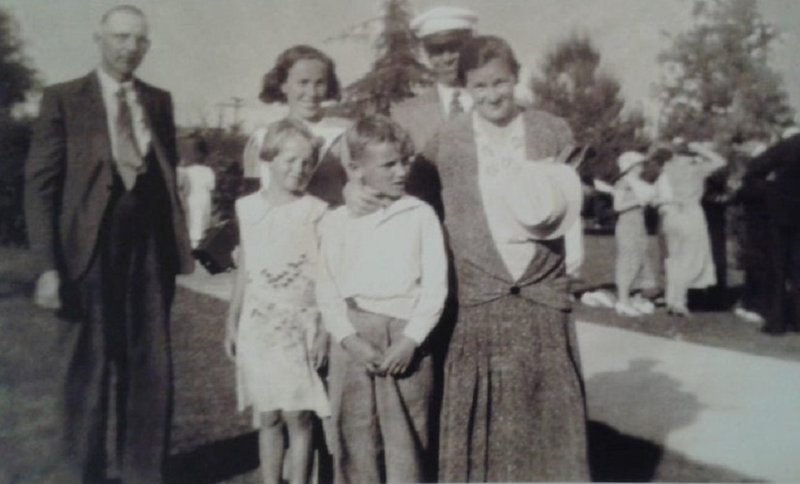 ---
© All images are copyright and protected by their respective owners, assignees or others.
copyright text by GinieLand.
11 août 2022
Lettre de 4 pages du 06 février 1948 (tampon de la poste) écrite par Norma Jeane (Marilyn Monroe) à sa demie-soeur Berniece Miracle, qui vivait à Orlando en Floride (USA). Marilyn explique qu'elle est sur le point de déménager et n'a pas encore sa nouvelle adresse. Au dos de l'enveloppe d'envoi, son adresse imprimée au verso était "11348 Nebraska Ave., West Los Angeles, Californie", où elle vivait avec Tante Ana Lower; elle a barré le nom de la rue pour y inscrire à l'encre bleue l'adresse de "1711 North Stanley Avenue" en Californie.


Letter of 4 pages dated February 06, 1948 (date of postmark) written by Norma Jeane (Marilyn Monroe) to her half-sister Berniece Miracle, who lived in Orlando, Florida (USA). Marilyn explains that she is about to move and doesn't have yet her new address. On the reverse mailing envelope, her address printed on the back was "11348 Nebraska Ave., West Los Angeles, California", where she lived with Aunt Ana Lower; she crossed out the street name to write in blue ink the address of "1711 North Stanley Avenue" in California.
---
En ce début d'année 1948, les studios de la Fox n'ont pas renouvellé son contrat (signé au 24 août 1946, le contrat s'est arrêté au 25 août 1947 et n'a pas été reconduit). Marilyn continue à passer des castings et à poser pour des photos publicitaires, mais sa situation stagne. Néanmoins, elle indique avoir signé un nouveau contrat * faisant référence à celui signé avec les studios de la Columbia, qui s'officialisera le 9 mars 1948, mais qui est donc bien en négociation au moment où elle rédige cette lettre.
Le film "Dangerous Years" dont elle se réfère en fin de lettre (pour lequel elle fut "prêtée" par la Fox au Sol Wurtzel Productions), est sorti en salles américaines le 7 décembre 1947. Elle y tient un petit rôle (celui d'une serveuse), d'où le fait qu'elle mentionne à Berniece de bien ouvrir l'oeil si elle va voir le film.
La lettre montre donc que Marilyn est alors bien occupée en cette période -entre son nouveau contrat et son déménagement- et qu'elle manque de temps pour tenir une correspondance suivie.
Elle évoque aussi leur mère (Gladys Monroe), dont elle ne souhaite pas entretenir de liens, sans pour autant la rejeter, car elle fonde le projet de pouvoir l'aider dès que sa situation financière le permettra.
Elle prend aussi des nouvelles de Paris (le mari de Berniece) et de sa nièce Mona Rae, montrant ainsi l'amour qu'elle porte envers sa soeur et sa famille.
On apprend aussi que durant cette période, elle a un chien (un cocker blond) - peut être Ruffles, un cocker avec qui elle posa en photos pour la Fox (une séance photos sur la plage en 1947).

At the beginning of the year 1948, the Fox studios did not renew her contract (signed on August 24, 1946, the contract ended on August 25, 1947 and was not renewed). Marilyn continues to go to castings and pose for publicity photos, but her situation is stagnating. Nevertheless, she indicates that she has signed a new contract * referring to the one signed with Columbia studios, which will become official on March 9, 1948, but which is therefore in negotiation at the time of writing this letter.
The film "Dangeous Years" to which she refers at the end of the letter (for which she was been "lent" by Fox to Sol Wurtzel Productions), was released in American cinemas on December 7, 1947. She plays a small role in it (that of a waitress), hence the fact that she mentions to Berniece to keep an eye out if she goes to see her in the film.
The letter therefore shows that Marilyn is then very busy during this period -between her new contract and her move- and that she lacks the time to keep a regular correspondence.
She also mentions their mother (Gladys Monroe), with whom she doesn't wish to maintain a relation, without however rejecting her, because she is planning to be able to help her as soon as her financial situation allows it.
She also asks from Paris (Berniece's husband) and her niece Mona Rae, showing her love for her sister and her family.
We also learn that during this period, she has a dog (a blond cocker spaniel) - perhaps Ruffles, a cocker spaniel with whom she posed in photos for Fox (a photo session on the beach in 1947).

Traduction de la lettre:
Ma très chère sœur.
J'ai commencé au moins une douzaine de lettres pour toi, ma chère, mais quelque chose semble toujours interférer pour m'empêcher de les terminer. Mais je pense souvent à toi et je me demande comment tu vas et si tu es heureuse. J'espère que tout va bien pour toi et ta famille. J'aimerais vous voir tous. J'ai failli faire un voyage en Floride mais je viens de signer un nouveau contrat et je ne peux pas m'éloigner en ce moment *.
Demain, je déménage dans un appartement très mignon. Bien sûr, je redoute le matin, mais je devrais me donner un coup de pied parce que je ne peux qu'imaginer ce que cela doit être pour vous lorsque vous déménagez car vous êtes trois. Cependant, ce que je veux vous dire, c'est qu'il y a de la place pour vous si jamais vous voulez faire un voyage ici, vous pouvez rester avec moi.
Tout ce que j'ai pour compagnie, c'est un adorable petit chiot cocker blond - ok c'est juste un petit ange.
Je n'habite plus avec tante Ana depuis presque un an maintenant. Elle est vraiment adorable et bonne avec moi mais il n'y a tout simplement pas de place pour moi là-bas en plus c'est bien d'avoir mon propre chez moi. Dès que je peux, je veux acheter une petite maison, mais c'est un peu loin en ce moment.
Je n'ai pas de nouvelles de Mère et je ne lui écris pas, en fait tout ce que je sais, c'est qu'elle est quelque part dans l'Oregon, où - je n'en ai aucune idée. Elle et moi ne semblons pas être très proches et ce n'est la faute de personne. J'aimerais que ce soit différent mais un jour, j'espère pouvoir l'aider un peu, en ce moment, c'est plutôt difficile pour moi, avec ou sans contrat. Mais tout se passe à merveille donc je n'ai vraiment rien à redire.
J'ai quelques trucs que j'aimerais t'envoyer si tu le veux.
Comment va Mona Rae ? C'est la plus mignonne des petites filles, je suis folle d'elle.
J'espère que Paris va bien là-bas, souhaite-lui le meilleur de ma part.
S'il te plaît, dis-lui que je talonnerais tout le monde sauf ma propre sœur.
Merci Berniece pour votre joli cadeau de Noël, c'était très gentil de votre part.
Je t'enverrai des photos si tu veux en avoir.
J'aimerais bien te voir, j'espère que tu m'écrira bientôt.
Je t'écrirai à nouveau après mon déménagement et te donnerai ma nouvelle adresse.
Tendrement,
Norma Jeane
P.S. "Dangerous Years" se joue encore là-bas. Je suis dedans mais pour l'amour du ciel, ne cligne pas des yeux, tu pourrais me rater.

Letter transcription:
My Dearest Sister.
I've started at least a dozen letters to you dear but something always seems to come up to keep me from finishing them. But I do think of you often and wonder how you are and if you are happy. I hope eveything is fine with you and your family. I would love to see all of you. I almost took a trip to Fla. but I've just signed a new contract and can't get away right now *.
Tomorrow I'm moving to a very cute apt. Of course I dread morning but I should kick because I can just imagine what it must be for you when you move for there are three of you. However what want to tell you is there is room for you if you ever want to take a trip out here you can stay with me.
All I have for company is a darling little blond cocker puppy - ok he's just a little angel.
I havent' lived with Aunt Ana for almost a year now. She is very so cute and good to me but ther just isn't room for me there besides it's nice to have my own place. When I can I want to buy a little house however that's a little ways off right now.
I haven't heard from Mother nor do I write her, in fact all I know is that she is somewhere in Oregon, where - I have no idea. She and I can't seem to be very close due to no one's fault. I wish it could be different but some day I hope to be able to help her out a little, right now it's rather difficult for me, contract or no contract. But everything is coming along wonderfully so I've nothing to complain about really.
I have a few things I would like to send you if you want them.
How is Mona Rae ? She is the sweetest cutest little girl, I'm crazy about her.
I hope Paris is doing all right down there give him my best.
Please tell him I would high heel everyone else in the world but my own sister.
Thank you Berniece for your lovely Christmas gift it was very sweet of you.
I'll send you some pictures if you'd like to have some.
I sure would love to see you I hope you will write to me soon.
I'll write again after I move and give you my new address.
Lovingly
Norma Jeane
P.S. Has "Dangerous Years" played down there yet. I'm in it but for heaven's sakes don't blink your eyes you might miss me in it.
---
source Lettre vendue aux enchères en 2021 par SCP Auction's
---
© All images are copyright and protected by their respective owners, assignees or others.
copyright text by GinieLand.
01 août 2022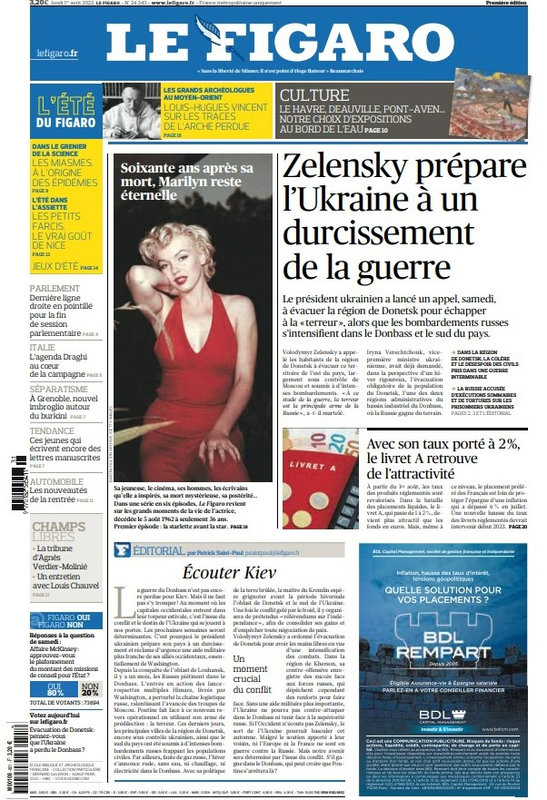 Le Figaro
n°801

pays: France
quotidien du 01er août 2022
prix: 3,20 €
- Portrait de Marilyn Monroe en série de 6 épisodes; soit à suivre du 01er au 06 août 2022 dans le journal.
Dans cette édition, 1ère partie.

Marilyn Monroe en couverture: "Soixante ans après sa mort, Marilyn reste éternelle"
Article intérieur de 1 page: "Marilyn, la starlette avant la star".

- article -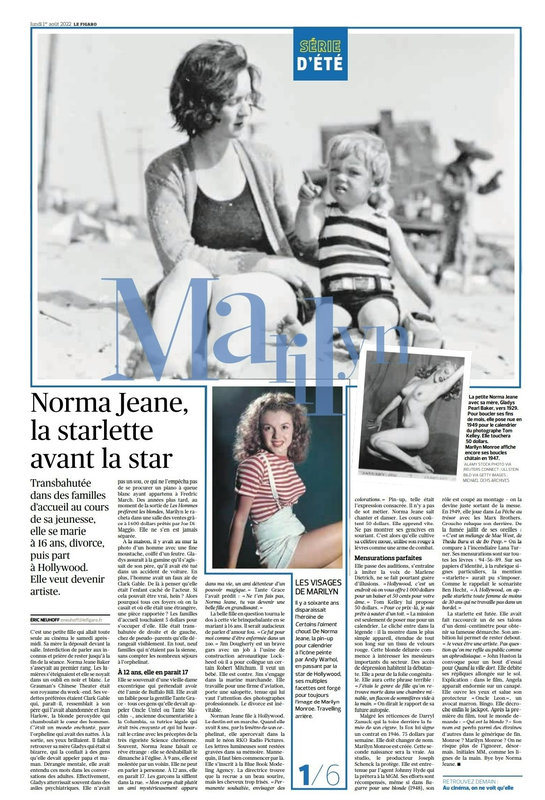 ---
Marilyn Monroe racontée par Éric Neuhoff: Norma Jeane, la starlette avant la star
> Par Eric Neuhoff ; en ligne sur lefigaro.fr
LES VISAGES DE MARILYN (1/6) - Transbahutée dans des familles d'accueil au cours de sa jeunesse, elle se marie à 16 ans, divorce, puis part à Hollywood. Elle veut devenir artiste.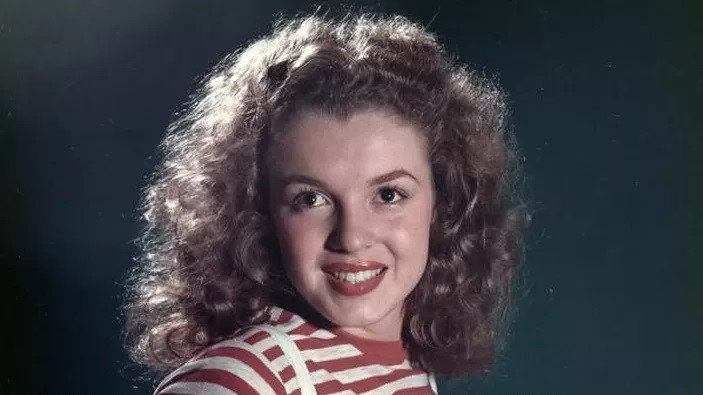 Il y a soixante ans disparaissait l'héroïne de Certains l'aiment chaud. De Norma Jeane, la pin-up pour calendrier, à l'icône peinte par Andy Warhol, en passant par la star de Hollywood, ses multiples facettes ont forgé pour toujours l'image de Marilyn Monroe. Travelling arrière.
C'est une petite fille qui allait toute seule au cinéma le samedi après-midi. Sa mère la déposait devant la salle. Interdiction de parler aux inconnus et prière de rester jusqu'à la fin de la séance. Norma Jeane Baker s'asseyait au premier rang. Les lumières s'éteignaient et elle se noyait dans un oubli en noir et blanc. Le Grauman's Chinese Theater était son royaume du week-end. Ses vedettes préférées étaient Clark Gale qui, paraît-il, ressemblait à son père qui l'avait abandonnée et Jean Harlow, la blonde peroxydée qui chamboulait le coeur des hommes.

La suite de l'article est réservé aux abonnés et/ou dans le Figaro du 01/08/2022
---
© All images are copyright and protected by their respective owners, assignees or others.
18 juin 2022
Lettre de 4 pages du 14 janvier 1945 (datée par erreur en 1944) écrite par Norma Jeane Dougherty (Marilyn Monroe) à Grace McKee Goddard, qui était partie vivre avec son mari Ervin 'Doc' Goddard et la fille de celui-ci Bebe Goddard à Huntington, dans l'Etat de Virginie.
Norma Jeane n'a que 18 ans, mariée depuis deux ans et demie avec Jim Dougherty souvent absent (il est engagé dans la Marine marchande), et elle se sent seule: sans doute est-ce pour cette raison qu'elle s'est payée un manteau, alors qu'elle ne gagne pas beaucoup d'argent. Elle fait aussi des cadeaux à Grace puisqu'elle lui demande si le peignoir est à sa taille.
Elle raconte aussi à Grace que l'usine où elle travaille, Radioplane, a congédié (temporairement, pour deux semaines), l'ensemble des ouvriers et ouvrières (sans leur verser de salaire), certains étant même licensié définitivement.
Elle parle de son retour de l'Est, faisant ainsi référence à sa visite aux Goddard (Doc et Bebe) en Virginie et sa demie-soeur Berniece à Détroit à l'automne 1944.
Il semble que Norma Jeane porte beaucoup d'affection envers Doc Goddard, elle l'appelle "Papa" dans sa lettre.
On ressent surtout l'isolement de la jeune Norma Jeane, terminant sa lettre par son espoir de revoir les Goddard revenir en Californie.

Letter of 4 pages in January 14, 1945 (mistakenly dated 1944) written by Norma Jeane Dougherty (Marilyn Monroe) to Grace McKee Goddard, who had gone to live with her husband Ervin 'Doc' Goddard and his daughter Bebe Goddard in Huntington, Virginia.
Norma Jeane is only 18 years old, married for two and a half years to Jim Dougherty, who is often absent (he is engaged in the Merchant Marine), and she feels alone: ​​no doubt this is why she paid for a coat, although she doesn't earn much money. She also gives Grace gifts because she asks her if the robe is at the good size.
She also tells to Grace that the factory where she works, Radioplane, has dismissed (temporarily, for two weeks), all the workers (without paying them a salary), some of them being even definitively dismissed.
She talks about her return from the East, thus referring to her visit to the Goddards (Doc and Bebe) in Virginia and her half-sister Berniece in Detroit in the fall of 1944.
It seems that Norma Jeane has a lot of affection for Doc Goddard, she calls him "Dad" in her letter.
We especially feel the isolation of young Norma Jeane, ending her letter with her hope of seeing the Goddards back in California.

Traduction de la lettre:
Ma très chère Grace,
Je suis désolée de ne pas avoir écrit plus tôt, mais honnêtement, j'ai été très occupée. En ce moment, j'ai deux semaines de vacances. (sans être payée).
Jimmie n'est pas encore rentré mais s'attend à être à la maison à tout moment. Il m'a envoyé 100 $ pour Noël alors j'en ai mis un peu plus et je suis maintenant l'heureuse propriétaire d'un manteau de singe Gold Coast. Oh c'est tout simplement magnifique ! J'ai obtenu la meilleure qualité possible parce que je pensais que je pourrais aussi bien obtenir quelque chose qui durerait. (Je ne veux pas que tout le monde sache que ça a coûté autant que ça le devait au départ, c'est mon affaire, tu ne crois pas ?
Tout le monde dit qu'ils ne peuvent pas comprendre à quel point j'ai changé depuis que je suis revenue de l'Est. Au travail, ils disent tous que je suis pleine de vie, de peps et de vitalité. Je n'ai pas travaillé très dur, je me suis juste laissé aller, mais j'ai quand même terminé tout mon travail. Radioplane Company a licencié près de la moitié de ses travailleurs. Mais je suis toujours là bien que je sois en vacances maintenant, comme tout le monde dans mon département, ce n'est que pour deux semaines.
S'il te plaît envoie-moi le livre d'anglais et de grammaire, tu avais dit que tu le ferais.
J'espère que tu as aimé ton peignoir. Était-ce la bonne taille ? As-tu mis des chaussons pour aller avec ?
Je suis contente que tu ne travailles pas chez Wildings parce que tu travaillais juste trop dur. J'espère que tu te reposes beaucoup. S'il te plaît, donne mon affection à Papa et Bebe. Vous me manquez certainement tous.
Dan Hill est vraiment génial, je n'ai pas eu beaucoup de temps pour le voir. Mais je l'aime beaucoup.
J'ai hâte de voir Papa en février. Chaque fois que je vois Dan, il n'arrête pas de demander "Quand est-ce que "Doc" revient ?"
Aujourd'hui, je suis allée à l'église et Mme Dougherty m'a accompagnée. Mon Dieu, je peux à peine attendre que vous reveniez tous ici, j'espère que ce sera bientôt.
Tout mon amour,
Norma Jeane,
PS j'écrirai plus tard

Letter transcription:
My dearest Grace,
I'm sorry I havn't written sooner but honestly I've been so busy. At the present time I'm having a two weeks vacation. (without pay).
Jimmie hasn't come home yet but expects to be home most any time. He sent me $100.00 for Christmas so I put some more with it and I am now the happy owner of a Gold Coast monkey coat. Oh its simply beautiful! I got the finest quality obtainable because I thought I might as well get something that would last. (I don't want everyone to know that it cost as much as it did in the first place its my own business, don't you think ?
Everyone says they can't get over how much I've changed since I've come back from the East. At work they all say I'm full of life, pep and vitality. I havn't been working very hard, just sort of taking it easy but I still get all of my work finished. Radioplane Company laxed almost half of its workers off. But I'm still there although I'm Having a vacation now so is everyone in my dept, its only for two weeks.
Please send me the English and Grammar book, you said you would.
I hope you liked your robe. Was it the right size? Did you get slippers to go with it ?
I'm glad you are not working at wildings because you were just working too hard. I hope you are getting a lot of rest.
Please give Daddy and Bebe my love. I certainly do miss all of you.
Dan Hill is really swell, I havn't had much time to see him. But I do like him very much.
I can hardly wait to see Daddy in February. Every time I see Dan he keeps asking "When is "Doc" coming back ?"
Today I went to church and Mrs. Dougherty went with me.
Golly I can hardly wait until all of you move back here, I hope it will be soon.
All my love,
Norma Jeane,
P.S. I shall write later
---
source Lettre vendue aux enchères en 2017 par Freeman's
---
© All images are copyright and protected by their respective owners, assignees or others.
copyright text by GinieLand.
17 juin 2022
Dédicace de Norma Jeane Baker (Marilyn Monroe) datée du 13 mai 1942 à une camarade de classe, Joan Loye, pour son livret de dédicaces souvenirs à l'époque où Norma Jeane fréquente la University High School: elle intègre le lycée en février 1942 pour suivre le 10th Grade (équivalent de la Seconde suivie au lycée en France), pour quitter l'école début juin (elle se marrie le 19 juin avec Jim Dougherty).
Joan Loye a été sa camarade à l'école Emerson Middle School et à l'University High School.
Dedication by Norma Jeane Baker (Marilyn Monroe) dated May 13, 1942 to a classmate, Joan Loye, for her souvenir dedication booklet when Norma Jeane attended University High School: she entered high school in February 1942 to follow the 10th Grade, to leave school at the beginning of June (she married on June 19 with Jim Dougherty).
Joan Loye was her classmate at Emerson Middle School and University High School.
Traduction:
13/05/42
Chère Joan,
Par la présente je te souhaite toute
la chance et le succès dans
le monde à une fille très douce.
Norma Jean Baker
transcription:
5/13/42
Dear Joan,
Heres wishing all
the luck and success in the
world to a very sweet girl.
Norma Jeane Baker
---
source Livret vendu en 2012 par Heritage Auction
---
© All images are copyright and protected by their respective owners, assignees or others.
copyright text by GinieLand.
12 juin 2022
Lettre du 10 octobre 1944 écrite par "Tante Ana" - Ana Lower - à Norma Jeane, qui va rendre visite à sa demie-soeur Berniece à Détroit en passant par l'Etat de la Virginie pour voir les Goddard (Bebe Goddard qu'Ana salue) et termine son périple à Chicago (fin octobre) pour voir Grace McKee Goddard. Ana termine sa lettre par un verset biblique, montrant ainsi sa dévotion totale envers la chrétienneté (elle appartenait à la Science chrétienne).
Letter dated in October 10, 1944 written by "Aunt Ana" - Ana Lower - to Norma Jeane, who is going to visit her half-sister Berniece in Detroit, passing through the State of Virginia to see the Goddards (Bebe Goddard that Ana greets) and ends her journey in Chicago (end of October) to see Grace McKee Goddard. Ana ends her letter with a Bible verse, showing her total devotion to Christianity (she belonged to Christian Science).
Traduction de la lettre:
10 octobre 1944
Ma précieuse fille,
Tu es en route vers un joyeux voyage. Que chaque instant de ses joyeuses attentes soit comblé à ras bord.
De nouveaux lieux, visages et expériences t'attendent. Tu rencontrera tout cela avec ta douceur habituelle et ton aimable courtoisie.
Lorsque tu verras ta sœur, vous recevrez vraiment toutes les deux une bénédiction. Donnes-lui mon amour et un baiser, aussi à la chère petite fille.
Mon amour aussi au père et au mari chanceux.
Mon bonheur est grand que vous ayez un repos nécessaire. Et belle visite avec mes proches.
Embrasse Bebe pour moi aussi.
Une des joies du départ est le retour, où tous ceux qui vous aiment (et qui ne ne t'aime pas ?) nous attendent à bras ouverts pour nous recevoir.
Ma prière sera - Cher Père, tu es mon enfant, en ascension, ce soir et toujours.
Les lignes suivantes t'aideront à connaître une protection à tout moment.
"Je sais
Là où je suis
C'est Dieu. Puisque c'est ainsi
Aucun endroit ne peut être plus sûr que là où je vais"
Bonne nuit ma chérie
Avec amour et baisers
Tante Anne

Letter transcription:
Oct 10, 1944

My precious girl,

You are outward bound on a Happy Journey. May each moment of its joyous expectations be filled to the brim.
New places, faces, and experiences await you. You will meet these all with your usual sweetness and loving courtesy.
When you see your Sister, you will truly both receive a blessing. Give her my love and a kiss, also the dear little daughter,
My love also to the fortunate father and husband.
My happiness is much that you are to have a needed rest. And lovely visit with dear ones
Gives Bebe a kiss for me too
One joy of going away is the coming back, where all who love you (and who does not ?) will be waiting with open arms to receive you.
My prayer will be - Dear Father thou my child , on upward swing , tonight, and always.
The following lines will help you, know your protection at all times.
"I know
That where I am
Is God. Since this is so
No place can safer be than where I go"
Good night dearest
With Love and Kisses
Aunt Ana
---
© All images are copyright and protected by their respective owners, assignees or others.
copyright text by GinieLand.
Lettre dactylographiée datée du 25 septembre 1938, sur du papier à lettres à en-tête "International Correspondence Schools", écrite par "Oncle Art" à Norma Jeane, âgée alors de 12 ans et vivait chez "Tante" Ana Lower (sur Nebraska Avenue, à Los Angeles).
Oncle Art et Tante Allis vivent à San José, en Californie. Ils semblent appartenir à la famille de Grace Goddard et de sa tante, Ana Lower; ils se surnomment eux-mêmes "Oncle" et "Tante" pour Norma Jeane, et semblent bien la connaître par les mots d'affection employés dans la lettre. Ils font référence à leur chien Trinket, dont on peut supposer qu'il est adoré par Norma Jeane.
Typed letter dated September 25, 1938, on "International Correspondence Schools" letterhead, written by "Uncle Art" to Norma Jeane, then 12 years old and living with "Aunt" Ana Lower (on Nebraska Avenue , in Los Angeles).
Uncle Art and Aunt Allis live in San Jose, California. They appear to be relatives of Grace Goddard and her aunt, Ana Lower; they call themselves "Uncle" and "Aunt" for Norma Jeane, and seem to know her well by the words of affection employed in the letter. They refer to their dog Trinket, whom one may assume was adored by Norma Jeane.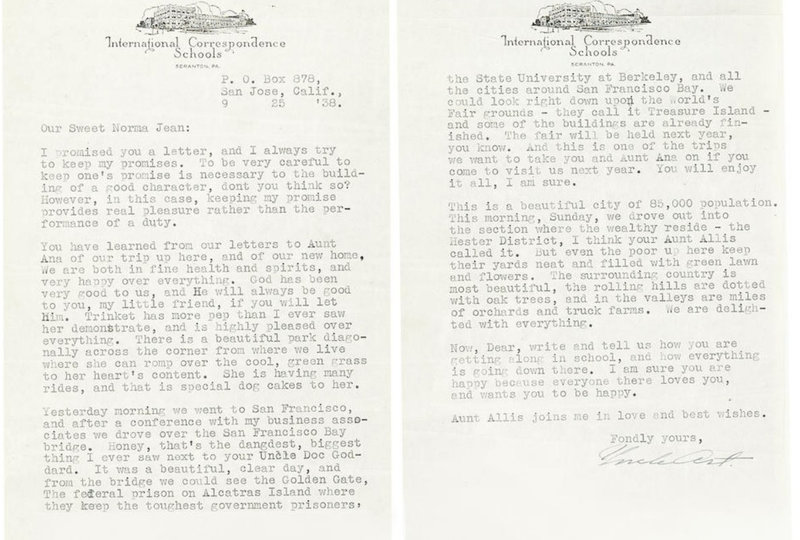 Traduction de la lettre:

Notre douce Norma Jean :
Je t'ai promis une lettre, et j'essaie toujours de tenir mes promesses. Etre très attentif à tenir sa promesse est nécessaire à la construction d'un bon caractère, ne penses-tu pas ? Cependant, dans ce cas, tenir ma promesse procure un réel plaisir plutôt que l'accomplissement d'un devoir. V
Tu as appris par nos lettres à tante Ana notre voyage ici et notre nouvelle maison. Nous sommes tous les deux en bonne santé et de bonne humeur, et très heureux de tout. Dieu a été très bon avec nous, et Il en sera ainsi. Trinket a plus de peps que je ne l'ai jamais vue démontrer et est très satisfaite de tout. Il y a un beau parc en diagonale au coin de chez nous où elle peut se défouler sur l'herbe fraîche et verte à sa guise. Elle fait de nombreuses promenades, et il y a des gâteaux pour chiens spéciaux pour elle.
Hier matin, nous sommes allés à San Francisco et, après une conférence avec mes associés, nous avons traversé le pont de la baie de San Francisco. Chérie, c'est la plus grosse chose que j'ai jamais vue à côté de ton oncle Doc Goddard. C'était une belle journée claire et depuis le pont, nous pouvions voir le Golden Gate, la prison fédérale sur l'île d'Alcastraz où sont détenus les prisonniers gouvernementaux les plus difficiles, l'université d'État de Berkeley et toutes les villes autour de la baie de San Francisco. Nous pourrions contempler le parc des expositions du monde - ils l'appellent l'île au trésor - et certains des bâtiments sont déjà terminés. La foire aura lieu l'année prochaine, tu sais. Et c'est l'un des voyages où nous voulons t'emmener avec tante Ana si vous venez nous rendre visite l'année prochaine. Vous apprécierez tout cela, j'en suis sûr.
C'est une belle ville de 85 000 habitants. Ce matin, dimanche, nous sommes allés en voiture dans le quartier où résident les riches - le district de Hester, je pense que c'est ainsi que ta tante Allis l'appelait. Mais même les pauvres ici gardent leurs jardins propres, remplis de pelouse verte et de fleurs. Le pays environnant est le plus beau, les collines sont parsemées de chênes, et dans les vallées, il y a des miles ou des vergers et des fermes maraîchères. Nous sommes ravis de tout.
Maintenant, ma chère, écris-nous et dis-nous comment tu te débrouilles à l'école, et comment tout se passe là-bas. Je suis sûr que tu es heureuse parce que tout le monde là-bas t'aime et veut que tu sois heureux.
Tante Allis se joint à moi dans l'amour et les meilleurs vœux.
Affectueusement vôtre,
Oncle Art
Letter transcription:
Our Sweet Norma Jean:

I promised you a letter, and I always try to keep my promises. To be very careful to keep one's promise is necessary to the building of a good character, don't you think so ? However, in this case, keeping my promise provides real pleasure rather than the performance of a duty.

You have learned from our letters to Aunt Ana of our trip up here, and of our new home. We are both in fine health and spirits, and very happy over everything. God has been very good to us, and He will let Him. Trinket has more pep than I ever saw her demonstrate, and is highly pleased over everything. There is a beautiful park diagonally across the corner from where we live where she can romp over the cool, green grass to her heart's content. She is having many rides, and that is special dog cakes to her.

Yesterday morning we went to San Francisco, and after a conference with my business associates we drove over the San Francisco Bay bridge. Honey, that's the dangdest, biggest thing I ever saw next to your Uncle Doc Goddard. It was a beautiful, clear day, and from the bridge we could see the Golden Gate, The federal prison on Alcastras Island where they keep the thoughest government prisoners, the State University at Berkeley, and all the cities around San Francisco Bay. We could look right down upon the world's Fair grounds - they call it Treasure Island - and some of the buildings are already finished. The fair will be held next year, you know. And this is one of the trips we want to take you and Aunt Ana on if you come to visit us next year. You will enjoy it all, I am sure.

This is a beautiful city of 85,000 population. This morning, Sunday, we drove out into the section where the wealthy reside - the Hester District, I think your Aunt Allis called it. But even the poor up here keep their yards neat and filled with green lawn and flowers. The surrounding country is most beautiful, the rolling hills are dotted with oak trees, and in the valleys are miles or orchards and truck farms. We are delighted with everything.

Now, Dear, write and tell us how you are getting along in school, and how everything is going down there. I am sure you are happy bevause everyone there loves you, and wants you to be happy.

Aunt Allis joins me in love and best wishes.

Fondly Yours,
Uncle Art
---
Oncle Art écrira d'autres lettres à Norma Jeane pendant l'année 1939 dans lesquelles il l'appelle "Petite chérie" et "Nous envoyons tous de l'amour à notre petite fille." Ces correspondances pleines de tendresse montre que malgré les difficultés liées à son enfance sans parents, Norma Jeane était tout de même entourée de personnes attentionnés, soucieux de son bien être.
Uncle Art will write other letters to Norma Jeane during the year 1939 in which he calls her "Little Sweetheart" and "We all send love to our little girl". These correspondences full of tenderness show that despite the difficulties related to her childhood without parents, Norma Jeane was still surrounded by caring people, concerned about her well-being.
---
source Lettre vendue aux enchères en 2018 par Bonhams
---
© All images are copyright and protected by their respective owners, assignees or others.
copyright text by GinieLand.
Carte postale écrite par Norma Jeane (Marilyn Monroe) à sa demie-soeur Berniece Miracle, postée le 28 octobre 1944 de Chicago, où s'est rendu Norma Jeane pour rendre visite à Grace Mc Kee. Norma Jeane et Berniece se sont rencontrées pour la première fois au début de ce mois d'octobre: Norma Jeane s'était rendue à Détroit (dans le Michigan) où vivait Berniece avec son mari Paris Miracle et leur fille Mona Rae.
Postcard written by Norma Jeane (Marilyn Monroe) to her half-sister Berniece Miracle, posted on October 28, 1944 from Chicago, where Norma Jeane traveled to visit Grace McKee. Norma Jeane and Berniece first met at the early October: Norma Jeane had traveled to Detroit (Michigan) where Berniece lived with her husband Paris Miracle and their daughter Mona Rae.
Traduction de la lettre:
Très chère Berniece,
Je suis incapable de te dire à quel point je suis contente de t'avoir rencontrée. Je veux te remercier pour tout, pour les merveilleux moments que j'ai passé.
Avec Amour,
Norma Jeane
Embrasse Mona Rae
P.S: Berniece, Je t'écrirai bientôt.
Letter transcription:
Dearest Berniece,
I just can't tell you both how I enjoyed meeting you. I want to thank you for everything, for I had a wonderful time.
Love,
Norma Jeane
Give Mona Rae my love.
P.S. Berniece, I will write to you soon.

---
source Lettre vendue en 2001 aux enchères Berniece & Mona Rae Collection et en 2014 aux enchères Hollywood Auction
---
© All images are copyright and protected by their respective owners, assignees or others.
copyright text by GinieLand.

22 mai 2022
Carte postale écrite par Norma Jeane (Marilyn Monroe) à son amie Cathy (Catherine) Staub, postée le 28 octobre 1944 de Chicago, où s'est rendue Norma Jeane pour rendre visite à Grace Mc Kee.
Postcard written by Norma Jeane (Marilyn Monroe) to her friend Cathy (Catherine) Staub, posted on October 28, 1944 from Chicago, where Norma Jeane travels to visit Grace McKee.
Traduction de la lettre:
hello à Bud
Ma très chère Cathy,
J'écrirai bientôt chérie, mais j'ai été très occupée.
Je passe un bon moment.
J'ai reçu 3 lettres de Jimmie, j'étais si heureuse.
Je reviendrai bientôt, tu me manques Cathy.
Avec amour,
Norma Jeane.

Letter transcription:
Bud hello
My dearest Cathy,
I will write soon honey, but have been awfully busy.
I'm having a grand time.
I received 3 letters from Jimmie I was so happy.
Will be back soon, I miss you Cathy.
Love,
Norma Jeane.
---
source Lettre vendue aux enchères en 2015 par Pop Culture Auction
---
© All images are copyright and protected by their respective owners, assignees or others.
copyright text by GinieLand.
10 avril 2022
En mai 1940, la famille Muir emmène Norma Jeane, Bob 'Bill' Stotts et Bette Westcott (qui s'appelait Betty Dugger), des amis de leur fils Bob Muir, à une sortie dans le désert de Los Angeles.
Ils passent la journée complète à silloner les zones du désert californien: ils tombent par hasard sur une ville désertée et délabrée où se trouve une vieille prison désaffectée (où Mme Muir prend les adolescents en photo); puis reprennent la route (en voiture et aussi à pied), se mettent à pique-niquer sur le sable puis cueillent des fleurs pour en faire des bouquets qu'ils ramènent chez eux.
In May 1940, the Muir family took Norma Jeane, Bob 'Bill' Stotts and Bette Westcott (who went by the name Betty Dugger), friends of their son Bob Muir, on an excursion in the Los Angeles desert.
They spend the full day criss-crossing areas of the Californian desert: they stumble upon a deserted, run-down town where there is an old, disused prison (where Mrs. Muir takes picture of the teenagers); then hit the road again (by car and also on foot), have a picnic on the sand and then pick flowers to make bouquets that they take home.
---
- Devant la prison désaffectée - de gauche à droite:
- In front of the disused prison - from left to right:
Bob Stotts, Betty Dugger, Norma Jeane & Bob Muir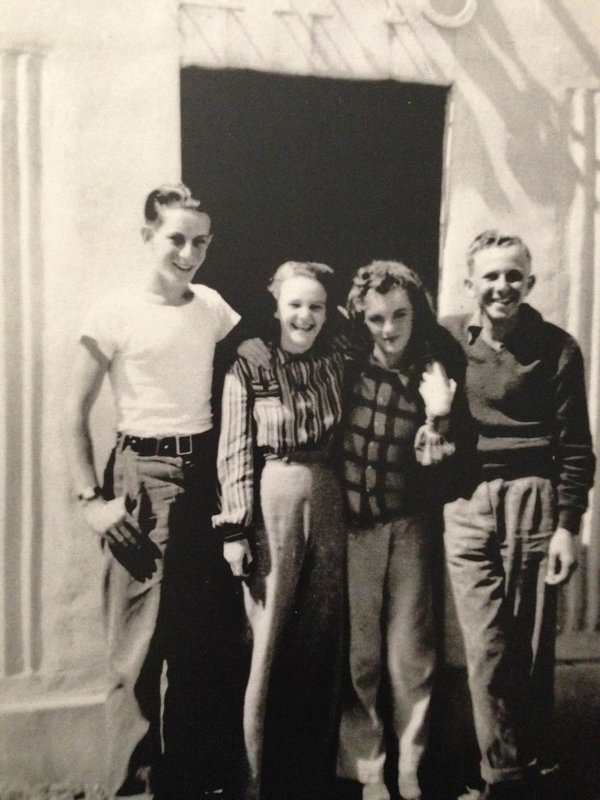 ---
- Le pique-nique dans le désert
- The picnic in the desert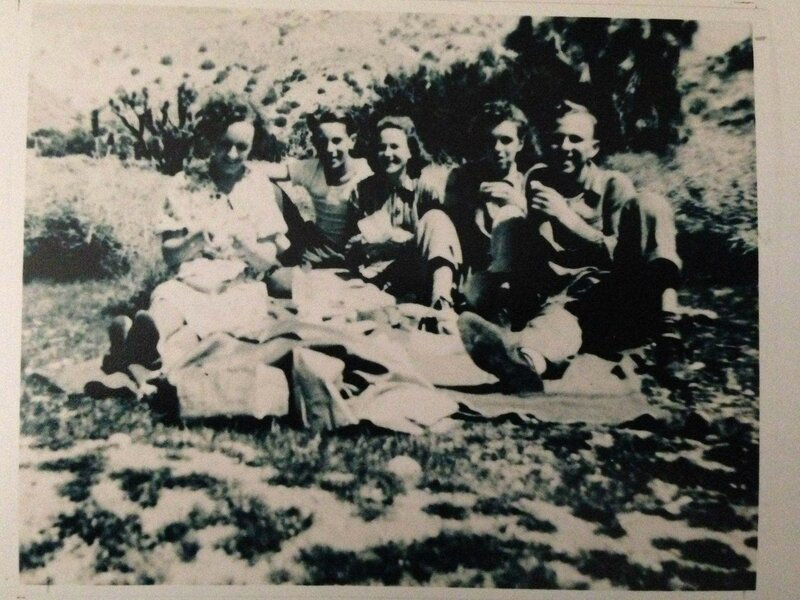 ---
Mme Muir se souviendra avec précision de cette sortie, telle qu'elle le racontera pour un article du magazine Tatler en 1973:
"Je me souviens avec plaisir d'une autre fois en mai 1940. Les fleurs sauvages du désert étaient particulièrement belles cette année-là, et Bob a suggéré que nous allions tous en pique-nique et les voir. Encore une fois, il a invité Norma Jean, Betty et Bill.
Tout à fait par hasard, nous sommes tombés sur une petite ville déserte - une douzaine de bâtiments - battue par les intempéries et délabrée. Il y avait aussi les restes d'une ancienne prison, et bien sûr les enfants devaient y entrer et fouiner dans les décombres. Quand ils sont sortis, j'ai les ai pris en photo alors qu'ils se tenaient dans l'embrasure de la porte.
"Je ne pense pas que nous devrions nous faire prendre en photo, nous sommes des prisonniers parobés et nous devons être très prudents", a déclaré Norma Jean. Son ton de voix était si solennel et son portrait si parfait que nous avons tous éclaté de rire.
Après avoir erré dans le désert pendant des heures, parfois en voiture mais surtout à pied, nous avons finalement étalé une couverture sur le sable et nous nous sommes assis pour nous reposer et manger.
NOUS AVONS BEAUCOUP PARLÉ ET RI. Je ne me souviens pas que Norma Jean ait jamais été de meilleure humeur. Elle était tout simplement effervescente - la vie de la fête. En fin d'après-midi, nous avons cueilli des bouquets de fleurs sauvages à emporter à la maison. Elle tenait la sienne avec autant de soin qu'elle aurait pu tenir un bébé et, avec la sincérité d'une adulte qu'elle affichait souvent, dit : "Il n'y a pas deux fleurs pareilles - je n'ai jamais rien vu d'aussi beau."
> article 10/1973, Tatler
Mrs. Muir would vividly recall this outing, as she recounted for a Tatler magazine article in 1973:
"I recall with pleasure another time in May of 1940. The desert wild flowers were especially beautiful that year, and Bob suggested we all go on a picnic and see them. Again he invited Norma Jean, Betty and Bill.
Quite by accident we came across a small deserted town - a doten or so buildings - weather-beaten and dilapidated. There was also the remains of and old jail, and of course the kids had to go inside and poke about in the rubble. When they came out, I took their picture while they stood in the doorway.
"I don't think we should have our picture taken, we're parobed prisoners and should be very careful," said Norma Jean. Her tone of voice was so solemn and her portrayal so perfect that we all burst into laughter.
After roaming about the desert for hours, sometimes in the car but mostly on foot, we finally spread a blanket on the sand and sat down to rest and eat. WE TALKED AND LAUGHED a lot. I don't remember Norma Jean ever in a happier mood.
She was simply effervescent - the life of the party.
In late afternoon we picked bouquets of wild flowers to take home. She held hers as carefully as she might have held an infant and, with the adult sincerely she often displayed, said, "No two flowers alike - I never saw anything so lovely."
---
© All images are copyright and protected by their respective owners, assignees or others.
copyright text by GinieLand.