30 octobre 2011
Pendant le tournage de The Seven Year Itch (Sept ans de réflexion), des bruits commencent à courir à propos d'une crise conjugale au sein du couple Marilyn Monroe - Joe DiMaggio. Après un voyage d'une petite semaine à New York et Cleveland où il commentait des matchs de base-ball, Joe est de retour le 2 octobre 1954: Marilyn lui fait savoir son intention de divorcer. Elle engage l'avocat Jerry Giesler. Les médias sont vite avertis par le service publicité de la Fox et le 5 octobre, des hordes de journalistes se pressent devant la maison que Marilyn et Joe partagent au 508 North Palm Drive, à Beverly Hills.
Le 6 octobre 1954, une conférence de presse est organisée.
Le matin du 6 octobre, Joe DiMaggio quitte la maison, emportant ses affaires avec l'aide de son ami Reno Barsocchini, ancien partenaire de base-ball. Il dit aux journalistes qu'il quittait Los Angeles pour San Francisco et ne remettrait pas les pieds dans la maison que Marilyn et lui avaient loué. Mais il refuse de parler du divorce car il ne prend pas trop cette demande de divorce au sérieux et gardait sérieusement l'espoir que Marilyn change d'avis.
Les nombreux journalistes attendent ensuite la sortie de Marilyn. Presse écrite, radio, caméramen, et nombreux photographes -dont Georges Silk et Allan Grant pour Life et Bruno Bernard- se sont regroupés dans le jardin de la maison.
L'avocat de Marilyn, Jerry Giesler, sort sur le péron pour faire patienter les journalistes.
Marilyn Monroe sort enfin, accompagnée discrètement de Sidney Skolsky et cherchant le soutien de son avocat Jerry Gielser, qui livre à la presse l'annonce officielle de la demande de divorce de Marilyn contre Joe DiMaggio. Devant les photographes, Marilyn est au bord des larmes et ne prononcera pas un mot.
Jerry Giesler: "Elle n'a rien à dire si ce n'est que la demande de divorce est due à des divergences professionnelles."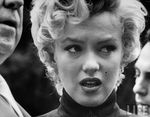 Un témoin décrit la scène et l'apparition de Marilyn comme digne d'un Oscar de la meilleure comédie. Il semble que Marilyn ait orchestré son attitude d'épouse déplorée, afin de gagner la sympathie du public. Bien qu'elle était sans doute affectée par le naufrage de son mariage, elle joue un peu la comédie, feintant de pleurer en se cachant derrière un mouchoir, pour montrer au public qu'elle n'était pas l'instigatrice du différend au sein du couple (Joe aurait voulu qu'elle stoppe sa carrière et Marilyn n'était pas prête à jouer les femmes au foyer). L'attitude violente de Joe et sa jalousie excessive ne seront bien évidemment pas mentionnées aux médias.
Après la conférence de presse, Marilyn quitte la maison dans la voiture de son avocat et se rend aux studios de la Fox où elle devait terminer des scènes de The Seven Year Itch. Elle rentrera chez elle quelques heures plus tard. On raconte qu'elle téléphonait à Joe tous les soirs.
> Bruno Bernard immortalise le point culminant de cette scène dramatique
par ces photographies d'une Marilyn tenant un mouchoir dans sa main.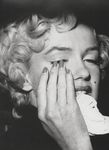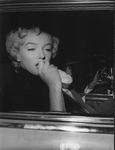 Beaucoup s'interrogèrent sur les raisons de la faillite du mariage, après seulement neuf mois d'union, de ce couple si bien assorti. Marilyn dira plus tard: "C'était une sorte d'amitié, cinglée et difficile, avec quelques avantages sexuels. Plus tard, j'ai appris que c'était souvent le lot de tout mariage".
---
---
>> Video

---
---
Le lendemain, le 7 octobre 1954, Marilyn tourne les scènes en pyjama rose dans The Seven Year Itch, une des scènes comiques du film. Quand à Joe DiMaggio, il tient une conférence de presse à San Francisco, où il est parti s'installer, dans sa maison près de la plage; il refuse de commenter la séparation d'avec Marilyn et déclare simplement vouloir prendre un long repos.
---
>> sources:
Livre Marilyn Monroe Les inédits de Marie Clayton
Livre Marilyn Monroe et les caméras
Captures à partir de cette video youtube