22 janvier 2023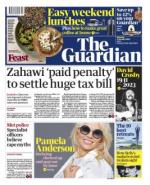 The Guardian

pays: USA
quotidien du 21 janvier 2023
En couverture: Pamela Anderson - elle se met dans la peau de Marilyn Monroe façon "Last Sitting" de Bert Stern pour une séance photos de Dylan Coulter

---
'If I'd had a therapist, do you think any of this would have happened?': Pamela Anderson on being chewed up and spat out by fame
> en ligne sur theguardian.com
extracts on Marilyn Monroe-
She went from small-town Canada to becoming the Marilyn Monroe of the 90s – bearing the brunt of that decade's cruel misogyny in the process. Finally the Baywatch star is ready to tell her own story
by Charlotte Edwardes
(...) The hair is instantly recognisable ("Scandinavian Blonde $5 box"), though a little warmer than the lightning flash of Baywatch days. The voice has the soft buoyancy of Marilyn Monroe – who she references in our photoshoot – and there's that toughness, undercut with wit and a mischievous vulnerability that reminds me somehow of Dolly Parton. The forerunners for her Baywatch look were Brigitte Bardot, Jayne Mansfield, Jean Harlow; it's the male fantasy prototype that stretches back to Botticelli's Venus, with her prodigious hair, pert boobs and oyster shell. Anderson took the cat's eyes, pencil brows and the Marie Antionette hair-stack and gave it some extra fire: something ravenous, uncut and peculiarly 1990s. Her story is about love addiction, sure, but also of living on the frontline of that era. (...)
---
"Si j'avais eu un thérapeute, pensez-vous que tout cela serait arrivé?": Pamela Anderson sur le fait d'avoir été mâchée et recrachée par la célébrité
extraits sur Marilyn Monroe -
Elle est partie d'une petite ville du Canada pour devenir la Marilyn Monroe des années 90 - portant le poids de la misogynie cruelle de cette décennie pendant son processus. Enfin, la star d'Alerte à Malibu est prête à raconter sa propre histoire
par Charlotte Edwardes
(...) Les cheveux sont immédiatement reconnaissables («Blond Scandinave 5 Dollars la boîte»), bien qu'un peu plus chauds que l'éclair des jours d'Alerte à Malibu. La voix a la douce flottabilité de Marilyn Monroe – à qui elle fait référence dans notre séance photo – et il y a cette ténacité, sapée d'esprit et une vulnérabilité espiègle qui me rappelle en quelque sorte Dolly Parton. Les précurseurs de son look Alerte à Malibu étaient Brigitte Bardot, Jayne Mansfield, Jean Harlow; c'est le prototype de la fantaisie masculine qui remonte à la Vénus de Botticelli, avec ses cheveux prodigieux, ses seins coquins et sa coquille d'huître. Anderson a pris les yeux du chat, les sourcils au crayon et la pile de cheveux de Marie Antoinette et lui a donné un peu plus de feu : quelque chose de vorace, non coupé et particuliers aux années 1990. Son histoire parle de la dépendance à l'amour, bien sûr, mais aussi de la vie en première ligne de cette époque. (...)
---
Séance photos
Photographe © Dylan Coulter.
Styling: Alison Edmond.
Hair: Sara Tintari.
Makeup: Eileen Madrid.
Dress: Maggie Marilyn.

---
© All images are copyright and protected by their respective owners, assignees or others.
copyright text The Guardian
02 juin 2011
L'actrice et playmate Pamela Anderson posait comme les photographies de Marilyn Monroe prises par Tom Kelley (photo ci-contre), sur des draps de satin rouge, en 1991 pour la couverture du magazine Playboy. (magazine édition américaine en février 1991, et magazine édition espagnole en octobre 1996).
Enregistrer