29 décembre 2015
---
Andre De Dienes
---
Lot 478 MARILYN MONROE VINTAGE PHOTOGRAPH BY ANDRE de DIENES
A black and white silver gelatin print of Marilyn Monroe taken by Andre de Dienes in 1945. Hand printed by de Dienes on double-weight paper and stamped by the photographer twice on verso.
20 by 16 inches
Winning bid:$512 - Estimate: $400 - $600

---
Lot 479 MARILYN MONROE VINTAGE PHOTOGRAPH BY ANDRE de DIENES
A black and white silver gelatin print of Marilyn Monroe taken by Andre de Dienes in 1946. Hand printed by de Dienes on double-weight paper and stamped by the photographer on verso.
20 by 16 inches
Winning bid:$896 - Estimate: $400 - $600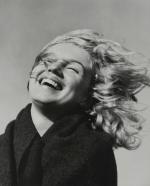 ---
Lot 480 MARILYN MONROE VINTAGE PHOTOGRAPH BY ANDRE de DIENES
A black and white silver gelatin print of Marilyn Monroe taken by Andre de Dienes in 1949. Hand printed by de Dienes on double-weight paper and stamped by the photographer twice on verso.
17 by 16 inches
Winning bid:$750 - Estimate: $400 - $600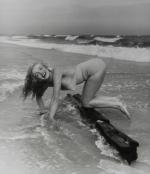 ---
Lot 481 MARILYN MONROE VINTAGE PHOTOGRAPH BY ANDRE de DIENES
A black and white silver gelatin print of Marilyn Monroe taken by Andre de Dienes in 1949. Hand printed by de Dienes on double-weight paper and stamped by the photographer twice on verso.
20 by 16 inches
Winning bid:$384 - Estimate: $400 - $600

---
Lot 482 MARILYN MONROE VINTAGE PHOTOGRAPH BY ANDRE de DIENES
A black and white silver gelatin print of Marilyn Monroe taken by Andre de Dienes in 1949. Hand printed by de Dienes on double-weight paper and stamped by the photographer on verso. Additionally handwritten on verso is "17/67 given to [illegible] Shirley de Dienes 11-18-86."
20 by 16 inches
Winning bid:$384 - Estimate: $400 - $600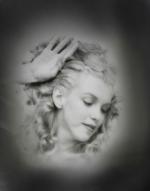 ---
Lot 483 MARILYN MONROE VINTAGE PHOTOGRAPH BY ANDRE de DIENES
A black and white silver gelatin print of Marilyn Monroe taken by Andre de Dienes in 1949. Hand printed by de Dienes on double-weight paper and stamped by the photographer twice on verso. Additionally inscribed on verso "25/67 given to Chad Lewis Shirley de Dienes 11-18-86."
20 by 16 inches
Winning bid:$384 - Estimate: $400 - $600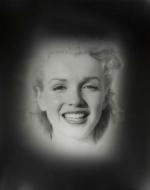 ---
Lot 484 MARILYN MONROE VINTAGE PHOTOGRAPH BY ANDRE de DIENES
A black and white silver gelatin print of Marilyn Monroe taken by Andre de Dienes in 1949. Hand printed by de Dienes on double-weight paper and stamped by the photographer twice on verso.
20 by 16 inches
Winning bid:$576 - Estimate: $400 - $600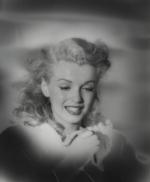 ---
Lot 485 MARILYN MONROE VINTAGE PHOTOGRAPH BY ANDRE de DIENES
A black and white silver gelatin print of Marilyn Monroe taken by Andre de Dienes in 1953. Hand printed by de Dienes on double-weight paper and stamped by the photographer twice on verso.
20 by 16 inches
Winning bid:$1,024 - Estimate: $400 - $600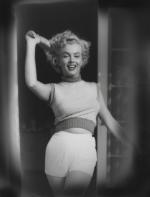 ---
Lot 486 MARILYN MONROE VINTAGE PHOTOGRAPH BY ANDRE de DIENES
A black and white silver gelatin print of Marilyn Monroe taken by Andre de Dienes in 1953. Hand printed by de Dienes on double-weight paper and stamped by the photographer twice on verso.
20 by 16 inches
Winning bid:$1,024 - Estimate: $400 - $600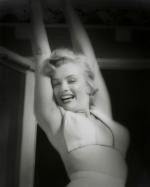 ---
Lot 487 MARILYN MONROE VINTAGE PHOTOGRAPH BY ANDRE de DIENES
A black and white silver gelatin print of Marilyn Monroe taken by Andre de Dienes in 1953. Hand printed by de Dienes on double-weight paper and stamped by the photographer twice on verso.
20 by 16 inches
Winning bid:$640 - Estimate: $400 - $600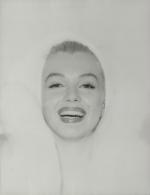 ---
Bruno Bernard
---
Lot 502 MARILYN MONROE BERNARD OF HOLLYWOOD PHOTOGRAPH
A limited edition color photograph of Marilyn Monroe titled "Valentine Heart" taken by Bruno Bernard circa 1946. Numbered 16/90 and signed by The Estate of Bruno Bernard in the lower margin.
20 by 16 inches
PROVENANCE From the Estate of Bruno Bernard
unsold - Estimate: $3,000 - $4,000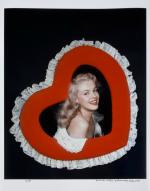 ---
Lot 503 MARILYN MONROE BERNARD OF HOLLYWOOD PHOTOGRAPH
A limited edition color photograph of Marilyn Monroe titled "Sailor Girl" taken by Bruno Bernard circa 1946. Numbered 16/90 and signed by The Estate of Bruno Bernard in the lower margin.
20 by 16 inches
PROVENANCE From the Estate of Bruno Bernard
unsold - Estimate: $3,000 - $4,000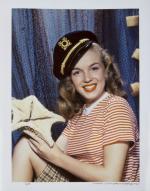 ---
Lot 504 MARILYN MONROE BERNARD OF HOLLYWOOD PHOTOGRAPH
A limited edition color photograph of Marilyn Monroe titled "My Girl Friday" taken by Bruno Bernard circa 1946. Numbered 16/90 and signed by The Estate of Bruno Bernard in the lower margin.
20 by 16 inches
PROVENANCE From the Estate of Bruno Bernard
unsold - Estimate: $3,000 - $4,000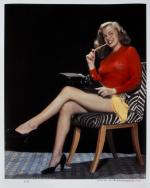 ---
Lot 505 MARILYN MONROE BRUNO BERNARD SIGNED ORIGINAL VINTAGE PHOTOGRAPH
An original vintage black and white pin-up photograph of Marilyn Monroe taken by Bruno Bernard circa 1946. Signed on verso "Bernard of Hollywood."
10 by 8 inches
PROVENANCE From the Estate of Bruno Bernard
unsold - Estimate: $6,000 - $8,000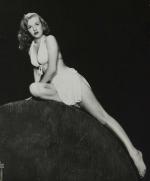 ---
Lot 510 MARILYN MONROE BERNARD OF HOLLYWOOD PHOTOGRAPH
A limited edition black and white photograph of Marilyn Monroe titled "Poolside" taken by Bruno Bernard circa 1949. Numbered 16/90 and signed by The Estate of Bruno Bernard in the lower margin.
20 by 16 inches
PROVENANCE From the Estate of Bruno Bernard
Winning bid:$4,062.50 - Estimate: $3,000 - $4,000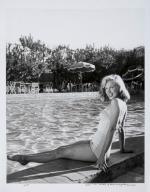 ---
Lot 511 MARILYN MONROE BRUNO BERNARD SIGNED ORIGINAL VINTAGE PHOTOGRAPH
An original vintage black and white photograph of Marilyn Monroe signing autographs taken by Bruno Bernard circa 1954. Signed on verso "Bernard of Hollywood."
11 by 14 inches
PROVENANCE From the Estate of Bruno Bernard
unsold - Estimate: $6,000 - $8,000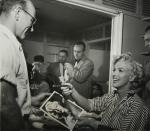 ---
Lot 512 MARILYN MONROE BERNARD OF HOLLYWOOD PHOTOGRAPH
A limited edition black and white photograph of Marilyn Monroe wearing a costume dress from her film Gentlemen Prefer Blondes (20th Century, 1953) taken by Bruno Bernard circa 1953. Numbered 16/90 and signed by The Estate of Bruno Bernard in the lower margin.
20 by 16 inches
PROVENANCE From the Estate of Bruno Bernard
unsold - Estimate: $3,000 - $4,000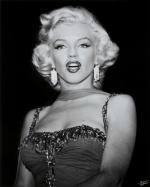 ---
Lot 513 MARILYN MONROE BRUNO BERNARD SIGNED ORIGINAL VINTAGE PHOTOGRAPH
An original vintage black and white photograph of Marilyn Monroe on the set of The Seven Year Itch (20th Century, 1955) taken by Bruno Bernard circa 1954. Signed on verso "Bernard of Hollywood" and contained in a brown Bernard of Hollywood folder.
14 by 11 inches
PROVENANCE From the Estate of Bruno Bernard
Winning bid:$12,500 - Estimate: $10,000 - $20,000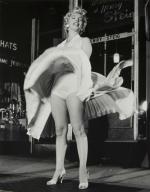 ---
Lot 514 MARILYN MONROE BERNARD OF HOLLYWOOD PHOTOGRAPH
A limited edition color photograph of Marilyn Monroe wearing the famous white dress from her film The Seven Year Itch (20th Century, 1955) taken by Bruno Bernard circa 1954. Numbered 16/50 and signed by The Estate of Bruno Bernard in the lower margin.
24 by 20 inches
PROVENANCE From the Estate of Bruno Bernard
unsold - Estimate: $3,000 - $5,000

---
George Barris
---
Lot 537 MARILYN MONROE GEORGE BARRIS PHOTOGRAPHS
A pair of black and white photographs of Marilyn Monroe taken by George Barris. Each photograph is signed by Barris. One of the photographs is stamped "© 1987 George Barris/ Marilyn Monroe/ Weston Editions LTD./ All Rights Reserved," and both photographs are stamped "The Private Collection of Kim Goodwin."
Winning bid:$448 - Estimate: $600 - $800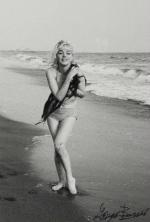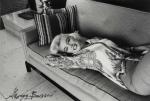 ---
Lot 538 MARILYN MONROE GEORGE BARRIS PHOTOGRAPH
A black and white photograph of Marilyn Monroe taken by George Barris in the summer of 1962. Signed by the photographer at lower right and stamped "The Kim Goodwin Collection" on verso.
Winning bid:$250 - Estimate: $800 - $1,200

---
Lot 539 MARILYN MONROE GEORGE BARRIS LAST PHOTOGRAPHS PORTFOLIO
A folder containing eight color prints of George Barris' photographs of Marilyn Monroe. White folder reads on the cover "Marilyn Monroe/ 25th/ The Last Photos." Interior left of folder reads "Limited Edition/ Original Photographs by/ George Barris." Interior right of folder reads "As seen in/ 'Marilyn' Norma Jeane/ text by Gloria Steinem." Accompanied by a card that gives the edition number as 74/99. Each photograph is signed by Barris and stamped on verso "Copyright 1987/ Marilyn Monroe/ Weston Editions LTD." The photographs are additionally stamped "The Private Collection of Kim Goodwin."
Photographs, 10 by 8 inches; Folder, 10 1/2 by 9 inches
Winning bid:$2,240 - Estimate: $1,000 - $2,000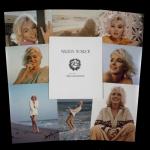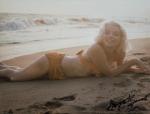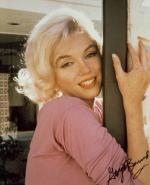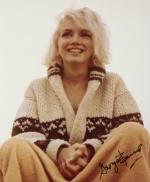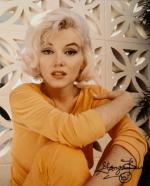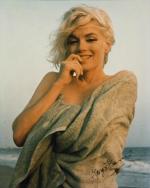 ---
Photos Diverses
---
Lot 19 JOAN COLLINS TWO FRAMED POSTERS
The first, titled "Marilyn Monroe as Jean Harlow," is from a series of photographs photographer Richard Avedon produced with Marilyn Monroe, signed by Avedon. Other photographs from the series show Monroe dressed as actresses Lillian Russell, Marlene Dietrich, Theda Bara, and Clara Bow. The second, an Erte exhibition poster from 1972.
Larger, 32 by 24 1/4 inches
Winning bid:$640 - Estimate: $200 - $300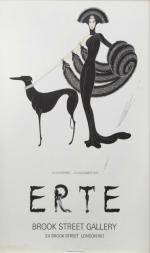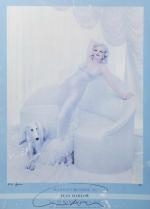 ---
Lot 488 MARILYN MONROE ARCHIVE OF PHOTOGRAPHS BY JOSEPH JASGUR
An archive of photographs of Marilyn Monroe taken by Joseph Jasgur in 1946. The photographs were taken of a 19-year-old Norma Jeane Dougherty, before she was Marilyn Monroe. Taken in Los Angeles for Blue Book Modeling Agency, these photographs comprise one of Monroe's first modeling portfolios. It was this portfolio she presented to Ben Lyon, the casting director at 20th Century Fox who signed her to the studio and shortly after changed her name. Jasgur's images of Norma Jeane Dougherty mark the beginning of her career and offer us a unique glimpse of Marilyn Monroe, before she was Marilyn.
All prints in this lot are from these early photoshoots and are directly from the estate of Joseph Jasgur. Included in the archive are approximately 400 color and black and white later prints, size 11 by 14 inches; approximately 120 black and white gelatin silver prints, size 8 by 10 inches; approximately 10 black and white gelatin silver prints, size 11 by 14 inches; some oversize prints, contact prints, and a wooden camera tripod used by Jasgur. Some prints are signed or stamped by the photographer, others are not. Print dates vary. Condition varies.
Sizes vary
PROVENANCE From the Estate of Joseph Jasgur
Winning bid:$8,320 - Estimate: $600 - $800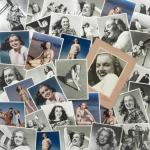 ---
Lot 489 MARILYN MONROE JOSEPH JASGUR NEGATIVE AND COPYRIGHT
One Joseph Jasgur black and white negative of Marilyn Monroe taken in 1946. Copyrights to this image will be transferred to the winning bidder.
5 by 4 inches
Winning bid:$1,280 - Estimate: $1,000 - $1,500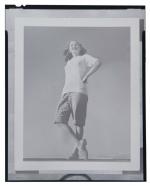 ---
Lot 490 MARILYN MONROE JOSEPH JASGUR NEGATIVES AND COPYRIGHT
Two Joseph Jasgur black and white negatives of Marilyn Monroe taken in 1946. Copyrights to this image will be transferred to the winning bidder. Accompanied by a photograph of the image, printed 2000-2001.
Negatives, 5 by 4 inches; Photograph, 14 by 11 inches
Winning bid:$384 - Estimate: $1,000 - $2,000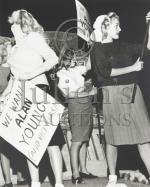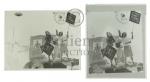 ---
Lot 491 MARILYN MONROE FAMILY PHOTOGRAPH
An original vintage black and white photograph of Marilyn Monroe circa 1946, with her half sister Berniece Baker Miracle, her mother Gladys, and her niece Mona Rae. Originally from the collection of Eleanor Goddard.
3 1/2 by 2 1/2 inches
PROVENANCE Lot 84, "Julien's Autumn Sale," Julien's, Las Vegas, October 29, 2005
Winning bid:$875 - Estimate: $400 - $600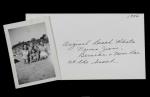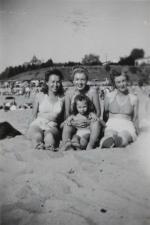 ---
Lot 492 MARILYN MONROE INSCRIBED JIM DOUGHERTY PHOTOGRAPH
A pair of original vintage photographs of Marilyn Monroe's first husband, Jim Dougherty. The first is a passport style portrait, and the second shows Dougherty sleeping on the beach and is inscribed on the back in Monroe's hand "(zzz.....zzz) Jimmie sound asleep." Originally from the collection of Eleanor Goddard.
Larger, 3 3/4 by 4 3/4 inches
PROVENANCE Lot 80, "Julien's Autumn Sale," Julien's, Las Vegas, October 29, 2005
Winning bid:$750 - Estimate: $400 - $600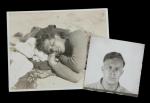 ---
Lot 496 MARILYN MONROE TOM KELLEY SIGNED PHOTOGRAPH
A large-format nude photograph of Marilyn Monroe printed from an image taken by Tom Kelley in 1949 during his famous photoshoot with Monroe. Numbered 146 of 300 to the lower left and signed by Tom Kelley to the lower right. Includes certificate of authenticity from Mirage Editions.
44 by 36 inches, framed
PROVENANCE From the Collection of James Heeren
Winning bid:$1,562.50 - Estimate: $1,000 - $2,000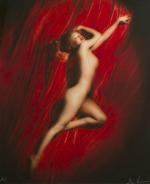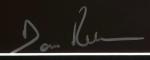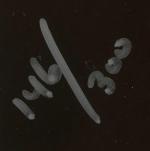 ---
Lot 497 MARILYN MONROE HUGH HEFNER SIGNED EARL MORAN PHOTOGRAPH
A black and white photograph of Marilyn Monroe posing topless, originally taken by pin-up artist Earl Moran. Numbered 1 of 75 and signed by Playboy founder Hugh Hefner to the lower left. Embossed with the Playboy Legacy Collection logo to the lower right.
Winning bid:$6,400 - Estimate: $1,000 - $2,000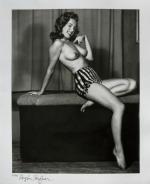 ---
Lot 498 MARILYN MONROE EARL MORAN PHOTOGRAPH
A black and white photograph of Marilyn Monroe posing topless, originally taken by pin-up artist Earl Moran. Numbered 5 of 75 to the lower left and embossed with the Playboy Legacy Collection logo to the lower right. Housed in a cloth-bound clamshell box with gilt titling and includes a Playboy certificate of authenticity.
24 by 20 inches
Winning bid:$2,187.50 - Estimate: $1,000 - $2,000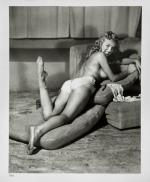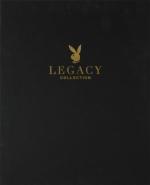 ---
Lot 499 MARILYN MONROE HUGH HEFNER SIGNED PHOTOGRAPH
A large-format nude photograph of Marilyn Monroe printed from an image taken by Tom Kelley in 1949. This is the iconic Marilyn pose used in the first issue of Playboy magazine. Numbered 171 of 300 to the lower left and signed by Playboy founder Hugh Hefner to the lower right. Includes certificate of authenticity from Light Signatures.
42 by 34 inches, framed
Winning bid:$2,187.50 - Estimate: $1,000 - $2,000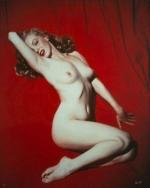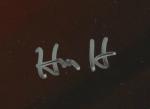 ---
Lot 500 MARILYN MONROE FRANK WORTH PHOTOGRAPH
A large-format gelatin silver photograph of Marilyn Monroe posing in her dress from the film How to Marry a Millionaire (20th Century Fox, 1953) printed from a negative created by Frank Worth. Numbered 9 of 95 to the lower left and embossed by the Frank Worth Estate. Includes cloth-bound clamshell box with gilt-stamped titling and a certificate of authenticity from the Frank Worth Estate.
25 3/4 by 21 3/4 by 1 3/4 inches
PROVENANCE From the Collection of James Heeren
Winning bid:$768 - Estimate: $800 - $1,200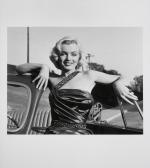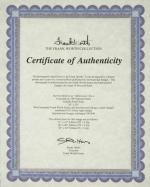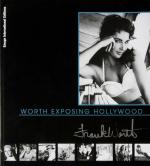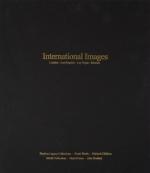 ---
Lot 517 MARILYN MONROE EARL LEAF CONTACT SHEET
A contact sheet containing eight vintage black and white images of Marilyn Monroe taken by Earl Leaf. They were taken at the home of talent agent Johnny Hyde, where Monroe occasionally lived, on May 17, 1950. The images are attached to a sheet of cardstock with numerous notations, including the date the photographs were taken and Monroe's name; stamped at the bottom left with the photographer's stamp.
EXHIBITED Etherton Gallery, Tucson, Arizona, "Marilyn Monroe Collection," Number 46
10 by 8 inches
Winning bid:$2,187.50 - Estimate: $800 - $1,200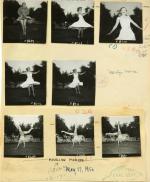 ---
Lot 519 MARILYN MONROE ORIGINAL 1954 SLIDES
A group of 12 original vintage color slides showing Marilyn Monroe entertaining members of the United States military in Korea in 1954. Accompanied by a printed mage of each slide and two additional slides showing other performers that do not include Monroe.
This item sold with copyright but is not sold with copyright documentation. It is the responsibility of the winning bidder to apply for copyright. While the seller confirms that this property is sold with copyright, Julien's can accept no liability in relation to any matters arising as a result of any imperfection in copyright given .
2 by 2 inches, each
PROVENANCE Lot 135, "Entertainment Memorabilia," Christie's, New York, Sale number 8525, July 19, 2001
Winning bid:$2,240 - Estimate: $4,000 - $6,000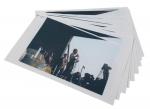 ---
Lot 520 MARILYN MONROE 1954 NEGATIVES
A pair of black and white negatives of Marilyn Monroe taken in 1954 while the actress was entertaining troops in Korea on a break from her honeymoon with Joe DiMaggio.
This item is sold with copyright but is not sold with copyright documentation. It is the responsibility of the winning bidder to apply for copyright. While the seller confirms that this property is sold with copyright, Julien's can accept no liability in relation to any matters arising as a result of any imperfection in copyright given.
Strip of negatives, 4 1/2 by 1 3/8 inches
Winning bid:$768 - Estimate: $1,000 - $2,000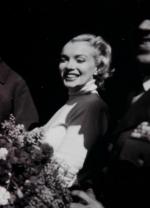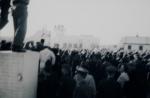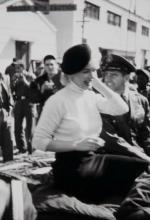 ---
Lot 523 MARILYN MONROE EVE ARNOLD PHOTOGRAPH
A color photograph of Marilyn Monroe taken by Eve Arnold. The image shows Monroe in a one-piece leopard print swimsuit lying in a marsh, taken circa 1955. The photograph is affixed to a board. Some handwritten markings on verso and stamped "The Kim Goodwin Collection."
15 1/2 by 19 1/2 inches
Winning bid:$768 - Estimate: $1,000 - $2,000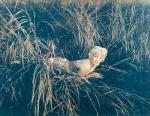 ---
Lot 524 MARILYN MONROE AND MARLON BRANDO DIGITAL PRINTS
A group of eight digital prints of Marilyn Monroe and Marlon Brando taken by Milton Greene in November 1955. The photographs were used to publicize a performance of The Rose Tattoo to benefit The Actors Studio. A paper label is affixed to the back of each image from the Milton H. Greene Collection.
Each, 19 by 13 inches
Winning bid:$1,920 - Estimate: $600 - $800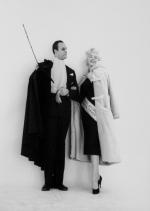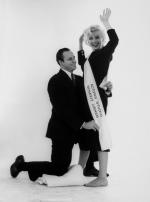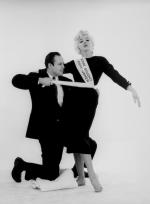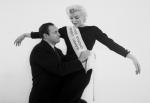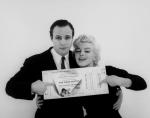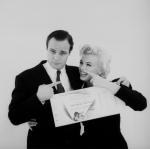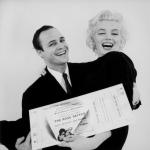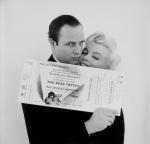 ---
Lot 526 MARILYN MONROE CECIL BEATON PHOTOGRAPH
A black and white photograph of Marilyn Monroe taken by Cecil Beaton in 1956. The photograph, from Monroe's personal archive, is mounted to board and contained in a brown folder.
Photograph, 9 by 9 1/4 inches; 16 by 14 1/2 inches, overall
PROVENANCE From the Lost Archive of Marilyn Monroe
Winning bid:$2,187.50 - Estimate: $1,000 - $2,000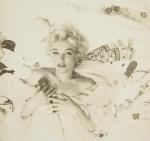 ---
Lot 527 MARILYN MONROE VINTAGE PHOTOGRAPH
A Marilyn Monroe vintage portrait publicity photograph from her personal collection.
10 by 8 inches
PROVENANCE From the Lost Archive of Marilyn Monroe
Winning bid:$576 - Estimate: $600 - $800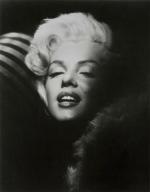 ---
Lot 528 MARILYN MONROE AND ARTHUR MILLER VINTAGE PHOTOGRAPH
A Marilyn Monroe and Arthur Miller black and white vintage original photograph. Taken by Paul Schumach at the premiere of Some Like It Hot (USA, 1959). Photographer stamp on verso.
10 by 8 inches
PROVENANCE From the Lost Archive of Marilyn Monroe
Winning bid:$896 - Estimate: $600 - $800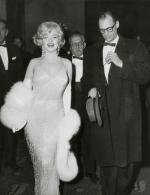 ---
Lot 530 MARILYN MONROE CANDID PHOTOGRAPHS
A group of nine vintage candid snapshots of Marilyn Monroe. Eight images are in color and one is black and white. Three of the images show Monroe and husband Arthur Miller at the premiere of Some Like It Hot (UA, 1959). Eight of the nine images were sold together as a lot in a previous Christie's auction.
Largest, 5 1/4 by 3 1/2 inches
PROVENANCE Partial Lot 15, "Entertainment Memorabilia," Christie's, New York, Sale number 8609, November 19, 2001
Winning bid:$1,250 - Estimate: $1,000 - $2,000

---
Lot 540 MARILYN MONROE DOUGLAS KIRKLAND PHOTOGRAPH
A color photograph of Marilyn Monroe taken by Douglas Kirkland on November 17, 1961, on assignment for Look magazine. Signed by Kirkland and numbered 17/49 at lower right.
20 by 16 inches
Winning bid:$1,920 - Estimate: $600 - $800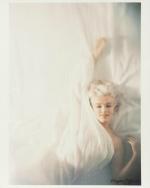 ---
Lot 541 MARILYN MONROE MILTON GREENE SILKSCREEN PRINT
A limited edition silkscreen print of a Milton Greene photograph of Marilyn Monroe taken during the "Black Sitting" photo session in New York in 1956. Numbered 85/300 and signed by Greene at lower right.
Winning bid:$750 - Estimate: $600 - $800

---
Lot 542 MARILYN MONROE BILL RAY PHOTOGRAPH
A black and white photograph of Marilyn Monroe at the May 19, 1962, birthday celebration of President John F. Kennedy, taken by Bill Ray. The photograph is inscribed at the lower margin "To Kim, With Best Wishes, Bill Ray 1982." Stamped "Kim Goodwin" on verso.
Winning bid:$640 - Estimate: $1,000 - $2,000

14 novembre 2014
---
Photographies
---
Lot 692: MARILYN MONROE SIGNED 1941 SCHOOL PHOTOGRAPH
A Marilyn Monroe signed vintage original 1941 panoramic photograph from Ralph Waldo Emerson Jr. High School. Monroe can be seen in the seventh row from the bottom and the 15th person from the right. Inscribed by the future Marilyn Monroe, among other classmates, on verso, "To a swell, nice & perfect girl Norma Jeane Baker" with "41" possibly written below her name. The image was originally owned by Norma Jeane's classmate, Joan Boggs, to whom the inscriptions are written.
8 by 24 3/4 inches
Winning bid:$2,560 - Estimate: $2,000 - $4,000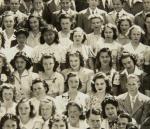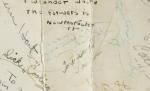 ---
Lot 693: GINGER ROGERS INSCRIBED PHOTOGRAPH TO NORMA JEANE BAKER
A vintage black and white RKO studio publicity photograph of Ginger Rogers inscribed, "To Norma Jean Baker Sincerely Ginger Rogers 1937." In 1937 the eleven-year old Norma Jean was living with Grace McGee, a friend of Monroe's mother and a film cutter at RKO. It is possible that McGee arranged for the signing of this photograph for the young Marilyn Monroe. Monroe went on to co-star with Rogers in Monkey Business (20th Century Fox, 1952) fifteen years after this photograph was signed.
10 by 8 inches
Winning bid:$1,920 - Estimate: $800 - $1,200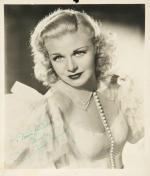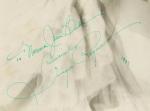 ---
Lot 694: MARILYN MONROE WEDDING IMAGE SIGNED BY JAMES DOUGHERTY
An image of Marilyn Monroe on her wedding day with first husband James Dougherty taken from a book. Inscribed and signed by Dougherty in blue ink. Attached to three other book pages of letters written by Monroe to Grace Goodard. This image can be found in the biography Marilyn: The Passion and the Paradox by Lois Banner (New York: Bloomsbury, 2012).
PROVENANCE From the Collection of Lois Banner
11 1/4 by 8 1/2 inches
Winning bid:$448 - Estimate: $200 - $300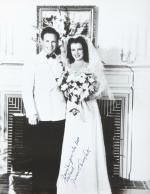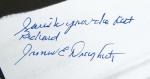 ---
Lot 710: MARILYN MONROE AND JOE KIRKWOOD PHOTOGRAPH
A black and white original vintage photograph of Marilyn Monroe with actor and golfer Joe Kirkwood Jr. marked on verso in pencil with the actress and actors' names. This image can be found in the biography Marilyn: The Passion and the Paradox by Lois Banner (New York: Bloomsbury, 2012).
PROVENANCE From the Collection of Lois Banner
4 by 5 inches
Winning bid:$375 - Estimate: $300 - $500

---
Lot 711: MARILYN MONROE ORIGINAL 1948 FOX STUDIOS PERFORMANCE PHOTOGRAPHS
A collection of five black and white original vintage photographs showing Marilyn Monroe in the Fox Studios employee stage show "Strictly for Kicks" in 1948. Accompanied by two copies of the April 1948 "Action" newsletter featuring an article on the production that includes photographs and mentions of Monroe. One of the photographs can be seen in the biography Marilyn: The Passion and the Paradox by Lois Banner (New York: Bloomsbury, 2012).
PROVENANCE From the Collection of Lois Banner
5 by 4 inches
Winning bid:$1,024 - Estimate: $500 - $700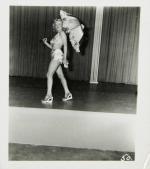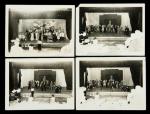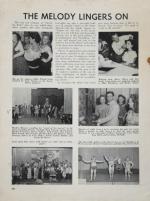 ---
Lot 713: MARILYN MONROE VINTAGE PHOTOGRAPH
A Marilyn Monroe vintage original photograph taken by Frank Powolny circa 1950.
PROVENANCE From the lost archive of Marilyn Monroe
10 by 8 inches
Winning bid:$768 - Estimate: $400 - $600

---
Lot 714: MARILYN MONROE LASZLO WILLINGER VINTAGE PHOTOGRAPH
A Marilyn Monroe vintage original black and white publicity photograph taken by Laszlo Willinger for the film All About Eve (20th Century, 1950).
PROVENANCE From the lost archive of Marilyn Monroe
10 by 8 inches
Winning bid:$4,062.50 - Estimate: $400 - $600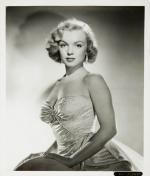 ---
Lot 716: MARILYN MONROE 1951 PHOTOGRAPH
A Marilyn Monroe vintage original photograph taken by Phil Burchman circa 1951. Believed to be taken for 20th Century Fox publicity photographs. Marked at lower right "F999-S-259."
PROVENANCE From the lost archive of Marilyn Monroe
5 by 4 inches
Winning bid:$768 - Estimate: $300 - $500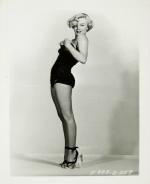 ---
Lot 717: MARILYN MONROE VINTAGE PHOTOGRAPH
A Marilyn Monroe vintage original black and white photograph circa 1950.
PROVENANCE From the lost archive of Marilyn Monroe
10 by 8 inches
Winning bid:$640 - Estimate: $400 - $600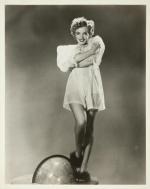 ---
Lot 719: MARILYN MONROE VINTAGE PUBLICITY IMAGE
A black and white publicity image of Marilyn Monroe taken by Frank Powolny and used to publicize the film How to Marry a Millionaire (20th Century, 1953). The image is spuriously stamped on the back as being copyrighted by Robert F. Slatzer.
9 1/2 by 8 inches
Winning bid:$1,562.50 - Estimate: $400 - $600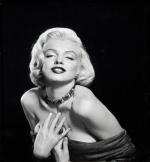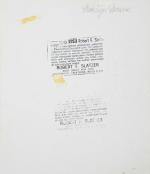 ---
Lot 721: MARILYN MONROE VINTAGE PHOTOGRAPH
A Marilyn Monroe vintage black and white photograph.
PROVENANCE From the lost archive of Marilyn Monroe
10 by 8 inches
Winning bid:$2,812.50 - Estimate: $400 - $600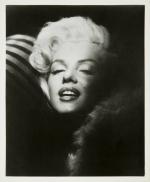 ---
Lot 724: MARILYN MONROE CAMEL COAT SITTING PHOTOGRAPHS
A pair of vintage photographs of Marilyn Monroe taken by Milton Greene in 1953. Each stamped on verso "Reproduction Forbidden."
PROVENANCE From the lost archive of Marilyn Monroe
7 by 5 inches
Winning bid:$1,875 - Estimate: $400 - $600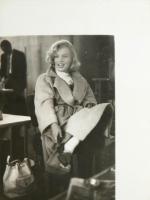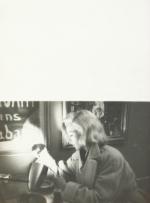 ---
Lot 726: MARILYN MONROE PUBLICITY PHOTOGRAPH
A Marilyn Monroe vintage studio publicity photograph for the film How To Marry a Millionaire (20th Century, 1953).
PROVENANCE From the lost archive of Marilyn Monroe
10 by 8 inches
Winning bid:$1,600 - Estimate: $400 - $600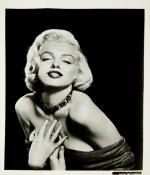 ---
Lot 729: MARILYN MONROE GENTLEMEN PREFER BLONDES PUBLICITY IMAGE
A Marilyn Monroe vintage black and white studio publicity photograph for the film Gentlemen Prefer Blondes (20th Century, 1953).
PROVENANCE From the lost archive of Marilyn Monroe
10 by 8 inches
Winning bid: $576 - Estimate: $200 - $400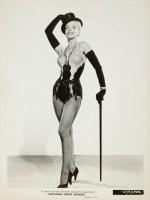 ---
Lot 730: MARILYN MONROE GENTLEMEN PREFER BLONDES PUBLICITY IMAGE
A Marilyn Monroe vintage black and white studio publicity photograph for the film Gentlemen Prefer Blondes (20th Century, 1953).
PROVENANCE From the lost archive of Marilyn Monroe
10 by 8 inches
Winning bid: $448 - Estimate: $200 - $400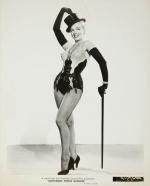 ---
Lot 740: JOE DiMAGGIO PUBLICITY PHOTOGRAPH
A vintage black and white image of Joe DiMaggio signing a baseball.
PROVENANCE From the lost archive of Marilyn Monroe
10 by 8 inches
Winning bid: $448 - Estimate: $150 - $300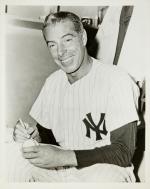 ---
Lot 741: MARILYN MONROE 1954 HONEYMOON PHOTOGRAPHS
A pair of vintage original black and white photographs of Marilyn Monroe in Japan while on her honeymoon with Joe DiMaggio in 1954. DiMaggio can be seen in partial profile in the lower left of one image.
PROVENANCE From the lost archive of Marilyn Monroe
4 1/4 by 6 inches
Winning bid: $384 - Estimate: $400 - $600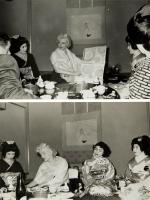 ---
Lot 742: MARILYN MONROE VINTAGE PHOTOGRAPHS
A group of three vintage original black and white photographs of Marilyn Monroe at the Honolulu International airport in Hawaii during her honeymoon with Joe DiMaggio in 1954. The photographs were taken by a photographer who was tipped off that Monroe and DiMaggio were waiting in a secluded area of the airport. He and a friend, who was stationed in Hawaii with the Navy, went to photograph the newlyweds. The photographer gave the photographs he could not use to the friend, who kept them in his photo book of his time during the war and later sold the photographs at auction. Presumably, these photographs were never released for print. Monroe's thumb is bandaged, and some have accused DiMaggio of inflicting the injury. One of the images can be found in the biography Marilyn: The Passion and the Paradox by Lois Banner (New York: Bloomsbury, 2012).
PROVENANCE From the Collection of Lois Banner
and Lot 766, "Hollywood Legends," Julien's Auctions, Las Vegas, June 26, 2010
Largest, 9 1/2 by 7 1/2 inches
Winning bid: $1,875 - Estimate: $300 - $500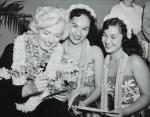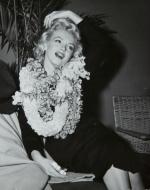 ---
Lot 744: MARILYN MONROE KOREA CONTACT SHEETS
A group of seven contact sheets and one half sheet from Marilyn Monroe's 1954 visit to Korea to entertain American troops. The black and white sheets show Monroe on stage, signing autographs, posing with servicemen, and behind a changing curtain in addition to images of the servicemen in the audience. Photographer unknown. Sheets marked on verso with numeric notations.
PROVENANCE From the lost archive of Marilyn Monroe
8 by 10 inches
Winning bid: $1,562.50 - Estimate: $600 - $800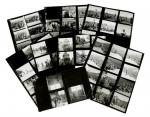 ---
Lot 745: MARILYN MONROE KOREA VISIT PHOTOGRAPHS
A group of four vintage original black and white photographs of Marilyn Monroe dining with troops in Korea in 1954. Also present is an image of a band performing on stage.
PROVENANCE From the lost archive of Marilyn Monroe
5 by 7 inches
Winning bid: $500 - Estimate: $400 - $600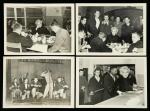 ---
Lot 746: MARILYN MONROE 1954 KOREA VISIT PHOTOGRAPHS
A group of four original vintage photographs of Marilyn Monroe visiting troops in Korea. Three show Monroe at servicemen's bedside. Each has carbon copied information snipes and credits on verso from the United States Signal Corps.
PROVENANCE From the lost archive of Marilyn Monroe
5 by 7 inches
Winning bid: $625 - Estimate: $400 - $600

---
Lot 751: MARILYN MONROE AND JOE DiMAGGIO PHOTOGRAPH CUT IN HALF
An original vintage photograph of Marilyn Monroe and Joe DiMaggio taken while on their honeymoon in Japan. The photograph has been cut in half directly between the couple.
PROVENANCE From the lost archive of Marilyn Monroe
Each half, 4 1/4 by 3 1/8 inches
Winning bid:$1,280 - Estimate: $600 - $800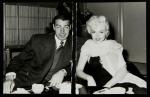 ---
Lot 756: MARILYN MONROE RIVER OF NO RETURN PHOTOGRAPHS
A pair of vintage candid images of Marilyn Monroe on the set of River of No Return (20th Century, 1954). Both images are believed to have been taken by Milton Greene; only one of the images bear his stamp on verso. Both photographs are stamped "Reproduction Forbidden."
PROVENANCE From the lost archive of Marilyn Monroe
7 by 5 inches
Winning bid:$576 - Estimate: $400 - $600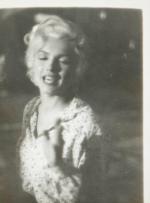 ---
Lot 762: MARILYN MONROE BEMENT CENTENNIAL RIBBON
A Marilyn Monroe beard contest judge ribbon and photograph from the 1955 Bement Centennial. The white ribbon with gold tone print reads "Bement/ Centennial/ Official/ 1855-1955." Cardstock affixed to the top of the ribbon reads "Marilyn Monroe." Accompanied by a vintage black and white photograph of Monroe at the event. Stamped on verso "News Gazette/ Photograph," with photocopies of articles about the event. Monroe attended the Centennial celebration and served as a judge in the beard contest, among other activities, after a resident assisted her in paying a hotel bill in exchange for her appearance. Originally from the estate of Peter Leonardi. The image can be found in the biography Marilyn : The Passion and the Paradox by Lois Banner (New York: Bloomsbury, 2012).
PROVENANCE From the Collection of Lois Banner
and Lot 718, "Julien's Summer Sale," Julien's Auctions, Las Vegas, June 26, 2009
Winning bid: $640 - Estimate: $600 - $800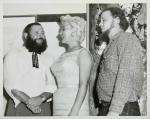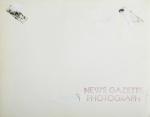 ---
Lot 765: MARILYN MONROE CECIL BEATON PHOTOGRAPH
A black and white vintage photograph of Marilyn Monroe taken by Cecil Beaton in 1956. The photograph is mounted to board.
PROVENANCE From the lost archive of Marilyn Monroe
9 by 9 inches
Winning bid: $3,840 - Estimate: $1,000 - $2,000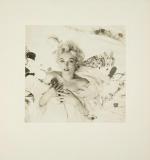 ---
Lot 766: MARILYN MONROE SECRETARIALLY SIGNED PHOTOGRAPH
A Marilyn Monroe secretarially signed photograph accompanied by transmittal envelope. It appears the photograph was mailed out from Marilyn Monroe Productions to Bogota, Columbia, and returned.
PROVENANCE From the lost archive of Marilyn Monroe
10 by 8 inches
Winning bid: $11,250 - Estimate: $200 - $400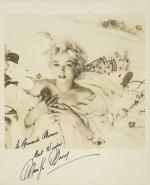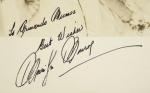 ---
Lot 772: MARILYN MONROE MILTON GREENE CONTACT SHEET
A contact sheet of 24 images of Marilyn Monroe taken by Milton Greene during a 1953 photoshoot on the Twentieth Century-Fox backlot. Monroe was shot by Greene preparing for the shoot (some images include Greene) and in a peasant costume worn by Jennifer Jones in Song of Bernadette (20th Century, 1943). Photographer's stamp and numeric note on verso.
PROVENANCE From the lost archive of Marilyn Monroe
8 by 10 inches
Winning bid: $896 - Estimate: $400 - $600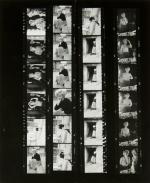 ---
Lot 780: MARILYN MONROE MILTON GREENE VINTAGE PHOTOGRAPH
An original vintage photograph of Marilyn Monroe taken by Milton Greene. Monroe is dressed as her character Chérie from the film Bus Stop (20th Century, 1956).
PROVENANCE From the lost archive of Marilyn Monroe
10 by 8 inches
Winning bid: $1,125 - Estimate: $400 - $600

---
Lot 781: MARILYN MONROE MILTON GREENE VINTAGE PHOTOGRAPH
An original vintage photograph of Marilyn Monroe taken by Milton Greene. Monroe is dressed as her character Chérie from the film Bus Stop (20th Century, 1956).
PROVENANCE From the lost archive of Marilyn Monroe
10 by 8 inches
Winning bid: $1,600 - Estimate: $400 - $600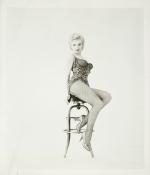 ---
Lot 782: MARILYN MONROE VINTAGE BUS STOP PHOTOGRAPH
A Marilyn Monroe vintage black and white photograph taken on the set of the film Bus Stop (20th Century, 1956).
PROVENANCE From the lost archive of Marilyn Monroe
10 by 8 inches
Winning bid: $1,024 - Estimate: $400 - $600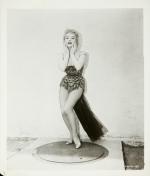 ---
Lots 787/788: MARILYN MONROE VINTAGE PHOTOGRAPH
A vintage photograph of Marilyn Monroe printed with two images of Monroe. Believed to have been taken by Sam Shaw circa 1958. The image shows Monroe in her New York apartment in front of her piano.
PROVENANCE From the lost archive of Marilyn Monroe
8 by 10 inches
Lot 787: Winning bid:$640 - Estimate: $200 - $400
Lot 788: Winning bid:$896 - Estimate: $300 - $500

---
Lot 789: MARILYN MONROE VINTAGE PHOTOGRAPHS
A pair of Marilyn Monroe vintage black and white photographs. One shows Monroe at a party. The other was taken on set and has a Milton Greene photography stamp on verso.
PROVENANCE From the lost archive of Marilyn Monroe
Largest, 8 by 10 inches
Winning bid:$896 - Estimate: $600 - $800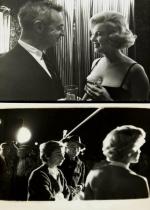 ---
Lot 797: ARTHUR MILLER PHOTOGRAPH BY DAN WEINER
An original vintage black and white photograph of Arthur Miller taken by Dan Weiner circa 1952. Stamped by the photographer on verso with handwritten notions that have been crossed out.
9 1/2 by 13 1/2 inches
Winning bid:$128 - Estimate: $200 - $400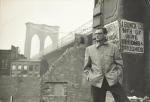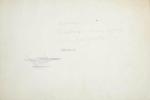 ---
Lot 805: ARTHUR MILLER VINTAGE PHOTOGRAPHS
A pair of vintage original black and white photographs of Arthur Miller. In one, Miller stands smiling next to a bicycle. Image marked on verso "Apr. 1955." The second is a professional photograph of Miller. Stamped with photographer Daniel Bernstein's stamp on verso.
PROVENANCE From the lost archive of Marilyn Monroe
7 by 5 inches
Winning bid:$128 - Estimate: $200 - $400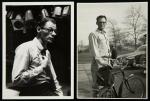 ---
Lot 812: MARILYN MONROE AND ARTHUR MILLER VINTAGE PHOTOGRAPH
A Marilyn Monroe and Arthur Miller black and white vintage original photograph. Taken by Paul Schumach at the premiere of Some Like It Hot (UA, 1959). Photographer stamp on verso.
PROVENANCE From the lost archive of Marilyn Monroe
10 by 8 inches
Winning bid:$3,125 - Estimate: $400 - $600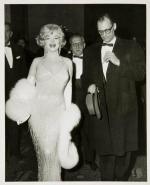 ---
Lot 814: MARILYN MONROE MILTON GREENE CONTACT SHEETS
A collection of approximately five vintage contact prints of photographs taken by Milton Greene featuring Marilyn Monroe and Laurence Olivier at a press conference for the film The Prince and The Showgirl (Warner Bros., 1957) and Monroe with Marlon Brando at the premiere of the film The Rose Tattoo (Paramount, 1955). Also includes a contact sheet with images of an event where Sammy Davis Jr. was performing live.
Largest, 10 by 8 inches
Winning bid:$1,125 - Estimate: $1,000 - $2,000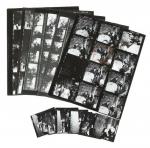 ---
Lot 815: MARILYN MONROE MILTON GREENE PHOTOGRAPHS
A vintage 8-by-10-inch gelatin silver photograph taken by Milton Greene, depicting Marilyn Monroe with Laurence Olivier at a press conference for the film The Prince and The Showgirl (Warner Bros., 1957) in which they played the starring roles. The photograph has been encapsulated and includes a letter of authenticity from PSA grading it a "Type I" original photograph. The verso of the photograph is marked with Greene's identification stamp. Accompanied by a vintage medium-format print of the same image as well as an additional vintage print of Monroe laughing.
10 by 8 inches
Winning bid:$ 5,760 - Estimate: $2,000 - $4,000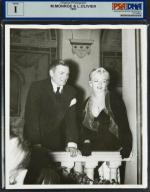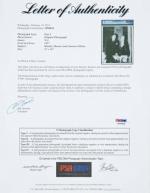 ---
Lot 816 C: MARILYN MONROE PERSONAL PHOTOGRAPHS
A collection of Marilyn Monroe's personal photographs, including a photograph of Isador Miller (Monroe's father-in-law); two photographs of a television screen showing images of Monroe on The Jack Benny Program in 1953; a black and white image of an unknown woman, stamped by Milton Greene on verso; a color photograph of a manenquin holding up a champagne glass behind a sign that reads "Marilyn Monroe" dated "Mar 58"; a pair of images of two men in Scottish kilts; two photographs of children, one with an inscription on the back from "Ilah" (one of the children may be Joshua Greene); and a photograph taken behind the scenes of a film. Accompanied by a newspaper clipping of an image of Monroe.
PROVENANCE From the lost archive of Marilyn Monroe
Largest, 7 by 5 inches
Winning bid: $896 - Estimate: $300 - $500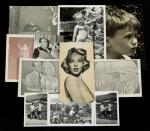 ---
Lot 821: MARILYN MONROE CECIL BEATON TRIPTYCH
A three-panel sterling silver custom-made Cartier frame, gifted to Marilyn Monroe by Nedda and Joshua Logan. The center frame houses a black and white silver gelatin print of the portrait Cecil Beaton took of Monroe in 1956. This image is purported to be Monroe's favorite image of herself. The portrait is mounted to board and signed on matte by Beaton. The center frame is engraved at the top "For Marilyn Monroe Miller" and at the bottom "Love Nedda and Joshua Logan." Joshua Logan directed Monroe in her 1956 film Bus Stop . The left and right frames house a handwritten letter from Beaton describing Monroe. It reads in part, "But the real marvel is the paradox – somehow we know that this extraordinary performance is pure charade, a little girl's caricature of Mae West. The puzzling truth is that Miss Monroe is a make-believe siren, unsophisticated as a Rhine maiden, innocent as a sleepwalker. She is an urchin pretending to be grown-up, having the time of her life in mother's moth-eaten finery, tottering about in high-heeled shoes and sipping gingerale as though it were a champagne cocktail. There is an otherworldly, a winsome naiveté about the child's eyes… ." The portrait can be seen in images of Monroe's living room, where it was housed from 1956 until the actress' death in 1962.
Please note: This item will not be available for shipment or pick-up until January 1, 2015.
PROVENANCE Lot 22 "The Personal Property of Marilyn Monroe," Christie's, New York, Sale number 9216, October 27 & 28, 1999
16 by 46 1/2 inches, framed
Winning bid: $38,400 - Estimate: $30,000 - $40,000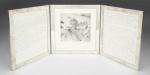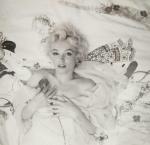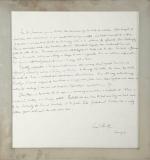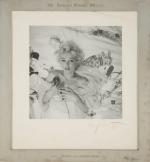 ---
Lot 822: MARILYN MONROE AFHU DINNER VINTAGE PHOTOGRAPH
A vintage candid photograph of Marilyn Monroe at the September 27, 1959, American Friends of the Hebrew University (AFHU) awards ceremony in Philadelphia. Monroe's then husband, Arthur Miller, was honored at the event. Label affixed to the bottom center of the photograph reads "Hebrew University Dinner/ Sheraton Hotel Sunday Sept. 27."
PROVENANCE From the lost archive of Marilyn Monroe
8 by 10 inches
Winning bid:$448 - Estimate: $300 - $500

---
Lot 823: MARILYN MONROE AFHU DINNER VINTAGE PHOTOGRAPH
A vintage candid photograph of Marilyn Monroe at the September 27, 1959, American Friends of the Hebrew University (AFHU) awards ceremony in Philadelphia. Monroe's then husband, Arthur Miller, was honored at the event. Label affixed to the bottom center of the photograph reads "Hebrew University Dinner/ Sheraton Hotel Sunday Sept. 27."
PROVENANCE From the lost archive of Marilyn Monroe
8 by 10 inches
Winning bid:$576 - Estimate: $300 - $500

---
Lot 824: MARILYN MONROE PHOTOGRAPH BY JOHN BRYSON
An original vintage black and white photograph of Marilyn Monroe and Arthur Miller taken by photojournalist John Bryson in Los Angeles in 1960. Matted and framed. Christie's lot sticker affixed to frame back.
PROVENANCE Lot 340, "The Personal Property of Marilyn Monroe," Christie's, New York, Sale number 9216, October 27 & 28, 1999
Sight, 13 by 9 1/2 inches
Winning bid:$1,920 - Estimate: $2,000 - $4,000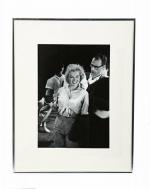 ---
Lot 943: MARILYN MONROE CANDID COLOR PHOTOGRAPH
A single Kodachrome wallet-sized candid photo print of Marilyn Monroe in her often seen disguise. The photo was taken in New York by a young fan who became acquainted with the star.
PROVENANCE From the Collection of Lois Banner
and Lot 788, "Julien's Summer Sale," Julien's Auctions, Las Vegas, June 26, 2009
3 1/2 by 2 1/2 inches
Winning bid: $640 - Estimate: $200 - $400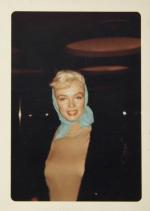 ---
Lot 985 : MARILYN MONROE PHOTOGRAPH BY GEORGE BARRIS
A photographic print of Marilyn Monroe, limited edition numbered 21/50, taken in 1962 by George Barris. Silver gelatin print, printed on double-weight fiber paper under the guidance and approval of George Barris by OneWest Publishing. Signed by the photographer and stamped by OneWest Publishing.
20 by 16 inches
unsold - Estimate: $1,000 - $2,000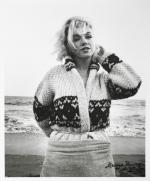 ---
Lot 994: MARILYN MONROE PHOTOGRAPH SIGNED BY ALLAN GRANT
An original vintage photograph signed by Allan Grant. This photograph was taken on July 7, 1962, in Marilyn Monroe's Brentwood home for an article in LIFE magazine that went to newsstands on August 3, 1962. Monroe died two days later, on August 5.
29 by 26 inches, framed
Winning bid:$3,750 - Estimate: $3,000 - $5,000
30 mars 2013
Le 28 mars 1959 se tient la première de "Some Like It Hot" ("Certains l'aiment chaud"), au Lowe's Capitol Theater, un cinéma de Broadway, à New York. Marilyn Monroe y participe avec son mari Arthur Miller. Toute de blanc vêtue, avec une robe à strass, elle est plus resplendissante que jamais.
Photographies de Lee Lockwood, Paul Slade, Bob Henriques, Paul Schumach et Henri Dauman.
On March 28, 1959 is the premiere of "Some Like It Hot" at Lowe's Capitol Theater, a Broadway cinema in New York. Marilyn Monroe arrives with her husband Arthur Miller. Dressed all in white, with a rhinestone dress, she is brighter than ever.
After, Marilyn and Arthur go to 135 Central Park West for the Lee and Paula Strasberg hosted post-premiere party following the showing of the movie.
Photographs by Lee Lockwood, Paul Slade, Bob Henriques and Henri Dauman.
> Planche Contact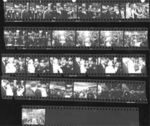 ---
> photographie de Paul Schmach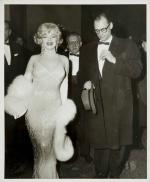 > photographie de Manfred Kreiner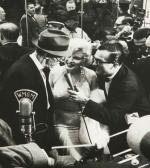 ---
Après la première, Marilyn et Arthur se rendent chez Lee et Paula Strasberg qui ont organisé une fête dans leur appartement au 135 Central Park West.
> Photographie de James Haspiel

> Marilyn et Arthur arrivent chez les Strasberg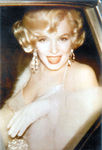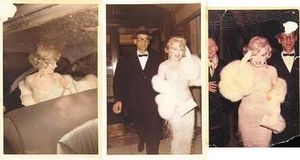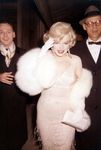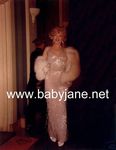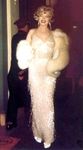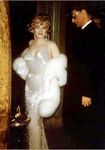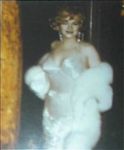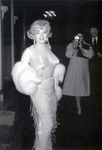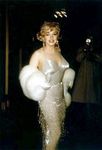 ---
> La robe vendue par Christies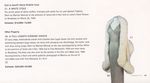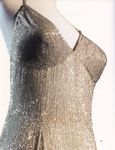 ---
---
>> vidéo 1

>> vidéo 2

---
© All images are copyright and protected by their respective owners, assignees or others.
copyright text by GinieLand.
Enregistrer
05 mai 2012
Le 8 septembre 1954, Marilyn Monroe s'envole à 21 heures de Los Angeles, d'où Joe DiMaggio est venu l'accompagner à l'aéroport pour l'embrasser et lui dire au revoir, pour se rendre à New York, où elle doit tourner des scènes extérieures du film The Seven Year Itch (Sept ans de réflexion). Joe ne l'accompagne pas. Elle porte un tailleur moulant avec un gros noeud, une tenue qu'elle a emprunté aux studios, qu'elle avait porté dans There's no business like show business (La joyeuse parade) dont le tournage venait à peine de se terminer.
Arrivée à l'aéroport de New York le lendemain, le 9 septembre à 8h15, le Idlewild Airport, Marilyn est assaillie par la foule de curieux et de journalistes: des reporters, des photographes et même les caméras sont présentes. Marilyn se prête au jeu et prend la pose longuement sur le tarmac; puis, escortée par la police, elle rentre dans le hall de l'aéroport, où elle est interviewée.
Parmi les photographes présents: Sam Schulman, Paul Schumach, Weegee, Sam Shaw.
>> L'arrivée à Idlewild Airport - sur le tarmac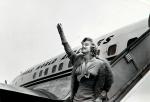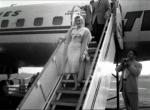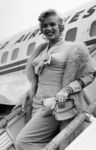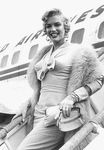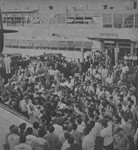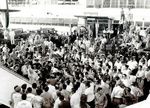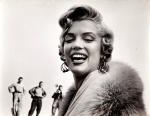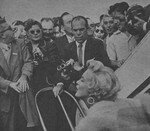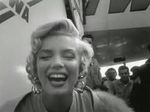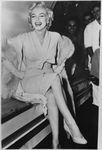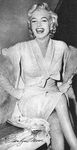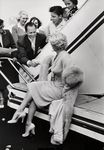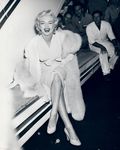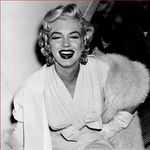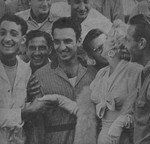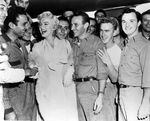 >> La police escorte Marilyn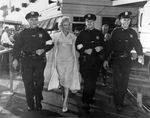 >> Dans le salon de l'aéroport, poses glamour et interview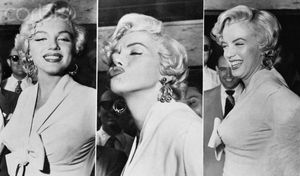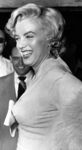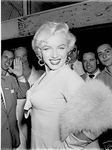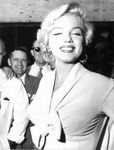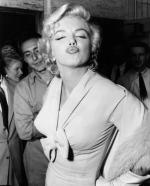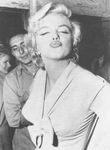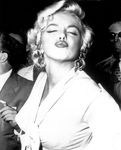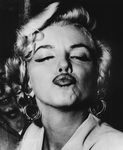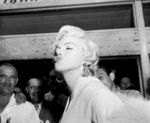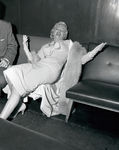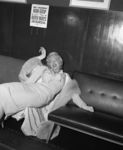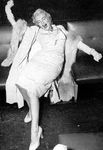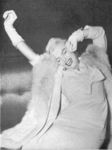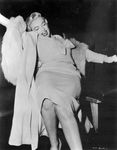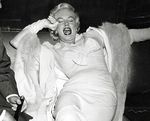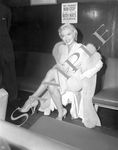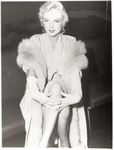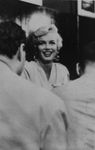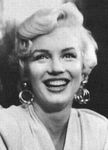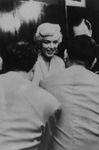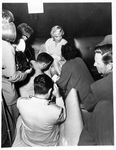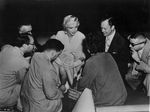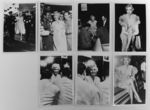 ---
>> videos
L'arrivée à l'aéroport d'Idlewild, descente de l'avion

Marilyn fait sa star, accentuant ses célèbres mimiques

Marilyn se prépare pour l'interview

Un journaliste interviewe Marilyn


---
Elle prend ensuite une limousine qui l'amène au Saint Regis Hotel, dans Manhattan.

>> Au Saint Regis Hotel
27 mars 2011
Le 31 janvier 1961, a lieu la première du film The Misfits (Les Désaxés) au Capitol Theater de Broadway. Marilyn Monroe s'y est rendue accompagnée de Montgomery Clift. Quand à Arthur Miller, dont Marilyn vient de divorcer, il est accompagné de ses enfants Jane et Robert; Le producteur du film Frank E. Taylor était avec sa femme et leurs deux enfants. Ce fut une soirée un peu pénible pour Marilyn qui évita de croiser Arthur. Une fois la projection terminée, elle quitta le théâtre.
> photographie de Paul Schumach

> photographie de Phil Burchman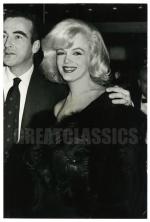 17 février 2010
La première américaine de Monkey Business a lieu le 2 septembre 1952 à Atlantic City, au Stanley Theatre, en présence de Marilyn Monroe.

>> captures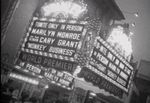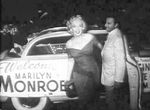 >> photos de l'événement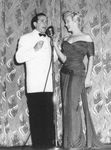 - autographe pour Frieda Hull, une fan des Monroe Six
- autographe signed for Frieda Hull, one of the 'Monroe Six'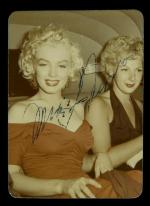 ---
> photographie de Paul Schumach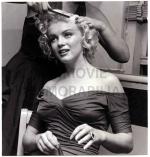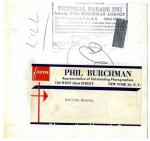 >> photos poses studio
>> voir les photographies de Frank Livia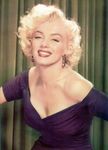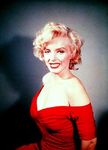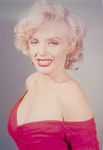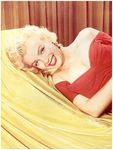 Enregistrer