24 janvier 2013
Décès de Peter Mangone
publié le 7/01/2013 sur blog.everlasting-star.net
publié le 9/01/2013 sur latinotimes.com
Peter Mangone, qui avait fait les gros titres des journaux lorsqu'il communiqua une séquence rare filmée de Marilyn à New York, alors qu'il était encore adolescent, est décédé le 11 décembre 2012, des suites d'un cancer du poumon.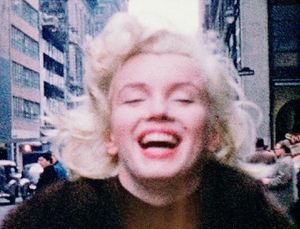 La séquence avait d'abord été diffusée dans un documentaire de la BBC en 2003: The People's Hollywood (voir l'article du blog: 24/03/1955 Marilyn à New York ). En 2002, une exposition est annoncée; suivie de la sortie d'un livre, Marilyn Monroe: NYC, 1955 . Malheureusement, l'expo -attendue à Danziger Gallery de New York– a été retardée après le passage de l'ouragan Sandy qui dévasta la ville.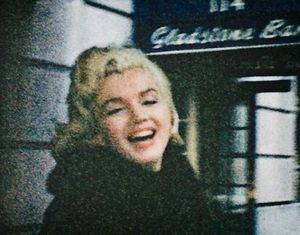 Témoignage de Peter Mangone sur sa rencontre avec Marilyn:
"I used to get up every day and put on a shirt and tie, because I read she was coming to New York to go to the Actor's Studio and that she would stay at the Gladstone Hotel, so I used to get up every morning, dress up, get on the train, cut school and wait for hours. Some days I didn't see her, some days I'd get a glimpse of her. Then I finally stood across from the hotel one day and I saw her. The next day I went in front of the hotel with a piece of paper, she signed it and she said, 'You were here yesterday. You had a red tie on. Weren't you cold?' Because it was freezing. But she noticed. She really cared, you know."
25 juillet 2012
Marilyn Monroe: NYC, 1955
Photographs by Peter Mangone
Auteurs: Jason Danziger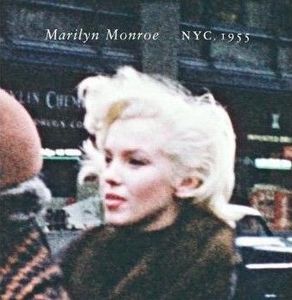 Prix éditeur: 30,48 Euros
Date de sortie: novembre 2012
Broché: 48 pages
Editeur : Distributed Art Publishers
Langue : anglais
ISBN-10: 1935202340
ISBN-13: 978-1935202349
Ou le trouver ? amazon.fr

Présentation de l'éditeur: In 1955, Peter Mangone was 14 years old--a skinny boy from the Bronx with a Marilyn Monroe fixation, like so many teenagers of his generation. What distinguished Mangone was that he got to meet his idol. For several months, he had played truant from school to stake out the Gladstone Hotel on Manhattan's East 52nd Street, where the 29-year-old Monroe was staying after her unhappy divorce from Joe DiMaggio and her dismissal from the Twentieth-Century Fox studios. One morning, Mangone borrowed an eight-millimeter Kodak camera from his brother, headed down to the Gladstone and met Monroe as she was on her way out shopping with her friend Milton Greene. Mangone's dream came true: she waved, winked and invited him along. Over the course of the afternoon, he filmed her intermittently, without sound, later developing the film and viewing it at home. When Mangone left home, the footage went missing, and was thought to be lost--until 2002, when his brother found it among their father's possessions, virtually in mint condition. "It was like refinding my high school sweetheart," he said. "She was just the way I remembered her." This book of stills from Mangone's five-minute movie shows the great screen siren in wonderful moments of unguardedness, against the Chevys and Checker cabs of 1950s midtown Manhattan. The great charm of Mangone's images lies at the opposite end of familiar portraits by Cecil Beaton, Elliott Erwitt and co.: in his 14-year-old hands, through the grainy Kodak film, with its erratic lighting, Marilyn remains every inch the icon.
* Mon Avis ...
Un livre qui semble sans intérêt, vendu 30 euros pour à peine 48 pages, et qui ne fait que présenter des captures d'écran d'une vidéo rendue publique en 2003 (voir l'article 24/03/1955 Marilyn à New York ) avec des blabla de cette journée.

---
Vous avez le livre ?
Apportez votre critique, votre avis ou votre note (/10)

11 février 2012
Marilyn Monroe dans les rues de New York,
sortant du Gladstone Hotel, le 24 mars 1955.
On y voit James Haspiel et Milton H Greene.
>> vidéo

Marilyn Monroe in the New York's streets,
leaving the Gladstone Hotel, Spring 1955.
---
L'ADOLESCENT, LA CAMERA ET MARILYN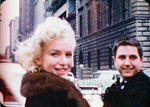 Un jour de printemps 1955, un adolescent new-yorkais de 14 ans a passé les plus belles heures de sa vie au côté de Marilyn Monroe.
La star a autorisé son jeune admirateur qui la guettait devant un hôtel de Manhattan, à la suivre pendant plusieurs heures de shopping. La caméra 8 mm de son frère au poing, Peter Mangone a tourné un film amateur couleur de 5'30, l'a visionné une seule fois dans sa chambre du Bronx avant de l'oublier dans une commode.
L'an dernier, rangeant la maison de leur père, son frère retrouve le film muet, en parfait état, aujourd'hui transféré en 16 mm.
"J'en avais un vague souvenir, mais quand j'ai vu les images, tout m'est revenu. C'était merveilleux", raconte Peter Mangone, 63 ans aujourd'hui.
Radieuse dans un pull-over noir et manteau brun à col de fourrure, la star sourit, fait des mines, souffle des baisers de la main vers son jeune admirateur, rit à pleines dents sur la 52e rue. Elle bâille, trébuche ou ôte une poussière de son oil.
"J'avais lu dans le journal qu'elle venait à New York et qu'elle descendrait à l'hôtel Gladstone. Alors je faisais l'école buissonnière pour aller la voir, un jour sur deux. Elle me reconnaissait, elle m'aimait bien".
Touchée par tant de constance, l'actrice lui dit bonjour, signe des autographes et des photos et, un jour qu'elle sort accompagnée de son ami le photographe Milton Greene, elle l'autorise à la suivre ou à la précéder, sa petite Kodak en main, chez Elizabeth Arden ou les grands chausseurs de la 5e avenue.
Pas de gardes du corps à l'époque, pour la plus éblouissante star de l'histoire du cinéma américain.
"Elle était si belle, si délicate... Il suffisait de la voir une fois pour que son image s'imprime à jamais en vous! Je n'ai plus jamais été capable de regarder une femme de cette façon".
C'était l'année où, venant de divorcer de Joe DiMaggio et lassée de son image de ravissante idiote, Marilyn avait fuit la Californie et prenait des cours auprès de Lee Strasberg à l'Actor's Studio.
Peter Mangone se souvient d'avoir, trois ans après ce mini-tournage et quatre ans avant la mort de Marilyn, fait le tri de ses jouets d'enfants. Il était jusqu'alors persuadé d'avoir jeté le film avec ses jouets. Il a en fait hiberné, dans sa boîte en carton, pendant 48 ans.
"Mon père est mort il y a quelques années. Mon frère s'est installé dans sa maison de Floride et en rangeant des armoires il est tombé sur des boîtes de films", raconte-t-il.
Russ Suniewick dirige à Rockville (Maryland) le laboratoire qui a transféré en 16 mm, format inaltérable, ces 5'30 de rêve. "Il était en parfait état de conservation", confie-t-il. "Parce qu'il avait été perdu et conservé dans sa boîte d'origine, après n'avoir été visionné qu'une fois, il n'a aucune rayure, les couleurs sont parfaites".
Peter Mangone, qui est devenu coiffeur à Palm Beach et s'est spécialisé dans les vedettes hollywoodiennes de passage en Floride pour des spectacles, n'a pas encore décidé ce qu'il va faire de son petit trésor.
Les demandes sont si nombreuses qu'il a chargé un avocat new-yorkais de gérer la distribution des images. "Je ne sais pas! Peut-être un beau livre illustré!"
>> source: article par Michel Moutot, le 23 février 2003 sur lemauricien.com
>> interview de Peter Mangone

---
>> sur le web: site Marilyn Monroe NYC 1955