14 juillet 2021
Marilyn par Halsman
- pour le magazine Life
et membre de l'agence Magnum -
Philippe Halsman a photographié Marilyn Monroe à quatre reprises dans sa carrière (1949, 1952, 1954 et 1959), des reportages photographiques commandes pour le magazine américain Life. Parmi toutes les photographies prises par Halsman, deux séances deviendront mythiques et intemporelles: celle de la robe blanche (1952) et celle du saut (1959).
Il la photographie chez elle en 1952 (dans sa chambre du Beverly Carlton Hotel à Beverly Hills); les autres séances (1954 et 1959) auront lieu dans le studio du photographe sur la 67ème rue à New York.

Philippe Halsman has photographed Marilyn Monroe four times in her career (1949, 1952, 1954 and 1959), photo reports commissioned for the American magazine Life. Among all the photographs taken by Halsman, two sessions will become legendary and timeless: the one with the white dress (1952) and the other of the jump sitting (1959).
He photographes her at home in 1952 (in her room at the Beverly Carlton Hotel in Beverly Hills); the other sessions (1954 and 1959) will take place in the photographer's studio on 67th Street in New York.

---

.1949, le 9 mai: Huit Starlettes - Marilyn Monroe en compagnie de sept autres starlettes au Beverly Hills Hotel, miment des émotions.
.1949, May, 09: Eight Starlets - Marilyn Monroe in the company of seven other starlets at the Beverly Hills Hotel, mimic emotions.
(> blog 1949 - Huit starlettes posent pour Life par Halsman
---

.1952, janvier: En robe blanche - 1er jour: Marilyn Monroe dans sa chambre du Beverly Carlton Hotel, prend des poses sexy contre un mur vêtue de sa robe Ceil Chapman; l'une des photos fera sa première couverture du magazine Life.
.1952, January: In white Dress - 1st day: Marilyn Monroe in her room at the Beverly Carlton Hotel, strikes sexy poses against a wall wearing her Ceil Chapman dress; one of the photos will make her first cover of Life magazine.
(> blog 01/1952, Beverly Carlton Hotel - Séance LIFE, Jour 1: En robe blanche par Halsman & Lloyd
---

.1952, janvier: En Déshabillé - 1er jour: Marilyn Monroe dans sa chambre du Beverly Carlton Hotel, en lingerie (noire et rose) prêtée par les studios de la Fox, pose devant sa bibliothèque et le portrait de son idôle La Duse.
.1952, January: In Negligee - 1st day: Marilyn Monroe in her room at the Beverly Carlton Hotel, in lingerie (black and pink) loaned by Fox studios, poses in front of her library and the portrait of her idol La Duse.
(> blog 01/1952, Beverly Carlton Hotel - Séance LIFE, Jour 1: En déshabillé par Halsman & Lloyd
---

.1952, janvier: Démarche & Drive-In - 2ème jour: Dans le quartier près Beverly Carlton Hotel, Halsman immortalise la démarche de Marilyn dans la rue puis au volant de sa voiture, dégustant un burger à un drive-in.
.1952, January: Walk & Drive-In - 2nd day: In the neighborhood near the Beverly Carlton Hotel, Halsman immortalizes Marilyn's walk in the street and then in her car, eating a burger at a drive-in.
(> blog 01/1952, Beverly Carlton Hotel - Séance LIFE, Jour 2: Démarche & Drive-In par Halsman
---

.1952, janvier: Gym - 2ème jour: Marilyn Monroe dans l'entrée de sa chambre du Beverly Carlton Hotel, fait quelques exercices physiques (avec des haltères) vêtue d'un haut de maillot de bain et d'un blue jeans.
.1952, January: Gym - 2nd day: Marilyn Monroe in the entrance to her room at the Beverly Carlton Hotel, does some physical exercises (with dumbbells) wearing a swimsuit top and blue jeans.
(> blog 01/1952, Beverly Carlton Hotel - Séance LIFE, Jour 2: Gym par Halsman
---

.1952, janvier: Entretien & Escaliers - 2ème jour: L'approche de Marilyn face à un entretien de travail en huit étapes; puis au moment de partir, Halsman la photographie dans les escaliers du Beverly Carlton Hotel.
.1952, January: Interview & Stairs - 2nd day: The Marilyn's approach to a job interview in eight steps; then when it is time to leave, Halsman photographs her on the stairs of the Beverly Carlton Hotel.
(> blog 01/1952, Beverly Carlton Hotel - Séance LIFE, Jour 2: Entretien & Escaliers par Halsman
---
.1954, le 15 septembre: En jupe longue - 1ère séance: Au studio d'Halsman à New York, Marilyn veut être photographiée avec son top noir; Halsman lui prête une longue jupe de sa femme Yvonne. Là encore, Halsman fait une étude des émotions du visage de Marilyn.
.1954, September, 15: In Long Skirt - 1st sitting: At Halsman's studio in New York, Marilyn wants to be photographed with her black top; Halsman lends him a long skirt from his wife Yvonne. Again, Halsman studies the emotions of Marilyn's face.
(> blog 15/09/1954, New York - Marilyn en jupe par Philippe Halsman

---
.1954, le 15 septembre: Saut - 2ème séance: Avant que Marilyn ne parte, Halsman lui demande (comme il en a l'habitude avec toutes les personnalités avec qui il travaille) de sauter en l'air. N'étant pas à l'aise, Marilyn ne fait qu'un seul saut.
.1954, September, 15: Jump - 2nd sitting: Before Marilyn leaves, Halsman asks her (as he is used to do with all the personalities with whom he works) to jump in the air. Not being at ease, Marilyn only makes one jump.
(> blog 15/09/1954, New York - Jump Sitting par Philippe Halsman
---

.1959, en octobre: Séance des Sauts - Au studio d'Halsman à New York, Marilyn accepte de poser pour une série de sauts en l'air pour Halsman: 200 sauts pendant 3 heures, une performance ! Deux séances ont lieu: une où Marilyn porte une robe noire et une où elle porte une robe rouge. Arthur Miller est dans les coulisses. L'une des photos fera la couverture de Life.
.1959, in October: Jump Sitting - At Halsman's studio in New York, Marilyn agrees to pose for a series of jumps for Halsman: 200 jumps for 3 hours, a performance ! Two sessions take place: one where Marilyn wears a black dress and one where she wears a red dress. Arthur Miller is in the backstage. One of the photos will make the cover of Life.
(> blog Octobre 1959, New York - Jump Sitting par Philippe Halsman
---
Commentaires de Philippe Halsman sur Marilyn Monroe:
Philippe Halsman's comments on Marilyn Monroe:
"Je connais peu d'actrices douées d'un si formidable talent pour communiquer avec un objectif. On dirait qu'elle essaye de séduire l'appareil comme si c'était un être humain."
"I know of few actresses who have this incredible talent for communicating with a camera lens. She would try to seduce a camera as if it were a human being."

"Marilyn fut la déesse de l'amour la plus phénoménale de l'histoire."
"Marilyn was the most phenomenal goddess of love in history."
---
> Marilyn & Philippe Halsman <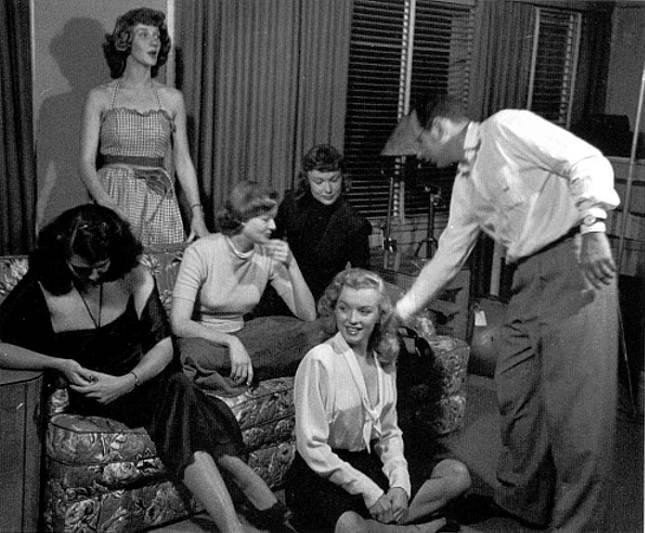 Les 8 starlettes - 1949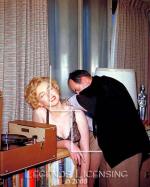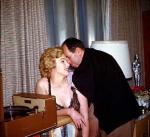 photographies d'Harold Lloyd - 1952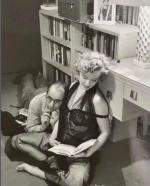 coulisses de la séance pour "Life" - janvier 1952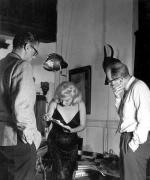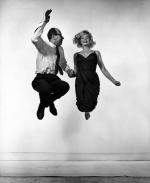 coulisses de la "Jump Sitting" - 1959
---
Philippe Halsman
(1906 - 1979)
photographe américain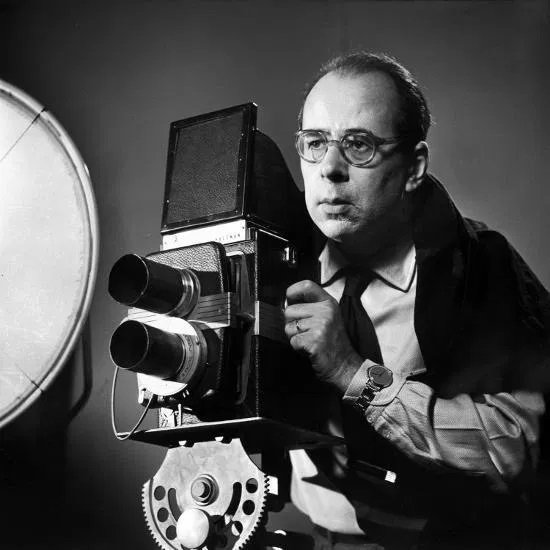 Philippe Halsman est né le 2 mai 1906 dans une famille juive à Riga en Lettonie d'un père dentiste et d'une mère professeure de grammaire. Il se passionne pour la photographie dés l'âge de 15 ans.
En septembre 1928, il part avec son père Morduch dans les Alpes Autrichiennes, et après une promenade ensemble, son père est retrouvé mort avec de nombreuses contusions à la tête. Sans doute est-il tombé dans le vide mais comme il n'y avait aucun témoin, Philippe est condamné à 10 ans de prison pour le meurtre de son père. L'incident a un retentissement à l'échelle internationale, des propagandes anti-juives éclatent et de nombreuses célébrités dont Albert Einstein et Thomas Mann prennent le parti de Philippe. Après quatre années de prison, Philippe est mis en liberté sous la condition qu'il quitte définitivement l'Autriche.

Philippe Halsman was born on May 2, 1906 in a Jewish family in Riga, Latvia, to a dentist father and a grammar teacher mother. He developed a passion for photography from the age of 15.
In September 1928, he goes with his father Morduch in the Austrian Alps, and after a walk together, his father is found dead with numerous bruises on his head. No doubt he fells into the void, but as there were no witnesses, Philippe is sentenced to 10 years in prison for the murder of his father. The incident has an international impact, anti-Jewish propaganda erupts and many celebrities including Albert Einstein and Thomas Mann take the side of with Philippe. After four years in prison, Philippe is released on condition that he leaves definitely Austria.
---
C'est alors qu'il s'installe en France, à Paris, où il contribue à des magazines de mode tels que Vogue et obtient rapidement la réputation de l'un des meilleurs photographes portraitiste de France. Il ouvre un studio en 1934 à Paris où il photographie entre autres André Gide, Malraux, Chagall, Le Corbusier. C'est à cette période qu'il photographie Fernandel, dont un livre de rétrospective sortira en 2005.
Dans les années 1940, il collabore durant plusieurs années avec l'artiste peintre surréaliste Salvador Dalí, qu'il met en scène dans ses photographies, publiant ensemble un livre en 1954 "Les moustaches de Dali" où figurent 36 différentes photos de la moustache de Dali. En 1947, il réalise ce qui deviendra l'un des portraits les plus célèbres d'Albert Einstein.

It is then that he settles in France, in Paris, where he contributes to fashion magazines such as Vogue and quickly obtains the reputation of one of the best portrait photographers in France. He opens a studio in Paris in 1934 where he photographs, among others, André Gide, Malraux, Chagall, Le Corbusier. It was during this period that he photographs Fernandel, a retrospective book of him will be released in 2005.
In the 1940s, he collaborates for several years with the surrealist painter Salvador Dalí, on whom he features in his photographs, together publishing a book in 1954 "The Dali's mustaches" which includes 36 different photos of the mustache of Dali. In 1947, he produces what would become one of Albert Einstein's most famous portraits.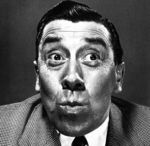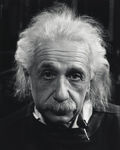 Fernandel ; Salvador Dali ; Albert Einstein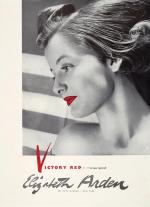 Lorsque la France est envahie sous l'occupation allemande, il part pour Marseille où il tente d'obtenir un visa américain, aidé par des amis de la famille d'Albert Einstein. En Amérique, il se fait remarquer par son premier succès photographique en 1941: la campagne publicitaire pour la marque de cosmétiques Elizabeth Arden avec le mannequin Constance Ford appuyée contre le drapeau américain pour le rouge à lèvre "Victory Red".
When France is invaded under German occupation, he leaves for Marseille where he tris to obtain an American visa, helped by friends of Albert Einstein's family. In America, he is noticed by his first photographic success in 1941: the advertising campaign for the cosmetics brand Elizabeth Arden with the model Constance Ford leaning against the American flag for the lipstick "Victory Red".
En 1942, il est engagé par Life, photographiant des chapeaux de mode dont le mannequin Lilly Daché qui en portait un, et qui marque sa première couverture du magazine. Bien d'autres suivront, il sera le photographe record-man ayant fait le plus de couvertures de Life (101 couvertures). Ses photographies sont aussi publiés dans les magazines Time, Look, Newsweek, The Saturday Evening Post, Elle, Paris Match...
In 1942, he is hired by Life, photographing fashion hats including the model Lilly Daché who wore one, and which marks his first cover for the magazine. Many more will follow, he will be the record-man photographer having done the most covers of Life (101 covers). His photographs are also published in other magazines such as Time, Look, Newsweek, The Saturday Evening Post, Elle, Paris Match...
---
En 1951, il rejoint l'agence Magnum comme membre permanent.
La même année, Philippe Halsman est chargé par la NBC de photographier divers artistes populaires, des acteurs et actrices de l'époque tels que Milton Berle, Sid Caesar, Groucho Marx et Bob Hope. Pendant qu'il les photographie, il capture bon nombre d'entre eux debout en l'air, ce qui lui inspirera plus tard la série des sauts en l'air (Jump Sitting) où il photographie la famille Ford, Le Duc et la Duchesse de Windsor, Marilyn Monroe, Maria Felix, Richard Nixon, Grace Kelly, Audrey Hepburn, Brigitte Bardot, Kim Novak...
In 1951, he joins the Magnum agency as a permanent member.
The same year, Philippe Halsman is commissioned by NBC to photograph various popular artists, actors and actresses of the time such as Milton Berle, Sid Caesar, Groucho Marx and Bob Hope. While photographing them, he captures many of them standing in the air, which would later inspire him to the Jump Sitting series where he photographs the Ford family, The Duke and the Duchess of Windsor, Marilyn Monroe, Maria Felix, Richard Nixon, Grace Kelly, Audrey Hepburn, Brigitte Bardot, Kim Novak, Maurice Chevalier...

Brigitte Bardot ; Le Duc et la Duchesse de Windsor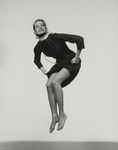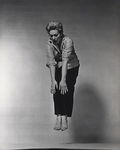 Grace Kelly ; Gina Lolobrigida ; Kim Novak
Philippe Halsman racontera que "Lorsque vous demandez à une personne de sauter en l'air, son attention est portée directement vers l'action du saut, et le masque tombe tel que la véritable personne puisse apparaître." Il développe ainsi une philosophie de la photographie de sauts, qu'il appelle "jumpology". En 1959, il publie "Philippe Halsman's Jump Book" qui contient 178 photographies de célébrités en train de sauter dans les airs.
Philippe Halsman will relate that "When you ask a person to jump in the air, their attention is directed directly to the action of the jump, and the mask falls such that the real person can appear." He thus develops a philosophy of jump photography, which he calls "jumpology". In 1959, he published "Philippe Halsman's Jump Book" which contains 178 photographs of celebrities jumping in the air.
- Halsman & Grace Kelly -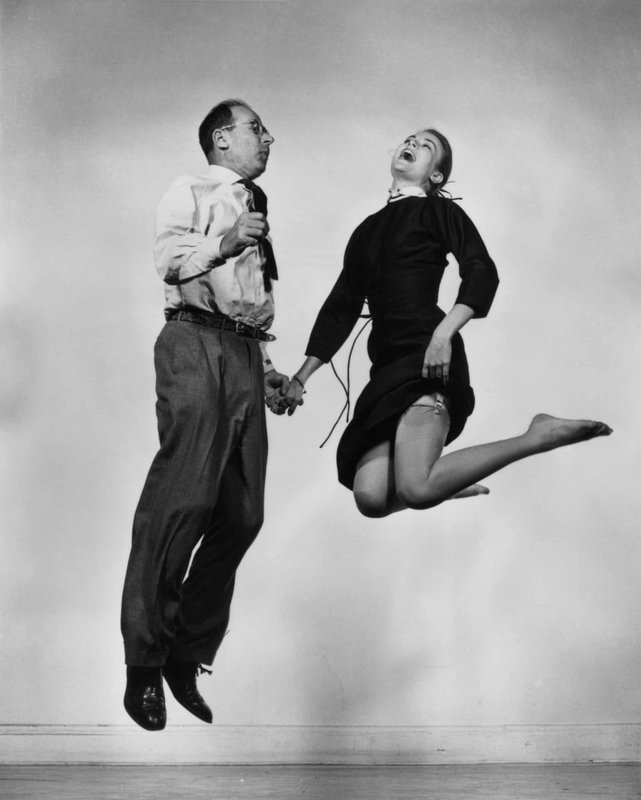 ---
Parmi les autres personnalités qu'il a photographié, figurent notamment Alfred Hitchcock et Tippie Hedren (pour les photos promotionnelles du film Les Oiseaux), Judy Garland, Dorothy Dandridge, Rita Hayworth, Marlon Brando, Lauren Bacall, John F. Kennedy, Grace Kelly, Elizabeth Taylor, Louis Armstrong, Woody Allen, Barbra Streisand, Sophia Loren, Mohamed Ali, Pablo Picasso, Andy Warhol, Winston Churchill et dont bon nombre feront la couverture de Life.
Among the other personalities he has photographs are: Alfred Hitchcock and Tippie Hedren (for promotional stills for The Birds), Judy Garland, Dorothy Dandridge, Rita Hayworth, Marlon Brando, Lauren Bacall, John F. Kennedy, Grace Kelly , Elizabeth Taylor, Louis Armstrong, Woody Allen, Barbra Streisand, Sophia Loren, Mohamed Ali, Pablo Picasso, Andy Warhol, Winston Churchill and many of whom will be on the cover of Life.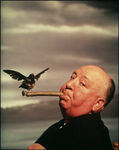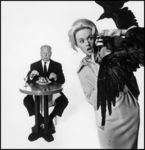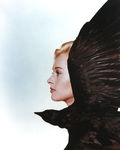 Alfred Hitchcock et Tippie Hedren en 1962 pour "The Birds"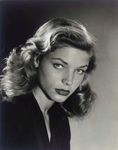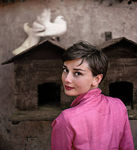 Lauren Bacall ; Audrey Hepburn ; Marlon Brando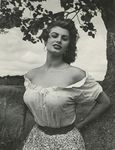 Grace Kelly ; Sophia Loren ; Elizabeth Taylor
En 1958 Philippe Halsman reçoit la distinction des "Dix plus grands photographes du monde", dont font partis Irving Penn, Richard Avedon, Ansel Adams et Henri Cartier-Bresson; et on lui remet en 1975 le prix "the Life Achievement in Photography Award" pour la société américaine des photographes du célèbre magazine. Il a aussi mené de nombreuses expositions de son travail à travers le monde. Sa femme Yvonne Moser l'assiste souvent pendant son travail; ensemble, ils ont eu deux filles: Irene et Jane.
Il meurt le 25 juin 1979 à New York, à l'âge de 73 ans.
In 1958, Philippe Halsman receives the distinction of "Ten greatest photographers in the world", which included Irving Penn, Richard Avedon, Ansel Adams and Henri Cartier-Bresson; and in 1975 he is awarded for " the Life Achievement in Photography Award" for the American Society of Photographers of the famous magazine. He has also conducted numerous exhibitions of his work around the world. His wife Yvonne Moser often assists him during his work; together they had two daughters: Irene and Jane.
He died on June 25, 1979 in New York, at the age of 73.
---
- Philippe Halsman -

---
Bibliographie

Jump Book (première édition 1959, reédité en 1986)
Reporters Sans Frontières (2020)

---
Sur le web
Site officiel du photographe Halsman
Le compte officiel sur Instagram
Site de l' agence magnum
Biographie sur google
Site de National Portrait Gallery
Biographie sur wikipedia

---
© All images are copyright and protected by their respective owners, assignees or others.
copyright text by GinieLand.
23 juin 2021
Photography
country: USA
published in June 1953
content: 8 pages article on Marilyn Monroe
The Marilyn session photos by Philippe Halsman for Life April, 7, 1952
is here explained by the photographer himself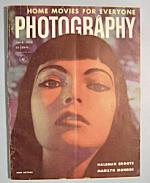 pays: USA
paru en juin 1953
contenu: article de 8 pages sur Marilyn Monroe

La séance de Marilyn par Philippe Halsman pour Life 7 avril 1952
est ici détaillée par le photographe lui-même
---
- summary: "Shooting Marilyn... Philippe Halsman" - p66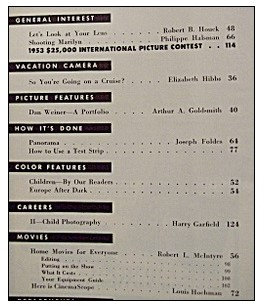 ---
- Pages : article "Shooting Marilyn"

---
Article: Shooting Marilyn
by Philippe Halsman
WHEN A PHOTOGRAPHER is asked by a photographic magazine for a set of pictures he is unhappy if he cannot offer a selection of his best and most unusual photographs. Thus I was unhappy when PHOTOGRAPHY asked me for my story on Marilyn Monroe which was only a rather typical Life assignment. But realizing that the most noble purpose of a photographic magazine is educational, and that there is not presently in Hollywood a more educationnal subject than Marilyn, I agreed sadly but willingly.
Actually, I had photographed her a couple of years before I shot my cover story. At that time she was a very intense and hard-working at putting the best points of her anatomy in the public eye. Her blouses and sweaters made it easy to guess what they were supposed to hide.
I was working then on a Life story about Hollywood starlets. To find out how good the were (as actresses) the editor, Gene Cook, invited eight of them and I photographed each one in four basic situations: listening to the funniest but inaudible joke, enjoying the most delicious but invisible drink, being frightened by the most horrible invisible monster, and finally, being kissed by the most fabulous invisible lover.
If Marilyn was a standout among the eight starlets, it was not for her acting ability in the first three of the tests. But when I asked her to act out the last basic situation, I changed my mind. She gave a performance of such realism and such dramatic intensity that not only she but even I was utterly exhausted.

I met Marilyn again three years later. She was not yet a star, but already all the aging women in Hollywood hated her. I was struck by the change. She no longer tried to be sexy - she was sexy in the most unabashed and relaxed way.
There was already a flattering legend of dumbness about her, for Hollywood likes to surround its beautiful blondes with the bewitching aura of imbecility. What indeed could add more to the attractiveness of an enchantress than the complete absence of brains ? Unfortunately the facts did not confirm the legend. I found Marilyn anything but stupid, with an amazing frankness and a good sense of humor, and her company stimulating even in a spiritual way. The trait which struck me most was a general benevolence, an absolute absence of envy and jealousy, which in an actress was astonishing.
By coincidence, a week after this meeting, Life's reporter Stanley Flink informed me that his magazine wanted me to shoot Monroe for a possible cover, with a few supporting pictures to be used inside -probably two pages. We got in touch with the studio and were told that Marilyn would be available for a day and a half. I specified that I didn't want to shoot her in the studio, and a meeting in her hotel was arranged.
Now I had to decide what kind of photographs I would make. Some photographers shoot only by instinct, and though they often get beautiful individual pictures, they have difficulty in putting together a cohesive picture story. Others follow closely a shooting script and force their material into such conformity that it loses spontaneity and sincerity. In my photography I try to avoid the pitfalls of either category. Of course I don't avoid shooting by instinct whan an interisting situation offers itself to me. On the other hand, I consciously try to use my intellect as much as possible. I strive to clarify my own thinking about the subject and to organize the picture material in terms of story conitunuity and layout, being careful however not to make my subjects pose, but to incite them to do things they are used to doing.
First I had to find a theme for my story, a general idea to carry through all my pictures. I thought how I had tried to capture the essence of other women: Ingrid Bergman's radiant wholesomeness; Anna Magnani - a tragic tigress; Cecile Aubry - half child, hald woman, tempting and disturbing; Marian Anderson, singing Negro spirituals, full of priestly dignity.
And then I thought of the pathetic struggle of a poor starlet in Hollywood. Among the crowd of beautiful girls who never made the grade, Marilyn was not the one who had the most beautiful face or the most elegant figure. So why was she successfull ? Because sha was a good actress ? Nobody had yet mentionned her acting ability. But even if the great Duse were alive, would any Hollywood studio make an effort to hire her ? I doubt it. CBut I am sure that if Italy had an actress who surpassed Jane Russell and Dagmar in their most conspicuous attributes, every movie company would come running to outbid the others.
Who were the great movie stars ? Theda Bara, the "It" Girl Clara Bow, Pola Negri, Jean Harlow, Greta Garbo, Marlene Dietrich. A few of them could even act, but in the last analysis their fabulous "glamour" was nothing but their special brand of sex appeal
And in the case of Marilyn Monroe I saw the amazing phenomenom of Hollywood being outsmarted by a girl whom it had itself characterised as a dumb blonde.
As usual, analysis led logically and almost inescapably to the theme of the story. I had to show in my pictures that Monroe's sexiness was not only her weapon but her very essence, that it permeated everything she did - talking, walking, sitting, eating, lying down. In terms of a layout everything became equally clear and simple. I had to produce and opening picture, establishing the general theme. The rest of the story would be photographs showing Marilyn in different situations, proving my point.

On the appointed day we arrived on time in front of Monroe's hotel: Life's Stanley Flink, my assistant John Baird and I. Marilyn was of course late. Finally she drove up in her not-exactly-new Pontiac convertible, apologized for being late, and we all went up to her room. It was medium-sized, with a big couch-like bed, with gymnastic aquipment on the floor and with a lot of bookshelves along the wall. Marilyn wore blue jeans and looked as unaffected as the proverbial girl next door. The was immediately a feeling of palship and of having fun. "What do you do with these dumbbells ?" I asked when I almost tripped over a couple of them. "But Philippe, I am fighting gravity !" Marilyn answered gravely, and inhaled deeply to prove her point.
I decided to begin by trying for a cover picture. First I had to find the dress. Marilyn opened her closet and I found to my surprised that one of the reasons why Monroe wore so little was that she had so little to wear. She obviously was spending more money on books and records than on dresses. There were no furs in her wardrobe and only a couple of evening gowns. I selected the white slinky one, and Marilyn put it on. It had an enormous bow on the left hip. I explained to Marilyn that the bow cheapened the gown, that as a rule simple lines in a dress were more elegant. Marilyn, after listening to me with the attention of a pupil listening to a teacher's explanation of a new algebra theorem, took her scissors and cut off the bow.
While she was in the bathroom overhauling her makeup (I insisted that she not to wear more than lipstick and mascara), I was thinking of the way she should pose. The obvious would have been to shoot her reclining in an armchair or on her couch, but because it was so obvious I decided against it. I led Marilyn to a corner and put my camera in front of her. Now she looked as if she had been pushed into the corner - cornered - with no way to escape. The basic situation was provided, and I had only two remaining worries: the lighting, and Stanley Flink.
I use my Fairchild-Halsman camera almost exclusively for photographing faces. It would have been wasteful to concentrate on Monroe's face, since she uses her body (for acting) more than any other Hollywood actress. Consequently I decided to shoot her with a Rolleiflex, and an aperture of f/5.6 seemed to me appropriate. At that stop my Weston meter indicated, in spite of the big window behind me, only 1/3 second. My assistant brought from the car thow #2 floodlamps in aluminium reflectors and I put one on a portable stand in front of Marilyn. Now, using the big window as a fill-in and the flood as the main light, i could shoot at 1/10 or 1/25 second, depending on the distance. My assistant attached the second light to the top of an adjacent closet so that it illuminated and backlighted Marilyn's blond hair. The lighting problem solved, there remained the question of Stanley Flink.
Reporters frequently insist on watching the actual shooting session. The mere fact of being observed usually inhibits both model and photographer, creating an atmosphere of self-consciousness which destroys the necessary intimacy between cameraman and subject. But fortunately for me in this case, nature has blessed Flink with a charming and helpful disposition. He is never the cold, impartial observer; he immediatly and enthusiastically becomes a part of the working team.
He placed himself near the camera ans started to compliment and to tease Monroe. I pretended to be very jealous of him and we had a fiery verbal battle, both unabashedly competing for Marilyn's favor. Surronded by three admiring men, she smiled, flirted, giggled, and wriggled with delight. During the hour I kept her cornered she enjoyed herself royally, and I... I took between 40 and 50 pictures - not of the stock expressions she usually gives to the photographers.
Why did I take so many pictures, instead of being satisfied with four or five ? I shoot when the expression seems significant, but I never know whether the next moment might not produce and even more rewarding expression. Nothing seems cheaper to a magazine photographer then unexposed film. The great number of exposures makes the subject disregard the importance of being photographed, and creates sometimes a complete immunization against the constant clicking of the shutter. I stop shooting when I feel that the situation has reached its climax. I was extremely happy to see later that the Life editors had selected as the cover the picture made at that climactic instant.

My next step was to review Marilyn's negligees. The Twentieth Century-Fox publicity man, Roy Craft, who is in charge of Marilyn, but is nevertheless particularly efficient and cooperative, had sent over ten different negligees. I selected the one I thought would photograph the best and started to look for a background. My curiosity was aroused by the only photograph in the room. To my surprise I recognized the face of Eleonora Duse. Did Marilyn display this picture just to impress itinerant intellectuals ? I asked a few questions and was startled to find that Marilyn not only knew a lot about her, but that the Divine Duse was her great idol.
An old rule of mine, when making a reportage, is to photograph everything which is significant or startling. This was both. I decided to include Duse's photograph in my opening picture. There was a record player on the bookshelf. Marilyn, in a transparent negligee, leaned against it, listening with breathless dreaminess to a record. Her derrière was pointing toward Duse's immortal face. To me it was no sacrilege. It was my ironic comment on the shift of values in our civilization.
Marilyn's bookshelves were full of the most disparate books -about religion, science, history, psychology, and translations of French, Russian, and German classics. That too was startling, and a good opportunity to make and educational picture. My next photograph showed the gorgeous blonde, in her transparent negligee, sitting with a book in her lap, wistfully working on her intellectual development. It was truly inspirationnal. Behind Marilyn's figure, eggheads could study the titles of her books. This was the last picture of the first day.
The next day, on our way to lunch, I took the opportunity of photographing Marilyn's remarkable walk, trying to catch its amazing turbinoid undulation. I made any exposures, for I had the feeling that, rhythmically, at the peak of its lilting tortility, it winked at me, but that I constantly missed catching the wink. With a movie camera it would have been child's play, but to seize the essence of the walk in one shot, if it was possible at all, demanded the utmost apperceptive concentration.
After lunch, we drove to a drive-in restaurant to show that Marilyn looks sexy even while eating. After this, I made the series of pictures showing Monroe's technique in applying for a job which were used in Life. Then we took the speedlights to her room, and with indirect lighting I photographed her exercising with dumbbells, crawling on the floor, standing on her head, and doing pushups and handstands. I thought this would be the last set of pictures. We packed our equipment and carried it down the stairs. Looking up, I saw Marilyn leaning over the railing to see us off. It looked like a well-composed photograph. I called "hold it !" and opened my Rollei to take another two dozen shots of her there.
The assignment had been typical in every respect, and when I returned to New York I was not surprised to find that as usual the magazine story did not resemble the layout the photographer originally had in mind. Life put Marilyn on the cover and made a very unexpected but journalistically shrewd move: in the opening page of the story they used the nude now-famous calendar shot of the nude Monroe. This single picture was undoubtedly more newsworthy than my entire coverage. To use my picture of her in a transparent negligee next to it would have been anticlimactic. So, since I was in New York, another photographer was asked to shoot her in sweater and slacks. The next page consisted of six shots from my set of Marilyn's approach to a job. The last page showed her magnificent walk, next to a similar photograph of Jean Harlow, also taken from behind.
For Marilyn this was probably the most important magazine story in her carrer. I have seen Life covers which did nothing for their protagonists, and I have also seen cases in which they literally changed a life or skyrocketed an unknown to fame. Although in Marilyn's case the effect was not of spectacular immediacy, this story did convince Twentieth Century-Fox that instead of a mere starlet with possibnilities, they had in her a star of the first magnitude. Monroe got star billing even in movies where she played secondary parts; her salary was adjusted, she moved to better quarters, and she is now doubtless the hottest actress in Hollywood.
For me it was only a routine story which resulted in my 54th Life cover (currently I have 60), and being routine, it is a good example of my day-by-day work. Some of my friends say that like Columbus who, trying to find the way to the Indies, discovered for the world a new continent. I, attempting to capture Monroe's personnality, discovered for the American public her derrière. It is true that since my Life story her entire publicity has rotated around this axis, and Monroe's walk was one of the main features of her latest movie.
---
Traduction Photographier Marilyn
par Philippe Halsman
QUAND UN PHOTOGRAPHE est sollicité par un magazine de photos pour un reportage photos, il est mécontent s'il ne peut pas offrir une sélection de ses meilleures et de ses plus rares photos. Ainsi, j'étais mécontent quand PHOTOGRAPHY m'a sollicité pour mon histoire sur Marilyn Monroe qui n'était qu'une sorte de sujet de Life assez typique. Mais réalisant que le but le plus noble d'un magazine photographique est éducatif, et qu'il n'y a actuellement à Hollywood pas de sujet plus éducatif que Marilyn, j'ai accepté tristement mais volontiers.
En fait, je l'avais photographiée quelques années avant de faire ma couverture avec elle. À cette époque, elle travaillait très intensément et durement pour mettre les meilleurs atouts de son anatomie aux yeux du public. Ses chemisiers et ses pulls permettaient de deviner facilement ce qu'ils étaient censés cacher.
Je travaillais alors pour Life pour une histoire sur les starlettes d'Hollywood. Pour découvrir à quel point elles étaient bonnes (en tant qu'actrices), l'éditeur, Gene Cook, en a invité huit et j'ai photographié chacune d'entre elles dans quatre situations de base : écouter la blague la plus drôle mais inaudible, savourer la boisson la plus délicieuse mais invisible, avoir peur du plus horrible des monstres invisible, et enfin, être embrassé par le plus fabuleux des amants invisible.
Si Marilyn s'est distinguée parmi les huit starlettes, ce n'était pas pour son talent d'actrice dans les trois premiers des tests. Mais quand je lui ai demandé de mimer la dernière situation de base, j'ai changé d'avis. Elle a donné une performance d'un tel réalisme et d'une telle intensité dramatique que non seulement elle mais même moi étions complètement épuisés.

J'ai rencontré à nouveau Marilyn trois ans plus tard. Elle n'était pas encore une star, mais déjà toutes les femmes vieillissantes d'Hollywood la détestaient. J'ai été frappé par le changement. Elle n'essayait plus d'être sexy - elle était sexy de la manière la plus éhontée et la plus détendue.
Il y avait déjà chez elle une légende flatteuse du mutisme, car Hollywood aime entourer ses belles blondes de l'aura envoûtante de l'imbécillité. Qu'est-ce en effet qui pourrait ajouter plus à l'attrait d'une enchanteresse que l'absence totale de cervelle ? Malheureusement, les faits n'ont pas confirmé la légende. J'ai trouvé Marilyn tout sauf stupide, avec une franchise étonnante et un bon sens de l'humour, et sa compagnie stimulante, même d'un point de vue spirituel. Le trait qui me frappait le plus était une bienveillance générale, une absence absolue d'envie et de jalousie, ce qui chez une comédienne étonnait.
Par coïncidence, une semaine après cette rencontre, le journaliste de Life, Stanley Flink, m'a informé que son magazine voulait que je photographie Monroe pour une éventuelle couverture, avec quelques photos à l'appui à utiliser à l'intérieur - probablement deux pages. Nous avons contacté le studio et on nous a dit que Marilyn serait disponible pour un jour et demi. J'ai précisé que je ne voulais pas la filmer en studio, et un rendez-vous à son hôtel a été organisé.
Maintenant, je devais décider quel genre de photographies je voudrais faire. Certains photographes ne photographient que par instinct, et bien qu'ils obtiennent souvent de belles photos individuelles, ils ont du mal à mettre en place une histoire d'images cohérente. D'autres suivent de près une séance scénarisée et forcent leur matériel à une telle conformité que cela perd de la spontanéité et de la sincérité. Dans ma photographie, j'essaie d'éviter les pièges de l'une ou l'autre catégorie. Bien sûr, je n'évite pas de filmer par instinct lorsqu'une situation intéressante s'offre à moi. D'un autre côté, j'essaie consciemment d'utiliser mon intellect autant que possible. Je m'efforce de clarifier ma propre réflexion sur le sujet et d'organiser le matériel de l'image en termes de continuité et de mise en page de l'histoire, en prenant garde cependant à ne pas faire poser mes sujets, mais à les inciter à faire ce qu'ils ont l'habitude de faire.
J'ai d'abord dû trouver un thème pour mon histoire, une idée générale pour mener à bien toutes mes images. J'ai pensé à la façon dont j'avais essayé de capturer l'essence d'autres femmes : la santé radieuse d'Ingrid Bergman ; Anna Magnani - une tigresse tragique; Cécile Aubry - moitié enfant, moitié femme, tentante et dérangeante ; Marian Anderson, chantant de la musique noire spirituelle, pleine de dignité sacerdotale.
Et puis j'ai pensé à la lutte pathétique d'une pauvre starlette à Hollywood. Parmi la foule de belles filles qui n'ont jamais eu de diplôme, Marilyn n'était pas celle qui avait le plus beau visage ou la silhouette la plus élégante. Alors pourquoi a-t-elle réussi ? Parce que c'était une bonne actrice ? Personne n'avait encore évoqué son talent d'actrice. Mais même si la grande Duse était vivante, un studio hollywoodien ferait-il un effort pour l'embaucher ? J'en doute. Mais je suis sûr que si l'Italie avait une actrice qui surpassait Jane Russell et Dagmar dans leurs attributs les plus remarquables, chaque société de cinéma accourrait pour surenchérir sur les autres.
Qui étaient les grandes stars de cinéma ? Theda Bara, la "It" Girl Clara Bow, Pola Negri, Jean Harlow, Greta Garbo, Marlene Dietrich. Quelques-unes d'entre elles pouvaient même jouer, mais en dernière analyse, leur fabuleux "glamour" n'était rien d'autre que leur sex-appeal spécial. Et dans le cas de Marilyn Monroe, j'ai vu l'incroyable phénomène d'Hollywood se faire déjouer par une fille qui elle-même était qualifiée de blonde stupide.
Comme d'habitude, l'analyse a conduit logiquement et presque inéluctablement au thème de l'histoire. Je devais montrer dans mes photos que la sensualité de Monroe n'était pas seulement son arme mais son essence même, qu'elle imprégnait tout ce qu'elle faisait - parler, marcher, s'asseoir, manger, s'allonger. En termes de mise en page, tout est devenu également clair et simple. J'ai dû produire une image d'ouverture, établissant le thème général. Le reste de l'histoire serait constitué de photographies montrant Marilyn dans différentes situations, prouvant mon point de vue.

Le jour du rendez-vous, nous sommes arrivés à l'heure devant l'hôtel de Monroe : Stanley Flink de Life, mon assistant John Baird et moi. Marilyn était bien sûr en retard. Finalement, elle est arrivée dans son cabriolet Pontiac pas tout à fait neuf, s'est excusée d'être en retard et nous sommes tous montés dans sa chambre. C'était de taille moyenne, avec un grand lit ressemblant à un canapé, avec du matériel de gymnastique sur le sol et avec de nombreuses étagères le long du mur. Marilyn portait un blue jean et semblait aussi indifférente que la voisine proverbiale d'à côté. Ce fut tout de suite un sentiment de complicité et de plaisir. "Que faites-vous avec ces haltères ?" J'ai demandé quand j'ai failli trébucher sur quelques-unes d'entre elles. "Mais Philippe, je combats la gravité !" Marilyn répondit gravement et inspira profondément pour prouver son point de vue.
J'ai décidé de commencer par essayer la photo de couverture. Je devais d'abord trouver la robe. Marilyn a ouvert son placard et j'ai découvert à ma grande surprise que l'une des raisons pour lesquelles Monroe était si peu vêtue était qu'elle avait si peu à porter. Elle dépensait manifestement plus d'argent en livres et disques qu'en robes. Il n'y avait pas de fourrures dans sa garde-robe et seulement quelques robes de soirée. J'ai choisi la robe moulant blanche, et Marilyn l'a mise. Il y avait un énorme arc sur la hanche gauche. J'expliquai à Marilyn que le nœud dépréciait la robe, qu'en règle générale les lignes simples d'une robe étaient plus élégantes. Marilyn, après m'avoir écouté avec la même attention qu'un élève écoutant l'explication de son professeur sur un nouveau théorème algébrique, prit ses ciseaux et coupa l'arc.
Alors qu'elle était dans la salle de bain en train de refaire son maquillage (j'insistais pour qu'elle ne porte pas plus que du rouge à lèvres et du mascara), je réfléchissais à la façon dont elle devrait poser. L'évidence aurait été de la photographier allongée dans un fauteuil ou sur son canapé, mais parce que c'était tellement évident, j'ai décidé de ne pas le faire. J'ai emmené Marilyn dans un coin et j'ai mis mon appareil photo devant elle. Maintenant, elle avait l'air d'avoir été poussée dans un coin - acculée - sans aucun moyen de s'échapper. La situation de base était prévue, et il ne me restait plus que deux soucis : l'éclairage, et Stanley Flink.
J'utilise mon appareil photo Fairchild-Halsman presque exclusivement pour photographier des visages. Il aurait été inutile de se concentrer sur le visage de Monroe, car elle utilise son corps (pour jouer) plus que toute autre actrice hollywoodienne. J'ai donc décidé de la photographier avec un Rolleiflex, et une ouverture de f/5,6 m'a semblé appropriée. A cet arrêt mon compteur Weston indiquait, malgré la grande vitre derrière moi, seulement 1/3 de seconde. Mon assistant a apporté de la voiture des projecteurs #2 dans des réflecteurs en aluminium et j'en ai mis un sur un support portable devant Marilyn. Maintenant, en utilisant la grande fenêtre comme remplissage et le projecteur comme lumière principale, je pouvais photographier à 1/10 ou 1/25 seconde, selon la distance. Mon assistant a fixé la deuxième lumière en haut d'un placard adjacent afin qu'elle éclaire et rétro-éclaire les cheveux blonds de Marilyn. Le problème d'éclairage résolu, il restait la question de Stanley Flink.
Les journalistes insistent souvent pour regarder la séance photos proprement dite. Le simple fait d'être observé inhibe généralement à la fois le modèle et le photographe, créant une atmosphère de conscience de soi qui détruit l'intimité nécessaire entre le caméraman et le sujet. Mais heureusement pour moi dans ce cas, la nature a béni Flink avec une disposition charmante et serviable. Il n'est jamais l'observateur froid et impartial ; il devient immédiatement et avec enthousiasme un membre de l'équipe de travail.
Il s'est placé près de l'appareil et a commencé à complimenter et à taquiner Monroe. J'ai fait semblant d'être très jaloux de lui et nous avons eu une bataille verbale enflammée, tous deux se disputant sans vergogne les faveurs de Marilyn. Entourée de trois hommes admiratifs, elle souriait, flirtait, gloussait et se tortillait de plaisir. Pendant l'heure où je l'ai gardée coincée, elle s'est amusée royalement, et j'ai... j'ai pris entre 40 et 50 photos - pas les expressions courantes qu'elle donne habituellement aux photographes.
Pourquoi ai-je pris autant de photos, au lieu de me contenter que de quatre ou cinq ? Je photographie lorsque l'expression semble significative, mais je ne sais jamais si le moment suivant ne produira pas une expression encore plus gratifiante. Rien ne semble moins cher à un photographe de magazine qu'un film non exposé. Le grand nombre d'expositions fait que le sujet néglige l'importance d'être photographié, et crée parfois une immunisation complète contre le cliquetis constant de l'obturateur. J'arrête de photographier quand je sens que la situation a atteint son paroxysme. J'ai été extrêmement heureux de voir plus tard que les éditeurs de Life avaient choisi comme couverture la photo prise à cet instant décisif.

Ma prochaine étape consistait à passer en revue les déshabillés de Marilyn. Le publicitaire de la Twentieth Century-Fox, Roy Craft, qui dirige Marilyn, mais est néanmoins particulièrement efficace et coopératif, avait envoyé plus de dix déshabillés différents. J'ai sélectionné celui qui, selon moi, serait le mieux rendu en photo et j'ai commencé à chercher un arrière-plan. Ma curiosité a été éveillée par la seule photographie dans la pièce. À ma grande surprise, j'ai reconnu le visage d'Eleonora Duse. Marilyn a-t-elle affiché cette image juste pour impressionner les intellectuels itinérants ? J'ai posé quelques questions et j'ai été surpris de découvrir que Marilyn en savait non seulement beaucoup sur elle, mais que la Divine Duse était sa grande idole.
Une vieille règle à moi, quand je fais un reportage, est de photographier tout ce qui est significatif ou surprenant. C'était les deux. J'ai décidé d'inclure la photo de Duse dans ma photo d'ouverture. Il y avait un tourne-disque sur l'étagère. Marilyn, en déshabillé transparent, s'y adossa, écoutant avec une rêverie haletante un disque. Son derrière pointait vers le visage immortel de la Duse. Pour moi, ce n'était pas un sacrilège. C'était mon commentaire ironique sur le changement de valeurs dans notre civilisation.
Les étagères de Marilyn étaient pleines des livres les plus disparates - sur la religion, la science, l'histoire, la psychologie et les traductions de classiques français, russes et allemands. Cela aussi était surprenant et une bonne occasion de faire une image éducative. Ma photo suivante montrait la magnifique blonde, dans son déshabillé transparent, assise avec un livre sur ses genoux, travaillant avec nostalgie sur son développement intellectuel. C'était vraiment inspirant. Derrière la silhouette de Marilyn, des têtes d'œufs pouvaient étudier les titres de ses livres. C'était la dernière photo du premier jour.

Le lendemain, sur notre chemin pour aller déjeuner, j'en ai profité pour photographier la marche remarquable de Marilyn, essayant de saisir son étonnante ondulation turbinoïde. Je faisais toutes les expositions, car j'avais l'impression que, rythmiquement, au sommet de sa tortilité chantante, comme me faisant un clin d'œil, mais que je manquais constamment d'attraper ce clin d'œil. Avec une caméra, cela aurait été un jeu d'enfant, mais saisir l'essence de la démarche d'un seul coup, si cela était possible, exigeait la plus grande concentration perceptive
Après le déjeuner, nous sommes allés dans un restaurant drive-in pour montrer que Marilyn était sexy même en mangeant. Après cela, j'ai fait la série de photos montrant la technique de Monroe pour postuler à un emploi qui ont été utilisées dans Life. Nous avons emmené les flashes dans sa chambre, et avec un éclairage indirect, je l'ai photographiée en train de faire de l'exercice avec des haltères, rampant sur le sol, se tenant sur la tête et faisant des pompes et des poiriers. Je pensais que ce serait la dernière série de photos. Nous avons remballé notre équipement et l'avons transporté dans les escaliers. Levant les yeux, j'ai vu Marilyn se pencher par-dessus la balustrade pour nous voir partir. Cela ressemblait à une photographie bien composée. J'ai interpellé: "Attends !" et j'ai ouvert mon Rollei pour prendre encore deux douzaines de photos d'elle là.
Le reportage avait été typique à tous les égards, et quand je suis retourné à New York, je n'ai pas été surpris de constater que, comme d'habitude, le reportage du magazine ne ressemblait pas à la mise en page que le photographe avait initialement en tête. Life a mis Marilyn en couverture et a fait un geste très inattendu mais astucieux sur le plan journalistique : dans la première page du reportage, ils ont utilisé la photo du désormais célèbre calendrier de Monroe nue. Cette image unique était sans aucun doute plus digne d'intérêt que toute ma couverture. Utiliser ma photo d'elle dans un déshabillé transparent à côté aurait été décevant. Alors, comme j'étais à New York, on a demandé à un autre photographe de la photographier en pull et pantalon. La page suivante se composait de six plans de mon ensemble de l'approche de Marilyn à un travail. La dernière page montrait sa magnifique marche, à côté d'une photographie similaire de Jean Harlow, également prise de dos.
Pour Marilyn, ce fut probablement l'histoire de magazine la plus importante de sa carrière. J'ai vu des couvertures de Life qui n'ont rien fait pour leurs protagonistes, et j'ai aussi vu des cas dans lesquels ils ont littéralement changé une vie ou fait monter en flèche un inconnu à la gloire. Bien que dans le cas de Marilyn, l'effet n'ait pas été d'une immédiateté spectaculaire, cette histoire a convaincu la Twentieth Century-Fox qu'au lieu d'une simple starlette avec des possibilités, ils avaient en elle une étoile de première grandeur. Monroe a obtenu la vedette même dans les films où elle a joué des rôles secondaires; son salaire a été ajusté, elle a déménagé dans de meilleurs quartiers et elle est maintenant sans aucun doute l'actrice la plus sexy d'Hollywood.
Pour moi, ce n'était qu'une histoire de routine qui a abouti à ma 54ème couverture de Life (actuellement j'en ai 60), et en tant que routine, c'est un bon exemple de mon travail au jour le jour. Certains de mes amis disent cela comme Colomb qui, essayant de trouver le chemin des Indes, découvrit pour le monde un nouveau continent. Moi, en essayant de saisir la personnalité de Monroe, j'ai découvert pour le public américain son derrière. Il est vrai que depuis mon histoire dans Life, toute sa publicité tourne autour de cet axe, et la marche de Monroe était l'une des principales caractéristiques de son dernier film.
---
© All images are copyright and protected by their respective owners, assignees or others.
10 mars 2021
Diana Dors
(1931 - 1984)

actrice et chanteuse anglaise
La "Marilyn anglaise" des années 1950s
& la Marilyn des studios de la RKO

english actress and singer
The "British Marilyn" of the 1950's
& the RKO's studios Marilyn

---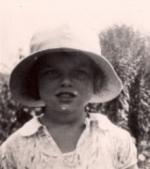 Diana Dors naît le 23 octobre 1931 à Swindon, dans le Wiltshire en Angleterre, sous le nom de Diana Mary Fluck. Son père Albert Edward Sidney Fluck est commis de chemin de fer; quand sa mère Winifred Maud Mary (Payne) était enceinte de Diana, elle entretenait une liaison extra-conjuguale avec leur logeur et ne sait pas qui est le père de sa fille. L'accouchement étant compliqué (la mère et le bébé ont failli mourir), Diana sera fille unique et adorée par sa mère; elle vivra une enfance heureuse et gâtée. Diana fait ses études dans une petite école privée à Selwood House. Enfant, elle se passionne pour le cinéma: dès 8 ans, ses héroïnes sont des actrices hollywoodiennes comme Veronica Lake, Lana Turner et Jean Harlow. Sa mère lui fait prendre très tôt des cours de danse et l'accompagne aux soirées des GI's installés dans une base américaine.

Diana Dors was born on 23 October 1931, in Swindon, Wiltshire, in England, under the name of Diana Mary Fluck. Her father Albert Edward Sidney Fluck is a railway clerk; when her mother Winifred Maud Mary (Payne) was pregnant with Diana, she was having an extramarital affair with the landlord and doesn't know who the father of her daughter is. Childbirth being complicated (the mother and the baby almost died), Diana will be an only child and beloved by her mother; she will live a happy and spoiled childhood. Diana is educated at a small private school in Selwood House. As a child, she is passionnate by the cinema: from the age of 8, her heroines are Hollywood actresses as Veronica Lake, Lana Turner and Jean Harlow. Her mother makes her take dance lessons very early on and accompanies her to the dance parties of the GI's installed in an American base.

---
Une belle étudiante -/- A beautiful student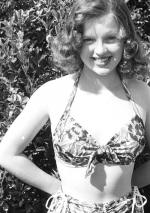 Peu avant la fin de la guerre, elle participe à un concours de beauté -elle fait plus vieille que son âge - (le magazine Soldier cherche une pin-up); elle atteint la 3ème place, lui permettant de travailler comme modèle en posant dans les cours d'art et elle commence à faire du théâtre (elle joue dans les pièces A Weekend in Paris et Death Takes a Holiday) et chante sur les ondes d'une radio locale. Excellente en littérature et élocution, et après avoir menti sur son âge, elle intègre en janvier 1946 l'académie londonienne de la musique et des arts dramatiques (LAMDA), devenant la plus jeune étudiante du collège (elle a 14 ans). Pour subvenir à ses besoins, elle compléte son allocation de 2 £ par semaine en posant comme mannequin, notamment pour le London Camera Club pour 1 £ de l'heure. Elle signe son premier contrat à l'agence Gordon Harbord, et elle obtient une médaille de bronze décernée par Peter Ustinov (acteur et réalisateur primé) puis elle remporte une médaille d'argent avec les honneurs pour ses performances dans des pièces de théâtre de la LAMDA. Elle auditionne -sans succès- pour le rôle qui sera joué par Jean Simmons dans Le Narcisse Noir.

Towards the end of the war, she participates to a beauty contest - she looks older than her age - (Soldier magazine search a pin-up girl); she comes in third place, ledding her to work as a model in art classes and she begins to appear in local theatre productions (she plays in A Weekend in Paris and Death Takes a Holiday) and sings on the local radio station. Excellent in literature and speech, and after lying about her age, she integrates in January 1946 the London Academy of Music and Dramatic Art (LAMDA), becoming the college's youngest student (she is 14). To support herself, she supplements her allowance of £ 2 per week by posing as a model, especially for the London Camera Club for £ 1 per hour. She signs her first contract at the Gordon Harbord Agency, where she obtains a bronze medal awarded by Peter Ustinov (award-winning actor and director) and then she wins a silver medal with honors for her performances in LAMDA plays. She auditiones -unsuccessfully- for the part which will be played by Jean Simmons in Black Narcissus.

---
Cinéma et Théâtre -/- Cinema and Theatre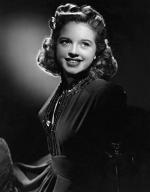 En 1947, elle obtient son premier rôle au cinéma -un rôle mineur avec 3 jours de tournage- dans le film Légitime défense, grâce au directeur de casting Eric L'Épine Smith, qui l'avait repéré dans une pièce de théâtre. Pour signer son contrat, elle choisit de prendre le nom de sa grand-mère maternelle, Dors, une suggestion de sa mère et avec l'accord de son père; elle expliquera plus tard: "Ils m'ont demandé de changer mon nom. Je suppose qu'ils avaient peur que mon vrai nom Diana Fluck soit illuminé et que l'une des lumières s''éteindrait." (nb: Fluck sans la 2ème lettre !)
Puis son agent lui décroche un petit rôle de danseuse dans Holiday Camp, et Dancing with crime; dans ses trois premiers films, ses rôles étant tellement faibles, elle n'est pas créditée au générique, mais lui permet de gagner beaucoup d'argent: quand elle rentre chez ses parents, son père dit, déconcerté: "Ridicule; une fille de 15 ans qui gagne plus d'argent que moi !" Puis elle retourne au théâtre de LAMDA, où elle obtient son diplôme au printemps 1947 de la London Films Cup, décernée par Sir Alexander Korda pour la "fille la plus susceptible de réussir dans les films brittaniques".

In 1947, she obtains her first part in the cinema - a minor role with 3 days of filming - in the movie The shop at sly corner, thanks to the casting director Eric L'Épine Smith, who has spotted her in a play. To sign her contract, she chooses to take her maternal grandmother's name, Dors, at her mother's suggestion and with her father's consent; she will explain later: "They asked me to change my name. I guess they were afraid if my real name Diana Fluck was in the lights and one of the lights blew out." (nb: Fluck without the 2nd letter !)
Then her agent lands her a small part as a dancer in Holiday Camp, and Dancing with crime; in her first three films, her roles being so weak, she is not credited but allows her to earn a lot of money: when she goes back at home's parents, her father says, disconcerted: "Ridiculous; A 15 years old girl earning more money than I do at my time of life !" She then returns to the LAMDA theater, where she is graduated in the spring of 1947 by the London Films Cup, awarded by Sir Alexander Korda for the "girl most likely to succeed in British films".
---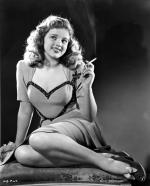 Toujours en 1947, Diana Dors, 16 ans, signe un contrat avec la compagnie Rank et rejoint "l'école de charme" de J. Arthur Rank pour les jeunes acteurs, apparaissant par la suite dans beaucoup de leurs films. L'école de charme avait été créée par le producteur Sydney Box, qui était nommé responsable de la production chez Gainsborough Studios, l'une des sociétés sous l'égide de Rank (parmi les étudiants de l'école devenus célèbres: Petula Clark, Claire Bloom et Christopher Lee.) Dors n'aimait pas l'école de charme mais a reçu plus de publicité que les autres étudiants à l'époque en partie au fait de sa photogénie et d'assister à des premières. Un article d'août 1947 mentionne que son surnom est "Le corps".
Sous contrat avec Rank, elle joue un rôle important dans Streets Paved with Water dont le tournage débute en juillet 1947 mais le film sera annulé au bout d'un mois. Puis elle enchaîne avec un petit rôle de femme de chambre dans The Calendar (1948), et un bon rôle dans Les ailes brûlées (1948), qui lui permet de se faire remarquer; elle joue ensuite dans le Oliver Twist (1948) de David Lean. Elle obtient un rôle important dans Penny and the Pownall Case (1948), un film médiocre mais dans lequel néanmoins sa prestation est appréciée et impressionne les critiques. Rank fait savoir qu'elle fait partie de leur actrice des plus prometteuses.
Elle joue dans les comédies (des suites de Holiday Camp): Here Come the Huggetts et Vote for Huggett, produits par Betty E. Box qui décrit que Diana, bien qu'étant encore adolescente, "elle pensait comme une femme, agissait comme une femme et ressemblait à une femme." Elle excelle dans les rôles comiques et Rank lui décroche d'autres rôles plus importants au cinéma (Diamond City et A boy, a girl and a bike - où elle tombe amoureuse du cameraman qui a 19 ans et avec qui elle perd sa virginité à l'âge de 16 ans) tout en faisant aussi du théâtre (dans les pièces The Cat and the Canary, et elle part en tournée sur scène pour The Good Young Man.) Elle s'installe dans un appartement à Chelsea où elle reçoit bon nombre d'amis acteurs et y fait beaucoup la fête.
De 1949 à 1951, elle est en couple avec l'homme d'affaires Michael Caborn-Waterfield, dont elle tombe enceinte à l'âge de 18 ans mais il lui demande d'avorter: cela se passera sur une table de cuisine dans un quartier sordide de Battersea.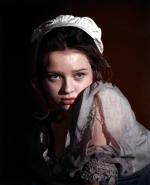 Always in 1947, Diana Dors, aged 16, signs a contract with the Rank Organisation, and joins J. Arthur Rank's "Charm School" for young actors, subsequently appearing in many of their films. The Charm School had been established by producer Sydney Box who Rank appointed head of production at Gainsborough Studios, one of the companies under the Rank aegis (among the school's students becoming famous: Petula Clark, Claire Bloom and Christopher Lee.) Dors disliked the Charm School but received more publicity than other students at the time partly due to its photogeny and attending premieres. An August 1947 article says that her nickname is "The Body".
Under contract with Rank, she plays an important part in Streets Paved with Water which the filming starts in July 1947 but the movie will be cancelled after a month. Then she continues with a small role as a maid in The Calendar (1948), and a good part in Good-Time Girl (1948), which allows her to stand out; she plays after in Oliver Twist (1948), directed by David Lean. She obtains an important role in Penny and the Pownall Case (1948), a mediocre film but in which her performance is nevertheless appreciated and impresses critics.
She plays in the comic movies (that followed Holiday Camp): Here Come the Huggets and Vote for Huggets, produced by Betty E. Bow who describes that Diana, despite of being a teenager, "she thought like a woman, acted like a woman, and looked like a woman." She is excellent in comedic roles and Rank lands her other more important roles in the cinema (in Diamond City and in A boy, a girl and a bike - on which she falls in love with the cameraman who is 19 years old and with whom she looses her virginity at the age of 16) while also doing theater (in the plays The Cat and the Canary, and she leaves touring on stage for The Good Young Man.) She moves into an apartment in Chelsea where she receives a number of actor friends and organize a lot of parties.
From 1949 to 1951, she has a relationship with the businessman Michael Caborn-Waterfield, from whom she becomes pregnant at the age of 18 but he asks her to have an abortion: it would take place on a kitchen table in a squalid part of Battersea.
---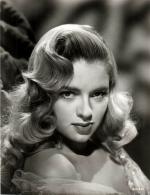 En 1950, elle fait partie du quatuor féminin dans Le démon de la danse, avec Natasha Perry, Petula Clark et Jane Hylton; lui laissant un mauvais souvenir ("un film horrible - sans doute l'un des plus désagréables que j'ai jamais fait") mais pour lequel elle reçoit de bonnes critiques. Le film fait un flop au box-office, et Rank se couvre de dettes, n'ayant pas su gérer la célébrité de Diana; ils ferment l'école de charme.
En février 1950, elle joue au théâtre dans la pièce Man of the World qui lui permet de remporter le prix de l'actrice de l'année du magazine Theatre World.
En 1951, elle décroche le rôle principal féminin dans la comédie Worm's Eye View, le film le plus populaire de l'année en Grande-Bretagne; ainsi qu'un rôle majeur dans Face to Face, un téléfilm de la BBC et un rôle récurrent dans la série How Do You View ? : elle se fait ainsi connaître auprès du grand public, tout en poursuivant le théâtre avec Miranda à Stratford et Born Yesterday à Henley. De cette époque, elle racontera: "Je fus la première actrice blonde sex symbol faite maison (en Angleterre) plutôt que la blondasse des cartes postales ; quand le premier film connu de Marilyn Monroe (« Quand la ville dort ») sortit en Angleterre, les médias britanniques titrèrent « comme elle ressemble à notre Diana Dors !"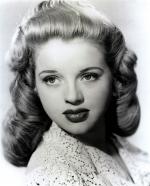 In 1950, she belongs to the female quartet in Dance Hall, with Natasha Perry, Petula Clark and Jane Hylton; leaving her with a bad memory ("a ghastly film – quite one of the nastiest I ever made") but for which she receives good reviews. The film flopped at the box office, and Rank got covered in debt, failing to handle Diana's stardom; they close the Charm school. In February 1950, she plays in the theater in the play Man of the World fo which she is awarded by Theatre World magazine's Actress of the Year Award.
In 1951, she lands the female lead in the comedy Worm's Eye View, the movie is the most popular of 1951 in Britain; as well as a major role in Face to Face, a BBC TV movie and a recurring part in the TV series How Do You View ?: she makes herself known to a large audience, while pursuing theater with the plays Miranda at Stratford, and Born Yesterday at Henley. From that time, she will tell: "I was the first homemade blonde sex symbol actress (in England) rather than the postcard blonde girls; when Marilyn Monroe's first known film ("Asphalt Jungle") was released in England, the British media headlined "How she looks like our Diana Dors !"

---
Star britannique

-/-
British Stardom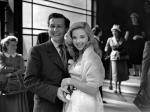 Côté vie privée, elle rencontre Dennis Hamilton Gittins (26 ans) sur le tournage de Lady Godiva Rides Again; ils se marient le 3 juillet 1951, à peine 5 semaines après leur rencontre. Son mari s'implique beaucoup dans la gestion de sa carrière, du choix de ses contrats et de ses cachets (il refuse en son nom qu'elle tourne un film avec Burt Lancaster à Hollywood); lui fait créer la société "Diana Dors Ltd" et prend en charge la publicité autour de sa femme, qu'elle soit bonne ou mauvaise, l'important est que les médias parlent de Diana. Les biographes et amis du couple raconteront qu'Hamilton prêtait sa femme aux producteurs et acteurs en demandes de faveurs sexuelles contre de juteux contrats, telle la "promotion canapé" en vigueur officieuse à cette époque. C'est avec Hamilton qu'elle commence à organiser des parties fines chez elle: des célébrités étaient invités, couchaient avec de jeunes starlettes, sur fond d'alcool, de drogues et de films pornos, et le tout filmé par Diana Dors qui conserve les films dans ses archives personnelles pour les visionner à sa guise; elle a continué cette pratique jusqu'à la fin de sa vie.
Il lui conclut aussi un contrat publicitaire avec les voitures Rolls Royce: elle est la première égérie féminine conductrice de la marque; pour mener à bien sa carrière, son mari lui demandera d'avorter quand elle tombera enceinte (en février 1952 et en août 1955).

On the private side, she meets Dennis Hamilton Gittinson (26 year old) on the set of Lady Godiva Rides Again; they get married on July 3, 1951, barely five weeks after their meet. Her husband is very involved in the management of her career, the choice of her contracts and financial aspects (he turns down the part on her behalf a movie with Burt Lancaster in Hollywood); sets up her the company "Diana Dors Ltd" and supports the publicity around his wife, whether good or bad, the important thing is that medias talk about Diana. The couple's biographers and friends would tell that Hamilton lent his wife to producers and actors asking for sexual favors for hefty contracts, such as the "casting couch" in effect unofficially at the time. It's with Hamilton that she begins to organize fine parties at home: celebrities are invited, slept with young starlets, with a background of alcohol, drugs and porn movies, and everything is filmed by Diana Dors herself who keeps the films in her personal archives to watch them at will; she continues to practice that until the end of her life.
He also signs an advertising contract with Rolls Royce cars for her: she was the brand's first female driver; to carry out her career, her husband asks her to have an abortion when she got pregnant (in February 1952 and August 1955).
---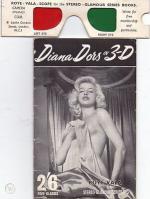 En

1952 et 1953

, elle accède à la notoriété grâce au film noir The Last Page, les comédies

My Wife's Lodger

et The Great Game, et à la pièce Rendez-vous jouée peu de temps à Londres, où la critique souligne son talent (Variety dit d'elle qu'elle a apporté «la seule contribution notable» à la pièce); Laurence Olivier lui propose même un rôle, mais le projet ne se fera pas sur les conseils de Dennis préférant envoyer Diana se produire sur scène à Blackpool, qui la rémunère en conséquence. Hamilton lui organise une énorme publicité; Diana racontera plus tard que son mari l'a "promu strictement en tant que sex-symbol, jamais en tant qu'actrice. Mais cela a atteint son objectif et à l'époque c'était amusant." En

1954

, il a l'idée d'exploiter la technologie nouvellement imprimée de la 3D: il engage le photographe Horace Roye et publie un livret "

Diana Dors 3D: l'ultime Sex Symbol Britannique

", vendu avec une paire de lunettes 3D; des plaintes sont déposées pour obsénité mais sont déboutées au tribunal.

En

1953

, elle est sur scène pour un numéro de cabaret à Glasgow, et ses cachets par films commencent à être importants (la société de production Adelphi rachètent les droits de la série Is Your Honeymoon Really Necessary ? pour lui en donner le rôle principal). Sa carrière prend un réel tournant pour son rôle dans Filles sans joie, un drame qui se passe dans une prison pour femmes; elle a tourné le film en août 1953, quelques semaines après avoir été condamnée dans la vraie vie pour avoir volé de l'alcool chez un ami. Le film reçoit un très bon accueil des critiques et du public. Elle enregistre aussi ses premières chansons, 2 titres sur un 78 tours: "I Feel So Mmmm" et "A Kiss and a Cuddle (and a Few Kind Words From You)".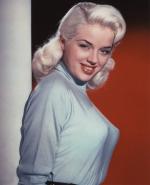 In 1952 and 1953, she gains notoriety thanks to the film noir The Last Page, the comedies My Wife's Lodger and The Great Game, and to the play Rendez-vous played shortly in London, where the critics underline her talent (Variety says of her that she brought "the only noteworthy contribution" to the play); Laurence Olivier even offers her a role, but the project will not happen on the Dennis' advices prefering to send Diana to perform on stage in Blackpool, which pays her more. Hamilton organizes a huge publicity for her; Diana would later relate that her husband "promoted me strictly as a sex symbol, never as an actress. But it served its purpose and at the time it was fun." In 1954, he has the idea of ​​exploiting the newly printed 3D technology: he hires photographer Horace Roye and publishs a booklet "Diana Dors 3D: the ultimate British Sex Symbol", sold with a pair of 3D glasses; complaints are filed for obsenity but are dismissed in court.
In 1953, she is on stage for a cabaret show in Glasgow, and her film fees began to be significant (the production Adelphi Films bought the rights to the series Is Your Honeymoon Really Necessary ? to give her the leading role). Her career takes a real turn for her role in The Weak and the Wicked, a drama set in a jail for women; she makes the film in August 1953, a few weeks after being convicted in real life for stealing alcohol from a friend's house. The film receives a very good reception from critics and the public. She also records her first songs, 2 titles on a 78 rpm record: "I Feel So Mmmm" and "A Kiss and a Cuddle (and a Few Kind Words From You)".
---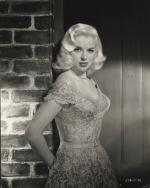 En 1955, c'est la consécration: elle est à l'affiche de 6 films: L'Abominable Vérité (où elle chante "The Hokey Pokey Polka" sur la BO), L'enfant et la licorne, Miss Tulip Stays the Night, Fièvre blonde, An Alligator Named Daisy, et un petit rôle dans Rendez-vous à Rio (avec Brigitte Bardot). Elle est très bien payée, les britanniques la nomment 9ème star britannique la plus populaire au box-office en 1955 (elle est la seule femme du top 10), elle est acclamée au Festival de Cannes en 1956, sa popularité fait d'elle la "Marilyn Monroe anglaise", mais elle se lasse de ces rôles: "Ils pensent toujours que je ne suis bonne que pour les rôles de blondes stupides que j'ai joués il y a cinq ans, je pensais que tout le monde dans le milieu savait que j'aurais parcouru du chemin depuis".
In 1955,
it's the consecration: she is at the top of 6 movies:
As Long as They're Happy (on which she sings "The Hokey Pokey Polka" on the soundtrack), A Kid for Two Farthings, Miss Tulip Stays the Night
,
Value for money
,
An Alligator Named Daisy
, a
nd a little part in Doctor at sea (with Brigitte Bardot). She is very well paid, the British votes her the ninth-most popular British star at the box office in 1955 (she is the stole female star in the top 10), she is acclaimed at the 1956 Cannes Film Festival, her popularity makes her "the British Marilyn Monroe", but she gets bored about these roles: "They still think I'm only good for the dumb blonde parts I played five years ago, I thought everyone in the business knew I'd come some way since then."
---
Aller et retour à Hollywood

-/- Go and Back to Hollywood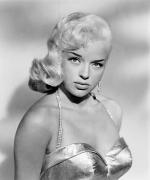 En 1956, Hollywood lui fait de l'oeil; elle s'installe dans la cité des anges et déclare: "J'espère m'amuser, garder mon sens du plaisir et faire du bon travail. Il m'a fallu 10 ans de travail acharné dans des films médiocres, dans des revues, des pièces de théâtre et en tournée pour devenir une star, et je n'ai pas l'intention de laisser Hollywood me changer, me couper les cheveux, changer de style ou de personnalité."; en février, elle est invitée dans une émission de Bob Hope enregistrée en Angleterre et en mai, elle signe chez la RKO pour 3 films: elle tourne La femme et le rôdeur, et I married a Woman, mais pas de 3ème film car les projets ne verront pas le jour (comme Blondes Prefer Gentlemen avec Eddie Fisher -le titre faisant échos au film avec Marilyn Les hommes préfèrent les blondes ); en décembre 1958, RKO mettra fin à son contrat en alléguant qu'elle "était devenue un objet de disgrâce, de blague, de mauvaise volonté et de ridicule", notamment à cause de sa laison avec l'acteur Rod Steiger, et le comportement de son mari Hamilton qui s'est vengé en la trompant avec la femme de Steiger; menant le couple à se séparer en novembre 1956. Elle fréquente les soirées à Hollywood mais les films ne se font pas et la journaliste commère Hedda Hopper de dire que "sa popularité diminue avant même que son premier film ne soit montré." Elle va au Bob Hope Show en octobre 1956 et retourne en Angleterre (où finalement son mari la rejoint) pour tourner Les trafiquants de nuit (où elle rencontre le cascadeur Tommy Yeardye) pour la Columbia, puis en Italie pour La Blonde enjôleuse avec Vittorio Gassman.
In 1956, Hollywood looks at her; she settles in the city of angels and declares: "I'm hoping to enjoy myself, keep my sense of fun and do a good job. It took me 10 years hard work in poor pictures, in revue, in straight plays and touring to become a star, and I don't intend to let Hollywood push me about, crop my hair, change my style or personality.", in February, she is a guest to a Bob Hope TV show recorded in England and in May, she signs with the RKO for 3 movies: she plays in The Unholy Wife, and I married a woman, but not a third movie because the projects won't be completed (as Blondes Prefer Gentlemen with Eddie Fisher - the title echoing the movie with Marilyn Gentlemen Prefer Blonds) and in December 1958, RKO breaks the contract alleging she "has become an object of disgrace, obloquy, ill will and ridicule." because of her relationship with actor Rod Steiger and the behaviour of her husband Hamilton who takes revenge by cheating on her with Steiger's wife; leading the couple to separate in November 1956. She goes to Hollywood parties but the movies don't make it and gossip reporter Hedda Hopper says that "her popularity is slipping even before her first film is shown." She goes to the Bob Hope TV show in October 1956 and goes back to England (where finally her husband joins her) to make the movie The Long Haul (on which she meets stuntman Tommy Yeardye) for the Columbia and then in Italy to make The Love Specialist with Vittorio Gassman.

>

The Mike Wallace Interview, 09 novembre 1957 - USA
elle est présentée comme "la réponse anglaise à Marilyn Monroe"

---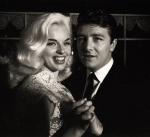 En couple avec son cascadeur, elle divorce d'Hamilton: en

1958

, son divorce est un gouffre financier (elle doit payer des indus d'impôts, ses avocats, les comptables et céde ses actifs à Hamilton), elle découvre que sa société Diana Dors Ltd est très endettée, dûe à une mauvaise gestion de son ex-mari. En besoin

d 'argent, elle donne une interview où elle décrit leur vie de couple et leurs fêtes coquines en détail.

L'interview est publiée en plusieurs parties pendant 12 semaines, suivie d'une série de six semaines d'histoires sensationnelles, lui créant une publicité négative.

L'archevêque de Canterbury la qualifie de "coquine rebelle".

Toujours pour se renflouer, elle accepte la proposition de son agent Joseph Collins de partir en tournée de cabaret "

The

Diana Dors Show

".
L'acteur

Richard Dawson

est engagé pour scénariser le spectacle et ils entament une liaison. Diana se sépare de

Tommy Yeardye

, et pour se venger, Yeardye lui vole de l'argent (placé dans un coffre à Harrod's) et vend leur histoire aux médias. En

1959

, son ex-mari Hamilton décède (officiellement d'une crise cardiaque, mais la cause de son décès est la syphilis) et Diana se remarrie avec Dawson à New York; ils auront ensemble deux fils

Mark Dawson

(né en

février 1960

)

et

Gary Dawson

(né en juin 1962). Elle est invitée aux émissions américaines populaires comme chez Steve Allen, Red Skelton, Jack Benny; son spectacle est enregistré pour la télévision, elle en décroche un contrat pour se produire au Dunes Hotel de Las Vegas (en septembre 1960) et sort même son autobiographie "

Swingin' Dors

". En 1960 sort aussi ce qui sera son unique album, le LP "Swingin 'Dors" sur le thème du swing, orchestré par Wally Stott.

Elle tourne même dans quelques films (La doublure du général et

King of the Roaring 20's

) et joue dans un épisode de la série "

Alfred Hitchcock présente

" mais l'épisode (L'apprentie sorcière) est tellement une histoire horrible, qu'il sera censuré pendant des années. Elle joue de petits rôles dans d'autres séries télé puis retourne en Angleterre en

1961

où elle échappe de peu à la mort (des feux d'artifices ont mis le feu à une maison où elle était invitée, bilan: 4 morts; Diana s'en est échappée par une fenêtre) et en 1963, elle part en tournée en Australie.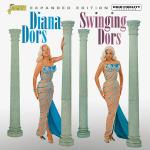 In a relationship with her stuntman, she divorces from Hamilton: In 1958, her divorce is a financial abyss (she has to pay overdue taxes, her lawyers, accountants and signs her assets to Hamilton), she discovers that her company Diana Dors Ltd is very much in debt, due to mismanagement by her ex-husband. In need of money, she gives an interview where she describes their married life and their naughty parties in details. The interview is published in parts for 12 weeks, followed by a six-week series of sensational stories, creating negative publicity for her. The Archbishop of Canterbury calls her a "wayward hussy". Always to bail out, she accepts the proposal of her agent Joseph Collins to go on a cabaret tour "The Diana Dors Show". Actor Richard Dawson is hired to script the show and they start an affair. Diana separates from Tommy Yeardye, and in revenge, Yeardye steals her money (places in a deposit box in Harrods) and sells their story to the media. In 1959, her ex-husband Hamilton died (officially by a heart attack, but the cause of death is syphilis) and Diana marries Dawson in New York; they will have together two sons Mark Dawson (born in February 1960) and Gary Dawson (born in June 1962). She is a guest on popular american TV programs as the Steve Allen's, Red Skelton's, Jack Benny's Shows; her cabaret show is taped for television, she lands a contract for it at the Dunes Hotel in Las Vegas (in September 1960) and even publishes her autobiography "Swingin' Dors". In 1960, what will be her single songs album is published, the LP "Swingin' Dors", on the swing-themed, orchestrated by Wally Stott.
She even makes some movies (On the double and King of the Roaring 20's) and plays in an "Alfred Hitchcock Presents" story ("The Sorcerer's Apprentice") but the story is so gruesome that it will be censored for years. She plays small roles in other TV series and then returns to England in 1961 where she narrowly escapes death (fireworks set fire to a house where she was a guest, results: 4 dead; Diana is escaped through a window) and in 1963, she tours in Australia.
En

1966

, Diana Dors divorce de Dawson en lui laissant leur deux fils et retourne en Angleterre pour faire la tournée des cabarets dans de petites salles. En

1968

, elle se déclare en faillite; et elle poursuit sa carrière d'actrice, en n'obtenant que des rôles secondaires dans des films dramatiques et des thrillers qui ne marqueront pas l'histoire du cinéma: Le cercle de sang (1967, avec Joan Crawford), Le coup du lapin (1967), Les requins volent bas (1968), Baby Love (1968), Deep End (1970) et la comédie Une fille dans ma soupe (1970). Au

début des années 1970s

, c'est vers la télévision qu'elle se tourne en jouant la guest dans les séries britanniques, obtenant même le rôle principal dans la sitcom

Queenie's Castle

(de 1970 à 1972). Puis au

milieu des années 1970s

, sa carrière prend un virage, elle s'illustre principalement dans des comédies érotiques: The Amorous Milkman (1975), Bedtime with Rosie (1975), Three for All (1976), Les aventures érotiques d'un chauffeur de taxi (1976), Keep It Up Downstairs (1976), Adventures of a Private Eye (1977) et Confessions from the David Galaxy Affair (1979).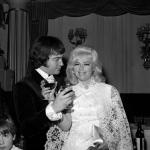 En 1968, elle rencontre l'acteur Alan Lake (de 9 ans son cadet) sur une série télé; au départ pas très emballé de devoir tourner avec elle, Lake aurait dit: "Oh non, pas Madame nichons et grosses lèvres !"; mais ils tombent amoureux et se marient le 23 novembre 1968 et ont ensemble un fils, Jason Lake (né en 1969).
En 1970, après une bagarre dans un pub, Alan Lake est incarcéré pendant un an; à son retour à la maison, Diana lui offre une jument. Un jour, il a un accident de cheval et d'après les médecins, il restera paralysé. Pourtant, il parvient à remarcher; mais pendant sa convalescence, souffrant atrocement, il se met à boire et tombe dans l'alcoolisme. De cette période difficile, Diana dira plus tard que "l'alcool avait déchaîné un monstre, incontrôlable et effrayant". Ils se tournent tous les deux vers la foi et se convertisent au catholicisme romain. En 1975, Diana tombe enceinte mais se refuse à avorter en vertu de la religion; mais elle fera une fausse couche.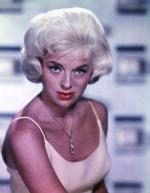 In 1966, Diana Dors divorces from Dawson leaving him their two sons and returns in England to tour the cabarets in smaller clubs. In 1968, she declares bankruptcy; and she continues her acting career, obtaining only secondary roles in drama and thriller movies that would not mark the history of cinema: Bersek (1967, with Joan Crawford), Danger Route (1967), Hammerhead (1968), Baby Love (1968), Deep End (1968) and the comedy There's a Girl in My Soup (1970). At the beginning of the 1970s, she turns to the television, playing the guest in British series,even getting the main role in the sitcom Queenie's Castle (from 1970 to 1972). Then in the mid-1970s, her career tooks a turn, she illustrates herself mainly in erotic movies and sex comedies: The Amorous Milkman (1975), Bedtime with Rosie (1975), Three for All (1976), Adventures of a Taxi Driver (1976), Keep It Up Downstairs (1976), Adventures of a Private Eye (1977) and Confessions from the David Galaxy Affair (1979).
In 1968, she meets actor Alan Lake (9 years younger) on a TV series; initially not very excited to have her as partner, Lake would have said: "Oh no, not Madame tits and lips !"; but they fall in love and get married on November 23, 1968 and together have a son, Jason Lake (born 1969). In 1970, after a brawl in a pub, Alan Lake was jailed for a year; on his return at home, Diana gives her a mare. One day, he has a horseback accident and doctors say he will remain paralyzed. Yet he manages to walk again; but during his convalescence, suffering excruciatingly, he begins to drink and fells into alcoholism. Of this difficult period, Diana will say later that "alcohol had unleashed a monster, uncontrollable and frightening". They both turn to the faith and convert to Roman Catholicism. In 1975, Diana becomes pregnant but refuses to have an abortion on the grounds of religion; but she will miscarry.
---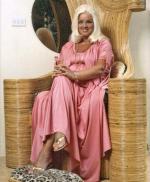 Elle fait beaucoup la Une des tabloïds dû à ses moeurs légères d'organiser des soirées coquines chez elle; elle reste populaire grâce à sa présence importante dans les shows télé où elle brille par son esprit et ses réparties; la jeune génération d'artistes musicaux s'intéressent à son statut d'icône (Adam and the Ants la font jouer dans leur clip en 1981; The Smiths mettent une photo d'elle jeune sur leur album en 1995). Elle écrit et publie aussi 4 livres autobiographiques sur sa vie

entre 1978 et 1984

: "

For Adults Only

", "

Behind Closed Dors

", "

Dors by Diana

", et "

A. to Z. of Men

".

En

1974

, elle est emmenée d'urgence à l'hôpital pour une méningite et elle subira ensuite deux interventions chirurgicales pour enlever des tumeurs cancéreuses; les traitements contre un cancer des ovaires diagnostiqué en

1982
modifient sa silhouette (elle a pris beaucoup de poids), elle écrit alors un livre diététique, et sort une cassette vidéo de régime et d'exercices, ce qui lui permet d'obtenir un contrat à la télévision en

1983

où elle présente une rubrique sur l'alimentation et la nutrition dans une émission matinale (sur ITV). Les problèmes de santé qu'elle traverse amène son mari Alan Lake à tomber davantage dans l'alcool et la déprime, jusqu'à des passages psychotiques.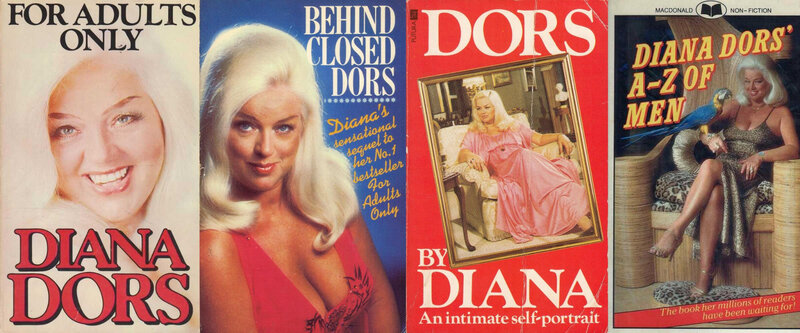 Autobiographies de Diana - publiées de 1978 à 1984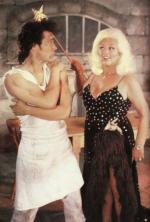 She makes a lot the titles of the tabloids due to her light manners of organizing sex parties at her home; she remains popular thanks to her important presence in the TV shows where she shines by her wit, catchy one-liners; the young generation of musical artists are interested in her status as an icon (Adam and the Ants played her in their music video in 1981; The Smiths put a photo of her young on their album in 1995). She writes and publishes 4 books about her life between 1978 and 1984: "For Adults Only", "Behind Closed Dors", "Dors by Diana", and "A. to Z. of Men".
In 1974, she is rushed to hospital for meningitis and then has twice surgery to remove cancerous tumors; treatments for ovarian cancer diagnosed in 1982 changes her figure (she gained a lot of weight), she writes a diet book, and released a diet and exercise videocassette, which allows her to obtain a contract on television in 1983 where she presents a column on food and nutrition in a morning show (on ITV). The health problems she is going through leads her husband Alan Lake to fall more into alcohol and get depressed, until psychotic episodes.

>

This is your life, octobre 1982 - G-B

---
Le 15 avril 1984, elle effectue ce qui sera sa dernière apparition en public dans un cabaret de Londres. Après avoir ressentie des douleurs d'estomac aiguës, elle s'effondre chez elle et décède le 4 mai 1984 à l'hôpital, des suites d'une récidive du cancer de l'ovaire; elle a 52 ans. Alan Lake ne se remet pas de sa mort: il brûle les vêtements de Diana et il se suicide le 10 octobre 1984, en ayant emmené d'abord leur fils à la gare, il se tire une balle dans la bouche dans la chambre de Jason, 16 ans jour pour jour après leur rencontre; il a 43 ans. Leur grande maison (Ochard Manor) est vendue, les affaires vendues aux enchères -par Sotheby's- et les dettes sont remboursées; ce qui laisse peu pour l'héritage de leur fils Jason Lake qui a 14 ans et déclaré pupille de la nation (il part vivre aux Etats-Unis avec ses demi-frères). Il luttera contre la dépression toute sa vie, tombant dans l'alcoolisme, les médicaments et la drogue et décrivant aux médias son enfance chaotique (à boire du champagne pour le calmer, ou fumer de la marijuana à 9 ans - il racontera notamment: "quand je rentrais de l'école, mon père se saoulait avec Richard Harris et Oliver Reed"; "je n'avais que 7 ans et j'étais aux fêtes de ma mère. Je discutais avec John Lennon et Keith Moon. Maman servait des tasses de thé et faisait monter les gens dans les chambres. Elle adorait avoir des amis pour regarder les films pornos réalisés aux fêtes. Ils s'asseyaient en riant pendant que les couples se pelotaient et faisaient l'amour sur le lit. La plupart d'entre eux ne savaient même pas qu'ils avaient été filmés".); il est retrouvé mort dans son appartement en 2019 d'abus d'alcool et de médicaments alors qu'il venait d'avoir 50 ans.
Avant sa mort, Diana Dors avait confié à son fils aîné Mark Dawson qu'elle possédait près de 2 millions de livres sterling placés dans des banques en Europe, en lui donnant une feuille de papier avec un code crypté qui révélerait où se trouvait l'argent et précisant qu' Alan Lake connaissait le déchiffrage du code; mais leur décès laissa Mark Dawson avec le code insoluble. Il se tourna vers des spécialistes en criminalistique informatique qui parvinrent à ne déchiffrer qu'une partie (une liste de noms et de villes), mais qu'il manque une autre page permettant de compléter avec les prénoms et les coordonnées bancaires. Le mystère n'a jamais été résolu et même un documentaire en 2003 a retracé cette histoire rocambolesque.

On April 15, 1984, she makes what will be her last public appearance in a London cabaret. After having felt acute stomach pains, she collapses at home and dies on May 4, 1984 in hospital, following a recurrence of ovarian cancer; she is 52 years old. Alan Lake doesn't recover from her death: he burns Diana's clothes and he commits suicide on October 10, 1984, first taking their son to the railway station, he shoots himself in the mouth in Jason's room, 16 years to the day after their meeting; he is 43 years old. Their big house (Ochard Manor) is sold, and the contents are auctioned -by Sotheby's- and debts are repaid; which leaves little money for the legacy of their 14-year-old son Jason Lake who is declared a ward of the nation (he goes to live in the United States with his half-brothers). He would struggle with depression all his life, falling into alcoholism, medications and drugs and describing to the media his chaotic childhood (to drink champagne to calm him down, or smoke marijuana at 9 years old - he will say in particular: "when I came home from school, my father got drunk with Richard Harris and Oliver Reed"; "I was only 7 years old and I was at my mom's parties. I was chatting with John Lennon and Keith Moon. Mom served cups of tea and brought people up to the bedrooms. She loved having friends round to watch the porn films made at the parties. They would sit around giggling as couples groped each other and made love on the bed. Most of them didn't even know they had been filmed"); he is found dead in his apartment in 2019 when he has just turned 50.
Before her death, Diana Dors told her eldest son Mark Dawson that she had nearly £ 2million in banks across Europe, giving him a sheet of paper with a code that would reveal where the money was and specifying that Alan Lake knew the deciphering of the code; but their passing left Mark Dawson with the unsolvable code. He asks to computer forensics specialists who managed to decipher only a part (a list of names and cities), but that another page was missing allowing to complete with first names and bank details. The mystery has never been solved and even a documentary in 2003 relates this incredible story.

---
>> Diana vs Marilyn <<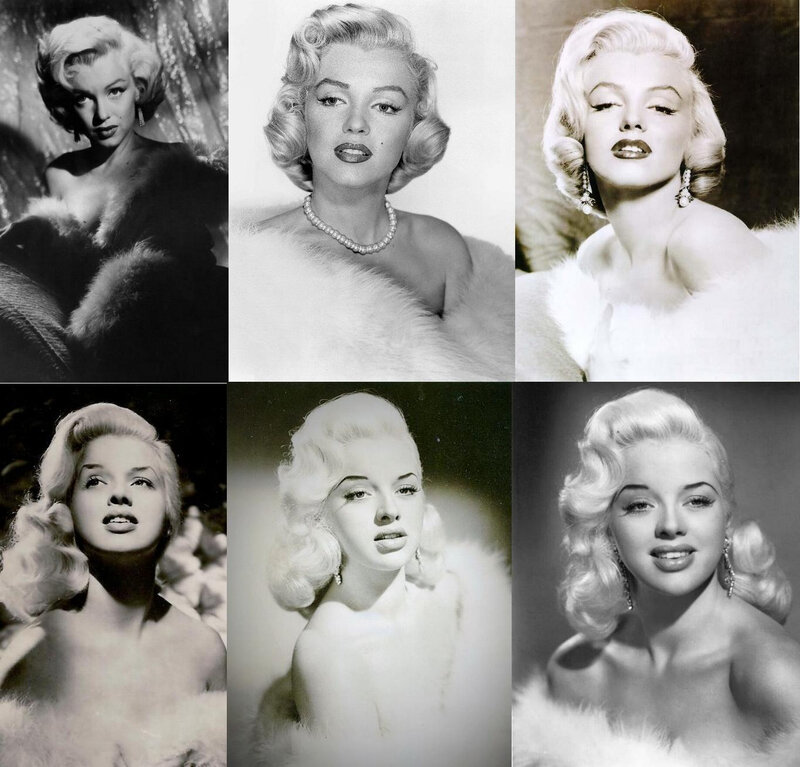 Elles ont participé toutes les deux à des concours de beauté, les amenant à être désormais des références dans l'iconographie de la pin-up vintage des années 1950s. Décolorées en blonde platine, elles ont été l'objet des studios de cinémas et ont souffert des rôles de blondes idiotes qu'on leur donnait à jouer. Elles ont changé leur nom pour mener une carrière, prenant le nom de leur grand-mère.
Diana dira: "En Amérique, personne ne m'a jamais pris au sérieux : les gens de Hollywood n'avaient jamais vu aucun de mes films, ils pensaient de moi que je singeais Marilyn Monroe et que j'étais simplement une blonde britannique qui la copiait et essayait de surfer sur la vague de Marilyn ; et pour couronner le tout, aucun de mes films anglais n'était sortis aux USA."

- Comparaison:en mode "Pin-Up" -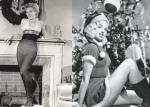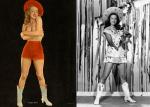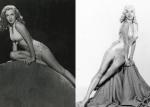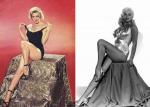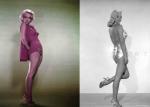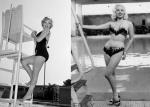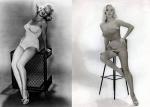 They both took part in beauty contests, leading them to now be references in the iconography of the vintage pin-up girls of the 1950s. Bleached to platinum blonde, they were the object of movie studios and suffered from the silly blonde roles they were given to play. They changed their name to pursue a career, taking their grandmother's name.
Diana will say: "In America, nobody ever took me seriously: the people of Hollywood had never seen any of my films, they thought of me that I was aping Marilyn Monroe and that I was just a British blonde who was imitate her and trying to ride on Marilyn's vogue; and to top it off none of my English films had been released in the US. "
- Comparaison: le même style -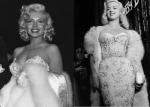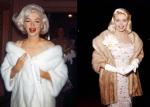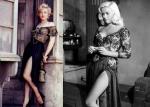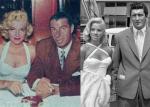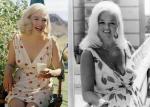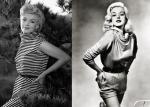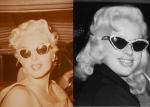 - Comparaison: les mêmes poses -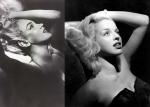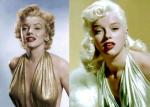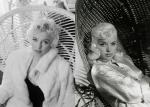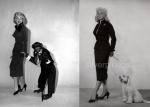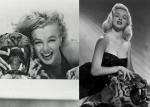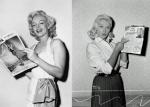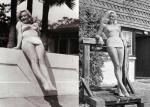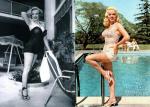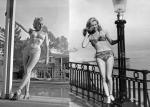 * * * * *
Le 9 janvier 1953, Diana Dors se produit dans un cirque à Londres; apparaissant en pin-up à côté d'un éléphant.
Le 30 mars 1955, Marilyn Monroe monte sur un éléphant peint en rose du cirque Ringling Brothers à New York pour une action caritative.
On January 9, 1953, Diana Dors performs in a circus in London; appearing as a pin-up next to an elephant.
On March 30, 1955, Marilyn Monroe rides a pink painted elephant from the Ringling Brothers circus in New York for charity.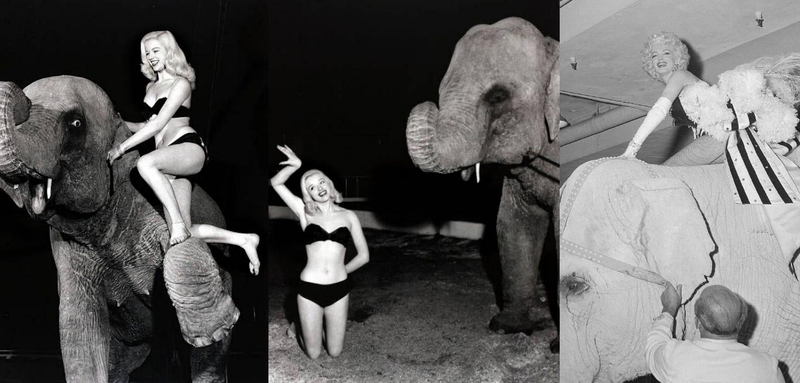 * * * * *
- Avec le photographe Earl Leaf / La "Jump" sitting de Philippe Halsman-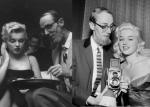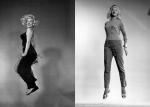 * * * * *
Le 27 mai 1958, Marilyn Monroe pose pour le photographe Richard Avedon pour une série de photographies où elle se met dans la peau d'autres grandes stars du cinéma: Lilian Russell, Jean Harlow, Theda Bara, Clara Bow et Marlene Dietrich, pour le magazine Life (publication dans l'édition du 22/12/1958). Quelques années plus tard, au début des années 1960s, Diana Dors fera la même chose; elle posera grimée en Clara Bow, Mae West, Marlene Dietrich et... en Marilyn Monroe.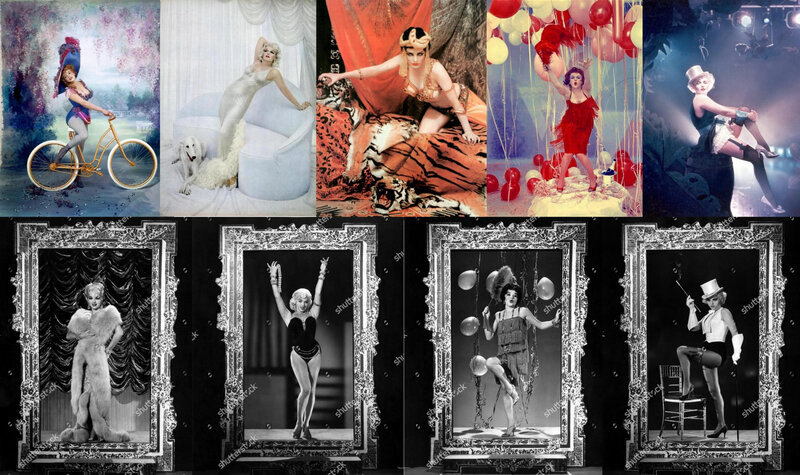 On May 27, 1958, Marilyn Monroe poses for photographer Richard Avedon for a series of photographs for which she imitates other movies stars: Lilian Russell, Jean Harlow, Theda Bara, Clara Bow and Marlene Dietrich, for Life magazine (published in the 12/22/1958 ). A few years later, in the early 1960s, Diana Dors would do the same; she will pose as Clara Bow, Mae West, Marlene Dietrich and ... as Marilyn Monroe.
* * * * *
En 1967, Marilyn Monroe et Diana Dors font parties des nombreuses célébrités de la pop culture présentes sur la couverture de l'album culte des Beatles "Sgt. Pepper's Lonely Hearts Club Band" ; Diana Dors étant bien plus mise en valeur (elle est en statue de cire, au premier plan) que Marilyn (image cartonnée du visage à moitié caché en noir et blanc en arrière plan). Sans doute dû à la nationalité de Diana, britannique comme les Beatles.
In 1967, Marilyn Monroe and Diana Dors were among the many pop culture celebrities featured on the cover of the Beatles' cult album "Sgt. Pepper's Lonely Hearts Club Band"; Diana Dors being much more highlighted (she is a wax statue, in the foreground) than Marilyn (cardboard image of the face half hidden in black and white in the background). No doubt due to the nationality of Diana, British like the Beatles.
* * * * *
Le parcours de vie de Diana Dors peut être aussi mis en parallèle avec celui d'une autre "Marilyn Girls": Jayne Mansfield; du théâtre avec les éloges des critiques amenant à un début de carrière prometteur, avec une célébrité éclaire au cinéma, puis la publicité à outrance, aux revues dans les cabarets et de l'importance du sexe dans leur vie.
- Diana & Jayne, Hotel Leeds, 1967 -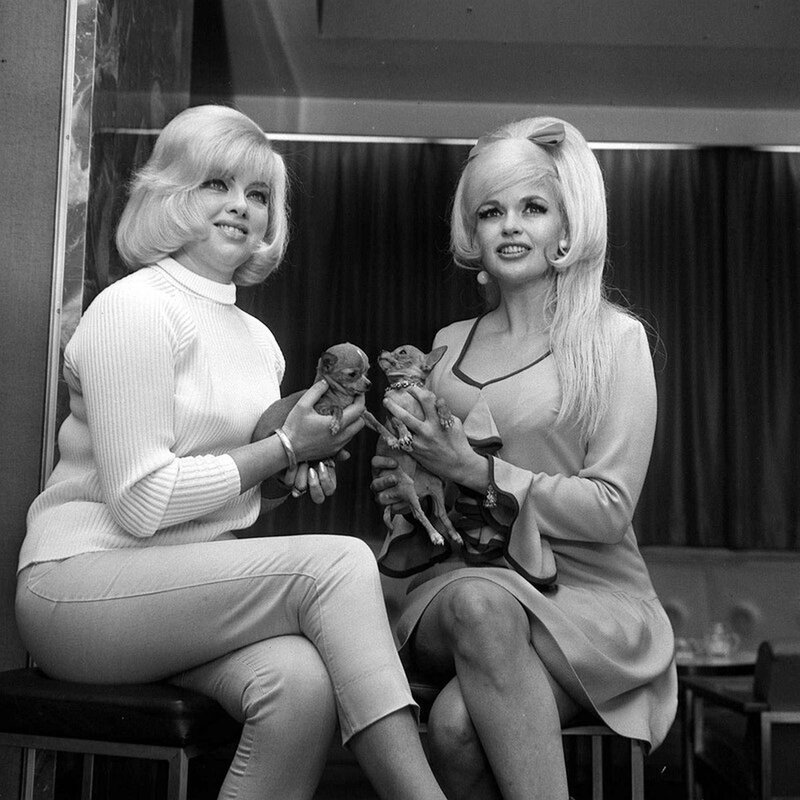 Diana Dors' course of life can also be compared with one other "Marilyn Girls": Jayne Mansfield; from theater with the praise of critics leading to a promising start to their career, with a quick celebrity in the cinema, then excessive publicity, reviews in cabarets and the importance of sex in their lives.
---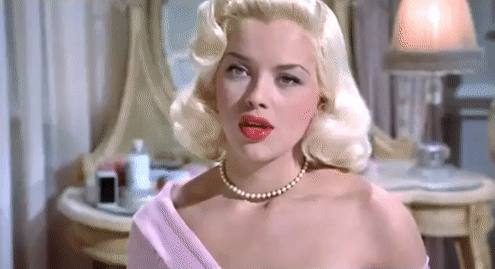 > Sources:
biographie Diana Dors sur wikipedia in english / biographie Alan Lake sur wikipedia in english
biographie en français sur le Blog Les Scandaleuses
Site officiel tenu par un fan Diana Dors The Official Website and Archive
articles "Diana Dors: Mink and millions?" sur The History Press / "Diana Dors Sex Parties" sur Flashbak