02 juillet 2022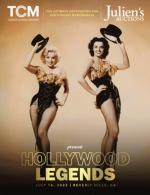 Enchères "Hollywood Legends"
16 juillet 2022
- 115 lots avec Marilyn Monroe -

Partie 2: Documents papiers
Part 2: Papers Documents

> 16/07/2022, Julien's, "Hollywood Legends": Catalogue
---
Notes personnelles
Personal Notes

---
Lot 0945: MARILYN MONROE: HOTEL STATIONERY (x 8)
From the Personal Files of Marilyn Monroe: Four blank pages of stationary from the Sahara Motor Hotel, where Marilyn stayed while filming Bus Stop (20th Century Fox, 1956) in 1956, and four pages of stationary from Hotel Bel-Air.
PROVENANCE: From the Archives of Marilyn Monroes Personal Property
Estimate: $100 - $200 / Sold: -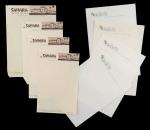 ---
Lot 0948: MARILYN MONROE: HANDWRITTEN LEE STRASBERG NOTE
A personal motivational poem handwritten in pencil by Marilyn Monroe on Beverly Hills Hotel stationery.
An original note handwritten in pencil by Marilyn Monroe to her acting mentor Lee Strasberg.
In the note, Monroe writes: "Dear Lee, One of the most personally helpful things I've heard so far in my life was what you said in class Friday afternoon - it was helpful in that I feel as though I'm a little bit freer - also more - I can't think of any I mean by that more relaxed 2 and 2 don't necessarily make 4." Part of the note is crossed out by Monroe, but still legible.
This note is reproduced in the book Fragments: Poems, Intimate Notes, Letters by Marilyn Monroe edited by Stanley Buchthel and Bernard Comment (Farrar, Straus and Giroux, New York, 2010).
9 x 6 inches
PROVENANCE Lot 201, Property From The Life and Career of Marilyn Monroe, Juliens Auctions, Los Angeles, November 17-19, 2016
Estimate: $6,000 - $8,000 / Sold: -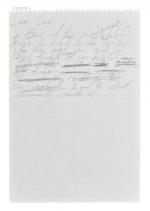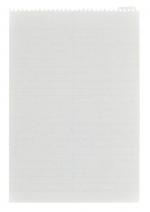 ---
Lot 0949: MARILYN MONROE: ORIGINAL HANDWRITTEN MOTIVATIONAL POEM
A personal motivational poem handwritten in pencil by Marilyn Monroe on Beverly Hills Hotel stationery.
The note reads: "stretch, expansion, open tree; keep the rule, to begin with a ray tension; keep the balloon, and, dare not to worry, dare to, let go - so loose, then you pick up, stretch into your tone, sense of humor, keeping a giggle inside; let go of my eyes- so relaxed only let my thought, come through, them without, doing any thing to them."
This document is reproduced in the book Fragments: Poems, Intimate Notes, Letters by Marilyn Monroe edited by Stanley Buchthal and Bernard Comment (Farrar, Straus, and Giroux, New York, 2010).
5.5 x 4 inches
PROVENANCE Lot 166, Property From The Life and Career of Marilyn Monroe, Juliens Auctions, Los Angeles, November 17-19, 2016
Estimate: $2,000 - $4,000 / Sold: -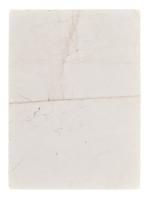 ---
Lot 0950: MARILYN MONROE: HANDWRITTEN "ON HOSPITAL GOWNS" POEM ON ENVELOPE
An envelope with a rhyming poem titled "On Hospital Gowns" written in pencil on the back by Marilyn Monroe, making light of the fact that hospital gowns do not cover her "derriere."
The full poem: "My bare, clarrie derriere, is out the air, in the air, when I'm not aware, aware, several, Handel Concertos, Vivaldi Concertos, Benny Goodman, my pair."
The envelope also contains a list of composers and musicians: "Beethoven/ Last 6-quartets/ Ravel-the Waltz/ Bartok-quartets of his."
This document is reproduced in Fragments: Poems, Intimate Notes, Letters by Marilyn Monroe. Edited by Stanley Buchthal and Bernard Comment. Pages 26-27. (Farrar, Straus and Giroux, New York, 2010).
9.5 x 4.25 inches
PROVENANCE Lot 165, Property From The Life and Career of Marilyn Monroe, Juliens Auctions, Los Angeles, November 17-19, 2016
Estimate: $2,000 - $3,000 / Sold: -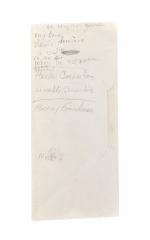 ---
Lot 0952: PERSONAL HANDWRITTEN ACTORS STUDIO CLASS NOTES
A sheet of Marilyn Monroe's personal notes from her acting classes with Lee Strasberg at the Actors Studio in New York, NY, handwritten in pencil on stationery from The Towers of The Waldorf-Astoria in 1955 (Monroe took Actors Studio classes with Strasberg between April and September 1955).
The opening salutation and start of the letter "Dear Art" has been scratched out. The notes begin with Monroe quoting something said by Strasberg: "I want you all to know that this exercise went on for/ 1/2 hour and her concentration did not/ give way or slip once-and Marilyn there/ will be very few times ever on the/ stage where it will be/ necessary to keep/ such a concentration/ for one half hour/ straight." Monroe then asks herself, "Why did it/ mean so much to me."
On the back she continues to ruminate about class, writing, "Strasberg/ it makes me (him he said) feel badly (and sadly) for you that you do/ things out of fear/ You must start to do things out of strength-/ (my question: where do I get the strength)-he said-by not looking for strength/but only looking & seeking tecnical [sic] ways and means."
This presents a fascinating demonstration of how seriously Monroe took her formal acting training in New York.
This document was reproduced in the book Fragments: Poems, Intimate Notes, Letters by Marilyn Monroe, Edited by Stanley Buchthal and Bernard Comment (Farrar, Straus, and Giroux, New York, 2010).
10.5 x 7.25 inches
PROVENANCE Lot 173, Property From The Life and Career of Marilyn Monroe, Juliens Auctions, Los Angeles, November 17-19, 2016
Estimate: $3,000 - $5,000 / Sold: -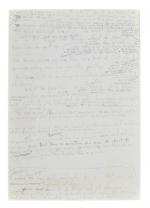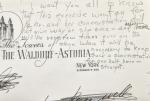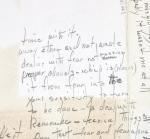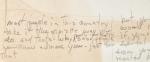 ---
Lot 0953: HANDWRITTEN ACTING EXERCISE DIALOGUE AND NOTES
A single sheet of lined yellow paper with dialogue and additional notes written out in pencil in Monroe's hand. This document was likely part of an acting exercise.
The dialogue reads:
"Where did he go? He told you I know he did/ If you'd only have given me a little longer - He was in love with me - we'd have been married you didn't want me to have him from the beginning/ you wouldn't let me wear those pretty things/ Even when I told you about the doll - you/ sent those people around/ He died! But he said/ he came back - Tell/ Me - tell me -."
The front and back of the page is then covered with small performance notes, including:
"The thought focus on partner not on word then let go of word"; "don't do with words & voice"; "Let go everything elastic keep the pick up lay on the horse"; and "to be as relaxed let go of mouth speech thought," among many others.
12.5 x 8 inches
PROVENANCE Lot 440, Property From The Life and Career of Marilyn Monroe, Juliens Auctions, Los Angeles, November 17-19, 2016
Estimate: $3,000 - $5,000 / Sold: -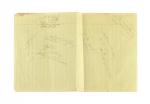 ---
Reçus
Receipts

---
Lot 0951: MARILYN MONROE: AFTRA CARD AND RECEIPT
An unsigned American Federation of Television and Radio Artists membership card for the period ending November 1, 1958, personally owned by Marilyn Monroe; with a receipt mentioning that Monroe owed $38 total for current dues ($16), overdue payment ($16), and penalties ($6).
3.5 x 6.5 inches (largest)
PROVENANCE Lot 302, Property From The Life and Career of Marilyn Monroe, Juliens Auctions, Los Angeles, November 17-19, 2016
Estimate: $800 - $1,200 / Sold: -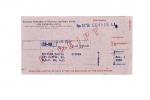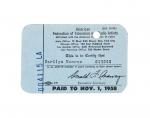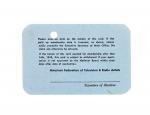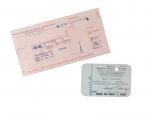 ---
Lot 0963: MARILYN MONROE AND ARTHUR MILLER RECEIPTS AND INVOICES RELATED TO THE ROXBURY, CONNECTICUT RESIDENCE (x 130)
From the Personal Files of Marilyn Monroe: An extensive collection of 1958 receipts, invoices, bills and correspondence for various expenses related to supplies, household goods, maintenance, construction and remodel work on the Miller/Monroe residence located in Roxbury, Connecticut. Examples of vendors include F. F. Hitchcock Co. Hardware and Appliances, Ray Underwood Lawn Mower Sales and Service, Meadowview Nursery, The Asbestos Distributors Corp., and Dykes Lumber Company. Approximately 130 documents in total.
PROVENANCE: From the Archives of Marilyn Monroes Personal Property
Estimate: $400 - $500 / Sold: -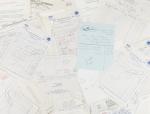 ---
Lot 0964: MARILYN MONROE: JURGENSEN'S RECEIPTS (x 25)
From the Personal Files of Marilyn Monroe: Approximately 25 receipts from Jurgensen's grocery store with dates December 1959 and January and February 1960, together with three statements from Jurgensen's and various register tapes. During this period, Marilyn and third husband Arthur Miller were staying at the Beverly Hills Hotel while filming Let's Make Love. These receipts show several orders for bacon and steaks, and other food items. Several receipts are signed by Hazel Washington, Marilyn's maid.
PROVENANCE: From the Archives of Marilyn Monroes Personal Property
Estimate: $200 - $300 / Sold: -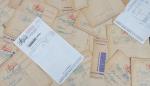 ---
Lot 0965: MARILYN MONROE: JURGENSEN'S RECEIPTS (x 25)
From the Personal Files of Marilyn Monroe: Approximately 25 receipts from Jurgensen's grocery store with dates in January and February 1960, together with register tapes. During this period, Marilyn and third husband Arthur Miller were staying at the Beverly Hills Hotel while filming Let's Make Love. These receipts show several orders for bacon and steaks, and even lamb chops. Several receipts are signed by Hazel Washington, Marilyn's maid.
PROVENANCE: From the Archives of Marilyn Monroes Personal Property
Estimate: $200 - $300 / Sold: -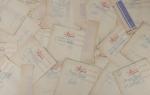 ---
Lot 0966: MARILYN MONROE: JURGENSEN'S RECEIPTS (x 25)
From the Personal Files of Marilyn Monroe: Approximately 25 receipts from Jurgensen's grocery store with dates in November and December 1959 and January and February 1960, together with register tapes. During this period, Marilyn and third husband Arthur Miller were staying at the Beverly Hills Hotel while filming Let's Make Love. These receipts show several orders for bacon and steaks. Several receipts are signed by Hazel Washington, Marilyn's maid.
PROVENANCE: From the Archives of Marilyn Monroes Personal Property
Estimate: $200 - $300 / Sold: -

---
Lot 0967: MARILYN MONROE: JURGENSEN'S RECEIPTS (x 25)
From the Personal Files of Marilyn Monroe: Approximately 25 receipts from Jurgensen's grocery store with dates in November 1959, and January and May 1960, together with register tapes. During this period, Marilyn and third husband Arthur Miller were staying at the Beverly Hills Hotel while filming Let's Make Love. These receipts show that the Millers bought bacon, caviar and champagne among many other food items. Several receipts are signed by Hazel Washington, Marilyn's maid.
PROVENANCE: From the Archives of Marilyn Monroes Personal Property
Estimate: $200 - $300 / Sold: -

---
Lot 0968: MARILYN MONROE: JURGENSEN'S RECEIPTS (x 25)
From the Personal Files of Marilyn Monroe: Approximately 25 receipts from Jurgensen's grocery store with dates in April and May 1960, together with register tapes. A receipt dated April 29 has a handwritten note reading, "For Party for Miss Monroe." Also included is a separate handwritten receipt for groceries purchased by Rudy Kautszy, Marilyn's limo driver, dated June 23, 1960. During this period, Marilyn and third husband Arthur Miller were staying at the Beverly Hills Hotel while filming Let's Make Love. Several receipts are signed by Hazel Washington, Marilyn's maid.
PROVENANCE: From the Archives of Marilyn Monroes Personal Property
Estimate: $200 - $300 / Sold: -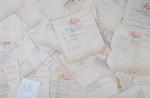 ---
Lot 0969: MARILYN MONROE: JURGENSEN'S RECEIPTS (x 25)
From the Personal Files of Marilyn Monroe: Approximately 25 receipts from Jurgensen's grocery store with dates in January, February and April 1960, together with register tapes. During this period, Marilyn and third husband Arthur Miller were staying at the Beverly Hills Hotel while filming Let's Make Love. These receipts demonstrate that the Millers were evidently fond of caviar as the food item is reflected on several receipts. Several receipts are signed by Hazel Washington, Marilyn's maid.
PROVENANCE: From the Archives of Marilyn Monroes Personal Property
Estimate: $200 - $300 / Sold: -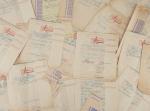 ---
Lot 0970: MARILYN MONROE: JURGENSEN'S RECEIPTS (x 25)
From the Personal Files of Marilyn Monroe: Approximately 25 receipts from Jurgensen's grocery store with dates in December 1959 and January 1960, together with register tapes and a statement covering November-December 1959. During this period, Marilyn and third husband Arthur Miller were staying at the Beverly Hills Hotel while filming Let's Make Love. These receipts demonstrate that the Millers were evidently fond of bacon as the food item is reflected on several receipts. Several receipts are signed by Hazel Washington, Marilyn's maid.
PROVENANCE: From the Archives of Marilyn Monroes Personal Property
Estimate: $200 - $300 / Sold: -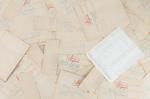 ---
Chèques, Amendes, Impôts, Factures
Checks, Taxes, Bills, Invoices

---
Lot 0935: MARILYN MONROE: SIGNED 1952 SCHWAB'S PHARMACY CHECK
A Marilyn Monroe signed counter check, written entirely in her own hand, dated June 3, 1952, made payable to Schwab's Pharmacy in the amount of $25.00.
PROVENANCE: From the Archives of Marilyn Monroes Personal Property
Estimate: $3,000 - $5,000 / Sold: -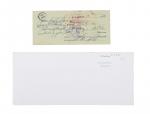 ---
Lot 0936: MARILYN MONROE: SIGNED HALLOWEEN 1953 DOHENY PHARMACY CHECK
A counter check written to Doheny Pharmacy for $34.89 signed in blue ink by Marilyn Monroe and dated October 31, 1953 (Halloween).
3.5 x 8.5 inches
Estimate: $3,000 - $5,000 / Sold: -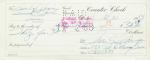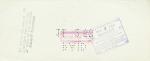 ---
Lot 0937: MARILYN MONROE: SIGNED 1960 SECRETARY CHECK
A Marilyn Monroe signed check from the Colonial Trust Company account of Marilyn Monroe Productions, dated May 21, 1960, made payable to May Reis, Marilyn's personal secretary, in the amount of $105.15.
PROVENANCE: From the Archives of Marilyn Monroes Personal Property
Estimate: $2,000 - $3,000 / Sold: -

---
Lot 0938: MARILYN MONROE: 1954 CANCELLED BANK CHECK FILE COPIES
From the Personal Files of Marilyn Monroe: A statement from the Beverly Hills Blue Print Company dated October 25, 1954, in the amount of $8.01, together with several original copies (front and back) of checks that were drawn on Marilyn's accounts. The checks are written entirely in Marilyn's own hand and signed by her, payable to George Solitaire, Victor Massey, and Jax among others. One check is signed by Inez Melson, Marilyn's business manager.
PROVENANCE: From the Archives of Marilyn Monroes Personal Property
Estimate: $300 - $400 / Sold: -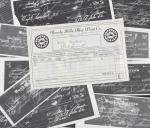 ---
Lot 0939: MARILYN MONROE: FINANCIAL AND TAX DOCUMENTS (x 25)
From the Personal Files of Marilyn Monroe: An interesting collection of tax and insurance forms, legal documents and letters from 1957-1960 detailing business, tax and insurance information for Marilyn and Marilyn Monroe Productions. Also included is Marilyn's 1961 welfare insurance packet from the Screen Actors Guild, along with an original four-page document outlining a financial plan for Marilyn, dated in 1959. Approximately 25 documents in total.
PROVENANCE: From the Archives of Marilyn Monroes Personal Property
Estimate: $300 - $400 / Sold: -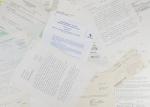 ---
Lot 0940: MARILYN MONROE: FINANCIAL DOCUMENTS (x 25)
From the Personal Files of Marilyn Monroe: A collection of financial documents from 1953 through 1958, and 1961, including letters together with various Receipts and Disbursements statements. Also included is a multi-page handwritten reconciliation of expenses for Marilyn Monroe Productions in 1957 written on MMM letterhead. Approximately 25 documents in total.
PROVENANCE: From the Archives of Marilyn Monroes Personal Property
Estimate: $350 - $450 / Sold: -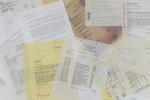 ---
Lot 0941: MARILYN MONROE: MEDICAL INVOICES (x 50)
From the Personal Files of Marilyn Monroe: Approximately 50 invoices for medical and dental appointments and services from the late 1950s to early 1960s. This lot includes invoices from physicians who were closely associated with Marilyn, including Ralph Greenson and Marianne Kris, among others.
PROVENANCE: From the Archives of Marilyn Monroes Personal Property
Estimate: $500 - $600 / Sold: -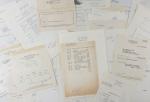 ---
Lot 0942: MARILYN MONROE: MEDICAL INVOICES (x 50)
From the Personal Files of Marilyn Monroe: Approximately 50 invoices for medical and dental appointments and services from the late 1950s to early 1960s. This lot includes invoices from physicians who were closely associated with Marilyn, including Ralph Greenson and Marianne Kris, among others.
PROVENANCE: From the Archives of Marilyn Monroes Personal Property
Estimate: $500 - $600 / Sold: -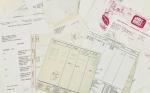 ---
Lot 0943: MARILYN MONROE: PHARMACY INVOICES (x 50)
From the Personal Files of Marilyn Monroe: Approximately 50 invoices from various pharmacies, including Canfield Corner Pharmacy in North Woodbury, Connecticut, Brentview Pharmacy in Los Angeles, Fairfax Drug Company in Los Angeles, and the Prescription Center in Beverly Hills.
PROVENANCE: From the Archives of Marilyn Monroes Personal Property
Estimate: $500 - $600 / Sold: -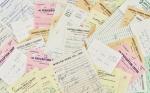 ---
Lot 0946: 1958 CENTURY MESSENGER SERVICE RECEIPTS AND INVOICES (x 40)
From the Personal Files of Marilyn Monroe: A collection of receipts and invoices from the Century Messenger Service, all dated in 1958 for various services, specifying deliveries to various individuals and companies, including a delivery to famed photographer Richard Avedon. Approximately 40 documents in total.
PROVENANCE: From the Archives of Marilyn Monroes Personal Property
Estimate: $200 - $300 / Sold: -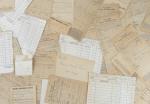 ---
Lot 0959: MARILYN MONROE AND ARTHUR MILLER 1958 NEW YORK AND CONNECTICUT TELEPHONE BILLS (x 25)
From the Personal Files of Marilyn Monroe: A collection of bills from the Woodbury Telephone Company and the New York Telephone Company for dates throughout 1958. Approximately 25 documents in total.
PROVENANCE: From the Archives of Marilyn Monroes Personal Property
Estimate: $150 - $250 / Sold: -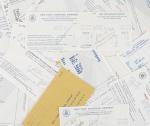 ---
Lot 0960: MARILYN MONROE AND ARTHUR MILLER FINANCIAL AND TAX DOCUMENTS (x 50)
From the Personal Files of Marilyn Monroe: An interesting collection of statements, reconciliation documents, tax forms, insurance forms and letters from 1957-1960 outlining in great detail financial information for Marilyn and Arthur, and Marilyn Monroe Productions. Also included are various tax forms for the couple. Approximately 50 documents in total.
PROVENANCE: From the Archives of Marilyn Monroes Personal Property
Estimate: $400 - $500 / Sold: -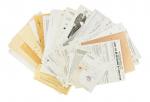 ---
Lot 0961: MARILYN MONROE AND ARTHUR MILLER FINANCIAL AND TAX DOCUMENTS (x 25)
From the Personal Files of Marilyn Monroe: An interesting collection of statements, reconciliation documents and letters from 1956, 1960, and 1961 outlining in great detail financial information for Marilyn and Arthur. Also included is a 1961 California Form 540NR for the couple. Approximately 25 documents in total.
PROVENANCE: From the Archives of Marilyn Monroes Personal Property
Estimate: $300 - $400 / Sold: -

---
Lot 0962: MARILYN MONROE AND ARTHUR MILLER FINANCIAL DOCUMENTS (x 25)
From the Personal Files of Marilyn Monroe: A collection of bank statements and bank slips with dates in 1957, 1958, 1960, and 1961, together with a handwritten statement of 1958 income and deductions for Arthur Miller. Approximately 25 documents in total.
PROVENANCE: From the Archives of Marilyn Monroes Personal Property
Estimate: $300 - $400 / Sold: -

---
Lot 0972: MARILYN MONROE: RECEIPTS AND INVOICES (x 70)
From the Personal Files of Marilyn Monroe: A large collection of receipts and invoices for various expenses throughout the late 1950s and early 1960s. Examples include Peter A. Juley & Son Photographers, Films Incorporated, The Connecticut Light and Power Company, Consolidated Edison of New York, St. Pierre Oil Company, Carl and Walt, Inc., Holland Frame Shop, and Bloomingdales among others. Also included are various handwritten notes (not in Marilyn's handwriting) for expenses. Approximately 70 documents in total.
PROVENANCE: From the Archives of Marilyn Monroes Personal Property
Estimate: $350 - $450 / Sold: -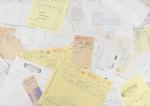 ---
Lot 0973: MARILYN MONROE: RECEIPTS AND INVOICES (x 50)
From the Personal Files of Marilyn Monroe: A large collection of receipts and invoices for various expenses throughout the late 1950s and early 1960s. Examples include The Woodbury Telephone Company, Shore Office Machines and Equipment, The Moss Typewriter Company, Harry Miller and Son Insurance, Christofle Silver, MCA Artists, LTD., Ralph Roberts, and Bennie Franco Florist among others. Also included, a file containing car rental agreements from the Grant U-Drive rental company. Approximately 50 documents in total.
PROVENANCE: From the Archives of Marilyn Monroes Personal Property
Estimate: $400 - $500 / Sold: -

---
Lot 0974: MARILYN MONROE: RECEIPTS AND INVOICES (x 50)
From the Personal Files of Marilyn Monroe: A large collection of receipts and invoices for various expenses throughout the late 1950s and early 1960s. Examples include Jay Thorpe, Gunther Jaeckel, Maurice Rentner, B. J. Denihan Cleaners, Rex of Beverly Hills, Henri Bendel, Berkley Square Cleaners, National Studios, Hammacher Schlemmer, Brandon Films, and Alfredo Valente Photography among others. Approximately 50 documents in total.
PROVENANCE: From the Archives of Marilyn Monroes Personal Property
Estimate: $400 - $500 / Sold: -

---
Lot 0975: MARILYN MONROE: RECEIPTS AND INVOICES (x 50)
From the Personal Files of Marilyn Monroe: A large collection of receipts and invoices for various expenses throughout the late 1950s and early 1960s. Examples include Bullocks Wilshire, The Drama Book Shop, Yellow Cab Company, The Prescription Center, Beverly Stationers, Pioneer Hardware, and Simon Stationery among others. Also included are various handwritten notes (not in Marilyn's handwriting) for expenses. Approximately 50 documents in total.
PROVENANCE: From the Archives of Marilyn Monroes Personal Property
Estimate: $400 - $500 / Sold: -

---
Lot 0976: MARILYN MONROE: RECEIPTS AND INVOICES (x 50)
From the Personal Files of Marilyn Monroe: A large collection of receipts and invoices for various expenses throughout the late 1950s and early 1960s. Examples Mme. Adorees Rexford Hand Launderers and Dry Cleaners, Cadillac Motor Division, Beekman Place Bookshop, Superior Engraving Company, The New York Times, Doubleday Book Shop, and Connecticut Light and Power among others. Also included are various handwritten notes (not in Marilyn's handwriting) for expenses. Approximately 50 documents in total.
PROVENANCE: From the Archives of Marilyn Monroes Personal Property
Estimate: $400 - $500 / Sold: -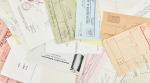 ---
Lot 0977: MARILYN MONROE: RECEIPTS AND INVOICES (x 50)
From the Personal Files of Marilyn Monroe: A large collection of receipts and invoices for various expenses throughout the late 1950s. Examples include Northern Transport Agency, Rovins and West Insurance, Yellow Cab Company, Saks Fifth Avenue, B.J. Denihand Cleaner, Westwood Drug, I. Magnin & Co., and Jax among others. Also included are various handwritten notes (not in Marilyn's handwriting) for expenses. Approximately 50 documents in total.
PROVENANCE: From the Archives of Marilyn Monroes Personal Property
Estimate: $400 - $500 / Sold: -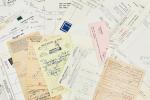 ---
Lot 0978: MARILYN MONROE: RECEIPTS AND INVOICES (x 20)
From the Personal Files of Marilyn Monroe: A collection of receipts and invoices for various expenses in 1959. Examples include The Prescription Center, Beverly Stationers, and Yellow Cab Company, among others. Also included is a large manilla envelope from the Chemical Corn Exchange Bank with "M.M. Prods. Bank Statements, Corp., March 1959, April 1959, May 1959, and July, 1959" written across the front. Included as well are various handwritten notes (not in Marilyn's handwriting) for expenses in 1959. Approximately 20 documents in total.
PROVENANCE: From the Archives of Marilyn Monroes Personal Property
Estimate: $150 - $250 / Sold: -

---
Lot 0979: MARILYN MONROE: RECEIPTS AND INVOICES (x 200)
From the Personal Files of Marilyn Monroe: A very large collection of receipts and invoices for various expenses in 1958. Examples include the Canfield Corner Pharmacy, Consolidated Edison Co. of New York, New York Telephone Company, 44 Management Co., Alfred Dunhill of London, Santa Brea Sundries, Newberry's, Salzman Electric Co., Heylek Stationery Co., CRE-ART Photo Co., Martindale's Book Store, California Piano Moving Co., S. Swimmer Hardware, The Japanese Center, Electrolux-Hoover Service, Anna's House furnishings, Beverly Stationers, Monica Variety Store, Kubie's Health Shop, Bloomingdale's, Yellow Cab Company, Hollywood-Cedars Uniforms, Jurgensen's, and The Camera House, among others. Also included: A 1948 United States nickel that was found in an envelope labeled "Cash Expenditures - 1958," along with various handwritten notes (not in Marilyn's handwriting) for expenses in 1958. Approximately 200 documents in total.
PROVENANCE: From the Archives of Marilyn Monroes Personal Property
Estimate: $400 - $600 / Sold: -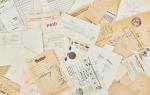 ---
Lot 0980: MARILYN MONROE: RECEIPTS AND INVOICES (x 50)
From the Personal Files of Marilyn Monroe: A large collection of receipts and invoices for various expenses throughout the late 1950s and early 1960s. Examples include the US Post Office, Goldfarb Flowers and Gifts, Hansens Fresh Fruits and Vegetables, Martindale's Book Stores, Clapp & Tuttle Books and Arts, Beekman Place Bookshop, The General Store, and Saks Fifth Avenue, among others. Also included are various handwritten notes (not in Marilyn's handwriting) for expenses. Approximately 50 documents in total.
PROVENANCE: From the Archives of Marilyn Monroes Personal Property
Estimate: $200 - $300 / Sold: -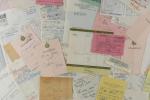 ---
Lot 0981: MARILYN MONROE: RECEIPTS AND INVOICES (x 6)
From the Personal Files of Marilyn Monroe: Various invoices and receipts related to travel and transportation in 1960 while Marilyn was filming The Misfits. Six items total.
PROVENANCE: From the Archives of Marilyn Monroes Personal Property
Estimate: $100 - $200 / Sold: -

---
Lot 0982: MARILYN MONROE: RECEIPTS AND INVOICES (x 50)
From the Personal Files of Marilyn Monroe: A large collection of receipts and invoices for various expenses throughout the late 1950s. Examples include H. Kaplan Paint Supply, Dykes Lumber Company, Antonino Ajello & Bros. Candles, Electra-Craft Appliance Co., First Church of Christ, Anna's House Furnishings, and The Japanese Center, among others. Also included are various handwritten notes (not in Marilyn's handwriting) for expenses. Approximately 50 documents in total.
PROVENANCE: From the Archives of Marilyn Monroes Personal Property
Estimate: $200 - $300 / Sold: -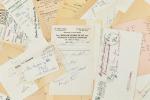 ---
Lot 0983: MARILYN MONROE: RECEIPTS AND INVOICES (x 80)
From the Personal Files of Marilyn Monroe: A large collection of receipts and invoices for various expenses throughout the late 1950s and early 1960s. Examples include Andrew Newman Inc., Sutton Place Stationers, Hardware Supply Corporation, Simon Stationery, Spaulding Launderette, Saks Fifth Avenue, McMann Drugs, Leonard L. Johnson Florist Supplies, and Yellow Cab Company, among others. Also included are various handwritten notes (not in Marilyn's handwriting) for expenses. Approximately 80 documents in total.
PROVENANCE: From the Archives of Marilyn Monroes Personal Property
Estimate: $250 - $350 / Sold: -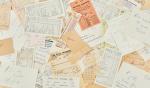 ---
Lot 0984: MARILYN MONROE: RECEIPTS AND INVOICES (x 80)
From the Personal Files of Marilyn Monroe: A large collection of receipts and invoices for various expenses throughout the late 1950s and early 1960s. Examples include Tommy's Pet shop, Pioneer Hardware, L.A. Baker Electric, Beverly Hills Silks & Woolens, Canon Drive Picture Frame Shop, Kitzmeyer's Drug Store, A. Fitz & Sons Meat Market, Saks Fifth Avenue, Farmers Market Candy Kitchen, and Bullock's Wilshire, among others. Also included are various handwritten notes (not in Marilyn's handwriting) for expenses. Approximately 80 documents in total.
PROVENANCE: From the Archives of Marilyn Monroes Personal Property
Estimate: $250 - $350 / Sold: -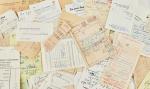 ---
Lot 0985: MARILYN MONROE: RECEIPTS AND INVOICES (x 80)
From the Personal Files of Marilyn Monroe: A large collection of receipts and invoices for various expenses throughout the late 1950s and early 1960s. Examples include Beverly Stationers, Yellow Cab Company, Milstead Meat Co. Beverly Hills Silks & Woolens, Jurgensen's, and Hunter's Books, among others. Also included are various handwritten notes (not in Marilyn's handwriting) for expenses. Approximately 80 documents in total.
PROVENANCE: From the Archives of Marilyn Monroes Personal Property
Estimate: $250 - $350 / Sold: -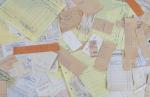 ---
Lot 0986: MARILYN MONROE: RECEIPTS AND INVOICES (x 40)
From the Personal Files of Marilyn Monroe: A large collection of receipts and invoices for various expenses throughout the late 1950s and early 1960s. Examples include New York Telephone Company bills, notes for petty cash, Doubleday Book Shop, Schwab's Pharmacy, Fulton Market, Yellow Cab Company, and Singer Sewing Company, among others. Also included are various handwritten notes (not in Marilyn's handwriting) for expenses. Approximately 40 documents in total.
PROVENANCE: From the Archives of Marilyn Monroes Personal Property
Estimate: $200 - $300 / Sold: -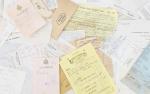 ---
Lot 0990: MARILYN MONROE: CORRESPONDENCE AND TAX DOCUMENTS (x 50)
From the Personal Files of Marilyn Monroe: A collection of documents and letters relating to general business issues for Marilyn Monroe and Marilyn Monroe Productions with various dates in the 1950s and early 1960s. Also included are documents related employment tax filings for her staff. Approximately 50 documents in total.
PROVENANCE: From the Archives of Marilyn Monroes Personal Property
Estimate: $400 - $500 / Sold: -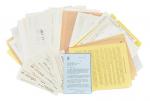 ---
Lot 0991: MARILYN MONROE: CORRESPONDENCE AND TAX DOCUMENTS (x 50)
From the Personal Files of Marilyn Monroe: A collection of documents and letters relating to tax filings and general business issues for Marilyn Monroe and Marilyn Monroe Productions with various dates starting in 1954 through the early 1960s. Also included are documents related to financial transfers, general financial transactions, and the 1961 annual report for the Marilyn Monroe Productions Profit Sharing Retirement Trust. Approximately 50 documents in total.
PROVENANCE: From the Archives of Marilyn Monroes Personal Property
Estimate: $400 - $500 / Sold: -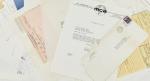 ---
Lot 0992: MARILYN MONROE: CORRESPONDENCE AND TAX DOCUMENTS (x 50)
From the Personal Files of Marilyn Monroe: A collection of documents and letters relating to tax filings and general business issues for Marilyn Monroe Productions with various dates in the late 1950s and early 1960s. Also included are documents related to employment insurance, financial transfers and general financial transactions. Approximately 50 documents in total.
PROVENANCE: From the Archives of Marilyn Monroes Personal Property
Estimate: $400 - $500 / Sold: -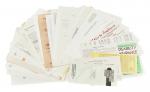 ---
Lot 0993: MARILYN MONROE: CORRESPONDENCE AND TAX DOCUMENTS (x 20)
From the Personal Files of Marilyn Monroe: A collection of documents and letters relating to tax filings for Marilyn Monroe and husband Arthur Miller with various dates in the late 1950s and early 1960s. Included is extensive documentation to determine whether a fur coat given to Pat Newcomb was a gift or was in some way a form of payment. Also included, a copy of a four-page document outlining a proposed financial plan for Marilyn dated in June 1959. Twenty documents in total.
PROVENANCE: From the Archives of Marilyn Monroes Personal Property
Estimate: $150 - $250 / Sold: -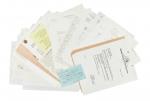 ---
Lot 0994: MARILYN MONROE: CORRESPONDENCE, RECEIPTS AND INVOICES (x 50)
From the Personal Files of Marilyn Monroe: A large collection of receipts and invoices for various expenses throughout the late 1950s. Examples include Karnell & Meisner printers, Mercury Messenger Service, Sutton Flower Shop, Sutton Electric Supply, Gotham Hardware, and Bloomingdales among others. This lot includes several receipts for laundry service, and a letter to Marilyn from Jay Kanter. Also included are various handwritten notes (not in Marilyn's handwriting) for expenses. Approximately 50 documents in total.
PROVENANCE: From the Archives of Marilyn Monroes Personal Property
Estimate: $400 - $500 / Sold: -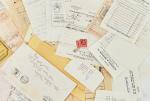 ---
Lot 0995: MARILYN MONROE: I. MAGNIN & CO. BILL STATEMENTS
Two bill statements from I. Magnin & Company addressed to Mrs. Arthur Miller at 444 E. 57th Street, New York City, New York. Marilyn Monroe was married to playwright Arthur Miller from June 1956 to January 1961.
A partial bill statement of $28.97 was paid on May 2, 1960, while the complete bill statement receipt mentions that the amount of $10.40 was still owed by Monroe.
8 x 6.25 inches (largest)
PROVENANCE Lot 481, Property From The Life and Career of Marilyn Monroe, Juliens Auctions, Los Angeles, November 17-19, 2016
Estimate: $200 - $300 / Sold: -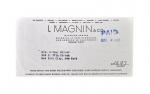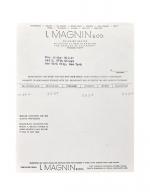 ---
Lot 0996: MARILYN MONROE: 1962 EMPLOYEE TAX DOCUMENTS (x 40)
From the Personal Files of Marilyn Monroe: A large collection of 1962 correspondence, paperwork and financial accounting documents related to Federal, New York and California taxes, unemployment and disability insurance for Marilyn's staff, including Hattie Stephenson, Hedda Rosten and Cherie Redmond. The documents are contained in the original manilla file from Marilyn Monroe's personal filing cabinet. Approximately 40 documents in total.
PROVENANCE: From the Archives of Marilyn Monroes Personal Property
Estimate: $200 - $300 / Sold: -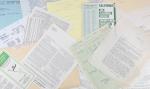 ---
Courriers
Letters

---
Lot 0934: NORMA JEAN SIGNED BERNIECE MIRACLE LETTER SHADOW BOX DISPLAY
A framed shadow box display featuring a collage of items featuring Marilyn Monroe, including a thank you letter written by Norma Jean to her half-sister, Berniece Miracle; a black and white photograph of the sisters; a January 16, 1954 Picturegoer cover print of Monroe; a black and white photograph signed and inscribed, "Our best wishes," in black ink by 20th Century Fox Talent Director Ben Lyon and his wife, Bebe Daniels; a 1945 Norma Jean Dougherty push pin button; and a plaque revealing the story how the name "Marilyn Monroe" was born.
Framed, 22 x 29 inches; sight, 16 x 22 inches
Estimate: $4,000 - $6,000 / Sold: -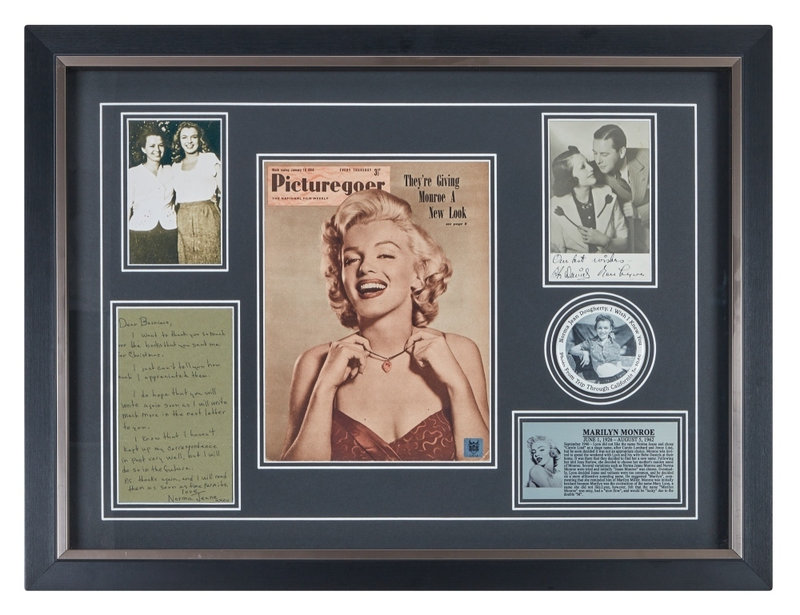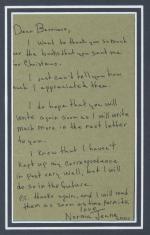 ---
Lot 0944: MARILYN MONROE: MCA RELATED CORRESPONDENCE (x 30)
From the Personal Files of Marilyn Monroe: A sizeable collection of correspondence primarily consisting of letters to Marilyn Monroe with dates in 1955, and 1957-1959. Included as well are carbon copies of typed responses from Marilyn to MCA. Includes letters signed by Richard A. Shepherd, Mort Viner, and Jay Kanter. Approximately 30 documents in total.
PROVENANCE: From the Archives of Marilyn Monroes Personal Property
Estimate: $450 - $550 / Sold: -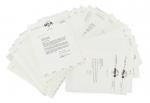 ---
Lot 0947: ARTHUR MILLER RECEIVED CORRESPONDENCE (x 7)
From the Personal Files of Marilyn Monroe: Seven letters sent to Marilyn's third husband Arthur Miller regarding his plays, books sent to him for his review, and other business-related items with dates in 1956, 1957, and 1959. Of significance, a letter dated December 19 to Miller from acclaimed producer, director and screenwriter Elia Kazan wherein he provides feedback on The Misfits. "You've got the makings of a superb movie here. The last big sequence (Mustangs) can be a masterpiece. And its (sic) perfect for Huston." He goes on to write, "Perhaps it all suffers from not quite pointing to any definite ending. And to tell it all, I thought the girl a little too - well too a lot of things, too right, too often, too pure, too aware. But, on the whole damned good. I hope you work on it more before you start shooting." The letter is signed "Gadg," Kazan's nickname.
PROVENANCE: From the Archives of Marilyn Monroes Personal Property
Estimate: $300 - $400 / Sold: -

---
Lot 0954: INTERIOR DESIGN FURNITURE DRAWING SAMPLE
An original pencil and gouache on card painting of a coffee table with an attached information sheet and letter from Amelia Wilcox of Earnshaw Inc., for Marilyn Monroe's review as she decorated her New York apartment.
The letter, dated September 12, 1961, is addressed to Mr. John Moore, the fashion designer who at one time worked with Norman Norell and Mattie Talmack. Norell was also assisting Monroe with the interior decoration of her New York apartment.
11 x 8.5 inches (largest)
PROVENANCE Lot 287, Property From The Life and Career of Marilyn Monroe, Juliens Auctions, Los Angeles, November 17-19, 2016
Estimate: $100 - $200 / Sold: -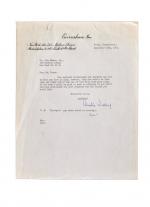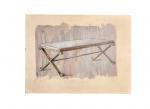 ---
Lot 0997: MARILYN MONROE: BUSINESS CORRESPONDENCE (x 50)
From the Personal Files of Marilyn Monroe: A collection of documents and letters relating to general business issues for Marilyn Monroe and Marilyn Monroe Productions with various dates in the late 1950s and early 1960s. Also included are documents related The Prince and the Showgirl. Approximately 50 documents in total.
PROVENANCE: From the Archives of Marilyn Monroes Personal Property
Estimate: $400 - $500 / Sold: -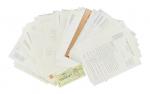 ---
Lot 0998: MARILYN MONROE: BUSINESS CORRESPONDENCE (x 25)
From the Personal Files of Marilyn Monroe: A file with various correspondence related to the Screen Actors Guild dated 1960-1961, together with various letters related to Marilyn's income and general finances. Twenty-five documents in total.
PROVENANCE: From the Archives of Marilyn Monroes Personal Property
Estimate: $250 - $300 / Sold: -

---
Lot 1004: MARILYN MONROE: CORRESPONDENCE (x 50)
From the Personal Files of Marilyn Monroe: A sizeable collection of business correspondence and fan letters, primarily consisting of letters to Marilyn Monroe with various dates in the mid to late 1950s and early 1960s. Included as well are carbon copies of typed responses from Marilyn. Includes letters from Mr. and Mrs. Frank Taylor, Lester Markel, and Italian ballet dancer Maria Gambarelli. Overall, a fascinating look into the types of correspondence Marilyn received from those "in the business" and from her fans. Approximately 50 documents in total.
PROVENANCE: From the Archives of Marilyn Monroes Personal Property
Estimate: $600 - $700 / Sold: -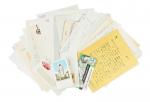 ---
Lot 1005: MARILYN MONROE: CORRESPONDENCE (x 30)
From the Personal Files of Marilyn Monroe: A sizeable collection of varied correspondence with letters from the William Morris Agency, Frank Taylor, Pearl Porterfield, Ray Stark and Cheryl Crawford among others. Also, is a copy of a 1956 letter from Marilyn to MCA Artists. This lot also includes nine envelopes addressed to Marilyn at various locations throughout her life. Approximately 30 documents in total.
PROVENANCE: From the Archives of Marilyn Monroes Personal Property
Estimate: $450 - $550 / Sold: -

---
Lot 1015: MARILYN MONROE: CORRESPONDENCE (x 17)
From the Personal Files of Marilyn Monroe: Various business and personal letters addressed to Marilyn or her representatives, all related to The Actors' Studio. Correspondence included references to Marilyn's attendance at Actors' Studio benefits, charitable donations, and Marilyn observing classes at the studio. Various dates in 1955-1961. Seventeen documents in total.
PROVENANCE: From the Archives of Marilyn Monroes Personal Property
Estimate: $400 - $500 / Sold: -

---
Lot 1016: MARILYN MONROE: CORRESPONDENCE (x 25)
From the Personal Files of Marilyn Monroe: Various business and personal letters addressed to Marilyn or her representatives from her business files. One item is a handwritten letter from Gladys Rasmussen, one of her hairstylists. Another letter from an unknown individual includes various pieces of documentation on mental health and religion for Marilyn's review. Also included are carbon copies of letters sent to others. Various dates in 1954, and 1956-1961. Approximately 25 documents in total.
PROVENANCE: From the Archives of Marilyn Monroes Personal Property
Estimate: $400 - $500 / Sold: -

---
Lot 1017: MARILYN MONROE: CORRESPONDENCE (x 15)
From the Personal Files of Marilyn Monroe: Important business and personal letters addressed to Marilyn or her representatives from her business files, many of which related to certain aspects of several of her films, including Let's Make Love, Goodbye Charlie, The Billionaire (later retitled Let's Make Love), and Some Like it Hot. Also included are signed letters from Harry Brand of Twentieth Century-Fox. One letter goes into extensive detail regarding renegotiating Marilyn's contract with Fox. Documents are dated 1958-1961. Approximately 15 documents in total.
PROVENANCE: From the Archives of Marilyn Monroes Personal Property
Estimate: $400 - $500 / Sold: -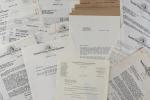 ---
Lot 1018: MARILYN MONROE: CORRESPONDENCE (x 25)
From the Personal Files of Marilyn Monroe: Various business and personal letters addressed to Marilyn or her representatives from her business files. Also included are carbon copies of letters that Marilyn sent to others, one being to Sydney Guilaroff, one of her hair stylists. Another is a copy of a letter Marilyn sent to Yves Montand. Other letters reference the dissolution of the relationship between Marilyn Monroe and Milton Greene. Various dates in 1957-1960. Approximately 25 documents in total.
PROVENANCE: From the Archives of Marilyn Monroes Personal Property
Estimate: $400 - $500 / Sold: -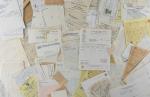 ---
Lot 1019: MARILYN MONROE: CORRESPONDENCE (x 130)
From the Personal Files of Marilyn Monroe: A collection of receipts and invoices for various expenses in 1960. Examples include Milstead Meat Co., 444 Management Co., Beverly Hardware Co., Jurgensen's, Doubleday Book Shops, Saks Fifth Avenue, Schwab's Pharmacy, I. Magnin & Co., and Larry Edmunds Book Shop. Included as well are various handwritten notes (not in Marilyn's handwriting) for expenses in 1960. Approximately 130 documents in total.
PROVENANCE: From the Archives of Marilyn Monroe's Personal Property
Estimate: $350 - $450 / Sold: -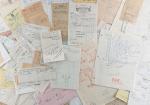 ---
Lot 1020: MARILYN MONROE: RECEIVED FAN LETTERS (x 7)
From the Personal Files of Marilyn Monroe: A group of seven fan letters from C. H. Crowther, a UK based fan who often wrote to Marilyn in the late 1950s. Also included, copies of typed correspondence from Monroe back to Crowther.
PROVENANCE From the Archives of Marilyn Monroes Personal Property
Estimate: $200 - $300 / Sold: -

---
Lot 1021: SAMMY CAHN SIGNED 1960 PERSONAL NOTE
A short, personal note from composer Sammy Cahn to Marilyn Monroe, typewritten on Sammy Cahn letterhead and dated "14th June, 1960." Cahn has typewritten "ammy" and signed an "S" in pen to complete the signature. The note reads: "I can't tell you how flattered I was to be asked to your party. As I told you I was almost positive that you might have thought I was Van Heusen. I was so pleased that you knew he was out of town and that the invitation was intended for me. I had a marvelous time and if you ever give parties again, no matter where, don't forget your chum."
Cahn co-wrote the song "Let's Make Love" with James Van Heusen (mentioned in the note), sung by Monroe in George Cukor's film of the same name (Twentieth Century Fox, 1960), as well as several other featured musical numbers.
9.5 x 7.5 inches
PROVENANCE From the Estate of Marilyn Monroe
Estimate: $1,000 - $2,000 / Sold: -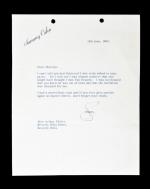 ---
© All images are copyright and protected by their respective owners, assignees or others.
20 juillet 2012
Le magazine français Le Nouvel Observateur n°2489, paru le 19 juillet 2012 consacre un article à Marilyn Monroe (chapitre 2, par François Forestier).
prix: 3,50 €
---
Chapitre 2: Si sexy, si drôle
Par François Forestier
en ligne sur nouvelobs.com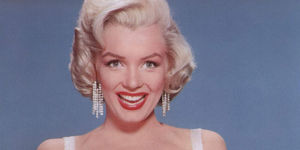 Avec « Les hommes préfèrent les blondes » de Howard Hawks (1953), Marilyn Monroe fixe à jamais son image de blonde évaporée et craquante.
Marilyn est en retard. Maquillée, vêtue d'une robe fuchsia, gantée de magenta, décorée de bracelets en diamants et d'un impressionnant collier truffé de pierres précieuses, elle reste dans sa loge, le souffle court. Le metteur en scène, Howard Hawks, l'attend. La co-vedette, Jane Russell, l'attend. Le chorégraphe, Jack Cole, l'attend. L'équipe entière attend, dans un décor de bonbonnière géante. Tout est rose, même les joues des boys en jaquette. La production est paralysée. Marilyn aussi. La vérité est simple : toutes les nuits, elle répète les répliques avec son coach, l'omniprésente Natasha Lytess, puis prend des pilules pour dormir. Le matin, elle avale des cachets pour se réveiller puis elle répète les chorégraphies minimales qu'elle doit exécuter plus tard.
Marilyn est fatiguée, et terrifiée par la caméra. Dans « Les hommes préfèrent les blondes », elle sait qu'elle n'a pas droit à un seul faux pas, à une seule note tremblée. C'est le film qui fixera à jamais son image, celle de la blonde évaporée, naïve et roublarde, chasseuse de diamants, spirituelle et vive. Une version live de Betty Boop, donc. Finalement, elle prend une gélule jaune, sort de sa loge, évite de trébucher sur les câbles qui jonchent le studio, et arrive sur le plateau, à peine une demi-heure après l'heure requise. Agacé, mais retenu, Hawks crie : « En place ! » Dix minutes passent. On tourne.
C'est un livre drôle et nerveux. « Les hommes préfèrent les blondes » est né dans les années 1920 dans le Santa Fe Chief, le train qui mène les stars de Hollywood à New York. Anita Loos, scénariste en vogue et personnalité spirituelle, remarque que Douglas Fairbanks, son valet, son secrétaire et leurs amis se précipitent pour descendre la valise d'une bimbo qui n'a rien demandé. Or Anita Loos est petite, et personne ne lui donne un coup de main. « De toute évidence, il y avait une différence entre elle et moi. Mais qu'était-elle, cette différence ? Elle était blonde platinée et moi, j'étais une brunette. » Le roman, savoureux, sera adapté au théâtre en 1926, au cinéma en 1928 (ce film est perdu aujourd'hui), et exhumé un quart de siècle plus tard par Hawks, le réalisateur aristocratique de « Scarface ».
Alors que Darryl Zanuck, le patron électrique de la 20th Century Fox, s'interroge sur la popularité de Marilyn - qui est adorée du public, mais peu rentable au cinéma - et note que ses films n'attirent pas les foules, Hawks lui dit : « Darryl, tu te trompes. Tu essaies de lui faire jouer des rôles réalistes. Or elle n'est pas réaliste. C'est un personnage de dessin animé. » La suite est simple : « Faisons une nouvelle version des « Hommes préfèrent les blondes » ! » Marilyn accepte. Le titre lui plaît. Elle ne sait pas qu'Anita Loos a écrit une suite, intitulée « … Mais ils épousent les brunettes ».
Justement, il est question de mariage. Depuis quelques mois, Marilyn sort avec une mégastar, le plus grand joueur de base-ball des Etats-Unis, Joe DiMaggio. Grand, gracieux, divin sur un stade, DiMaggio est un homme silencieux, bougon, avec de grandes dents de lapin, peu amène dans le civil. Sa carrière est terminée, mais son aura persiste. Partout, il est reçu comme un empereur. Même Kopa ou Zidane ne connaîtront jamais pareille adulation. Au Japon, il est révéré. A New York, personne n'a le droit de s'approcher de sa table quand il est au restaurant. Il ne paie rien - il est avare - et traîne une sorte de mélancolie distante avec ses potes, avec lesquels il ne parle que de sport.
Marilyn et DiMaggio ? Un couple détonant. Partout où ils passent, les foules s'amassent. La célébrité de l'un démultiplie la notoriété de l'autre. Ils sont stars au carré. L'ennui, c'est que DiMaggio est jaloux comme un tigre. Il sait que Marilyn a eu des amants à la pelle, qu'elle est capable de faire une faveur au livreur de pizza, de coucher avec le plombier, de visiter Zanuck dans son bureau ou, simplement, de faire plaisir au premier venu, par gentillesse. Ce mélange de naïveté et de sensualité l'agace : il décèle chez cette fille une forme de manipulation, ce que Mankiewicz a nommé « un masque d'innocence », mais il est décidé. Ils vont se marier, elle fera la cuisine, ils auront des petits DiMaggio, elle abandonnera le cinéma et toute cette pourriture, et ils vivront heureux en regardant les matchs à la télé. « Le show-biz, c'est pas fait pour une fille comme toi », répète-t-il à sa fiancée. Il se trompe lourdement, le niais. Elle n'est pas faite pour lui, voilà tout.
Le tournage a lieu fin 1952. Ni Marilyn ni Jane Russell ne savent chanter ni danser. De mai à novembre, elles ont travaillé dur, apprenant les pas, s'accordant au rythme, cherchant l'accord. La brune aux seins comme des obus a essayé de convertir sa nouvelle amie à la religion des Christian Scientists. La blonde atomique a répondu en donnant un ouvrage de Freud à Jane. Elles en sont restées là. La vraie différence est évidente sur le plateau : Jane Russell bouge comme un veau marin ; Marilyn possède la grâce. A peine a-t-elle commencé à jouer les premières scènes que l'évidence s'est imposée : autant Jane Russell est facile, autant Marilyn est pénible, car sa répétitrice, Natasha Lytess, surveille chaque seconde. Quand l'actrice entend : « Coupez ! », elle se tourne d'abord vers Natasha, pour voir si elle a son assentiment. L'autorité du metteur en scène est minée. Howard Hawks n'est pas homme à se laisser déposséder. Il vire la fâcheuse. Marilyn perd sa béquille, elle redouble d'anxiété. Joe DiMaggio vient rendre visite à sa fiancée sur le plateau, reste quelques minutes, observe les regards - libidineux, selon lui - des hommes présents, et s'en va, fâché.
Une semaine plus tard, Marilyn reçoit une très mauvaise nouvelle : Gladys, sa mère, qui habite en Floride, a disparu. Puis elle réapparaît à Los Angeles, folle à lier. Le pire cauchemar de Marilyn revient à la surface. Elle a peur de finir dingue. Après tout, son arrière-grand-mère s'est pendue, sa grand-mère est morte dans une camisole de force, son grand-père a été rongé par une syphilis stade tertiaire, sa mère a essayé de tuer Marilyn bébé plusieurs fois. Et Gladys a tenté de se suicider en avalant ses draps. Marilyn se souvient d'une femme qu'elle n'a jamais vu sourire, qui n'a pas eu un geste de tendresse, et qui l'a abandonnée chez des inconnus. Pendant le tournage des « Hommes préfèrent les blondes », Marilyn cherche de l'argent pour faire interner sa mère. Howard Hawks lui en prête. Mais la folie rôde. Les pilules, voilà la solution.
Un nouvel imprésario vient visiter Marilyn : Charlie Feldman. Il ressemble au loup de Tex Avery Suave, petite moustache, sympathique, bronzé, il aime les filles, les invite dans sa maison transformée en musée (il a des Manet, des Renoir, des Picasso, même deux Van Gogh), et préfère les beautés un peu cassées. Sa dernière fiancée, Capucine, se jettera par la fenêtre, persuadée d'être la réincarnation d'un chevalier des croisades. Marilyn est faite pour lui. D'ailleurs, elle fréquente beaucoup les fêtes, chez Feldman. C'est là qu'elle a couché avec Elia Kazan, dans l'une des chambres du fond, il y a quelques années. Feldman fait la cour à Marilyn, qui n'a signé avec lui aucun contrat. Elle promet, mais doit faire des essais pour une robe. Feldman s'en va. Marilyn n'honorera jamais sa promesse, c'est dans sa nature, cette esquive perpétuelle. La robe est en lamé or fin, très fin. C'est comme si on avait coulé de la peinture sur le corps.
D'ailleurs, Marilyn précise aux journalistes présents qu'elle ne porte pas de dessous, ni soutien-gorge ni culotte. Simplement pour cette robe ? « Non. Je n'en porte jamais. » La température monte d'un cran. Puis, la journée de travail terminée, Marilyn se rend à un cocktail organisé par le magazine « Photo-play ». Les invités (hommes) ont les yeux comme des projecteurs de défense antiaérienne. Les femmes ont la haine. Joan Crawford, 48 ans, regarde cette rivale de 24 ans, et déclare : « Les actrices, en général, sont des ladies. Celle-ci ne mérite qu'un haussement d'épaules. » Crawford appelle à un boycott des femmes dans tout le pays. Elle a simplement oublié : vingt ans plus tôt, elle a joué dans des films pornos. Maintenant, elle est devenue bégueule ? Un journaliste, ravi, note que l'arrière-train de Marilyn fait penser à « des chiots qui se battent sous un drap de soie ».
Le tournage s'achève. Le film précédent de Marilyn, « Niagara », est un succès. Mais, chacun le sent, « Les hommes préfèrent les blondes » va être un triomphe, et la chanson « Diamonds are a Girl's Best Friends » va casser la baraque. Charlie Feldman n'en croit pas ses yeux, Zanuck non plus. Sur l'écran, Marilyn est drôle, elle a un timing comique inné, elle est sexy, elle est vulnérable, elle est parfaite. Feldman téléphone à Marilyn, en pleine nuit. Celle-ci se réveille, titubante. Elle est sous barbituriques, épuisée. Feldman sait qu'elle vacille. Il s'inquiète. Une autre de ses clientes, Vivien Leigh, l'épouse sublime de Laurence Olivier, vient d'être internée après avoir arraché ses vêtements dans un avion, récité en boucle les répliques d'« Un tramway nommé désir », et tenté de se jeter dans le vide.
Feldman annonce qu'il va faire une grande fiesta pour la sortie du film, qui est une réussite totale, dit-il. Marilyn se recouche. Elle se prépare à tourner une nouvelle comédie, tirée d'un roman de Doris Lilly, une journaliste à la plume vive et drôle (injustement oubliée aujourd'hui) : « Comment épouser un millionnaire ». Elle y reprendra son rôle de blonde évaporée, de Betty Boop allumeuse mâtinée de Bécassine. Le personnage, désormais, est parfaitement au point. Mais Marilyn se sent prisonnière d'une image dégradante : elle voudrait jouer des rôles tragiques, la reine Christine ou Anna Karénine. Bref, être prise au sérieux. De plus, avec Joe DiMaggio, elle s'ennuie. Il a beau avoir la réputation d'avoir un outil de la taille de sa batte de base-ball, il est aussi gai qu'un bras de fauteuil sous la pluie. Il se lève de son lit, puis parcourt les bandes dessinées du journal, boit une bière, et reste silencieux pendant des heures en mangeant des cacahuètes.
Quand sort le film, c'est immédiatement un triomphe. La critique adore. Le public aussi. Marilyn, en quelques jours, devient une superstar. Zanuck est ravi. Il aligne immédiatement deux nouveaux scénarios pour sa vedette : « Rivière sans retour », « La Diablesse en collant rose ». Mais Marilyn veut qu'on augmente ses cachets. Elle exige un droit de regard sur ses scénarios. Et sur le choix des metteurs en scène. Notamment, elle aimerait tourner avec George Cukor, homosexuel raffiné et réalisateur stylé. Pas question, répond Zanuck, qui envoie un homme de main discuter. Celui-ci est reçu par Joe DiMaggio, qui fronce les sourcils et évoque la possibilité d'un sérieux coup de pied au cul. L'envoyé de Zanuck revient, penaud. Les ennuis commencent. On ne défie pas impunément le plus grand studio de Hollywood.
Marilyn va bientôt imprimer ses mains dans le ciment devant le Chinese Theatre, et épouser son joueur de base-ball. Jane Russell se souviendra de leur collaboration avec un peu d'étonnement : « Marilyn avait tellement, tellement envie de devenir une star que c'en était douloureux. » Dévorée par l'ambition, l'esprit mangé par la folie, l'âme corrodée par la peur, Marilyn va se rendre à la party de Charlie Feldman, où elle arrivera très, très en retard. Là, un homme bronzé va lui glisser son numéro de téléphone. Il est marié, mais peu importe : sa femme est l'épouse la plus trompée des Etats-Unis. Il est beau, il est sénateur, il est riche. Il se nomme John Fitzgerald Kennedy. L'orchestre joue une chanson de Sinatra, « I Only Have Eyes for You ».■
---
Les sanglots de Marilyn
le 22/07/2012
Par Bernard Comment
en ligne sur cinema.nouvelobs.com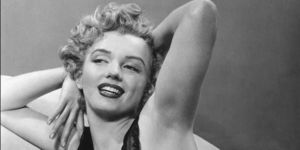 Chaque semaine, l'éditeur des écrits et dessins de la star mandaté par la famille Strasberg - nous ofre un document rare. Aujourd'hui, un long texte-poème rimbaldien…

Les textes écrits par Marilyn Monroe sur des rectos et des versos de feuilles de papier (ici le papier à en-tête d'un palace new-yorkais) posent la question de l'enchaînement des fragments qui les composent, et du sens qu'il faut attribuer aux fèches qui les jalonnent. Le travail de transcription et d'agencement des documents qui forment le livre « Fragments » (Seuil, 2010) a souvent été ardu, il supposait beaucoup de patience, de longues recherches, un peu d'intuition, ou de la chance, et parfois une illumination (comme quand j'ai fnalement compris que ce que je lisais comme « stairs of stairs », littéralement « escaliers d'escaliers », était en fait une faute d'orthographe et signifiait « stares&stares », « regarde et regarde »).
Lorsque nous avons organisé une soirée de lecture par Anna Mouglalis pour le lancement du livre, au Théâtre de la Madeleine, à Paris, la comédienne m'a livré une interprétation différente de la consécution logique du présent texte, et après mûre réfexion, je lui donne tout à fait raison. Contrairement à ce qui est imprimé dans l'édition grand format, je pense en effet avec elle que les premières lignes en haut à gauche, « Sad sweet trees-/ Iwishforyou-rest /but you must be wakeful », suivent la direction de la flèche placée au-dessus, et se rattachent en fait au bas du verso, ce qui entraîne une modifcation de la traduction (la correction a été faite pour l'édition de poche, qui vient de paraître en Points).
C'est ainsi aux « arbres tristes et doux » que s'adressent les dernières lignes, pour évoquer leur soufrance et leur solitude quand ils ont perdu la couverture de leurs feuilles. Mais cette vision mélancolique des arbres nus est aussitôt contrebalancée par l'idée du nouveau qui s'agite déjà dans leurs membres, et qui s'épanouira au printemps. La mort, la vie. La déréliction, la joie. Les bruits et Klaxon de la ville, le feuve silencieux. Le calme revenu dans les rues, mais un grondement au loin, celui de choses inconnues qui inspirent la peur et pire, la terreur. Dans la plupart des textes de Marilyn, on retrouve ce mouvement de balancier. Il a souvent été dit d'elle qu'elle était bipolaire. Le rythme de son écriture procède de cette bipolarité, mais il serait hâtif et abusif d'y voir simplement un symptôme : c'est aussi et avant tout un des grands moteurs de la poésie.
Lorsqu'elle s'installe à New York, en 1955, la star loge d'abord au Gladstone Hotel (52e Rue et Lexington Avenue), de janvier à avril, puis au prestigieux Waldorf-Astoria jusqu'à la fin de la même année. Elle y occupait un appartement de trois pièces au 27e étage, du côté de Lexington Avenue, et y avait probablement une vue sur East River, pas très loin. Ensuite, elle se rapprochera sensiblement du fleuve en allant s'établir à Sutton Place, dans un appartement de son associé de l'époque, le photographe Milton Greene, avec qui elle avait fondé une société de production cinématographique et qu'elle congédiera deux ans plus tard, pour soupçons d'incorrections et sans doute sur la pression d'Arthur Miller, devenu son mari en juin 1956.
C'est sur le papier à en-tête du Waldorf-Astoria que Marilyn a écrit, et griffonné parfois, certains de ses plus beaux textes, comme celui-ci, qui saute du présent à un passé très récent (la veille), des rues au fleuve, du chaud au froid, et qui ressemble parfois à une « Illumination » de Rimbaud, dans ses effets de juxtaposition et de contraste. Marilyn Monroe n'a jamais prétendu être écrivain, ou poète, mais elle avait une intense relation au monde, au temps, qui l'ouvrait à la fulgurance poétique.
« C'était quoi maintenant »
[Hôtel Waldorf-Astoria, New York]
C'était quoi maintenant - il y a un instant - qui était important et maintenant a fui - comme le mouvement rapide d'un instant passé - peut-être que je m'en souviendrai parce que ça faisait comme si ça allait devenir mien. Tant et tant de lumières dans les ténèbres transformant les immeubles en squelettes et la vie dans les rues.
A quoi pensais-je hier dans les rues ? ça semble si loin, si ancien et la lune si pleine et sombre. C'est mieux qu'on m'ait dit quand j'étais enfant ce qu'elle était sinon je ne pourrais pas la comprendre maintenant.
Bruits d'impatience des chauffeurs de taxi toujours conduisant qui ils doivent conduire - rues chaudes, poussiéreuses, verglacées pour pouvoir manger et peut-être épargner pour les vacances, pendant lesquelles ils conduisent leurs femmes à travers tout le pays pour visiter leurs familles à elles. Ensuite le feuve - la partie faite de pepsi cola - le parc - dieu soit loué pour le parc. Mais je ne cherche pas à voir ces choses je cherche mon amant. C'est bien qu'on m'ait dit ce qu'était la lune quand j'étais enfant. Le feuve silencieux s'agite et remue dès que quelque chose passe dessus, le vent, la pluie, les gros bateaux. J'adore le feuve - jamais affecté par quoi que ce soit.
C'est calme maintenant et le silence est seul exceptés le grondement de tonnerre des choses inconnues et au loin des coups de tambour très présents, et sauf des cris perçants et le murmure des choses, et les bruits aigus et soudain étouffés en gémissements au-delà de la tristesse- terreur au-delà de la peur. Le cri des choses, vague et trop jeune pour être encore connu.
Les sanglots de la vie même. Arbres tristes et doux - je vous souhaite - le repos mais vous devez rester sur vos gardes.
Vous devez souffrir - de la perte de votre or sombre quand votre couverture de feuilles déjà mortes vous quitte Forts et nus vous devez être - vivants quand vous regardez la mort droit devant penchés sous le vent Et portez la souffrance et la joie du nouveau dans vos membres. Solitude - soyez calmes.
(Traduit par Tiphaine Samoyault)■

13 juillet 2012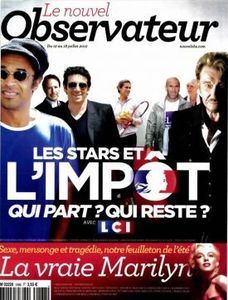 Le magazine français Le Nouvel Observateur n°2488, paru le 12 juillet 2012 consacre un article de 5 pages à Marilyn Monroe (chapitre 1, par François Forestier).
prix: 3,50 €
---
Chapitre 1 : Une bimbo nommée désir
Par François Forestier
en ligne sur nouvelobs.com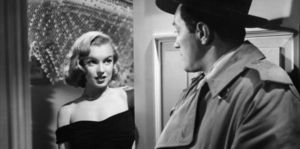 Avec « Quand la ville dort », de John Huston (1950), Marilyn Monroe, dont on célèbre le 50e anniversaire de la mort, faisait ses vrais débuts au cinéma…
Marilyn, lovée sur un canapé, se déplie, se déploie, se lève, s'étire voluptueusement et s'avance, dans un clair-obscur suggestif. Féline et innocente, gamine et dangereuse, elle demande : « C'est quoi, l'idée, de me regarder comme ça, oncle Lon ? » L'idée ? Elle est évidente sur le visage du bon tonton, nettement plus âgé que sa pensionnaire. Il l'embrasse, lui souhaite bonne nuit, et elle s'en va, ondulante, ravie et lasse d'être une fille entretenue. Elle sort du salon, du cadre, et, bientôt, de la vie de l'oncle Lon. Elle entre dans la légende. La scène dure soixante-quinze secondes.
Dans « Quand la ville dort », justement, personne ne dort. Les truands complotent, la police patauge, la cité bouillonne, les filles allument les clients et Marilyn danse devant un juke-box, tandis qu'un homme va mourir dans un pré en regardant un cheval bai. Le film est inoubliable. John Huston, le réalisateur, s'en souvenait avec malice, trente-quatre ans plus tard : « Je n'étais pas convaincu par Marilyn, au début… Elle me paraissait… trop… trop… » Evidemment : elle était venue pour le casting en robe décolletée, moulante, vêtue comme une houri, persuadée d'arracher le rôle par sa seule sensualité.
Las ! C'était mal connaître Huston, ex-boxeur, bagarreur, buveur, joueur, dur à cuire, tombeur, grande gueule, amateur de chevaux et de cigares. Les effets de hanches lui déplaisaient. Les vues plongeantes sur la « gorge de la vallée » le laissaient indifférent. Il aimait les Irlandaises, les filles avec du répondant, pas les vahinés. Il regarda la bimbo, et chercha ailleurs. L'un des financiers du studio, plus sensible au charme des blondes, le convainquit de prendre Marilyn, faute de quoi il ferait saisir les pur-sang de Huston, pour dettes impayées. Deux minutes plus tard, le cinéaste acceptait Marilyn. « Je ne l'ai pas regretté », disait-il, une tequila ananas à la main, dans sa maison de Mismaloya, non loin de Puerto Vallarta, au Mexique, en regardant la mer. « C'était une présence exceptionnelle… brillante sur l'écran. » Puis, en agitant les glaçons dans son verre : « Mais c'était une pauvre fille, oui, une pauvre fille. »
Pauvre fille, certes. Née dans une famille folle, élevée dans des foyers d'accueil, tripotée par des pères de substitution, violée par les mêmes, Norma Jeane Mortenson se souvenait d'une enfance passée à fuir les mains des hommes, et d'une photo de Clark Gable, son papa de rêve, son idole lointaine. Elle avait traversé une partie de la guerre à travailler dans une usine de parachutes, vêtue d'une salopette dont la seule qualité était d'« agir comme une cape rouge devant le taureau ». Traduisez : la salopette mettait le feu aux joues des ouvriers de l'usine Radioplane Munitions. Elle aurait pu mettre le feu aux poudres.
C'est Ben Lyon, l'acteur de « Hell's Angels », le film de Howard Hughes, qui la repéra, lui trouva un nom, et lui présenta le milliardaire cinglé. Celui-ci, passionné par le volume mammaire de ses protégées - il fut l'inventeur du soutien-gorge de Jane Russell, qui n'en avait nul besoin - prit la petite blonde en belle amitié. Puis l'oublia très vite. Pour trouver son indépendance, Marilyn, en chemin, s'était mariée. Avec simplicité, elle était devenue l'épouse du fils d'une voisine, Jim Dougherty, lequel ne tarda guère à partir en mer, pour se battre contre les Japonais. Seule - pas pour longtemps -, Marilyn passa des soirées à écouter les chansons de Frank Sinatra : « For Me and My Gal », « Black Magic », « Night and Day ». Son père avait pris la poudre d'escampette. Sa mère était internée, après de multiples tentatives de suicide. Norma Jeane ne savait rien faire, sinon créer le désir des hommes. Elle devint Marilyn, qui, elle, sut prendre la lumière comme personne.
Regardez les photos : cet éclat, cette peau, ce visage… Le malheur caché qu'on lit dans les yeux, le sourire mélancolique qui dit : « Aimez-moi », le nez mutin, le corps fabriqué pour le plaisir… Jamais, dans l'histoire du cinéma, il n'y eut ce mélange explosif, à haute combustion : l'innocence et la volupté, la promesse de la débauche et l'assurance de la pureté. Chaque homme, devant Marilyn, se sent obligé de la protéger. Chaque femme, face à elle, se sent contrainte de la dorloter. Quand Marilyn bat des cils, le coeur des durs s'agrandit. Quand elle se penche pour rattacher un bas, ce n'est plus le coeur qui est en extrasystole. Elle est un rêve d'érotisme, une promesse de douceur. Il y a de la magie chez cette femme, une sorte de rayonnement que seule la caméra capte. Dans la vie, elle est simplement jolie. A l'écran ou en photo, elle est sublime. Toute l'image est aspirée par elle, chaque pixel est contaminé par l'effet Marilyn. Elle éclipse ses partenaires, éteint la statue de la Liberté, mange la pellicule. Elle suscite le désir et la pitié, cocktail fissile. Marilyn, c'est la blonde atomique du cinéma.
L'année qui a précédé le tournage de « Quand la ville dort », elle a posé nue pour le photographe Tom Kelley accessoirement membre du jury de Miss Univers. Pour 50 dollars, elle a offert son corps, allongée de trois quarts, et fait rêver tous les camionneurs. Puis elle a joué dans un film mou des Marx Brothers, « La Pêche au trésor », titre qui décrit exactement l'ambition de sa vie. Ben Lyon, le recruteur de Howard Hughes, l'a envoyée rencontrer les patrons des studios : il lui a fait une lettre de recommandation. Un peu étonnée, Marilyn a vu les producers lire le petit mot, contourner le bureau, défaire leur braguette. Sans discuter, elle a joué un air de flûte enchantée, à chaque fois. Plus tard, on apprendra que la lettre était succinte : « Cette fille fait des pipes du tonnerre. » Abusée, comme d'habitude. Hollywood, a-t-elle compris, est une machine à broyer. Puis elle a été prise en main par un petit imprésario, Johnny Hyde. Celui-ci fut son ange gardien, son directeur de conscience, son gentil organisateur. Il était minuscule, marié, père de famille, et malade du coeur. De son vrai nom Ivan Haidabura, ce mini-Russe avait trente et un ans de plus qu'elle ; elle avait vingt centimètres de plus que lui.
Il lui fit refaire le nez, le menton, les seins, les dents et insista pour qu'elle lise Proust. Il voulut l'épouser. Elle refusa. Johnny Hyde lui obtint le rôle de Miss Caswell, une intrigante, dans « Eve », beau film de Mankiewicz. Le réalisateur utilisa Marilyn, ne vit en elle qu'une lorette écervelée, et, l'apercevant sur le plateau avec « Lettres à un jeune poète » de Rilke, il se borna à sourire, un peu apitoyé. Comme le dit avec une pointe de sarcasme George Sanders, l'acteur principal d'« Eve » : « En la présence de Marilyn, il était difficile de se concentrer. » Puis, plus tard, il constata qu'« elle n'était pas une solitaire. Elle était juste « seule" ». Mankiewicz la qualifia de « diplômée de l'école de théâtre de Copacabana », quelque chose comme « licenciée de l'université de Pigalle », disons. Ce n'était pas mal trouvé. Ses amis du cours de théâtre (le vrai) admiraient son port du blue-jean. Marilyn, en attendant des rôles plus consistants, s'installa chez sa répétitrice, Natasha Lytess, une grande asperge autoritaire. Elle vint, accompagnée de son chihuahua qui s'oubliait partout. Les visiteurs marchaient dans les merdes. Marilyn n'y voyait aucun inconvénient. On était à Hollywood.
Marilyn se mit en quête d'un rôle. Johnny Hyde vint à mourir, désolé de ne rien léguer à cette fille si gentille, si… tentante. Son coeur russe céda, c'était dans la logique des choses. Il lui avait dit : « Si je meurs, tiens-moi danstesbras, et je revivrai. » Elle le fit, une demi-heure durant. Mais Johnny Hyde était bien parti, il ne revint pas. Les témoins de cet enlacement avec un cadavre pensèrent que la fille était folle. La famille mit une interdiction absolue à la présence de Marilyn aux funérailles. Celle-ci s'acheta une petite robe noire, et avala des pilules roses, blanches, bleues. Natasha Lytess consola la jeune actrice 24 ans - et corrigea son articulation. « La moindre remarque, c'était comme un coup de couteau, pour elle. Elle avait l'impression qu'on lui faisait des reproches terribles. »
Marilyn passa dans des films sans importance, et fit une publicité pour Royal Triton Gasoline, la pompe à essence en main. Un acteur débutant, joli garçon, fils d'une fausse lady folle à lier - laquelle avait été inséminée par son docteur avec une cuillère à confiture - et d'un gentleman anglais qui s'était suicidé, écrasé par la harpie, la séduisit. Il se nommait Peter Lawford, il était courtois et drôle, un peu fade, mais tellement charmant ! Marilyn l'invita dans sa chambre, Lawford posa le pied dans une crotte de chien et tourna les talons. Il allait devenir le beau-frère de John Fitzgerald Kennedy, et servir de rabatteur au président des Etats-Unis. Pour Marilyn, ce fut un rôle grandiose : favorite du roi.
Un peu déboussolée au début des années 1950, Marilyn rencontra Pat De Cicco, avocat véreux, maquereau, ami de Howard Hughes et mafieux probable. Il la casa dans l'écurie de Joseph Schenck, producteur au visage sévère d'empereur romain, né en Russie, beau-frère de Buster Keaton. Schenck était en business avec les gangsters de Hollywood et avait été condamné à un an de prison pour avoir détourné de l'argent et soudoyé un syndicat. Président des Artistes Associés, il était véreux, oui, mais qui ne l'était pas ? Il intégra Marilyn dans son harem tarifé. Elle servait des boissons fraîches aux invités, leur tenait compagnie quand ils jouaient aux cartes, et les accompagnait dans leur lit. Elia Kazan, de passage, en profita, puis la plaignit. C'était bien dans sa manière de faux-cul.
Il partit tourner « Viva Zapata ! », son récit quasiment autobiographique. Kazan se voyait comme le personnage de la fin, entouré d'ennemis, incompris, tiré à vue - il ne tarda pas à se couler dans le rôle de victime hautaine, en se transformant en abjecte balance devant la Commission des Activités anti-américaines. En attendant, dès que sa femme fut partie du plateau, il fit venir Marilyn, son petit « dessert ». Elle resta au bord du Rio Grande quelques jours, coucha avec Marlon Brando, et repartit. Kazan travaillait alors sur un sujet noir, la corruption sur les quais. Son scénariste, Arthur Miller, remarqua Marilyn. Il écrivit plus tard : « Il émanait d'elle quelque chose comme de la douleur. » Sur le moment, il l'évita, redoutant sa « voracité infantile ». Elle illuminait, dit-il, « une vaste plaine de ténèbres ». Il allait l'épouser, bien plus tard.
« Quand la ville dort » sortit sur les écrans, et « Eve » aussi. La 20th Century Fox, dirigée par l'arrogant Darryl Zanuck, prit Marilyn sous contrat. Zanuck la testa dans son bureau. Juste avant, Marilyn tenta de voir celui qu'elle croyait être son vrai père, devenu fermier. Marié, père de famille, il refusa de la voir. Marilyn se mit à exister sous les projecteurs, redevenant Norma Jeane le soir. Belle le jour, souillon la nuit. Maquillée devant les photographes, malpropre chez elle. Actrice en attente d'un emploi, girl à vendre chez Joe Schenck. Trois ans après « Quand la ville dort », elle allait devenir star, et monter au firmament. Ce fut son bonheur et sa damnation. Marilyn, si belle, si fragile, si… Seule, absolument.■
---
Marilyn : « Merci de m'aider à sauver ma vie »
le 16/07/2012
Par Bernard Comment
en ligne sur cinema.nouvelobs.com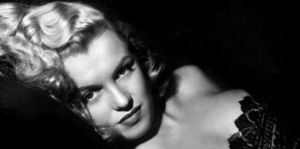 Chaque semaine, l'éditeur des écrits et dessins de la star - mandaté par la famille Strasberg - nous offre des documents rares. Aujourd'hui, un poème sur les ponts.

En janvier 2009, lorsque je me rends à New York pour le premier rendez-vous avec les ayants droit de Marilyn Monroe, je m'attends à des bureaux ultramodernes, dans un building de la Skyline. Au lieu de quoi je me retrouve dans un bel appartement ancien de l'Upper West Side, tapissé de livres, photos et affiches, avec une magnifique vue sur Central Park. C'est ici qu'a vécu Lee Strasberg, le mythique fondateur de l'Actors Studio, et Marilyn y passa de nombreuses nuits, à essayer d'écraser ses angoisses, comme des mégots, dans un verre de champagne ou d'eau. Je suis en retard de vingt minutes, le trafic pour venir de Greenwich Village, et un peu de désinvolture française sans doute. Stanley Buchthal, qui a fixé la rencontre, est furieux sous son masque aimable. Anna Strasberg, elle, m'accueille avec beaucoup de chaleur.
La conversation démarre et bientôt elle raconte une anecdote en me regardant droit dans les yeux : quand Marilyn avait demandé à Lee Strasberg de pouvoir travailler avec lui, en cours privés, il lui avait d'abord répondu négativement, sous le prétexte qu'elle était toujours en retard, et comme elle lui avouait son incapacité absolue à être à l'heure, il lui donna le simple conseil d'arriver… en avance. A bon entendeur.
Au deuxième rendez-vous, je suis donc arrivé vingt minutes trop tôt pour déposer en signe annonciateur un grand bouquet de pivoines - qui allaient se révéler être les fleurs préférées d'Anna Strasberg. La confiance était établie.
Lors de la rencontre initiale, je n'avais vu, rapidement, que quatre ou cinq documents, extraits de chemises en plastique contenues dans un épais classeur. Et le premier texte que j'ai eu sous les yeux, c'était le poème sur les ponts. A vrai dire, je me disais qu'on allait me montrer des écrits sans intérêt, ou sans autre intérêt que celui d'être de la main de Marilyn. Mais devant ce petit poème en prose, avec ses ratures, avec sa profondeur et son balancement, j'ai tout de suite eu la conviction qu'il s'agissait de tout autre chose, et que j'allais découvrir un véritable trésor : une exploration des gouffres, une tension extrême vers la vérité et la sincérité, un enregistrement « en direct » des secousses d'une âme.
Le pont est un thème important dans la littérature américaine, comme un emblème de la capacité à relier les deux rives d'un fleuve, ou peut-être, fantasmatiquement, les deux côtes d'un continent. Quelques uns sont mythiques, dont le Brooklyn Bridge, que Marilyn emprunta souvent dans les premiers temps de sa nouvelle vie à Manhattan, pour aller dans les hauteurs de Brooklyn où vivait notamment Norman Rosten, un poète talentueux devenu bien vite un ami proche et qui allait beaucoup l'encourager dans l'écriture (elle lui avait soumis quelques feuillets), et où elle allait ensuite développer son idylle avec Arthur Miller.
Il y a ici d'emblée une aspiration à la mort, au suicide, et la tentation d'aller sur un grand pont majestueux pour escalader le parapet et se jeter à l'eau. Mais précisément, la beauté du célèbre pont l'arrête dans son élan, et réflexion faite elle se rend compte que chaque pont est beau à sa façon, peut-être dans cette capacité de liaison et d'union qui toute sa vie fit tant défaut à Marilyn.
Peut-être est-ce l'effet de la découverte, de la primeur, mais ce texte a toujours eu ma préférence entre tous ceux écrits par Marilyn. Il esquisse en quelques lignes tout un drame intérieur, des mouvements contradictoires, l'appel de la mort et le triomphe de l'instinct vital. On y retrouve Marilyn Monroe telle qu'en elle-même, à la fois radieuse et désespérée, impulsive et réfléchie, doutant de soi jusqu'à l'anéantissement et habitée par un formidable appétit de vie.
Le poème de Marilyn :
« Oh comme j'aimerais être morte… »
Oh comme j'aimerais être morte - absolument non existante partie loin d'ici - de partout mais comment le ferais-je Il y a toujours des ponts - le pont de Brooklyn Mais j'aime ce pont (de là tout est si beau et l'air est si pur) lorsqu'on y marche cela semble paisible même avec toutes ces voitures qui vont comme des folles en dessous. Donc il faudrait que ce soit un autre pont un pont moche et sans vue sauf que j'aime chaque pont en particulier - il y a quelque chose en eux et d'ailleurs je n'ai jamais vu un pont moche
(traduction de Tiphaine Samoyault)■