12 octobre 2015
Fiche d'enregistrement de Norma Jeane Dougherty, employée à l'usine Radio Plane:
Son adresse: 5254 Hermitage, North Hollywood, California.
Mariée à James E. Dougherty.
Fonction: Inspecteur stagiaire des parachutes - brosse absorbante
Norma

Jeane

Dougherty's employment record,

at the

Radio

Plane

Factory:




Address

:

5254

Hermitage

, North Hollywood,

California

.


Married to

James E.

Dougherty

.


Function:

Inspector

parachutes

trainee

-

Doper B

rush
---
© All images are copyright and protected by their respective owners, assignees or others.
copyright text by GinieLand.
29 octobre 2012
Marilyn Monroe en octobre 1951. Marilyn retourne à l'usine Radioplane, où elle travailla et fut découverte par le photographe David Conover.

Marilyn Monroe in 1951, October. Marilyn goes back in the Radioplane factory.

> photographie issue du magazine Filmland April 1952

02 janvier 2011
Norma Jeane Dougherty en 1944
à l'usine Radio Plane Munitions Factory,
où elle travaillait à l'inspection des parachutes.
Photographies de David Conover

>> Dans l'usine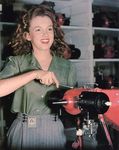 >> A l'extérieur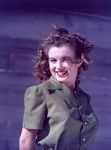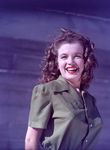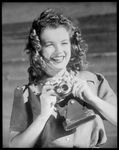 03 juin 2010
Le 19 juin 1944, les employées de RadioPlane Compagny participe à un picnic à Balboa Park.

Le 15 juin 1944, Norma Jeane écrit à son ancienne tutrice Grace Goddard.

>> Lettre de Norma Jeane à Grace


Ma très Chère Grace,
J'ai été très contente d'avoir de tes nouvelles. J'ai été si enthousiaste de lire ta lettre et d'apprendre toutes les choses que tu as faites.
Je t'enverrai ta photo très prochainement maintenant, je descendrai samedi pour en savoir plus. Je t'enverrai aussi pleins d'autres photos. J'ai trouvé que 10 sur 10 (c'était le format que tu voulais, n'est-ce pas ?) coûte exactement 5 dollars.
Jimmie est partit pour sept semaines et le premier mot que j'ai reçu de lui fut la veille de mon anniversaire. C'était un message cablé de la Western Union disant "Chérie, pour ton anniversaire, je t'envoie tout l'amour du monde". J'ai été simplement folle de joie d'avoir de ses nouvelles.
Je ne t'ai jamais réellement écrit ni expliqué comment était notre vie de jeunes mariés. Bien sûr je sais très bien que sans toi je ne me serais jamais mariée et je sais que je te dois beaucoup rien que pour ça, et parmi tant d'autres choses. C'est pourquoi je ressens le fait de t'en dire plus sur nous.
J'aime Jimmie plus que quiconque (à ma façon je suppose) et je sais que je ne serai jamais heureuse avec quelqu'un d'autre, aussi longtemps que je vivrai, et je sais qu'il ressent la même chose pour moi. Donc tu vois nous sommes vraiment très heureux ensemble ce qui est valable bien sûr, quand nous sommes ensemble. Chacun manque terriblement à l'autre. Le 19 juin, cela va faire deux ans que nous sommes mariés et nous menons vraiment une vie paisible et heureuse.
Je travaille 10 heures par jour à RadioPlane Co., à l'aéroport Metropolitain. Je mets de côté presque tout ce que je gagne (pour nous acheter une maison après la guerre). Le travail n'est pas facile du tout, je reste debout toute la journée et ne peut faire que quelques pas.
J'avais tous les papiers à jour pour faire le service civil dans l'armée, tout était en règle et prêt à être envoyé, mais là j'ai réalisé que je ne me retrouverai exclusivement qu'avec des gens de l'armée. J'y suis allée une journée, mais il y avait trop de dragueurs pour pouvoir bien travailler, il y en a déjà assez à RadioPlane , sans avoir affaire à une armée entière. L'officier responsable du personnel m'a dit qu'il m'aurait employée mais qu'il ne me le conseillerait pas dans mon propre interêt. Je suis donc plutôt contente d'être de retour à RadioPlane.
Eh bien je pense que c'est tout pour le moment.
Avec beaucoup d'amour,
Norma Jeane.