06 mars 2016
Faux-semblants
Les révélations morbides du croque-mort de Marilyn Monroe
publié le 10/06/2015
en ligne sur vanityfair.fr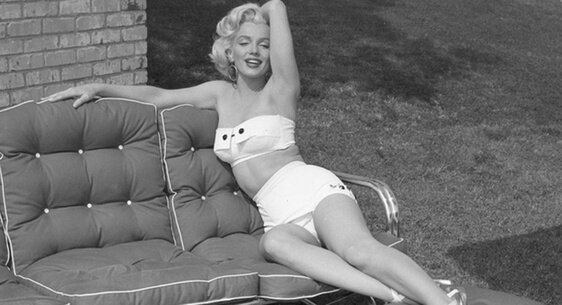 Un mythe s'effrondre. Après avoir conduit des stars à la morgue toute sa vie, Allan Abbott, le croque-mort de Hollywood, a publié ses mémoires dans un livre intitulé Pardon My Hearse. Et stupeur entre deux anecdotes à propos de John F. Kennedy ou Nathalie Wood, il dresse un portrait morbide du sex-symbol américain : fausses dents, lèvres gercées, jambes mal épilées, faux seins, peau abîmée, pédicure douteuse...

« Elle ne ressemblait pas à Marilyn Monroe mais à une femme banale, qui prend de l'âge et qui ne prend pas beaucoup soin d'elle », raconte Allan Abbot, qui s'est dit choqué par l'état dans lequel il a retrouvé la jeune femme, décédée à 36 ans d'une overdose de barbituriques.

Le croque-mort explique que, compte tenu de la position de Marilyn Monroe à sa mort, son visage n'était plus reconnaissable : « Marilyn est morte face contre terre. Elle avait des taches violettes sur ses joues et son cou était particulièrement enflé. » Ses cheveux, eux, étaient courts et crépus. « Ses jambes n'étaient pas épilées, ses lèvres en mauvais état. Elle avait besoin d'une manucure et d'une pédicure », continue-t-il.

L'état de sa poitrine a laissé les employés des pompes funèbres perplexes : « Elle ne ressemblait pas à Marilyn Monroe », révèle la femme du thanatopracteur, qui a rembouré le soutien-gorge de coton pour lui donner plus de formes.

Des révélations surprenantes pour cette incarnation du glamour, qui aurait néanmoins confié plusieurs fois à son psychiatre s'examiner régulièrement devant son miroir pour constater les effets de l'âge sur son corps.

> A lire sur le Daily Mail
---
EXCLUSIVE: Marilyn Monroe had purple blotches on her face, falsie breasts and 'didn't take care of herself' reveals mortician who prepared her and other stars for burial
Article published in 9 June 2015
by Caroline Howe - online on dailymail
Allan Abbott and Ron Hast first job delivering flowers from the mortuary to the cemetery led to top funeral company - and limo service
They picked up Marilyn Monroe's remains and Abbott describes the shocking state of her body in new book
'She looked like a very average, aging woman who had not been taking very good care of herself,' he writes
They drove Natalie Wood's mother and her sister, Lana Wood to Natalie's funeral in 1981
Their limos drove John F. Kennedy and his entourage all over Los Angeles during the 1960 Democratic Convention
They picked up Elizabeth Taylor and Richard Burton in 1963 at the San Bernardino train station for an incognito arrival into Los Angeles
From Marilyn Monroe's hairy legs, to Natalie Wood's bruises, two morticians to the stars share their last unique and final glimpse of some of the cream of Hollywood.
Abbott & Hast became the funeral service of choice for Los Angeles' rich and famous during the 1960s.
When celebrities died, the firm would be relied on to pick up the bodies and chauffer them away.
So it was perhaps unsurprising when, on August 5, 1962, the company received a call to pick up the body of Marilyn Monroe after she was found dead in her home from a suspected overdose.
Abott revealed they had been shocked by the state of the starlet who bared almost no resemble so her stunning onscreen persona.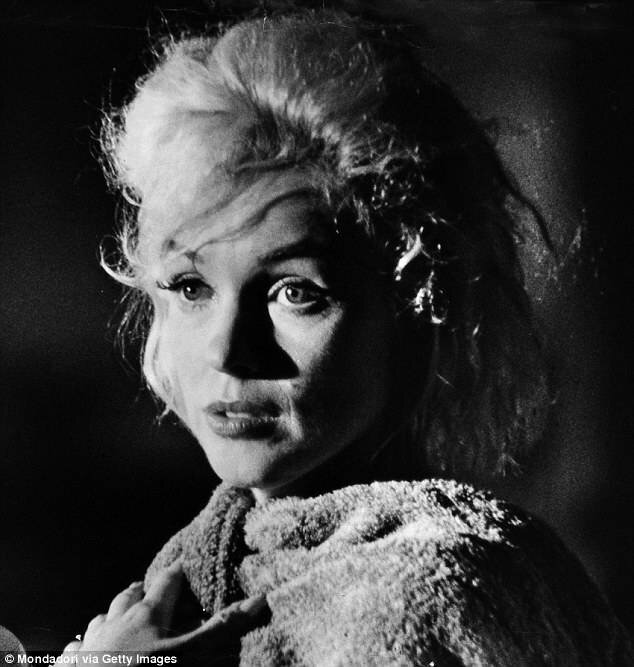 Fallen star: Allan Abbott and Ron Hast were shocked when they saw the condition of Marilyn Monroe's body. Abbott and his brother write about it in gruesome detail in new book Pardon My Hearse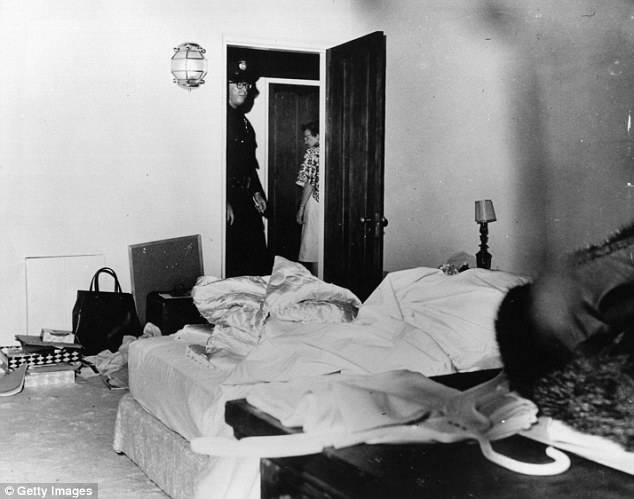 Marilyn's bedroom: The room where film actress Marilyn Monroe's body was found on August 9, 1962
He added that her face had been marred by purple blotches, her roots were showing and she was in need of a manicure and pedicure.

The company also transported screen stars Clark Gable and Ernie Kovacs to their respective funerals, with Frank Sinatra and Jack Lemmon serving as pallbearers at the latter.
But it wasn't just the dead famous they transported.
Their limo service chauffeured married actors Elizabeth Taylor and Richard Burton and even presidential nominee John F. Kennedy.
High school friends Allan Abbott and Ron Hast had bought their first old hearse to use on camping trips while prospecting rocks and fossils in the 1950s.
It also brought their first summer job during college, delivering flowers from the mortuary to the cemetery.
From standard hearses, to flower trucks, to rental limos, to an 'air hearse', a boat for scattering ashes at sea, funeral prop rentals - the company that Abbott and Hast created evolved into the leading hearse, mortuary and funeral service company in Hollywood.
Allan Abbot candidly writes about transporting famous corpses as well as driving celebrities and renting his cars and props to movie studies in Pardon My Hearse, a Craven Street Books publication to be published on June 15.

A 1941 morbid-looking black Packard hearse the pair purchased for a mere $40 started it all. They fitted what they called the 'black elephant' with a mattress and used it for long camping trips.
It felt creepy knowing that it had a history of transporting corpses and 'it took awhile to get used to seeing people make the sign of the cross or remove their hats as we drove by', Abbott writes.
Even Ron's parents made him park it a block away from their house.
When they were offered $400 for it, they sold it, bought two more hearses so that each of them owned their own hearse as their personal vehicle.
Their lucrative move to a venture in undertaking was serendipitous and began when they accepted a summer job to deliver flowers from a mortuary to a cemetery.
That segued into a request to pick up bodies for $95 - a big sum of cash for the two, new to the shroud business. They practiced on Abbott's mother – picking her up off the floor and placing her on an old ambulance cot.

'Now the time had come for us to decide if we were really prepared to be in such a predictably disquieting line of work, and we needed to know if we were mentally resolved to deal with what was sure to come', Abbott writes.
They rented an old building on the west side of Los Angeles in an area dubbed 'Death Row', zoned for mortuary operations and set up shop. In the basement they found old mortuary paraphernalia that included artificial arms, legs, dentures, wicker caskets, early embalming equipment.
And they were in business with calls from San Quentin State Prison to remove bodies after executions. They were called to remove a body at a candy factory after the worker had fallen into a vat of chocolate and drowned.

Movie studios starting calling requesting funeral cars to use in films.
The pair added a large flower truck in their fleet of vehicles using it for funerals of Jack Warner, head of Warner Brothers, actor Jimmy Durante, singer Mario Lanza, to name a few.
They were called on in the early 1960s to pick up Swedish film actress, Inger Stevens who was in a popular television show at the time, The Farmer's daughter, and drive her to Los Angeles International Airport.
When Abbott knocked on the door of her Hollywood apartment, he was informed by a man on the other side of the door that she had left for the airport in her own car.

Rigor: Marilyn Monroe's body was first taken to the Los Angeles County Medical Examiner's office. Early stages of rigor mortis had begun indicating she had been dead longer than the presumed three hours.. Monroe was found dead of a suspected barbiturate overdose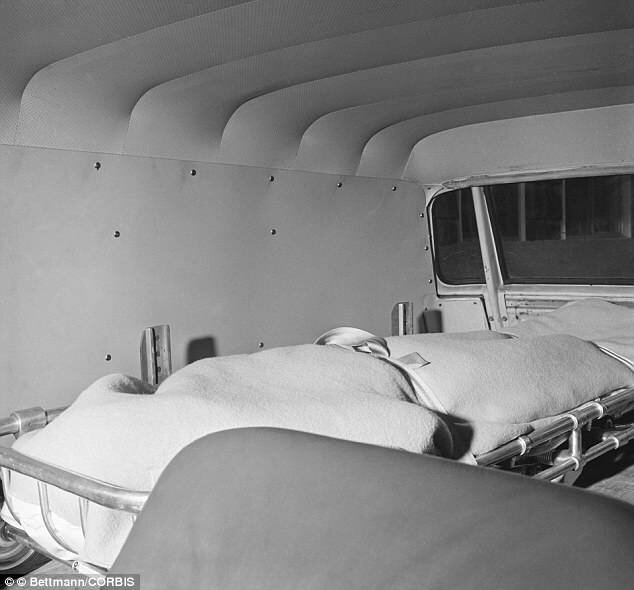 Shock: The body of actress Marilyn Monroe arrives at the mortuary. 'When we removed the sheet covering her, it was almost impossible to believe this was the body of Marilyn Monroe,' writes Abbott. 'She looked like a very average, aging woman who had not been taking very good care of herself'

All-purpose: Allan Abbott and Ron Hast first job delivering flowers from the mortuary to the cemetery led to top funeral company - and limo service
Abbott and his girlfriend took it upon themselves to investigate the unidentified voice. It turned out to be Isaac Jones, President of Nat King Cole's Kell-Cole Productions and the first black person to produce an A-list picture when he was a producer of 'A Man Called Adam', starring Sammy Davis Jr.
Jones and Stevens had secretly married in Mexico in 1961 and kept it a secret believing an interracial relationship would ruin her career. Nine years later, after dating Burt Reynolds for a year in a reportedly volatile relationship, she was discovered unconscious on her kitchen floor and died of acute barbiturate intoxication en route to the hospital.
Friends never believed that she took her own life. She was still married to Jones at the time of her death.
Abbott & Hast were called for cars and drivers for Inger's funeral.

The following year, a call came into the West Los Angeles Police Station in the early hours of August 5, 1962. Dr. Hyman Engelberg identified himself to Sergeant Jack Clemmons on the desk and stated that Marilyn Monroe was dead in her house at 1230 Fifth Helena Drive in Brentwood.
Engelberg said Dr. Ralph Greenson had informed him that her death was from an overdose of Nembutal and stated it was suicide. Clemmons jumped into a squad car and headed out to her house.
The Los Angeles County Coroner's Office called Westwood Village Memorial Cemetery and instructed them to remove her body. Manager Guy Hockett took the assignment and discovered her body was in the early stages of rigor mortis, a condition that typically begins six to eight hours after death but he had been informed that death had occurred three hours prior to his arrival.
Hockett delivered her body to the mortuary.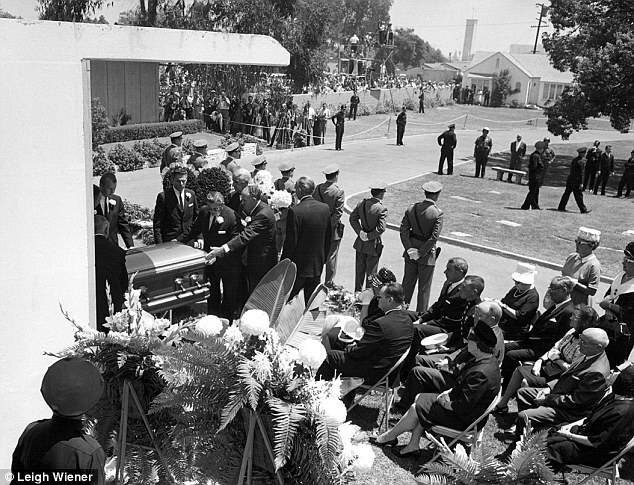 Ron Hast and Allan Abbott stand next to Monroe's casket prior to the service at the cemetery crypt. Their hearse drove Marilyn Monroe's casket in her funeral procession on August 8, 1962 to Westwood Village Memorial Park Cemetery in Los Angeles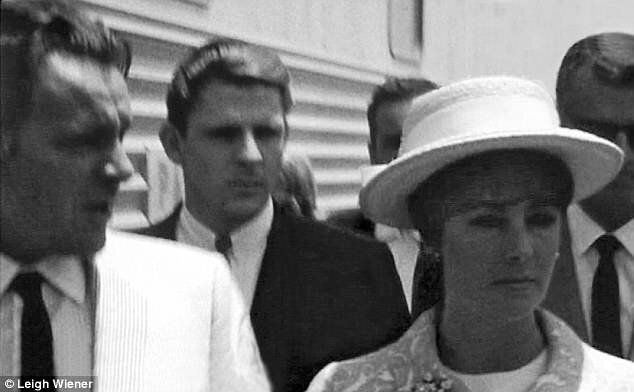 Incognito: Richard Burton and Elizabeth Taylor arrive in San Bernadino in 1963 by train in an effort to avoid large unruly crowds in LA. But Liz was put off that there weren't more fans waiting to see her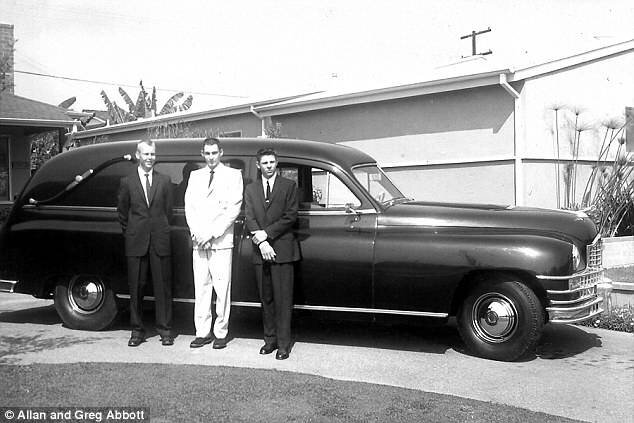 The mortuary men picked up bodies for $95 - a big sum of cash for the two new to the shroud business. They practiced on Abbott's mother – picking her up off the floor and placing her on an old ambulance cot
Abbott's company was called and they sent Leonard 'Chris' Kreminski to assist in removing the body. It was later transported downtown for the postmortem.
'Because of the tremendous implications of this case, it took much longer for Coroner Theodore Curphey to finally make some statements. His best and most dedicated pathologist, Thomas Noguchi, known to some as 'The Knife,' spent about three times as much time as it usually took him to do a full postmortem.
'The deputies at the coroner's office informed me that Dr. Noguchi had been extremely thorough with his examination of her body. He spent a great deal of time looking for hypodermic needle marks, which he did discover in her arm pit, but this area is often used by doctors when treating female movie stars.
'He continued to search in unusual places like inside her nose, between her toes and fingers, under her tongue, and in her genitals, but was unable to discover any additional injection points', Abbott writes.

Abbott was present and entered the embalming room with the embalmer, identified only as 'Frenchie'.
'When we removed the sheet covering her, it was almost impossible to believe this was the body of Marilyn Monroe. She looked like a very average, aging woman who had not been taking very good care of herself. Obviously, the circumstances surrounding her death had greatly exacerbated her poor appearance and she was unrecognizable.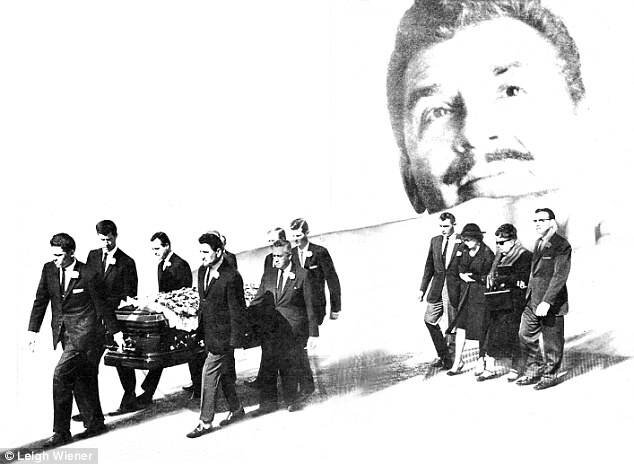 Abbott drove the hearse for the 1962 funeral of actor Ernie Kovacs with Frank Sinatra and Jack Lemmon serving as pallbearers. Kovacs had been killed in a Chevrolet Corvair, one of the early rear-engine American cars that were discontinued because the car was known to go out of control after hard braking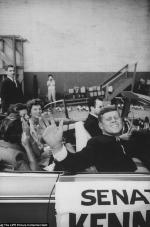 Their limos drove John F. Kennedy and his entourage all over Los Angeles during the 1960 Democratic Convention. Abbott says they had a hard time collecting payment from the candidate
'When someone dies, gravity causes the blood to settle to the lowest point of the body. This condition is called lividity, and considering that many people die lying on their backs, the discoloration that occurs is seldom visible.
'In Marilyn's case, she died face down, so there were purple blotches on her face, and her neck was very swollen. They had bathed her at the coroner's office, and her hair was frizzy and fairly short.
'You could tell she had not bleached it for some time, because the roots were darker and had grown out about half an inch.
'Her natural hair color was a light brown, not blonde. Her legs hadn't been shaved for at least a week, and her lips were badly chapped. She was also in need of a manicure and pedicure.'

'We began discussing the terrible swelling in her neck, and Frenchie decided that a surgical procedure was needed. This was out of my area of expertise, so I deferred to his decision. Frenchie knew how to correct the problem, but it wasn't going to be pretty.
'He instructed me to hold her on her side so he could make an incision in the back of her neck in the shape of a marquis diamond and remove about two square inches of skin. He then pulled the sides together and stitched it up. It wasn't pleasant to watch, but it was quite effective in reducing the swelling.
'Marilyn's executrix had just brought in her clothing, so Mrs. Hockett, wife of the cemetery's manager, rang me to come up to the office and pick up the package. She also informed me that the lady said Marilyn didn't wear panties, and she couldn't find any among her clothing.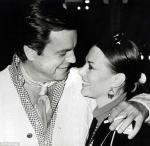 In 1981, Natalie Wood mysteriously drowned in the waters off of Catalina Island, California where she and her husband Robert Wagner and guest and actor Christopher Walken had been partying . Natalie's body was bruised from hitting the rocks and the coroner's pathologist chose to surgically remove some of that tissue to examine closely. Natalie was dressed in a full-length fur coat so that the bruising was not visible when the casket was open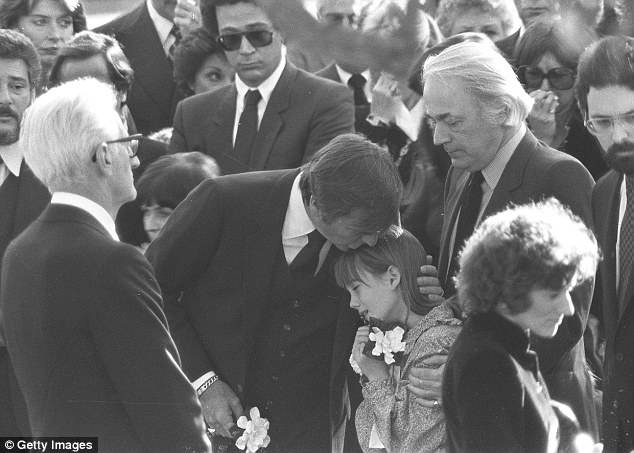 Robert Wagner comforts his daughter Courtney Brooke Wagner at Natalie's funeral. The casket was carried from the hearse to the device used to lower it into the grave. Moving over to stand next to Abbot who was at the head of the casket was Christopher Walken – separated from the other attendees
'I also noticed that among the items was a small pair of false breasts. I had seen falsies before, but these were much smaller than any I'd seen'.

'That doesn't look like Marilyn Monroe,' Mrs. Hamrock stated. 'What happened to her boobs ?' In his own defense, Frenchie told her that the cutting of the ribs during the autopsy had caused this condition. He further stated that he had even used the falsies that were brought in with her clothing, but they had been much too small to enhance her physique'.
Mrs. Hamrock reached down and pulled at the neck of the dress, which was a very springy material. She reached in with her other hand to remove the falsies and threw them into the trash can. She then pulled some clumps of cotton off a roll and formed much larger breasts by stuffing her bra. At this point she stepped back and proudly exclaimed, 'Now that looks like Marilyn Monroe !'
Abbott later retrieved the falsies from the trash and took them home.

Sydney Guilaroff, Monroe's makeup man, and Allan 'Whitey' Snyder, arrived at the mortuary. Sydney brought the wig that was made for her for the film, Something's Got to Give, and Whitey applied her makeup.
Whitey told Abbott that Marilyn's breasts at age thirty-six were beginning to sag. She wore a bra but placed the little falsies between her bra and the sweater to make it look like she was unsupported and braless.

Joe DiMaggio kept a vigil at the mortuary. He stood by the casket for a while and then he walked in the cemetery outside and cried. They had married in January 1954 and Marilyn had filed for divorce 274 days later. They remained close and Joe never stopped loving her. Monroe was buried in Westwood Cemetery.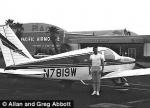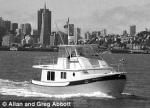 Eventually the mortuary partners bought a plane and a boat so they could offer burial at sea or to have ashes scattered from the air or over the water
That same year, 1962, Abbott was called to drive the hearse for actor Ernie Kovacs funeral. He directed pallbearers Frank Sinatra, Jack Lemmon and four others during the funeral ceremony with actress Kim Novak in attendance.

Kovacs had been killed in a Chevrolet Corvair, one of the early rear-engine American cars that were discontinued because the car was known to go out of control after hard braking. Ralph Nadar's book Unsafe at Any Speed sped up the demise of the Corvair.

In 1981, Natalie Wood mysteriously drowned in the waters off of Catalina Island, California where she and her husband Robert Wagner and guest and actor Christopher Walken had been partying. The call came in to Abbott to drive the family car and pick up Natalie's mother as well as her sister, Lana Wood.

The casket was carried from the hearse to the device used to lower it into the grave. Moving over to stand next to Abbot who was at the head of the casket was Christopher Walken – separated from the other attendees.

Natalie's body was bruised from hitting the rocks and the coroner's pathologist chose to surgically remove some of that tissue to examine closely. Natalie was dressed in a full-length fur coat so that the bruising was not visible when the casket was open.

'People have often asked me if my line of work was depressing. Sometimes that was the case but all things considered, it was certainly never dull'. Abbott admits to developing a gallows sense of humor. If asked how's business, he answered, 'Dead'. A slogan for the company was 'We'll be the last ones to let you down'.

- - - - -
A MORTICIAN TO THE STARS
- They picked up Marilyn Monroe's remains and helped prepare it for burial, witnessing the shocking state her body was in at the time of death.
- Two years earlier, Abbott drove a family car for screen star Clark Gable's funeral at Forest Lawn in Glendale, California in 1960.
- Abbott drove the hearse for the 1962 funeral of actor Ernie Kovacs with Frank Sinatra and Jack Lemmon serving as pallbearers and attended by Kim Novak.
- They drove Natalie Wood's mother and her sister, Lana Wood to Natalie's funeral in 1981.
- Their limos drove presidential nominee John F. Kennedy and his entourage all over Los Angeles during the 1960 Democratic Convention – and had a hard time collecting from the candidate.
- They picked up Elizabeth Taylor and Richard Burton in 1963 at the San Bernardino train station for an incognito arrival into Los Angeles sixty miles away, to have Elizabeth complain of no stargazers and Richard needing a drink
- They drove Carly Simon and a girlfriend to the Shrine Auditorium in Los Angeles in the Sixties listening to her complain that her new boyfriend resented her latest song. Carly then pulled two joints out of her handbag and the girls lit up. Allan didn't want to be high while driving but neither did he want to close the divider and not hear their gossip.
- - - - -
Pardon My Hearse by Allan Abbott and Gregory Abbott published by Craven Street Books is available on Amazon June 15, 2015
27 mai 2014

Marilyn Monroe: Sa mort, un meurtre commandité par Bobby Kennedy ?
publié le 18 mai 2014
en ligne sur purepeople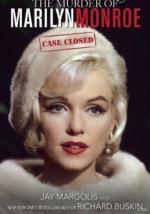 Dans le jeu de l'amour et du pouvoir, voilà qui devrait détourner l'intention, pour un temps, de la controverse entourant le film Grace de Monaco et ses arrangements avec la vérité historique : alors que l'histoire de Grace Kelly devenue prisonnière du Rocher revisitée par Olivier Dahan s'est attiré les foudres des Grimaldi, un ouvrage à sensation relance la théorie du complot meurtrier dans le roman sulfureux de Marilyn Monroe et des frères Kennedy. Plus de quarante ans après la mort, à 36 ans seulement, de l'icône hollywoodienne, officiellement considérée comme un suicide aux barbituriques mais toujours nimbée de mystère, le titre de cet ouvrage à paraître le 3 juin prochain (2014) ne laisse guère de place au doute quant à son positionnement : Le Meurtre de Marilyn Monroe, affaire classée.

Meurtre sur ordonnance : RFK en commanditaire, le docteur Greenson en bourreau

En exclusivité, le Daily Mail a pu prendre connaissance du contenu de l'ouvrage, écrit à quatre mains par Jay Margolis, journaliste d'investigation chevronné, et Richard Buskin, journaliste du New York Times par ailleurs auteur d'une trentaine de livres, et le quotidien se fait l'écho de sa thèse centrale : Bobby Kennedy, frère de John Fitzgerald Kennedy assassiné cinq ans après lui en 1968, aurait commandité le meurtre par injection létale de Marilyn Monroe pour la faire taire et préserver le secret des liaisons torrides que la star de cinéma entretint avec chacun d'eux. Très éprise du président et très pressante, la cultissime blonde aurait, déprimée après avoir été éconduite, jeté son dévolu sur son cadet Robert. RFK est d'ailleurs le dernier à l'avoir vue en vie avant qu'on découvre son corps inanimé, dans la nuit du 4 au 5 août 1962.
Coïncidence remarquable : la première publicité autour de ce brûlot intervient alors qu'on vient tout juste de découvrir une partie de la correspondance secrète de l'ex-First Lady américaine Jackie Kennedy, épouse de JFK, soit 33 lettres échangées avec le prêtre Joseph Leonard, dressant l'autoportrait d'une femme consciente et profondément meurtrie par les liaisons extraconjugales de son mari. Des lettres qui seront vendues aux enchères le 10 juin prochain à Durrow, en Irlande - une petite semaine après la parution de The Murder of Marilyn Monroe : Case Closed chez Skyhorse Publishing...
Le postulat de cette nouvelle enquête sur l'un des drames les plus fascinants du showbiz du XXe siècle est que Marilyn Monroe avait l'intention de révéler un tas de secrets embarrassants du clan Kennedy, consignés dans son journal intime. Pour la réduire au silence, RFK n'aurait pas agi seul, mais avec la complicité de son beau-frère l'acteur Peter Lawford et du psychiatre de la star, le docteur Ralph Greenson, accusé d'avoir supposément pratiqué l'injection fatale de pentobarbital. "Bobby Kennedy était déterminé à la faire taire, quelles qu'en soient les conséquences ; c'est la chose la plus insensée qu'il ait jamais faite, et moi j'ai été assez insensé pour laisser cela arriver", aurait plus tard témoigné un Peter Lawford rongé par la culpabilité, selon les auteurs. Lesquels avancent qu'un ambulancier du nom de James C. Hall aurait assisté à la mise à mort, présent au domicile de la star lorsque le docteur Greenson aurait injecté du pentobarbital pur directement dans le coeur de l'actrice, lui brisant une côte au passage.
Bobby et Marilyn dans la maison des secrets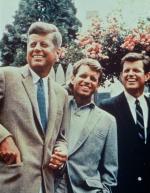 Bobby aurait eu une aventure torride avec Marilyn lors de l'été 1962 qui fut son dernier, tombant sous le charme de l'icône blonde alors qu'il était allé à Los Angeles, à la demande de son frère John, pour tenter de la convaincre d'arrêter de harceler la Maison Blanche de coups de téléphone et lui faire comprendre que JFK ne divorcerait pas de Jackie pour l'épouser elle. "Ce n'était pas dans les intentions de Bobby, mais ce soir-là, ils sont devenus amants et ont passé la nuit dans notre chambre d'amis", révèle Peter Lawford, dont la résidence de Pacific Palisades, à Santa Monica, abrita nombre des aventures extraconjugales de John Fitzgerald Kennedy, l'hélicoptère présidentiel se posant sur la plage en face. Et d'ajouter : "L'affaire devint quasi instantanément très sérieuse, et ils commencèrent à se voir souvent."

Après JFK, Marilyn Monroe s'enamoura vivement de RFK, selon la version des auteurs et de leurs témoins. C'est lui désormais qu'elle pressait de ses coups de fil, lui qu'elle désirait maintenant, bien que les frères Kennedy "se la passent comme un ballon de foot", selon une formule de Peter Lawford, qui assure que Robert aurait promis à l'actrice de quitter sa compagne Ethel (aujourd'hui doyenne révérée du clan) et de l'épouser. Et lorsqu'à son tour celui-ci se mit à prendre ses distances d'avec cette amante trop ardente, Marilyn Monroe l'aurait menacé de déballer ses liaisons avec eux ainsi qu'une foule d'autres secrets gênants lors d'une conférence de presse. RFK l'aurait alors sommée de lui dire où elle cachait ce fameux "carnet rouge" dans lequel elle disait avoir tout noté. Face à son refus, il serait passé au plan B, décidant de l'éliminer avec l'aide du docteur Ralph Greenson, avec qui la star couchait aussi. Pour le convaincre de marcher dans la combine, il lui fit croire que Marilyn avait l'intention de révéler publiquement leur liaison, ce qui risquait fort de ruiner la carrière du praticien et de l'expédier en prison.
Le dernier soir : une dispute qui tourne au drame

Le 4 août 1962, Bobby et Marilyn se voient pour la dernière fois, dans la propriété de la star dans le quartier de Brentwood. Tandis que Lawford sirote du champagne au bord de la piscine, le dialogue des amants terribles tourne à l'altercation, une dispute d'une dizaine de minutes. Bobby lui demande de cesser de lui écrire et de l'appeler, Marilyn voit rouge et menace de donner une conférence de presse dès le lundi matin suivant, puis se saisit d'un petit couteau et se jette sur Bobby, mais est interceptée par Lawford. Des voisins auraient fait état d'allées et venues, plus tard dans la soirée, de Robert Fitzgerald Kennedy avec l'un de ses deux fidèles gardes du corps, liés à une division spéciale de la police de Los Angeles menant des opérations illégales en toute discrétion et qui aurait injecté du pentobarbital en intramusculaire à la star, neutralisée au sol. RFK et Lawford auraient ensuite retourné la maison, en quête du carnet contenant les secrets si farouchement conservés. Les effets de l'anesthésique se dissipant, les deux gardes du corps auraient ensuite déshabillé l'actrice et lui auraient administré un lavement à base de nombreuses pilules broyées pour laisser le temps à Bobby et son beau-frère de poursuivre leurs recherches. Le petit groupe n'aurait quitté les lieux que vers 22h30, laissant derrière lui le chien de la maison, Maf, aboyer à tue-tête, ce qui alerta le voisinage. Le corps inanimé de Marilyn fut alors trouvé dans le guesthouse de sa résidence, tête ballante.

A son arrivée sur place vers minuit, l'ambulancier tenta de la ranimer en pratiquant un massage cardiaque. "Elle était nue. Pas de drap, pas de couverture. Il n'y avait pas de verre d'eau. Pas d'alcool. On a constaté que sa respiration était très superficielle, son pouls très faible et filant, et elle était inconsciente, nota-t-il. En me penchant au-dessus d'elle, ce qui m'a frappé c'est qu'il n'y avait pas de vomi, ce qui ne collait pas avec une overdose comme la femme qui nous avait appelés le croyait, ni d'odeur de drogue émanant de sa bouche, un autre symptome classique." Et sur la table de nuit, les flacons de médicaments étaient tous parfaitement fermés. Autant d'éléments infirmant la thèse d'un suicide par ingestion de médicaments.
"Une brute avec deux mains gauches"

Alors que l'ambulancier tentait d'intuber sa patiente, un homme, se présentant comme le médecin de Marilyn Monroe et demandant ses constantes, imposa sa présence - Ralph Greenson. Il commença à manipuler la jeune femme, et Hall se souvient : "Je sais qu'il y a des docteurs qui ne sont pas habitués aux urgences, mais ce type avait deux mains gauches. C'est quand il a marmonné : 'Il faut que j'assure.' Je n'ai jamais oublié cette remarque. Jésus, poussez-vous, lui ai-je dit. Vous pouvez travailler sur elle à l'arrière de l'ambulance." Greenson aurait alors ouvert son sac et pris une seringue hypodermique, qu'il aurait remplie d'un liquide : "Il est passé par ses côtes comme un amateur. Il a enfoncé en forçant l'aiguille dans sa poitrine. Mais ça n'a pas marché du premier coup, ça a bloqué sur un os, une de ses côtes. Au lieu de réessayer, il a appuyé, ses joues tremblaient sous l'effet de l'effort. Il a poussé fort et l'a fait passer au travers de la côte, un bruit sec très net s'est produit lorsqu'elle a cassé. J'avais déjà observé un certain nombre de procédures médicales, et ce gars était carrément une brute", raconte encore James Hall, lui-même fils d'un père chirurgien et responsable d'un service d'urgences de Beverly Hills, et d'une mère infirmière en chirurgie. Son collègue ce jour-là, Murray Liebowitz, ne s'est jamais exprimé sur les faits qui se sont déroulés. Les auteurs de The Murder of Marilyn Monroe constatent : "Il y a eu cinq témoins du meurtre de Marilyn Monroe. Trois d'entre eux établissent que Ralph Greenson était responsable." Quant à la mère de Peter Lawford, elle a affirmé des années plus tard que RFK était bien dans les parages et son hélicoptère posé sur la plage la nuit fatidique.
Conspirationnistes...

Décidément bavard, l'ambulancier Hall, visiblement un témoin béni pour les journalistes, enfonce le clou : "Je crois que Marilyn a été déplacée [de son guesthouse à sa chambre à coucher] pour que cela corrobore leur histoire de suicide." Il souligne que le légiste de l'époque, Thomas Noguchi, n'a pas trouvé de marque de seringue lors de son examen, peut-être parce que le point d'entrée était dans un pli du sein de Marilyn Monroe. Pourtant, il dit que des traces de cyanose, révélatrice d'une piqûre, étaient visibles sur les clichés réalisés à la morgue par Leigh Wiener, photojournaliste pour le magazine Life qui avait pu accéder au corps en graissant quelques pattes.

Au final, le chef de la police de Los Angeles, William Parker, aurait fait en sorte d'étouffer l'affaire en ne mettant pas les moyens qui s'imposaient pour l'enquête... et en faisant pression sur des journalistes, à en croire le témoignage de l'éditorialiste May Mann, qui déclare avoir été victime d'intimidation.

Les auteurs de l'ouvrage font remonter la conspiration jusqu'au fameux premier président du FBI, J. Edgar Hoover, qui aurait été informé par ses agents de la présence de Bobby Kennedy sur les lieux la nuit de la disparition de Marilyn Monroe. Des années après, l'un de ses voisins, jeune à l'époque des faits, affirmait que Hoover lui avait dit que Marilyn avait été assassinée mais qu'il ne voulait pas arrêter RFK, et qu'il avait fait pression sur le procureur général.

Tout un faisceau de présomptions et de témoignages sujets à caution qui relancent la théorie du complot sur l'un des décès les plus traumatisants du starsystem.

The Murder of Marilyn Monroe: Case Closed, une enquête de Jay Margolis et Richard Buskin, à paraître aux éditions Skyhorse Publishing sur Amazon le 3 juin 2014.
21 février 2014
Journée du dimanche 5 août 1962, au lendemain du décès de Marilyn Monroe.
Day of Sunday, August, 5, 1962, the day after the death of Marilyn Monroe.
---
> à 4h25: Le Dr Hyman Engelberg (docteur généraliste de Marilyn) téléphone à la police (the West Los Angeles Police Station) pour dire que "Marilyn Monroe est morte. Elle s'est suicidée. Je suis chez elle."
at 4.25 am: Dr. Hyman Engelberg (Marilyn's doctor) calls the police (the West Los Angeles Police Station) to say "Marilyn Monroe died. She committed suicide. I'm at her home."
---
> à 4h30: les employés de l'agence de publicité d'Arthur Jacobs sont prévenus de la mort de Marilyn et décident de se retrouver à sa maison au Fifth Helena Drive. Michael Selsman se souvient: "C'était la panique, bien sûr. Les événements étaient déjà hors de contrôle, et là, elle était morte, la presse n'était pas contrainte de cacher ce qu'ils savaient, sauf, bien sûr, pour les choses sur Kennedy, qui sont apparues plus tard. Je repoussais les médias en disant que nous ne savions pas quelle était la cause de la mort, parce que nous ne le savions pas."
at 4.30 am: the employees of the advertising agency of Arthur Jacobs are notified of the death of Marilyn and decided to go to her home at Fifith Helena Drive. Michael Selsman remembers: "It was panic of course. Events were already out of control, and now she was dead the press didn't fell constrained to hide what they knew -except, of course, for the Kennedy stuff, which came later. I fended off the media by saying we didn't know what the cause of death was, because we didn't."
---
> à 4h40: Le sergent Jack Clemmons est le premier policier à arriver au domicile de Marilyn; il découvre Eunice Murray (la gouvernante) en train de faire le ménage, nettoyant la maison et mettant une lessive dans la machine à laver, avec d'autres linges propres pliés à côté, et les Dr Greenson et Engelberg dans la chambre avec le corps de Marilyn gisant dans son lit à plat ventre sous les draps: "Son corps avait été bougé. Marilyn était allongée sur le ventre dans ce que j'appelle la 'position du soldat'. Son visage était appuyé contre un oreiller, ses bras étaient sur les côtés, le bras droit légèrement plié, et ses jambes étaient parfaitement alignées, comme si elle prenait la pose pour des photos. J'avais l'impression d'arriver sur une scène de crime. J'étais déjà intervenu sur des scènes de suicides par barbituriques, et avant de mourir, les victimes font des convulsions, vomissent et leurs corps sont en distorsions. (...) Les boîtes de pillules posés sur la tablette avaient été clairement disposées en bon ordre et le corps délibérément repositionné. Tout semblait trop rangé."
at 4.40 am: Sergeant Jack Clemmons was the first police officer to arrive at the Marilyn' home, he discovers Eunice Murray (the housekeeper) doing housework, cleaning the house and putting a laundry in the washing machine, with other clean cloths folded side, and Dr. Greenson and Engelberg in the bedroom with Marilyn's body lying in bed face down under the sheets, "Her body seemed to have been moved. Marilyn was lying face down in what I call the soldier's position. Her face was in a pillow, her arms were by her side, her right arm was slightly bent, and her legs were stretched out perfectly straight, as if she were posing for pictures. It was the most obviously staged death scene I have ever seen. I had already seen scenes of suicides by barbiturates, and before dying, victims suffer convulsions and vomiting in a somewhat contorted position.. (...) The pill bottles on her bedside table had been arranged in neat order and the body deliberately positioned. It all looked too tidy".
> Chambre de Marilyn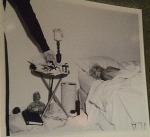 photographies de Dan Tompkins >>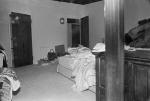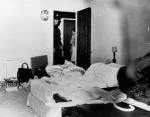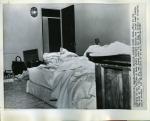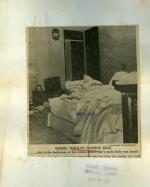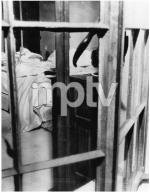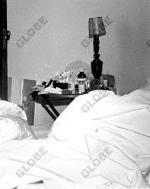 > Les boîtes de pillules sur la table de nuit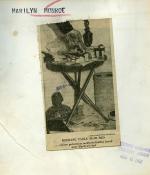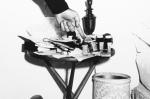 - photographies de Barry Feinstein >>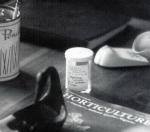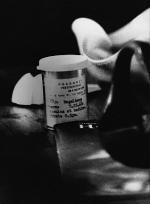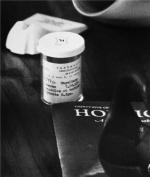 > Le fil du téléphone passant sour la porte de la chambre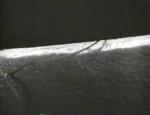 ---
Arrivée de l'inspecteur Robert E. Byron, qui recueille les déclarations du Dr Greenson, du Dr Engelberg et de Eunice Murray. Il consigne dans son rapport officiel: "L'opinion de l'officier de police est que Mrs Murray était aussi vague et évasive que possible dans ses réponses aux questions concernant les activités de Miss Monroe avant sa mort."
Arrival of Inspector Robert E. Byron, whoh collects reports of Dr. Greenson, Dr. Engelberg and Eunice Murray. He writes in his official report: "The opinion of the police officer is that Mrs. Murray was vague and evasive as possible in her answers to questions about the activities of Miss Monroe before her death."
---
> Vers 5 h, le journaliste Joe Ramirez (qui travaillait pour la petite agence "City News") reçoit un appel lui annoncant le décès de Marilyn; mais l'information arrive trop tard pour paraître dans les journaux du jour.
> William "Bill" Woodfield (photographe) et Joe Hyams (correspondant au "New York Herald Tribune") se rendent ensemble chez Marilyn sitôt qu'ils apprennent la nouvelle.
Tout comme James Bacon (chroniqueur d'"Associated Press") qui racontera: "Je recourus à une vieille ruse; je me suis présenté devant un flic en prétendant que le bureau du coroner m'avait dépêché sur place. Je suis entré dans la maison mais ne suis pas resté longtemps, juste le temps pour la voir gisant sur son lit. Je remarquai que ses ongles étaient négligés."
Around 5 am, the journalist Joe Ramirez (who worked for the small agency "City News") receives a call announcing the death of Marilyn, but the information comes too late to appear in daily newspapers.
> William "Bill" Woodfield (photographer) and Joe Hyams (corresponding to the "New York Herald Tribune") go together at Marilyns soon as they hear the news.
Just as James Bacon (columnist of "Associated Press") that will tells: "I resorted to an old trick, I introduced myself to a cop claiming that the coroner's office had sent me there. I went into the home but did not stay long, just long enough to see lying her on bed. I noticed that his nails were overlooked."
Au Fifth Helena Drive, chez Marilyn, une foule de personnes se constitue peu à peu, s'agglutinant aux abords de la maison: des journalistes reporters de la télévision, de la radio, de la presse, des paparazzis, des camions et voitures obstruent la rue.
De nombreuses photographies sont prises autour de la maison: devant le patio, la chambre à travers la fenêtre, mais aussi le jardin, où l'on y voit deux animaux en peluche dans l'herbe devant la piscine; Marilyn avait reçu la veille (le 4 août), par colis, un tigre en peluche, dont on ne connait pas le destinataire.
At Fifth Helena Drive, at Marilyn's home, a crowd of people is gradually agglutinating near the house: journalists, reporters from television, radio, press, paparazzi, trucks and cars clog the street.
Many photographs are taken around the house: front patio, the bedroom through the window, but also the garden, where we see two stuffed animals in the grass in front of the pool; Marilyn had received the day before (August 4) per package, a stuffed tiger, which we don't know the recipient.
> Devant le portail de la maison de Marilyn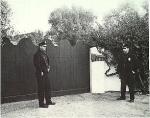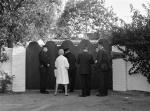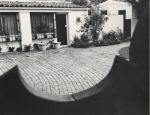 > Devant la maison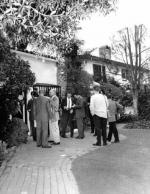 - photographies de Lawrence Schiller >>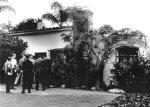 > Dans le jardin, la piscine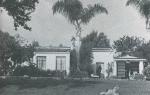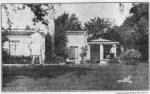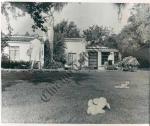 - photographie de Dan Tompkins >>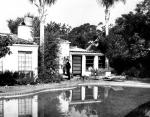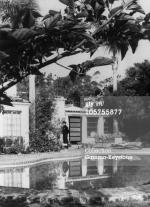 - photographie de Barry Feinstein >>

> La fenêtre de la chambre de Marilyn
dont le carreau a été cassé par le Dr. Engelberg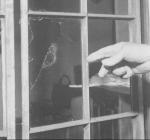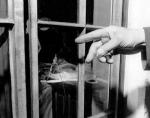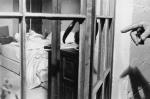 - photographies de Gene Anthony >>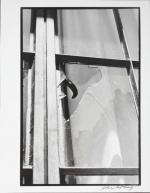 ---
> Vers 5h10: Jack Clemmons est remplacé par un officier de police d'un grade supérieur (le chef de la police William Parker) pour mener l'enquête et ainsi, soumettre au silence Clemmons qui avait relevé plusieurs faits incohérents (Murray lui avait informé qu'elle avait découvert le corps à minuit, alors qu'elle affirmera par la suite avoir découvert le corps à 3h; d'après Clemmons, le décès devait remontait à environ 8 heures). Clemmons va ensuite appeler son collègue Jim Dougherty, le premier mari de Marilyn, pour l'informer du décès de celle-ci.
Around 5.10 am: Jack Clemmons is replaced by a police officer of higher rank (the Chief policer William Parker) to investigate and thus submit to silence Clemmons who had identified several inconsistent facts (Murray had informed him she had discovered the body at midnight, while she will affirm after to have discovered the body at 3 am; for Clemmons, the death had occurred some 8 hours before). Clemmons will then call his colleague Jim Dougherty, the first husband of Marilyn, informing him of the Marilyn's death.
Arrivée de l'officier Don Marshall qui fouille la maison à la recherche d'un message attestant le suicide. Il interroge les plus proches voisins de Marilyn, Mr et Mrs Abe Landeau, qui déclarèrent n'avoir rien entendu de suspect pendant la nuit.
Arrival of the officer Don Marshall who search in the house a message stating suicide. He asks the nearest neighbors of Marilyn, Mr. and Mrs. Abe Landeau, who declared to have heard nothing suspicious during the night.
---
> L'envoyé du coroner, Guy Hockett constate que le décès "remonte à plusieurs heures. Elle était raide et il fallut près de 5 minutes pour la redresser. (...) Elle gisait, assez droite, dans une position semi-foetale. Ses cheveux, desséchés, étaient en très mauvais état à cause de tous ces traitements. Elle n'était pas très belle à voir, au point qu'on avait du mal à croire que c'était bien elle. On aurait dit une pauvre femme ordinaire qui venait de mourir. Pas de maquillage, les cheveux négligés sans mise en plis, un corps fatigué. Nous eûmes tous la même impression, à des degrés divers."
The representative of the coroner Guy Hocknett notes that the death "goes back several hours. She was stiff and it tooks about 5 minutes to recover her. (...) She lays quite right in a semi-fetal position. Her hair, dried, were in very poor condition because of all these treatments. She was not very nice to see, to the point that it was hard to believe it was really her. She seemed as a poor ordinary woman who had just died. No makeup, hair styling neglected, a tired body. We had all the same impression, to varying degrees."
---
> Vers 5h30: Patricia Newcomb arrive à la maison de Marilyn (elle racontera avoir été prévenue par téléphone à 4 h par Milton Rudin, l'avocat de Marilyn), provoquant une scène, en hurlant aux photographes: "Allez-y, mitraillez, vautours ! ... Espèces de buveurs de sang ! Vampires ! Ne pouvez-vous même pas la laisser mourir en paix ?"; Eunice Murray raconte que lorsque Pat Newcomb est arrivée, "il y avait tant de gens que personne ne l'a remarquée." Pat Newcomb se souvient que "il y avait plus de cinq personnes dans la maison" quand elle y est entrée; elle dit aussi ne pas avoir vu le corps de Marilyn. Elle restera quasiment tout le temps au téléphone, traitant des appels téléphoniques des médias du monde entier; elle racontera: "J'ai parlé à plus de 600 journalistes ce dimanche là. C'était mon travail de faire ce que je pouvais pour Marilyn."
Pat Newcomb était "hystérique" comme le dira Eunice Murray: "Même après que la police décida de fermer la maison, elle refusait toujours de partir. Il a fallu qu'on la fasse sortir."
Around 5.30 am: Patricia Newcomb arrives at Marilyn's home (she will tell to have been prevented by phone at 4 am by Milton Rudin, the Marilyn's lawyer), screaming to photographers: "Go ahead, shoot pictures, vultures ! ... Bloodthirsty Vampires ! Can't you even let her die in peace ?" Eunice Murray says that when Pat Newcomb arrived, "there were so many people that nobody noticed her." Pat Newcomb remembers that "there was more than five people in the house" when she comes in, she also says to don't have seen the Marilyn's body. She will stays almost the time on the phone, dealing with telephone calls from media around the world; she will tell later: "I spoke to over 600 journalists that Sunday. It was my job to do what I could for Marilyn."
Pat Newcomb was "hysterical" as Eunice Murray will tell: "Even after the police decided to close the house, she still refused to go. We had to make exit her. "
---
> Quand Allan Whitey Snyder, le maquilleur de Marilyn qui, dès qu'il apprend la triste nouvelle, se précipite chez Marilyn, il se fait renvoyer par un policier qui lui refuse l'accès à la maison. Il racontera "qu'il fallait que je voie de mes yeux ce qui était vraiment arrivé." Quand il remonte dans sa voiture et entend à la radio que "Marilyn est morte d'une overdose de barbituriques qu'elle s'est administrée", Snyder ne parvient pas à croire au suicide.
When Allan Whitey Snyder, Marilyn's makeup artist, who, when he learns the sad news, rushed to Marilyn's home, he gets fired by a policeman who refuses him the access to the house. He will tell "that I had set my eyes what really happened." When he goes back to his car and heard on the radio that "Marilyn died of an overdose of barbiturates that she administered herself" Snyder can not believe in suicide.
> Joe DiMaggio, qui est à San Francisco, apprend la nouvelle très tôt le matin. Il se rend immédiatement à Los Angeles, contacte son fils Joe Jr. qui se trouve au camp Pendleton, et se réfugie avec deux de ses amis dans la suite 1035 du Miramar Hotel. Il refuse de faire la moindre déclaration à la presse et reste enfermé dans sa chambre d'hôtel. Son ami Harry Hall racontera que Joe pleurait sans consulter les nombreux télégrammes reçus: "Il considérait Bobby Kennedy comme responsable de sa mort."
Personne ne réclame le corps de Marilyn et le coroner ne peut délivrer le corps qu'avec l'autorisation d'un membre de la famille: sa mère en est incapable, et sa demie-soeur Berniece, contactée par télégramme, donne sa permission à Joe DiMaggio de s'occuper des funérailles.
Joe DiMaggio, who is in San Francisco, heards the news early in the morning. He immediately goes to Los Angeles, contacts his son Joe Jr. who is at Camp Pendleton, and stays with two of his friends in the suite 1035 of the Miramar Hotel. He refuses to make any statement to the press and remains locked in his hotel room. His friend Harry Hall tells that Joe was crying without consulting the many telegrams he received: "He considered Bobby Kennedy as responsible for her death."
Nobody claims the body of Marilyn and the coroner may not issue a body with the authority of a member of the family: her mother is unable to act, and her half-sister Berniece, contacted by telegram, gives permission to Joe DiMaggio to arrange the funeral.
> Peter Lawford est chez lui à L.A. Il est en état de choc, hagard, en larmes, terrassé, répétant sans cesse qu'il était la dernière personne à avoir parlé à Marilyn (au téléphone). Sa mère, Lady May, surnommée "Lady L." le contacte par téléphone quand elle apprend la nouvelle, et elle reproche à son fils de ne pas être allé chez Marilyn, quand cette dernière appela Peter. Puis quand Rupert Allan téléphone à Lawford, il a au bout du fil un homme hors de lui, furieux, aux propos incompréhensibles, entrecoupés de sanglots.
Peter Lawford is at his home L.A. He is in shock, distraught, in tears, overwhelmed, constantly repeating that he was the last person to have spoken to Marilyn (on the phone). His mother, Lady May, named "Lady L." calls him when she heards the news, and she blames her son to don't have gone to Marilyn's home, when she called Peter. Then, when Rupert Allan phone Lawford, he has on the phone a man out of him, furious, with incomprehensible words, interspersed with sobs.

> Dans la propriété des Kennedy sur la côte Est où la famille est réunie autour de la piscine, la nouvelle de la mort de Marilyn passe à la radio: ce fut le silence total. Pat Kennedy Lawford s'effondre en larmes.
In the property of the Kennedys on the East Coast where the family gathered around the pool, the news of the death of Marilyn is broadcoast on the radio: it was a full silence. Pat Kennedy Lawford collapses in tears.

> A peine à 6 km de chez Marilyn, Jayne Mansfield apprend la nouvelle chez elle dans sa maison du Pink Palace; elle devient hystérique et pleure beaucoup, serrant son assistant Ray Strait: "Je suis peut être la prochaine sur la liste." (Jayne était aussi la maîtresse des frères Kennedy).
At Just 6 km from Marilyn's home, Jayne Mansfield heards the news at her Pink Palace home; she becomes hysterical and crying a lot, shaking his assistant Ray Strait: "I may be next on the list." (Jayne was also the mistress of the Kennedy brothers).
---
> à 7h30: Les hommes du coroner, accompagnés de Guy Hockett (propriétaire du Westwood Memorial Park Cemetery), emportent le corps de Marilyn, dissimulé sous une couverture bleue ordinaire, sur un chariot, et le chargent à bord d'un vieux break, qu'ils conduisent au dépôt mortuaire de Westwood Village, où sa dépouille reste quelques heures dans un réduit encombré de brosses et de bocaux où le photographe Bud Gray du "Herald Examiner" fait un cliché de sa dépouille enveloppée.
At 7.30 am: Coroner's men, accompanied by Guy Hockett (owner of Westwood Memorial Park Cemetery) outweigh Marilyn's body, hidden under an ordinary blue blanket on a cart, and charge her on an old break that they drive to the mortuary Westwood Village, where she remains few hours in a small room crowded by brushes and jars.
> Départ du corps de Marilyn de sa maison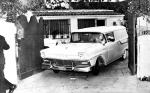 > Arrivée du corps de Marilyn à Westwood Village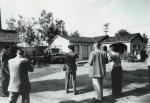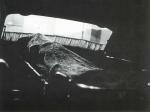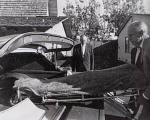 - photographies de Lawrence Schiller >>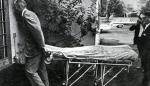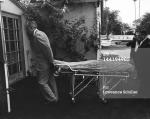 > Au cimetière de Westwood, tombe de Grace Goddard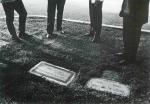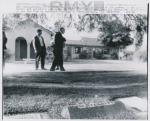 ---
> Marilyn est ensuite transportée dans la case 33 de la County Morgue, au palais de justice de Los Angeles. Son numéro de dossier du coroner est le 81128.
Un photographe parvient à s'introduire dans la morgue: Leigh Wiener, qui enverra ses photographies au magazine Life, parvient à prendre de nombreux clichés en échange de bouteilles de whisky offertes aux employés: un employé ouvre la porte en acier inoxydable et tire l'étagère coulissante où repose la dépouille de Marilyn. Wiener la mitraille, couverte et découverte (il aurait pris 6 clichés de Marilyn morte).
Marilyn is then transported in box 33 of the County Morgue of Los Angeles. Her coroner file number is 81128.
Two photographers manage to get into the mortuary: Bud Gray of "Herald Examiner" takes a snapshot of his body wrapped; and Leigh Wiener, who will send his photographs to "Life" magazine, manages to take many pictures in exchange for whiskey bottles offered to employees: an employee opens the stainless steel door and pulls the sliding shelf where the body of Marilyn remains. Wiener shoots pictures of Marilyn with covered and uncovered (he would take 6 shots of Marilyn dead).
> Départ du corps de Marilyn de Westwood Village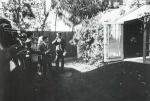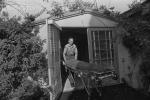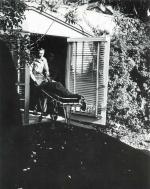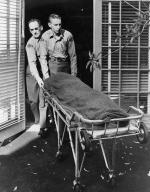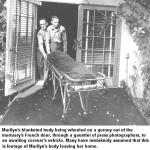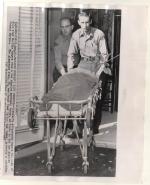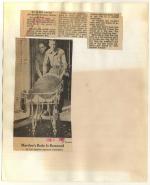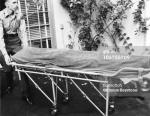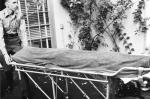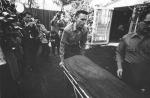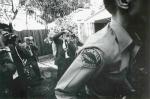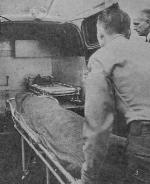 > County Morgue de L.A., le casier 33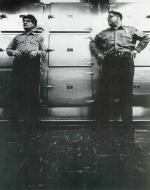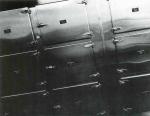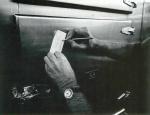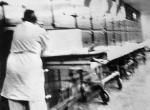 - photographies de Leigh Wiener >>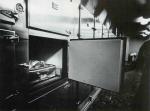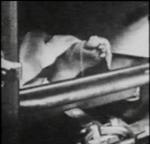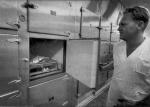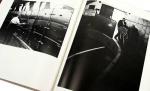 ---
> à 10h30: Début de l'autopsie, dans une salle sans fenêtres des sous-sols du palais de justice de L.A., sur la table 1, équipée d'un système d'arrivée d'eau et d'évacuation, et d'une balance. Le médecin légiste est Thomas Noguchi, assisté de Eddy Day, en présence de John Miner, observateur du District Attorney.
At 10.30 am: Beginning of the autopsy, in a windowless room of the County Morgue of L.A., on the table 1, equipped with a water inlet and exhausted system, and a balance. The medical examiner is Thomas Noguchi, assisted by Eddy Day, in the presence of John Miner, observer of District Attorney.
(> Lire le rapport d'autopsie < read the autopsy report)
> Avant l'autopsie: Photo post-mortem 1
(Avertissement: image choquante de Marilyn morte)
La photographie post-mortem du dossier de police montre Marilyn avec un visage flasque, enflé, les cheveux plats et raides mais précisons que les muscles de son visage ont été sectionnés pendant l'ablation du cerveau et qu'après l'autopsie, sa dépouille a été lavée à grandes eaux.
The post-mortem photograph of the police report shows Marilyn with a flange face, swollen, flat and straight hair but let's specify that the muscles of her face were severed during removal of the brain and after the autopsy, her body was washed with plenty of water.
> Après l'autopsie: Photo post-mortem 2
(Avertissement: image choquante de Marilyn morte)
> Retour du corps à Westwood Village après l'autopsie

- photographies de Bud Gray >>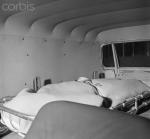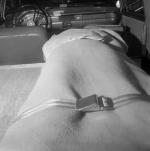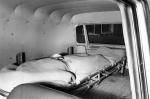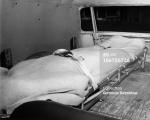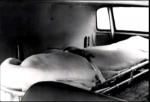 - Guy Hockett conduit la voiture >>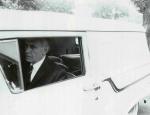 ---
> Vers 11h: premier rapport de police établi (complété ensuite le lendemain).
Around 11 am: the first police report is established (then completed the next day).
(> Lire le rapport de police < read the police report)
---
> à 11h, Ralph Greenson et Milton Rudin font monter Pat Newcomb dans la voiture d'Eunice Murray; les reporters se précipitent devant la voiture dans la petite impasse et un journaliste de NBC News demande à Pat comment elle se sent, ce à quoi, elle lui répond, en larmes: "Si votre meilleur ami venait de se tuer, qu'éprouveriez-vous ? que feriez-vous ?".
A ce moment là, la maison était remplie de monde: les policiers, Arthur Jacobs, trois gardes du service de sécurité de la Fox envoyés par Peter Levathes, le technicien du General Telephone (qui coupera les lignes le jour même), les journalistes James Bacon et James A. Hudson de United Press International, mais aussi quatre hommes en noir (dont certains pensent qu'il pourrait s'agir d'agents du FBI ou de la CIA).
At 11 am, Ralph Greenson and Milton Rudin drive up Pat Newcomb in Eunice Murray's car; reporters rushed to the car and an NBC News reporter asks to Pat how she feels, and she replied in tears: "If your best friend just came to kill, how would you feel ? What would you do ?".
At that time, the house was full of people: policemen, Arthur Jacobs, three guards of the security service of the Fox sent by Peter Levathes, the General Telephone technician (who cut the lines the same day), journalists as James Bacon and James A. Hudson of United Press International, but also four men in black (some people think it might be men from FBI or CIA).
> On emmène Maf, le chien de Marilyn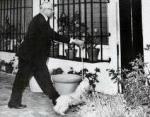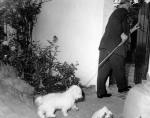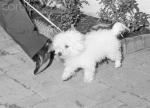 - photographie de Dan Tompkins >>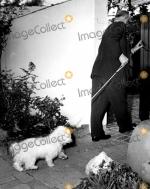 - Milton Rudin (à gauche) >>

> Eunice Murray et son gendre Norman Jefferies
- photographies de Dan Tompkins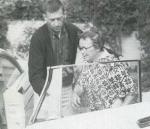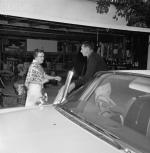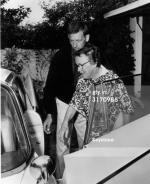 > Départ de Patricia Newcomb
- photographies de Dan Tompkins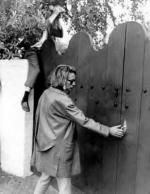 - Pat avec Norman Jefferies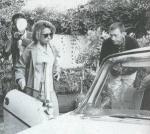 - Un journaliste interpelle Pat

---
> peu avant 12h00: Hazel Washington (femme de chambre de Marilyn) et son mari Rocky (policier de Los Angeles) arrivent à la maison pour récupérer des tables et chaises prêtées à Marilyn en février, car la maison serait ensuite fermée. Mrs Washington va remarquer un des hommes en noir brûler des documents dans la cheminée: des blocs-notes de Marilyn, des papiers de la Fox, des pages d'agenda, des bandes de magnétophones. Les serrures de classeur avait été forcées et les tiroirs vidés.
Avant de partir, Mrs Washington remarque que les gardes du studio de la Fox avaient investi toute la maison et de voir Frank Neill et trois autres attachés à la publicité de s'emparer de tous les documents relatifs à la Fox (notamment le nouveau contrat de négociation et de réintégration de Marilyn à la Fox avec la reprise du tournage de Something's got to give ont disparu).
Les hommes en noir ont même vérifié le contenu de la voiture de Hazel et Rocky avant leur départ.
Cependant, ces allégations affirmant que des papiers ont été détruits ont été formellement démenties par les officiers de police présents sur les lieux toute la journée. Néanmoins, il est indiscutable que des personnes sont parvenues à emporter des documents, tel que le confirme l'auteur Donald Spoto qui consultera des papiers acquis lors de la succession d'Inez Melson.
shortly before 12.00 am: Hazel Washington (Marilyn's maid) and husband Rocky (Los Angeles' policeman) arrive at Marilyn's home to retrieve tables and chairs lent to Marilyn in February, as the house would then be closed. Mrs. Washington notices one of the men in black burn papers in the fireplace: Marilyn's notebooks, Twentieth Century Fox 'papers, calendar pages, strips of tapes. The locks of workbooks had been forced and the drawers were emptied.
Before leaving, Mrs. Washington notes that guards from Fox Studios had invested the house and she sees Frank Neill and three others guy from publicity department to take all documents relating to the Fox (including the new contract with negotiation and reintegration of Marilyn to the Fox Studios with the resumption of filming 'Something's got to Give' which have disappeared ) .
Men in black have even checked the content of the car of Hazel and Rocky before they leave.
However, these allegations stating that the papers were destroyed, have been formally denied by the police officers who were present all the day. Nevertheless, it is indisputable that some people were able to take documents, as confirmed by the author Donald Spoto who will consult papers acquired in succession of Inez Melson.
---
> La police met la maison de Fifth Helena Drive sous scellés.
Police put the house of Fifth Helena Drive sealed.
> La police pose les scellés sur la porte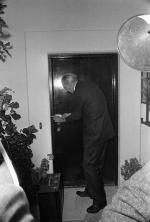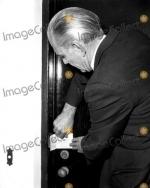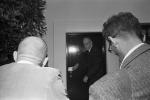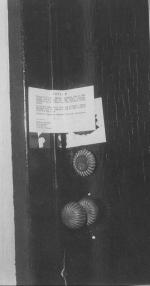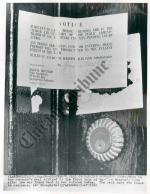 - photographie de Dan Tompkins >>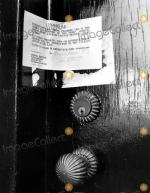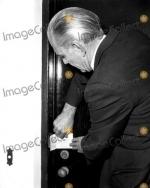 ---
Des gens se réunissent devant le Grauman's Chinese Theatre de Los Angeles et déposent des fleurs devant la plaque où Marilyn Monroe avait laissé ses empreintes (le 26 juin 1953).
People meet in front of the Grauman's Chinese Theatre in Los Angeles and lay flowers in front of the foot and hans prints left by Marilyn Monroe (in June, 26, 1953).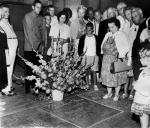 - photographie de Gene Anthony >>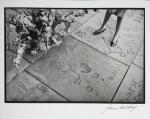 ---
L'information de la mort de Marilyn Monroe défile sur les panneaux lumineux du New York Times sur Times Square à Manhattan, New York.
The news of the Marilyn Monroe's death scrolls on the light panels on the New York Times building in Times Square in Manhattan, New York City.
---
VIDEOS
> News USA

> Divers extraits

> Eunice Murray, Norman Jefferies, Pat Newcomb et Maf

---
> Original du certificat de décès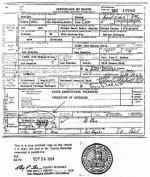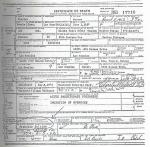 ---
Les réactions des proches de Marilyn recueillies par les journalistes:
James Dougherty

: "Je suis atterré". Quand son collègue Jack Clemmons lui apprend la nouvelle, Dougherty se tourne vers sa femme et lui dit: "Fais une prière pour Norma Jeane. Elle est morte."

Arthur Miller

, à Paris avec sa nouvelle femme Inge Morath, refuse de s'exprimer publiquement, sans doute étant trop bouleversé. A l'un de ses proches, il aurait dit: "Il fallait bien que ça arrive. Je ne savais ni quand, ni comment, mais c'était inévitable."
Isadore Miller (père d'Arthur): "Elle était comme ma propre fille. Elle était une fille gentille et bonne. Je suis tellement désolé, je n'étais pas là pour être avec elle. Elle a du se sentir vraiment seule et effrayée."

Billy Wilder

, interviewé à sa descente d'avion par des journalistes qui ne le tiennent pas au courant, ne dit que des banalités sur Marilyn. Il apprendra la nouvelle dans le taxi qui l'amenait à l'hôtel.

Joshua Logan

: "Marilyn était l'une des personnes les plus sous-estimées de la terre !"
Paula Strasberg: "Marilyn était une actrice comme il n'en existe aucune autre."

Milton et Amy Greene

sont à Paris et apprennent la nouvelle par téléphone à leur hôtel. Ils sont bouleversés (avant leur départ, après un mauvais pressentiment, Amy avait incité Milton à contacter Marilyn, qui semblait heureuse et leur avait assurer que tout allait bien).
Frank Sinatra se dit "profondément affligé

(...)

Elle va beaucoup me manquer."

George Jacobs

, son domestique, racontera que "Il demeura dans une sorte d'état de choc pendant des semaines après la mort de Marilyn, profondément angoissé."
Kay Gable (veuve de Clark Gable) apprend la nouvelle au flash d'information à 7 heures: "Je suis allée à la messe, j'ai prié pour elle."
La famille

Greenson

se dit "accablée de chagrin". Le Dr. Greenson rencontre DiMaggio et les deux hommes se serrent dans les bras, se consolant l'un et l'autre.

Peter Lawford

: "Pat et moi l'aimions profondément. C'est probablement l'un des êtres humains les plus merveilleux et les plus chaleureux que j'ai connus. Tout ce que je pourrais dire d'autre serait superflu."
L'Osservatore Romano du Vatican: "Elle a été la victime d'une mentalité et d'un mode de vie dont on l'a forcée à être le symbole. Sa mort transcende les limites d'une tragédie personnelle pour atteindre un retentissement universel."
---
sources:
Marilyn Monroe, encyclopédie d'Adam Victor
Les vies secrètes de Marilyn Monroe, d'Anthony Summers
Marilyn Monroe, biographie de Barbara Leaming
Marilyn Monroe, Private and Undisclosed, de Michelle Morgan
Marilyn, Histoire d'un assassinat, de Brown et Barham
---
© All images are copyright and protected by their respective owners, assignees or others.
copyright text by GinieLand.
Enregistrer
20 février 2014
Rapport de police
Le rapport de police sur la mort de Marilyn Monroe a été établi le 5 août 1962 et liste les faits relatifs à la dernière journée et les dernières heures de vie de Marilyn Monroe.
Le sergent Jack Clemmons, le premier agent de police à arriver sur les lieux, fut immédiatement remplacé (environ 30 minutes après son arrivée) par un supérieur, le chef de la police William H. Parker. Jack Clemmons va, des années durant, soutenir la thèse du complot de l'assassinat car il avait relevé des anomalies: concernant Eunice Murray, elle était en train de faire le ménage; elle va aussi lui affirmer qu'elle avait découvert le corps de Marilyn à minuit, alors qu'elle dira ensuite aux autres enquêteurs avoir découvert le corps à 3h; d'après Clemmons, le décès devait remontait à environ 8 heures; il constate aussi que le corps n'est pas dans une position naturelle.
Certains pensent que William H.Parker fut désigné pour mener l'enquête afin de dissimuler certains éléments et ainsi, corroborer la thèse du suicide: il aurait confisqué les enregistrements des conversations téléphoniques de Marilyn effectuées la nuit précédent le drame (sans doute pour protéger Robert Kennedy), gardé secrète une déposition faite à la police par Robert Kennedy, mais il aurait aussi fait disparaître le dossier de l'enquête sur la mort de Marilyn.
Certains biographes ont aussi souligné la manière dont l'enquête de la police de Los Angeles sur le décès de Marilyn fut menée: le domicile de Marilyn ne fut pas isolé notamment des journalistes et d'autres personnes (des studios de la Fox, de l'entourage de Marilyn) ont ainsi pu aller et venir dans la maison le 5 août; peu d'investigations ont été menées et donc, peu de témoignages recueillis aussi bien de l'entourage proche de la star, que du voisinage.
---
Composition de l'équipe de police ayant participé à l'enquête:
William H. Parker: chef de la police
James Hamilton: officier de renseignements en charge du dossier
Thad Brown: inspecteur
R.E. Byron: procès verbal
Jack Clemmons: premier officier de police sur les lieux
---
Rapport de police sur la mort de Marilyn Monroe. (le 5/08/1962)

"Le décès a été prononcé le 05/08/1962 à 3h45.
Possible mort accidentelle s'étant produite entre le 04/08 et le 05/08/1962 à 3h35, à son domicile sis 12305 5th Helena Drive, Brentwood, Rptg.Dist.814.
Rapport n° 62-509-463.
Le 4 août 1962, Marilyn Monroe se retira dans sa chambre vers 20h; Mrs Eunice Murray, habitant 933 Ocean Avenue, Santa Monica, Californie, 395-7752, CR 61890, remarqua une lumière dans la chambre de Miss Monroe. Mrs Murray ne put réveiller Miss Monroe quand elle alla à sa porte, et lorsqu'elle essaya de nouveau d'ouvrir la porte à 3h30, après avoir remarqué que la lumière était toujours allumée, elle la trouva fermée à clé. Ensuite, Mrs Murray alla observer Miss Monroe de la fenêtre de sa chambre et la vit à plat ventre sur le lit; elle n'avait pas l'air normal. Mrs Murray appela alors le psychiatre de Miss Monroe, le Dr Ralph Greenson, 436 North Roxbury Drive, Beverly Hills, Californie, CR 14050. En entrant, après avoir brisé la fenêtre de sa chambre, il y trouva Miss Monroe, peut-être morte.
Il téléphona ensuite au Dr Hyman Engelberg, 9730 Wilshire Boulevard, Beverly Hills également, CR 54366, qui se déplaça et déclara que Miss Monroe était morte à 3h35.
Le Dr Greenson avait vu Miss Monroe le 4 août 1962 à 17h15, à la demande de cette dernière, qui n'arrivait pas à dormir. Cela faisait un an environ qu'il la traitait. Quand le Dr Greenson la trouva morte, elle était nue, à plat ventre, le combiné du téléphone dans une main. On appela la police, et quand elle arriva, elle trouva Miss Monroe dans la position décrite ci-dessus, à l'exception du téléphone, que le Dr Greenson avait enlevé. On trouva sur sa table de nuit 15 flacons de médicaments, dont certains sur ordonnance. Un flacon de gélules dosées à 0.0975 gr de Nembutal, prescription n° 20853 du Dr Engelberg. Quant à ce flacon en particulier, le Dr Engelberg déclara qu'il en avait prescrit un nouveau environ deux jours auparavant, et il précisa même que le pharmacien avait dû y mettre 50 capsules environ en le remplissant.
Description de la défunte : femme de race blanche, 36 ans, taille 1m63, poids 57,5 Kg, cheveux blonds, yeux bleus, de constitution moyenne à mince.
Profession : actrice.
Cause probable du décès : overdose de nembutal.
Corps découvert le 05/08/1962 à 3h25.
Emmené à la morgue du comté, et, de là, à la morgue de Westwood.
Procès verbal dressé par le brigadier R.E.Byron, 2730, W.L.A. Division de la police judiciaire.
Parent le plus proche : Gladys Baker (mère).
Bureau du coroner prévenu.
Le corps a été enlevé des locaux de la morgue de Westwood Village.
(05/08/1962 11h00, W.L.A. hf - J.R.Brukles 5829).
> Le rapport original du 5/08/1962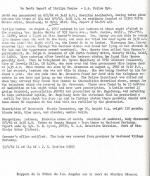 ---
Complément d'enquête (le 6/08/1962)

"Après avoir réinterrogé le Dr Ralph Greenson (témoin n°1) et le Dr Hyman Engelberg (témoin n°2), tous deux s'accordent sur la chronologie des faits suivants.

Le 05/08/1962, à 3h30, le Dr Greenson reçut un appel téléphonique de Mrs Murray (personne ayant donné l'alerte), déclarant qu'elle ne pouvait pas pénétrer dans la chambre de Miss Monroe et que la lumière était allumée. Il lui dit de donner de grands coups à la porte, de regarder par la fenêtre et de le rappeler.

A 3h35, Mrs Murray le rappela et déclara que Miss Monroe était couchée sur son lit, le téléphone dans une main et qu'elle avait un air étrange. Le Dr Greenson, qui entre-temps s'était habillé, se mit en route pour le domicile de la défunte, à un kilomètre et demi de là environ. Il demanda aussi à Mrs Murray d'appeler le Dr Hyman Engelberg.

Le Dr Greenson arriva au domicile de la défunte vers 3h40. Il cassa la vitre de la fenêtre pour entrer et lui ôta le téléphone de la main.

La rigidité cadavérique s'était installée. A 3h50, le Dr Engelberg arriva et prononça la mort de Miss Monroe. Les deux médecins parlèrent un moment. Tous deux pensent qu'il était environ 4h00 lorsque le Dr Engelberg appela la police.

Après contrôle auprès de l'inspection générale des services et du bureau de West Los Angeles, l'appel a été passé à 4h25. Les appels passés avec le téléphone GR 61890 de Miss Monroe ont été examinés; il n'y a eut aucune communication longue distance pendant les heures de l'événement. Le numéro de téléphone 472-4830 est en cours de vérification.

R.E.Byron 2730, 06/08/1962."
> Le rapport original du 6/08/1962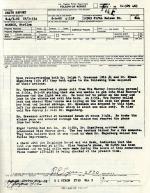 ---
Les comptes-rendus du 10 août 1962 établissent les interrogatoires de Milton Rudin, Eunice Murray, Joe DiMaggio et Joe DiMaggio Jr, pour évaluer l'heure des appels téléphoniques reçus chez Marilyn; cependant, Peter Lawford, ayant quitté Los Angeles, n'a pu être interrogé.
> Comptes-rendus du 10/08/1962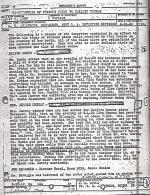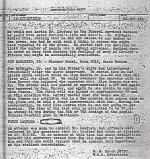 ---
source:
Marilyn Monroe, encyclopédie d'Adam Victor

© All images are copyright and protected by their respective owners, assignees or others.
copyright text by GinieLand.

01 avril 2013
lot n°732: MARILYN MONROE 1950 CAR TITLE AND DOCUMENTS
A Marilyn Monroe car title and service brochures. The 1950 State of California car title is issued to Marilyn Monroe at 1301 N. Harper Avenue, Los Angeles, California, for a 1950 Pontiac, license number 19B2992. Accompanied by a Pontiac battery warranty brochure dated July 1, 1950, and a Pontiac owner service policy brochure that lists the vehicle body style as " 2527D ." Both brochures have Monroe's information typed on them.
Estimate: $2 500 - $5 000

---
lot n°740: MARILYN MONROE SHEET OF PERSONAL STATIONERY
A sheet of Marilyn Monroe stationery with envelope. The cream color paper is blind embossed "Marilyn Monroe" on the top of the stationery sheet and on the flap of the envelope.
Estimate: $200 - $300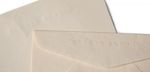 ---
lot n°741: MARILYN MONROE CHECK
A blank check for an account at Irving Trust Company of New York. "Marilyn Monroe" is printed at the top of the check. Check number 2372.
Estimate: $200 - $300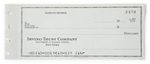 ---
lot n°745: MARILYN MONROE SIGNED CHECK
A Marilyn Monroe signed check. The check, dated December 17, 1952, is made out to "Cash" in the amount of $5. Monroe has written in the name of her bank, and below her signature she has written her address as "Beverly Hills Hotel."
Estimate: $1 000 - $2 000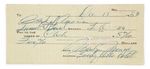 ---
lot n°746: MARILYN MONROE SIGNED CHECK
A Marilyn Monroe signed counter check written to Milton F. Kreis Drugs in the amount of $50.71. Monroe has filled in her bank name and its address as well as her own address at 882 Doheny in Los Angeles. The check is dated "March 9,1953." Milton F. Kreis Drugs was a drugstore and luncheonette located in the Beverly Wilshire hotel.
Estimate: $1 000 - $2 000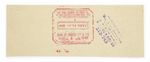 ---
lot n°747: MARILYN MONROE SIGNED BANK DEMAND NOTE
A Marilyn Monroe signed bank demand note with Bank of America, dated November 9, 1953, in the amount of $8,000. The typed document is signed by Marilyn Monroe, whose signature has been partially stamped over with a "renewed" stamp. The back of the document notes one interest and principal payment made on February 9, 1954.
Estimate: $1 500 - $2 000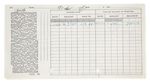 ---
lot n°748: MARILYN MONROE CHANGE OF RATE CARD FROM 20TH CENTURY FOX
Marilyn Monroe Change of Rate card from 20th Century Fox, dated "5 - 11 - 1953," changing Monroe's weekly pay rate from $750 to $1,250.
Estimate: $200 - $400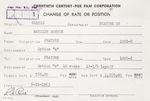 ---
lot n°750: MARILYN MONROE "GENTLEMEN PREFER BLONDES" WARDROBE PLOT BOOK PAGES
A group of 22 pages from the wardrobe plot book for the film Gentlemen Prefer Blondes (20th Century, 1953) for Marilyn Monroe's character, Lorelei Lee. The collection includes handwritten and typed transcriptions. Costumes for the film were designed by Travilla.
Estimate: $800 - $1 200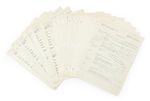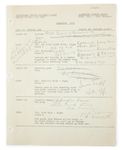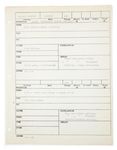 ---
lot n°756: MARILYN MONROE SCRIPT
A mimeographed 124-page script titled Horns for the Devil, an unmade film. Housed in red paper cover that reads "Famous Artists Corporation," dated May-June, 1954, and written by Lou Breslow. Also present is a large paper folder from Christie's indicating that this was originally intended to be part of Lot 497 in that auction.
11 1/2 by 9 inches
Lot 165, "Property from the Estate of Marilyn Monroe," Julien's, Los Angeles, June 4, 2005
Estimate: $500 - $700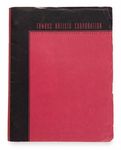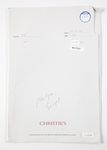 ---
lot n°757: "SEVEN YEAR ITCH" PREMIERE INVITATION
An invitation to the July 1, 1955, premiere of The Seven Year Itch (20th Century Fox, 1955) at Loew's State Theatre in New York. Attached to black scrapbook page. The item came from the Estate of Peter Leonardi.
PROVENANCE Lot 705, "Julien's Summer Sale," Julien's, Las Vegas, June 26, 2009
Estimate: $200 - $400

---
lot n°762: MARILYN MONROE APRIL 1955 WALDORF-ASTORIA INVOICE
A Marilyn Monroe invoice from the Waldorf-Astoria Hotel in New York City. The one-page typed Waldorf-Astoria invoice lists 10 telephone charges from April 12-18, 1955. Typed at the top of the page: "2728 Monroe Miss Marilyn NR JNS / 30 / 4 - 12 D 819 PZ MW." Monroe rented a suite on the 27th floor of the Waldorf Towers for several months in 1955.
Estimate: $400 - $600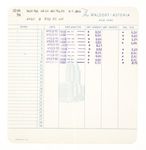 ---
lot n°763: MILTON GREENE SIGNED MARILYN MONROE PRODUCTIONS CHECK
A Marilyn Monroe Productions, Inc. check signed by Milton Greene. The check, dated July 14, 1955, is written to the Waldorf-Astoria Hotel in the amount of $500 and is drawn from an account at the Colonial Trust Company.
Estimate: $200 - $400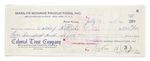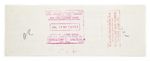 ---
lot n°765: MARILYN MONROE AMBASSADOR HOTEL INVOICE AND MILTON GREENE SIGNED CHECK
A Marilyn Monroe invoice from the Waldorf-Astoria Hotel in New York City. The one-page typed Waldorf-Astoria invoice lists 10 telephone charges from April 7-8, 1955, in the amount of $1,035.36. Typed at the top of the page: "Monroe Miss Marilyn / 480 Lexington Ave / New York NY / ARR 3 - 24 - 55 / ACC 191509 - C." The charges include a balance forward, phone, room, restaurant and garage. Stamped paid on April 8, 1955. Accompanied by a Milton Greene signed Marilyn Monroe Productions, Inc. check in the amount of $1,035.36 made out to "The Ambassador " and dated " April 8 , 1955."
Estimate: $400 - $600

---
lot n°766: MARILYN MONROE BANK STATEMENT AND DEPOSIT SLIP
Marilyn Monroe Productions, Inc. bank statement from Colonial Trust Company showing checks paid and the account balance from April 1957. Accompanied by a deposit slip from April 22, 1957, and matching calculation receipts in triplicate. Only days prior to this, Monroe took control of her production company and ousted former friend, business partner and photographer Milton Greene from her company.
Largest, 10 by 7 inches
PROVENANCE Lot 771, "Hollywood Legends," Julien's, Las Vegas, June 26, 2010
Estimate: $400 - $600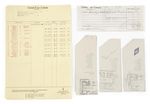 ---
lot n°771: MARILYN MONROE RECEIVED "SOME LIKE IT HOT" NOTE
A letter dated April 1, 1959, addressed to Mrs. Arthur Miller, on Mirisch Company Inc/Some Like It Hot stationery, signed by Harold Mirisch. Letter reads, in part, "You know, of course, that the picture is doing tremendous business, and you should be very happy. My best to Arthur and yourself."
11 by 8 1/2 inches
PROVENANCE Lot 797, "Julien's Summer Sale," Julien's Auctions, Las Vegas, June 26, 2009
Estimate: $600 - $800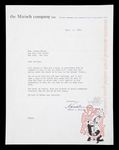 ---
lot n°772: MARILYN MONROE LETTER FROM 20TH CENTURY FOX
A letter written to Marilyn Monroe from Lew Schreiber of 20th Century Fox advising that Monroe will begin shooting Time and Tide on April 14, 1959, under the direction of Elia Kazan. The letter is dated March 4, 1959, and signed by Schreiber. The date of this letter and the fact that filming did not begin on time is one battle in the Marilyn Monroe/20th Century Fox history.
Estimate: $500 - $700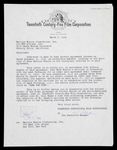 ---
lot n°778: MARILYN MONROE CABLE SENT TO THE ACADEMIE DU CINEMA
A typed one-page letter dictated by Marilyn Monroe to be sent to Georges Auric of the Academie du Cinema in Paris, thanking him for the invitation to become an honorary member of his organization. Pencil notation indicates this was sent on February 6, 1960.
11 by 8 1/2 inches
PROVENANCE Lot 798, "Julien's Summer Sale," Julien's Auctions, Las Vegas, June 26, 2009
Estimate: $200 - $400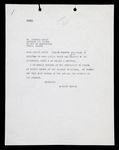 ---
lot n°779: MARILYN MONROE SIGNED CHECK
A Marilyn Monroe signed check. Drawn from a Marilyn Monroe Productions, Inc. account at Colonial Trust Company. The check is dated July 15, 1960, and made out to MCA Artists, LTD. in the amount of $672.94.
Estimate: $1 000 - $2 000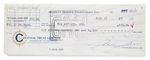 ---
lot n°782: MARILYN MONROE BANK SAVINGS BOOK
A City National Bank of Beverly Hills bank statement book. Marilyn Monroe's name appears written in ink, and stamped inside on the first page are "NOV 17 '61" and her account balance of $40,000.00.
5 1/2 by 3 1/4 inches
PROVENANCE Lot 194, "Property from the Estate of Marilyn Monroe," Julien's, Los Angeles, June 4, 2005
Estimate: $600 - $800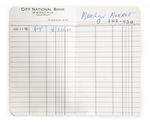 ---
lot n°788: MARILYN MONROE ARTHUR MILLER UNUSED CHECK
An unused check from a First National Bank of New York account belonging to Marilyn (Monroe) and Arthur Miller.
2 3/4 by 8 inches
PROVENANCE Partial Lot 142, "Property from the Estate of Marilyn Monroe," Julien's, Los Angeles, June 4, 2005
Estimate: $200 - $400

---
lot n°811: MARILYN MONROE LIVERY SERVICE RECEIPT
A carbon receipt from Carey Cadillac Renting Company of California, Inc. dated "4/2/1962." It lists 7 1/2 hours of time spent driving and waiting for Marilyn Monroe. The service receipt shows Monroe going to her therapist Dr. Greenson's home at 902 Franklin Street twice that day.
Estimate: $100 - $200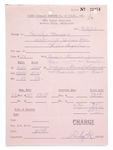 ---
lot n°812: MARILYN MONROE FUNERAL CARD
An original card from the funeral of Marilyn Monroe on Wednesday, August 8, 1962, at the Westwood Village Mortuary in Los Angeles. The front of the card bears an image of the Bok Singing Tower. The inside reads in part "In Memory of Marilyn Monroe" with the details of her funeral service and Psalm 23.
Estimate: $600 - $800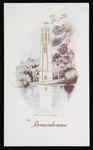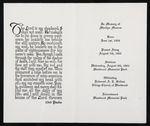 16 août 2012
Le magazine français Le Nouvel Observateur n°2493, paru le 16 août 2012 consacre un article de 5 pages à Marilyn Monroe (chapitre 6, par François Forestier).
prix: 3,50 €
---
Chapitre 6 et fin : Marilyn dans la nuit
Par François Forestier
en ligne sur CinéObs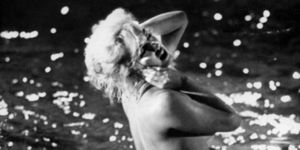 Elle convoque un photographe, se déshabille sur le plateau et, nue, se baigne, sourit, prend la pose. Elle sait fort bien que les clichés vont faire le tour du monde.© DR
C'est avec « Something's Got to Give », film inachevé de George Cukor (1962), que s'achève la vie de Marilyn Monroe.
Dans sa cellule capitonnée, Marilyn est nue. Elle a beau hurler, cogner, rien n'y fait. Les infirmiers passent devant le hublot de sécurité, se poussent du coude, « T'as vu, c'est Marilyn ! », et vont avoir quelque chose à raconter, le soir, au bistrot. Elle est revenue du Mexique en compagnie d'un bellâtre latino, Jose Bolanos, devenu son amant. En fait, c'est un indic du FBI, qui renseigne J. Edgar Hoover directement. Sur les instructions de sa psy le docteur Kris, Marilyn a été vêtue d'une camisole de force, transportée par quatre forts des Halles, face au sol, et jetée dans son cachot. Elle va y rester trois nuits, avant que Joe DiMaggio ne vienne la délivrer, manu militari. A partir de ce moment, elle flotte sur un océan de Dom Pérignon.
Le 16 octobre, enfin, la 20th Century Fox lui fait parvenir un scénario : celui de « Something's Got to Give », remake d'une pétillante comédie de 1939, « Mon épouse favorite », de Garson Kanin. C'est l'histoire d'un veuf charmant (joué par Cary Grant dans la première version, par Dean Martin dans la seconde) dont l'épouse a disparu en mer, sept ans auparavant. Quand elle revient, le mari est en train de se remarier avec une belle emmerderesse…
Le truc, c'est que le réalisateur de cette resucée est George Cukor. Cinéaste exigeant, entouré d'une cour de mignons, celui-ci vient de diriger Marilyn dans « le Milliardaire ». Il a frôlé la dépression nerveuse. A chacun de ses retards, soumis à un régime alimentaire draconien, il se mettait à manger les pages du scénario. Quand la star arrivait, elle était étonnée de rencontrer un homme aux gencives crayeuses de papier mâché. Marilyn, trois ans plus tard, est persuadée que Cukor la déteste. C'est le cas. La Fox est consciente du « problème Marilyn », et commet le bon docteur Greenson à sa surveillance - et à sa remise en état. Or la méthode thérapeutique de ce dernier, c'est d'abord d'enregistrer ses clients (à la grande satisfaction de Hoover), puis de boire du champagne avec Marilyn, chez lui. Bref, il fait tout ce qu'un psy ne doit pas faire.
De plus, Marilyn est en pleine love story avec JFK. Le 19 novembre 1961, elle le rejoint chez Peter Lawford dans sa maison de Santa Monica, sur la plage, juste avant que le président ne rencontre le chancelier Adenauer. Un autre rendez-vous est fixé pour le 5 décembre, à New York. En ce qui concerne le film, en revanche, elle traîne les pieds. Elle ne se présente pas aux essayages. Ni aux tests de maquillage. Elle refuse le scénario tel quel. Elle bloque la campagne de publicité. Elle préfère filer à Palm Springs, où JFK l'attend au bord de la piscine de Bing Crosby. Puis elle se bourre de Librium, de Demerol, de pilules magiques. Elle apprend que Cukor parle d'elle en termes qui feraient rougir un charretier. Finalement, menacée par les juristes du studio, elle se soumet.
Le 30 avril 1962, elle arrive à 6h30 du matin, prête. Miracle ! Elle tourne. Le lendemain, elle est absente. Trois semaines passent. Elle a travaillé un seul jour. Chez elle, Marilyn se concentre sur l'événement majeur : la fête d'anniversaire de JFK, au Madison Square Garden. La Fox lui interdit de s'absenter ? So what ? Elle saute dans un hélicoptère prêté par Howard Hughes et, dès son arrivée, essaie la robe, la fameuse robe couleur chair créée par le couturier Jean-Louis. Vingt couches de soie sur les seins et l'entrejambe, six mille pierres du Rhin, et l'impression d'une totale nudité… La robe est cousue à même le corps.
Le grand soir, enfin, Marilyn, très en retard, monte sur scène - après Ella Fitzgerald, Maria Callas, Harry Belafonte. Elle marche à petits pas. Elle titube. En coulisse, Peter Lawford, maître de cérémonie, voit la robe se déchirer dans le dos. Tout le monde, derrière, peut apercevoir le cul de Marilyn. Elle est emportée par des machinos, comme une statue, pour qu'on recouse la robe. Un comique, Jack Benny, fait la soudure sur scène. Marilyn revient. JFK, les pieds posés sur la rambarde, un mégot de cigare aux lèvres, s'extasie. Et quarante millions de téléspectateurs écoutent Marilyn chanter « Happy Birthday » d'une voix… d'une voix…
« C'est comme si elle lui faisait l'amour », s'écrie une chroniqueuse. Exactement. Le moment est kitsch, magique, invraisemblable. L'image s'inscrit instantanément dans la saga de l'époque. Jackie Kennedy, elle, est restée à la campagne. Plus tard, la soirée continue chez le trésorier du Parti démocrate, Arthur Krim. Au petit matin, Marilyn rejoint JFK dans son hôtel. C'est leur dernière nuit ensemble. Lui le sait. Elle, non. Ils ne se reverront jamais.
De retour à Hollywood, elle est licenciée par le studio. Elle contre-attaque avec sa seule arme : l'érotisme. Elle convoque un photographe, se déshabille sur le plateau et, nue, se baigne, sourit, prend la pose. Elle sait fort bien que les clichés vont faire le tour du monde. Marilyn est une manipulatrice chevronnée. Et, en effet, alors que les patrons de la Fox sont en danger à cause des coûts hallucinants du tournage de « Cléopâtre », ils ne peuvent se permettre de passer « Something's Got to Give » par pertes et profits.
Cukor reprend le tournage, avec Dean Martin, Cyd Charisse et Lee Remick. Marilyn arrive, ne connaît pas son texte, hésite, réussit quelques prises, mais n'arrive pas à être longtemps concentrée. Chaque jour de retard coûte une fortune. Cukor est outré. Il ne supporte pas la présence de Paula Strasberg, la répétitrice de Marilyn, et il décrit aux journalistes une star capricieuse, pénible, mesquine. Il est vrai que Marilyn se comporte étrangement : tous les jours, elle appelle la Maison-Blanche, et, régulièrement, on lui répond que le président est occupé. Finalement, Peter Lawford, le beau-frère de JFK, met les choses au point : « Marilyn, pour lui, tu n'as été qu'un coup ! » Elle s'imaginait déjà en première dame… La chute est terrible. Elle s'abandonne.
Sa carrière est terminée. La Fox lui promet qu'elle ne tournera plus : elle vient de coûter deux millions de dollars au studio, inutilement. Mais elle n'en a cure. Elle se sent rejetée, sale, indésirable. Sale, elle l'est : chez elle, Marilyn ne se lave plus, traîne en vieux peignoir, sent mauvais. Sa gouvernante, Eunice Murray, qui est une espionne placée là par Greenson, observe ce naufrage. De temps en temps, Marilyn menace de faire une conférence de presse pour révéler sa liaison avec « The Prez » - le président. Peter Lawford, dépêché par les Kennedy Brothers, décide de lui offrir un week-end.
Le 27 juillet, il l'emmène au Cal-Neva, l'hôtel au bord du Lake Tahoe. On la loge dans le bungalow 52, une bonbonnière rose. Marilyn s'allonge, prend des pilules, décroche le téléphone et papote. Sans doute s'endort-elle. La ligne reste occupée pendant des heures. Un groom alerte le patron, Skinny D'Amato, un truand notoire, qui avertit son boss, Sam Giancana. Le parrain de Chicago est là, dans une autre aile, avec son porte-fingue, Jimmy « Blue Eyes » Alo (que Coppola nommera Jimmy Ola dans « le Parrain 2 »). Giancana, qui a financé secrètement la campagne de Kennedy, a la haine : Bobby Kennedy, le ministre de la Justice, a entrepris une guerre sans merci contre la Mafia.
Quand les deux hommes voient Marilyn inconsciente, ils réalisent qu'une mort soudaine serait une mauvaise publicité pour un établissement fréquenté par les voyous. Ils font boire du café à l'épave blonde. Puis, considérant Marilyn comme un déchet humain, Giancana décide de la faire violer par ses gorilles. Et demande que la scène soit photographiée, pour se venger des Kennedy. Puis il s'en vante au téléphone, auprès de son vieux copain Johnny Rosselli, qui finira découpé en morceaux dans un fût à Miami. L'agent Bill Roemer enregistre la conversation pour le FBI. Rosselli : « Tu prends ton pied, hein, à te taper la nana des Kennedy ? » Giancana : « Ouais. » Les photos parviennent à Frank Sinatra. Celui-ci, incrédule, regarde : sur l'un des clichés, Marilyn, à quatre pattes, est violée par Giancana pendant qu'elle vomit sur la moquette rose. Dégoûté, Sinatra brûle les photos.
En trois mois, Marilyn a fait quoi ? Cinq, sept, dix overdoses ? A chaque fois, un lavage d'estomac l'a sauvée. A chaque fois, un homme l'a reprise en main : Joe DiMaggio, désespérément amoureux de son ex-femme. D'ailleurs, il décide, en cette fin juillet 1962, de demander sa main à nouveau. Par ailleurs, les photos nues de Marilyn ont eu l'effet escompté. La Fox revient sur ses menaces, ravale ses injonctions, et propose un nouveau contrat plus avantageux à la star.
Mais Marilyn est déjà ailleurs, dans un demi-coma provoqué par les barbituriques. Ses dernières scènes filmées avec Wally Cox, un acteur qui est l'ami intime de Marlon Brando et qui mourra drogué, ont été excellentes. La Marilyn Monroe d'autrefois revient, par bribes, à la surface. Il faudrait continuer, sauver ce satané film. Elle réapparaît sur le plateau pour fêter son anniversaire, elle a 36 ans. Mais c'est un vendredi soir, les techniciens sont pressés de rentrer, le coeur n'y est pas. Le gâteau coule lentement sur la table, le champagne est servi dans des gobelets en papier, et l'ambiance est plombée. Vingt minutes après le pot, Marilyn reste seule, sur un plateau désert, avec Wally Cox, petit bonhomme à lunettes, drôle et terriblement dépressif.
Rentrée chez elle, Marilyn se sent écartelée entre ses deux gourous : Paula Strasberg, la coach parasite, et Ralph Greenson, que certains soupçonnent d'avoir des relations sexuelles avec sa cliente. Or la première est à New York, le second est en Suisse. Marilyn accorde une interview à un journaliste, pose de nouveau nue pour Bert Stern, discute avec Pat Newcomb, son attachée de presse, qui a été placée là par Bobby Kennedy, pour contrôler la situation.
Le 1er août 1962, un nouveau metteur en scène, Jean Negulesco, est choisi en remplacement de George Cukor. Negulesco est drôle, et il a déjà dirigé Marilyn dans « Comment épouser un millionnaire ». On reprendra donc le tournage en octobre, c'est décidé. Marilyn est-elle satisfaite ? Elle va s'acheter une table de nuit chez un antiquaire, rentre chez elle, décroche le téléphone, avale une poignée de pilules sans compter, bavarde, dodeline, s'endort. Nous sommes le 3 août.
L'interview paraît dans « Life », ce jour-là. Elle dit : « Vous ne savez pas ce que c'est, d'avoir tout ce que j'ai et de vivre sans amour, sans bonheur. » Le 4 août 1962, au petit matin, Marilyn est morte.■
---
Marilyn et la France
le 19/08/2012
Par Bernard Comment
en ligne sur cinema.nouvelobs.com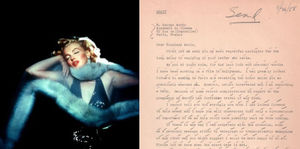 Chaque semaine, l'éditeur des écrits et dessins de la star - mandaté par la famille Strasberg - nous offre un document rare. Aujourd'hui, une lettre à Georges Auric, président de l'Académie du Cinéma.
Marilyn Monroe n'est jamais venue en France, du moins n'existe-t-il aucune trace d'un voyage. Mais elle avait une vraie tendance francophile, un goût pour la littérature (Camus, Proust), la peinture (Bonnard, Van Gogh) et les produits fins (champagne, foie gras) de l'Hexagone. Surtout, l'occasion s'en présenta très concrètement en 1958, quand l'Académie du Cinéma présidée par Georges Auric décida, lors de sa séance du 2 avril, de lui décerner son Grand Prix de la meilleure interprétation étrangère pour son rôle dans « Le Prince et la Danseuse », sorti quelques mois auparavant sur les écrans européens (et l'on peut imaginer le goût savoureux d'une telle récompense, par l'Académie d'une cinématographie prestigieuse, quand on sait le mépris avec lequel l'avait parfois traitée Laurence Olivier sur le tournage du film à Londres pendant l'été 1956). Si les oscars n'ont jamais couronné Marilyn (quelque chose en elle dérangeait l'establishment hollywoodien, peut-être le culot d'avoir fondé sa propre société de production, ou sa volonté d'échapper à l'icône de la blonde sexy), elle reçut de nombreux prix à l'étranger ou par la presse étrangère. Une invitation est donc lancée à Marilyn, qui semble ne pas recevoir la lettre. Quelques semaines plus tard, le 12 mai, l'Académie du Cinéma, croyant savoir que la star a prévu un voyage prochainement en Europe, tente une relance par l'intermédiaire de Paula Strasberg, et, le 22 mai, Marilyn accuse réception de ce courrier, se dit très honorée et déclare envisager sa venue avec son mari, mais pas avant l'automne. Le 5 septembre, elle précise que cela ne pourra pas être avant le 1er novembre, une fois que le tournage de « Certains l'aiment chaud » aura pris fin. En fait, le film de Billy Wilder, démarré le 4 août 1958, ne se terminera que le 6 novembre, avec vingt-neuf jours de retard imputables pour l'essentiel à Marilyn, qui accumulait les absences et les retards, tétanisée par une incertitude ontologique et craintive à l'idée des scènes parfois comiques de son rôle.
Vers la mi-septembre, Marilyn est rejointe sur le tournage par Arthur Miller et, quelques jours après, elle apprend qu'elle est enceinte. C'est le bonheur tant attendu. Mais le 7 novembre, elle est hospitalisée au Cedars of Lebanon Hospital de Los Angeles pour des difficultés liées à sa grossesse. Fausse alerte. Elle regagne New York, avec injonction des médecins de se reposer et de renoncer aux barbituriques et à l'alcool. De son côté, l'Académie du Cinéma relance, on propose de déplacer la cérémonie au mardi 25 novembre, puis au samedi 13 décembre. Chacun a ses urgences. Marilyn finit par envoyer un long télégramme le 26 novembre, dans lequel elle annonce qu'elle ne pourra malheureusement pas venir, pour la belle raison qu'elle est enceinte. On est déçu à Paris, mais on la félicite pour la bonne nouvelle. Marilyn propose de coopérer, sous la forme d'un message personnel, ou d'un télégramme, ou d'une conversation téléphonique. Cette dernière hypothèse sera finalement abandonnée en raison des complications techniques. On se contentera d'un message, envoyé l'avant-veille au directeur par télégramme : « Mes cordiales salutations à vous et à tous les membres de l'Académie. Je regrette sincèrement l'impossibilité d'être parmi vous à cette occasion et j'espère vous remercier tous prochainement pour le précieux prix que vous me remettez. J'espère avoir le plaisir de vous rencontrer dans un futur pas trop éloigné. Avec mes meilleurs voeux, Marilyn Monroe-Miller. »
Mais le 16 décembre, c'est le drame. Une fausse couche, l'hospitalisation dans une clinique de Manhattan, la déprime, des semaines noires que les fêtes de fin d'année ne parviennent pas à égayer. L'enfant tant désiré ne viendra jamais. L'étoile de cristal sera remise à Marilyn le 26 février 1959, à New York, par Georges Auric, en voyage aux Etats-Unis. On ne sait si la cérémonie eut lieu à l'Institut du Film français ou dans les luxueux locaux des services culturels de l'ambassade de France, en haut de la V Avenue près du Metropolitan Museum. Il se dit qu'une robe de soirée de Marilyn serait conservée dans cette représentation française, bien cachée, et dévoilée en de rares et précieuses occasions, comme l'incantation d'un fantôme… dont le rayonnement continue de nous parvenir et de nous toucher, tout particulièrement ici où l'on a su, depuis longtemps, voir en elle autre chose qu'une blonde écervelée, à savoir une femme curieuse, exigeante, désireuse de se perfectionner et de se cultiver. Une enfant radieuse, pour reprendre la belle expression de Truman Capote.
La lettre de Marilyn à Georges Auric :
Tout d'abord laissez-moi vous adresser mes plus plates excuses pour le long retard pris à répondre à votre lettre et à votre télégramme.
Comme vous le savez sans doute, j'ai travaillé sur un film à Hollywood durant les quatre derniers mois et demi. J'avais vraiment espéré venir à Paris pour y recevoir la récompense dont vous m'avez si gentiment gratifiée. Cependant, la nature est intervenue et j'attends un enfant. En raison de récentes complications concernant la grossesse, mon médecin m'a interdit toute espèce de voyage.
Je ne peux pas vous dire assez fort combien j'ai attendu cet événement et j'espère que vous comprendrez que seule une circonstance aussi importante à mes yeux pouvait m'empêcher de venir.
S'il y a une façon pour moi de coopérer à cet événement, à travers un message personnel ou un télégramme ou une conversation téléphonique transatlantique ou tout autre moyen dont vous auriez l'idée, je serai très heureuse de le faire. Faites-moi s'il vous plaît savoir quand la date exacte sera fixée. Avec mes voeux les plus sincères pour tous les membres de l'Académie et à nouveau mes plus chaleureux remerciements pour ce grand honneur qui m'est fait, Marilyn Monroe Miller■

10 août 2012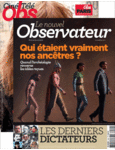 Le magazine français Le Nouvel Observateur n°2492, paru le 9 août 2012 consacre un article de 5 pages à Marilyn Monroe (chapitre 5, par François Forestier).
prix: 3,50 €
---
Chapitre 5 : le dernier film de Marilyn
Par François Forestier
en ligne sur nouvelobs.com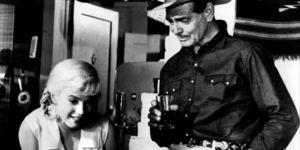 Le tournage des « Misfists » s'achève dans l'amertume. Le 16 novembre, Gable meurt d'une crise cardiaque. Pour tous, c'est Marilyn qui est coupable… © DR
Avec « The Misfits », de John Huston (1961), Marilyn Monroe quitte le cinéma et entre dans la folie.
Marilyn est déchaînée. Une haine noire sourd d'elle. Elle humilie constamment son mari. Elle lui fait porter son café. Elle refuse d'apprendre ses répliques. Elle demande qu'il récrive le scénario. Elle fait savoir publiquement qu'elle vient d'avoir une aventure avec Yves Montand, sur le tournage du « Milliardaire ». Arthur Miller, abattu, reste devant sa machine à écrire, et, par la fenêtre, contemple les montagnes dans le désert du Nevada. Des bouffées de vent apportent des nuages de poussière et les petits buissons d'alfafa roulent sur la terre violette, brûlée par le soleil. L'eau de Pyramid Lake s'évapore en brouillant la lumière. Il fait une chaleur folle : 55 degrés. L'apparence d'innocence, le masque de fragilité de Marilyn sont tombés : il ne reste plus qu'une harpie vulgaire, au vocabulaire de harengère et à l'allure d'une virago. Derrière Marilyn, la Gorgone.
Flash-back. Arthur Miller a eu l'idée des « Misfits » deux ans avant, lors du tournage du « Prince et la Danseuse ». A Londres, il a couché sur le papier l'histoire de deux cow-boys réduits à chasser des mustangs sauvages pour les vendre comme chair à Canigou. Dans les derniers espaces libres, ces survivants d'une autre époque prennent les chevaux au lasso et savent que ces palominos vont devenir de la pâtée pour chiens. Gay et Guido croisent sur leur chemin un autre homme, Perce, et un triangle amoureux s'installe avec la belle Roslyn, qui a toujours été traquée par les hommes comme ces chevaux… Dans l'esprit d'Arthur Miller, ce scénario est un cadeau d'amour pour Marilyn. Du moins, en 1957 : à ses yeux, alors, elle était une victime, une innocente éternellement abusée par les hommes, toujours utilisée comme objet sexuel. Mais, deux ans plus tard, son regard a changé : Marilyn est un monstre, Miller le voit bien. Elle manipule les gens, joue avec les sentiments, couche pour faire mal ; elle détruit, elle cingle. Il n'y a plus aucune douceur en elle. Les gens sont émus par sa vulnérabilité ? En fait, elle est aussi vulnérable qu'une écharde en Téfon. D'ailleurs, quand Miller lui a fait lire le script, elle l'a trouvé bête, sans intérêt et, c'est clair, elle ne tournera pas ce… ce… ce machin, mi-western, mi-drame.
1959. Les mois ont passé. Marilyn s'enfonce dans son paradis artificiel : elle prend une douzaine de pilules le soir. Autant pour se réveiller, avec un bloody mary. Elle dort nue dans un lit bouchonné, et son chien s'oublie sur les disques de Frank Sinatra qui traînent partout. Elle refuse de tourner le remake de « l'Ange bleu » avec Spencer Tracy. Elle se moque d'Arthur Miller, qui n'arrive pas à vendre son scénario aux producteurs. Elle refuse d'intervenir auprès de John Huston que Miller aimerait contacter. Après tout, elle a tourné avec Huston « Quand la ville dort », elle le connaît. Mais le cinéaste la connaît aussi : il sait qu'elle a été call-girl, qu'elle n'est qu'une « pauvre fille » abîmée et abrutie par les drogues, il la tient en médiocre estime. Il est au courant des deux overdoses qu'elle vient de faire, avant d'être sauvée au dernier moment. Finalement, quand Miller remet le scénario à Huston, celui-ci aime. Il ne craint qu'une chose : la folie de Marilyn. Et ses retards chroniques. Pourtant, récemment, elle a fait un effort : pour accueillir Nikita Khrouchtchev, président du Conseil des Ministres de l'URSS, lors de sa visite aux Etats-Unis et à Disneyland, elle a été à l'heure. Billy Wilder, qui vient de souffrir mille morts pendant le tournage de « Certains l'aiment chaud » à cause des absences de sa star, remarque immédiatement : « C'est Khrouchtchev qui doit mettre en scène le prochain film de Marilyn. »
John Huston contacte d'abord Robert Mitchum. Celui-ci lit « The Misfits », n'y comprend rien et donne comme consigne : « Dites à Huston que je suis mort. » Clark Gable, pressenti, est plus malléable. Il accepte. Marilyn est ravie, elle a toujours pensé qu'il aurait pu être son père de rêve. Si beau, si viril, le king Gable… Montgomery Clift, à peine remis d'un accident terrible qui l'a défiguré, bourré d'alcool et d'analgésiques, obtient le rôle de Perce, le cow-boy solitaire. Le tournage est fixé au 18 juillet 1960, non loin de Reno, Nevada. Trois jours plus tôt, la Convention du Parti démocrate a désigné JFK comme candidat officiel, au grand plaisir de Marilyn. Dans le désert, la production s'installe, avec parasols, réserves d'eau, génératrices. La star, dans sa caravane, répète avec Paula Strasberg, l'âme damnée de Marilyn, qui exaspère tout le monde en traînant derrière l'actrice comme une tique grasse. Lee Strasberg, le prophète de l'Actors Studio, arrive et s'habille immédiatement en cow-boy d'opérette. Son Stetson est plus grand que lui. Il refuse d'intervenir pour calmer Marilyn. Il n'est là que pour la persuader de jouer dans un film dont il a le projet, « Rain », d'après Somerset Maugham. Huston, découragé, va jouer son cachet au casino et, au petit matin, tombe dans le lit de sa maîtresse, Marietta Tree, une militante de gauche. Marilyn jette les vêtements d'Arthur Miller dans la poussière, le vire de sa caravane, le plante là, au vu et au su de tous. Et elle rejoint secrètement JFK au Cal Neva, un hôtel de la mafia dans lequel Joe Kennedy, le père du futur président, possède des actions, conjointement avec Sam Giancana, le parrain de Chicago. Peut-être Marilyn est-elle heureuse, pour quelques heures, sur la terrasse de l'un des bungalows du Cal Neva, au bord du lac Tahoe…
Jour après jour, Marilyn est en retard. Sous un soleil de plomb, l'équipe attend. Clark Gable, qui se sent mal, tempête. Il s'en prend à « Monty » Clift, qui est venu avec son amant. Quand il le traite de tapette, l'autre lui répond : « C'est celui qui dit qui en est. » Il ravive ainsi un passé ignoré : Clark Gable, l'idole des femmes, a débuté à Hollywood en accordant ses faveurs à des homosexuels réputés. Du coup, Gable se tait. L'ambiance est terrible. Une photographe autrichienne au visage de garçon traîne : rien n'échappe à Inge Morath, qui a traversé la fin de la guerre dans un camp de prisonniers ukrainiens. Elle voit, comme tous, que Marilyn n'a plus de regard. Ses yeux sont vitreux : elle prend au moins vingt pilules de Nembutal et des injections d'Amytal, deux barbituriques très dangereux, prescrits par le psy de Marilyn, Ralph Greenson, qui a jeté depuis longtemps aux orties son éthique professionnelle. Sa cliente rate ses scènes, puis s'enferme dans sa caravane et braille contre Mller. Paula Strasberg, pour 3 000 dollars par semaine, se contente de lire « Comment gagner au Craps » dans ces moments-là, et se bourre aussi d'analgésiques. Elle a un cancer des os. Lee, son mari, s'en va.
Au beau milieu du tournage, les montagnes, au loin, s'enflamment. Un incendie ravage la Sierra Nevada, les lignes téléphoniques et électriques sont coupées, la climatisation est en panne, la ville entière est plongée dans le noir. Marilyn s'assied et boit du champagne en contemplant le rougeoiement de l'horizon. Au dernier étage du Mapes Hotel, une fenêtre reste allumée : Arthur Miller a pris soin de faire brancher sa chambre sur un générateur de la production. Il récrit son scénario, jugé trop long, trop lent. Il n'arrive pas à trouver le point nodal de son « western moderne ». Il ne le trouvera jamais. Le feu éteint, Marilyn essaie de reprendre. Elle titube. Huston décide de l'envoyer subir une cure de désintoxication. Le tournage est interrompu.
Dix jours plus tard, Marilyn, bourrée de vitamines, revient, apparemment en forme. Huston commence par une scène difficile, où Roslyn est couchée dans un lit, et Gay (Clark Gable, en l'occurrence bien nommé), assis, dialogue avec elle. Une prise : ratée. Une autre prise : ratée. Sept prises sont jetées à la poubelle, car Marilyn savonne son texte. En désespoir de cause, elle a recours au plus vieux truc du monde : au beau milieu de la scène, elle fait glisser le drap et révèle un sein nu. Huston, dédaigneux : « Remballe ça, Marilyn. On connaît. » Elle se retire dans sa chambre, vexée. Elle reprend des pilules. Elle ne se lave plus. Arthur Miller change d'hôtel. John Huston règle ses dettes de jeu, se soûle copieusement, participe à une course de chameaux, lit le scénario de 800 pages de son prochain film, « Freud, passions secrètes », et le jette. Décidément, Jean-Paul Sartre, l'auteur de ce pensum, qui fonctionne aux « uppers » (amphétamines), ne sait pas écrire pour le cinéma, se dit Huston. Le tournage des « Misfits » s'achève dans l'amertume. Gable repart au plus vite retrouver sa femme enceinte. Il ne verra pas son enfant naître : le 16 novembre, il meurt d'une crise cardiaque foudroyante. Pour tous, c'est Marilyn qui est coupable. Elle s'enfuit au Mexique, pour divorcer loin des gazettes indiscrètes. Elle en profite pour rendre visite à Frederick Vanderbilt Field, un héritier fauché, membre du Parti communiste. Le FBI se met en alerte rouge. Elle est espionnée constamment. D'autant plus qu'elle fréquente JFK, l'ennemi juré de John Edgar Hoover, qui constitue un solide dossier pour faire chanter le futur président des Etats-Unis. Marilyn regrette le chien d'Arthur Miller, Hugo, un vieux basset lent. Elle partageait avec lui ses coupes de champagne, et le chien s'endormait en pétant.
Noël arrive. Marilyn passe la soirée avec les Strasberg, puis, seule, s'abandonne au désespoir : « Je suis Marilyn, Marilyn, Marilyn », répète-t-elle. Elle veut être une autre. Elle appelle son ancien mari, Joe DiMaggio. Il lui a envoyé des fleurs. Ils passent le 25 décembre ensemble, la main dans la main. Le 31 janvier 1961, la première de « The Misfits » a lieu à New York. Marilyn apparaît. Elle est l'ombre d'elle-même. Arthur Miller est là, avec celle qui deviendra sa femme, la photographe autrichienne. Inge Morath et Arthur Miller vont rester unis pendant quarante ans, jusqu'à la fin. Il écrira un livre triste, sur ce tournage, intitulé : « la Fin du film ». On peut y lire : « La vie, la joie de vivre n'est plus qu'une poussière pétrie par la haine la plus ordinaire. » Le public et la critique sont très tièdes, devant « The Misfits », oeuvre entre deux genres, insaisissable, longue et… en noir et blanc.
C'est le dernier film de Marilyn Monroe. Un mois plus tard, elle est internée.■
---
« Dear Mister Montand… »
le 12/08/2012
Par Bernard Comment
en ligne sur cinema.nouvelobs.com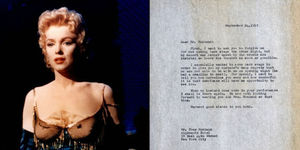 © DR / © Bruce Davidson-Magnum
Chaque semaine, l'éditeur des écrits et dessins de la star nous offre un document rare. Aujourd'hui, une lettre adressée à Yves Montand, avec qui elle eut une brève et puissante histoire d'amour.
Le 21 septembre 1959, Marilyn Monroe se rend au Henry Miller's Theater, à Broadway, pour la première du one-manshow d'Yves Montand, un spectacle qui va connaître un énorme succès auprès du public new-yorkais. Arthur Miller étant retenu par l'écriture d'une nouvelle version des « Misfits » à rendre d'urgence, elle est accompagnée par Montgomery Clift, un de ses futurs partenaires dans le film à venir de John Huston.
Le ton de la lettre qu'elle dicte trois jours plus tard à sa secrétaire est à la fois prudent et chaleureux. Elle est adressée à l'Algonquin Hotel, où réside Montand. On ne sait si le mot « escort » se réfère à Montgomery Clift ou s'il désigne des gardes du corps. Cela ressemble en tout cas à une formalité, les excuses obligées pour un rendez-vous manqué, mais tout autant à une façon de prendre date. La séduction a-t-elle déjà opéré ? Quelques mois plus tard, Marilyn devait déclarer à la presse : « Avec Marlon Brando, et juste après mon mari, Yves Montand est l'homme le plus séduisant que j'aie rencontré. » La loyauté conjugale portée à son terme.
Le couple Miller-Monroe retournera ensemble voir Montand sur les planches quelques jours plus tard, et c'est Arthur (lié à Montand et Simone Signoret depuis que le couple avait interprété une mise en scène des « Sorcières de Salem », en 1956) qui insistera pour que le rôle de Jean-Marc Clément dans « Le Milliardaire » soit confié au chansonnier et acteur français, malgré ses piètres capacités dans la langue anglaise qui lui inspirèrent, à ses propres dires, une terreur au moins équivalente à celle qui s'emparait de Marilyn au moment d'apparaître devant les caméras. Gregory Peck, initialement pressenti, ayant fait défaut, la Fox accepte sans gaieté de coeur cette substitution, pour un film dont le scénario est de toute façon peu prometteur (Arthur Miller a dû y mettre la main, pour améliorer ce qui pouvait l'être).
Le tournage de « Let's Make Love » (titre autrement évocateur que « le Milliardaire »…) démarre le 9 novembre 1959, mais connaît de nombreuses interruptions, et prendra son véritable envol au printemps 1960. Marilyn et Montand se retrouvent bientôt seuls dans leurs bungalows du très chic Beverly Hills Hotel, et une puissante histoire d'amour se noue entre eux, qui confère peut-être ses rares moments de magie au film. Cette relation clandestine est vite connue des échotiers, dont des espions sont traditionnellement planqués dans les jardins de l'hôtel. Les époux trompés réagiront avec calme et dignité, et l'affaire cessera avec le départ d'Yves Montand vers l'Europe et le Japon.
En été 1960, peu après la fin de l'idylle, et au sortir d'une courte hospitalisation intervenue durant le tournage très tourmenté des « Misfits », Marilyn écrit une lettre à Lester Markel, responsable de l'édition dominicale du « New York Times », pour lui suggérer de consacrer un long article à Yves Montand, « non seulement un bon acteur, un merveilleux chanteur et danseur plein de charme, mais aussi un des hommes les plus attrayants qui soient » (brouillon de lettre à paraître dans le volume issu de l'intégralité des archives que les Editions du Seuil publieront en automne 2013).
Yves Montand, lui, fut parfois condescendant (et non dépourvu d'un certain machisme) dans sa description de l'idylle qui le lia à Marilyn.
On ne sait pas très bien ce que Marilyn ressentit quand l'oscar de la meilleure actrice fut attribué à Simone Signoret pour son rôle dans « Room at the Top » de Jack Clayton. En tous les cas, et pour s'en tenir à une preuve tangible, elle garde une beau souvenir de son aventure, puisqu'elle écrit, dans le post-scriptum d'une longue lettre adressée le 1er mars 1961 à son psychanalyste de Hollywood, le Dr Ralph Greenson : « From Yves I have heard nothing - but I don't mind since I have such a strong, tender, wonderful Memory » (« D'Yves je n'ai aucune nouvelle, mais cela m'est égal. J'en ai un souvenir fort, tendre, merveilleux »). Les femmes ont parfois plus d'élégance dans leurs souvenirs que les hommes…■
22 avril 2011
lot n°593: MARILYN MONROE SOMBULEX PRESCRIPTION ORDER
A prescription order for Marilyn Monroe and signed by Dr. Hyman Engelberg for the barbiturate Sombulex. RX number 19329, undated. Additional notations include "Sig: ud: label" and "CR 54366."
Estimate: $200 - $300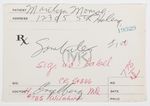 ---
lot n°594: MARILYN MONROE CHLORAL HYDRATE PRESCRIPTION ORDER
A prescription order for Marilyn Monroe and signed by Dr. Hyman Engelberg for Chloral Hydrate, a sedative used to treat insomnia. RX number 19293, dated June 7, 1962. Additional notations include "as directed." Dated "6-18-62" on verso.
Estimate: $200 - $300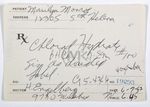 ---
lot n°595: MARILYN MONROE DEXEDRINE PRESCRIPTION ORDER
A prescription order for Marilyn Monroe and signed by Dr. Hyman Engelberg for Dexedrine. RX number 19974, dated July 1, 1962. The prescription indicates that the medication was for energy. Additional notations include "Phone refill 99x..."
Estimate: $200 - $300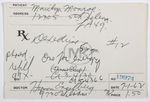 ---
lot n°596: MARILYN MONROE LIBRIUM PRESCRIPTION ORDER
A prescription order for Marilyn Monroe and signed by Dr. Hyman Engelberg for Librium. RX number 19295, dated June 7, 1962. The prescription indicates that the medication was for anxiety.
Estimate: $200 - $300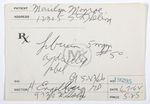 ---
lot n°597: MARILYN MONROE VALMID PRESCRIPTION ORDER
A prescription order for Marilyn Monroe and signed by Dr. Hyman Engelberg for Valmid, a sedative to treat insomnia. RX number 19294, dated June 7, 1962. Additional notation reads "as directed."
Estimate: $200 - $300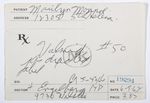 ---
lot n°598: MARILYN MONROE HYDROZETS PRESCRIPTION ORDER
A prescription order for Marilyn Monroe and signed by Dr. Hyman Engelberg for Hydrozets throat lozenges. RX number 20361, dated July 17, 1962. The prescription indicates that the lozenges were for a sore throat and were to be administered every 2-3 hours.
Estimate: $200 - $300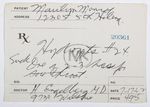 ---
lot n°599: MARILYN MONROE ANNOTATED NOTE, 1962
A typewritten note addressed to "Miss Monroe" dated "March 26, 1962" with three questions with handwritten responses from Marilyn Monroe in green ink. Two of the questions relate to Monroe's psychiatrist Dr. Greenson. Two hole punches at top of paper.
Estimate: $800 - $1,200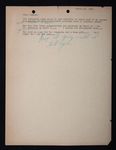 ---
lot n°600: MARILYN MONROE SULFA GUM PRESCRIPTION ORDER
A prescription order for Marilyn Monroe and signed by Dr. Hyman Engelberg for Sulfa Gum. RX number 20363, dated July 17, 1962. Directions written on the prescription read "Chew for 1/2 hour 6 times daily following gargle." Sulfa Gum was used to treat sore throats and oral infections.
Estimate: $200 - $300

---
lot n°601: MARILYN MONROE FUNERAL CARD
An original card from the funeral of Marilyn Monroe on Wednesday, August 8, 1962, at the Westwood Village Mortuary in Los Angeles. The front of the card bears an image of the Bok Singing Tower. Accompanied by a preprinted card that reads "Your kind expression of sympathy is deeply appreciated and gratefully acknowledged," with the original transmittal envelope postmarked November 12, 1962.
Estimate: $600 - $800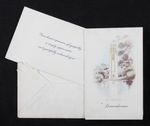 ---
lot n°602: MARILYN MONROE EXHIBITION SCRIM
A Prodisplay synthetic printed fabric scrim with an image of Lot 544 - Andre de Dienes photograph of Marilyn Monroe. The scrim was displayed at Julien's Auctions Beverly Hills Showroom.
Estimate: $200 - $400

13 avril 2010
An x-ray of Marilyn Monroe's chest is going under the auctioneer's hammer along with other memorabilia.
An x-ray of Marilyn Monroe's chest taken by a young doctor in 1954 when she was admitted to the Cedars of Lebanon Hospital for surgery for endometriosis. The doctor apparently later used the x-ray in lectures to students and more recently left the x-ray to his daughter who is putting it up for sale. It is expected to sell for up to $1,200.
The X-ray is just one of many Monroe-related items up for sale at an auction being staged at the Planet Hollywood resort and casino in Las Vegas on June 26 this year by Julien's Auctioneers .
---
Other items include this couch from the office of Marilyn Monroe's therapist, Dr. Ralph Greenson. Greenson began treating Marilyn after her breakdown while filming The Misfits (1961).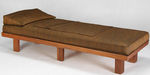 ---
Marilyn Monroe's change of rate card from 20th Century Fox dated May 11, 1953. Monroe's weekly pay rate changed from $750.00 to $1,250.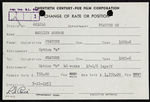 ---
Pink long-sleeved boat neck Pucci blouse of silk jersey. Given to the daughter of Monroe's analyst in 1962 because Monroe felt it was too large for her.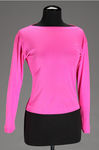 ---
An original black and white print of a photograph taken in 1954 of Marilyn Monroe in Korea.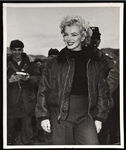 ---
An unopened bottle of Chanel No. 5 perfume owned by Monroe. Monroe aligned herself with the perfume in 1953, when asked what she wore to bed, Monroe replied, Chanel No. 5.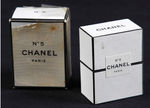 ---
A 32-page prompt book for the film 'Something's Got to Give' with title card typed with the name 'Marilyn Monroe'. Monroe was working on this remake of 'My Favorite Wife' at the time of her death. Notes throughout the book written in pencil by Monroe with her stage directions to herself.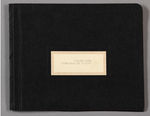 ---
An Italian-style carved chair with green velvet upholstery used in a July 1962 Marilyn Monroe photo shoot with Life magazine.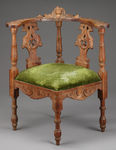 ---
Vintage wooden skis with metal initials "MM" on each ski, believed to be owned by Marilyn Monroe and used in an early photo shoot circa 1945.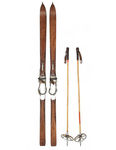 29 octobre 2008
The Things She Left Behind
published in 2008 October,
by Sam Kashner,
online vanityfair.com
The tragic 1962 overdose … two filing cabinets holding many of her secrets: keys to the mystery that was Marilyn Monroe. As her estate battles for control of her image, the author describes the cache's revelations—papers, furs, jewelry, and other items—which have cast a spell over several people, including photographer Mark Anderson, who spent more than two years documenting the disputed collection.

Monroe, as photographed in Korea by a U.S. Army corporal in 1954.
Photograph by Don Obermeyer.
Dr. Ralph Greenson, her psychiatrist, was probably the first to arrive, in the early-morning hours of August 5, 1962. Her personal physician, Dr. Hyman Engelberg, was also summoned to her bungalow, at 12305 Fifth Helena Drive. One of her lawyers, Milton "Mickey" Rudin, came and started working the phones. Arthur Jacobs, her chief publicist, was called away from the Hollywood Bowl, where he and his future wife, Natalie Trundy, were attending a concert on that warm summer night. In later years, Jacobs would never speak about the scene in her bedroom, because it was "too horrible to talk about." The police got there around 4:30 a.m. And then there was the curious sight of Eunice Murray, the housekeeper who had discovered the body, washing the bedsheets in the middle of the night.
The actor Peter Lawford, President Kennedy's brother-in-law, was not there, but he had been troubled by the way Monroe sounded in their last phone call, just before her death: "Say good-bye to Pat [Lawford]. Say good-bye to the president. And say good-bye to yourself because you're a nice guy."

Marilyn Monroe, the most famous movie star in the world, had succumbed to a prescription-drug overdose at the age of 36. Since then, the rumors and confusion about what happened before and after her death have never gone away: Was it suicide or an accident? Was she in fact murdered? The mystery has fueled her legend as much as any of the 30-plus films she made in her 15-year career, or the famous men she married—Yankee great Joe DiMaggio and playwright Arthur Miller—or her relationships with John and Robert Kennedy. Conflicting accounts of her last hours and the actual time and means of her death have served only to deepen the mystery.

Marilyn Monroe's death received front-page coverage throughout the world. Gay Talese reported in The New York Times that the number of suicides in New York a week after her death hit a record high of 12 in one day. One suicide victim left a note saying, "If the most wonderful, beautiful thing in the world has nothing to live for, then neither must I." Truman Capote, writing from Spain, recorded in a letter, "Cannot believe that Marilyn M. is dead. She was such a good-hearted girl, so pure really, so much on the side of the angels. Poor little baby." Billy Wilder, while loudly complaining that it had been taxing to direct her in The Seven Year Itch and Some Like It Hot—two of her greatest and best-loved movies—recalled that it was "worth a week's torment to get … three luminous minutes on the screen." In Italy, Sophia Loren broke down and wept. Joshua Logan, who directed Monroe in the film version of William Inge's Bus Stop, paid her the ultimate compliment when he compared the "dumb blonde" character she created to Chaplin's Tramp, one of the great comic inventions of the 20th century.

There was another person in the house on Fifth Helena that morning, a shadowy figure in most of the Monroe biographies: Marilyn's business manager, Inez Melson, a plump woman in her early 60s, who had been recommended by Joe DiMaggio. She sat quietly going through Marilyn's personal papers.
Melson had had the thankless task of looking after Gladys Baker Eley, Monroe's mother, a schizophrenic who was institutionalized off and on throughout her adult life. Marilyn—born Norma Jeane Mortenson—didn't like to visit her, but Melson treated Gladys as if she were her own mother, and she regularly gave Monroe lovingly detailed reports of her "progress."

Additionally, Marilyn had become a daughter figure to Melson, who had a troubled relationship with her own daughter, Emmy Lou. In a handwritten 1957 letter to Melson, Marilyn wrote, "I wish there were some way I could tell Emmy Lou what a wonderful mother she has." But, in truth, Marilyn never felt close to Melson—she was a painful reminder of her own mother, estranged since childhood.

Joe DiMaggio had put Melson in the job to look after things, to keep an eye on Marilyn, to report to him about what she was up to. She was supposed to be the Yankee Clipper's spy in the house of love. Now she had a funeral to arrange. Joe put her in charge. Their "baby" finally belonged to them. DiMaggio sat up all night with the body and, along with Melson, helped to select an apple-green sheath dress of nylon jersey. Melson, by her own account, removed 15 bottles of prescription medicine from the bedside table.

There were also two filing cabinets, one gray and one brown, to deal with. Frank Sinatra had advised Monroe to get them to protect her privacy. One had a built-in safe hidden behind a faux drawer. That's where her personal life was, in those files: the letters, invoices, financial records, favorite snapshots, and mementos that meant the most to her. Now Melson had control of the filing cabinets. After years of looking after Gladys and getting little in return, she was going to become an important person in Monroe's posthumous life. Marilyn's secrets would belong to her.

During the 48 hours after Monroe's death, while the police were busy taking statements and photographs, Melson removed papers from the filing cabinets and stuffed them into a shopping bag. She also called the A-1 Lock & Safe Company to change the lock on one of them.

Monroe's will, filed for probate on August l6, established a $100,000 trust to provide her mother with $5,000 per year and Mrs. Michael Chekhov, the widow of one of her acting coaches, $2,500 a year. She left $10,000 to her half-sister, Berniece Baker Miracle; $10,000 to her former secretary and friend, May Reis (with a provision that she could inherit more); and $5,000 to the playwright and poet Norman Rosten and his wife, Hedda. Curiously, she left 25 percent of the estate's balance to further the work of her New York psychiatrist, Dr. Marianne Kris, who had disastrously incarcerated her, briefly, in a padded cell in New York's Payne Whitney Clinic in 1961, when Monroe was suffering from insomnia and exhaustion.

The most valuable portion of the estate, including all of her "personal effects … [to be distributed] among my friends, colleagues and those to whom I am devoted," was left to Lee Strasberg. In 1955 Strasberg and his wife, Paula, had welcomed Monroe into the Actors Studio, the country's most prestigious acting school and purveyor of "the Method," which had famously launched the careers of Marlon Brando, Montgomery Clift, and James Dean. The Strasbergs had believed in her talent, making her part of their family. Paula had replaced Natasha Lytess as Marilyn's personal acting coach and had been well paid for it.

The Strasberg bequest would eventually net the heirs tens of millions of dollars from film royalties, the sale of her personal belongings, and the licensing of her image over the last 45 years. A fortune would accrue to a woman Monroe had barely known: Lee Strasberg's third wife, Anna Mizrahi Strasberg. (Monroe met Anna once, at a United Nations event, years before Paula Strasberg's death.)
It must have been a blow to Inez Melson that she was not named in the will. Nonetheless, the court appointed her special administratrix of the Monroe estate, most likely due to the influence of Joe DiMaggio, who by many accounts had been planning to remarry Marilyn. Shortly after the funeral, Melson entered the house with Marilyn's half-sister, Berniece Miracle, and sorted through the actress's personal effects. "We sat around the fireplace," Miracle wrote in her overlooked 1994 memoir, My Sister Marilyn, "watching Inez burn papers all day long." Melson put Monroe's red leather Gucci shopping bag on the floor, saying, "Put what you want to take home in here," and noting that Marilyn apparently saved every letter Arthur Miller had ever written her.

Melson herself, it seems, put aside furs, jewelry, hats, perfume bottles, and handbags, and they readied the rest of Monroe's things for the estate sale that would take place in 1963, which offered "Personal Property Likely To Depreciate in Value."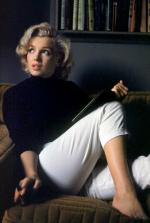 (Monroe at her Los Angeles home, by Life photographer Alfred Eisenstaedt, in 1953. By Alfred Eisenstadt/Time & Life Pictures/Getty Images).
The gray cabinet—"Metal 4 drawer filing cabinet, legal size with lock"—was included in that sale and bought under the name of Melson's nephew W. N. Davis, without his knowledge. It was delivered to 9110 Sunset Boulevard in West Hollywood, Melson's office address.

The brown filing cabinet was apparently removed from the house by DiMaggio, and personally delivered, some six years later, to Melson's home, in Los Angeles, where it remained until her death, in 1985, when the two cabinets were passed on to her sister-in-law, Ruth Conroy, of Downey, California, and in turn to Conroy's son Millington Conroy, a perfume and cosmetics salesman. The two cabinets—along with furs, hats, handbags, and jewelry—were taken to Conroy's suburban home in Rowland Heights, 25 miles outside of Los Angeles.

Love at First Sight

Marilyn was divine and profane at the same time, and she quickly entered the realm of myth and metaphor as Hollywood's most famous martyred saint. At the height of her fame, she had received 5,000 fan letters a week. Many were from men and women who talked about the sadness in her eyes, her vulnerability, and how they identified with her. Her immortal fame was parodied in the "Church of Marilyn" scene in Ken Russell's 1975 film Tommy in which blonde priestesses in Marilyn masks offer sacraments of whiskey and pills beneath a statue of Monroe. Today, there are still legions of Marilyn Monroe fans, including several high-profile celebrities. Madonna, Charlize Theron, Scarlett Johansson, and Nicole Kidman all worship at the Church of Marilyn, as does Lindsay Lohan. For the February 18, 2008, issue of New York magazine, Bert Stern photographed Lohan in a re-creation of his famous, final portrait series taken at the Hotel Bel-Air six weeks before Monroe's death. But in fact, two years earlier, Lohan had channeled Monroe in a white bathing suit on the cover of Vanity Fair, in a tribute to André de Dienes's sun-drenched images of a young Marilyn frolicking on the beach. Marilyn has become the patron saint of the lost girls of our own era—Lohan and Amy Winehouse and even Britney Spears—gifted performers knocked around by celebrity, constant surveillance, and the echoes of Marilyn's own self-doubt.

From Marilyn's first film, Scudda Hoo! Scudda Hay!, in 1948, to her last, The Misfits, in 1961, she went from studio-issue blonde bimbo to Method-trained, heartbreaking actress of depth and soul. She moved beyond camp—that was her genius. That's how she differed from Jayne Mansfield and Mamie Van Doren and Sheree North—blonde, busty actresses in the Marilyn mold that Hollywood used in its attempt to replace her. But she was irreplaceable.

In September 2007, Mark Anderson, an Australian-born photographer living in Los Angeles, contacted Vanity Fair to say that he had spent the last two years photographing everything in Millington Conroy's archive. Was this the real thing or would it turn out to be the Hollywood equivalent of the Hitler diaries, the 1983 hoax that was supposed to be the Führer's most intimate rantings, quickly discredited by several experts? If it was the latter, it wouldn't be the first time a fraud had been perpetrated in Marilyn World. Most recently, Robert W. Otto curated an exhibition of Monroe memorabilia for display on the Queen Mary in Long Beach, California, from November 11, 2005, through June 15, 2006. At least one of the items, a set of Clairol 20 Instant Hairsetter rollers with a strand of hair described as Marilyn's, was found to have been manufactured after Monroe's death and was removed from the exhibition.

Anderson, 49, who still resembles the brawny surfer of his youth, is a scrappy, resourceful photographer with a jaunty Australian accent. On a moonless night last September, we drove to Rowland Heights in his black Ford Expedition to a large, Spanish-style suburban house on a cul-de-sac, surrounded by tall palm trees. As we pulled up in front of the house, Anderson called Millington Conroy on his cell phone. Conroy was in Las Vegas that weekend, but Anderson had been given the run of the house (one of two that Conroy owned), where he had been photographing all the items in the filing cabinets. Over Anderson's cell phone, Conroy told me, "Prepare yourself. What you're about to see will blow you away."

It was pitch-black. The huge date palms surrounding the house somehow made the darkness more ominous. During the drive, Anderson had explained that he first met Conroy, now 56, a lanky man with white hair and light-blue eyes, in November 2005 at the Santa Monica office of Bodyography, a small cosmetics company where Conroy was head salesman. "Mill," as he's called, was wearing denim shorts and a T-shirt and was carrying rumpled Target bags. When he pulled out a luminous pearl necklace that he claimed had been given to Monroe by Joe DiMaggio, as well as several receipts made out to "Mrs. Arthur Miller" and letters addressed to "Mrs. Joe DiMaggio," Anderson was hooked. Immediately after the meeting, he had his lawyer draft a letter of intent to photograph the archive, which Conroy signed at their initial meeting at the Rowland Heights house.

At first, Anderson couldn't believe his good fortune. He remembered how bowled over he was the first time he had seen her, in Some Like It Hot, when he was just a boy in Australia. "Who ever forgets the first time they saw Marilyn Monroe?" he says. "As time went by [photographing the archive], I got even more interested in the whole thing. And then that was it—I'd been bitten. The poison was in my veins."

Before we entered the house, Anderson disabled the alarm. The front door opened to a living room with a peach-and-ivory décor, which was continued throughout the house. Anderson had turned the living room into a photographic studio, with lights, cameras, and seamless backdrops. A collection of exquisite handbags was artfully arranged on one surface, beautifully lit so they glittered like jewels. On the floor lay a black Persian-lamb jacket with a mink collar next to a gold-clasped leather bag. We proceeded into a small office off the hallway, passing the two filing cabinets, which stood side by side next to the kitchen. In the office, Anderson showed me a number of Monroe's documents—letters, receipts, ledgers, telegrams—which were kept in a large black safe and impeccably preserved in plastic sleeves in three-ringed notebooks.

Anderson explained that this was a far cry from his introduction to the collection, which had been jumbled together in Target bags and padlocked behind impressive bars and chains in one room. The first time Anderson visited, Conroy dumped folders of papers onto the kitchen table—receipts "for a pair of shoes she bought in Bloomingdale's, champagne she bought at Jurgensen's, one for lunch at Chasen's, dated 1960. A Jax clothing receipt, a psychiatrist's receipt from Marianne Kris."

At one point, Anderson recalls, Conroy told him to close his eyes while he fetched something from one of the cabinets. Anderson heard the metal bars on the office door slide back with a loud clanging, and he braced himself, half expecting to "get whacked across the back of the head with a baseball bat." Instead, Conroy placed in his hands a cold, hard object that slid between his fingers. He thought it was a necklace till he opened his eyes and saw he was holding rosary beads. "They were really beautiful. I mean gorgeous—part onyx and part dark-green stones. The crucifix was gold and large, larger than normal. They were so worn they looked more like worry beads than rosary beads. I was strangely moved," he says. Conroy believed that they had been given to Marilyn by DiMaggio and had once belonged to DiMaggio's mother.

Anderson asked Conroy the $64,000 question: "Are there any Kennedy letters?"
"Yes, there are."

Conroy brought out a white envelope, which Anderson assumed contained them. Instead there was a sheaf of other letters, on good-quality cream-colored paper. As Anderson began to read one of them, he noticed poems or fragments of poems written in pencil along the margin of one of the typed pages. "I remember thinking whoever wrote it was very much infatuated with Marilyn. It was very deep, all about how their heart was torn by seeing her. It was just too intense." The letter was signed "Googie" or "Gookie." Conroy gently tugged the paper out of Anderson's hand.

"Do you want to see this letter? Trust me, you're going to die."
He handed Anderson another letter, covering the signature. And then he revealed it: three-quarters of an inch high, it read, "All my love, T. S. Eliot."

Anderson stared at it for a few seconds, until that letter, too, was pulled from his hand. "I was numb. T. S. Eliot was writing letters to Marilyn Monroe?"

According to Anderson, Conroy told him, "Not just letters. Love letters."

"Oh, my god," Anderson responded. "This is big news. This is history!"

"I know, but you're missing the point. Everything I have is history," said Conroy as he slid the letters back into the white envelope.

In early 2006, after Anderson began photographing the archive, he realized there was enough material to fill a book, an idea Conroy came to endorse. But they needed someone to write the text. Conroy first called Seymour Hersh, the former New York Times journalist (now with The New Yorker), who had won a 1970 Pulitzer Prize for breaking the My Lai massacre story. Hersh, along with Peter Jennings of ABC News, had been to the Rowland Heights house about 10 years earlier to research a TV documentary on the Kennedy presidency, with executive producer Mark Obenhaus. "I remember they did show us some photographs we had never seen before," Hersh recalled recently. "They knew their stuff. But the people in the house definitely tried to sell us things. It's hard to remember—that was three wars ago." Hersh, however, politely declined their invitation to write the text, as he was working on another book at the time.

Camelot or Spamalot?

That's when Anderson contacted Anthony Summers, mentioning the existence of a number of letters and other archival material, including five or six letters or notes from the Kennedy brothers, a letter from Monroe to Joe Kennedy, a note from the gangster Sam Giancana, Monroe's doodles and notes and possibly her notebooks, her jottings on politics, and a letter from DiMaggio to Inez Melson written after Monroe's death. It was the Kennedy letters that most intrigued Summers. An Oxford-educated journalist, he wrote the best-seller Goddess: The Secret Lives of Marilyn Monroe, and had met with Melson in 1983 and with Ruth Conroy in 1986. But if there were Kennedy letters, Melson and Conroy had kept them to themselves.

"The truth is," Conroy told Summers over the phone, "my mother only showed you one of the two filing cabinets."

Summers recalls, "I knew Inez Melson had worked for Monroe, I knew she'd kept at least one filing cabinet, and I knew it had contained some interesting material. So I thought to myself, 'It looks like I'm going to have to get myself out to L.A., then, doesn't it?' " On July 29, 2006, he flew in from New York, where he had been working on another project at the time. Just before departing, however, he got word from Conroy that the alleged Kennedy and Giancana letters, which supposedly were being held in storage by a memorabilia dealer and acquaintance of Conroy's, had apparently been lost. "Some hope was still held out that some of the significant stuff would be there when I got to L.A.," Summers explains, "and [I was] intrigued by the possibility that I'd wind up finding myself writing about a scam. Knowing, too, that any second file cabinet of Monroe material might contain something of significance, I decided to press on to L.A."

Summers had enjoyed meeting Inez Melson 23 years earlier. "I liked dear Inez," he says, recalling that he brought her chocolates and flowers. When he first went to her modest home, in Laurel Canyon, she was having circulatory problems and sat with her leg up on a chair. She mentioned the existence of a filing cabinet, but she wasn't mobile enough to show it to him on that visit. After a long conversation, Melson directed Summers to cross the room and extract a letter from her dressing table. "She seemed to come to feel she could trust me," Summers remembers, "and my impression was that she wanted to get off her chest something that had long upset her." She told him, "I want to show you something, young man, that I totally disapprove of." It was a letter from Jean Kennedy Smith saying, "Understand that you and Bobby are the new item," which has long been taken as proof of an otherwise unproven affair between Monroe and Robert Kennedy. The only other item Melson showed him was a clock she claimed had belonged to Joe DiMaggio.

Before Summers departed, Melson promised him, "When I'm better, I'll show you the filing cabinet." But she didn't get better, and in 1985 she died. The following year, Summers got a call from Melson's sister-in-law, Ruth Conroy, who invited him to peruse the material she'd "inherited" from Melson. Summers did so, and he "published what was worthwhile in the paperback edition of Goddess." But again Ruth Conroy had shown him only one of the two filing cabinets. If there were Kennedy or Sam Giancana letters, Summers never saw them.

When Summers arrived at the Rowland Heights house in July 2006, Conroy confirmed that the Kennedy letters—along with a blue shoebox containing love letters from Joe DiMaggio—were missing. But Conroy assured both Summers and Anderson that he was on the case, hiring a lawyer and planning to travel to Miami to search for the letters himself. The memorabilia dealer, Bruce Matthews of Gotta Have It Golf, Inc., however, told Vanity Fair over the phone, "I never saw Kennedy letters. I would have noticed something like that."

But there were other letters that Conroy wanted to show Summers. "I remember it was dark, and Summers was standing in the kitchen, drinking a cup of coffee," Anderson recalls, "and Mill comes walking out of the small office that had the gray filing cabinet in it at the time. And he's got the white envelope with the T. S. Eliot letters" to show Summers, perhaps as a kind of consolation prize. But Summers dismissed what he saw: not the letter signed by T. S. Eliot that Anderson had seen, but fragments of poems with the name "T. S. Eliot" scrawled in the margin. Summers believed the attributions were probably written by Monroe's friend Norman Rosten. (Summers says that Conroy told him there were in fact no Eliot letters, just the marginal scribble he'd seen, but Conroy told Vanity Fair that he had just decided not to show Summers any more of the correspondence.)

Conroy made one last attempt to persuade Summers to come in on his and Anderson's book project. Anderson recalls that Conroy led them upstairs to one of the two bedrooms and placed on a table an alligator jewelry case bearing the abbreviation "J DiM," for Joe DiMaggio.

Earlier, Conroy had given the jewelry case to Bruce Matthews to sell, but Matthews had been so impressed by it, he'd returned it to Conroy—by hand—because "it seemed so personal, I didn't want to exploit it." Summers doesn't recall ever seeing the jewelry box, but he does remember seeing articles of clothing Conroy said had belonged to Monroe in the closet of an upstairs bedroom, in which Conroy invited Summers to spend the night.

Too tired to object, Summers accepted the offer. Close to one a.m., he recalls, "I got up to use the loo and the only one I'd seen in the house was downstairs. There's Millington, sitting up in the living room, watching TV." Summers noticed that not far from where Conroy was seated, the "once neatly filed collection of papers lay scattered around—a blizzard of paper, strewn absolutely everywhere." The two men exchanged a second cheerful good-night, and Summers left the following day, "doubting greatly that the Kennedy material had ever existed."

But his saga with Mill Conroy was not over. On March 14, 2007, Summers received an e-mail saying Conroy no longer wanted any participation from him, and accusing him of plotting to steal documents and of "sneaking down stairs to look at my materials." Summers was incensed. "My reputation as a biographer and a journalist was impugned when Millington accused me of pilfering documents." He e-mailed Conroy the next day, refuting his accusations and cautioning him, "Please be aware that dissemination of scurrilous accusations may make you liable to suit," thus ending his involvement with Conroy, Anderson, and the Monroe collection. (When asked about these accusations, Conroy refused to participate further in this article. "He went down a gopher hole," Anderson explained. "You'll never hear from Mill again.")

The Two-Year Itch

"I don't think Anthony Summers really cared about Marilyn Monroe," Anderson says about the brouhaha. "You know, he published a picture of her in the morgue in his book. There's no blood circulation, and she looks terrible."

But by then Anderson was speaking as Monroe's last photographer. He'd begun his career by taking pictures for Surfing World, and then for European Esquire and Premiere. By the time I first spoke with him, he had been photographing Monroe's personal correspondence, her jewelry, her furs, and her handbags for almost two years, and he admitted he had fallen a little bit in love with her, just as all her photographers had. Like Dana Andrews's infatuation with Gene Tierney's portrait in Otto Preminger's 1944 film Laura, Anderson was haunted by the ghost of Marilyn. He was having trouble sleeping at night, at one point he was drinking too much, and on occasion he called Marietta, his wife, "Marilyn." He had decided that the best way to photograph the items in the archive—the 400 canceled checks, the ledgers and memos and letters—was to place them against a backdrop of rose petals. So he was spending his mornings at the Los Angeles Flower Market buying roses, like a hopeful suitor. "Imagine the power of this woman who has been dead for 45 years," Marietta observed, "that I was becoming jealous." Curiously, Laura was one of Monroe's favorite movies. She once gushed to David Raksin, who composed the film's famously seductive theme, that she had seen it at least 15 times. Raksin returned the compliment when he purchased some of Marilyn's furniture at the 1963 auction of her personal effects.

After Summers left the house, Anderson recalls, Conroy turned to him and confessed, "By the way, I sold the rosary beads. For $50,000." Anderson was horrified, and he began to worry about the fate of the collection. What else had been or was being sold off? And where were the Kennedy and DiMaggio letters—if they had ever existed? According to Anderson, Conroy claimed he had flown to Miami to search for them in Matthews's garage. But Matthews says that, as far as he knew, Conroy had never come to Miami to search for letters. (Matthews did, however, sell the rosary beads for Conroy. "He was kind enough to entrust me with certain personal items of Marilyn's," he told Vanity Fair.)

Seven months later, Lois Banner entered the picture. Banner is a professor of history and gender studies at the University of Southern California. Born in Los Angeles, she is a lively woman with light-blond hair, a quick laugh, and an easy manner. She lectures on Monroe in her classes at U.S.C. and was quoted in a January 2007 L.A. Weekly story about the Marilyn Monroe fan-club phenomenon in Los Angeles. The article caught the attention of Conroy and Anderson, who invited Banner—"the Professor," as Anderson calls her—to examine the archive and consider collaborating with them on their book project. They are an unlikely pair, this energetic 64-year-old professor with a shelf full of scholarly books and this photographer from Australia with his Mad Max swagger. Anderson "tried reading one of Lois's books. I didn't understand one word," he says. "It was like 'the idea of the concept was obtusely literal' … that kind of thing. I fell asleep in a minute. But don't get me wrong, I love her." And Anderson's work on the Monroe archive has earned him Lois Banner's admiration. "Mark is very smart," she tells me. "He's an incredible researcher. He would've made a great scholar—he knows where to dig." And so the two of them—the professor and the photographer—tunneled their way toward Marilyn's buried life.

"The minute I saw Mark's photographs," Banner recalls, "I knew I wanted to be involved. What I saw in them was a kind of aesthetic beauty that could help put Marilyn into a realm where she would be honored and respected."

The Misfit

On September 23, 2007, I returned to the Conroy house in Rowland Heights. This was my third visit to the archive, but Conroy, though we had spoken on the phone, had yet to make an appearance.

As on my previous visits, Marilyn's artifacts were strewn throughout the living room and on the dining table, ready for their close-up: a diamond-encrusted wristwatch; a tiny porcelain parakeet; a small, army-issue sewing kit likely given to her in Korea; her last, nearly empty bottle of Chanel No. 5, which Inez Melson had plucked from her night table in the early aftermath of her death, according to Conroy. There, too, was a small, square, gold-plated compact, the remnants of her powder intact. The objects were beautiful and now seemed possessed of an eerie glamour.

Banner and I sat down at the kitchen table and began to peruse folders of Marilyn's correspondence and documents while Anderson photographed in the living room. She had worked with him to preserve the entire collection—all 12,000 items—in Mylar sleeves, and had been impressed and unexpectedly moved by what she'd found there. As to the archive's authenticity, she explains, "There's no way one person could have put all this together. This is her handwriting, these were the people she surrounded herself with. Nearly every receipt is here—she kept them for tax purposes. This shows us Marilyn Monroe living her life, one day at a time. It shows us different sides of Marilyn that are not in the biographies. It adds depth and understanding of who she was as a private person."

For example, asks Banner, who knew that Marilyn was planning to write and publish a cookbook? Mary Bass, executive editor of Ladies' Home Journal, had sent her recipes for bouillabaisse and beef Burgundy. And many of Monroe's thank-you notes (dictated by Monroe, with carbon copies on onionskin) reflect her charm and wit. To the German consulate general in Los Angeles, she wrote, "Dear Mr. von Fuehlsdorff: Thank you for your champagne. It arrived, I drank it, and I was gayer. Thanks again. My best, Marilyn Monroe."

There are numerous receipts: for a black boa and a white ostrich boa for $75 each at Rex of Beverly Hills; for thousands of dollars' worth of clothes purchased at the popular clothing store Jax (which specialized in tightfitting slacks that zipped up the back) and at Bloomingdale's, two of her favorite stores; from the Maximilian Fur Company, on West 57th Street, in New York, made out to Mrs. A. Miller, for storing a "White Ermine coat and Black Fox stole trimmed with silk, Ranch Mink coat, White Beaver coat, White Fox stole, Black Fox stole, White Fox stole and White Fox muff," etc. "All the checks she ever wrote are here," says Banner. "You find narratives about her life simply from those checks. She was spending money like a drunken sailor. She loves furs."

Looking through the ledgers, Banner comments, "The amount that she's spending is unreal. She's spending on clothing, and then these salaries for all these people—there's a registered nurse in here, September 26, 1961. That's the point at which she's in very bad shape [emotionally], and [Dr.] Ralph Greenson has private nurses for her around the clock. She fights with them. They all quit. That's why he brings Eunice Murray in. Here's Elizabeth Arden. She goes for facials quite frequently. And then her hormonal shot She goes to somebody's clinic in New York on quite a regular basis."

The ledgers show that Marilyn had a more than $4,000 overdraft when she died, though newspaper accounts at the time credited her with an estate worth roughly $500,000. An inter-office memo from her secretary, Cherie Redmond, reads, "The fewer people who know about the state of MM's finances, etc., the better."

Banner notes that Monroe was "spending outrageously in 1961 and 1962, and borrowing all over the place. She's always on the edge of financial chaos." In a letter dated June 25, 1962, her lawyer Milton A. Rudin warned Marilyn, "I feel obligated to caution you on your expenditures since at the rate you have been making those expenditures, you will spend the $13,000 in a very short period of time and we will then have to consider where to borrow additional monies." According to a year-end cash-receipts-and-disbursements statement, in 1961 Marilyn paid Paula Strasberg $20,000 in addition to buying her 100 shares of AT&T for over $11,000. And a letter from Cherie Redmond notes that in April 1961, Monroe paid Strasberg $10,000 for "4 wks salary MISFITS."

Banner also discovers from Monroe's ledgers that "DiMaggio, as long as they were married, was really generous to her. He gave her money. And you can find that when she was married to Arthur Miller she gave him money. She was basically, for a while, supporting him."

But perhaps the most curious ledger entries are two from May and June of 1953. The first one, for $851.04, was a payment made to Mrs. G. Goddard. Grace Goddard had been Marilyn's legal guardian; she had been Gladys's best friend, and it was she who had brought about Marilyn's marriage at the age of 16 to James Dougherty. The second payment is for $300, and it's also made out to Goddard. Both carry the notation "medical." They could be medical expenses for Goddard—Monroe was generous to a fault—but the possibility does exist that these sums were used to cover an abortion, long a subject of speculation. As Banner noticed, the ledger-entry dates coincided with Monroe's entering a hospital to be treated for endometriosis. In 1953, Monroe's career was soaring; it was the year she and Jane Russell famously planted their handprints in wet cement in front of Grauman's Chinese Theatre. The last thing she needed then was an unwanted pregnancy, in an era when an out-of-wedlock birth would have ended her career.
Other memos and letters settle scores or reveal just how much Monroe sought to be in creative control of her films. For example, Monroe and Tony Curtis were not simpatico on the set of Some Like It Hot; he described their steamy romantic scenes as akin to "kissing Hitler." Apparently, Curtis also left her cold: she hadn't wanted him as her co-star from the beginning. Minutes of a business meeting that took place on April 3, 1958, in her and Arthur Miller's Manhattan apartment, in the Sutton Place neighborhood, describe a discussion with two of her agents, Mort Viner and MCA president Lew Wasserman, about casting preferences for Some Like It Hot: "She is waiting for Sinatra to enter the picture. She still doesn't like Curtis but Wasserman doesn't know anybody else."

Also among her files are a handful of photographs. There's a black-and-white snapshot of Norma Jeane—before she became Marilyn Monroe—at Emmeline Snively's Blue Book Modeling Agency, taken in 1945 at the Ambassador Hotel in Los Angeles. Another snapshot shows a shy, slightly plump Monroe sitting on the floor, her legs tucked under her, in an informal class at the Actors Lab, a Los Angeles spin-off of New York's Group Theatre. In 1947, she's already taking her craft seriously, years before she enrolled in the Actors Studio, in New York. "It was my first taste of what real acting in real drama could be, and I was hooked," she said about the experience.

Then there's the dazzling, sun-drenched snapshot of her standing in the passenger's seat of a Jeep. She is dressed in a bomber jacket and looking radiantly happy—as if she were made of light. The photo was taken in Korea when she traveled there to entertain the troops in 1954. "There's no way in the world," Anderson says, "you could know who took that picture." Though she'd posed for all the important photographers of her day, Marilyn always kept this snapshot with her, moving it from handbag to handbag. On the back of the print, she wrote in her deeply slanting handwriting, "I like this one the best."

And there's the grateful letter from Mr. and Mrs. N. T. Rupe, of Tacoma, Washington, the parents of a soldier stationed in Korea, who recounted his words: "Two days ago, Marilyn Monroe played before 12,000 men of this division.… [S]he appeared in a low cut, sheathe dress of purple glittery sort of material. She is certainly beautiful!!! When she appeared on the stage, there was just a sort of gasp from the audience—a single gasp multiplied by the 12,000 soldiers present." (It was upon her return from this exhilarating trip to Korea that Monroe had exclaimed to her husband, DiMaggio, "Joe, you never heard such cheering!" To which the fabled Yankee slugger replied, "Yes, I have.")

Her correspondence reveals her genuine interest in politics. In the carbon copy of a March 29, 1960, letter written to Lester Markel, then Sunday editor of The New York Times, she playfully flirts with him while discussing various presidential candidates:

Lester dear, …

About our political conversation the other day: I take it back that there isn't anybody. What about Rockefeller? … [Adlai] Stevenson might have made it if he had been able to talk to people instead of professors. Of course, there hasn't been anyone like Nixon before because the rest of them at least had souls! …

P.S. Slo[g]ans for late '60:

"Nix on Nixon"
"Over the hump with Humphrey (?)"
"Stymied with Symington"
"Back to Boston by Xmas—Kennedy"
Some of the most compelling items from the files are tender and funny letters she wrote to Bobby and Janie Miller, Arthur Miller's two children from his first marriage. In one letter to "Bobbybones," Monroe describes her first meeting with Robert Kennedy:
Oh, Bobby, guess what: I had dinner last night with the Attorney-General of the United States, Robert Kennedy, and I asked him what his department was going to do about Civil Rights.… He is very intelligent, and besides all that, he's got a terrific sense of humor. I think you would like him. Anyway, I had to go to this dinner last night as he was the guest of honor and when they asked him who he wanted to meet, he wanted to meet me.… [A]nd he isn't a bad dancer either.
Sometimes, Marilyn endearingly writes in the voice of Hugo, the family's basset hound, as in the following letter to "Janie":
How is my own Mommie? Boy, was I glad to get your letter written only to me! Of course Daddy and Marilyn have been telling me things from your other letters and Bob's too, about what you have been doing at Camp … I have missed you something awful.… But Janie, I really am trying to be a good dog—one that you would be proud of.… I haven't even set one of my four feet on any of the flowers that Daddy and Marilyn planted and I just love them. I sit in the sunshine just smelling them.

Neither letters from Arthur Miller, at one time said to have been contained in a locked brown suitcase, nor letters from DiMaggio have ever turned up. If such letters did exist, where are they now? Perhaps Lee Strasberg returned them to their authors, or Inez or her sister-in-law, Ruth, might have sold them.

But what does exist in the archive is an undated, typed transcript that seems to be recounting Arthur Miller's musings about Marilyn. He recalls their first meeting, sometime in 1951, and goes on to describe her as a blessing in his life: "As a result of knowing her, I have become more of myself." He describes their domestic life together, noting that she is a perfectionist, an inspired gardener, and "a marvelous cook, even though she never had any training."

He also observes, "The extraordinary thing about her is that she always sees things as though for the first time." It was her sense of wonder that made her so alive to millions of moviegoers, he believes. Miller considers it a misfortune that Monroe never had a great role to play, a dilemma he set out to correct with his screenplay The Misfits. "I did not write it specifically for her," he notes, but he describes the role of Roslyn, the child-like divorcée Monroe embodies so passionately in the 1961 film, as a difficult part that would challenge the greatest actresses. "But I do not think of anybody who could do it the way Marilyn would," he adds.

Miller had a profound influence on his wife, reflected in a receipt found in the archive. It was not "Marilyn Monroe" who had walked into Martindale's Book Store in Beverly Hills and bought The Life and Work of Sigmund Freud in three volumes; it was "Marilyn Monroe Miller." She was proud of being the wife of one of America's most respected intellectuals.

Also found in the archive is a letter from Grace Goddard that describes Gladys's confusion and paranoia: "She thinks she was sent to State Hospital because years ago she voted on a Socialist Ballot Sleeps with her head at the foot of bed so as not to look at Marilyn's picture—they disturb her Wishes she never had had a sexual experience so she could be more Christ like." Also preserved is an envelope addressed by Gladys to Christian Science Nursing in Boston, containing three razor blades. Why had Monroe kept these reminders of her mother's mental illness?
There is a letter from Inez Melson to Joe DiMaggio, dated September 6, 1962—a month after Monroe's death—which questions the circumstances surrounding her last will. She asks DiMaggio to help her find out where Marilyn went on January 14, 1961, "the date on which our baby purportedly executed her will," by tracking down car-rental charges. "I know it sounds like a 'Perry Mason' television script but I am (between thee and me) very suspicious about that will."

Marilyn never completely stopped caring about DiMaggio. In a letter found on a dresser top or in a drawer near her bed (she often jotted down her thoughts on fragments of paper before going to sleep), she wrote, "Dear Joe, If I can only succeed in making you happy—I will have succeeded in the bigest [sic] and most difficult thing there is—that is to make one person completely happy." Lois Banner believes, however, that the DiMaggio letter "proves nothing. Marilyn had a major habit of telling people what they wanted to hear."
Something's Got to Give

On September 4, 2007, Mark Anderson drove downtown to the Los Angeles Superior Court Archives & Records Center, those cavernous, sub-basement storehouses, to look through the summaries of a 1994 lawsuit by Anna Strasberg over Monroe memorabilia that Conroy had given to an auction house to sell. Conroy had claimed the suit was settled in his favor.
The previous day, September 3, Anderson had gone to Conroy's house and found the alarm off, the door to the filing-cabinet safe ajar, and papers strewn on the floor. His stomach lurched—had there been a robbery? But on closer examination he found that all the binders were intact, and that the documents on the floor referred to the court case. Looking through them, he discovered that Conroy had in fact lost that suit. He had been ordered to hand over his collection to the legal heirs of Monroe's estate, now represented by Anna Strasberg's 37-year-old son, David. But, after testifying that he had "no other documents or items relating to Marilyn Monroe," Conroy had kept back the two filing cabinets and their contents, as well as furs, jewels, and handbags that he believed were rightfully his. After all, Conroy told Vanity Fair, as a teenager he had helped Joe DiMaggio "unload the brown file cabinet in '69 when he brought it up to my aunt's house."

Anderson's trip to the records center confirmed his suspicions: it seemed to him it was all supposed to have been returned to the Strasbergs. He was furious with Conroy. "I felt like going over there and just doing something bad to him—I know martial arts, I hold several belts," Anderson says, his voice getting louder as he relives the moment.

Anderson says he confronted Conroy at the Rowland Heights house. "So this shit isn't yours?" he demanded.

"Oh, yes, it is," Conroy insisted, according to Anderson. "Other stuff I had at the time the court decided I had to hand back, but I got to keep all of this. Basically, there was an estate sale, and my cousin went down to the auction and bought the gray cabinet. The brown cabinet, the one in the garage, was a gift from Joe DiMaggio."

That night Anderson called Dr. Banner. "They're going to come after him," he told her. "The Strasbergs don't know Mill has this stuff. They're going to nail him to a cross."

It was at that point that Banner approached the Monroe estate, requesting a meeting. "The meeting with David [Strasberg]," she said recently, "was triggered by the letter I wrote to him and to Anna Strasberg on U.S.C. letterhead, about the Conroy collection. I enclosed my vita with all my scholarly credentials. That was our first official communication to them. I subsequently called Anna Strasberg on the phone. She was very gracious, but she had bronchitis and sounded weak. She told me that David was in charge, so I called him and set up the appointment for Mark and me."
The meeting took place at one p.m. on October 10, 2007, at David Strasberg's office at the Lee Strasberg Theatre and Film Institute on Santa Monica Boulevard in West Hollywood. On their way to the meeting, they walked past the Marilyn Monroe Theatre—part of the institute. At the meeting, Strasberg surprised Anderson and Banner by telling them that he already knew about Conroy—he had received an anonymous letter about him several weeks earlier.

Strasberg went on to explain that the estate received many such letters from envious collectors, trying to knock one another off by informing them that, in Anderson's words, "such and such a collector is in possession of stolen property." At one point, Strasberg asked Anderson if he had written the letter. "I could see that he suspected Mark had sent it," Banner recalls, "but he didn't seem to mind." Anderson said no, he hadn't.

The Strasbergs must have been grateful to learn about the existence of the file cabinets, because they were having their own troubles regarding the Monroe estate. As recently as October 28, 1999, the estate earned more than $13.4 million in sales from a two-day auction of Monroe's personal property at Christie's International at 20 Rockefeller Plaza, in Manhattan. A standing-room-only crowd had filled the 1,000-seat James Christie Room for an auction known as "The Sale of the Century." Marilyn's beaded Jean Louis gown, worn when she sang "Happy Birthday" to President Kennedy, went for $1,267,500, including commission, setting a record for a single item of clothing (outdistancing the paltry $222,500 paid for one of Princess Diana's gowns in 1997). Monroe's wedding ring from DiMaggio (a platinum eternity band with 34 diamonds) sold for $772,500, and Marilyn's treasured piano—a white lacquered grand that had been rescued by Marilyn from an auction house after her mother was institutionalized—went for $662,500 to Mariah Carey. Anna Strasberg had sipped champagne and watched the feeding frenzy on closed- circuit television while collectors and celebrities—including Demi Moore, Tony Curtis, designer Tommy Hilfiger, Massimo Ferragamo (chairman of Ferragamo USA), at least one Marilyn Monroe impersonator, and Ripley's Believe It or Not!—ogled and bid on Marilyn's treasures.

But by October 2007 the estate was embroiled in a bitter lawsuit with the heirs of some of Marilyn's photographers over licensing rights to thousands of photographs of Marilyn. Crucial to the suit was the question of her legal residence at the time of her death—the answer to which the Strasbergs hoped was in the file cabinets.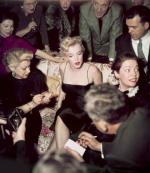 (A photograph by Milton H. Greene taken at his house in 1956. Monroe lived there during the filming of Bus Stop.By Milton H. Greene/© 2008 Joshua Greene/ archiveimages.com).
The California Senate Bill No. 771, jokingly known as "the Dead Celebrities Bill," was passed without objection and signed into law in October 2007 by another former movie star, Governor Arnold Schwarzenegger, extending the ability of all celebrities to confer publicity rights for their image after their death, provided they were residents of California. (Prior to then, judges in two federal cases had ruled that only those who died after December 31, 1984, could bequeath rights of publicity.)

The New York State legislature had tabled a similar bill, despite support from Al Pacino and the widow of baseball legend Jackie Robinson. So establishing Monroe's legal residence—whether 444 East 57th Street in New York City or 12305 Fifth Helena Drive in Los Angeles—became critical in determining whether the Strasbergs had the right to control Marilyn's image.

At this point Anderson and Professor Banner became concerned that Conroy might attempt to sell the archive rather than risk having to surrender it to the Strasbergs. In late October, Anderson explained, "David Strasberg went around to Mill's house with two lawyers, and apparently Mill was upset and kept saying, 'I don't know why Mark and Lois did this to me. I'd never sell! Why would I do that?' It was really funny, because there was a little note in his handwriting on the back of a white envelope that said, 'Sell to [autograph dealer] Todd Mueller for 3 million.' " At one point, Anderson claims, Conroy "looked me straight in the face and told me to kill the Vanity Fair piece. That meant only one thing: he was going to sell [the collection]."
On January 9, Todd Mueller, president of Autographs by Todd Mueller, Inc., confirmed that Conroy had indeed contacted him about selling the collection. "It sounded like he had some amazing stuff," said Mueller, "including the half-drunk bottle of champagne she used to wash the pills down that night. But I told Mill, 'Make sure you have clear title to all this because I don't want to deal in stolen products. I don't want Anna Strasberg to come after me.' "
Let's Make It Legal

On October 25 the Monroe estate sued Conroy in Los Angeles Superior Court. They got a court order to take possession of his entire collection: the two file cabinets and their contents, the furs, jewelry, and handbags. They carted everything away—in a scene not unlike the unforgettable image of Marilyn's body being wheeled out of her house on a gurney 45 years earlier. A few months after the archive was removed from his home, Conroy finally made peace with the Strasbergs, settling on undisclosed terms with his former adversaries. Mueller believes "Mill realized that he would die with this stuff still in his house if he didn't come to some understanding with the Strasbergs. Because I told Mill, 'I've never seen a U-Haul truck following a hearse.' " The collection now sits in a bank vault in downtown Los Angeles, under 24-hour armed guard.

Anderson and Conroy have completely fallen out. "If this were Reservoir Dogs," Anderson says in his last shot against his nemesis, "Mill wouldn't be Mr. Pink or Mr. White. He'd be Mr. Greed." Anderson told Vanity Fair in late summer that he and Conroy are hoping to come to an agreement of some kind where Conroy will share in the profits of the planned coffee-table book. But Conroy feels betrayed by Anderson. "It was Mark who acted shamefully, betraying my trust when he called in the Strasbergs," he told me in a phone call shortly after New Year's. What he didn't know, however, was just how far Anderson had gone to establish the rightful ownership of the collection. On January 11, I received a phone call from Anderson, in which he somewhat sheepishly admitted, "I'm going to tell you something. I wrote that anonymous letter to David Strasberg. I was scared, and I was furious at Mill."

As for Professor Banner, caught in the middle, she hopes that the collection will eventually be housed in a university library or a museum: "I like to think that Marilyn would be grateful to us for preserving all this material and not having the vultures go after it." Anna Strasberg agrees with Banner that, "as more material is collected that belongs to her estate, we can see more of the real Marilyn and not the caricatures.… My husband, Lee," she adds, "was her teacher, her mentor, but most of all Marilyn's friend. I am not only protecting her legacy and image; I am honoring my husband's wishes."
As of March 2008, however, a ruling was issued in the U.S. District Court in Los Angeles that may curtail the Strasbergs' control of Marilyn Monroe's posthumous image. In the suit brought by photographers hoping to reproduce images of Monroe without paying licensing fees, Judge Margaret Morrow decided that because in the 1960s the Monroe estate had claimed New York residency for tax purposes she became subject to legislation in New York, where her "right of publicity" ended with her death. The Strasbergs plan to appeal the ruling, but until then, Marilyn Monroe—at least in California—seems to belong freely to the public.

It's possible that the letters from T. S. Eliot to Marilyn Monroe—though still missing—are genuine. The great poet, after all, was also a playwright who loved the theater, and he met and corresponded with Groucho Marx. Could the signature "Gookie" or "Googie" have been a playful reference to Eliot's cat Georgie?

The Kennedy letters remain a mystery. Mark Anderson insists that he once held them in his hands, describing them as "polite, practically bread-and-butter notes from Hyannis and the Kennedy White House." He also recalls reading a letter written by Marilyn to President Kennedy, about how handsome he had looked on television, in his presidential leather jacket, watching naval maneuvers from the deck of a ship. If there are Kennedy letters to Marilyn—and I believe that there might well be—they have been kept safe by someone in Marilyn's circle. Because—come closer—when Inez Melson was going through Marilyn's papers in the house on Fifth Helena Drive, Marilyn's New York apartment was absent its famous tenant, and papers kept there were similarly removed after her death. Could one of Monroe's New York friends have entered her apartment on August 5, 1962?
Like a movie run backward, we always begin with Marilyn Monroe's death. It throws its eerie light on everything that came before it—it might even be how we've come to watch her films and study her in still photographs. But, for now, the last clues to Marilyn Monroe's life—and to the mystery of her death—remain locked in a bank vault in the city of lost angels, the city of her star-crossed birth.

Sam Kashner has written about Sammy Davis Jr., Natalie Wood, and the movie The V.I.P.s for Vanity Fair.