09 avril 2017
Nicky Wire et Richey James Edwards sont les guitaristes et paroliers du groupe de rock anglais (gallois) Manic Street Preachers. Dans les séances photos ou en concert au début des années 1990s, ils ont tous deux fait des références à Marilyn:
> Mai 1991: photographie de Marilyn
sur Nicky Wire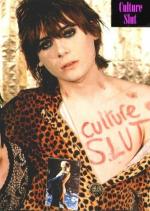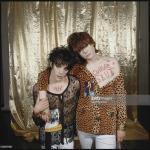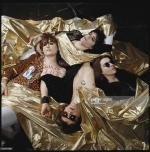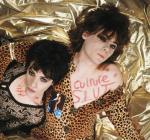 photographies de Kevin Cummins, qui raconte:
Later I shot them for their first NME cover.
I loved the trash aesthetic of the band. It was all very obvious: Marilyn Monroe, Andy Warhol, and Jane Mansfield - tragic blondes. My idea was to shoot them lying on gold lamé cloth.
I wanted it to look slightly tacky, camp. They arrived at the studio sporting several fresh love bites. Richey told me that they'd been to some club the night before and asked girls to bite them in order that they'd look sleazier for this, their most important photo session to date. I wrote 'Culture slut' on Nicky Wire's chest in lipstick while Richey stared at himself in the mirror and scratched three letters into his neck with a school compass: VIH. I asked him what it meant.
"Don't you know what HIV is?" he asked.
"Er, yes. But you've written it back to front."
> 1992: tatouages éphémères de Marilyn
sur Richey Edwards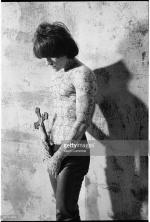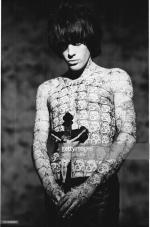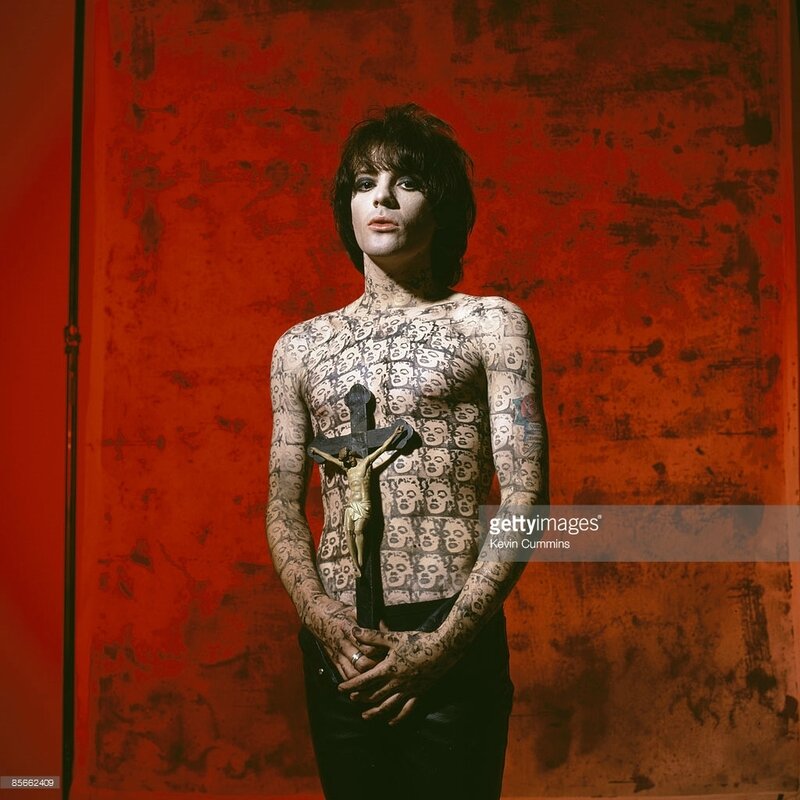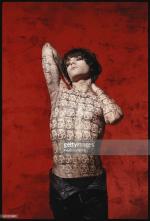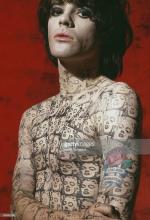 photographies de Kevin Cummins
> tee-shirt Marilyn façon Warhol
porté par Richey Edwards, en concert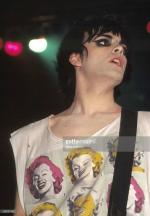 > tee-shirt Marilyn
porté par Nicky Wire

> 1994: veste mexicaine inspirée de celle portée par Marilyn
portée par Richey Edwards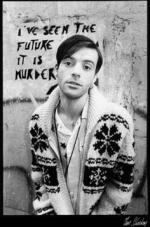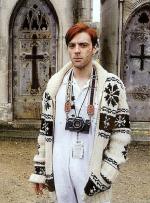 Richey Edwards a disparu en février 1995, à l'âge de 27 ans (fuite volontaire, suicide, accident, sa disparition demeure inexpliquée). Torturé, solitaire, s'adonnant à l'automutilation parfois de manière extrême, bien qu'il évoquait dans les interviews son état dépressif, il déclamait pourtant à son entourage qu'il n'était pas suicidaire. Il a été déclaré officiellement mort en 2008 et est devenu une figure de référence pour tous les jeunes mal dans leur peau souffrant de dépression, d'alcoolisme, d'anorexie et d'auto-mutilation, car il fut l'une des premières et rares personnes à évoquer publiquement de ses problèmes avec humilité.
21 janvier 2017
Hand-Knitted Cardigan
'The Mexican Jacket'
Cardigan tricoté main
"Le gilet mexicain"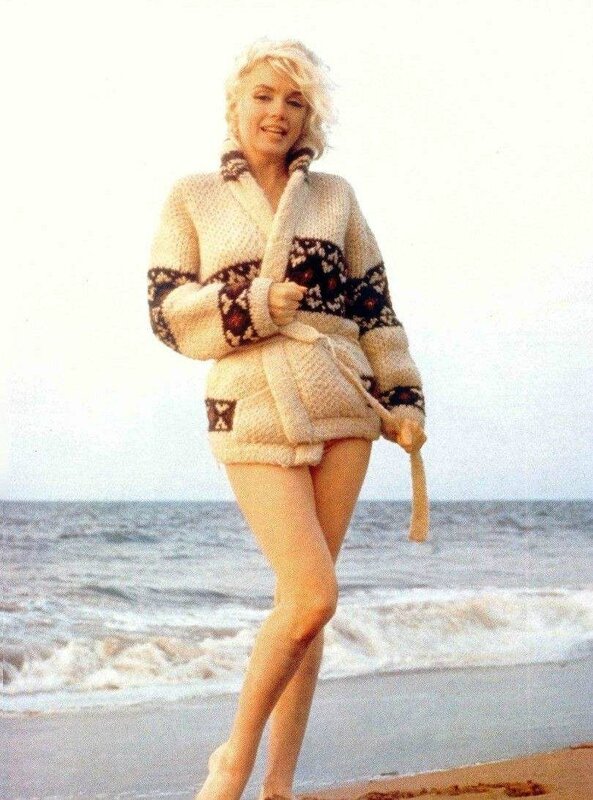 C'est un gilet long de laine couleur blanc crémeux, avec une bande de motifs géométriques de couleur noir et marron foncé au centre du buste, au col et sur les manches. Il se ferme à la taille avec une large ceinture.
Il s'agit d'un gilet de la garde robe personnelle de Marilyn Monroe. Elle l'a acheté durant son séjour au Mexique en février 1962; c'est en faisant du shopping à Toluna avec Eunice Murray, sa gouvernante qui l'accompagne, pour trouver des idées d'ameublement pour sa maison de Brentwood qu'elle vient d'acheter, qu'elle tombe sur ce gilet. Eunice Murray racontera plus tard (en 1975) l'anecdote: Marilyn aurait remarqué une pile de gilets 'faits mains' dans une petite boutique et aurait dit: "Je pourrai porter ça les fraîches matinées quand je dois quitter tôt la maison". Elle achète donc le gilet pour la modique somme de 130 pesos (à peine 6 €).
Marilyn est vue avec le gilet le 1er juin 1962, le jour de ses 36 ans: après une journée de tournage et une petite fête d'anniversaire improvisée sur le plateau de "Something's Got to Give", elle quitte le plateau de la Fox en compagnie de l'acteur Wally Cox, vêtue d'un pantalon blanc de coupe droite, de la toque de fourrure qu'elle porte dans le film et du gros gilet. Elle se rend à une soirée de bienfaisance (un match de base-ball dont les bénéfices sont reversés au profit de la dystrophie musculaire).
Elle choisit le gilet dans sa garde robe pour la séance photos qu'elle tient avec le photographe George Barris (fin juin et début juillet 1962). Lors de la séance photos du 13 juillet 1962 qui se tient sur une plage de Santa Monica où elle pose en maillot de bain et serviette verte, elle enfile le gilet vers la fin de la journée.
Les fans de Marilyn portent une certaine fascination pour le gilet. Il faut dire que c'est un gilet qui peut être porté aussi bien par les femmes que par les hommes. Et il traverse les époques, restant ainsi intemporel et classique, avec une touche d'originalité par ses motifs à connotation mexicaine. De par son prix (à l'origine) abordable, il s'en est beaucoup exporté et a rencontré un grand succès, se vendant en grand nombre. Des firmes mexicaines en ont alors produit de multiples versions. Dans les années 1970s, il est devenu très populaire, approprié par la jeune génération qui le portait sur des Tee-Shirts et jeans. Ce type de gros gilet est resté un basique des gardes-robes jusqu'au début des années 1980s, pour revenir à la mode au milieu des années 2000s.
Le gilet de Marilyn est vendu aux enchères organisées par Christie's en 1999 à New York: acheté 130 pesos par Marilyn, estimé entre 30 000 et 50 000 $ aux enchères, il est finalement vendu pour la somme de 167 500 $ et est aujourd'hui la propriété de la société Ripley's Believe It Or Not, qui regroupe toutes sortes d'objets étranges, et tient plusieurs musées à travers le monde (Hollywood, Londres, Australie ...).
> Gilet présenté par Christie's lors des enchères de 1999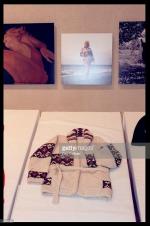 > Le gilet sur une statue de cire Marilyn d'un musée 'Ripley's Believe It or Not':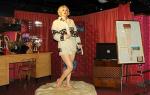 ---
Inspirations
> 1963 - L'actrice italienne Claudia Cardinale

> Vers 1967 - Le groupe de rock américain
The Big Brother and the Holding Company (avec Janis Joplin):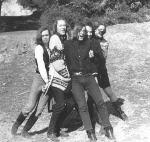 > Début 1970s -
Brigitte Bardot et son compagnon Laurent Vergez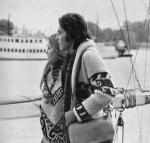 > Année 1969 - tournage de "Madly"
L'acteur Alain Delon et sa compagne Mireille Darc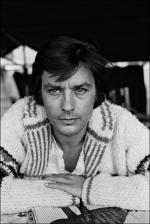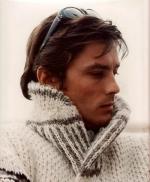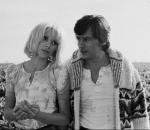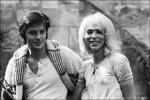 > 1975-1979 - La série américaine Starsky et Hutch
Paul Michael Glaser (Starsky) et David Soul (Hutch)
Starsky va populariser le gilet dans les années 1970s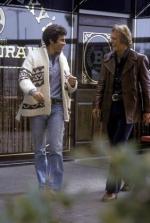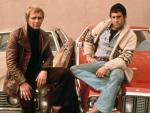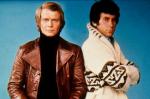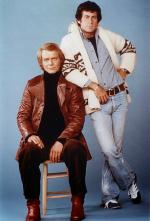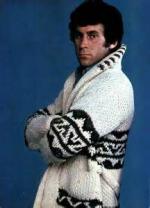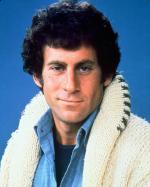 > 1970s - Magazine de couture Sirdar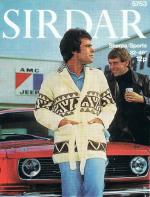 > 1980s - La mannequin "Marilyn Looklike" Linda Kerridge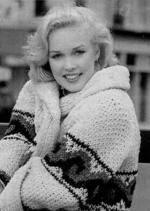 > 1980s - L'acteur Jon-Erik Hexum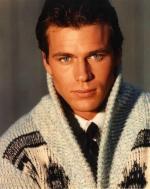 > 1980s - L'actrice et mannequin Margaux Hemingway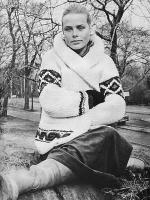 > 1994 - Le guitariste Richey James Edwards (Manic Street Preachers)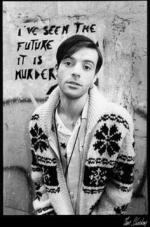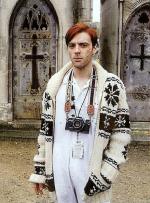 > 1998 - Jeff Bridges dans le film "The Big Lebowski"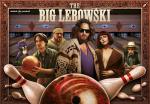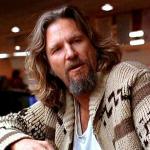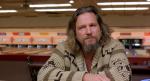 > 2004 -L'adaptation au cinéma de Starsky et Hutch
Ben Stiller (Starsky) et Owen Wilson (Hutch)

> 2013 - La chanteuse française Jenifer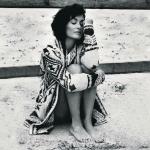 ---
© All images are copyright and protected by their respective owners, assignees or others.
copyright text by GinieLand.
Enregistrer
Enregistrer
Enregistrer
Enregistrer
Enregistrer