07 août 2019
Séance du siège en osier
Sitting of the Wicker Chair
---
La séance "en osier" de Marilyn Monroe photographiée par Milton Greene à New York en septembre 1954 la représente assise sur un siège en osier.
The "Wicker" sitting of Marilyn Monroe photographed by Milton Greene in New York in September 1954 depicts her sitting on a wicker chair, called peacock chair.
Milton Greene la photographie le 10 septembre 1954 pour la désormais célèbre séance en tutu de ballerine, où Marilyn prend appui, puis s'asseoit sur un siège en osier.
Milton Greene photographs her on September 10, 1954 for the now famous ballerina session, where Marilyn leans and sits down on a wicker seat.
---
Marilyn reprendra la pose dans un siège en osier blanc, sous l'objectif de Cecil Beaton et de son assistant Hans Knopf le 22 février 1956 à l'hôtel Ambassador de New York.
Marilyn will strike a similar pose in a white wicker chair, photographed by Cecil Beaton and his assistant Hans Knopf on February 22, 1956 at the Ambassador Hotel in New York.
---
Il s'agit de fauteuils d'origine Tahitienne, appelés fauteuils Pomare. Avec son allure de "trône", qu'il tient de ses origines car était l'assise des rois de Tahiti (la dynastie des Pomare, d'où il tient son nom), il fait son apparition à la fin du XIXème siècle, quand le prince Hinoï, neveu de Pomare V (le dernier roi de la dynastie des Pomare), meurt dans l'un de ces fauteuils.
Mi-élégant, mi-décontracté, son dossier est plus ou moins haut et évasé, l'osier est travaillé et ajouré par des lignes entrelacées formant des jeux géométriques, figuratifs ou non.
These are chairs of Tahitian origin, called Pomare armchairs. With its appearance of "throne", which it holds from its origins because it was the seat of the kings of Tahiti (the Pomare dynasty, from which it takes its name), he made its appearance at the end of the XIX century, when Prince Hinoï, nephew of Pomare V (the last king of the Pomare dynasty), dies in one of these armchairs.
Mid-elegant, half-relaxed, with its backrest is more or less high and flared, the wicker is worked and perforated by intertwined lines forming geometric shapes, figuratives or not.
---
Hollywood et le cinéma européen, autant que les photographes, vont se l'approprier; déjà au début du XXème siècle (dès les années 1920s), des femmes sont photographiées assises dans un grand siège en osier.
Hollywood and european cinema, as much as photographers, will appropriate it; already in the early twentieth century (years 1920s), women are photographed sitting in a big wicker seat.
- Katharine Hepburn, 1935 -

- Mary Astor, 1937 -

---
Peu d'hommes sont photographiés assis dans une chaise en osier; ce petit fauteuil reste principalement "féminin" dans l'iconographie.
Few men are photographed sitting in a wicker chair; this little chair remains mainly "feminine" in the iconography.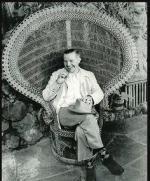 ---
L'assise du fauteuil en rotin va devenir un accessoire très utilisé dans la photographie mettant en scène les plus belles femmes du monde entier: actrices, chanteuses et mannequins.
The seat of the rattan chair will become a widely used accessory in the photography featuring the most beautiful women in the world: actresses, singers and models.
- Natalie Wood, 1960s -

- Virna Lisi, 1960s -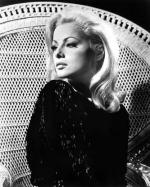 - Carolyn Jones, "The Addams Family", 1965s -

- Jean Shrimpton & Cecil Beaton, 1965 -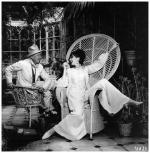 - Claudia Cardinale - 1960s -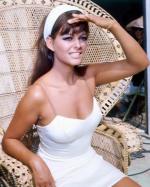 - Audrey Hepburn, septembre 1966, William Klein -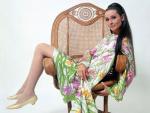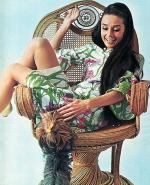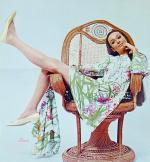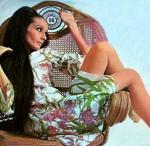 - Hailey Mills, 1967 -

- Sharon Tate, 1967s -

- Marlène Jobert, 1968 -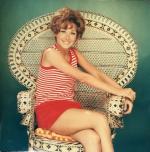 - Marianne Faithfull, fin 1960s -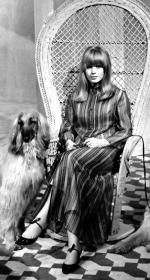 ---
L'actrice Sylvia Kristel va érotiser le fauteuil en rotin: elle y est représentée dénudée sur l'affiche du film érotique français Emmanuelle en 1974 (film qui va connaître un succès mondial). A partir de cette photographie iconique qui va devenir culte, le fauteuil en rotin devient alors indissociable de la féminité et la sensualité et l'incarnation des moeurs libérées et de la vie de bohème des années 1970s; et il est désormais nommé et connu sous le nom du "fauteuil d'Emmanuelle" !
The actress Sylvia Kristel will eroticize the rattan armchair: she is represented naked on the poster of the French erotic film Emmanuelle in 1974 (a film that will be a worldwide success). From this iconic photograph that will become cult, the rattan armchair becomes inseparable from femininity and sensuality and incarnation of liberated mores and bohemian life of the 1970s; and it's now named and known as the "Emmanuelle's chair" !
- Sylvia Kristel, "Emmanuelle", 1974 -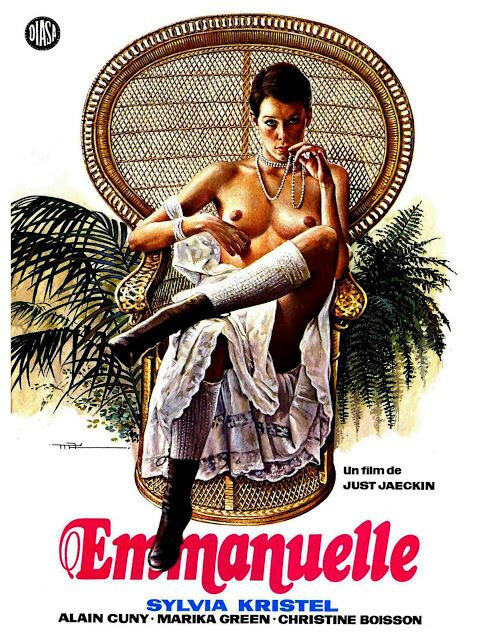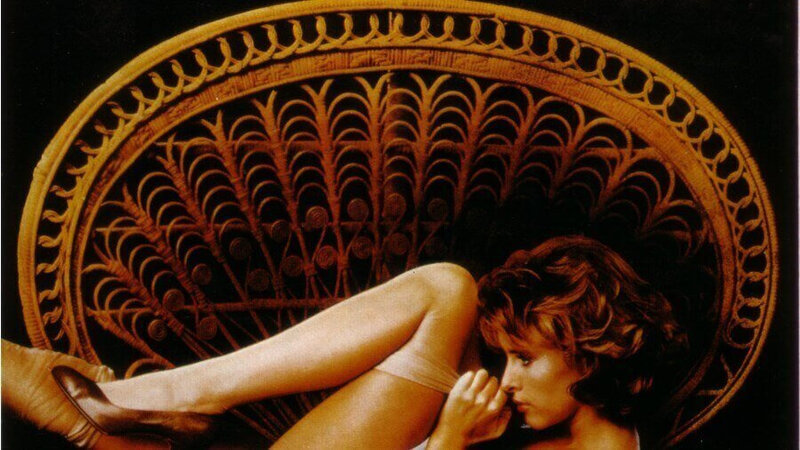 ---
- Dolly Parton, 1970s -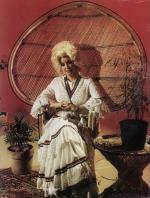 - Françoise Hardy, 1970s -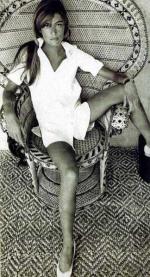 - Suzanne Somers, 1970s -

- Juliet Prowse, danseuse et actrice, 1970s -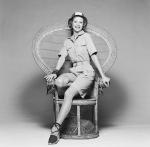 - Al Green, 1972, illustration de son album -

- Romy Schneider en famille 1979 -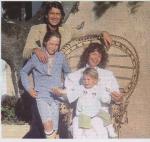 - Michelle Obama, 1980s -

- Ornella Mutti, 1980s -

- David Bowie, 1980s -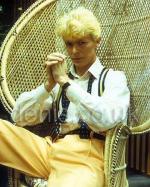 - Kate Bush, 1980s -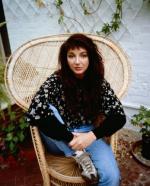 - Marc Bolan, 1983, illustration de son album -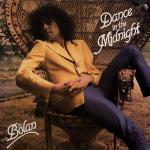 ---
Dans les années 2000s et 2010s, des mannequins sont représentées assises dans un siège en rotin pour souvent illustrer une mode à tendance hippie ou folk. Le fauteuil reste indémodable dans les intérieurs à tendance déco, qu'il soit placé dans une chambre ou dans un salon, ou à l'extérieur sur une terrasse ou dans une véranda, et comporte des connotations bohèmiennes d'authenticité, par son aspect vintage et de sensualité par l'imagerie d'Emmanuelle.
In the years 2000s and 2010s, models are represented sitting in a rattan seat to often illustrate a trend with hippie or folk tendency. The armchair is timeless in deco-style interiors, whether in a bedroom or in a living room, or outside on a terrace or veranda, and has Bohemian connotations of authenticity, with its vintage look and sensuality through Emmanuelle's imagery.
- Madonna, 2000s -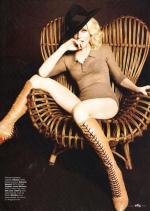 ---
All photos are copyright and protected by their respective owners.
copyright text by GinieLand.
26 septembre 2015
Robe de cocktail en satin noir
Black Satin Cocktail Dress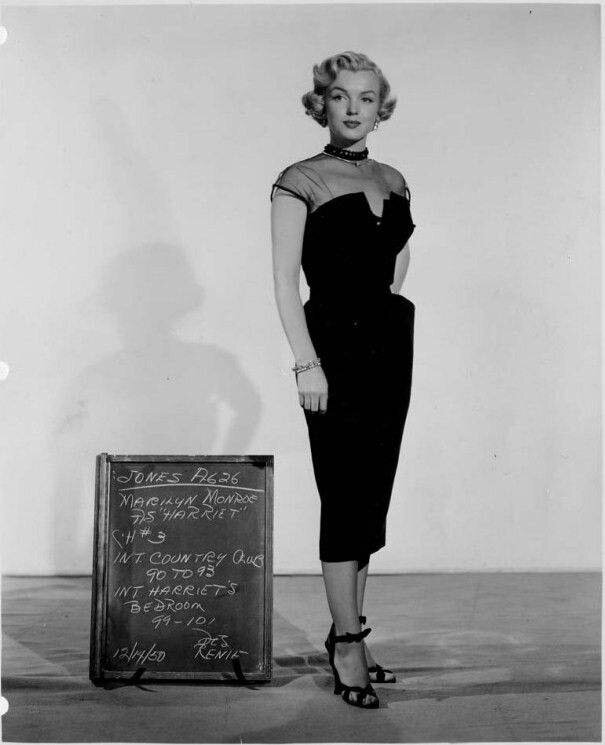 Cette robe a été conçue par la créatrice américaine Renie Conley, dîtes Renié, qui créa de nombreuses tenues pour le cinéma -pour près de 188 films- de 1937 à 1981, dont des tenues pour Elizabeth Taylor dans Cléôpatre en 1964, qui lui a valu l'Oscar de la meilleure création de costumes.
This dress was designed by the American designer Renie Conley, known as Renié, who created numerous outfits for the cinema - for nearly 188 films - from 1937 to 1981, including outfits for Elizabeth Taylor in Cleopatra in 1964, which earned her the Oscar for best costume design.
---
Marilyn et la robe
Marilyn and the dress
---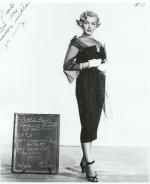 Marilyn Monroe porte cette longue robe noire satinée aux manches courtes, au décolleté transparent et à la forme de bustier fermé par une cocarde, pour le film As young as you feel (Rendez-moi ma femme) en 1951. Elle en fit les essais costumes le 14 décembre 1950 (voir photo ci-contre). C'est une robe de coupe droite simple et glamour, qui dessine les courbes du corps sans être moulante, ressérée à la taille par une fine ceinture noire, chic et classique, aux aspects intemporels qui reste encore aujourd'hui moderne. Marilyn la porte avec des sandales ouvertes noires. Dans le film, elle accessoirise la robe d'un foulard de mousseline de soie transparent et pailleté, d'un collier noir ras de cou, de deux fins bracelets au poignet droit et d'une paire de gants blancs.
Marilyn Monroe wears this long satin black dress with short sleeves, a transparent neckline and the shape of a bustier closed with a cockade, for the film As young as you feel in 1951. She did the costume tests in December 14, 1950 (see photo opposite). It is a simple and glamorous straight cut dress, which draws the curves of the body without being tight, tightened at the waist by a thin black belt, chic and classic, with timeless aspects that remains modern today. Marilyn wears it with black open sandals. In the film, she accessorizes the dress with a sheer, sequined chiffon scarf, a black choker necklace, two thin bracelets on the right wrist and a pair of white gloves.
---
Marilyn emprunte la robe pour la porter à diverses sorties pendant l'année 1951;
elle porte toujours les mêmes boucles d'oreilles pendantes et le collier noir ras de cou:
Marilyn borrows the dress to wear it to various outings during 1951;
she always wears the same dangling earrings and the black choker necklace:

Le 21 février 1951 à la fête des LOOK awards au Beverly Hills Hotel
Marilyn porte de longs gants noirs en velours;
February 21, 1951 at the LOOK awards party at the Beverly Hills Hotel
Marilyn wears long black velvet gloves;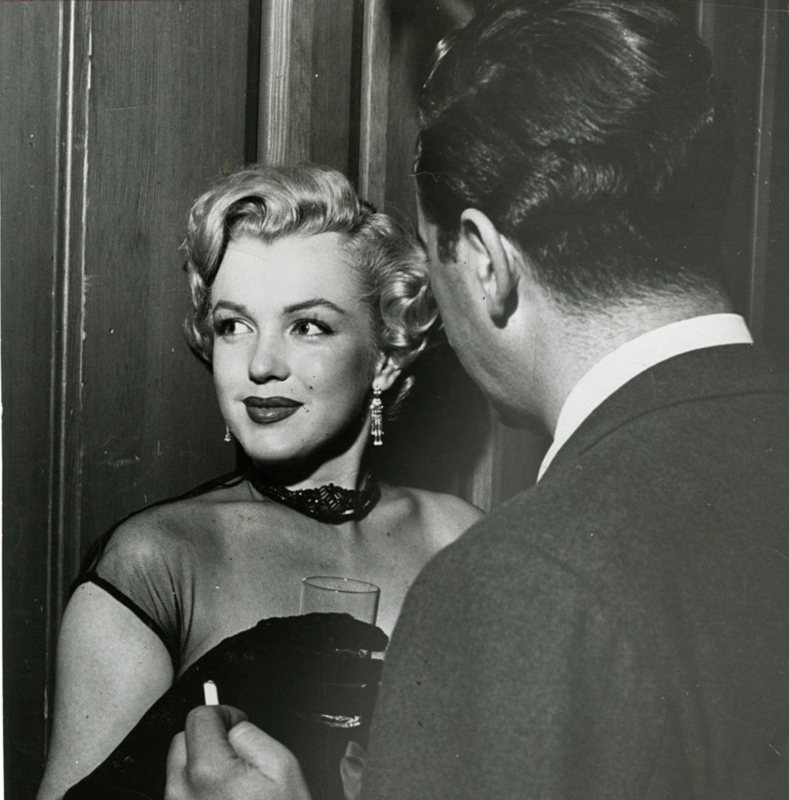 Le 28 février 1951 à la soirée et cérémonie du "Hollywood Foreign Press"
Marilyn porte ses petits gants noirs en satin et une étole en fourrure;
February, 28, 1951 at the Hollywood Foreign Press party and ceremony
Marilyn wears little black satin gloves and a fur stole;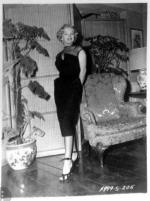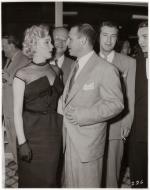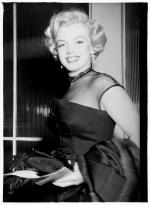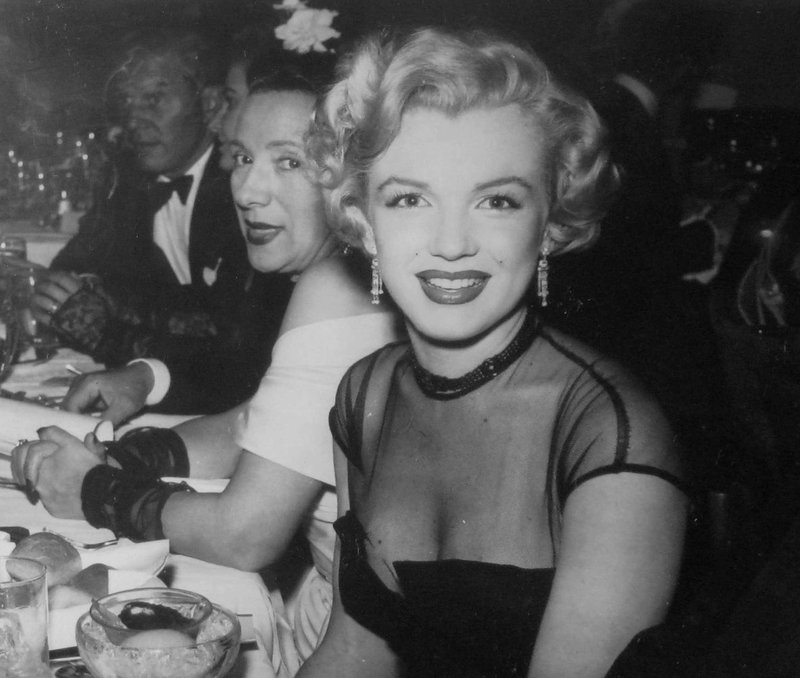 Le 7 juin 1951 au club Cocoanut Grove, à la fête d'anniversaire de Lester Crown;
June 7, 1951 at the Cocoanut Grove club, at Lester Crown's birthday party;

Le 12 juin 1951 en soirée au Ciro's où elle danse avec l'acteur Craig Hill
Marilyn porte de petits gants noirs en satin;
June 12, 1951 in the evening at Ciro's where she dances with actor Craig Hill
Marilyn wears little black satin gloves;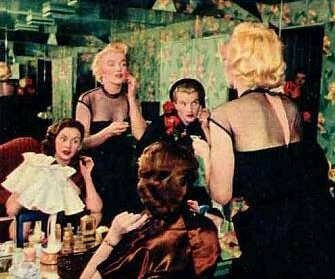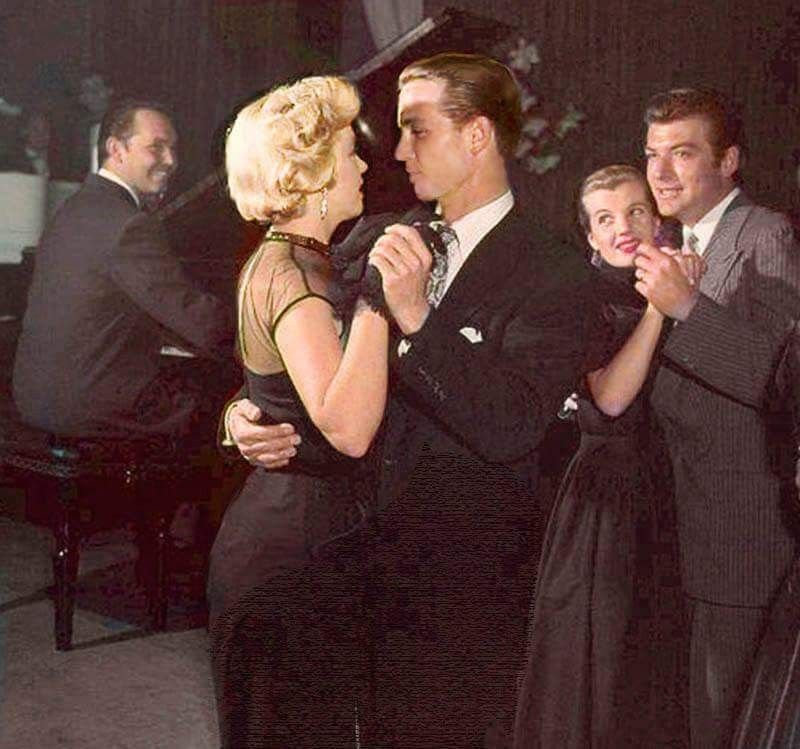 Le 19 juin 1951 pour la visite du navire USS Benham à Long Beach
Marilyn porte encore les petits gants noirs en satin;
June 19, 1951 for the visit of the ship USS Benham to Long Beach
Marilyn wears again the little black satin gloves;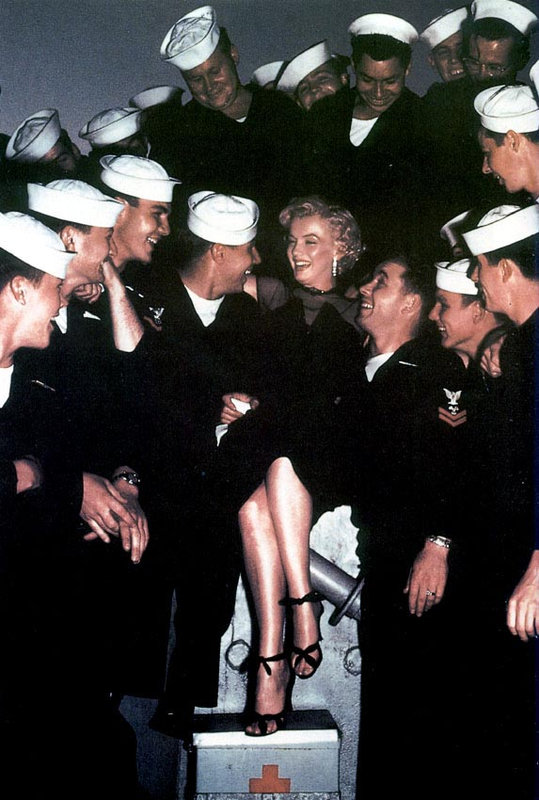 En 1951 à une soirée au Club Mocambo
1951 at a party in Mocambo club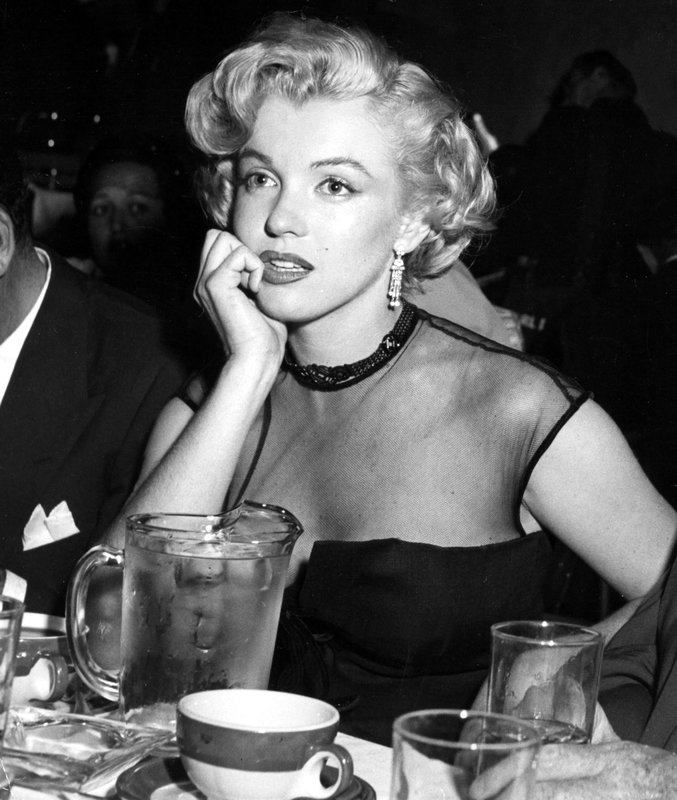 ---
La Robe portée par d'autres
The Dress worn by others
---
On retrouve la robe portée par une autre grande actrice des années 1950s: la brune Ava Gardner, qui porte elle aussi un collier ras de cou mais serti de diamants, et trois bracelets au poignet gauche:
We find the dress worn by another great actress of the 1950s: the brunette Ava Gardner, who also wears a choker necklace but set with diamonds, and three bracelets on the left wrist:

---
Inspirations
- Susan Hayward - 1940s -
robe aux manches longues portée avec un collier ras de cou
dress with long sleeves worn with a chocker necklace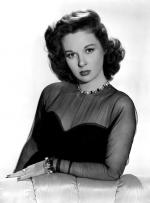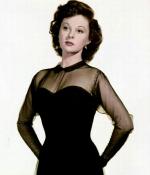 - Jean Peters - 1953 - film Blueprint for murder
robe aux manches longues portée avec un collier de perles
dress with long sleeves worn with a pearl necklace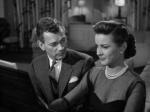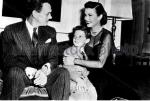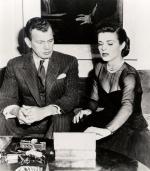 - Jayne Mansfield - 1957 -
robe aux manches longues portée avec un collier de perles ras de cou
dress with long sleeves worn with a chocker pearl necklace

- 10/01/1957: Chrysler's Show of Stars, Jayne & Jack Benny -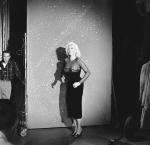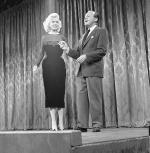 - 13/04/1957: Fête avec acteurs français à Los Angeles -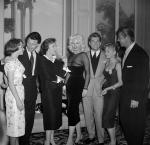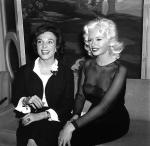 - Romy Schneider - 1970s -
Dans les années 1970s, les longueurs se raccourcissent:
Romy dans sa robe noire d'Yves Saint Laurent dont la longueur atteint les genoux
et le décolleté prononcé, très profond
In the 1970s, the lengths got shorter:
Romy in her black Yves Saint Laurent dress whose length reaches the knees
and the pronounced neckline, very deep

- 1970: première "Choses de la vie" / 1971 portrait d'Eva Sereny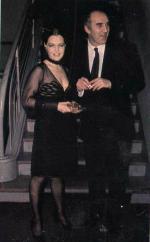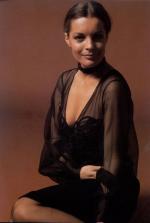 - 1969 / 1970: publicité pour "Lux" / 1972: film "César et Rosalie"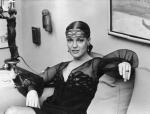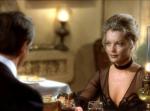 - Catherine Laborde - 2015 -
même notre présentatrice météo nationale (de TF1) arbore régulièrement
sa petite robe noire au décolleté transparent:
even our national weather presenter (from TF1) Catherine Laborde regularly wears
her little black dress with a transparent neckline: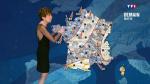 ---
Même style
Same style

Robe noire au décolleté transparent en dentelle noire
Robe de Ceil Chapman que Marilyn porte en 1958
Black dress with transparent neckline in black lace
Ceil Chapman'a dress that Marilyn wears in 1958

- Robe de cocktail en soie noire de Ceil Chapman -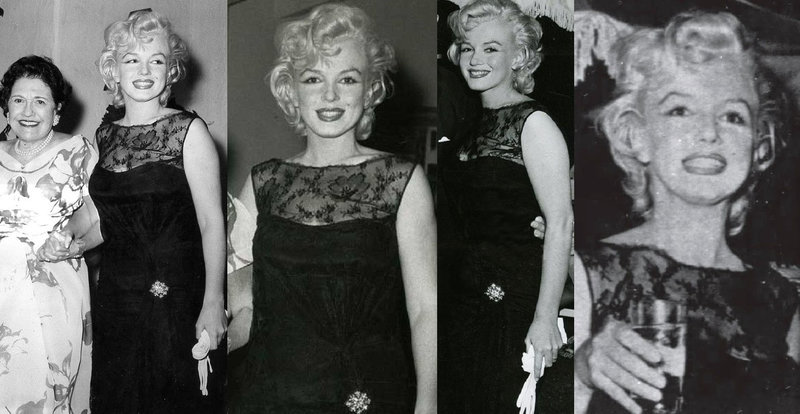 ---
© All images are copyright and protected by their respective owners, assignees or others.
copyright text by GinieLand.
Enregistrer
Enregistrer
27 juin 2013

#RIP Bert Stern
Ses dernières confidences à Vanity Fair
publié le 26 juin 2013 - par Camille Bordenet
en ligne sur vanityfair.fr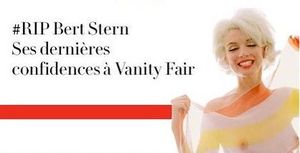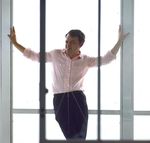 Né à Brooklyn en 1929, Bert Stern entre au service du Courrier de Look à l'âge de dix-sept ans. Il y reste deux ans et demi avant de prendre la direction artistique d'une petite revue et de se lancer en autodidacte dans la photographie. Durant son service militaire, il devient caméraman pour l'armée américaine basée au Japon. A partir de 1953, il se consacre à la photographie de mode et publicitaire (Vodka Smirnoff, Canon, Volkswagen, Pepsi-Cola...). Portraitiste virtuose et chasseur d'icônes, son art est généralement qualifié de glamour et romantique. Le film Bert Stern : original madman sorti en 2011 lui rend hommage.
S'il est surtout connu pour être le dernier à avoir immortalisé Marilyn Monroe six semaines avant sa mort, le photographe américain a eu d'autres modèles prestigieux - et sublimes. D'Audrey Hepburn à Kate Moss toute jeune, en passant par Madonna, Bert Stern avait immortalisé quelques unes des stars les plus emblématiques de leur époque.
Pour VanityFair.fr, il avait accepté, à 84 ans, de commenter ses plus belles photos. C'était au début du mois de juin, sur son lit d'hôpital à New York. Il est mort la nuit dernière, des suites de problèmes cardiaques.
Voici ses dernières confidences.
Marilyn Monroe, La Dernière Séance - Los Angeles, juin 1962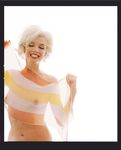 "Pendant cette séance photo commandée par Vogue qui, après la mort de Marilyn a été nommée La dernière séance (The last sitting), j'ai pris plus de 2500 clichés d'elle pendant trois jours entiers. Habillée, nue, accessoirisée, elle était magique et hypnotique… Je ne l'aurais jamais prise en photo nue si elle n'avait pas voulu. Je rêvais juste de la photographier et c'est vrai que je ne l'imaginais pas dans des vêtements, mais tout simplement portant des bijoux ou un voile. Pour la première séance le 23 juin 1962, dans une suite de l'hôtel Bel-Air, nous avions rendez-vous à midi mais elle n'est arrivée qu'à quinze heures. Elle était plus belle encore que je l'imaginais! Plus fine, aussi... Elle avait été opérée de la vésicule biliaire six semaines plus tôt et portait d'ailleurs une cicatrice au bas du ventre. Quand elle a vu le voile transparent et les bijoux préparés elle a demandé "Alors on fait des nus ? Je suppose que vous avez envie d'être créatif !". J'étais surpris, j'ai dit oui. Elle a quand même demandé son avis à son coiffeur qui a répondu "Pourquoi pas ?". Elle est allée se préparer dans la salle de bain puis est revenue, nue sous le foulard transparent et a lancé : "Pas mal pour 36 ans, non ?". Elle avait visiblement envie de se prendre au jeu. Elle buvait le champagne que j'avais emmené sur la demande de son agent, et j'ai remarqué que son maquilleur ajoutait un peu de vodka dans son verre. Les heures passant, elle est devenue plus provocante encore. Je n'avais pas besoin de lui faire des suggestions, elle inventait les poses toute seule. Nous avons continué jusqu'à deux heures du matin, mais Vogue a jugé cette série trop provocante et en a commandé une seconde, plus habillée " .

Marilyn – Second shooting


"Ma première question à Marilyn a été "Marilyn, comment va votre vie amoureuse ?" Et elle a éclaté de rire, ce fameux et magnifique rire… mais elle n'a jamais vraiment répondu. Sur le coup, je n'ai pas remarqué qu'elle était déjà nostalgique. Elle semblait vraiment de bonne humeur et comptait peut-être sur ces photos dans Vogue pour "relancer" sa carrière. Bien sûr, rétrospectivement, je devine une certaine fragilité sur certains clichés, notamment celui-ci où elle se cache le visage. C'est un de mes préférés. Cette photo de Marilyn en robe Dior correspond à la seconde fois où nous nous sommes vus car Vogue souhaitait davantage de photos de mode et non de nu pour faire le portfolio dont ils rêvaient. Comme la première fois, elle est arrivée avec deux heures et demi de retard. Cette fois-ci, j'avais commandé du Château Lafite... Elle a posé pendant des heures et des heures avec les robes. Et puis, au bout d'un moment, j'ai demandé à l'équipe de sortir. Marilyn s'est enroulée, nue, dans un drap et s'est allongée sur un canapé. J'ai réalisé toute une série de clichés. Puis, elle s'est endormie, sans doute un peu sous l'effet de l'alcool, et je suis sorti".

Catherine Deneuve – New York 1961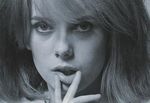 "C'était sa première fois à New York, elle manquait énormément de confiance en elle, doutait comme une enfant… mais ça la rendait si belle. Je tenais absolument à la photographier".
Romy Schneider et Alain Delon – Cannes 1962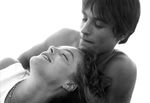 "C'était le plus beau couple d'acteurs de l'époque mais en réalité ils se disputaient tout le temps ! Même sur le voilier où nous avons fait la séance photo ils n'ont pas arrêté de s'engueuler puis de se rabibocher comme des enfants… mais ils ressemblaient à des anges".

Kate Moss – New York 2001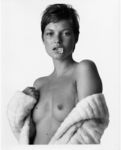 "Je devais la photographier pour Vogue et c'est sûrement le meilleur top model avec qui j'ai travaillé. Tellement gracieuse et facile à vivre".

Audrey Hepburn – Paris 1966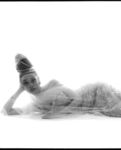 "On était réunis à Paris pour shooter une publicité pour le parfum L'Interdit de Givenchy. Les gens ne réalisent pas à quel point Audrey était drôle, un vrai clown. C'est elle qui s'amusait à faire ce genre de pause".
"Audrey ne se prenait pas au sérieux et était très loin de son image d'icône. Elle était douce et extrêmement à l'écoute de ce dont j'avais besoin en tant que photographe".
Twiggy – New York 1967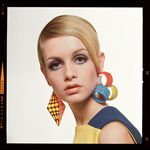 "Twiggy était très jeune et tellement naïve… presque crédule !"
Elizabeth Taylor et Richard Burton - Juin 1962 Rome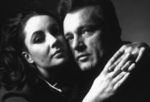 "La 20th Century Fox m'avait demandé de les photographier durant le tournage de Cléopâtre qui faisait beaucoup de bruit à l'époque à cause de l'histoire d'amour sulfureuse et scandaleuse naissant entre les deux acteurs."
"Liz et Richard étaient fous amoureux mais cette passion les dévorait, ils se sont mariés et ont divorcé deux fois. Aussi mythique que chaotique, leur histoire n'a cessé de faire fantasmer le monde. Pourtant à mes yeux, ils étaient de vraies âmes sœurs".
Madonna – New York 1985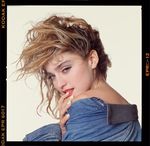 "Madonna est arrivée au shooting comme une diva, extrêmement prétentieuse, bruyante et entourée de sa garde rapprochée. Je l'ai photographié durant 5 minutes et je n'en déjà pouvais plus. La photo était pour le Time Magazine qui consacrait un article à la nouvelle artiste pop qui serait nommée aux Grammy Awards. Mais finalement Cindy Lauper a gagné et Madonna n'a pas eu le droit à sa couverture !"
Brigitte Bardot – Saint Tropez 1961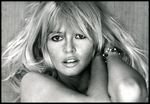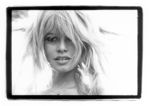 "J'étais dans le Sud de la France, à Saint-Tropez et je l'ai rencontrée alors que c'était totalement imprévu. J'ai eu beaucoup de chance car c'était la plus belle femme du monde à l'époque."
"Je l'ai photographié très rapidement, elle n'était pas très facile comme modèle, mais sa beauté transcendait tout ce que j'avais vu avant".

Sophia Loren – Pise 1962


"Elle semblait préoccupée et ailleurs quand je l'ai photographiée. Elle était au sommet de sa carrière et se faisait beaucoup de souci pour la suite et sa vie personnelle. Mais elle était très professionnelle, belle et sauvage comme un animal, et savait naturellement comment se mettre en valeur et utiliser les lumières à son avantage."
23 novembre 2012
Ma galerie de photos
Stars Mythiques
Auteur: Yves Alion

Date de sortie: octobre 2012
Relié 32 pages
Langue: français
Éditeur: Hugo Image
Prix éditeur: 19,99 Euros
ISBN-10: 2755611049
ISBN-13: 978-2755611045
Ou le commander ? sur amazon
> Plus d'infos sur le site hugoetcie.fr
Présentation de l'éditeur:
Composée d'une sélection des 12 plus grandes icônes du XXe siècle, « Ma galerie photos des Stars Mythiques » vous invitent à découvrir ces étoiles d'exception, au charisme intemporel. Au-delà des styles et modes qu'ils ou elles ont lancés et inventés, ces figures devenues familières dans l'imagerie populaire, brillent pourtant au firmament des gloires éternelles.
> dos du coffret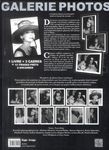 A Savoir: Il s'agit d'un coffret comprenant:
> 12 tirages photographiques en papier brillant (Marlene Dietrich, Gérard Philipe, Simone Signoret, Romy Schneider, Liz Taylor, Audrey Hepburn, Sophia Loren, Brigitte Bardot, Lauren Bacall, Marlon Brando, Steeve Mc Queen, Cary Grant)
> 3 cadres
> 1 livre sur les icônes du septième art et les photographes.
Mon Avis: Mettre Marilyn Monroe en couverture du coffret, alors qu'elle ne figure pas dans les tirages photographiques... c'est ce qui s'appelle encore un coup de marketing pour appâter le pélerin à l'approche des fêtes de fin d'année !
Par ailleurs, le "livre" n'est qu'en fait un simple livret qui ne fait que republier les mêmes photographies en tirages papier brillant, avec une page photo et une page biographie.

---
Vous avez le livre ?
Apportez votre critique, votre avis ou votre note (/10)

31 juillet 2011
Black gown with jewels collar
robe noire avec col à bijoux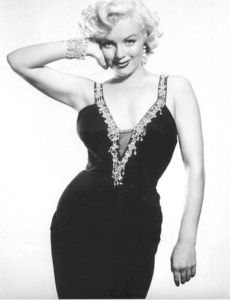 Cette robe fut portée par l'actrice allemande Hildegard Knef dans le film The snows of Kilimanjaro (Les neiges du Kilimandjaro) de Henry King, avec Gregory Peck, Susan Hayward et Ava Gardner dans les rôles principaux. Le film est sorti sur les écrans américains en septembre 1952. La robe est une création de Charles Le Maire, le superviseur des costumes du film; le styliste William "Billy" Travilla dessinera une version de cette robe pour Ethel Merman dans "There's no business like show business".
Il semble donc indubitable que Marilyn Monroe emprunta la robe au service du département costumes de la Fox, pour une séance photos, à la fin de l'année 1952.
---
Inspirations
L'actrice

Jeanne Crain

porte une robe de même style, créée par

William Travilla

, dans le film "Gentlemen marry brunettes" ("Les hommes épousent les brunes") en

1955

, la suite de "Gentlemen Prefer Blondes":
D'autres styles de robes noires à col bijoux ont été portées par d'autres personnalités, notamment

Sandra Dee

,

Sheila

,

Romy Schneider

et

Catherine Deneuve

dans les

années 1960/1970

:
>> Sandra Dee (en 1965)

>> Sheila / Romy Schneider / Catherine Deneuve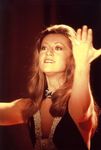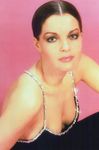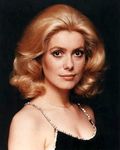 La chanteuse

Christina Aguilera

porta une robe copie conforme à celle de Marilyn en

2004

pour la publicité de son parfum 'X Pose':

L'actrice américaine

Emily Blunt

porte une robe du même style en

2018

pour la couverture de Vanity Fair US:
>> Emily Blunt

---
>> sources:
Le film The snows of Kilimanjaro sur imdb
Photos d'Hildegard Knef sur doctormacro.com
---
© All images are copyright and protected by their respective owners, assignees or others.
copyright text by GinieLand.
Enregistrer
Enregistrer
13 juin 2011
Robe Lamé Or
Gold Lamé Dress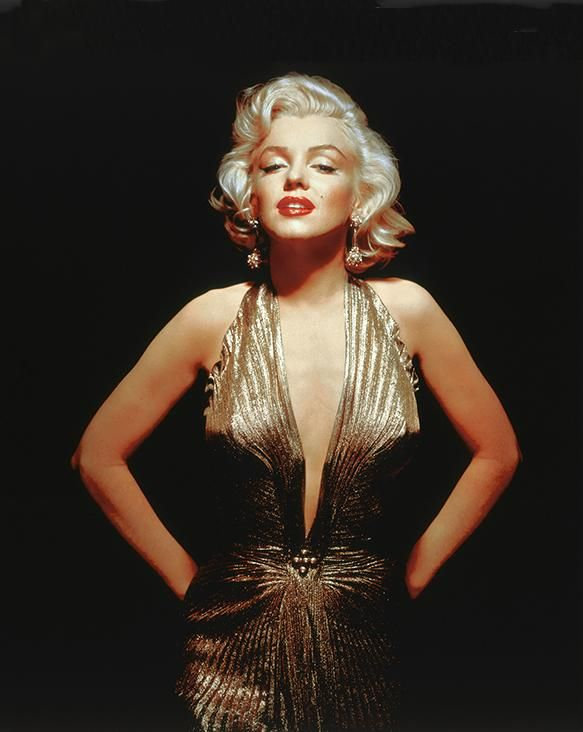 Qui ne connaît donc pas cette photographie de Marilyn Monroe, dans un studio de fond noir, les mains derrière les hanches, yeux mi-clos et bouche entrouverte, portant cette robe lamée or ?
Il s'agit de l'une des tenues symboliques dans laquelle est représentée Marilyn Monroe: une robe lamée or échancrée jusqu'au nombril et au dos nu.

Who doesn't know this photograph of Marilyn Monroe, in a black background studio, hands behind hips, eyes half-closed and mouth half-open, wearing this gold lamé dress ? This is one of the symbolic outfits in which Marilyn Monroe is represented: a gold lamé dress scooped up to the navel and open back.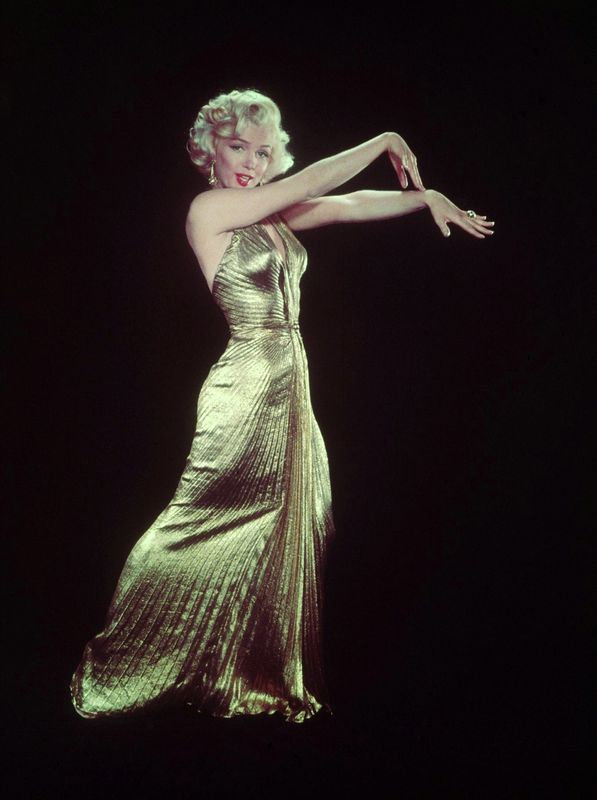 ---
Marilyn et la robe
Marilyn and the gown
---
Cette robe en lamé or a été conçue par le créateur et couturier de la 20th Century Fox, William "Billy" Travilla pour le film Gentlemen prefer blondes (Les hommes préfèrent les blondes) tourné en 1952. On raconte que la robe fut littéralement cousue sur le corps de Marilyn, car elle ne possède pas de boutons, mais une fine fermeture éclaire dans le dos.
This gold lamé dress was designed by 20th Century Fox designer and fashion designer William "Billy" Travilla for the film Gentlemen Prefer Blondes, filmed in 1952. It is said that the dress was literally sewn onto Marilyn's body, because it does not have buttons, but a thin zipper in the back.

- Esquisse et fiche modèle par Travilla -
- Sketch and fashion pattern by Travilla -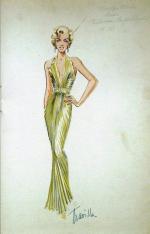 Le 08 novembre 1952, Marilyn passe les essais coiffure et maquillage pour le film; sur l'une des photographies servant de test, elle porte la robe. Mais les essayages de la robe ont lieu le 12 novembre 1952 où elle porte la robe avec et sans ceinture.
On November 08, 1952, Marilyn takes the hairdressing and make-up tests for the film; in one of the photographs used as a test, she is wearing the dress. But the fittings of the dress takes place on November 12, 1952 where she wears the dress with and without a belt.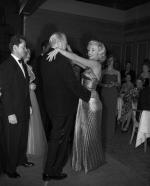 Dans le film, la scène dans laquelle Marilyn porte cette robe est très courte, et on ne l'aperçoit que de dos, derrière une vitre ! La scène fut sans doute écourtée car la tenue semblait bien trop provocante et l'image représentant la star dans cette tenue sur grand écran, fut loin de plaire aux censeurs. D'autant que Marilyn danse -avec Charles Coburn- en tortillant ses fesses de façon suggestive.
In the film, the scene in which Marilyn wears this dress is very brief, and we can only see her from the back, behind a window ! The scene was probably cut short because the outfit seemed far too provocative and the image of the star in this outfit on the big screen, was far from pleasing the censors. Especially since Marilyn dances -with Charles Coburn- wiggling her buttocks suggestively.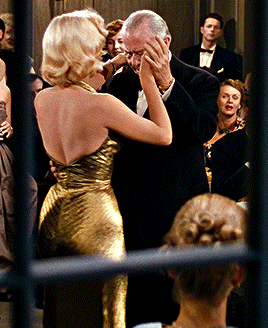 Néanmoins, Marilyn porte la robe pour plusieurs photographies en studio en 1953, servant de supports publicitaires au film (photographies de Gene Kornman, Ed Clark, John Florea, Frank Worth).
Nevertheless, Marilyn wears the dress for several studio photographs in 1953, serving as advertising media for the film (photographs by Gene Kornman, Ed Clark, John Florea, Frank Worth).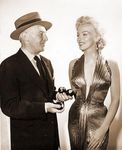 Après le tournage des "Hommes préfèrent les blondes", au cours de l'année 1953, Marilyn Monroe porte la robe pour la remise du prix de "Miss Press Club", organisé par le Los Angeles Press Club. Après la cérémonie officielle, où Marilyn portait une robe noire, une remise du prix est organisée de manière officieuse en studio, où le journaliste Walter Winchell pose aux côtés de Marilyn dans un studio; la star portant cette fois-ci la robe lamée. Sans doute cette série de photographies furent-elles prises dans les studios de la Fox et peut être, pendant le tournage de Gentlemen prefer blondes - Bien que la coiffure de Marilyn soit différente, car dans la scène du film, ses cheveux sont au carré lissé. Mais le décoletté de la robe descend encore jusqu'au nombril.
After the filming of "Gentlemen Prefer Blondes", in 1953, Marilyn Monroe wears the dress for the "Miss Press Club" award ceremony, organized by the Los Angeles Press Club. After the official ceremony, where Marilyn wore a black dress, an award ceremony is unofficially organized in the studio, where the journalist Walter Winchell poses alongside Marilyn in a studio; the star this time wearing the lamé dress. No doubt this series of photographs were taken in the studios of Fox and perhaps, during the filming of Gentlemen Prefer Blondes - Although Marilyn's hairstyle is different, because in the scene of the film, her hair is squared smooth. But the neckline of the dress still goes down to the navel.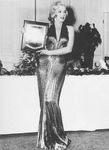 Le 17 février 1953, Marilyn Monroe emprunte à nouveau à la maison de production cette remarquable robe pour la porter lors de la cérémonie organisée par le magazine Photoplay de "Rapid Rise to Stardom in 1952" ("L'accès le plus rapide à la célébrité pour l'année 1952") où elle reçoit le prix "The New Star Award" ("Le prix de la nouvelle star") au Beverly Hills Hotel.
La robe a alors été retouchée pour l'occasion: le décoletté fut quelque peu remonté, pour descendre juqu'à la poitrine et non plus jusqu'au nombril.
On February 17, 1953, Marilyn Monroe borrows this remarkable dress from the production studio again to wear it during the ceremony organized by Photoplay magazine of "Rapid Rise to Stardom in 1952" where she receives "The New Star Award" at the Beverly Hills Hotel.
The dress was then retouched for the occasion: the neckline was slightly raised, to go down to the chest and no longer to the navel.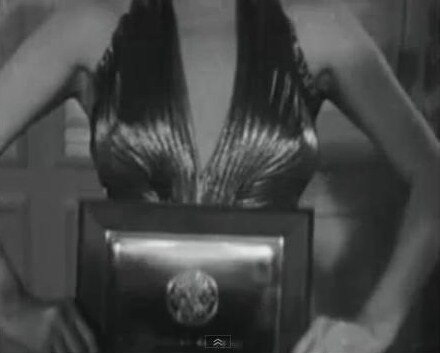 Lors de la cérémonie, Marilyn va déclencher un tollé dont l'origine n'est autre que cette fameuse robe, qui scandalisa la prude actrice Joan Crawford, présente dans l'assistance, qui dira dans la presse: "C'était comme un spectacle burlesque (...) La publicité est allée trop loin. Elle fait l'erreur de croire sa publicité. Quelqu'un devrait lui faire voir la lumière." Et le journaliste James Bacon rapportera que "lorsque Marilyn se tortilla devant l'assistance pour rejoindre le podium, son derrière ressemblait à deux petits chiots se bataillant sous une feuille de soie".
During the ceremony, Marilyn will trigger an uproar whose origin is none other than this famous dress, which scandalized the prudish actress Joan Crawford, present in the audience,who will say into the press that: "It was like a burlesque show. (...) The publicity has gone too far. She is making the mistake of believing her publicity. Someone should make her see the light." And journalist James Bacon will say that "when Marilyn squirmed in front of the audience to reach the podium, her buttocks looked like two little puppies fighting under a sheet of silk".
* * * * *
Et pourtant, Joan Crawford avait porté une robe bien similaire en 1934 pour le film La femme de sa vie (photos publicitaires de George Hurrell), une création du costumier Adrian: le même tissu drapé lamé or, au décolleté profond et au dos entièrement dénudé.
However, Joan Crawford has worn a very similar dress in 1934 for the film No More Ladies (advertising photos by George Hurrell), a creation of the costume designer Adrian: the same draped gold lamé pattern, with a deep neckline and completely bare back.

* * * * *
Marilyn porte à nouveau la robe en juin 1953 pour promouvoir une action caritative qui se tiendra à Minneapolis du 9 au 12 juin 1953.
Marilyn wears the dress again in June 1953 to promote a charity event to be held in Minneapolis from June 9 to 12, 1953.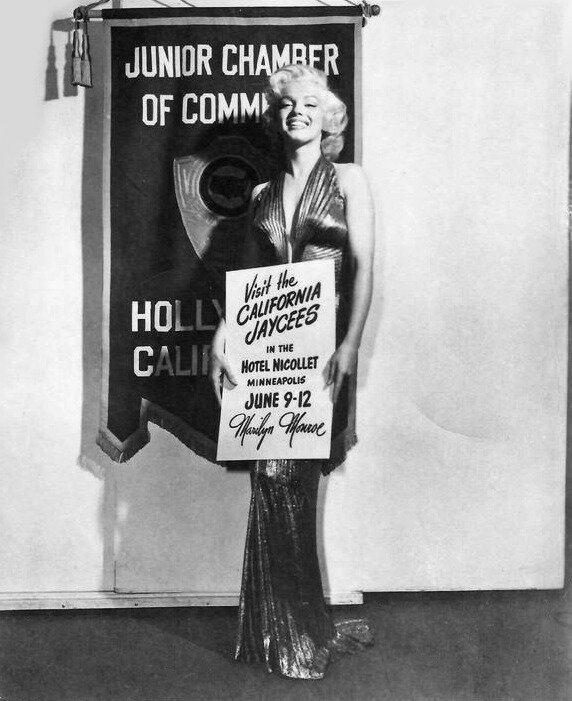 ---
Naissance de la robe de Travilla
Birth of the Travilla dress
---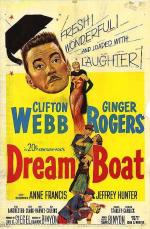 William Travilla s'inspira d'une de ses créations antérieures pour la Fox: en 1951, il était en effet chargé des costumes pour le film Un grand séducteur (Dream Boat) avec Ginger Rogers. Le couturier créa ainsi pour l'actrice Ginger Rogers une robe lamée à fines bretelles, plissée et agrémentée d'un pan en biais.
William Travilla was inspired by one of his earlier creations for the Fox: in 1951, he was indeed in charge of the costumes for the film Dream Boat with Ginger Rogers. The couturier thus created for the actress Ginger Rogers a lamé dress with thin straps, pleated and embellished with a slanted pan.
Quand la Fox demande à Travilla de créer les costumes pour Les hommes préfèrent les blondes en 1952, Travilla propose - parmi tous les autres dessins - l'esquisse de la robe créée auparavant pour Ginger. Mais la robe n'est pas retenue pour le film.
When Fox asked Travilla to design a number of costumes for Gentlemen Prefer Blondes in 1952, Travilla offered offered - among all the other designs - the sketch of the dress previously created for Ginger. But the dress is not chosen for the film.

Marilyn porte la version couleur argentée de cette robe pour deux galas:
Marilyn wears the silver version of this dress at two public events:

Le 4 décembre 1953 pour un gala de charité en faveur des enfants
On December 04, 1953 for the Children's Benefit

Le 9 mars 1954 pour la remise du prix de
"La meilleure actrice populaire de l'année 1953" par le magazine Photoplay.
On March 9, 1954 for the award price of
"The Most Popular Actress of the year 1953" by Photoplay magazine.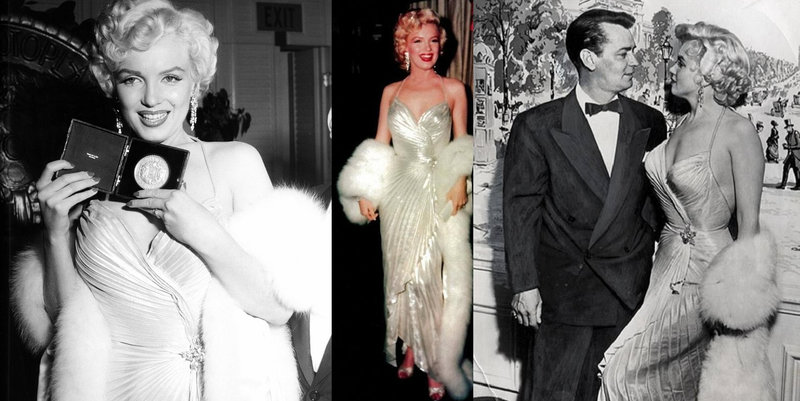 La robe est aujourd'hui la propriété du fan et collectionneur de Marilyn, Greg Schreiner, qui l'avait acheté aux enchères et la prête occasionnellement à des organisateurs d'expositions -
The dress is now the property of Marilyn's fan and collector, Greg Shreiner, who bought it at auction and occasionally lends it to exhibition organizers -

La robe sur le site de Greg Schreiner
The dress on Greg Schreiner's website
The Marilyn Monroe Site


Expo " Marilyn Remembered ", 06/2010

La robe originale sera portée aussi par d'autres actrices:
The original dress will also be worn by other actresses:

- Corinne Calvet - 1953, photo de Frank Powolny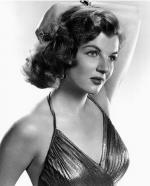 - Evelyn Keyes - 1955, film "Top of the world"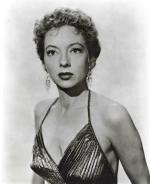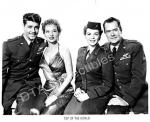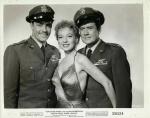 Les inspirations: des robes du même style
Inspirations: dresses in the same style
- Ginger Rogers - 1935, film "Roberta"
costume designer: Robert Newman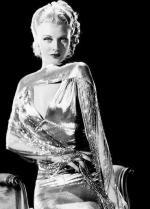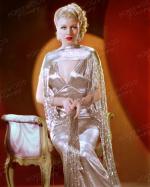 - Betty Grable - début des années 1950s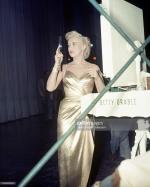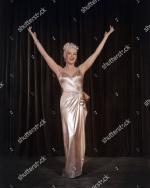 ---
La Robe Lamé Or portée par d'autres
The Lame Gold Dress worn by others

---
La robe de Marilyn est rendue au département des costumes de la Fox, et d'autres actrices l'empruntent à leur tour - petit tour d'horizon:
Marilyn's dress is then returns to the Fox costume department, and other actresses borrowes it - quick overview:

- Marilyn Maxwell - le 23/08/1954
Pour un show à Las Vegas où elle dresse un tigre
For a show in Las Vegas where she trains a tiger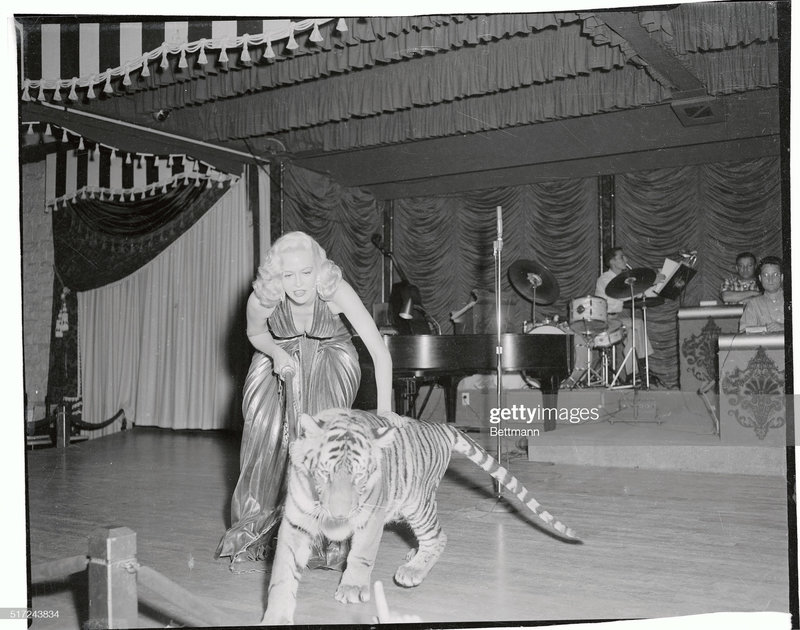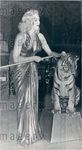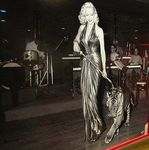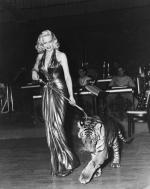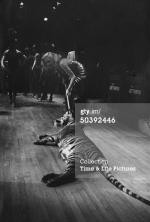 Portrait Marilyn Maxwell - studio Seawell -
Le décolleté est recousu à la poitrine,
comme celle que Marilyn porte à la cérémonie Photoplay
The neckline is sewn to the chest,
like the one Marilyn wears at the Photoplay ceremony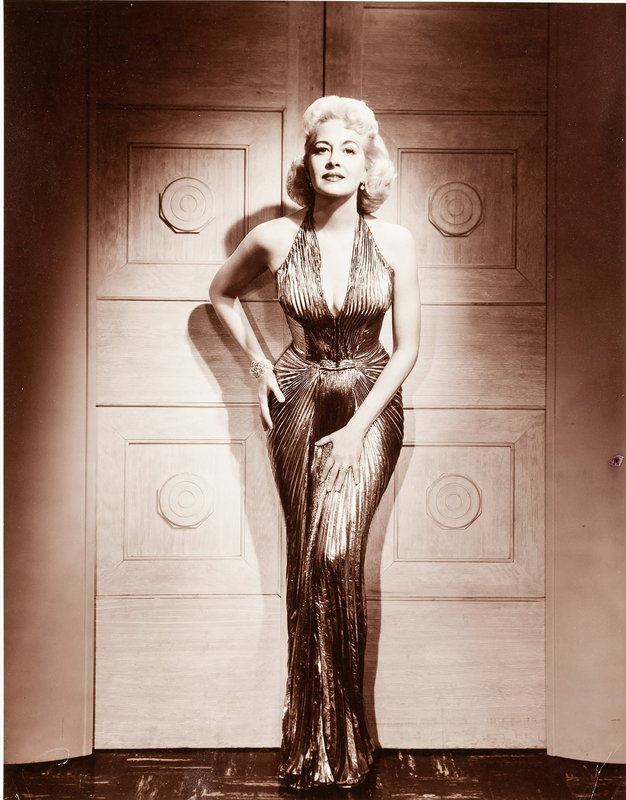 - Betty Grable - le 30/09/1954
Pour le show TV de CBS "Shower of Stars"
Betty porte la version de la robe avec la ceinture
Betty wears the version of the dress with the belt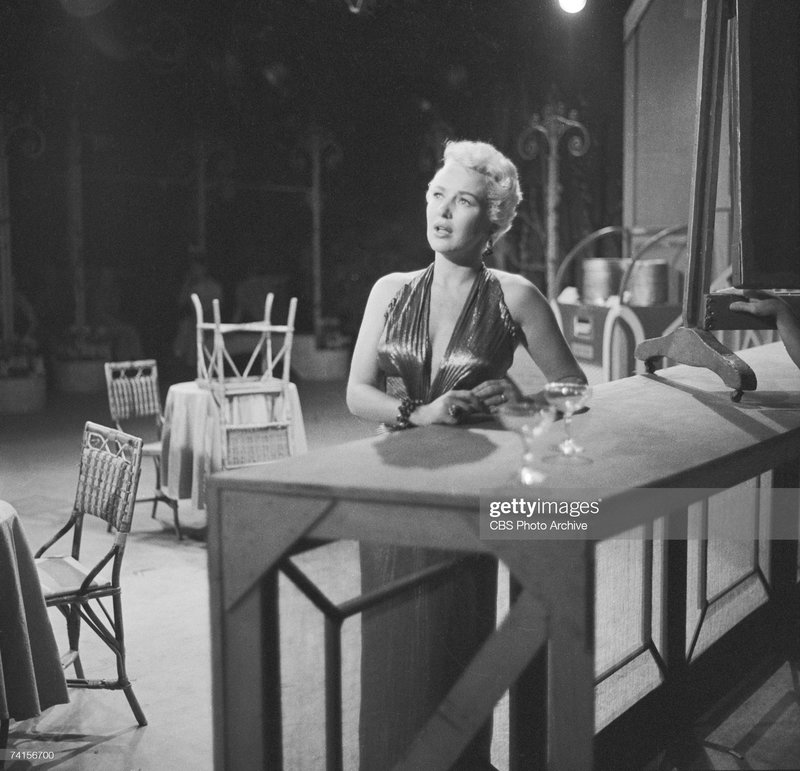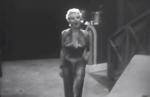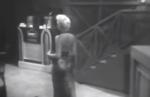 - video extrait Betty Grable -

- Jayne Mansfield - le 11 avril 1957 -
Pour la première du film "The Spirit of St Louis" de Billy Wilder
Jayne est accompagnée de son mari Mickey Hargitay qui la soulève
For the premiere of the movie "The Spirit of St Louis" by Billy Wilder
Jayne is accompanied by her husband Mickey Hargitay who carries her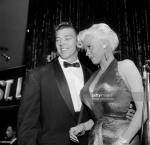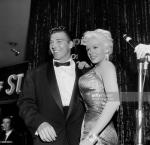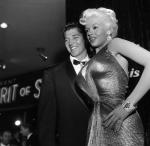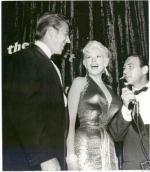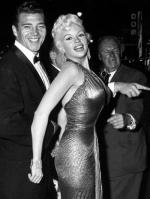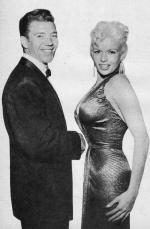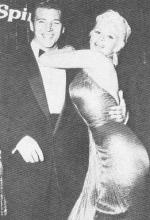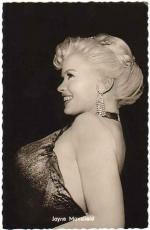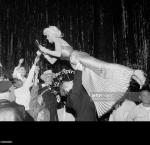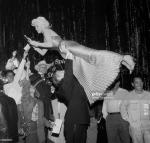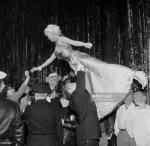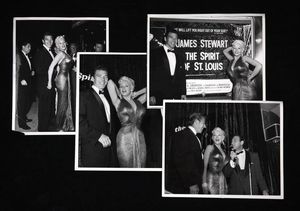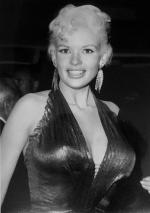 Jayne ayant une poitrine très généreuse, le décolleté a été raccommodé
(on distingue les fils qui relie le décolleté entre les seins !)
Jayne having a very generous breast, the neckline has been mended
(we can see the threads that connect the neckline between the breasts !)

---
Les versions 'alternatives' de la robe par Travilla
The 'alternative' versions of the dress by Travilla

---
- Jeanne Crain - 1955 -
Travilla est en charge des costumes du film "Les hommes épousent les brunes",
(la suite de "Les hommes préfèrent les blondes" )
et il créé une version argentée de la robe dorée de Marilyn
Travilla is in charge of the costumes for the movie "Men marry brunettes",
(the continuation of "Gentlemen Prefer Blondes")
and he creates a silver version of Marilyn's golden dress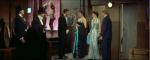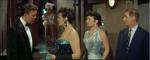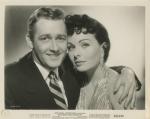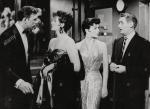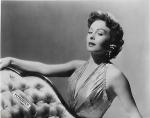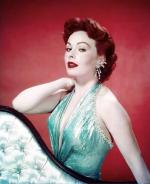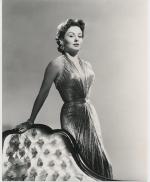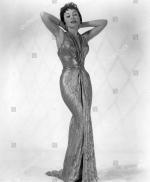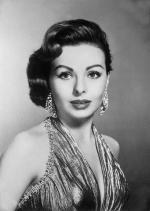 La robe comporte une couture au contour du rebord
The dress features a seam around the hem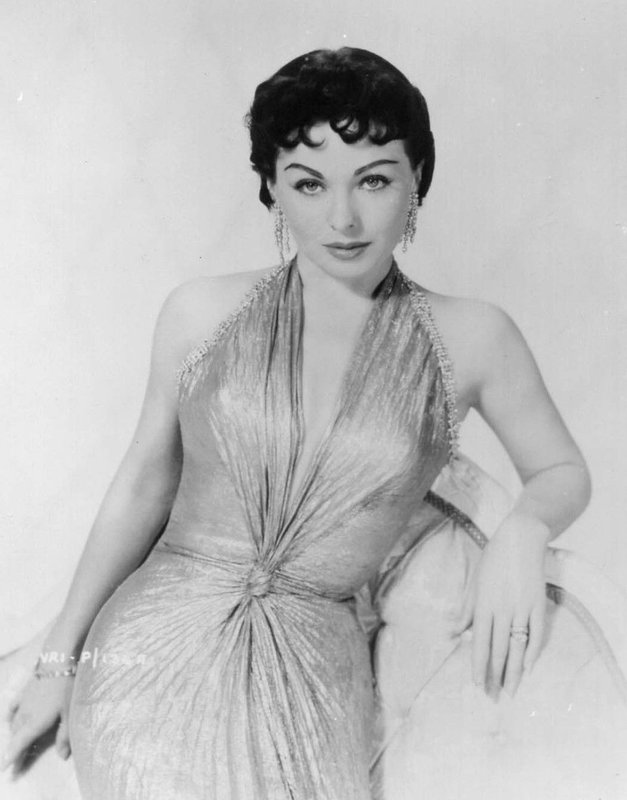 Jeanne Crain en mai 1955, avec Paul Brinkman,
à la première de "Les hommes épousent les brunes"
Jeanne Crain in May 1955, with Paul Brinkman,
at the premiere of "Gentlemen marry brunettes"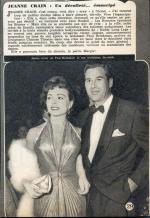 - Priscilla Presley - 1983 -
Parmi les dernières créations du couturier William Travilla
pour des actrices, furent pour la série américaine Dallas.
Among the latest creations of designer William Travilla
for actresses, were for the American series Dallas.

---
La robe et ses répliques faites par Travilla
The dress and replicas made by Travilla
---
Le couturier William Travilla a créé beaucoup de "répliques" de la robe portée par Marilyn, que pour beaucoup de personnes, il était difficile de savoir ce qu'était devenue LA robe originale de Marilyn. Il a autant créé des répliques à l'identique de la même couleur or, que des répliques d'autres couleurs; d'après les mesures exactes de l'originale. Cependant, ces répliques sont différentes de la robe portée par Marilyn au niveau du croisement du décolleté au nombril: celle de Marilyn comportait cinq genre de perles en forme de croix (en fait, c'est une broche ornementale de 5 boules en laiton), que l'on ne retrouve pas sur les répliques qui possèdent un noeud.
The costume designer William Travilla created many "replicas" of the dress worn by Marilyn, which for many people, it was difficult to know what had become of THE original dress of Marilyn. He created identical replicas of the same gold color as much as replicas of other colors; based on exact measurements of the original.
However, these replicas are different from the dress worn by Marilyn at the place of the crossing of the neckline at the navel: that of Marilyn had five kinds of pearls in the shape of a cross (in fact, it is an ornamental brooch of 5 brass balls), that one does not find on the replicas which have a bow.
- La robe originale avec la broche aux 5 boules -
- The original dress with the 5 ball brooch -
Le collectionneur de costumes John LeBold déclarait posséder la robe originale et il prête quelques pièces de sa collection à des musées lors d'expositions: comme au Morris Museum (New Jersey, USA) d'octobre à décembre 2010:
Costume collector John LeBold claimed to own the original dress and he lends some pieces from his collection to museums during exhibitions: such as at the Morris Museum (New Jersey, USA) from October to December 2010: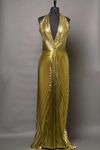 A la vente aux enchères de "Profiles In History" du 11 décembre 2018, la robe, estimée entre 100 000 et 150 000 dollars, sera vendue 100 000 dollars. Il s'agit de la robe originale portée par Marilyn, car elle comportait une étiquette avec son nom "1-64-12-1370 Marilyn Monroe A-698-11" mais a subi plusieurs restaurations.
At the "Profiles In History" Auction on December 11, 2018, the dress, estimated at between $ 100,000 and $ 150,000, will sell for $ 100,000. This is the original dress worn by Marilyn, because it had a label with her name "1-64-12-1370 Marilyn Monroe A-698-11" but has undergone several restorations.
- Les répliques avec le noeud -
- The replicas with the bow -
- Peaches Geldof - 2007, sitting magazine "Hello" -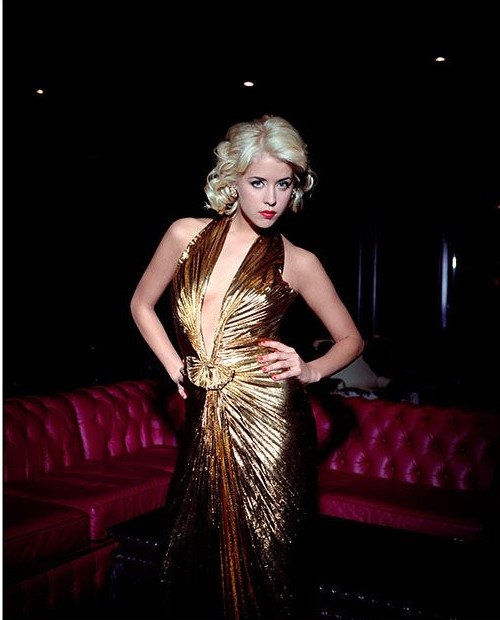 - Suzie Kennedy -
10/03/2008, Londres, Christies - enchère gala de charité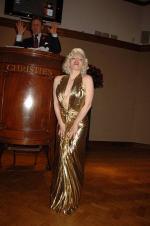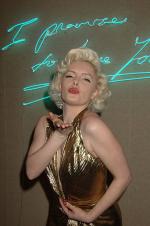 22/09/2009, Londres, Appolo Theatre - Promo pièce de théâtre "Marilyn & Ella"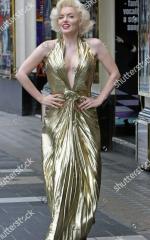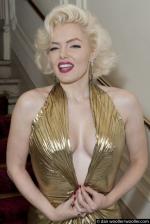 Beaucoup de robes crées par Travilla sont ainsi exposées partout dans le monde. La collectionneuse espagnole Maite Minguez Ricart possède une réplique.
Many dresses created by Travilla are thus exhibited all over the world. The Spanish collector Maite Minguez Ricart owns a replica.

- Diverses Robes répliques exposées -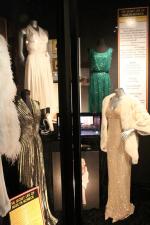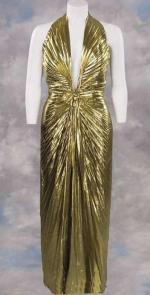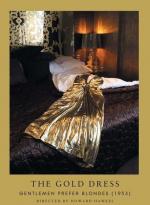 - exposition 10/2007 au Brighton Metropole Hotel, GB -
- exposition 2008 à Londres, GB -
- exposition 06/2010 à Harrods -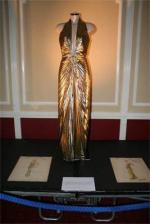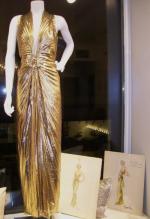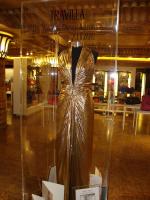 - Robes créées par Travilla -
Dresses created by Travilla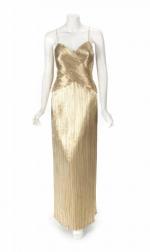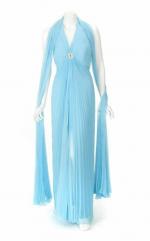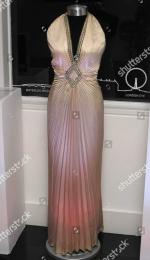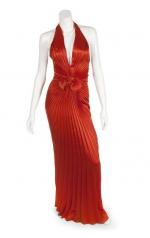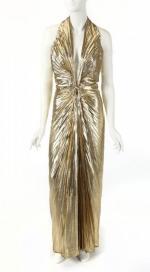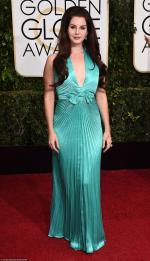 ---
Inspirations
- Glenda Farrell - 1938 - film Stolen Heaven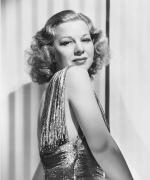 - Rita Hayworth - 1940 - film Blondie on a budget
creation costume Robert Kalloch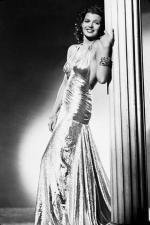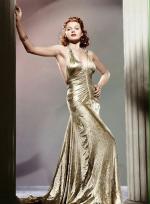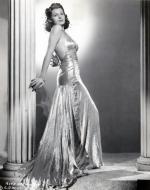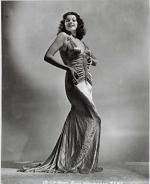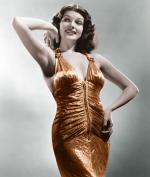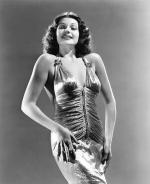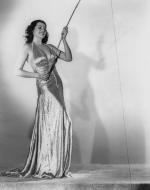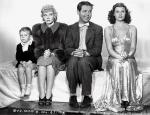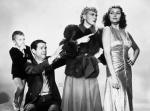 - Rita Hayworth - 1940 - film Music in my heart
creation costume Robert Kalloch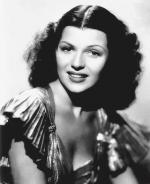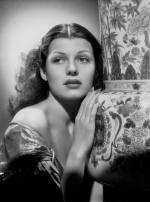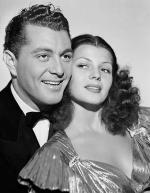 - Lizabeth Scott - 1945 - film You came along
creation costume Edith Head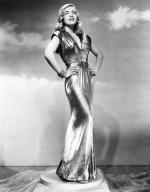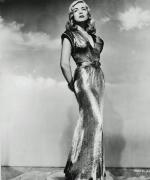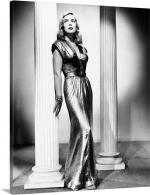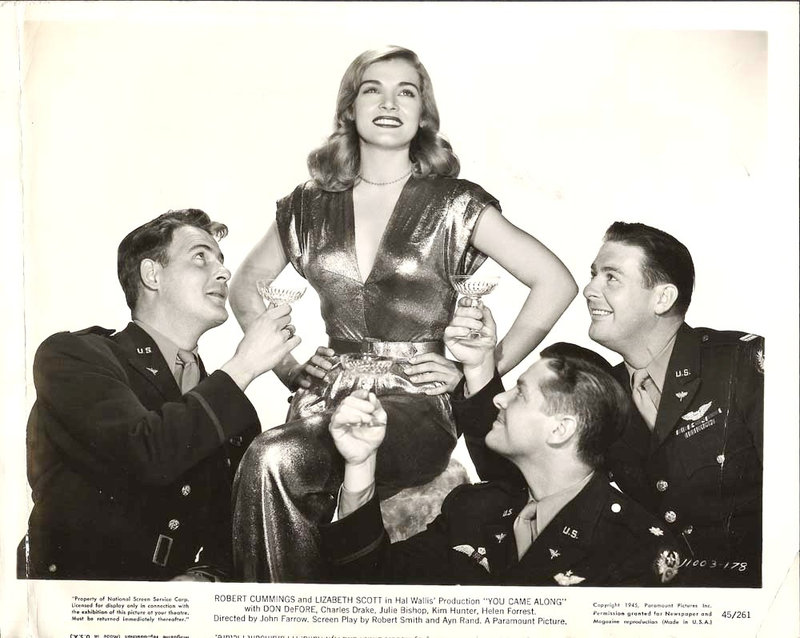 - Evelyn Keyes - 1946 - film Thrill of Brazil
creation costume Jean-Louis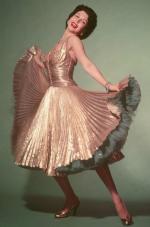 - Rita Hayworth - 1947 - film Down to Earth
creation costume Jean Louis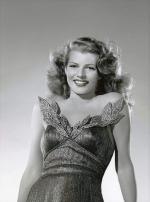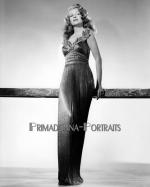 - inconnue - 1950s -

- Ava Gardner - 1950s - photo Herbert Dorfman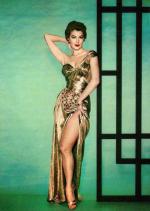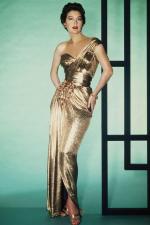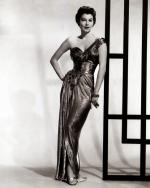 - Gloria De Haven - 25/08/1954 - au Mocambo, Los Angeles
photographies de Earl Theisen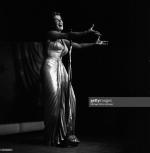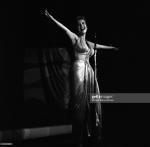 - Anne Baxter - 1955 - film Bedevilled
creation costume Helen Rose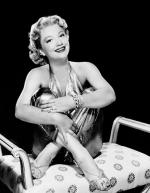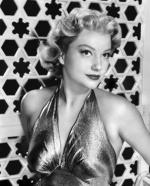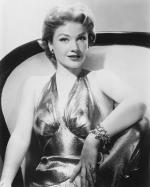 - Romy Schneider - 1964 - film Good Neighbor Sam
creation costume Jacqueline Moreau

- Joan Collins - 1981-1989 - serie Dynasty
creations costumes Nolan Miller
- Joan Collins, Dynasty, 1982 -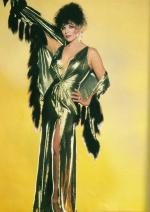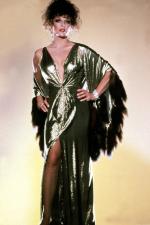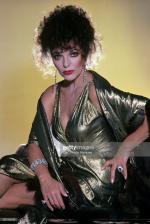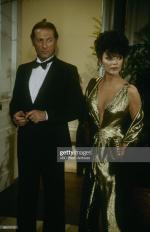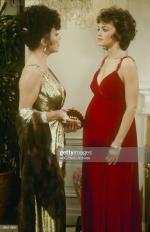 - Joan Collins, Dynasty, 1985 -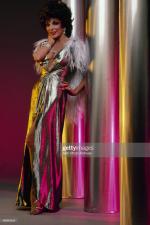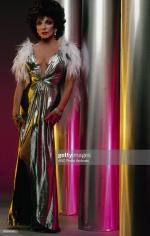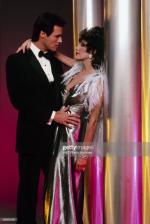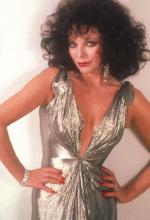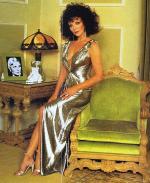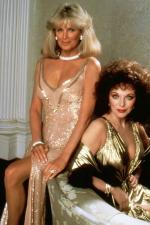 - Princesse de Galles Diana -
- Beyonce -
- Mariah Carey -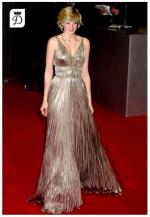 - Kate Hudson - 2000 - Vanity Fair, par Mark Seliger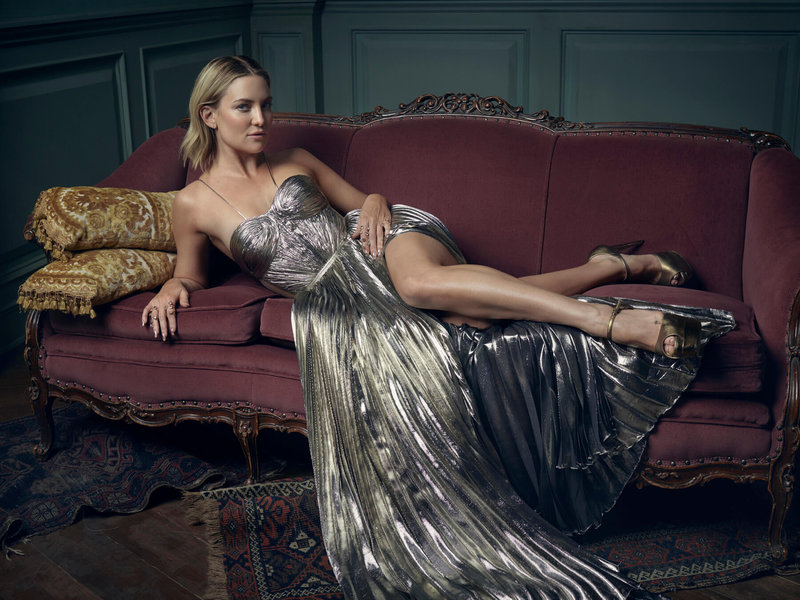 - Adriana Karembeu - 2006 - Cannes, AMFAR Gala
- Sharon Stone - 2006 -
- Beyonce - 2007 - Golden Globes - creation Eli Saab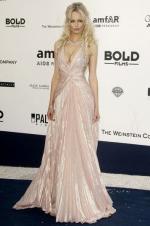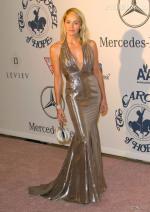 - Viola Davis - 2009 - Oscar - creation Reem Acra
- Dita Von Teese - 2012 - creation Hervé L. Leroux
- Kate Moss - 2012 - Kate Moss Book - creation Marc Jacobs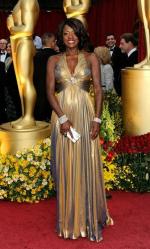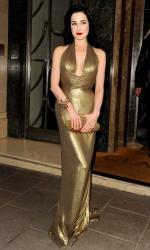 - Sharon Stone - 2014 - Cannes Festival
- Jessica Chastain - 2015 - Golden Globes
- inconnue - 2017 -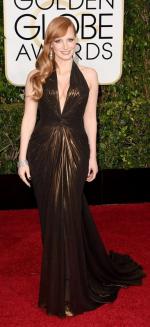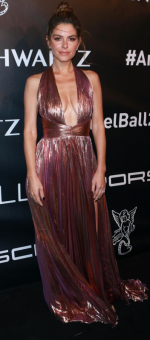 - Charlize Theron - 2017 Oscar & 2018 pub Dior - creations Dior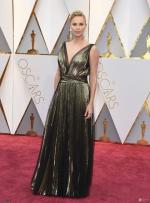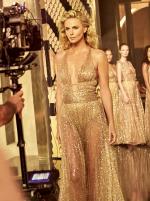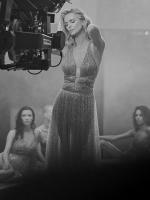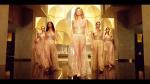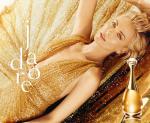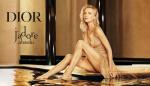 ---
La version en cape
- Jayne Mansfield - mi-1950s -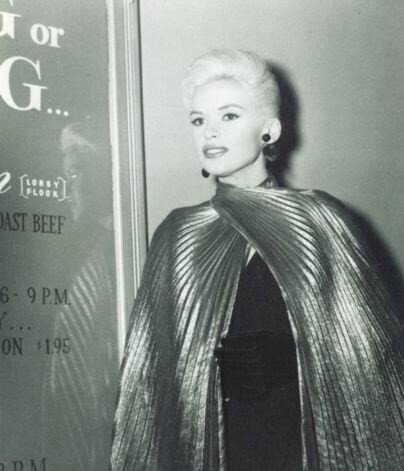 ---
Même style
Same style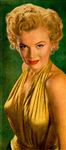 Attention, cette robe n'est pas à confondre avec une autre robe du même style que Marilyn porta. En effet, les tests costumes où Marilyn porte la fameuse robe lamée or pour le film Les hommes préfèrent les blondes ont lieu le 12 novembre 1952. Et Marilyn porta une robe étrangement identique (ou est-ce juste un bustier) -et pourtant aussi bien différente- au ton doré et plissée, assortie d'un fourreau sur les épaules sur certains clichés, pour une séance photos en studio, et au vue de la coiffure de Marilyn (cheveux courts aux mèches ondulées au rouleau), daterait du début de l'année 1952.
Please note, this dress is not to be confused with another dress of the same style that Marilyn wore. Indeed, the costume tests where Marilyn wears the famous gold lamé dress for the film Gentlemen Prefer Blondes took place on November 12, 1952. And Marilyn wore a strangely identical dress (or is it just a bustier) - and yet also very different - in golden tone and pleated, matched with a sheath on the shoulders on some shots, for a photo shoot in a studio, and which, in view of Marilyn's hairstyle (short hair with wavy locks in the roll), would date from the beginning of 1952.
La pin-up américaine Eve Meyer a posé vêtue dans ce qui semble le même vêtement (robe ou bustier) pour la couverture du magazine américain Man's Magazine de février 1954 (l'article se nomme même "Frisco's Marilyn Monroe").
American pin-up Eve Meyer posed in what appears to be the same item of clothing (dress or bustier) for the cover of the American Man's Magazine in February 1954 (the article is even called "Frisco's Marilyn Monroe").
Jane Russell, portrait RKO, 1950s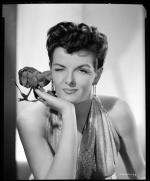 ---
>> sources:
article sur la collection de John LeBold sur capecodchronicle.com
Le site officiel Coleccion Maite Minguez
article sur l'exposition d'octobre 2010 à Morristown sur northjersey.com
l'exposition d'ocotbre-décembre 2010 sur morrismuseum.org
article de la robe lamée sur le blog soyons-suave.blogspot.fr

---
© All images are copyright and protected by their respective owners, assignees or others.
copyright text by GinieLand.
25 mai 2010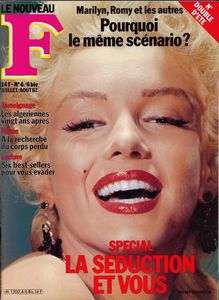 Le magazine français Le Nouveau F n°6, de juillet-août 1982 consacrait sa couverture à Marilyn Monroe, pour l'article "Marilyn, Romy et les autres: pourquoi le même scénario?"
05 novembre 2009
Passionnément ! :
Les grands amants du XXe siècle
Livre de photographies et textes
Auteurs: Isabelle Giordano, Christine Haas,
Fabien Larrieu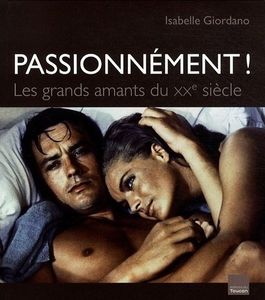 Prix éditeur: 35 Euros
Date de sortie: 21 octobre 2009
Broché 186 pages
Langue: français
Éditeur: Les éditions du Toucan
Collection: Adultes
ISBN-10: 281000322X
ISBN-13: 978-2810003228
Ou le trouver ? en commande sur fnac et sur amazon
Présentation de l'éditeur: Romy Schneider et Alain Delon, Ava Gardner et Franck Sinatra, Humphrey Bogart et Lauren Bacall, Marilyn Monroe et Arthur Miller... Qu'ils se soient aimés une vie ou quelques semaines, certains couples ont indéniablement marqué l'histoire du XXe siècle. A tel point que leur simple évocation convoque images, souvenirs, scandales et paillettes. Isabelle Giordano a rassemblé pour vous une multitude d'anecdotes et d'aventures inédites illustrées par des photographies exceptionnelles. Plongez dans la légende des amours éternelles du XXe siècle.

Biographie de l'auteur: Après Sciences Po, Isabelle Giordano devient journaliste. Elle fait ses premiers pas clans la presse écrite avant de rejoindre Canal + où elle anime Le Journal du cinéma jusque en 2001. Elle présente ensuite Jour de fête, une émission également sur le cinéma (France 2) et aujourd'hui Service public tous les jours sur France Inter, ainsi que plusieurs magazines sur Arte.
---
Vous avez le livre ?
Apportez votre critique, votre avis ou votre note (/10)
en cliquant sur commentaires...
28 juillet 2007
Marilyn and Friends
Auteur: collectif
Edition: Alinari
Prix éditeur: 35,00 Euros
Date de sortie: 25 octobre 2004
Relié: 159 pages
Editeur : Alinari
Collection : Divers
Langue : Anglais
ISBN-10: 8872924650
ISBN-13: 978-8872924655
Ou le trouver ? Sur Amazon.fr
Feuilletez quelques pages sur GoogleLivres
Description: Ce livre offre une collection de 140 photographies, dont beaucoup n'ont jamais été publiées, de stars célèbres et de leurs amis. Les photographes sont Sam Shaw et son fils, Larry. Sam Shaw rencontra pour la première fois Marilyn en 1951 et prit les poses les plus célèbres de la star. Il fut le créateur de la photo de la célèbre séquence de Marilyn dans Sept ans de reflexion, avec sa jupe blanche qui virevolte par l'air de la bouche de métro. En 1958, Larry devient l'assistant de son père et lui aussi, prit des clichés célèbres de stars de cinéma. Cette collection est représente les archives d'une famille et le reflet de l'ésprit d'une époque: le Hollywood des années 1950, Rome et Paris. Outre Marilyn, figurent des clichés de Romy Schneider, Ursula Andress, Anthony Quinn, Geraldine Chaplin, Twiggy, Marcello Mastroianni, Françoise Dorléac...

---
Vous avez le livre ?
Donnez votre avis en cliquant sur commentaires...