05 septembre 2008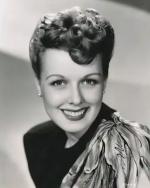 Tout commence quand les frères James Seedman et Stanley Seedman décident de promouvoir la vente de leurs diamants pour leurs deux boutiques respectives. Jim est propriétaire de la bijouterie "Carlyle's Jewelry Stores" à Salinas et Stan d'une boutique à Hollywood. Ils sont partenaires dans les deux bijouteries. Stan apprend par un vendeur de diamants de Los Angeles, qui avait travaillé à temps partiel pour la promotion de star de cinéma, qu'ils peuvent louer les services d'une jeune starlette pour une campagne publicitaire. Ils optent pour le choix d'une starlette nommée Doreen Nash (photo ci-contre) mais celle-ci annule son engagement à la dernière minute. Ils se tournent ainsi vers une autre jeune starlette du nom de scène "Marilyn Monroe".
C'est ainsi que Marilyn se retrouve pour quelques jours dans la ville de Salinas, dans le comté de Monterey en Californie, venue par le train du Coast Starlight; elle arrive à Salinas le 19 février 1948, et réside pendant son séjour au vieil hôtel Jeffery sur Main Street.
Il existe des liens indirects entre Doreen Nash et Marilyn: Doreen a été mariée à Lee Siegel, médecin des studios de la Fox et qui a suivi Marilyn; après la mort de son mari, elle épouse l'acteur James Whitmore, qui joue dans Quand la ville dort.

It all starts when brothers Jim and Stan Seedman decide to promote the sale of their diamonds for their two respective shops. Jim is the owner of the shop "Carlyle's Jewelry Stores" in Salinas and Stan has a shop in Hollywood. They are partners in both jewelers. Stan learns from a diamond seller in Los Angeles, who worked part-time for the promotion of movie star, that they could hire the services of a young starlet for a publicity campaign. They opte for the choice of a starlet named Doreen Nash (picture opposite) but she cancels her commitment at the last minute. So they turn to another young starlet stage name "Marilyn Monroe".
That's how Marilyn spends few days in the town of Salinas, in the county of Monterey in California, came by train from the Coast Starlight, she arrives in Salinas the February 19, 1948 and resides during her stay at the old Jeffery hotel on Main Street.
There are indirect links between Doreen Nash and Marilyn: Doreen was married to Dr Lee Siegel, Marilyn's physician at the Fox studios; after her husband's death, she married actor James Whitmore, who played in The Asphalt Jungle.

---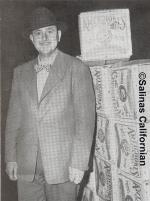 Stanley Seedman se rend à la réunion du jeudi du club des Kiwanis à Salinas et Randy Barsotti (photo ci-contre), le président de l'association de l'artichaut, lui suggére de se rendre chez un ami photographe Cal Choke pour une séance photos de promotion. Randy a alors l'idée de surnommer Marilyn "la Reine de l'Artichaut" (Artichoke Queen) car la ville de Castroville - à 24 km de Salinas - est spécialisé dans la culture de l'artichaut.
Ils lui demandent de venir visiter une ferme d'artichauts, et le 19 février 1948, ils lui offrent à midi un déjeuner de cœurs d'artichauts fraîchement cuisinés et l'honorent d'une écharpe qui la déclare «Reine de l'artichaut» à l'hôtel Santa Lucia Inn, sous les acclamations de la foule. Marilyn rencontre plusieurs agriculteurs de la région (Edward Modena, Enrico Bellone et Randy Barsotti) et après le déjeuner, comme le veut la tradition, l'assistance a écouté le discours de sermon sur la vie religieuse et morale d'Abraham Lincoln par le Révérend Ed Bowling.

Stanley Seedman goes to the Thursday meeting of the Kiwanis Club in Salinas and Randy Barsotti (picture opposite), the president of the artichoke association, suggests that they go to a photographer friend Cal Choke for a photo shoot promotion. Randy then has the idea of nicknaming Marilyn as "the Artichoke Queen" because the town of Castroville - 15 miles from Salinas - is specialized in growing artichokes.
They ask her to come visit an artichoke farm, and on February 19, 1948, they offer at noon her a lunch of freshly cooked artichoke hearts and honor her with a sash that declares her "Artichoke Queen" at the Santa Lucia Inn, to the cheers of the crowd. Marilyn meets several growers from the area (Edward Modena, Enrico Bellone and Randy Barsotti) and after lunch, as regular tradition, the audience listen to the sermon speech on the religious and moral life of Abraham Lincoln by the Reverend Ed Bowling.

- Randy Barsotti épingle une orchidée et une écharpe à Marilyn
qui est consacrée "Reine de l'Artichaut de Californie 1948" -
- Randy Barsotti pins and orchid and a sash to Marilyn
who is consecreted "Californian Artichoke Queen 1948" -

- Marilyn entourée des membres de l'association de l'artichaut:
Marilyn surrounded by members of the artichoke association:
Edward Modena, Randy Barsotti, Enrico Bellone -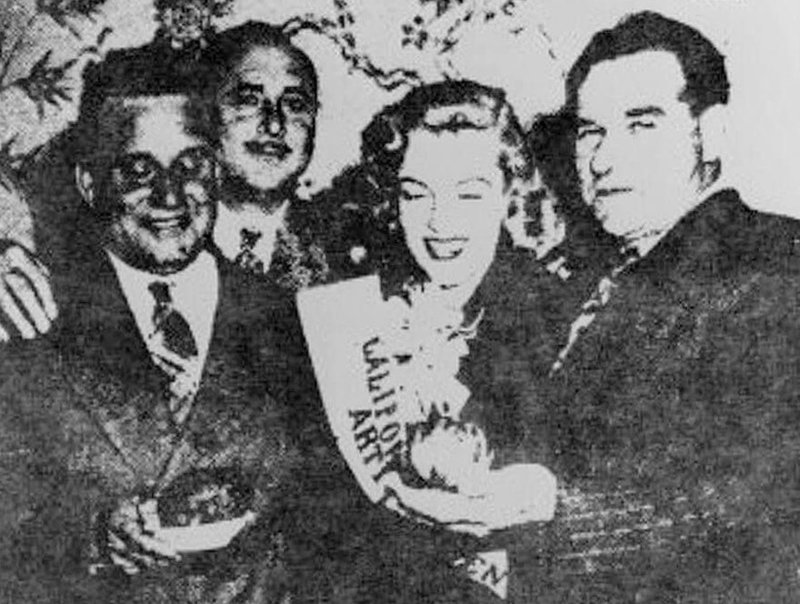 - L'écharpe est aujourd'hui exposée à
la Chambre de commerce de Castroville -
- The sash is now on display
at the Castroville Chamber of Commerce -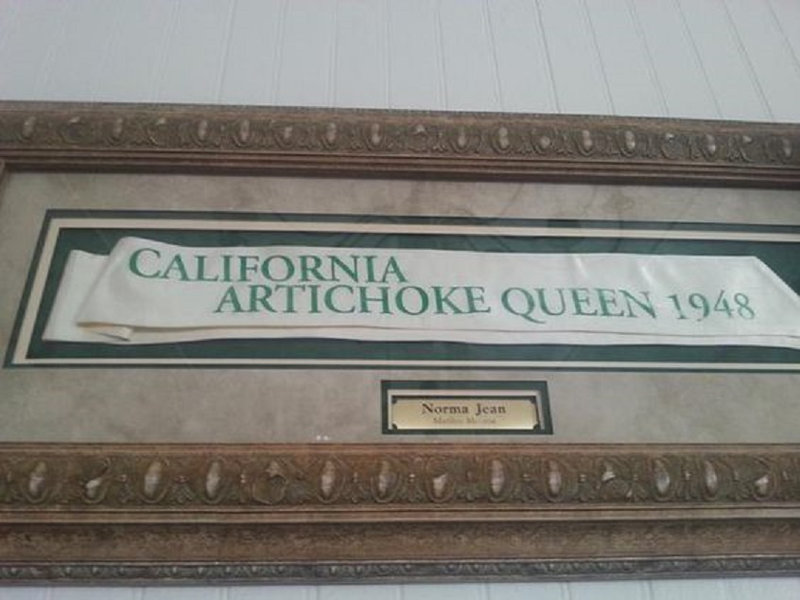 - Dans la presse -
Salinas Californian, 20/02/1948 - USA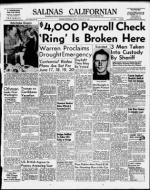 Ce soir-là, Mme Seedman raconte que Marilyn a rejoint la famille pour dîner au restaurant chic italien, Cademartori. "Elle était si douce - elle avait pris notre fils de deux ans sur ses genoux pour le divertir pendant notre dîner". Les époux Seedman n'ont pas conservé de photos de Marilyn pendant son séjour: "elle n'était pas encore célèbre"(...) nous pensions que les photographies n'avaient aucune valeur et nous avons jeté les extras !".
That evening, Mrs. Seedman says that Marilyn joins the family for dinner at the posh Italian restaurant, Cademartori: "She was so sweet - had our two-year-old son on her lap and entertained him during our dinner." The Seedman couple doesn't keep any pictures of Marilyn during her stay: "she hadn't reached a notoriety level (...) we thought the photographs where worthless and threw the extras out!".
- Cademartori, restaurant italien -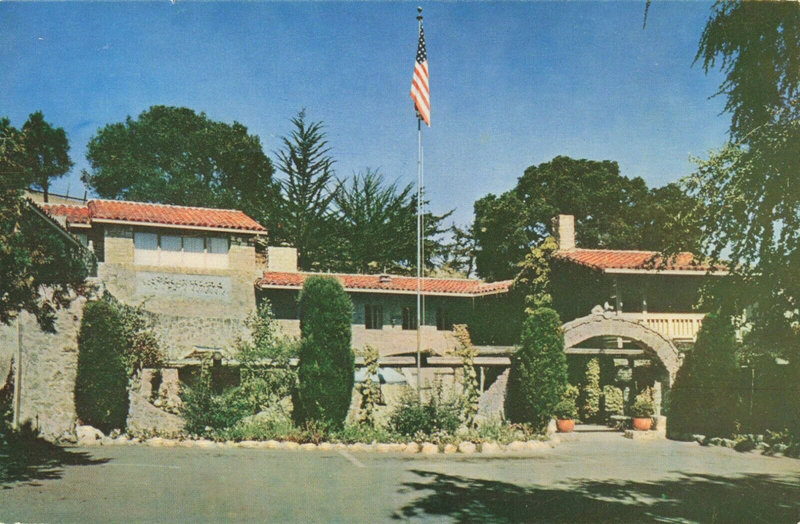 ---
Le lendemain après-midi, soit le vendredi 20 février 1948, Marilyn Monroe participe à une séance de dédicace à la bijouterie de Stanley Seedman, la boutique Carlyle's Jewelry Store au 362 Main Street à Salinas. La boutique avait commandé 200 photos de Marilyn, mais leur nombre se révéle rapidement insuffisant par l'afflux de fans et de curieux qui comprenait surtout des adolescents et les jeunes mères de famille; Marilyn n'est pas encore connue en tant qu'actrice, ses admirateurs étant surtout ceux qui la connaissent en tant que pin-up. Seedamn expliquera: "Nous ne savions pas que cela partirait aussi vite !", si bien qu'il doit commander beaucoup plus de photos et "avant la fin de la semaine, il en avait été distribuée plus de 1000". Cette publicité autour de Marilyn demeure encore l'un des plus grands évènements de la ville.
Marilyn a attiré une foule si importante pour la petite ville de Salinas qu'il a fallu avoir recours à deux policiers devant le magasin pour contrôler la densité de la foule. "Nous n'avons jamais été aussi entassés dans le magasin" admis Seedman impressionné.
The next afternoon, Friday, February 20, 1948, Marilyn Monroe participates to a signing session at Stanley Seedman's jewelry store, the Carlyle's Jewelry Store at 362 Main Street in Salinas. The store has ordered 200 photos of Marilyn, but their numbers quickly proved insufficient by the influx of fans and curious people who mostly included teenagers and young mothers; Marilyn is not yet known as an actress, her admirers being mostly those who know her as a pin-up. Seedamn will explain: "We didn't know it would go so fast !", so he has to order many more photos and "before the end of the week, it was distributed more over 1000." This publicity around Marilyn still remains one of the biggest events in the town.
Marilyn has attracted such a large crowd to the small town of Salinas that it has to use two policemen in front of the store to control the density of the crowd. "We have never been crammed into the store" admitted Seedman impressed.
- Séance de dédicace - de gauche à droite:
- Autograph session - from left to right:
James Seedman, Marilyn Monroe, Stanley Seedman-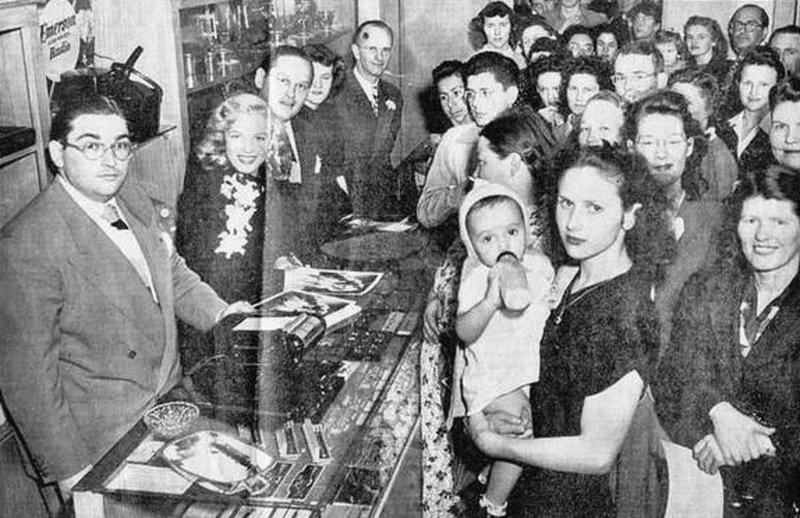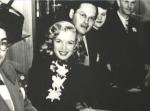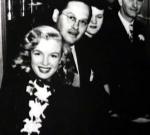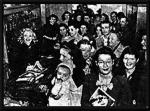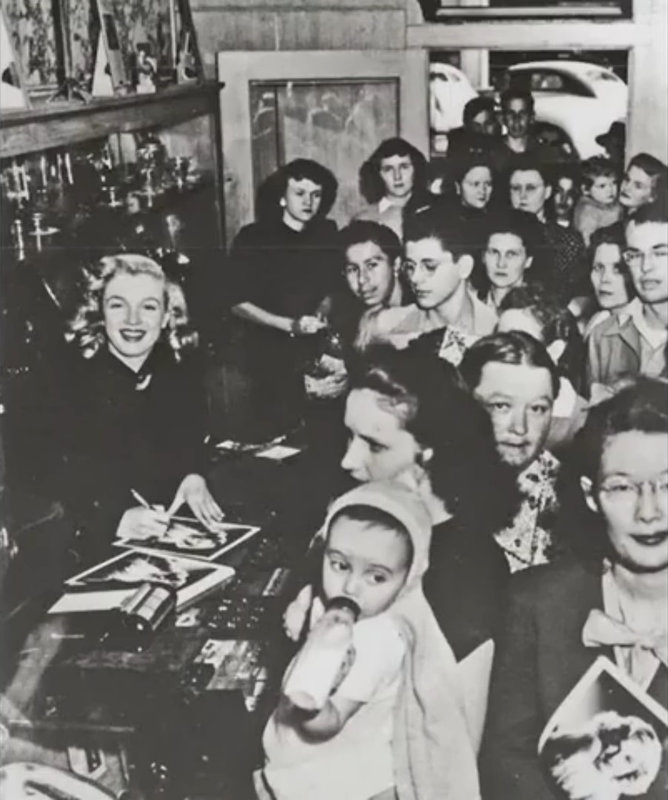 - La photo dédicacée par Marilyn est une photo des studios de la Fox
un portrait publicitaire de Laszlo Willinger -
- The picture autographed by Marilyn is a photo from Fox studios:
a publicity portrait of Laszlo Willinger -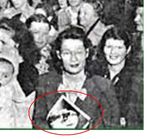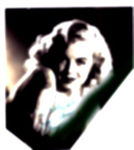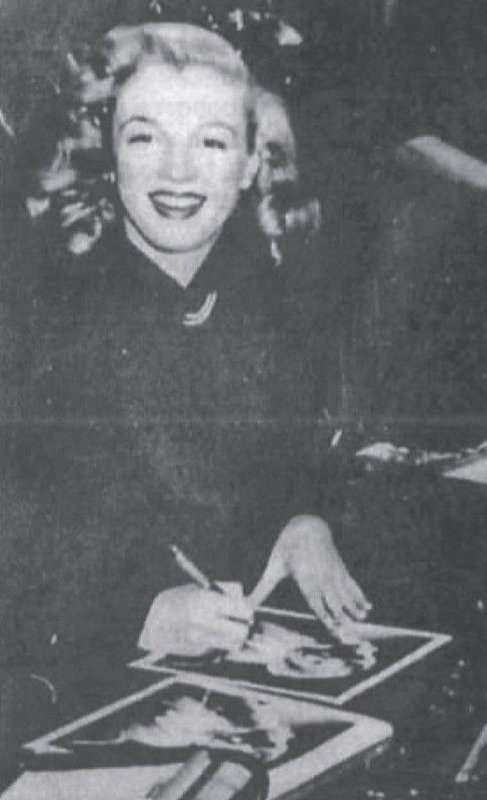 - Un portrait dédicacé ce jour-là:
- A portrait autographed that day:
"Butter Ball,
love always,
Marilyn Monroe."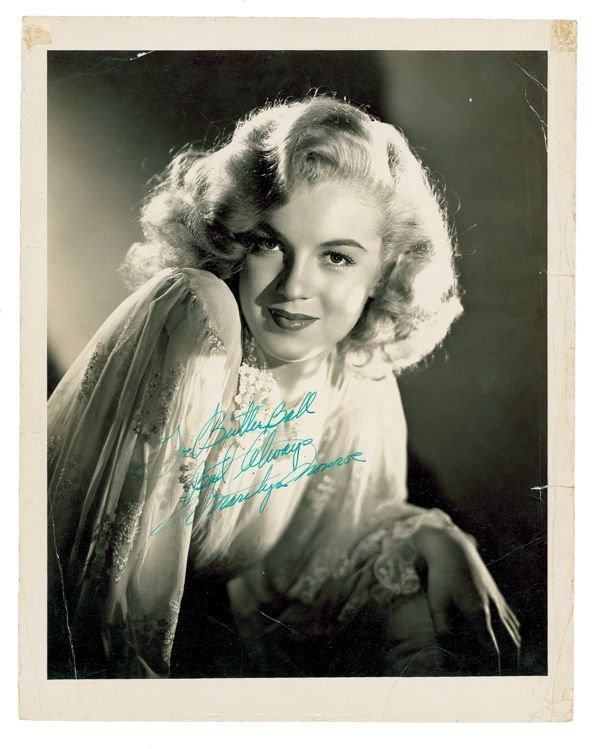 - Dans la presse -
---
Le soir du 20 février 1948, un concours est organisé pour remporter un bijou et c'est Marilyn Monroe qui remet la bague de diamant (de la bijouterie Carlyle's) à un heureux gagnant au Vogue Theatre de la ville de Salinas, juste avant le début de la soirée "Carnaval au Costa Rica". Marilyn sera surnommée ce soir là la "Reine du diamant de Salinas".

On the evening of February 20, 1948, a contest is organized to win a jewel and this is Marilyn Monroe who gives the diamond ring (from Carlyle's jewelry store) to a lucky winner at the Vogue Theater in the town of Salinas, just before the start of the "Carnival in Costa Rica" party. Marilyn will be nicknamed that night the "Diamond Queen of Salinas".

- ticket de participation au concours -
- contest participation ticket -

- Dans la presse -
Californian, 24/25 Mars 2012 - USA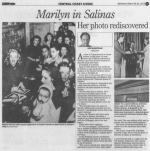 ---
Il semble que Marilyn serait restée une semaine entière à Salinas, mais on ne sait rien du reste de son séjour, excepté qu'elle ait continué ses séances de signatures d'autographes dans la bijouterie puisqu'elle signera près de 1 000 photographies.
It seems that Marilyn would have stayed a whole week in Salinas, but we don't know anything about the rest of her stay, except that she continues her autograph signing sessions in the jewelry store since she will sign nearly 1,000 photographs.

---
La ville de Castroville - dans le comté de Monterey en Californie, à 25 km de la ville de Salinas - est devenue la ville mondiale de l'artichaut et organise un festival annuel depuis 1960. L'image de Marilyn est depuis utilisée dans les publicités pour promouvoir le festival et les artichauts.

The city of Castroville - in Monterey County, California, 15 miles from the city of Salinas - became the artichoke center of the world and helds an annual festival since 1960. Marilyn's image has since been used in advertisements to promote the festival and the artichokes.
---
- Sur le web
Le séjour de Marilyn à Salinas sur Map Salinas Locals Guide History
Reportage de Stanley Foss sur sa chaîne youtube Marilyn Monroe's Lost Weekend
Site officiel Artichoke Festival

---
© All images are copyright and protected by their respective owners, assignees or others.
copyright text by GinieLand.