30 mars 2014
Le matin du vendredi 29 juin 1956, Arthur Miller et Marilyn Monroe se rendent à South Salem (un hameau à Lewisboro, dans le comté de Westchester, Etat de New York) pour régler les documents administratifs de la licence de mariage.
A leur retour à Roxbury, ils découvrent à l'angle des rues Old Tophet et Gold Mine, un nombre considérable de voitures, devant la maison de Miller, qui bloquent les rues. Les reporters ont anticipé l'annonce faite par Miller la veille, de tenir une conférence de presse avec Marilyn. Le cousin de Miller, Morty, et sa femme Florence, invitent Arthur, Marilyn et leurs parents (Augusta et Isadore Miller) à prendre le déjeuner chez eux. Pendant leur absence, d'autres journalistes arrivent chez Miller: jusqu'à 400 journalistes se réunissent devant la maison de Miller, piétinant l'herbe et grimpant aux arbres dans l'espoir d'apercevoir le couple. Mais comme ni Marilyn, ni Arthur, ne se trouvent sur les lieux, certains journalistes mènent l'enquête pour savoir où le couple se trouve. Parmi eux, la journaliste Mara Sherbatoff, chef du bureau new-yorkais du magazine français Paris Match, accompagnée du photographe Paul Slade, et du frère de celui-ci Ira Slade, 18 ans, qui leur sert de chauffeur. Mara et Ira partent chez Morty Miller, qui habite à environ 2 km de chez Arthur alors que Paul Slade reste devant la maison d'Arthur et finit de préparer son matériel photographique. Il fait très chaud, le soleil tape beaucoup. Mara et Ira se garent devant la maison de Morty et attendent.
On the morning of Friday, June 29, 1956, Arthur Miller and Marilyn Monroe go to South Salem (in Lewisboro, a hamlet in Westchester County, New York) to set the administrative documents of the marriage license.
On their return to Roxbury, they discover at the corner of Old Tophet and Gold Mine, a large number of cars in front of the Miller House, which block the streets. Reporters anticipated the announcement made by Miller the day before, to hold a press conference with Marilyn. Miller's cousin, Morty and his wife Florence, invite Arthur, Marilyn and their parents (Isadore and Augusta Miller) to have lunch at home. During their absence, other journalists arrive at Miller's home: 400 journalists gather at the home of Miller, trampling the grass and climbing trees in the hope of seeing the couple. But as neither Marilyn nor Arthur, are not here, some journalists investigate to find where the couple is. Among them, the journalist Mara Sherbatoff, head of the New York office of the French magazine 'Paris Match', accompanied by the photographer Paul Slade, and his brother Ira​, 18 years old, who serves as their driver. Mara and Ira go to Morty Miller's house, who lives about one mile and a half from Arthur's home, while Paul Slade remains outside the home of Arthur and finish to prepare his photographic equipment. It is a very hot day, the sun is a lot. Mara and Ira are parked outside the home of Morty and wait.
---
Peu avant 13 heures, Marilyn, Arthur et Morty Miller partent dans un break. Morty conduit très vite car il connait parfaitement la petite route de campagne sinueuse et cahoteuse. Ira Slade et Mara Sherbatoff suivent le break. Peu avant l'arrivée, Ira rate un virage et s'encastre dans un chêne. Le choc est si violent que même les reporters qui attendent dans l'herbe devant la maison de Arthur, entendent le bruit. Morty arrête à son tour sa voiture et avec Arthur et Marilyn, ils courent en direction de la voiture accidentée: Ira, le conducteur, est effondré derrière le volant et Mara, assise du côté passager, a été projetée contre le pare-brise, son visage, couvert de sang, est ouvert des lèvres au front, des dents sont tombées, sa poitrine est écrasée, ses jambes sont cassées et du sang coule dans sa gorge. Elle gémit doucement. Marilyn va aider à déloger Mara et va la poser au sol, à côté de la voiture. Arthur extrait le jeune homme dont les blessures sont beaucoup moins importantes. Paul Slade se précipite sur les lieux en courant, et fait pression sur l'artère de Mara afin de stopper les écoulements de sang.
Shortly before 1 p.m, Marilyn, Arthur and Morty go in a station wagon. Morty drives very quickly because he knows perfectly the small winding and bumpy road. Ira and Mara take off after them. Shortly before the arrival, Ira misses a turn and fits into an oak. The shock was so violent that even the reporters waiting in the grass in front of the house of Arthur, hear the noise. Morty stops his car and with Arthur and Marilyn, they run towards the crashed car: Ira, the driver, is crumpled behind the steering wheel and Mara, sat on the passenger side, has been hurled partway through the windshield, her face is covered by blood, cut from the lips to the forehead, teeth are felt, his chest is crushed, her legs are broken and blood flows in her throat. She moaned softly. Marilyn help to dislodge Mara and lies down her on the ground beside the car. Arthur extract the young man whose injuries are much less important. Paul Slade rushed to the scene, and puts pressure on the artery of Mara to stop the flow of blood.
---
Marilyn, Arthur et Morty reprennent leur break et accélèrent chez Arthur. Arthur est le premier sorti de la voiture, en se précipitant dans sa maison pour prévenir les secours. Puis, Marilyn et Morty suivent; avec ses lunettes de soleil et son chemisier blanc taché de sang, Marilyn est traumatisée: "Il vient d'y avoir un méchant accident un peu plus haut. Une fille a été terriblement blessée. C'est terrible".
L'hôpital le plus proche est à New Milford. Miller apprend que l'ambulance ne sera pas là avant deux bonnes heures; c'est alors qu'il précise à l'opérateur que la fille sur la route est Marilyn Monroe et que l'histoire fera les gros titres dans la presse le lendemain, ce qui va permettre d'accélérer les choses.
Marilyn, Arthur and Morty go back in their station wagon and accelerate at Arthur's home. Arthur is the first out of the car, rushing into his house to phone at the hospital. Then, Marilyn and Morty follow; with her sunglasses and white shirt stained with blood, Marilyn is traumatized: "There's been a very bad accident up there. A girl has-been terribly hurt. It's awful."
The nearest hospital is at New Milford. Miller learns that the ambulance will not be there before two hours, then he says to the operator that the girl on the road is Marilyn Monroe and the story will make headlines in the press the next day; this will speed things up.
> photographie de Samuel Goldstein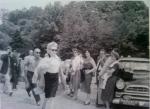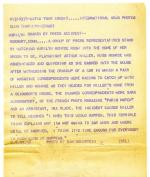 ---
Marilyn monte à l'étage pour se changer et se préparer à la conférence de presse; elle met une chemise de couleur vert moutarde et une jupe noire en lin et malgré la chaleur, Arthur enfile un pull noir en col V par-dessus sa chemise blanche. Personne ne semble vouloir annuler. L'humeur de Marilyn varie entre le bouleversement provoqué par l'accident, et la colère contre son attaché de presse qui a laissé venir la télévision, un média qu'elle déteste. Une trentaine de minutes plus tard, Marilyn est prête et sourit aux journalistes. Mais l'atmosphère qui règne est étrange et dérangeante: pendant que Marilyn, Arthur et ses parents -Isadore et Augusta Miller- posent pour les photographes, l'ambulance arrive.
Marilyn goes upstairs to change clothes and prepare for the press conference, she puts a mustard green shirt and a black linen skirt and despite the heat, Arthur puts a black V-neck sweater over his white shirt. Nobody seems to want to cancel. The Marilyn's mood varies from the trouble caused by the accident, and the anger against his press secretary who left coming television, a media she hates. Thirty minutes later, Marilyn is ready and smiles at reporters. But the atmosphere is strange and disturbing: while Marilyn, Arthur and his parents -Isadore and Augusta Miller- pose for photographers, the ambulance arrives.
---
Puis, Milton Greene, venu de Weston, gère les dernières dispositions techniques, donne des instructions aux journalistes et présente le couple aux médias, en leur précisant qu'ils n'auront que 20 minutes pour obtenir ce qu'ils veulent.
Then, Milton Greene, came from Weston, manages the latest technical provisions, gives instructions to journalists and introduce the couple to the media, stating that they will only have 20 minutes to get what they want.
---
Arthur Miller et Marilyn Monroe prennent place sous un grand érable. Marilyn va se montrer plutôt anxieuse, reportant son angoisse par des marques d'affection envers Arthur: elle caresse son épaule, l'étreint en le serrant par la taille, et elle se montre peu locace, laissant les déclarations à Miller qui lui, semble préoccupé, en embrassant le front de Marilyn, faisant de nombreux petits gestes de nervosité et fumant beaucoup. C'est la première fois, depuis sa comparution devant la commission, que les reporters l'interviewent. Le couple ne donne aucun détail sur leur mariage à la presse.
Arthur and Marilyn take place under a large maple tree. Marilyn will be rather anxious, transposing her anguish by some affection to Arthur: she caresses his shoulder, hugs him, hugging by his waist, and she shows little talkative, leaving statements to Miller who seems worried, kissing the forehead of Marilyn, making many small gestures of nervousness and smoking a lot. This is the first time since his appearance before the Committee, that the reporters interview him. The couple doesn't give any details about their marriage to the press.
> photographies de Milton Greene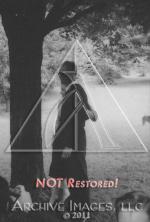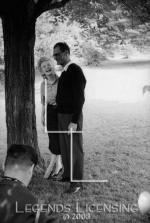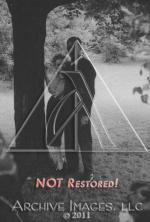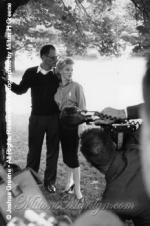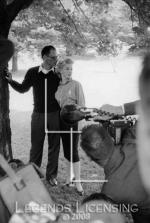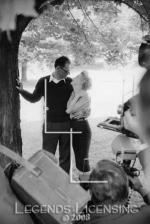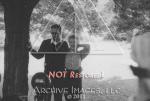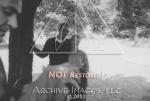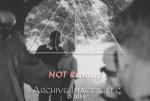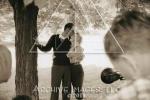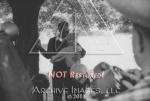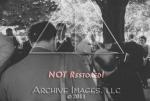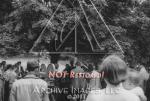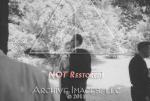 ---
Quelques déclarations:
> Arthur Miller, déclare, suite à l'accident: "Je savais que ça arriverait. Cette chose terrible explique pourquoi je ne vais pas dire où ni quand nous nous marierons. Je pense qu'il y a assez de temps pour tout le monde de savoir quand cela arrive. Si la presse ne me laisse pas seul, nous partirons d'ici pour une destination inconnue."
> Journaliste: - Mademoiselle Monroe, quel genre de mariage allez-vous avoir ?
Marilyn: - Très tranquille, j'éspère.
> Journaliste: -Un petit garçon a trois voeux: faire de l'argent en premier, devenir un ingénieur en deuxième, et en troisième, il dit "quand je serai grand, j'aimerai avoir une blonde, avec des yeux bleus, elle sera comme Marilyn Monroe".
Marilyn: -Je suis flattée !

Few Statements:
> Arthur Miller, said, refering to the accident: "I knew this would happen. This terrible thing explains why I'm not going to say when and where we'll be married. I think it's time enough for everybody to know when it happens. If the press do not leave me alone, we will leave here for parts unknown."
> Journalist: - Miss Monroe, what kind of wedding will you have ?
Marilyn: - Very Quiet, I Hope.
> Journalist: -A little boy has three wishes: make money in first, to be an engineer in second, and third, he said "when i grow up, i'd like to have a blond, she had to have blue eyes, she has to be like Marilyn Monroe".
-Marilyn: -I'm flattered !
> photographies de Milton Greene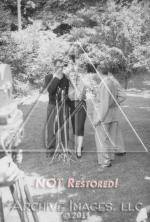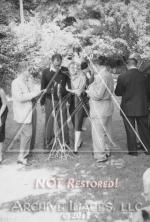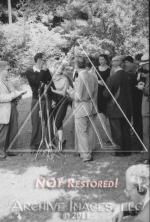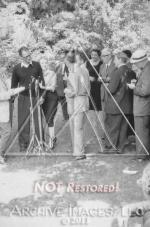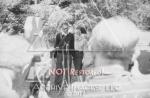 ---
Après le départ des reporters, on apprend le décès de Mara Sherbatoff sur la table d'opération de l'hôpital de New Milford. Marilyn est affolée. Paula Strasberg, qui se trouve à New York, va déclarer que l'accident est un mauvais présage, ce que va soutenir aussi Marilyn. Arthur Miller, furieux de tout ce tapage, décide alors de se marier immédiatement, s'arrangeant pour que la cérémonie se tienne au Westchester County House de White Plains.
After the reporters leave, the death of Mara Sherbatoff on the operation table at the hospital in New Milford is learned. Marilyn is distraught. Paula Strasberg, who is in New York, will report that the accident is a bad omen, wich will also the idea of Marilyn. Arthur Miller, furious of all these disturbances, then decides to marry immediately, arranging that the ceremony held at the Westchester House in White Plains.
> sur le blog: article Le Mariage Civil d'Arthur et Marilyn
---
> videos
- attente des reporters et l'accident

- accident et arrivée de Marilyn


- début de l'interview


- extrait de l'interview


- extrait de l'interview


> News TV:
USA: Arthur and Marilyn to marry
Angleterre: British Pathe People In the News

---
---
.sources:
Marilyn Monroe, biographie de Barbara Leaming
Les vies secrètes de Marilyn Monroe, d'Anthony Summers
Marilyn Monroe, encyclopédie d'Adam Victor

---
© All images are copyright and protected by their respective owners, assignees or others.
copyright text by GinieLand.
07 août 2013
Sept ans de réflexion
Sur le tournage - scène 11
Date: le 15 septembre 1954, à une heure du matin.
Lieu: entre la 51 et 52st Street, au croisement de Lexington Avenue.
Scène: il s'agit d'une scène mythique, l'une des plus célèbres de l'histoire du cinéma, qui reste sans doute la "scène la plus vue au monde", celle où la robe blanche de Marilyn se soulève entraînée par l'air d'une grille de métro. La presse en parla comme de "l'exhibition la plus intéressante depuis Lady Godiva".
Date: September 15, 1954, at one o'clock.
Location: between 51 and 52st Street on the corner of Lexington Avenue.
Scene: it is a mythical scene, one of the most famous in the history of cinema, which is probably the "most scene view in the world," the one where the white dress of Marilyn Monroe rises, driven by the blow of the subway grate. The press spoke of as "the most interesting exhibition since Lady Godiva".
---
Marilyn Monroe, Tom Ewell, le réalisateur Billy Wilder (homme en noir, chapeau noir), Johnny Graham (homme en costume, chapeau et cigar), manager de production de la Côte Est qui organisa la logistique pour le tournage des scènes à New York, et Natasha Lytess, la coach de Marilyn.
---
>> Photographies de George Barris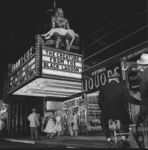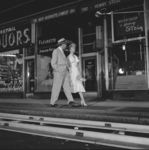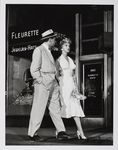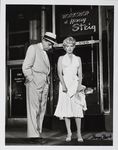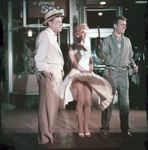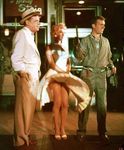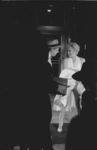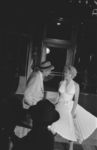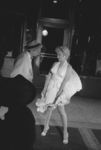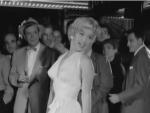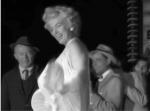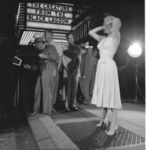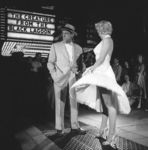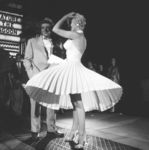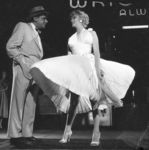 ---
---
>> Photographie de Matthew Zimmerman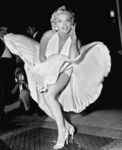 ---
>> Photographie de Sam Goldstein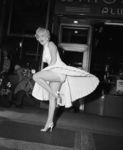 ---
---
>> Photographie de Tom Caffrey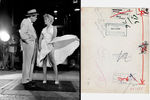 ---
>> Photographies de Kas Heppner

---
>> Photographies de Frank Worth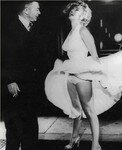 ---
>> Photographies de Milton Greene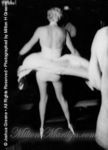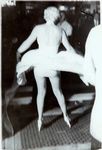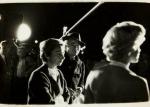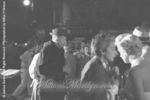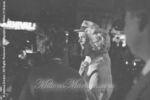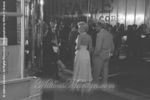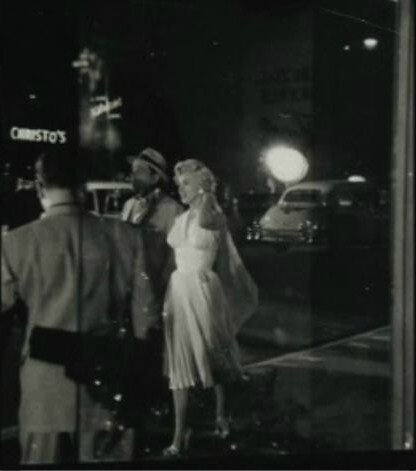 ---
>> Photographies de George S. Zimbel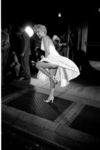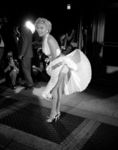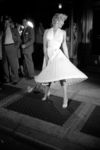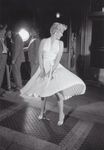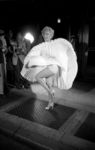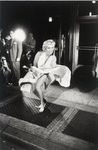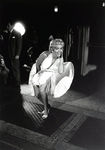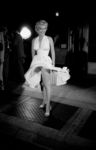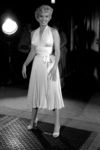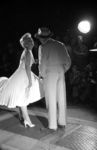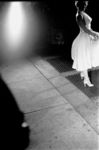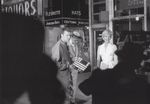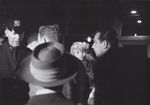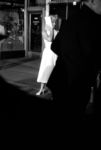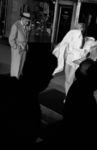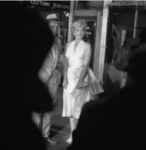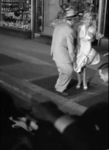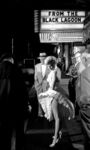 ---
>> Photographies de Elliot Erwitt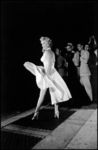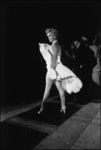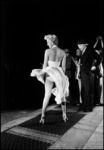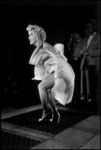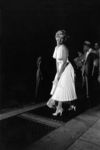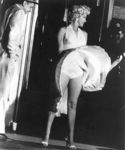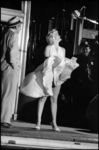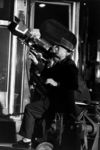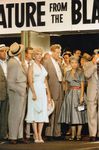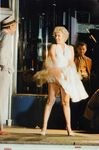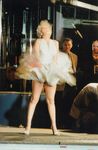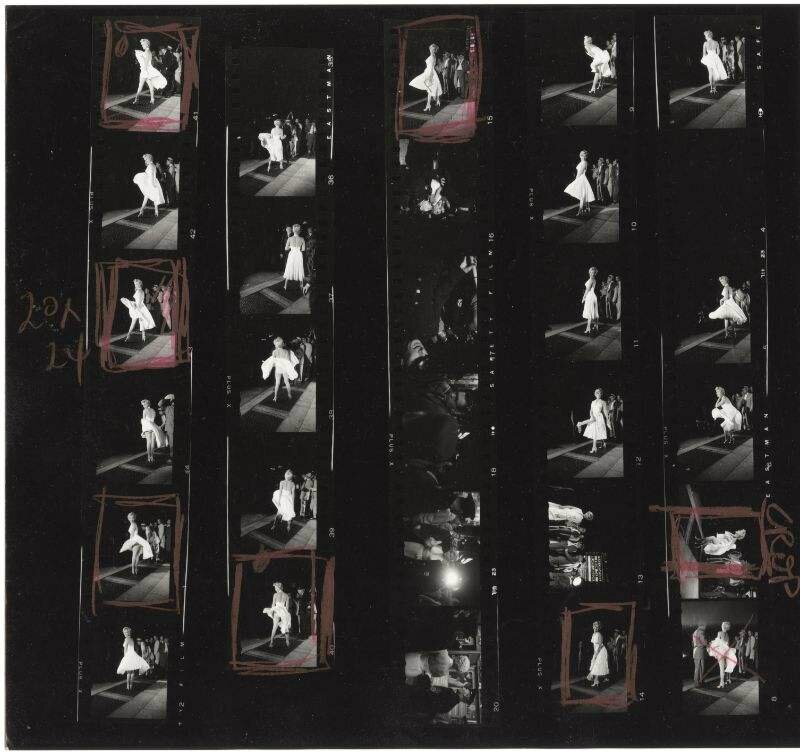 ---
>> Photographies de Garry Winogrand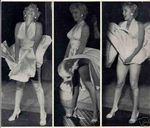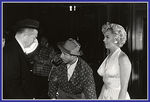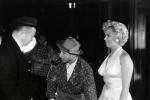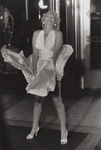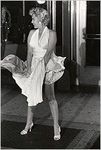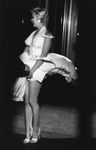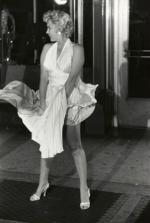 ---
>> Photographies de Charles Hagedorn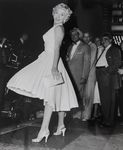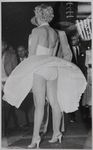 ---
>> Photographies de John Randolph Hearst

---
>> Photographies de Bill Kobrin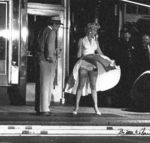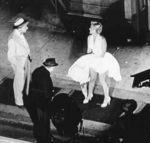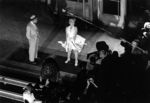 ---
---
>> Photographies de Bruno Bernard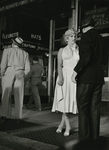 Extraits du journal de Bruno Bernard:
- Le magazine Redbook engagea Bruno Bernard pour couvrir le tournage de Marilyn dans The Seven Year Itch.
- New York - 14/09/1954. Si cela n'avait pas été pour mon travail (la couverture de Redbook) et Marilyn, dix chevaux ne m'auraient pas traîné sur le tournage de Seven year Itch. Zut. J'ai attendu trois heures au milieu des odeurs transpiration et des cris de la foule et d'une bande de paparazzis (...). Soudain, la foule a poussé un formidable hurlement. Marilyn apparaissait en chair et en os. Lorsque Billy Wilder, le metteur en scène, a dit "On tourne", Marilyn est sortie du théâtre, a fait quatre pas sur la gauche avant de s'arrêter juste au-dessus d'une grille d'aération. A ce moment précis, on doit imaginer qu'un métro quitte la station, l'air qu'il déplace soulevant la jupe de Marilyn. Pour mieux contrôler l'action, les accessoiristes ont disposé un ventilateur directement sous la grille. Dans certaines prises, la jupe blanche de Marilyn s'est soulevée au point de lui couvrir le visage, à la grande joie des spectateurs hystériques. D'après le scénario, Marilyn doit simplement dire: "Ah, quel soulagement ! N'est-ce pas délicieux ?!" tandis qu'elle prend plaisir à sentir cet air frais.
La scène a été refaite trente fois parce que Marilyn se trompait à chaque fois dans son texte. Sous sa robe, elle ne portait qu'une petite culotte de soie blanche transparente. (...) DiMaggio, qui se trouvait juste en face de moi et près de walter Winchell, regardait le spectacle. Je me rendais nettement compte que la gêne de DiMaggio tournait à la fureur. Je me frayais rapidement un chemin à travers la foule, dans l'espoir de le calmer. Mais, avant que je n'arrive près de lui, il avait déjà quitté les lieux très en colère. Winchell (...) m'a dit que DiMaggio était parti "apaiser son tempérament de macho italien au Toot's Shor's". Roy Croft nous rejoignit: "Nous devrions plutôt nous réjouir qu'elle porte au moins quelque chose dessous".
L'absence de DiMaggio ne la troubla pas, et la déesse de l'amour poursuivit ses interminables prises devant son public new-yorkais extasié.
- J'ai vraiment besoin de faire ces photos de Joe et Marilyn pour boucler mon article. Depuis le couloir de leur appartement du Saint Regis, je peux entendre les éclats d'une querelle passionnée suivie par des pleurs hystériques. Je suis parti et je n'ai pas fait mes photos. (...) J'étais abbatu et silencieux. Rencontrant Roy dans l'ascenceur, il tenta de me consoler: "Tout n'est pas perdu. Comme il y avait trop de bruits de fond en extérieur, Wilder a décidé de refaire toute la scène à Hollywood."

---
>> sources:
- Livres: Bernard of Hollywood's Marilyn / De Norma Jean à Marilyn, de Susan Bernard / Marilyn among friends, Sam Shaw / L'Encyclopédie d'Adam Victor / Marilyn Monroe et les caméras, de Georges Belmont / Les trésors de Marilyn Monroe, de Jenna Glatzer / Les vies secrètes de Marilyn Monroe, d'Anthony Summers.

---
All photos are copyright and protected by their respective owners.
copyright text by GinieLand.

Enregistrer
Enregistrer
16 avril 2013
Action Caritative
La soirée du 30 mars 1955: Marilyn Monroe participa à la grande cérémonie de bienfaisance organisée par Mike Todd et son cirque (Ringling Brothers Circus) dont les bénéfices étaient reversés à une fondation qui lutte contre l'arthrose et les affections rhumatismales.
C'était la première apparition en publique de Marilyn depuis son départ de Los Angeles. Le contrat de la Fox lui interdisait la participation à des spectacles rémunérés, mais les soirées de bienfaisance n'entraient pas dans cette catégorie.
Marilyn se rendit de son hôtel au Madison Square Garden en limousine avec Dick Sheperd (qui était alors agent au département cinéma de MCA à New York). Elle réussit à se faufiler dans les couloirs de l'établissement, gagna sa loge et put s'habiller dans le calme relatif.
The evening of March 30, 1955: Marilyn Monroe participated to the great charity ceremony organised by Mike Todd and his circus (Ringling Brothers Circus) to benefit the Arthritis Foundation and Rhumastismales disorders.
It was the first public appearance of Marilyn since her departure from Los Angeles. Fox's contract forbade participation in paid shows, but charity evenings did not fall into this category.
Marilyn was accompanied by Dick Shepperd for the trip from the hotel to Madison and photographed by Ed Feingersh. She managed to sneak into the corridors of the school, won his lodge and could dress in relative calm.
> Marilyn et Dick Sheperd (photos de Ed Feingersh)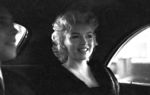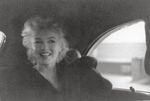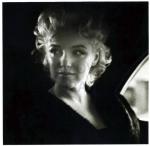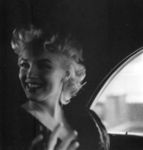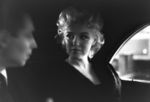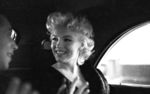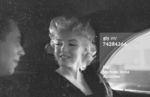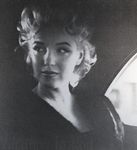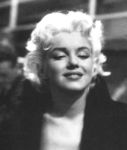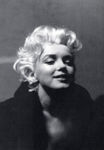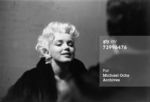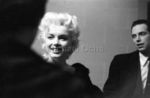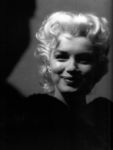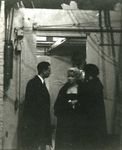 ---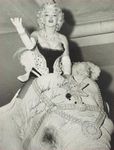 Dans les coulisses, Marilyn s'est préparée, soutenue par Milton Berle et la jeune Alice Fitzpatrick; Milton Greene et Peter Leonardi (son secrétaire et coiffeur à cette époque) sont aussi présents, dans l'ombre. Elle lui dédicacera une des photos de la soirée (voir ci-contre).
Behind the scenes, Marilyn prepared, supported by Milton Berle, the young Alice Fitzpatrick; but also Milton Greene and Peter Leonardi (his secretary and hairdresser at the time) who were also presents in the shadows. She will dedicate him one of the photos of the evening.
> Arrivée de Marilyn (avec Milton Greene)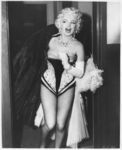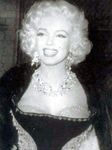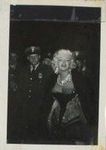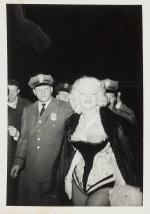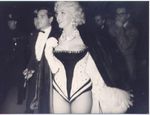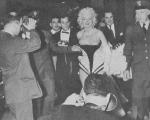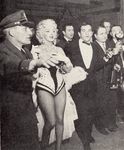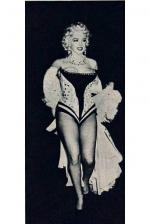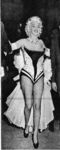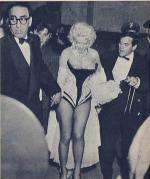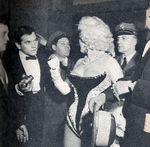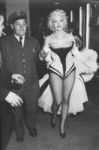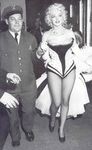 ---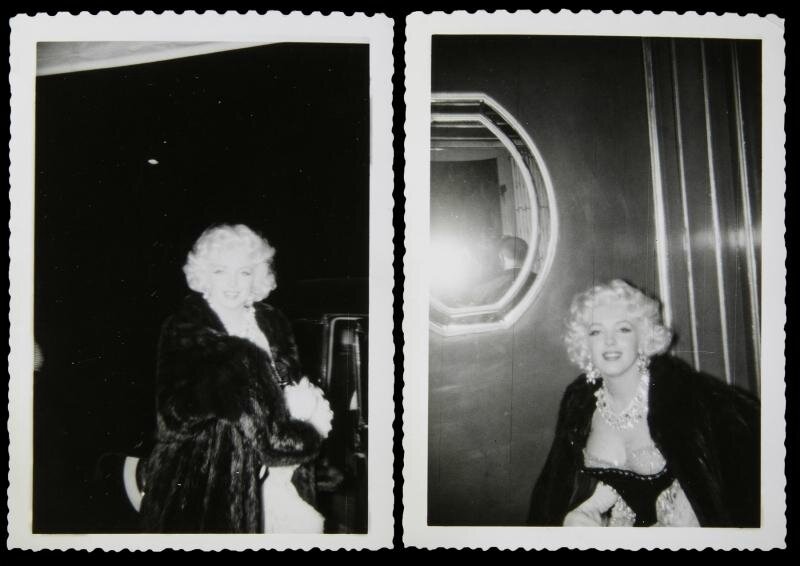 - de la collection de Frieda Hull, une fan des Monroe Six
-from the personal collection of Frieda Hull, one of the 'Monroe Six'
---
- photo de Max Peter Haas ->


- photos de Marvin Scott ->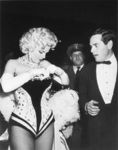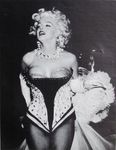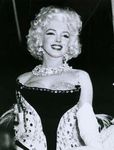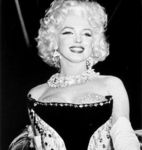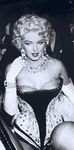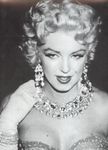 - photo de Weegee ->


- autres photos ->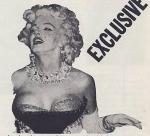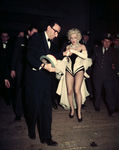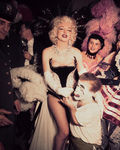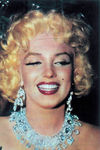 - photo de Sam Goldstein ->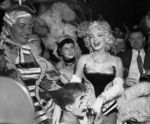 ---
Le grand show, qui se tient au Madison Square Garden à New York, était présenté par Milton Berle, qui officiait en tant que "Monsieur Loyal", le 'maître de cérémonie', et qui présente Marilyn en ces termes: "Voici la seule femme au monde à côté de qui Jane Russell ressemble à un homme!", provoquant l'hilarité dans la foule. Plus de 25 000 spectateurs étaient présents; ils avaient payer 50 dollars leurs places; dont Joe DiMaggio, l'ex-époux de Marilyn.
Dans la salle, deux cents photographes s'arrachaient les meilleures places (Ed Feingersh, Milton Greene, Marvin Scott, Walter Carone, Weegee, Sam Goldstein, Erika Stone...). Lorsqu'enfin elle entra en scène, Milton Berle dut leur demander de s'accroupir pour ne pas gêner les autres spectateurs. Marilyn Monroe fit une entrée triomphale, juchée sur le dos d'un éléphant indien peint en rose, nommé Karnaudi (ou Kinardy), appartenant au cirque Barnum & Bailey. Elle déclarera plus tard: "C'était très important pour moi, je n'étais jamais allée au cirque quand j'étais enfant."
The big show, which held at the Madison Square Garden in New York, was presented by Milton Berle, who was the "Master of the Ceremony". More than 25,000 spectators were presents, including Joe DiMaggio in the stands; and two hundred photographers snatched the best seats (Ed Feingersh, Milton Greene, Marvin Scott, Walter Carone, Weegee, Sam Goldstein, Erika Stone...). When finally she came on the stage, Milton Berle, had to ask them to squat to not to interfere with other spectators. Marilyn Monroe made a triumphal entrance, perched on the back of an indian elephant painted pink, named Karnaudi (or Kinardy) and belonging to the Barnum & Bailey circus.
Le magazine Variety écrivit: "Marilyn Monroe juchée sur un pachyderme peint en rose fut le clou de la soirée. Malheureusement, les photographes agglutinés autour de la star à demie nue l'empêchaient d'avancer. On put difficilement admirer les charmes de Miss Monroe, mais en définitive, la foule ne s'était déplacée pas pour rien." Les autres stars présentes furent toute au plus citées.
Variety Magazine said: "Marilyn Monroe perched on an elephant painted pink was the highlight of the evening. Unfortunately, photographers clustered around the half naked star prevented her from advancing. We could hardly see the charms of Miss Monroe, but ultimately, the crowd had not moved for nothing. "Other present stars have not been mentionned.
> Entrée de Marilyn qui monte sur l'éléphant
- photos de Ed Feingersh ->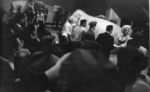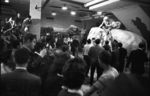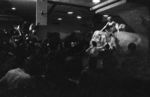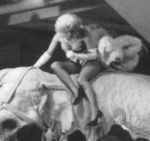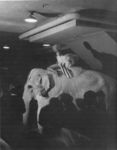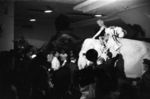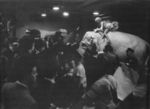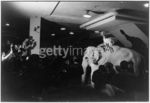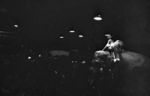 - autres photos (Marvin Scott, Weegee, Sam Goldstein...) ->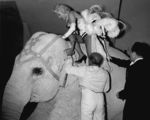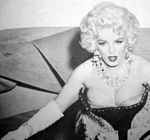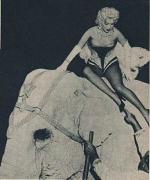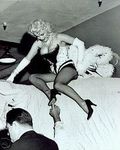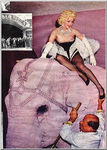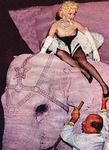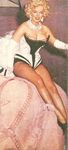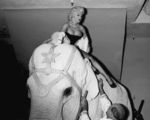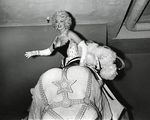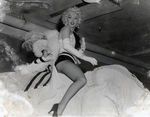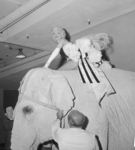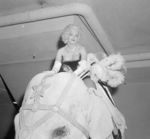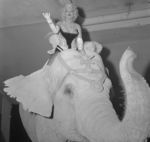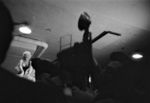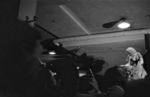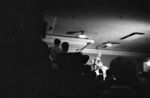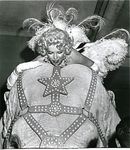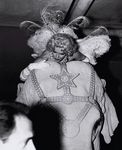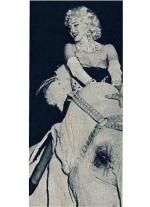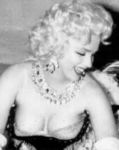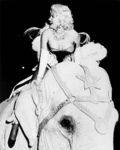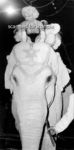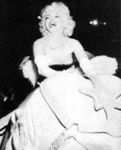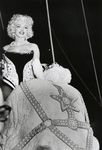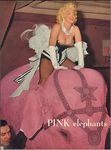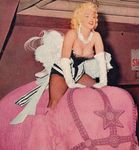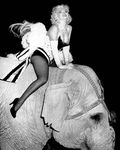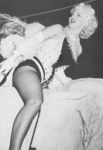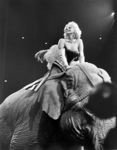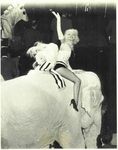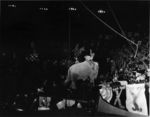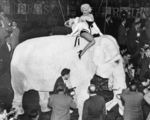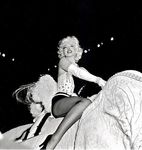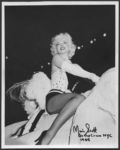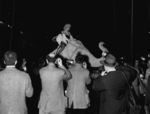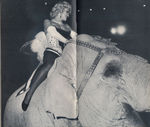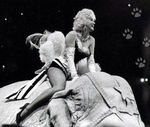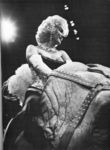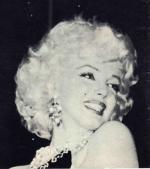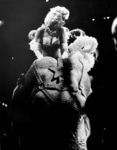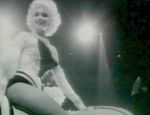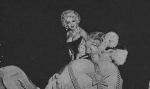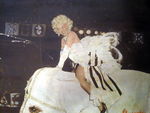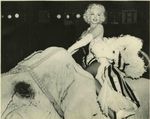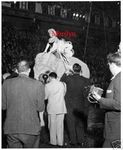 - photos de Walter Carone ->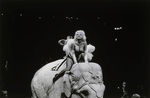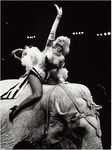 ---
- Photographies de Milton H Greene -
---
> Le public (on distingue Joe DiMaggio)


---
> videos

Marilyn Madison Square Garden 1955 par MissYria

---
---
Le soir du spectacle, Milton Greene loua la suite Cecil Beaton de l'Ambassador Hotel de New York, où lui-même, Amy Greene et Marilyn purent s'habiller et accueillir une poignée de visiteurs en provenance de la Côte Ouest. Michael Todd, toujours généreux avec ses invités, avaient fait venir les stars en avion et en première classe: Jeannette MacDonald et Gene Raymond, James Cagney, Red Buttons, Martha Raye, Terry Moore, Julius LaRosa, Sammy Davis Jr, Sonja Henie et Bess Myerson. Amy Greene avait commandé à Norman Norrel la robe se soie noire que MM devait porter jusqu'au Madison Square Garden et pendant les mondanités.
(> voir les photos de l'essayage de la robe par Ed Feingersh).
The night of the show, Greene rent a room (the 'Cecil Beaton suite') at the Ambassador Hotel in New York, where he himself, Amy and Marilyn dressed and could receive visitors from the West Coast. Michael Todd, always generous with his guests, had made come by plane and first class some movie stars like Jeanette MacDonald and Gene Raymond, James Cagney, Red Buttons, Martha Raye, Terry Moore, Julius LaRosa, Sammy Davis Jr, Sonja Henie and Bess Myerson. Amy Greene commanded the Norman Norrell black silk dress black that Marilyn was wearing at her arrival to the Madison Square Garden and for the party in the hotel.
---
sources pour l'article:
Magazines: Paris Match 9 avril 1955 / Redbook 1955, July
Livres: Marilyn édition de La Martinière, photos de Ed Feingersh /
Marilyn Monroe et les caméras .
web: article "Do you want to see her?" sur le blog / le site d'images corbis
Photos de Milton Greene: a huge thanks to Maarit !

---
All photos are copyright protected by their respective owners.

Enregistrer