24 octobre 2011
La rivière sans retour
Sur le tournage
Le 24 juillet 1953, Marilyn Monroe se rend à Seattle pour prendre l'avion en direction du Canada, pour tourner les scènes extérieures de River of no return (La rivière sans retour) réalisé par Otto Preminger, avec l'acteur Robert Mitchum. Elle fait une escale à Vancouver, où elle reste une journée: elle est interviewée par des journalistes de la presse locale, visite Stanley Park, rencontre le chef des Indiens Mathias Joe Capilano (elle sera prise en photos par le photographe de la presse locale: William Cunningham); puis se rend à Jasper, et part en voiture à Alberta, où se trouve son hôtel: un chalet du Banff Spring Hotel.
---
> Marilyn à Vancouver
Elle est interviewée par Monty Mc Farlane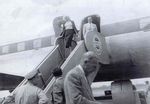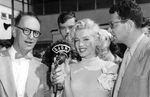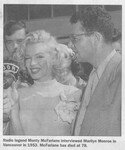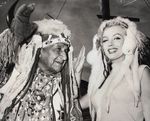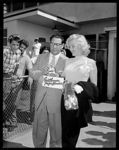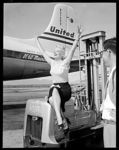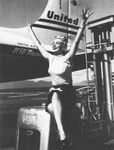 > Marilyn et Robert Mitchum et Rory Calhoun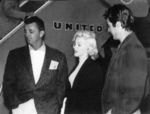 ---
> Marilyn à Jasper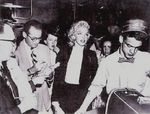 > avec Harry Home et Sandy Robinson (des habitants de Jasper)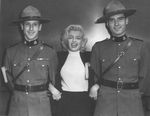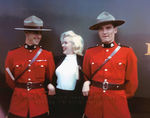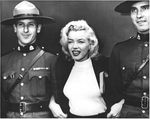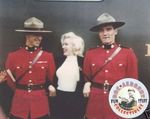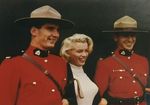 > Marilyn au Banff Spring Hotel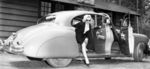 ---
> dans la presse

---
> sur le web: article Marilyn visits Vancouver
La rivière sans retour
Sur le tournage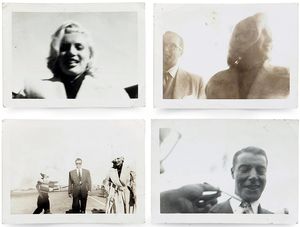 Marilyn Monroe, Robert Mitchum (avec des lunettes de soleil) et Joe Di Maggio, à l'aéroport international de Vancouver, au Canada.
> vidéo


---
Le 1er septembre 1953, Marilyn Monroe et Robert Mitchum prennent l'avion à Seattle pour se rendre à Los Angeles. Marilyn porte un plâtre à sa jambe gauche et marche avec des béquilles, après s'être blessée à la cheville sur le tournage de River of no return (La rivière sans retour) au Canada. Le tournage des scènes extérieures au Canada étant bouclées, l'équipe du film retourne à Los Angeles pour terminer les prises de vues en studio. Marilyn est vêtue de la robe en laine qu'elle porte dans l'une des scènes du film Gentlemen prefer blondes (Les hommes préfèrent les blondes).
Enregistrer