12 septembre 2012
Mermaid Gown with Blue Sequins
robe sirène aux paillettes bleues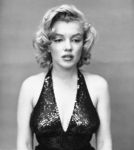 Les robes dîtes 'sirènes' font parties intégrantes de l'image de Marilyn Monroe. Ce sont ces robes au décolleté très plongeant (jusqu'au sternum, entre la poitrine et le nombril), en forme V, et au dos nu. Marilyn porta ce type de robes à plusieurs reprises: notamment la fameuse robe lamée or portée en 1952, et surtout, la robe blanche de "Sept ans de réflexion", mais aussi la robe rouge de sa dernière séance d'avec Milton Greene en 1957, ainsi que cette robe à strass et paillettes.
Cette robe aux paillettes qui permettent de refléter la lumière, est dans les tons bleu / gris. C'est une création signée du couturier Norman Norell. Marilyn a d'ailleurs porté différentes robes de ce créateur pour de nombreuses sorties en public (théâtre, première, conférence de presse, remise de prix).
Mais cette robe paillette, qui moule littéralement le corps, semble être l'une des préférées de Marilyn, qui la porta à de nombreuses reprises:
Marilyn apparaît pour la première fois vêtue de cette magnifique robe le 18 décembre 1956 pour la première du film Baby Doll qui s'est tenue à Broadway, à New York. Elle était accompagnée de son mari Arthur Miller. Elle coordonna la tenue avec de longues boucles d'oreilles pendantes à strass, faisant échos aux paillettes de la robe; ainsi qu'avec un manteau de fourrure blanc à la doublure noire.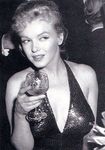 Puis elle porte à nouveau la tenue pour une sortie publique quelques mois plus tard: le 11 avril 1957 au grand Bal 'April in Paris', au Waldorf Astoria à Manhattan, New York; qui était un gala comprenant un dîner et une soirée dansante. Toujours accompagnée de son mari Arthur Miller, Marilyn avait cette fois-ci relevé ses cheveux en chignon et ne porte aucun bijoux.
Les autres photographies montrant Marilyn portant cette robe, sont des portraits effectués en studio par les photographes Richard Avedon et Milton Greene. D'abord, en 1957, pour une série de clichés promotionnels du film "Le Prince et la danseuse": celles de Avedon avec Marilyn sur un canapé, avec un fourreau transparent, avec un tigre en peluche, et une série de portraits de Marilyn seule (datée du 6 mai 1957); et celles de Greene de Marilyn avec Laurence Olivier .

La dernière séance où elle porte la robe, toujours sous la direction du photographe Richard Avedon, est en 1958 pour une série de portraits pour le magazine Life.


---
Inspirations
Norman Norell s'est-il inspiré d'autres robes à strass et paillettes pour créer sa tenue ? Comme celle-ci portée par l'actrice Lana Turner, qui est devenue célèbre dans les années 1940, bien que sa robe à paillettes n'est pas en forme de 'sirène'.

D'autres actrices vont porter des robes 'sirènes' à strass et paillettes. Comme ces 'doubles' de Marilyn des années 1950: Jayne Mansfield et surtout celle portée par Mamie Van Doren, qui semble être une copie conforme de celle portée par Marilyn:
>> Jayne Mansfield (Février 1958, Las Vegas, Tropicana Club)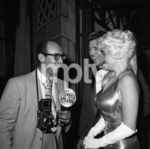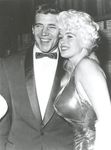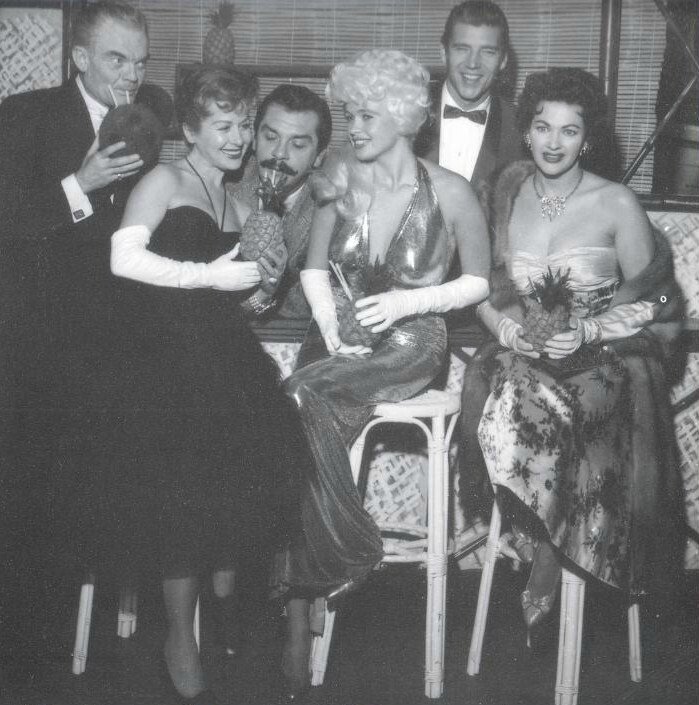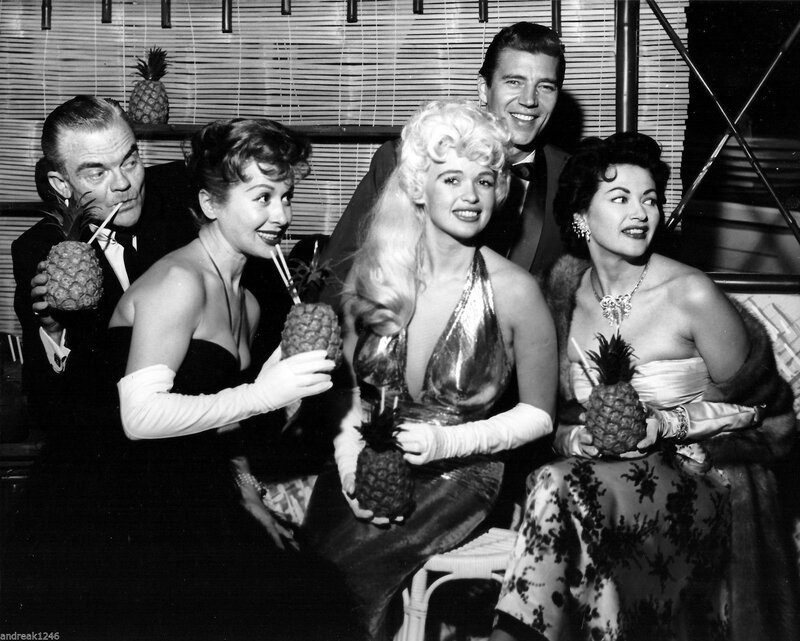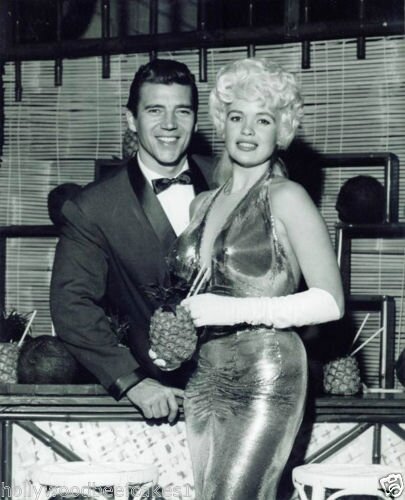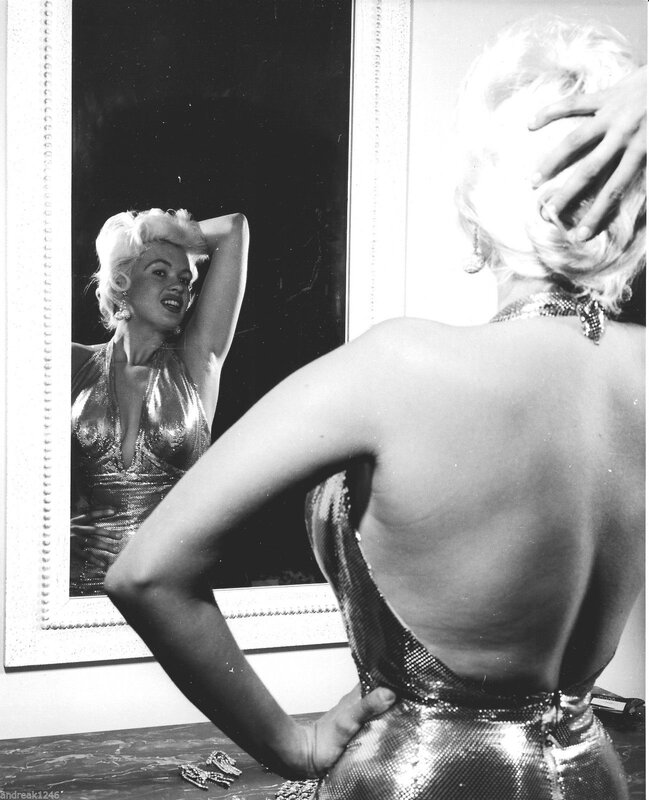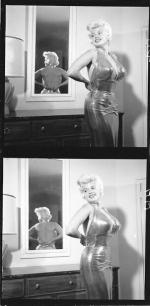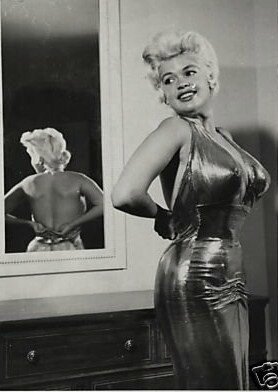 >> Lauren Bacall en 1955 (ici, avec David Niven
à la première de "Around The World in 80 Days")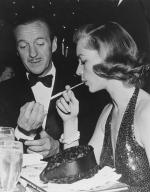 En 1995, le photographe Bill Nation fait poser des actrices en Marilyn. Chacune prend la pose vêtue d'une robe à strass, à l'image de la séance de Marilyn par Richard Avedon:

>> Jeanne Tripplehorn, Liz Hurley, Melanie Griffith et Rebecca De Mornay: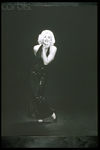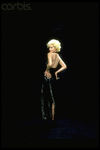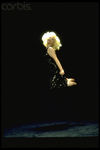 Les années 1970 sont celles de la musique disco et des paillettes. De nombreuses chanteuses portaient alors des tenues brillantes, faîtes de strass, comme Dalida et Sheila:

---
© All images are copyright and protected by their respective owners, assignees or others.
copyright text by GinieLand.
Enregistrer
31 juillet 2011
Robe noire à col bijoux
Black gown with jewels collar
Robe de soirée noire, longue jusqu'au pied, au décolleté profond sur le devant, et au dos nu, retenu par deux longues bretelles. Le contour du décolleté et les bretelles comporte des strass de bijoux argentés.

Black evening dress, long to the foot, with a deep neckline on the front, and a bare back, held by two long straps. The outline of the neckline and the straps features silver jeweled rhinestones.
---
La Robe portée par d'autres
The Dress worn by others
---
Cette robe est portée initialement par l'actrice allemande Hildegard Knef dans le film Les neiges du Kilimandjaro de Henry King, avec Gregory Peck, Susan Hayward et Ava Gardner dans les rôles principaux. Le film est sorti sur les écrans américains en septembre 1952. La robe est une création de Charles Le Maire, le superviseur des costumes du film.
This dress was originally worn by German actress Hildegard Knef in Henry King's movie The snows of Kilimanjaro, starring Gregory Peck, Susan Hayward and Ava Gardner. The film is released in US screens in September 1952. The dress was designed by Charles Le Maire, the film's costume supervisor.
---
Marilyn et la robe
Marilyn and the gown
---
Marilyn Monroe emprunte la robe qui avait dû être remise au département costumes des studios de la Fox, pour la porter à une séance de portraits Studio de la Fox par Frank Powolny, vers septembre 1952.
Pour cette séance, elle porte deux paires de boucles d'oreilles différentes, et un large bracelet à strass à son poignet droit.
Marilyn Monroe borrows the dress that must have been given to the costume department at Fox Studios, to wear it to a Fox Studio portrait session by Frank Powolny, circa September 1952.
For this shoot, she is wearing two different pairs of earrings, and a large rhinestone bracelet on her right wrist.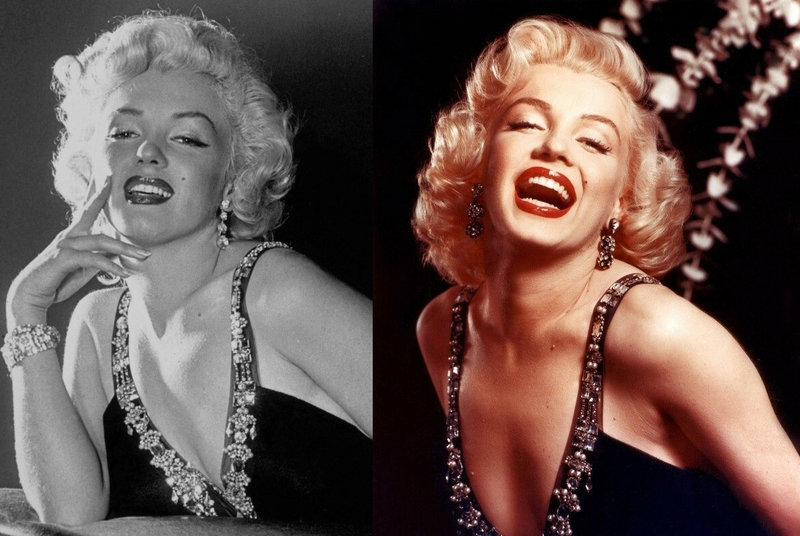 Un photographe de l'armée, J W Richardson, envoyé par le magazine Leatherneck, la prend en photos en coulisses: elle a retiré le bracelet et porte une troisième paire de boucles d'oreilles.
An army photographer, J W Richardson, sent by Leatherneck magazine, takes pictures of her backstage: she has removed the bracelet and wears a third pair of earrings.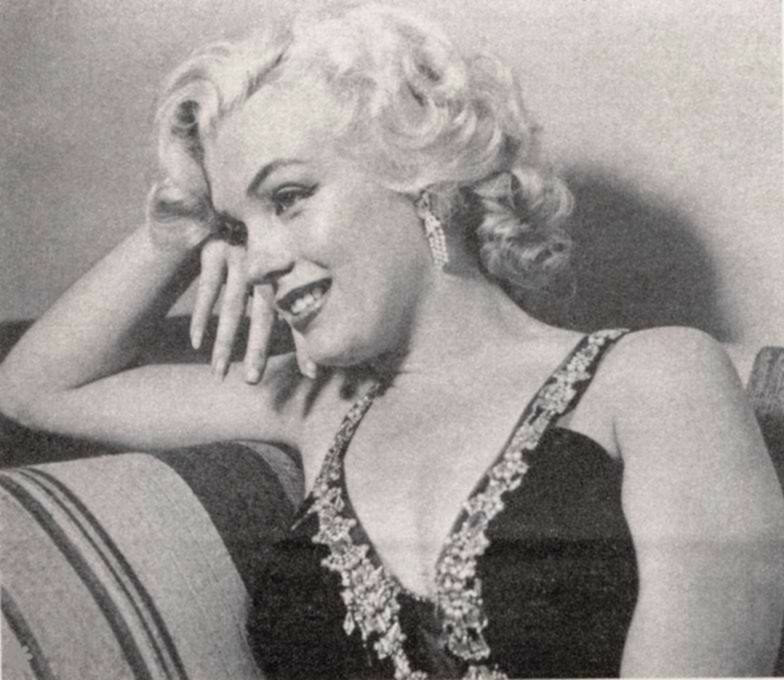 ---
Inspirations
Robes noires à col ou bretelles à strass / bijoux
Black dresses with collar or straps with rhinestones / jewels
Ethel Merman - 1930
sur scène à Broadway dans la comédie musicale "Girl Crazy"
on stage on Broadway in the musical "Girl Crazy".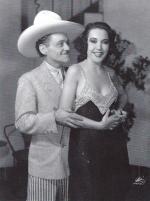 Ethel Merman - 1954
partenaire de Marilyn dans "La Joyeuse Parade"
partner of Marilyn in "There's no business like show business"
Styliste: William 'Billy' Travilla


Jeanne Crain - 1955
film "Les hommes épousent les brunes", la suite de "Les hommes préfèrent les blondes"
film "Gentlemen marry brunettes", a sequel of "Gentlemen Prefer Blondes"
Styliste: William 'Billy' Travilla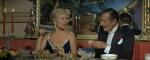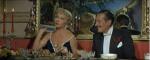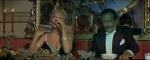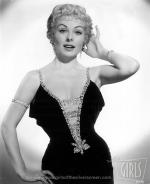 Sandra Dee - 1965
film "Ah si papa savait ça"
film "Take Her, She's Mine"
Styliste: William 'Billy' Travilla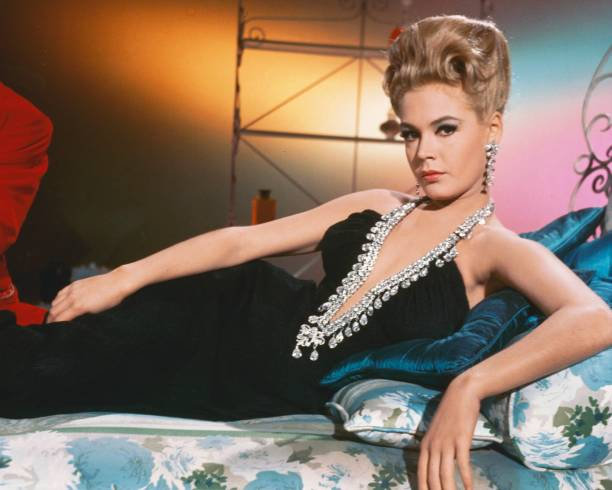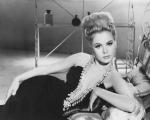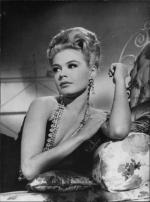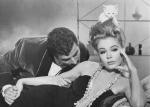 Romy Schneider (1970) & Catherine Deneuve (1976)
couturier: Yves Saint Laurent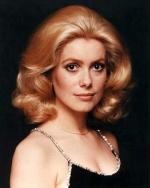 Barbara Bach
en James Bond Girl en 1977 dans "L'espion qui m'aimait"
as James Bond Girl in 1977 in "The Spy Who Loved Me"
Styliste: Rosemary Burrows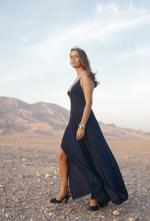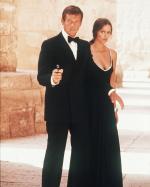 Sheila & Sylvie Vartan - 1970's

Mariah Carey - 1991 - Grammy Awards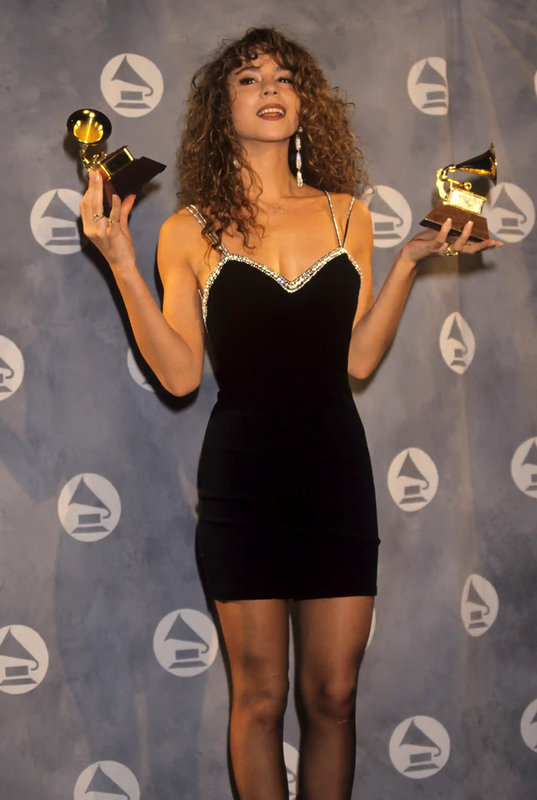 Esther Canadas (1998) & Adriana Karembeu (1999)
couturier: Thierry Mugler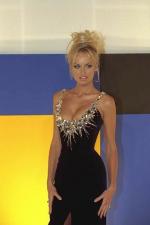 Christina Aguilera - 2004 - Pub parfum "X Pose"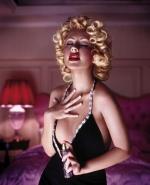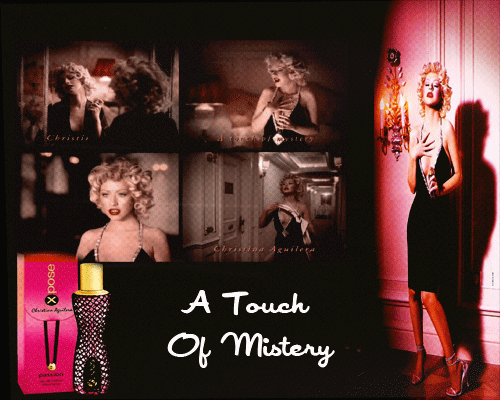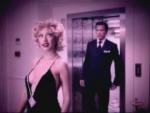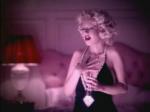 Sharon Stone - 2005 - film "Basic Instinct 2"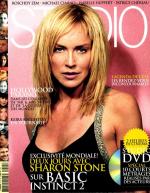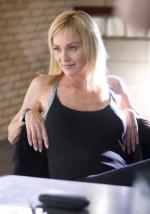 Emily Blunt - 2018 - Vanity Fair US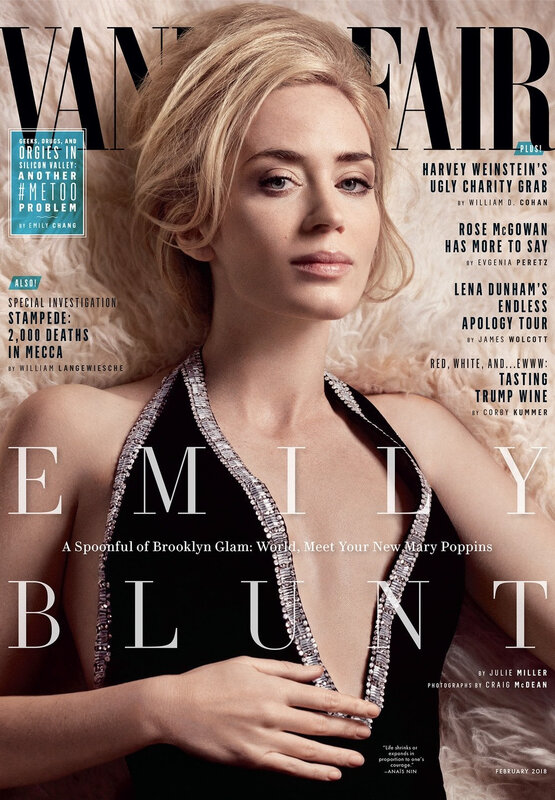 Mode: Moschino - Défilé Hiver 2019 - Milan Fashion Week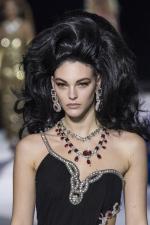 ---
The snows of Kilimanjaro

Marilyn a empunté une autre robe de Charles Le Maire portée aussi par Hildegard Knef dans le même film:une robe orangée ornée de perles, aussi pour une séance de portraits en studio pour la Fox en 1953 (séance de John Florea).
article Robe orange ornée de perles de Charles Le Maire
Marilyn borrowed another Charles Le Maire dress also worn by Hildegard Knef in the same film: an orange dress decorated with pearls, also for a studio portrait session for Fox in 1953 (John Florea session).
---
>> sources:
Le film The snows of Kilimanjaro sur imdb
Photos d'Hildegard Knef sur doctormacro.com
---
© All images are copyright and protected by their respective owners, assignees or others.
copyright text by GinieLand.
Enregistrer
Enregistrer