06 octobre 2020
Bikini Jaune à Lacets
Yellow Lace up Bikini
Maillot de bain deux pièces de couleur jaune, que Marilyn Monroe a porté à de nombreuses reprises lors de séances photos quand elle était une jeune modèle.
C'est un bikini à lacets: le soutien gorge de forme triangle se ferme par un cordon blanc devant ou derrière le corps, et la culotte comporte des lacets blancs qui se nouent de chaque côté. Elle devait beaucoup aimer ce maillot qu'elle a porté pendant au moins sept ans (de 1946 à 1952).
Two-piece yellow swimsuit, that Marilyn Monroe wore many times during photoshoots when she was a young model.
It's a lace-up bikini: the triangle-shaped bra closes with a white lace in front or back of the body, and the panties have white laces that tie on each side. She must have love this swimsuit that she wore during at least seven years (from 1946 to 1952).

---
Le maillot de bain est en réalité fait de trois pièces: en plus du soutien gorge et de la culotte, il comporte une petite jupe ouverte sur le côté dont le lacet se noue par croisement. Ce type de maillot de bain trois pièces était très en vogue au début des années 1950s aux Etats-Unis.
The swimsuit is actually made of three pieces: in addition to the bra and the panties, it includes a small skirt open on the side whose lace is tied by crossing. This type of three-piece swimsuit was very popular in the early 1950s in the United States.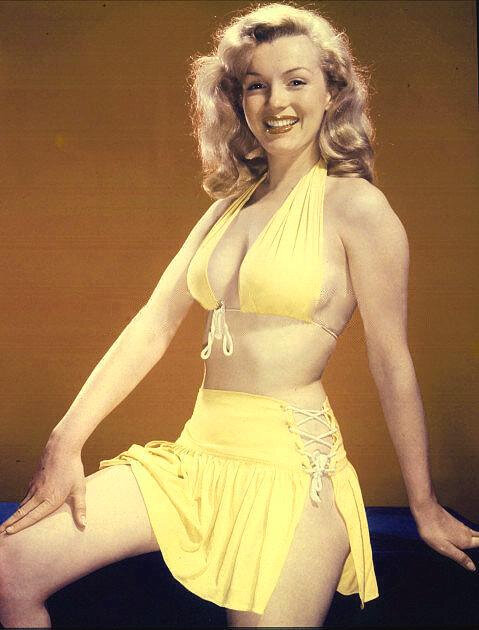 ---
Les séances photos
The Photoshoots
---
C'est encore sous le nom de Norma Jeane Dougherty que la future Marilyn Monroe signe un contrat avec le photographe Richard C Miller qui photographie la jeune modèle pour des clichés publicitaires le 26 mars 1946 sur la plage de Santa Monica. Norma Jeane est photographiée dans différentes tenues et maillots de bain. Ce sont les premières photographies la montrant porter ce maillot de bain deux pièces jaune.
It's again under the name of Norma Jeane Dougherty that the future Marilyn Monroe signs a contract with the photographer Richard C Miller who photographs the young model for advertising shots in March 26, 1946 on the beach in Santa Monica. Norma Jeane is pictured in a variety of outfits and swimsuits. These are the first photographs showing her wearing this two-piece yellow swimsuit.

---
Toujours en 1946, pour des portraits aux allures de pin-up pris dans le studio du photographe Bruno Bernard, Norma Jeane accessoirise le bikini en le portant avec la petite jupe jaune.
Also in 1946, for pin-up-like portraits taken in the studio of photographer Bruno Bernard, Norma Jeane accessorizes the bikini by wearing it with the little yellow skirt.
---
Cette même année 1946, autres poses de style pin-up pour le photographe et illustrateur Earl Moran.
That same year 1946, other pin-up style poses for photographer and illustrator Earl Moran.
---
Encore en 1946, et toujours pour des portraits pris en studio mais sous l'objectif du photographe Laszlo Willinger.
Again in 1946, and still for portraits taken in a studio, but under the lens of photographer Laszlo Willinger.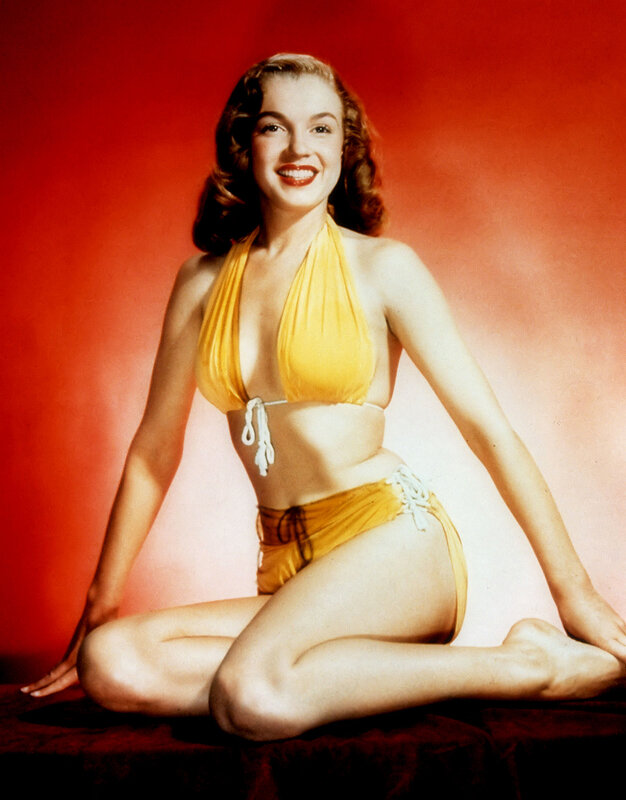 ---
Cette même année 1946, on devine par le haut du maillot qu'elle le porte encore pour des portraits noir et blanc pris par Edwin Steinmeyer (dit 'Steinie') destinés à l'agence de mannequin Blue Book où elle y est inscrite; la séance a lieu dans l'Ambassador Hotel où l'agence est située.
That same year 1946, we can see from the top of the swimsuit that she was still wearing it for black and white portraits taken by Erwin Steinmeyer (known as 'Steinie') for the Blue Book model agency where she was registered as a model; the session takes place in the Ambassador Hotel where the agency is located.
---
Au début de 1947, elle porte le maillot avec la jupe pour des portraits dans un studio au décor de nuages dans les studios de la Fox qui distribuera les photos dans la presse pour promouvoir leur nouvelle starlette.
At the beginning of 1947, she wore the bathsuit with the skirt for portraits in a studio with a decor of clouds in the Fox studios which would distribute the photos in the press to promote their new starlet.

---
C'est en 1948 qu'elle réapparaît avec le maillot: elle porte le soutien gorge et la petite jupe pour des portraits en studio pris par le photographe Laszlo Willinger. En 1950, l'une des photographies servira de support publicitaire pour le maquillage Westmore.
It was in 1948 that she reappeared with the swimsuit: she wears the bra and the little skirt for studio portraits taken by the photographer Laszlo Willinger. In 1950, one of the photographs served as an advertising medium for Westmore makeup.

---
Puis c'est le 26 mai 1950 que Marilyn porte à nouveau le maillot lors d'une séance photos de Bob Beerman qui prend place dans une villa privée de Westwood village.
Then on May 26, 1950, Marilyn wears the swimsuit again during a Bob Beerman photoshoot which takes place in a private villa in Westwood village.
Cependant, elle a cette fois-ci noué le cordon du soutien gorge non plus devant, mais dans le dos.
However, this time she tied the bra cord no longer in front, but in the back.
---
On la redécouvre encore vêtue du maillot dans une autre séance photos couleur non datée (en 1950 ou 1951) où elle pose à la plage sur le sable au bord de l'eau.
We rediscover her still wearing the swimsuit in another undated color photoshoot (in 1950 or 1951) where she poses at the beach, in the sand by the water.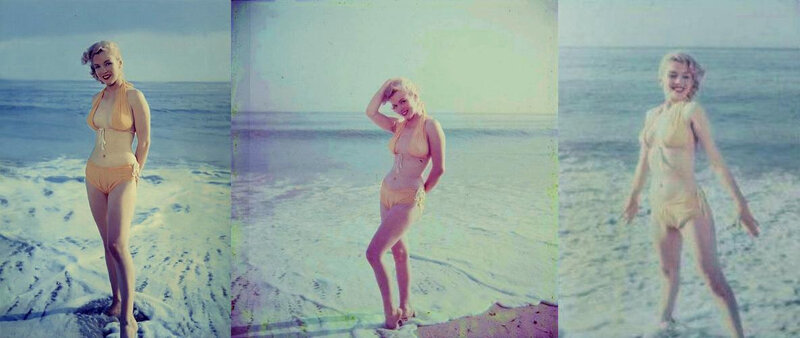 ---
Durant l'année 1951, elle fait plusieurs séances avec le photographe Anthony Beauchamp: elle apparaît vêtue du maillot de bain deux pièces dans deux d'entre elles.
During the year 1951, she made several sessions with the photographer Anthony Beauchamp: she appeared dressed in the two-piece swimsuit in three of them.

- En pin-up telle une Vénus allongée sur une serviette éponge dans un tranzat.
In pin-up like a Venus lying on a terry towel in a tranzat.

- A la plage pour des photographies plus spontanées.
At the beach for photographs with more spontaneous poses.


---
Toujours en 1951, elle est aussi photographiée par Earl Theisen mais aux studios de la Fox , en mode pin-up glamour.
Always in 1951, she is photographed by Earl Theisen, at the Fox studios , in glamorous pin-up mode.

---
Enfin, elle porte pour une dernière fois le bikini jaune en 1952, dans une séance photos en studio de David Preston où elle reprend des poses de pin-up.
Finally, she wears the yellow bikini for the last time in 1952, in a David Preston studio photoshoot where she resumes pin-up poses.

---
D'autres Bikinis à Lacet de Marilyn
Other Lace-up Bikinis of Marilyn

---
La jeune modèle Marilyn a porté d'autres maillots de bain deux pièces du même style qui se nouent par un petit lacet.
Young model Marilyn wore other two-piece swimsuits of the same style which are tied with a small lace.
---
En 1946, en prenant la pose pin-up pour le photographe et illustrateur Earl Moran: le soutien gorge est de forme plus ronde en se nouant sur le devant, et la culotte se noue en lacet de croisement; le lacet est plus foncé. L'artiste la représentera avec ce maillot de couleur jaune.
In 1946, taking the pin-up pose for the photographer and illustrator Earl Moran: the bra is rounder in shape by being tied at the front, and the panties are tied in a crossed lace; the lace is darker. The artist will represent her with this yellow color.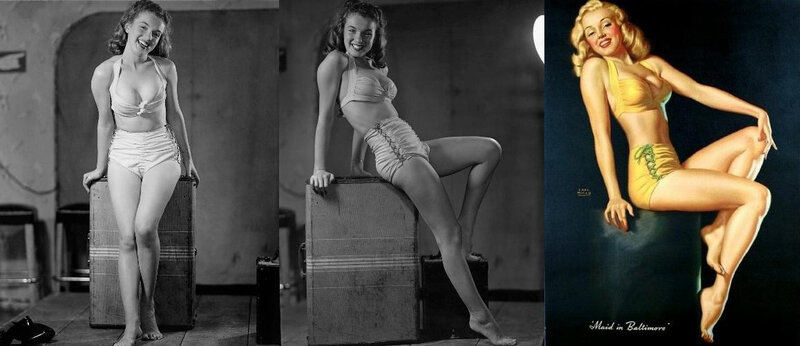 ---
Le même maillot, encore sous l'égide d'Earl Moran l'année suivante -en 1947- des poses pin-up dans un fauteuil.
The same swimsuit, still under the aegis of Earl Moran the following year -in 1947- pin-up poses in a sofa.

---
En 1948, encore sous l'oeil d'Earl Moran, elle pose allongée en pin-up sur un matelas. Elle ne porte que la culotte, et il semble qu'il s'agisse d'un autre modèle, plus moulant avec un lacet noir noué en croisement. On devine le haut du maillot (le soutien gorge) posé à côté d'elle avec un lacet noir.
In 1948, still under Earl Moran's eye, she poses as a pin-up lying on a mattress. She only wears the panties, and it looks like another type, more tight-fitting with a black lace tied in the crossover. We can guess the top of the swimsuit (the bra) posed next to her with a black lace.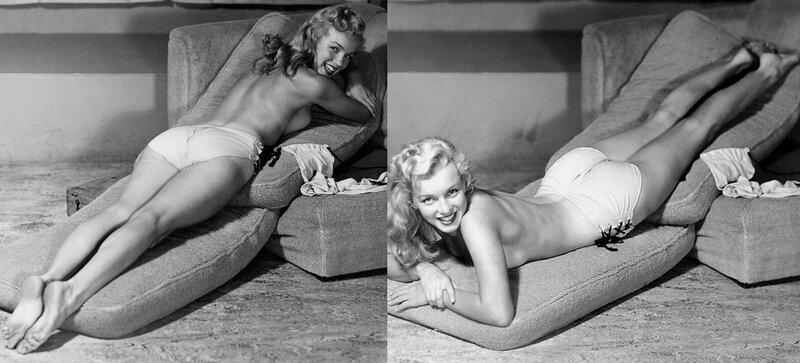 ---
Encore en 1948, dans un studio photo, sous l'objectif de Laszlo Willinger, elle porte un bikini à rayures vertes : le soutien gorge sans bretelles se noue par un lacet blanc sur le devant, et la culotte à volant en dentelles a aussi un lacage croisé sur le côté.
Again in 1948, in a photo studio, under the camera lens of Laszlo Willinger, she wears a green striped bikini: the strapless bra is tied with a white lace on the front, and the ruffled lace panties also have a crossed lacing on the side.
---
Les Bikinis à Lacets
Lace-up Bikinis

---
Ava Gardner, fin des années 1940s
---
Les actrices Jane Rusell, 1942
Dale Evans, 1945
Carole Landis, années 1940s
---
Des mannequins des années 1950s/1960s
Model girls from the 1950s/1960s
---
Elizabeth Taylor, dans les années 1950s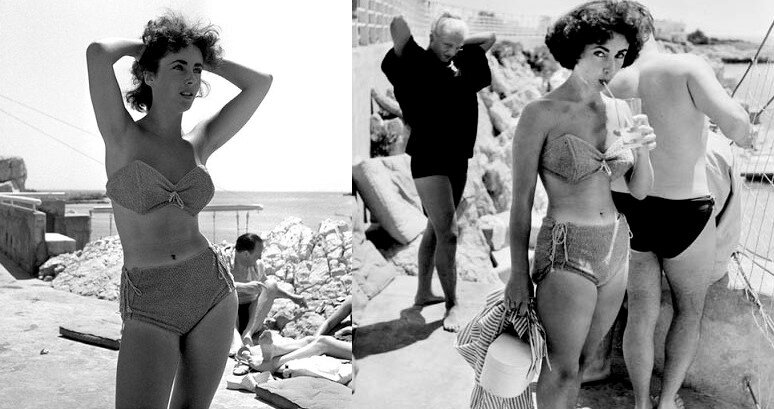 ---
Défilé Chanel, juin 1994: Claudia Schiffer et Naomi Campbell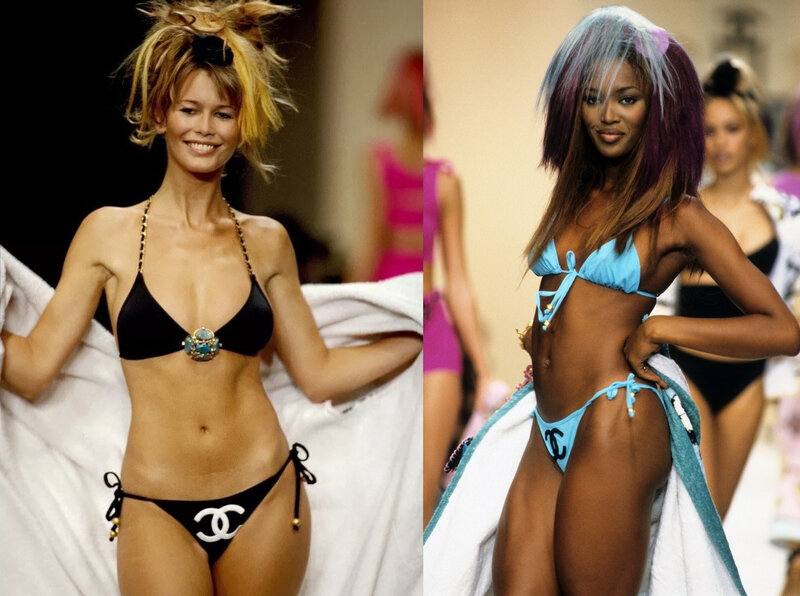 ---
All photos are copyright and protected by their respective owners.
copyright text by GinieLand.
31 mai 2008
ça faisait un ptit moment que je n'avais pas mis de wallpapers !
Voici 6 merveilles à tomber par terre créées par la talentueuse Chantal
A découvrir sans tarder sur son superbe blog Marilyn Monroe Wallpapers
27 février 2008
Portraits de la jeune Marilyn Monroe pour l'agence Blue Book à à l'Ambassador Hotel de Palos Verdes (Californie) - par les studios Steinie (du nom du photographe Erwin / Edwin Steinmeyer, dit "Steinie").
Portraits of the young Marilyn Monroe for the Blue Book Model agency at the Ambassador Hotel in Palos Verdes (California) - by Steinie Studios (named by the photographer Erwin / Edwin Steinmeyer, known as "Steinie").
---
- En chemisier à volants -
In a ruffled blouse
---
- En haut de bikini -
In bikini top

---
- En robe à ceinture noire -
In dress with black belt

---
- En robe blanche -
In white dress

---
- Photos prises par Hal Bloom pour les studios Steinie
Photos taken by Hal Bloom for Steinie Studios
---
© All images are copyright and protected by their respective owners, assignees or others.
copyright text by GinieLand.