21 janvier 2023
Début décembre 1947 au Club Mocambo de Los Angeles, Marilyn Monroe discute tranquillement avec Steve Crane (acteur et restaurateur, ancien mari de Lana Turner et playboy notoire à Hollywood). Sauf que cette discussion rapprochée ne plaît pas du tout à Lila Leeds, jeune starlette qui fréquente Crane (ils sont fiancés). Lila Leeds arrive alors en furie vers Marilyn qu'elle pousse violemment, pour ensuite asséner un coup de poing à son fiancé Steve Crane ! Marilyn Monroe s'en trouvera alors choquée.
Cet incident sera publié dans les colonnes à potins de la presse: l'histoire se serait produite avant le 11 décembre 1947, date à laquelle la presse commence à relater les faits.
Lila Leeds continuera à alimenter la rubrique à potins: elle se montrera encore violente à d'autres soirées (elle se bagarre avec une mannequin, Kitty Hamilton, au club Ciro's début 1948). Surtout, elle fume de la marijuana et sera arrêtée, avec l'acteur Robert Mitchum et d'autres amis, pendant qu'ils sont tous en train de fumer chez elle le 01er septembre 1948: l'histoire fera grand scandale, Lila passera 60 jours en prison et cela mettra définitivement un terme à sa carrière.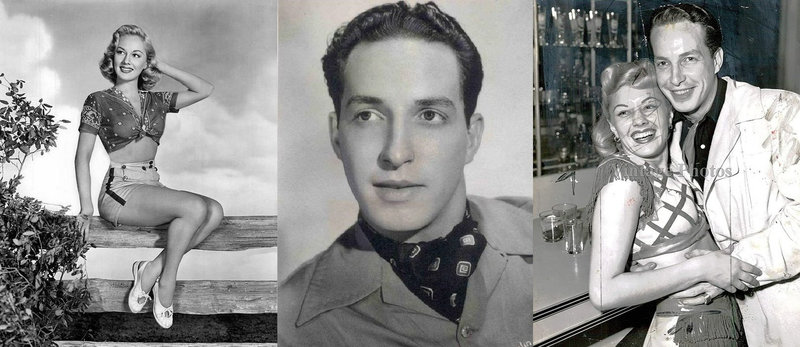 Lila Leeds / Steve Crane / Lila Leeds & Steve Crane
At the beginning of December 1947 at Club Mocambo in Los Angeles, Marilyn Monroe talks quietly with Steve Crane (actor and restaurateur, former husband of Lana Turner and notorious playboy in Hollywood). Except that this close discussion does not at all please Lila Leeds, a young starlet who is dating Crane (they are engaged). Lila Leeds then arrives in a rage towards Marilyn whom she pushes violently, to then punch her fiancé Steve Crane ! Marilyn Monroe will then find herself shocked.
This incident will be published in the gossip columns of the press: the story would have happened before December 11, 1947, the date on which the press began to report the facts.
Lila Leeds will continue to feed the gossip section: she will still be violent at other parties (she fights with a model, Kitty Hamilton, at the Ciro's club at the beginning of 1948). Above all, she smokes marijuana and will be arrested, along with actor Robert Mitchum and other friends, while they are all smoking at home on September 01, 1948: the story will cause great scandal, Lila will pass 60 days in prison and it put an end to his career for good.
---
- Dans la presse -
The North Plate Daily Telegraph Bulletin , 11/12/1947 - USA
Lancaster New Era, 11/12/1947 - USA
The Chronicle Telegram, 11/12/1947 - USA
The Indianapolis News, 11/12/1947 - USA
North Bay Daily Nugget, 12/12/1947 - USA
The Evening Independent, 15/12/1947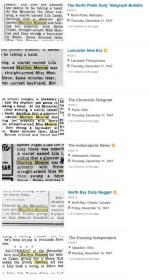 ---
Sur le web:
article "LILA LEEDS - How bad can a good girl get? " sur le blog This Dazzling Time
---
© All images are copyright and protected by their respective owners, assignees or others.
copyright text by GinieLand.