29 septembre 2007
Article du magazine Screen World de mai 1954, Marilyn Monroe est alors en plein tournage du film River of no return (La Rivière sans retour) au Canada; elle s'est fracturée la jambe pendant les scènes de cascade; elle porte alors un plâtre et se trouve en congé (arrêt maladie). Elle en profite donc pour visiter la région montagneuse, faisant un tour en canöé, visitant les roches du Banff et des réserves indiennes.
Retranscription de l'article
SHE MAKES THE MOUNTAINS WHISTLE
When M-M-M-Marilyn showed up at glorious Banff for some movie-making, old timers noticed a new note in the air ... could it be that our girl makes even the ancient mountains give with a wolf whistle? ...
Marilyn Monroe has never exactly claimed to be the outdoor type. That's why she was a trifle skeptical when her director ordered her up to the Canadian Rockies for the shooting of 20th Century Fox's "River of No Return". What does a city girl do admidst all that wild, primitive beauty ? Well - first thing this city gal did was tear a ligament in her lovely ankle while gamely trying to wade across a madly rushing river. Marilyn was shipped back to the luxurious hotel at Banff, looking more fetching than ever. There she proved to be tough competition for the famous Banff scenery, with tourists training their cameras at Marilyn instead of the mountains. Luckiest tourists there were the ones with movie cameras -'cause till you've seen the famous Monroe wiggle enhanced by having to be performed on one foot, you ain't seen nothin'. Gave good-natured Marilyn some hearty laughs - and photographers some shots they'll treasure.
Légendes des photos
(légende photo 1)- p.26
Marilyn makes with the big pout to indicate her dissatisfaction with the crutches-plastercast situation that's holdin up shooting on her new picture.
(légende photo 2)- p.27
But this girl is no pouter - at least not for long. From accross the hotel's pool comes a shout of greeting from a new friend, and she's all smiles.
(légende photo 3)- p.27
Handsome swimming instructor Wolfgang Karbe comes up to offer his sympathy, finds the glamorous star ready to joke about her accident.
(légende photo 4)- p.27
Marilyn decided not to let her bad ankle interfere with seeing the sights. First step: a visit to the stables and a chat with a Mountie.
(légende photo 5)- p.27
Here's one spot where not being able to walk is no handicap ! Marilyn decided now is the time to learn to paddle her own canoe.
(légende photo 6)- p.28
Like every Banff visiter, Marilyn was breathless with the thrilling view from the chair lift that carries tourists to dizzy heights.
(légende photo 7)- p.28
The curiously shaped pine ans spruce free entrance sign to the Banff makes a perfect background for the not so curiously shaped Monroe.
(légende photo 8)- p.28
While Marilyn took pictures of the mountain scenery, everybody else was taking pictures of Marilyn. But she's used to this sort of thing.
(légende photo 9)- p.29
Just as Marilyn hit this pose, a car drove by with some new visitors. Darned near went out of control as Poppa dived for his camera.
(légende photo 10)- p.29
Next part of call on the visiting list is the Indian Trading Post where Marilyn marveled at the displays, fell in love with this bear.
23 juillet 2007
---
Photographies personnelles

---
Lot n°138 : 4 petites photos de la maison d'enfance de Marilyn Monroe, "The Ranch House" , une de ses maisons d'acceuil. L'enveloppe comporte l'inscription: "The "Ranch House" showing our bedroom last window room from the left." Provenance de la collection d' Eleanor Goddard.
Enchère du 16/06/07 , Mise à prix: $600.00 (estimation: US $800.00 - US $1,200.00)


---
Lot n°139 : Photo de Famille comportant l'écriture de Marilyn Monroe, qui écrivit au dos de la photo: "Taken at Aunt Alice's + Uncle Arts [sic] wedding Aunt Ana, John, U. Art, A Alice, Opal". Provenance: de la collection d' Eleanor Goddard.
Enchère du 16/06/07 , Mise à prix: $800.00 (estimation: US $1,000.00 - US $2,000.00)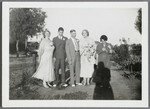 ---
Lot n°142 : Véritable photo de Gladys Baker. Au dos de la photo, l'inscription faite par Marilyn Monroe: "Mother, second from end on right with her girl friends". Provenance: de la collection d' Eleanor Goddard.
Enchère du 16/06/07 , Mise à prix: $800.00 (estimation: US $1,000.00 - US $2,000.00)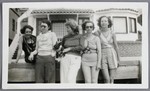 ---
Snapshots
---
Lot n°132 : 5 petites photographies originales noir et blanc représentant la jeune Marilyn Monroe. Ce sont des photos publicitaires de la Twentieth Century Fox.
Date estimée: vers 1948
Enchère du 16/06/07 , Mise à prix: $400.00 (estimation US $600.00 - US $800.00)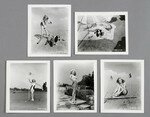 ---
Lot n°133 : 4 petites photographies originales noir et blanc représentant Norma Jeane Dougherty (futur Marilyn Monroe). Une photo la montre se tenant devant la résidence de l'adresse 4215, deux autres photos la montre jouant au golf , ( il était connu que Marilyn jouait souvent au golf avec des amis) puis la dernière photo la montre posant allongée dans l'herbe.
Date estimée: vers 1948
Enchère du 16/06/07 , Mise à prix: $400.00 (estimation: US $600.00 - US $800.00)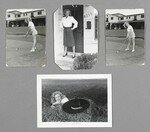 ---
Photos Tom Kelley

---
Lot n°112: Photographie de Marilyn Monroe par Tom Kelley (celle du fameux calendrier Golden Dreams). photo couleur en édition limitée (numérotée) et signée par Hugh Hefner, le patron du magazine Playboy.
Enchère du 16/06/07 , Mise à prix: $1,600.00 (estimation: US $2,000.00 - US $4,000.00)
---
Lot n°113: Photographie de Marilyn Monroe par Tom Kelley (celle du fameux calendrier Golden Dreams), photo couleur en édition limitée (numérotée) et signée par Tom Kelley, le photographe.
Enchère du 16/06/07 , Mise à prix: $1,600.00 (estimation: US $2,000.00 - US $4,000.00)
---
Lot n°114: Calendrier mural de 1954. Calendrier "Golden Dreams" de la pin-up Marilyn Monroe des fameuses séances photos de 1949 "red velvet" avec le photographe Tom Kelley.
Enchère du 16/06/07 , Mise à prix: $400.00 (estimation: US $600.00 - US $800.00)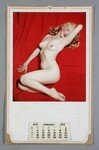 ---
Lot n°115 : Calendrier mural de 1955. Reprend la photo du Calendrier "Golden Dreams" de la pin-up Marilyn Monroe des fameuses séances photos de 1949 du "red velvet" avec le photographe Tom Kelley. Kelley paya le modèle Marilyn $50.
Enchère du 16/06/07 , Mise à prix: $400.00 (estimation: US $600.00 - US $800.00)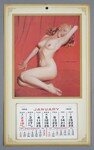 ---
Photos Sept ans de réflexion

---
Lot n°135 : Photo originale de Marilyn Monroe sur le tournage de "Seven Years Itch" en 1954.
Enchère du 16/06/07 , Mise à prix: US $100.00 (estimation: US $200.00 - US $300.00)
---
Lot n°116 : 2 photos de Marilyn Monroe sur le tournage de "Seven Years Itch" en 1954.
Enchère du 16/06/07 , Mise à prix: US $100.00 (estimation: US $200.00 - US $300.00)
---
Lot n°117 : véritable photo de Marilyn Monroe, prise par Charles G. Hagedorn, sur le tournage de "Seven Years Itch" en 1954.
Enchère du 16/06/07 , Mise à prix: US $800.00 (estimation: US $1,000.00 - US $2,000.00)
---
Photos Diverses
---
Lot n°90 : photo noir et blanc de Marilyn Monroe aux Golden Globes Awards , au Beverly Hilton en mars 1962. De gauche à droite: Charleton Heston, Marilyn Monroe et Rock Hudson. Enchère du 16/06/07 , Mise à prix: US $400.00 (estimation: US $600.00 - US $800.00)
---
Lot n°94 : photo noir et blanc de Marilyn Monroe prise par Milton Greene numérotée 129/300 , signée au stylo par Milton H. Greene. Milton Greene entra dans la vie de Marilyn après son diorce d'avec Joe Dimaggio. Ils devienrent des amis très proches où Marilyn fut la muse de Milton, puis ils devienrent partenaires dans les affaires. Marilyn vécu chez Milton et sa femme à New York avant son mariage avec Arthur Miller. Greene capta chez Marilyn sa plus belle et fragile personnalité.
Enchère du 16/06/07 , Mise à prix: US $1,600.00 (estimation: US $2,000.00 - US $3,000.00)
---
Lot n°96 : véritable photo noir et blanc de Marilyn Monroe à la gare avec Arthur Miller. Au verso, l'inscription: "Mr. Barall".
Enchère du 16/06/07 , Mise à prix: US $400.00 (estimation: US $600.00 - US $800.00)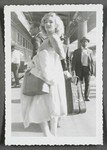 ---
Lot n°105 : photo noir et blanc de Marilyn Monroe provenant d'un magazine dédicacée à l'attention de Linda Bennett, une enfant star. L'inscription dit : "To Linda, I saw you in the Seven Little Foys - Great Marilyn Monroe" Provenance: des affaires de Linda Bennett.
Enchère du 16/06/07 , Mise à prix: US $3,000.00 (estimation: US $3,000.00 - US $5,000.00)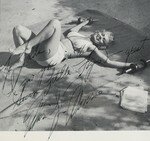 ---
Lot n°106 : photo couleur de Marilyn Monroe provenant d'un magazine dédicacée à l'attention de Linda Bennett, une enfant star. L'inscription dit : "To Linda, Love & Kisses Marilyn Monroe. Provenance: des affaires de Linda Bennett.
Enchère du 16/06/07 , Mise à prix: US $3,000.00 (estimation: US $3,000.00 - US $5,000.00)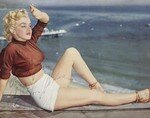 ---
Lot n°125 : 2 photos originales publicitaires début des années 1950.
Enchère du 16/06/07 , Mise à prix: US $600.00 (estimation: US $800.00 - US $1,200.00)
---
Lot n°126 : photo publicitaire Marilyn Monroe allongée sur le courrier de fans, début des années 1950. Au moment de son plus fort succés, Marilyn recevait plus de 5,000 lettres de fans par semaine. Provenance: de la collection Eleanor Goddard.
Enchère du 16/06/07 , Mise à prix: US $400.00 (estimation: US $800.00 - US $1,200.00)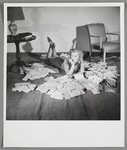 ---
Lot n°134 : photo originale publicitaire début des années 1950.
Sur le côté face de la photo se trouve l'inscription "Grace" écrite au stylo; et au verso est inscrit : "MARILYN MONROE...bright new star Marilyn Monroe discovered by Lester Cowan plays an important role in Producer Cowan's "Love Happy"....". Provenance de ce lot: de la collection d' Eleanor Goddard.
Enchère du 16/06/07 , Mise à prix: US $400.00 (estimation: US $600.00 - US $800.00)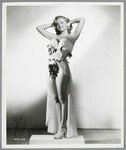 ---
Lot n°143 : photo noir et blanc de Marilyn Monroe prise par Bruno Bernard - vers 1940s - Connu sous le nom de Bernard of Hollywood, Bruno Bernard est celui qui présenta Marilyn à son futur agent, Johnny Hyde. Le photographe était un survivant de l' holocauste qui réusit à se faire à nom tout seul en photographiant les stars légendaires d' Hollywood. Tampon du photographe au dos de la photo. Provenance du lot: de la collection d' Eleanor Goddard.
Enchère du 16/06/07 , Mise à prix: US $600.00 (estimation: US $800.00 - US $1,200.00)