20 août 2010
Marilyn Monroe en couverture du
magazine anglais The Sunday Times Magazine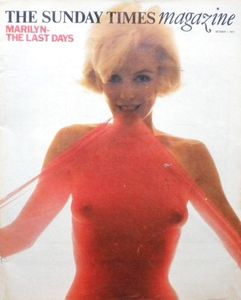 Le magazine anglais The Sunday Times Magazine du 7 ocotbre 1973, consacrait sa couverture à Marilyn Monroe, titré "Marilyn - The Last Days" et publiait dans un article de onze pages la 4ème partie de "Marilyn by Mailer" sur les deux dernières années de vie de Marilyn (1961 et 1962).
19 août 2010
Le magazine anglais The Sunday Times Magazine du 28 juillet 2002, consacrait sa couverture à Marilyn Monroe, titré "Death of the Maiden - She was just 17, pretty, coquettish and hellbent on fame. The private diaries and pictures that show how Norma Jeane became Marilyn Monroe" et publie dans un article de douze pages entièrement consacré aux photographies d'André De Dienes (à l'époque, les éditions Taschen venaient de publier un coffret regroupant l'agenda intime du photographe et un livre de photographies). Le magazine reprend ici quelques extraits de cette publication. (scans perso).
15 août 2010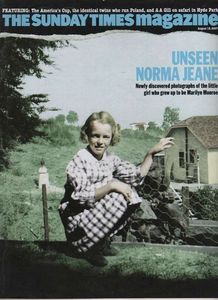 Le magazine anglais The Sunday Times Magazine du 19 août 2007, consacrait sa couverture à une petite fille qui n'est autre que Marilyn Monroe enfant, titré "Unseen Norma Jeane" et publiait dans un article de sept pages de nouvelles photographies découvertes de Marilyn enfant et jeune fille, avec sa mère, des amies, ou encore son premier mari Jim Dougherty.

19 août 2009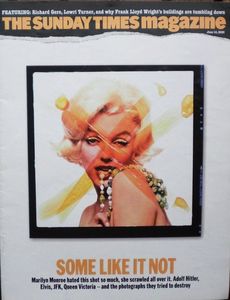 Le magazine anglais The Sunday Times Magazine du 12 juin 2005, consacrait sa couverture à Marilyn Monroe, titré "Some like it not". Juste un petit article en page intérieure, illustrant une photographie (la même qu'en couverture) de Marilyn qui s'était auto-censurée.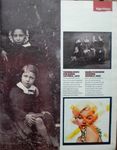 16 août 2009
Le magazine anglais The Sunday Times Magazine du 8 février 2004, consacrait sa couverture au couple Marilyn Monroe et Arthur Miller en voiture décapotable; avec un article de 6 pages "The Playwright and the Showgirl". Photographies de Sam Shaw.
13 août 2009
Le magazine anglais The Sunday Times Magazine du 22 juillet 2001, consacrait sa couverture à Marilyn Monroe; avec un article de 11 pages intitulé "The Premium Blonde". Photographies de Milton H. Greene.
> le sommaire

20 septembre 2007
Newly discovered photographs show the making of an American idol: how Norma Jeane Baker grew up to become Marilyn Monroe
August 18, 2007
From The Sunday Times
By Mark Edwards
Poor little Norma Jeane - a lost little girl, unloved, unwanted, abandoned by a crazy mother, dumped on foster parents. Was it any wonder she grew up into the troubled woman we know as Marilyn Monroe? Actually, yes. As these rare images show, the reality of Marilyn's early life was far sunnier than we have been led to believe. Far from being neglected, she was well looked after. As her foster mother said later, "We treated her like our own child because we loved her."
The young Norma Jeane Baker showed few signs of the dazzling beauty that eventually made her one of the 20th century's most talked-about women. As these previously unpublished photographs show, she was an ordinary Californian girl who went to the beach, played with animals, married young and got herself a job at a factory. But she had extraordinary ambition. And then Hollywood got hold of her.
The Monroe we know was moulded, manufactured and processed by the Hollywood studios. The cinema tycoons even made a claim on her past: it was important, from a marketing perspective, that the sex siren be portrayed as an impoverished urchin. Marilyn was a red-hot Cinderella, plucked from a near-destitute childhood. The truth is actually more prosaic.
Norma Jeane Mortenson was born on June 1, 1926. Her father played no part in her life – some believe him to be Charles Stanley Gifford, one of the bosses at Consolidated Film Industries who had an affair with her mother, Gladys – and she took her surname from her mother's husband, Martin Edward Mortensen (her mother changed Mortensen to Mortenson on her birth certificate). Gladys left Mortensen in 1925 and Marilyn was fostered out to the Bolender family, who lived in the blue-collar LA suburb of Hawthorne.
Contrary to the stories later put out by the Hollywood machine, Norma Jeane enjoyed a close relationship with both her mother and her foster parents; as these pictures show, her childhood was full of happy moments playing on the beach and in the fields.
Gladys, meanwhile, worked in Hollywood as a film cutter, and the attendant razzmatazz filtered down into their otherwise ordinary lives. At the Hollywood Bowl Easter Sunrise Service in 1932, Norma Jeane and dozens of her classmates formed a choir dressed in black and then white robes – pure showbiz. Yet not all was glossy contentment.
In 1933, Gladys arrived at the Bolenders to reclaim her daughter. Norma Jeane hid in a cupboard with the Bolender children, but Gladys insisted they should move in together. Financially, things were looking up – she presented her daughter with a white baby grand piano that Norma Jeane/Marilyn was to treasure for the rest of her life.
Within months, however, Norma Jeane's world had shattered. Already troubled by the suicide of her grandfather, Gladys received another body blow when she learnt of her brother's death from tuberculosis. The two events sent Norma Jeane's mother over the edge; in her autobiography, My Story, Marilyn describes her mother being dragged off "screaming and laughing" to an asylum.
Her subsequent rootlessness became an imprimatur of much of Marilyn's later life. She was moved from a succession of foster homes to an orphanage; not for the last time, she believed that marriage might offer at least a temporary escape from her unhappiness.
Her first marriage was to a local boy, James Dougherty. Norma Jeane was just 16, naive and unworldly. Neither was she housewife material – her cooking was catastrophic, and on one occasion Dougherty came home to find his wife trying to persuade a cow to come into the house so that it could get out of the rain.
The marriage soon foundered, as Norma Jeane made her first steps, initially into modelling and then on to Hollywood. The rest is well documented; the husbands, the lovers, the dependency, the squalid ending in Brentwood. Was she ever as happy as she seemed in those sun-kissed pictures from the 1920s and '30s?
>> descriptifs / légendes des photos:
1/Norma Jeane on Catalina Island off the coast of California, where she was living with her first husband, Jim Dougherty. The couple moved to the island around 1943, the year after they were married. Dougherty once described their life there as being 'very normal'. 'Norma cooked and cleaned and I was the breadwinner'. Photograph from Marilyn Monroe: Private and Undisclosed, by Michelle Morgan, published by Constable & Robinson on September 13, at £30. It is available at the BooksFirst price of £27, including p&p. Tel: 0870 165 8585
2/Norma Jeane (right) and two other children. Her unsettled childhood made it hard for her to make friends. This got worse after her mother suffered a mental breakdown. On one occasion, when a boy tried to talk to her, his friend warned: 'Don't bother her. She's just like her mother...crazy'. Photograph from Marilyn Monroe: Private and Undisclosed, by Michelle Morgan, published by Constable & Robinson on September 13, at £30. It is available at the BooksFirst price of £27, including p&p. Tel: 0870 165 8585
3/Norma Jeane outside the home of her much-loved foster mother Ana Lower. She moved here in September 1938. Photograph from Marilyn Monroe: Private and Undisclosed, by Michelle Morgan, ublished by Constable & Robinson on September 13, at £30. It is available at the BooksFirst price of £27, including p&p. Tel: 0870 165 8585
4/Norma Jeane crouches beside a woman believed to be her foster mother Ana Lower, or 'Aunt Ana' as Norma Jeane called her, and who she once described as 'a wonderful human being'. Ana greatly encouraged Norma Jeane's acting career. Photograph from Marilyn Monroe: Private and Undisclosed, by Michelle Morgan, published by Constable & Robinson on September 13, at £30. It is available at the BooksFirst price of £27, including p&p. Tel: 0870 165 8585
5/The Doughertys by the docks on Catalina Island. Jim, whom Norma Jeane had married in 1942, worked for the Maritime Service Training Station as a physical instructor. Marilyn once said of her marriage to him: 'Instead of going back into a boarding house or with another set of foster parents, I got married'. Photograph from Marilyn Monroe: Private and Undisclosed, by Michelle Morgan, published by Constable & Robinson on September 13, at £30. It is available at the BooksFirst price of £27, including p&p. Tel: 0870 165 8585
6/Norma Jeane (second from left) and her colleagues from Radioplane, July 1944. Her job at the Radioplane company, taken when her husband left to serve in the second world war, was exhausting, involving spraying aeroplane parts with fire retardant. She was pleased when her career as a model meant she could leave. Photograph from Marilyn Monroe: Private and Undisclosed, by Michelle Morgan, published by Constable & Robinson on September 13, at £30. It is available at the BooksFirst price of £27, including p&p. Tel: 0870 165 8585
7/Norma Jeane visits the penguins at the bird park on Catalina Island. Weekends there were often low-key, with days spent horse-riding, fishing or exploring. Photograph from Marilyn Monroe: Private and Undisclosed, by Michelle Morgan, published by Constable & Robinson on September 13, at £30. It is available at the BooksFirst price of £27, including p&p. Tel: 0870 165 8585
>> source: article sur TimesOnline accompagné du diaporama Picture Gallery