29 décembre 2010
Marilyn Monroe dans la peau de Theda Bara,
immortalise ici le personnage de Cléôpatre;
photographiée par Richard Avedon le 27 mai 1958;
série pour le magazine LIFE

Marilyn Monroe posing as Theda Bara in Cleopatra,
photographed by Richard Avedon in May, 27, 1958;
photoshoot for LIFE magazine.
---
---
des photos montages circulent sur internet
exemple:
---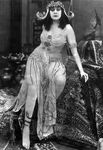 Affublée d'une perruque brune, les yeux maquillée de noir, la bouche rouge incendiaire, la peau blanche laiteuse, vêtue d'un drapé transparent et des serpents dorés en guise de soutien-gorge, Marilyn Monroe se met dans la peau du personnage de Cléôpatre, interprétée au cinéma en 1917 par l'actrice Theda Bara (1885 - 1955) . Marilyn prend ici une pose de séductrice vénéneuse. Le rôle de Cléôpatre vaudra à Theda Bara son plus grand succès, qui la lancera en tant que sex-symbol (l'une des premières) et lui vaudra le surnom de "vamp", diminutif de vampire. Son costume transparent provoquera la controverse à l'époque !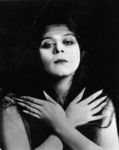 Qui était Theda Bara ?
De son vrai nom Theodosia Burr Goodman, Theda Bara est une actrice américaine populaire du cinéma muet. Elle est la fille d'un tailleur d'origine juive né en Pologne, Bernard Goodman et de sa femme Pauline Louise de Copett, née en Suisse et d'origine juive également. Le couple aura deux autres enfants, Marque (1888–1954) et Lori Bara (née Esther: 1897–1965) qui deviendra à son tour actrice.
Theodosia s'intéresse très jeune au théâtre, et dès que ses études à la Walnut Hills High School (1903) sont achevées, elle teint ses cheveux blonds en noir, et se lance à la poursuite de son rêve. Elle arrive à New York en 1908 et décrochera cette même année un rôle à Broadway dans The Devil. Elle décroche son premier rôle au cinéma en 1914 dans le film The Stain, sous son vrai nom. Ce rôle, bien que très mineur, lui ouvre les portes de l'empire cinématographique naissant, et lui permet d'obtenir l'année suivante le rôle principal du "vampire" dans A fool there was. Le personnage de la "vamp" est naît et lance la carrière de Theda Bara. Elle change son nom en Theda Bara qui est l'anagramme d'"Arab Death", bien que ce pseudonyme soit en réalité inspiré du nom patronymique de sa mère, Barranger.
Les studios mettent en œuvre une importante campagne autour de son image. Elle était réputée posséder des pouvoirs surnaturels, était toujours parées de voiles et de nombreux bijoux et se faisait volontiers photographier avec des crânes et des serpents. La Fox lui louera même une suite dans un hôtel particulier dont l'intérieur, créé pour recevoir la presse, ressemblait à une chambre de sultane. Le public est fasciné et à chacun de ses films le succès est au rendez-vous.
En 1919 après sept films dont le dernier est The Lure of Ambition, elle ne renouvelle pas son contrat avec la Fox, son rôle de Vamp devenant pesant et elle ne retrouvera jamais le succès malgré quelques tentatives dont la dernière est Madame Mystery en 1926, qui est une parodie de son personnage. Lors de l'incendie des studios, une grande partie de ses films sont détruits. Il n'en reste aujourd'hui que six copies complètes, sur plus d'une quarantaine. Elle se marie en 1921 au réalisateur Charles Brabin, et le restera jusqu'à sa mort. Bien qu'ayant voulu par la suite retourner sur scène, son époux s'opposa à une nouvelle carrière. Elle passa le reste de sa vie entre New-York et Hollywood, avant de décéder en 1955, à l'âge de 70 ans, d'un cancer de l'estomac.
---
© All images are copyright and protected by their respective owners, assignees or others.
copyright text by GinieLand.
Enregistrer