30 novembre 2016
Truman Capote,
Enfant terrible de la littérature américaine
Année: 2016
Réalisation: Adrian Stangell
Pays: Allemagne
Durée: 53 min
Une évocation passionnée de la vie et de l'œuvre de Truman Capote, auteur flamboyant et incorrigible mondain. Aux documents d'archives se mêlent des extraits des nouvelles et des romans de l'auteur, depuis "Les domaines hantés", son premier roman publié, jusqu'à son testament littéraire, l'œuvre inachevée "Prières exaucées".
Figure mondaine, auteur surdoué aussi célèbre pour son œuvre que pour ses frasques, Truman Capote (1924-1984) s'est fait connaître du monde entier en 1958 grâce à un court roman, Petit déjeuner chez Tiffany (adapté au cinéma dans Diamants sur canapé, avec Audrey Hepburn). Cinquante ans après sa parution, son "roman-vérité" De sang-froid (1965) n'a rien perdu de sa profondeur, et reste un monument de la littérature criminelle. Le documentaire suit l'ascension de ce jeune homme des classes populaires de La Nouvelle-Orléans, propulsé dès l'adolescence dans le monde journalistique et littéraire new-yorkais avant de devenir une figure de la jet-set.
Gloires et déconvenues
Amis, admirateurs, biographe et spécialistes évoquent l'héritage littéraire de ce talent d'exception, racontant avec passion ses gloires et ses déconvenues. Aux documents d'archives – dont des interviews marquantes de Truman Capote – se mêlent des extraits des nouvelles et des romans de l'auteur, depuis Les domaines hantés, son premier roman, jusqu'à son testament littéraire, l'œuvre inachevée Prières exaucées.
>> Diffusé en France sur arte le 16 novembre 2016
---
Retranscription des passages liés Marilyn Monroe:
(à 1min 45sec) 5ème avenue, n°727. Bienvenue chez Tiffany & Co, célèbre joailler new-yorkais, entré dans l'histoire de la littérature mondiale grâce à cet homme: Truman Capote. "Petit déjeuner chez Tiffany" est l'ouvrage le plus connu de Truman Capote. Au cinéma, c'est la légendaire Audrey Hepburn qui a incarné Holly Golightly, cette jeune texane fraîchement débarquée à New York en quête d'une vie nouvelle, de glamour, et d'elle-même.
Deborah Davis, écrivain: "Son style est admirable. Ses phrases sonnent comme une musique quand on les lit à haute voix."
(lecture d'un extrait): "Elle portait toujours ses lunettes noires, était toujours très soignée, témoignait dans ses toilettes d'un bon goût concerté à base de bleu et de gris, d'une absence de tape à l'oeil qui ne lui donnait que plus d'éclat."
Au moindre coup de blues, Holly Golightly, obsédée par les bijoux, fait une halte devant la vitrine du célèbre joailler.
Le roman est devenu un classique. L'écriture de Truman Capote y est pour beaucoup.
Peter Haag, éditeur: "Capote est un styliste. Il n'est jamais ennuyeux. Ses personnages sont si bien campés qu'ils prennent corps aussitôt. Il a un ton pour décrire les situations. C'est aéré, léger et intelligent."
(lecture d'un extrait): "On devrait pouvoir épouser des hommes ou des femmes ou... écoute, si tu venais me trouver pour me dire que tu voulais me mettre à la colle avec un cheval de course, je respecterai tes sentiments. Non, sans blague, l'amour devrait être permis ! Je suis pour à fond."
S'il est normal qu'aujourd'hui une jeune femme profite de la vie, et qu'elle ait beaucoup d'amis hommes; à l'époque, Holly Golightly fait figure de fille facile.
Gerald Clarke, biographe: "Holly Golightly n'est pas une prostituée. C'est une jeune femme qui fait des faveurs aux messieurs fortunés. On ne sait pas si elle couche avec eux ou pas."
Dans le livre, Holly est une fille de la campagne. Dans le film, une jeune femme élégante et raffinée. Bien qu'ami avec Audrey Hepburn, Capote trouvait ce choix malencontreux. Il aurait préféré voir Marilyn Monroe dans le rôle d'Holly.
Bob Colacello, écrivain et photographe: "La plupart des gens ne connaissent que le film avec Audrey Hepburn. Hollywood a beaucoup aseptisé l'histoire, comme le reste à l'époque. Dans les séries télé des années 50s, les couples dormaient dans des lits jumeaux, jamais dans un grand lit."
------------------------------
(à 21min 26sec) Truman Capote s'entoure de riches héritières, comme Gloria Vanderbilt ou de comédiennes et chanteuses, comme Pearl Bailey. Des grandes amies qu'il surnomme affectueusement "My swans" ("mes cygnes").
Deborah Davis, écrivain: "Il adorait les nighclubs et il adorait les femmes. Très jeune déjà, il s'entourait de belles dames. Ses relations étaient platoniques mais essentielles pour lui."
Jeune homme, Truman rêvait d'être richissime. Il s'avoure d'autant plus cette proximité nouvelle avec le gratin. Son "cygne" préféré est le mannequin Babe Paley. Comme toutes ces dames du grand monde, elle est en quête constante d'amusement et nul n'est plus amusant que Truman.
Deborah Davis, écrivain: "Truman veillait à ce que leur rouge à lèvres soit impeccable, repérait les couturiers qui les mettait le plus en valeur. il s'intéressait aux menus de leurs dîners, à tout ce qui les préoccupait elles-mêmes. Et il les écoutait, les conseillait. Il était leur meilleur ami."
Truman Capote n'a jamais caché son homosexualité, bien au contraire. Ainsi, il peut flirter ouvertement avec des femmes mariées, sans que leur mari ne leur jalouse. Ces messieurs ne voient rien à redire à ce que leurs femmes confient leurs secrets à Truman. Une naïveté qu'ils regretteront plus tard.
Capote observe les riches new-yorkais avec une pointe d'enthousiasme et d'envie. Il devient le point de mire de chaque soirée, l'amuseur de la jet set. Il peut bientôt se permettre d'être très exigeant avec ses accompagnatrices, comme il le révélera plus tard dans un autoportrait.
(lecture d'un extrait de The Dogs Bark): "Il y a des hommes avec qui j'aime déjeuner, et dans l'ensemble, je préfère les femmes belles, ou du moins, extrêmement séduisantes, très vives d'esprit et au courant. Mais je ne pense pas qu'une femme mérite la note maximale tant qu'elle n'atteint pas et ne maintient pas une certaine qualité de style, d'apparence et de bon sens enjoué qui dépasse le niveau facile de séduction propre à la jeunesse."
Parmi celles qui le mérite, il range Marilyn Monroe. Au début des années 50s, Truman lui consacre, comme à d'autres célébrités, un portrait qui fait sensation. Daniel Kehlman, auteur à succés en Allemagne, vit quelques mois par an à New York. Il a publié plusieurs articles sur Truman Capote, dont il apprécie particulièrement les impressions de voyages et les portraits.
Daniel Kehlman, écrivain: "Il était impitoyable envers ceux sur qui il écrivait. Pas dans le sens où il les dénaturait, il restait très près de qu'il estimait être la réalité. Mais son oeuvre se nourissait très souvent de cette proximité, de cette intimité qu'il créait sciemment avec eux."
Cela vaut peut être aussi pour son portrait de Marilyn Monroe.
Truman Capote: "Je connaissais Marilyn bien avant qu'elle ne devienne une star de cinéma. Nous avons toujours été très bons amis. Je n'y avais jamais réfléchi, mais nous avions énormément de points communs. C'est peut être pour cela que nous étions si proches."
(lecture d'un extrait): "La lumière baissait. Marilyn semblait s'estomper avec elle, se fondre dans le ciel et les nuages, s'amenuiser au loin. Je voulais élever la voix, couvrir le cri des mouettes, la rappeler: Marilyn, Marilyn ! Pourquoi faut-il toujours que les choses tournent de cette façon ? Pourquoi faut-il que la vie soit tellement dégeulasse ?"
---
© All images are copyright and protected by their respective owners, assignees or others.
Enregistrer
Enregistrer
Enregistrer
Enregistrer
Enregistrer
Enregistrer
10 juillet 2016

45 things you didn't know about Marilyn Monroe
published on June, 1st, 2016
by Horatia Harrod - online Telegraph

Norma Jeane Mortenson - better known as Marilyn Monroe

1. Marilyn was relatively poorly paid. Jane Russell was paid around 10 times as much as Marilyn when they co-starred in Gentlemen Prefer Blondes. Her salary for her final unfinished film, Something's Got to Give, was $100,000. Compare that with Elizabeth Taylor, who was getting a million dollars for Cleopatra; or even Marilyn's co-star in the film, Dean Martin, who was on $500,000. Today, her estate makes around five million dollars a year.

2. But she died having become a million-dollar movie star. In 1962 she was fired by Twentieth-Century Fox from the production of Something's Got to Give because of her chronic lateness and no-shows (she didn't appear for the first two weeks of filming). But on August 1, four days before her death, she was rehired by Fox on a $1million, two-picture deal.

3. She found it almost impossible to learn lines, and took 60 takes to deliver the line "It's me, Sugar", in Some Like it Hot.

4. She was Playboy's first Sweetheart (later Playmate) of the Month, in 1953. Marilyn had been paid $50 to model for the picture in 1949; Hugh Hefner bought it for $500.

5. Several of the burial vaults near to Marilyn's have been put on sale. When Elsie Poncher, the widow of the man in the vault above Marilyn's, put his space up for sale on eBay, she received dozens of bids, including one for £2.8million.

6. Hugh Hefner owns the burial vault next to Marilyn at the Westwood Memorial Park in Los Angeles. He bought it in 1992 for £50,000.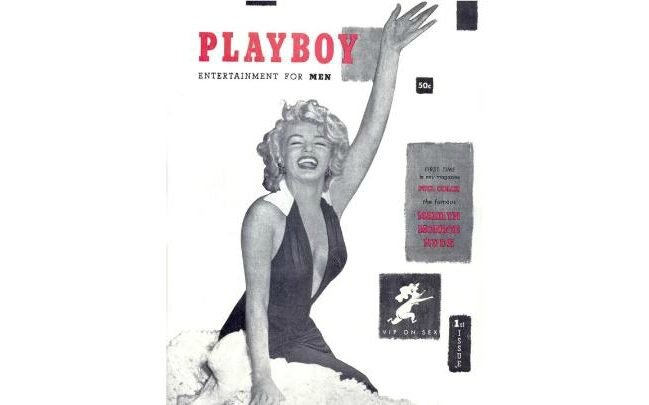 Marilyn Monroe on the cover of the first issue of 'Playboy'
7. She went by many names. On her birth certificate she is Norma Jeane Mortenson; she was baptised Norma Jeane Baker; she modelled under the names Jean Norman and Mona Monroe; her initial idea for a screen name was Jean Adair; she signed into hotels as Zelda Zonk and into a psychiatric clinic as Faye Miller. She only legally changed her name to Marilyn Monroe in March 1956, when she was already a star.

8. She was placed with 11 sets of foster parents after her mother, Gladys, was institutionalised. She also spent almost a year in the Children's Aid Society Orphanage in Los Angeles.

9. Goya was her favourite artist: "I know this man very well, we have the same dreams, I have had the same dreams since I was a child."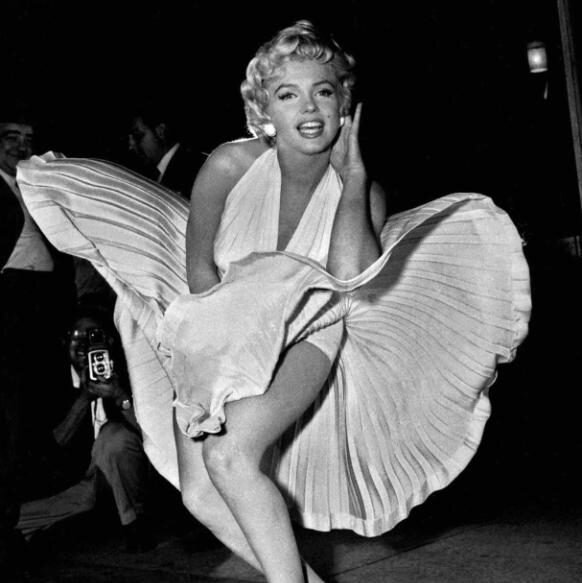 Marilyn Monroe poses over the updraft of a New York subway grating
during a photo session to promote the film The Seven Year Itch in September 1954
Credit: Matty Zimmerman
10. Marilyn became a Christian Scientist at the age of 18; later in her life she dabbled in alternative spiritualities, including Anthroposophy, the philosophy espoused by Rudolf Steiner. She converted to Judaism before her 1956 marriage to Arthur Miller.

11. Her weight went up and down so dramatically during the filming of The Prince and the Showgirl that the costume designer, Beatrice Dawson, had to create facsimile dresses in different sizes. "I have two ulcers from this film," she said, "and they're both monogrammed MM."
12. She was rarely without an acting coach. Her first, Natasha Lytess, worked with her for six years and 22 films, clashing with directors, whose authority she challenged, and studio heads, who paid her bills. (Marilyn also paid her a wage – and settled her £11,000 debt at the dentist.)
Later, Paula Strasberg took Lytess's role; unlike Lytess, who tried to direct Marilyn's every movement from behind the camera, Strasberg was consulted between takes. To coach Marilyn in The Prince and the Showgirl, she was paid $25,000 – as much as some of the featured actors were getting.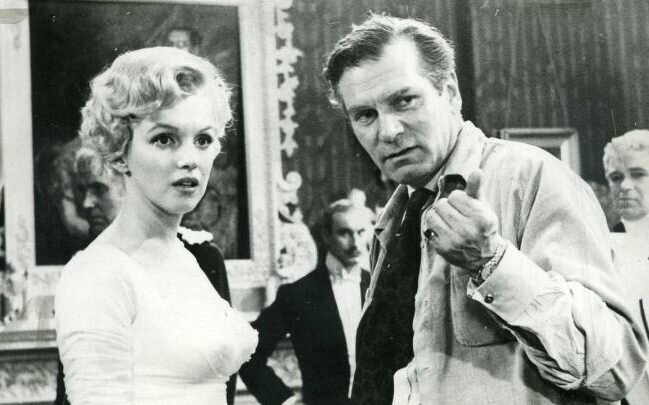 Marilyn Monroe and Laurence Olivier on the set of The Prince and the Showgirl
13. For 20 years after Marilyn's death, Joe DiMaggio arranged to have roses sent to her crypt three times a week.

14. In January 2011, Authentic Brand Groups bought the licensing rights to the Marilyn Monroe estate, for a price in the range of $30million. "On the media and entertainment side," said the company's chief executive, Jamie Salter, "I think she's got a career in front of her, just based on technology."

15. At the 1999 auction of Marilyn's effects, her white baby grand piano was bought by Mariah Carey, the singer, for $662,500. (The estimate had been $10,000-$15,000.) The piano had been bought by Marilyn's mother, and sold after she had her breakdown, but Marilyn eventually found it and bought it back, keeping it with her until her death.

16. There was an open casket at her funeral. She wore an apple green Pucci sheath dress made of nylon jersey and a platinum wig (her head had been partially shaved during the autopsy).

17. She was thought to have been planning to remarry Joe DiMaggio at the time of her death. After the failure of their marriage, DiMaggio had undergone therapy, stopped drinking alcohol and expanded his interests beyond baseball: he and Marilyn read poetry together in these later years.

Marilyn Monroe and Joe DiMaggio Credit: Reuters
18. Marilyn's beaded Jean Louis gown, worn when she sang Happy Birthday to President Kennedy, was sold in 1999 for £820,000. At the time it was the record price for a single item of clothing, until Marilyn's billowing white Seven Year Itch dress was put up for sale by Debbie Reynolds in 2011, where it made £2.8 million.

19. Marilyn owned many dogs during her life; her last was a Maltese terrier given to her by Frank Sinatra, which she named Maf (short for Mafia Honey). At the Christie's sale in 1999, two Polaroids of Maf sold for £220,000.

20. Marilyn left 75 per cent of her estate to the Strasbergs; eventually this fell to Anna Strasberg, Lee Strasberg's third wife. She vetoes the use of all images in which Marilyn wears fur, citing Marilyn's love of animals as a reason.

21. The Anna Freud Centre, a child therapy clinic in Hampstead, north London, owns the remaining 25 per cent of Marilyn Monroe's estate. The centre was left its share by Dr Marianne Kris, one of Marilyn's therapists, and the original beneficiary of her will.

22. Before her marriages to Joe DiMaggio and Arthur Miller, Marilyn was married to James Dougherty. She was 16 when they tied the knot. Dougherty, who later became a detective in the LAPD, was forbidden by his second wife from going to see any of Marilyn's films.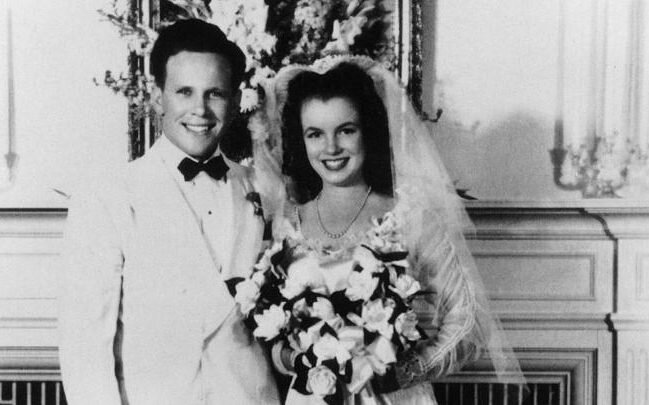 Marilyn Monroe with her first husband, James Dougherty Credit: EPA
23. Marilyn whitened her skin with hormone cream, one side effect of which was to encourage the growth of blonde down on her face; Marilyn would not remove this peach fuzz, believing that it gave her face a soft glow on camera.

24. She was never nominated for an Academy Award, but she was voted the "Oomph Girl" at Emerson Junior High in 1941; crowned Castroville's first Artichoke Queen in 1948; and was Stars and Stripes magazine's Miss Cheesecake of 1950.

25. She was named "The Most Advertised Girl in the World" by the Advertising Association of the West in 1953. Among the brands she represented were American Airlines, Kyron Way Diet Pills, Pabst Beer, Tan-Tan Suntan Lotion and Royal Triton Oil.

26. In 1950, Johnny Hyde, her agent, paid for her to have two plastic surgeries: a tip rhinoplasty (reshaping the soft cartilage at the end of her nose); and a chin implant.

27. She was an early devotee of yoga, and was taught by Indra Devi, a Swedish-Russian Bollywood film star who also taught Greta Garbo and Gloria Swanson.

28. Marilyn's intervention got Ella Fitzgerald her first major engagement at a Los Angeles nightclub. In 1955 the colour bar was still in force, but Marilyn convinced the management to let Fitzgerald play by promising to sit in the front row for a week.
29. Marilyn was only the second woman to head her own production company (Mary Pickford was the first).

30. Marilyn had a fixation on Clark Gable, her co-star in The Misfits; as a young girl, Marilyn dreamed that he was her father. When he died, she said that she cried for two days.

31. She preferred to go naked. Among female studio employees – wardrobe mistresses, hairdressers, make-up artists – she often went without clothes. She gave interviews in the nude and often went out wearing nothing under the black mink that Joe DiMaggio had given her.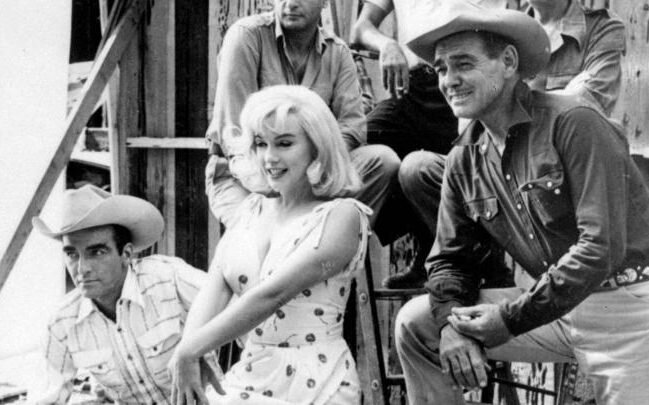 Montgomery Clift, Marilyn Monroe and Clark Gable, stars of 'The Misfits' Credit: AP
32. Writers loved her. Jean-Paul Sartre wanted her to play the role of a hysterical patient in the film Freud, for which he wrote the first draft of a screenplay; she was Truman Capote's first choice for the part of Holly Golightly in Breakfast at Tiffany's.

33. Marilyn's death was ruled a "probable suicide", but toxicology tests were only carried out on her liver. When the deputy coroner, Thomas Noguchi, tried to obtain her other organs for testing, he was told they'd been destroyed.

34. Veronica Hamel, an actress, bought Marilyn's house in 1972. She claimed that when she was renovating the house she discovered an extensive system of wire-taps.

35. Marilyn's hero was Abraham Lincoln: "I used to read everything I could find about him," she wrote in her (ghosted) autobiography, My Story. "He was the only famous American who seemed most like me, at least in his childhood."

36. The books she was reading at the time of her death were Harper Lee's To Kill a Mockingbird and Captain Newman MD, a novel by Leo Rosten based on the life of Monroe's psychiatrist, Ralph Greenson.

37. Two men claimed paternity of Marilyn on their deathbeds: C Stanley Gifford, who both Marilyn and her mother believed was her father, but who refused to meet Marilyn when she was alive; and Edward Mortensen, who was married to her mother at the time of her birth, and whose (misspelled) surname appears on her birth certificate.

38. She was athletic. As a young married woman on Catalina Island in the early Forties, she studied weightlifting with a former Olympic champion named Howard Corrington. She later went tandem surfing with a boyfriend, Tommy Zahn, balancing on his shoulders as they cut through the waves.

39. She was a talented producer. Marilyn Monroe Productions, which she formed in 1955 with Milton Greene, the photographer, only solely produced one film, The Prince and the Showgirl. Marilyn showed her nous in winning the script: she managed to wangle a meeting with the writer, Terence Rattigan, in New York, where he was stopping over en route to Hollywood to discuss the script with the director William Wyler, luring him from the airport to a downtown bar. When Wyler failed to make him a concrete offer, Rattigan went with Monroe.

40. Many of her friends believed she was murdered. Among the potential suspects: Robert Kennedy (with whom she had had an affair); John F Kennedy (ditto); mafioso Sam Giancana; the FBI; the CIA; her psychiatrist, Ralph Greenson.

41. During the filming of Let's Make Love, Marilyn's no-shows added 28 days to the shooting time and $1 million to the budget.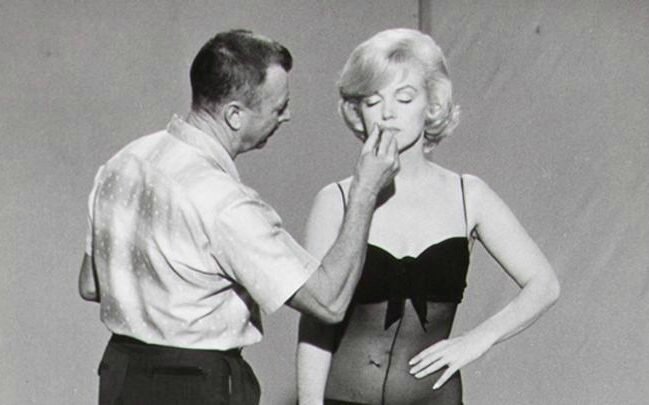 Allan 'Whitey' Snyder applying Marilyn Monroe's makeup
on the set of 'Let's Make Love' Credit: AP
42. Her career in front of the camera began when she was discovered working on the assembly line at Radioplane, a munitions factory, by a photographer called David Conover.

43. Arthur Miller's play After the Fall is generally thought to be a thinly veiled portrayal of his marriage to Marilyn. The writer James Baldwin walked out of the play because he thought that "Maggie", the Monroe character, was written so cruelly.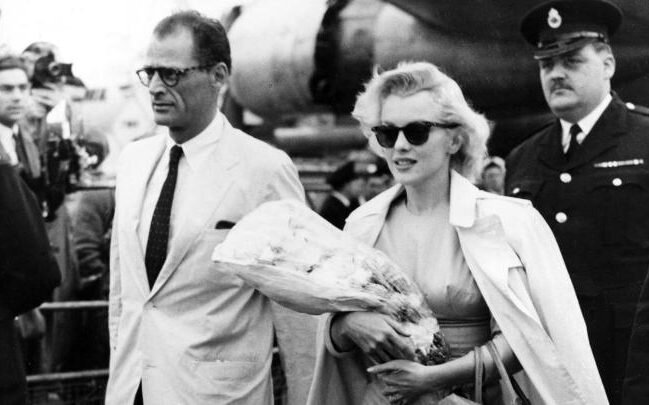 Marilyn Monroe with then-husband Arthur Miller in July 1956 Credit: AP
44. She only owned one home by herself: the house she died in at 12305 Fifth Helena Drive, Brentwood.

45. When she met Nikita Khrushchev, they discussed The Brothers Karamazov. She dreamed of playing the part of Grushenka in a film of the book.
21 novembre 2013
Truman Capote's confidante reveals details about lost Jackie Kennedy/Marilyn Monroe film
18 novembre 2013
en ligne sur express.co.uk
Un des plus proches confidents de Truman Capote a révélé que l'écrivain avait filmé une réunion secrète entre Jackie Kennedy et Marilyn Monroe à son domicile de New York quelques semaines avant la mort de l'actrice en 1962.

Le célèbre voyant John Cohan dit que Capote lui a montré les images d'une confrontation tendue entre l'épouse du président John F. Kennedy et de sa maîtresse présumée, dont il a filmé à l'insu de ces deux femmes, dont il a vendu la vidéo quelques temps avant à à la télévision, au magnat Merv Griffin, au début des années 1980.

Griffin, à son tour, avait prévu de sortir le film pour le 50e anniversaire de la mort de Monroe l'an dernier (en 2012), mais il est mort en 2007 avant d'avoir pu créer l'émission spéciale de télévision qu'il avait prévu.
Maintenant, Cohan n'a aucune idée de ce qu'est devenu le film , mais il est convaincu qu'il sera diffusé dans un proche avenir .
Il dit: "Je me suis souvenu de ce film alors que je pensais à mon amitié avec Truman pour un nouveau livre, intitulé 'The Pink Triangle' ('Le triangle rose')".
"Truman avait été un ami de Jackie Kennedy, mais ils ont eu une brouille et quand elle lui a demandé d' organiser une rencontre avec Marilyn à son domicile, il a mis sur écoute la pièce et les a filmées. Il l'a fait parce qu'il ne pouvait être sournois et rusé."
Et Cohan a été stupéfait lorsque l'auteur lui a d'abord montré les images.
Il raconte: "Je me souviens que Marilyn arriva ressemblant à la star de cinéma qu'elle était, vêtue d'une magnifique robe blanche et Jackie s'est montrée dans un tailleur noir, ce qui la rendait très matronale ... Quand MM (Marilyn) a commencé les salutations, elle lui dit «Bonjour Madame Jacqueline».

"Les deux femmes sont restées ensemble un peu plus de 30 minutes et Jackie a essentiellement dit à Marilyn qu'elle savait ce qui se passait entre son mari et elle, et qu'elle voulait que cela cesse. Jackie a dit qu'elle a pardonné à MM pour la liaison avec son mari parce qu'elle connaissait trop bien que Jack pouvait jusqu'à charmer un cadavre et obtenir une réponse".

"Marilyn est devenu hystérique parce qu'elle ne voulait pas mettre fin à la liaison. De l''argent a été échangé. Jackie avait apporté une grande boîte à chapeau ronde et rose. Dedans, il y avait beaucoup d'argent. Elle a dit à MM :« Prenez-le et utilisez-le pour embellir votre nouvelle maison et investissez le reste dans des actions et d'autres bons projets pour votre avenir ». Vers la fin du film, Marilyn étaitconfuse. Ses cheveux étaient tout ébourrifés et son mascara coulait " .

Cohan admet que Capote gardait préciseument le film, et aussi longtemps qu'il s'en souvienne, il est le seul à avoir vu le film, avec son auteur Capote et Merv Griffin.
Il ajoute: "Au début, Truman l'a gardé parce qu'il voulait le rendre à Jackie et juste en possédant le film, il pensait qu'il avait réalisé ça, et au fil des ans, cela l'ennuya et il m'a dit :«Je vais le vendre»- et il l'a fait."

"Merv Griffin garda précieusement les images et souhaitait les garder sous clé jusqu'au 50e anniversaire de la mort de Marilyn. Comme Truman, il était très protecteur à ce sujet et je ne pense pas qu'il l'ait montré à tout le monde ni même en ait parlé."
"Malheureusement, Merv, un autre grand ami à moi, est mort avant son temps et le film est maintenant perdu, mais je suis sûr que Merv a pris soin de toutes ses affaires avant sa mort et avait des plans pour ce film. Je suis sûr qu'il va voir la lumière du jour à un moment donné ".
---
One of TRUMAN CAPOTE's closest confidantes has revealed the writer captured footage of a secret meeting between JACKIE KENNEDY and MARILYN MONROE at his home in New York just weeks before the actress' death in 1962.
Celebrity seer John Cohan tells WENN Capote showed him the footage of the tense showdown between President John F. Kennedy's wife and his alleged mistress, which he filmed without the two women's knowledge, multiple times before he sold the home video to TV mogul Merv Griffin in the eraly 1980s.

Griffin, in turn, had planned to release the film on the 50th anniversary of Monroe's death last year (12), but died in 2007 before he could create the television special he had planned.
Now Cohan has no idea what has become of the footage, but he's convinced it will be broadcast in the near future.
He says, "I was reminded of this film while I was recalling my friendship with Truman for a new book, titled The Pink Triangle.
"Truman had been a friend to Jackie Kennedy but they had a falling out and when she asked him to arrange a meeting with Marilyn at his home, he bugged the room and filmed them. He did this because he could be devious and cunning."

And Cohan was stunned when the author first showed him the footage.
He recalls, "I remember Marilyn arrived looking like the movie star she was, dressed in a stunning white dress and Jackie showed up in this very tailored black suit, which made her look very matronly... When MM (Marilyn) first started the greetings, she said, 'Hello Madam Jacqueline'.

"The two women were together a little over 30 minutes and Jackie basically told Marilyn she knew what was going on between her husband and Marilyn, and wanted it to stop. Jackie said she forgave MM for the affair with her husband because she knew too well Jack could charm a dead body and get a response.

"Marilyn became hysterical because she didn't want to end the affair. Money was exchanged. Jackie had with her a good size pink round hat box. In it was a lot of money. She said to MM, 'Take this and use it to make your new home more beautiful and the rest invest in stocks and other good ventures for your future'. By the end of the film, Marilyn was a mess. Her hair was all messed up and her mascara was running."

Cohan admits Capote was very guarded about the film and, as far as he knows, he's the only person who has seen it other than the author and Merv Griffin.
He adds, "In the beginning, Truman kept it because he wanted to get back at Jackie and just by having this film he felt he had achieved that, but over the years he got so bored with it and told me, 'I'm going to sell it' - and he did.

"Merv Griffin treasured the footage and intended to keep it under lock and key until the 50th anniversary of Marilyn's death. Like Truman, he was very guarded about this and I don't think he showed it to anyone or talked about it.
"Unfortunately Merv, another great friend of mine, died before his time and the footage is now lost, but I'm sure Merv took care of all his affairs before his death and had plans for this film. I'm sure it will see the light of day at some point."
25 octobre 2011
Marilyn Monroe et Truman Capote dansent ensemble au Club El Morocco de New York, le 24 mars 1955. Ils fêtent la première de la pièce de Capote, House of Flowers, qui s'est tenue sur Broadway plus tôt dans la soirée.
---