25 juin 2021
I dress for men.
A woman looks at your clothes critically.
A man appreciates them.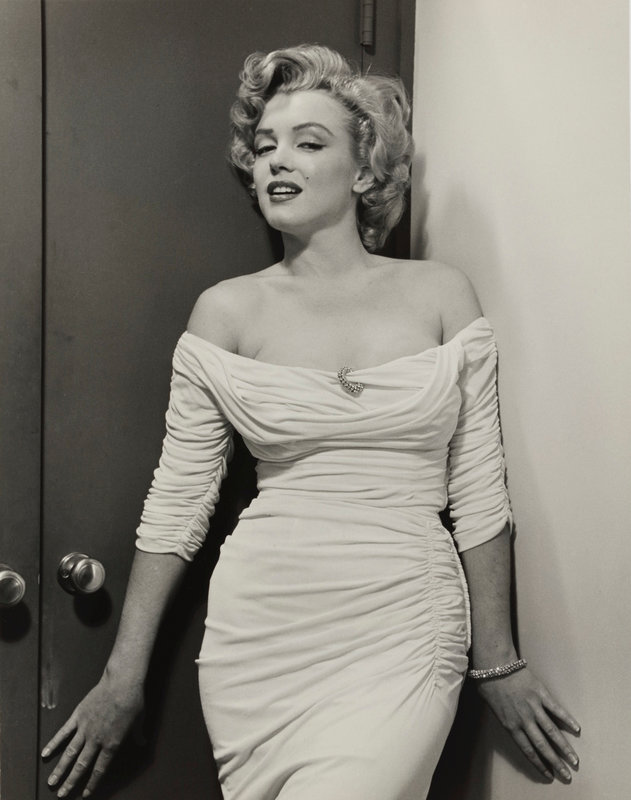 Je m'habille pour les hommes.
Une femme regarde vos vêtements d'un œil critique.
Un homme les apprécie.
---
source: citation extraite de l'article de Life 7 avril 1952

---
© All images are copyright and protected by their respective owners, assignees or others.
22 novembre 2015
Vente aux enchères 'TMC PRESENTS... TREASURES FROM THE DREAM FACTORY' le 23 novembre 2015 par Bonhams à New York. Les lots avec leur description sont en consultation libre sur le site de Bohams.
---
Lot 2: A Natalie Wood bound screenplay of Scudda Hoo! Scudda Hay!
US$ 700 - 900 - €650 - 840
Twentieth Century-Fox, 1948. Mimeographed manuscript, revised final screenplay by F. Hugh Herbert, 149 pp, February 19, 1947 (with revision pages dated as late as March 4), burgundy leather cover stamped in gilt to upper cover with film's title and "F. Hugh Herbert." Some pages annotated in ink by Wood, who also inscribed her name, character's name address, and phone number on the title page, and some of her dialogue in pencil on the verso of the last page. This was Wood's eighth film, but is better remembered as the movie in which Marilyn Monroe utters her first speaking role.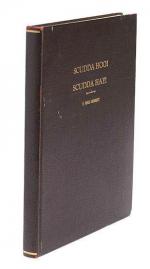 ---
Lot 206: A Marilyn Monroe signed contract for The Asphalt Jungle
US$ 20,000 - 30,000 - €19,000 - 28,000
Document signed ("Marilyn Monroe"), 2 pp, Hollywood, November 29, 1949, a Twentieth Century-Fox/Screen Actors Guild contract "for Free Lance Players," countersigned and dated on the verso beside Monroe's signature, inscribed in ink on the recto, "12-8-49 M. Monroe / J.S.," with additional partial page stapled to verso.
John Huston's film noir The Asphalt Jungle marked one of Marilyn Monroe's most important early, breakthrough roles, as gangster Emmerich's (Louis Calhern's) much younger moll, Angela. At the time, Monroe was virtually unknown and this contract states she received only $300 per week for her work on the film.
9 x 23 in.

---
Lot 207: A Marilyn Monroe suit from Gentlemen Prefer Blondes
US$ 350,000 - 500,000 - €330,000 - 470,000
Twentieth Century-Fox, 1953. Gray wool jacket with cream-colored embroidered linen collar, wired so that it stands, hook-and-eye and black button closure at the center, fitted at the hips, with partial gray crepe lining; together with a matching knee-length pencil skirt with a navy grosgrain waistband and buttons that attach to the jacket (to prevent the skirt from moving when Monroe danced), and a small slit in the back, bearing a bias label inscribed in black ink, "1-69-1194 M. Monroe A-698-40." Monroe, as Lorelei Lee, wears this suit when she and Dorothy (Jane Russell) go shopping in Paris, the hotel refuses them, and they wind up at a sidewalk café, singing "When Love Goes Wrong."
Provenance: Purchased by Debbie Reynolds from Fox in 1971; Butterfield & Butterfield, Entertainment Memorabilia, March 14, 2000, lot 5842.
A 1949 musical based on a novel by Anita Loos, Gentlemen Prefer Blondes was initially purchased by Fox as a vehicle for Betty Grable. However in light of Grable's waning popularity and comparatively high salary (almost ten times Monroe's), studio head Darryl Zanuck decided to cast the starlet Monroe instead, borrowing Jane Russell from RKO to serve as her costar. Gentlemen Prefer Blondes was a massive success and 1953 became Monroe's breakout year. She and Jane Russell put their handprints in cement at Grauman's Chinese Theater to celebrate the film's premiere, Monroe appeared on the cover of Photoplay and received its Fastest Rising Star award, and also appeared on the cover of the inaugural issue of Playboy.
A report by leading costume conservator Cara Varnell is available upon request.


---
Lot 208: A Marilyn Monroe red saloon gown from River of No Return
US$ 300,000 - 500,000 - €280,000 - 470,000
Twentieth Century-Fox, 1954. 19th century style saloon gown with a red cotton bodice adorned with large black sequins in a swirling pattern with black sequin trim along the neckline and each of the three shoulder straps, a black satin bustled skirt with matching red cotton trim with black sequins on either side of a high slit, and a yellow silk rose at the hip, bearing a label inscribed in black ink, "1-25-1-4413 A713-06 / M. Monroe"; and a matching pair of red cotton panties with red lace and green ribbon trim, bearing a label inscribed in black ink, "1-25-1-4413 A713-06 / M. Monroe" and a Fox cleaning tag. Monroe wears this dress while singing "One Silver Dollar" in the saloon.
Provenance: Purchased by Debbie Reynolds from Fox in 1971; Butterfield & Butterfield, Entertainment Memorabilia, March 14, 2000, lot 5843.
River of No Return stars Monroe as Kay Weston, a singer in a mining tent city in the Northwestern United States. Matt Calder (Robert Mitchum) arrives there in search of his son Mark and meets Kay, who has been looking after the child. Kay and her fiancé (Rory Calhoun) later set off on a rafting trip to Council City, and Matt rescues them after they run into trouble on the river. River of No Return was directed by Otto Preminger and shot on location in national parks in Canada to take advantage of the beautiful appearance of the landscapes on CinemaScope.
Monroe wears this dress in her first scene of the film. As Robert Mitchum enters the tent and walks around the stage, watching Monroe sing and strum a guitar, neither he nor the audience can take his eyes off of her. The image of Monroe in the dress also appears on the original one sheet poster and features prominently in the other promotional material surrounding the film.
A report by leading costume conservator Cara Varnell is available upon request.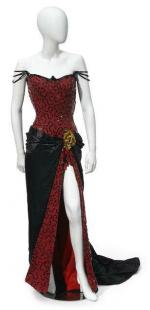 ---
Lot 209: Gentlemen Prefer Blondes
US$ 1,000 - 1,500 - €940 - 1,400
Twentieth Century-Fox, 1953. Three sheet poster, linen-backed. A vibrant poster with outstanding portraits of stars Marilyn Monroe and Jane Russell.
41 x 81 in.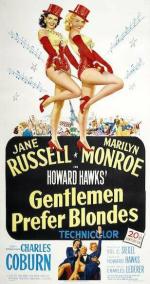 ---
Lot 213: An original title for River of No Return
US$ 1,200 - 1,400 - €1,100 - 1,300
Twentieth Century-Fox, 1954. Carved wood, reading "River of / No Return." Created by Pacific Title for the film's opening credits but not used. River of No Return, a Western set in the Pacific Northwest in the 19th century, was directed by Otto Preminger and starred Marilyn Monroe and Robert Mitchum.
36 x 14 3/4 in.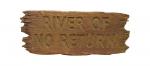 ---
Lot 214: A Bert Stern photograph of Marilyn Monroe
US$ 1,000 - 1,500 - €940 - 1,400
C-print signed ("Bert Stern") in green ink at lower right, and numbered 27/250. New York: Sherwood Atelier, 1978. Celebrity photographer Bert Stern is intimately linked with Monroe by the 2,500 photographs he took of her for Vogue less than two months before her untimely death. Stern later compiled those photographs for his book The Last Sitting, and this photograph was printed as part of a portfolio of ten prints in 1978. This sultry close-up of Monroe is a classic example of her vamping for Stern's camera.
Sheet: 20 x 24 in.; image: 19 7/8 x 19 7/8 in.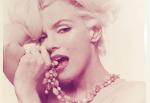 ---
Lot 215: A Marilyn Monroe signed U.S. Dept. of Defense identification card
US$ 10,000 - 15,000 - €9,400 - 14,000
Card serial no. 129279, undated, signed ("Norma Jeane DiMaggio"), inscribed under the signature by the military policeman who issued the ID, with "VOID" across the body of the document. On the verso of the card, Monroe has stamped her fingerprints in black ink. Accompanied by a press photograph of Monroe visiting the Tokyo Army Hospital on February 5, 1954.
This is the file copy of the ID card issued to Marilyn Monroe during her famous visit to entertain the American soldiers in Korea. Monroe had just married Joe DiMaggio on January 14 of that year, and they traveled to Japan for their honeymoon. She received this ID card from the US Army Provost Marshall's Office in Tokyo before flying to Korea. Monroe performed in ten shows over four days before a total audience of 100,000 soldiers.
In 2008, Bonhams sold Monroe's copy of this ID card, with the date February 8, 1954, the preceding serial number of 128278 and an identical inscription from the MP on duty, for $57,000.
Provenance: Accompanied by a notarized letter of provenance from the consignor, describing how he purchased the ID card from the estate of one of the military policemen on duty that day.
3 5/8 x 2 3/8 in.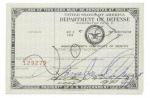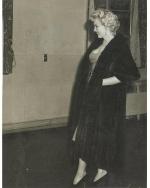 ---
Lot 218: A revised final screenplay of Let's Make Love
US$ 500 - 700 - €470 - 650
Twentieth Century-Fox, 1960. Mimeographed manuscript, revised final screenplay by Norman Krasna, 162 pp, December 20, 1959 (with revision pages as late as January 11, 1960), bound in brads in yellow Twentieth Century-Fox wrappers printed "Revised Shooting Final," with some notations in pencil to upper cover.
George Cukor's Let's Make Love was Marilyn Monroe's penultimate completed film role. Yves Montand stars as a man impersonating an actor impersonating himself in a play costarring actress Amanda Dell (Monroe). The finished film runs 119 minutes, which indicates that various scenes were probably deleted from this lengthy script. Monroe's then-husband Arthur Miller and Hal Kanter also contributed to the screenplay.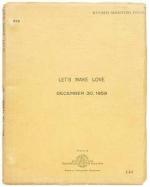 ---
Lot 219: A large collection of rare contact sheets of Marilyn Monroe in Let's Make Love
US$ 50,000 - 80,000 - €47,000 - 75,000
Twentieth Century-Fox, 1960. 134 contact sheets, in two sets bound at tops in clasps (one set totaling one-hundred and twenty-one sheets; the other, thirteen), each with twenty (though sometimes less) 2 3/4 x 1 3/4 in. black and white photographs, "Approved Set" inscribed on first sheet of smaller set in permanent marker, Advertising Code Administration "Approved" and "Disapproved" stamps on versos with dates in green and red ink, housed in a Kodak Photographic Paper box inscribed, "Monroe / Somethings [sic] Got to Give" (though the photographs are from Let's Make Love).
Taken throughout the production of Marilyn Monroe's penultimate film, there are approximately 2,700 individual black and white images in this collection. Monroe is pictured in almost every shot, though her costars Yves Montand, Tony Randall, Gene Kelly, Bing Crosby, and others are also prominently featured, as is director George Cukor. Most of the photographs were taken during filming, but there are also many candid, behind-the-scenes images. Monroe herself went through the contact sheets and crossed out dozens of images she didn't like, using a thick black or red ink pen, and sometimes crossing herself out so thoroughly that she couldn't be seen at all. Thankfully, she left hundreds of shots untouched.
11 x 14 in.
23 juin 2010
Une robe de Marilyn Monroe
pour 312 000 $
Article publié le 15 juin 2010,
en ligne sur parismatch.com

La célèbre robe en satin rose que portait Marilyn Monroe dans le film ''Les hommes préfèrent les blondes'', sorti en 1953, a été vendue pour la modique somme de 312 000$. L'achat s'est fait lors d'une vente aux enchères en Angleterre le week-end dernier, révèle le magazine InStyle .
Ce prix bat celui du taffetas noir de la princesse Diana, vendu la semaine dernière lors d'une vente aux enchères en Angleterre également.
Peut-être Marilyn aurait-elle dû chanter ''Dresses are the girls' best friends'' ?