27 février 2017
Warren Beatty took a 'soulful' walk with Marilyn Monroe the night before she died
October, 7, 2016
en ligne sur nydailynews.com
It could have been Warren Beatty's affair to remember.
The Hollywood legend was one of the last people to see Marilyn Monroe alive, he recalled in a new interview with Vanity Fair.
Beatty and Monroe met Aug. 4, 1962, at Peter Lawford's house in Santa Monica, California.
Lawford, also an actor, invited Beatty over for a night of tacos and poker, and Monroe, a longtime friend of Lawford, was there.
"I hadn't seen anything that beautiful," he said in the interview.
The blonde buxom asked a then 25-year-old Beatty if he wanted to walk along the beach.
"It was more soulful than romantic," the 79-year-old recounted of their telling stroll.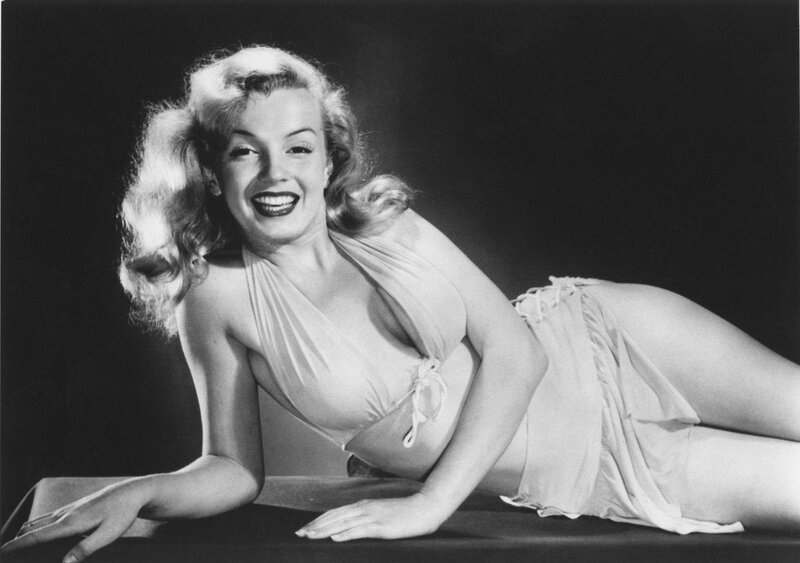 (L. J. Willinger/Getty Images)
Later, he played the piano for her and Marilyn was "wearing something so clingy that he could tell she wasn't wearing underwear."
Beatty also noticed that she was "already tipsy from the champagne" even "before the sun had set."
The next day, Beatty got a phone call from Harold Mirisch, brother of Hollywood producer Walter Marisch, who told him Marilyn had died from an overdose at age 36.
---
Six Decades In, Warren Beatty Is Still Seducing Hollywood
October, 6, 2016
en ligne sur vanityfair.com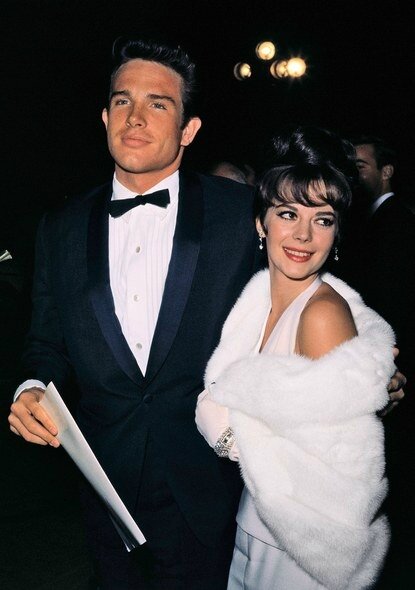 Warren & Natalie Wood, 1962, Academy Awards
[...]
He also briefly encountered Marilyn Monroe. Peter Lawford had invited him out to his house in Malibu for a night of tacos and poker, and Monroe was there. "I hadn't seen anything that beautiful," Beatty recalls. She invited him to take a walk along the beach, which he did. "It was more soulful than romantic." Back in the house, he played the piano. (He's a good pianist, by the way, enamored of jazz greats such as Erroll Garner.) Marilyn sat on the edge of the piano in something so clingy that Beatty could tell she wasn't wearing underwear.
"How old are you ?" she asked.
"Twenty-five," he answered. "And how old are you ?" he asked cheekily.
"Three. Six," she said, as if not wanting to bring the two numbers together. By then, the tacos had arrived, and no one really played poker that night. Warren noticed that Marilyn was already a bit tipsy from champagne, even before the sun had set.
The next day, the producer Walter Mirisch's brother Harold called. "Did you hear ?" he asked. "Marilyn Monroe is dead." Warren was one of the last people to see Marilyn alive—a story that Beatty tells only reluctantly. He really is one of Hollywood's most discreet people, in a town and an industry marinated in its own gossip.
15 janvier 2017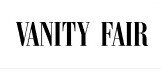 See Marilyn Monroe Giggle Through Her Wedding Reception, Movie Rehearsals, and More in Long-Lost Film
Watch photographer Milton H. Greene's lost footage of his most famous muse.
published in July 12, 2016
by Julie Miller
en ligne sur vanityfair.com
Fine-art fashion photographer Milton H. Greene captured some of the greatest stars of the 1950s and 1960s in his enduring portraits, including Grace Kelly, Elizabeth Taylor, Cary Grant, Sophia Loren, Audrey Hepburn, and Paul Newman. But it was Greene's portraits of Marilyn Monroe—his muse, friend, onetime roommate, and professional collaborator—for which he is most famous.
The two met in 1953—the same year Monroe appeared on-screen in Gentlemen Prefer Blondes—when Greene photographed the bombshell for Look magazine. Photographer and subject bonded, and their relationship over the next few years yielded one production company (Marilyn Monroe Productions, whose titles include The Prince and the Showgirl), a memoir, and over 50 photo sessions.
Beginning July 16, the Morrison Hotel Gallery at the Sunset Marquis Hotel will display some of Greene's never-before-seen photos from these sessions in its "Some Like It Hot" exhibit. The presentation will also feature 16-mm-film footage (previewed above), showing Monroe in rare and relaxed form—mostly out of the spotlight. Among the moments Greene captured: a cheerful Monroe kissing her third husband, Arthur Miller, and greeting guests at the couple's 1956 wedding reception; Monroe performing a musical number in the 1956 romantic comedy Bus Stop; and the beauty preening between the sheets for an intimate photo shoot.
In a statement to Vanity Fair, Joshua Greene said of his father's work, "There was an elegance to the simplicity of the sessions. Milton was not afraid to be vulnerable with his subjects, which created confidence and trust between them."
Photographer and Morrison Hotel Gallery co-owner Timothy White added of Greene and Monroe, "They spent a lot of time together and she often ran to Milton and his family for an escape from the pressures of Hollywood. With that trust came the access and opportunity for Milton to be with her and to photograph her freely. He became a trusted confidant who always had his still and movie camera with him as he documented her life."
"Seeing this film footage for the first time gives you the chills," continues White. "They're like home movies, yet one of the biggest stars of our time has obviously let her guard down and allows Milton to film her most playful, private, and important moments in her life. . . . It's a window into something we've never before seen . . . but always wanted to."
The "Some Like It Hot" exhibit will continue through July 24 (2016).
---
> extrait d'un JT américain - interview de Timothy White
et images des séquences tournées par Greene avec
des images inédites du mariage de Marilyn avec Miller
extract of US news - interview of Timothy White
and footages of Greene's home movies with unseen images
of Marilyn Monroe and Arthur Miller's wedding

captures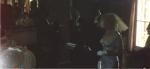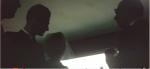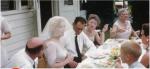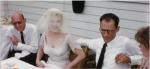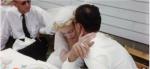 > retrouvez les captures dans l'article consacré au mariage:
find all the screen caps on the article dedicated to the wedding:
1/07/1956 Cérémonie Juive Mariage Marilyn et Arthur
---
Enregistrer
All photos are copyright and protected by their respective owners.
copyright text by GinieLand.
23 avril 2016
L'édition américaine Vanity Fair Icons, publie un Hors Série -dispo depuis le 21 avril et jusqu'au 18 juillet 2016 - entièrement consacré à Marilyn Monroe.
> cf article sur vanityfair.com
prix: 13.99 $ -> en commande (pour les USA) sur vanityfair.iconicmarilyn
En commande sur amazon.com pour 6.93 $


Enregistrer
21 février 2016
Les 10 artistes morts les plus rentables
publié le 06/02/2015
en ligne sur vanityfair.fr
Même outre-tombe, ces personnalités continuent de faire tourner une machine de plusieurs millions de dollars. Découvrez le classement Forbes des célébrités mortes les plus rentables de l'année 2014.

01/ Michael Jackson avec 140 millions de Dollars
02/ Elvis Presley avec 55 millions de Dollars
03/ Charles Schulz, avec 40 millions de dollars
04/ Elizabeth Taylor, avec 25 millions de dollars
05/ Bob Marley, avec 20 millions de dollars
06/ Marilyn Monroe, avec 17 millions de dollars
< Marilyn Monroe chez elle, dans sa maison en Californie, en 1953.
Photo Alfred Eisenstaedt/Pix Inc./The LIFE Picture Collection/Getty Images

Marilyn est morte dans d'étranges circonstances le 5 août 1962, ne laissant à 36 ans que peu de choses derrière elle. Pourtant, depuis, Authentic Brand Group (qui possède aussi les droits de Elvis Presley et Mohamed Ali, pour n'en citer que deux), a racheté les droits de Monroe et la décline en marque déposée bien juteuse ; dernièrement, on a pu voir apparaître une ligne de lingerie Marilyn Monroe, en plus de sa ligne de vêtements pour ados qui se vend comme des petits pains chez Macy's.
07/ John Lennon, avec 12 millions de dollars
08/ Albert Einstein, avec 11 millions de dollars
09 a/ Theodor Geisel, avec 9 millions de dollars
09 b/ Bruce Lee, avec 9 millions de dollars
09 c/ Steve McQueen, avec 9 millions de dollars
09 d/ Bettie Page, avec 9 millions de dollars
10/ James Dean, avec 7 millions de dollars
19 juillet 2015
L'édition française du magazine Vanity Fair n°26, de août 2015 (sortie en kiosque le 22/07/2015) consacre Marilyn Monroe en couverture.
prix: 3,95 €
11 octobre 2013
Pour les 100 ans du magazine américain Vanity Fair (édition octobre 2013 ) la mannequin et actrice Kate Upton, est mise à l'honneur, posant telle une pinup des années 1950s, sous l'objectif de la photographie Annie Leibovitz et du stylisme de Jessica Diehl. Pour ce numéro spécial, on lui a demandé de s'inspirer des débuts de Marilyn Monroe, lors de ses jeunes années de mannequinat. Et Kate reprend certaines séances photos célèbres de la jeune Marilyn.
> article de Vanity Fair
Enregistrer
27 juillet 2013

Saga
Marlon Brando, l'écorché vif
publié le 19 juin 2013 - par Léa Bastie
en ligne sur vanityfair.fr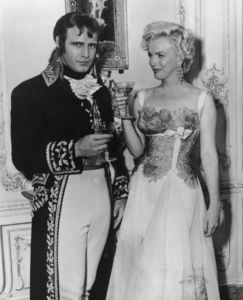 MARILYN

C'est au cours de l'année 1946 que Marlon Brando aurait fait la connaissance de Marilyn Monroe. Dans sa biographie, Les Chansons que ma mère me chantait, Brando dit l'avoir rencontrée lors d'une soirée, alors qu'elle jouait du piano à l'écart de la foule. Il affirme également avoir eu une liaison avec l'actrice, avec qui il serait resté en contact jusqu'à sa mort en 1962.
PHOTO HULTON ARCHIVE / GETTY IMAGES
Brando et Monroe en 1954, sur le tournage du film de Henry Koster, Désirée.
27 juin 2013

#RIP Bert Stern
Ses dernières confidences à Vanity Fair
publié le 26 juin 2013 - par Camille Bordenet
en ligne sur vanityfair.fr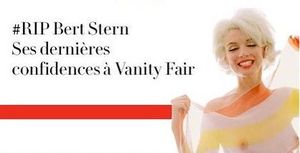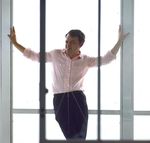 Né à Brooklyn en 1929, Bert Stern entre au service du Courrier de Look à l'âge de dix-sept ans. Il y reste deux ans et demi avant de prendre la direction artistique d'une petite revue et de se lancer en autodidacte dans la photographie. Durant son service militaire, il devient caméraman pour l'armée américaine basée au Japon. A partir de 1953, il se consacre à la photographie de mode et publicitaire (Vodka Smirnoff, Canon, Volkswagen, Pepsi-Cola...). Portraitiste virtuose et chasseur d'icônes, son art est généralement qualifié de glamour et romantique. Le film Bert Stern : original madman sorti en 2011 lui rend hommage.
S'il est surtout connu pour être le dernier à avoir immortalisé Marilyn Monroe six semaines avant sa mort, le photographe américain a eu d'autres modèles prestigieux - et sublimes. D'Audrey Hepburn à Kate Moss toute jeune, en passant par Madonna, Bert Stern avait immortalisé quelques unes des stars les plus emblématiques de leur époque.
Pour VanityFair.fr, il avait accepté, à 84 ans, de commenter ses plus belles photos. C'était au début du mois de juin, sur son lit d'hôpital à New York. Il est mort la nuit dernière, des suites de problèmes cardiaques.
Voici ses dernières confidences.
Marilyn Monroe, La Dernière Séance - Los Angeles, juin 1962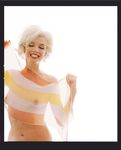 "Pendant cette séance photo commandée par Vogue qui, après la mort de Marilyn a été nommée La dernière séance (The last sitting), j'ai pris plus de 2500 clichés d'elle pendant trois jours entiers. Habillée, nue, accessoirisée, elle était magique et hypnotique… Je ne l'aurais jamais prise en photo nue si elle n'avait pas voulu. Je rêvais juste de la photographier et c'est vrai que je ne l'imaginais pas dans des vêtements, mais tout simplement portant des bijoux ou un voile. Pour la première séance le 23 juin 1962, dans une suite de l'hôtel Bel-Air, nous avions rendez-vous à midi mais elle n'est arrivée qu'à quinze heures. Elle était plus belle encore que je l'imaginais! Plus fine, aussi... Elle avait été opérée de la vésicule biliaire six semaines plus tôt et portait d'ailleurs une cicatrice au bas du ventre. Quand elle a vu le voile transparent et les bijoux préparés elle a demandé "Alors on fait des nus ? Je suppose que vous avez envie d'être créatif !". J'étais surpris, j'ai dit oui. Elle a quand même demandé son avis à son coiffeur qui a répondu "Pourquoi pas ?". Elle est allée se préparer dans la salle de bain puis est revenue, nue sous le foulard transparent et a lancé : "Pas mal pour 36 ans, non ?". Elle avait visiblement envie de se prendre au jeu. Elle buvait le champagne que j'avais emmené sur la demande de son agent, et j'ai remarqué que son maquilleur ajoutait un peu de vodka dans son verre. Les heures passant, elle est devenue plus provocante encore. Je n'avais pas besoin de lui faire des suggestions, elle inventait les poses toute seule. Nous avons continué jusqu'à deux heures du matin, mais Vogue a jugé cette série trop provocante et en a commandé une seconde, plus habillée " .

Marilyn – Second shooting


"Ma première question à Marilyn a été "Marilyn, comment va votre vie amoureuse ?" Et elle a éclaté de rire, ce fameux et magnifique rire… mais elle n'a jamais vraiment répondu. Sur le coup, je n'ai pas remarqué qu'elle était déjà nostalgique. Elle semblait vraiment de bonne humeur et comptait peut-être sur ces photos dans Vogue pour "relancer" sa carrière. Bien sûr, rétrospectivement, je devine une certaine fragilité sur certains clichés, notamment celui-ci où elle se cache le visage. C'est un de mes préférés. Cette photo de Marilyn en robe Dior correspond à la seconde fois où nous nous sommes vus car Vogue souhaitait davantage de photos de mode et non de nu pour faire le portfolio dont ils rêvaient. Comme la première fois, elle est arrivée avec deux heures et demi de retard. Cette fois-ci, j'avais commandé du Château Lafite... Elle a posé pendant des heures et des heures avec les robes. Et puis, au bout d'un moment, j'ai demandé à l'équipe de sortir. Marilyn s'est enroulée, nue, dans un drap et s'est allongée sur un canapé. J'ai réalisé toute une série de clichés. Puis, elle s'est endormie, sans doute un peu sous l'effet de l'alcool, et je suis sorti".

Catherine Deneuve – New York 1961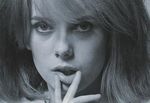 "C'était sa première fois à New York, elle manquait énormément de confiance en elle, doutait comme une enfant… mais ça la rendait si belle. Je tenais absolument à la photographier".
Romy Schneider et Alain Delon – Cannes 1962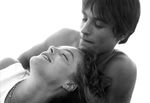 "C'était le plus beau couple d'acteurs de l'époque mais en réalité ils se disputaient tout le temps ! Même sur le voilier où nous avons fait la séance photo ils n'ont pas arrêté de s'engueuler puis de se rabibocher comme des enfants… mais ils ressemblaient à des anges".

Kate Moss – New York 2001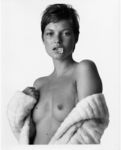 "Je devais la photographier pour Vogue et c'est sûrement le meilleur top model avec qui j'ai travaillé. Tellement gracieuse et facile à vivre".

Audrey Hepburn – Paris 1966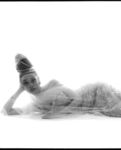 "On était réunis à Paris pour shooter une publicité pour le parfum L'Interdit de Givenchy. Les gens ne réalisent pas à quel point Audrey était drôle, un vrai clown. C'est elle qui s'amusait à faire ce genre de pause".
"Audrey ne se prenait pas au sérieux et était très loin de son image d'icône. Elle était douce et extrêmement à l'écoute de ce dont j'avais besoin en tant que photographe".
Twiggy – New York 1967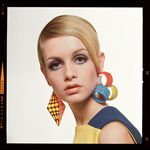 "Twiggy était très jeune et tellement naïve… presque crédule !"
Elizabeth Taylor et Richard Burton - Juin 1962 Rome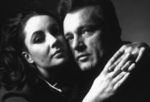 "La 20th Century Fox m'avait demandé de les photographier durant le tournage de Cléopâtre qui faisait beaucoup de bruit à l'époque à cause de l'histoire d'amour sulfureuse et scandaleuse naissant entre les deux acteurs."
"Liz et Richard étaient fous amoureux mais cette passion les dévorait, ils se sont mariés et ont divorcé deux fois. Aussi mythique que chaotique, leur histoire n'a cessé de faire fantasmer le monde. Pourtant à mes yeux, ils étaient de vraies âmes sœurs".
Madonna – New York 1985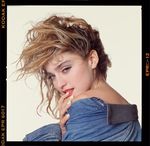 "Madonna est arrivée au shooting comme une diva, extrêmement prétentieuse, bruyante et entourée de sa garde rapprochée. Je l'ai photographié durant 5 minutes et je n'en déjà pouvais plus. La photo était pour le Time Magazine qui consacrait un article à la nouvelle artiste pop qui serait nommée aux Grammy Awards. Mais finalement Cindy Lauper a gagné et Madonna n'a pas eu le droit à sa couverture !"
Brigitte Bardot – Saint Tropez 1961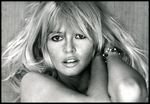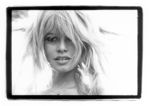 "J'étais dans le Sud de la France, à Saint-Tropez et je l'ai rencontrée alors que c'était totalement imprévu. J'ai eu beaucoup de chance car c'était la plus belle femme du monde à l'époque."
"Je l'ai photographié très rapidement, elle n'était pas très facile comme modèle, mais sa beauté transcendait tout ce que j'avais vu avant".

Sophia Loren – Pise 1962


"Elle semblait préoccupée et ailleurs quand je l'ai photographiée. Elle était au sommet de sa carrière et se faisait beaucoup de souci pour la suite et sa vie personnelle. Mais elle était très professionnelle, belle et sauvage comme un animal, et savait naturellement comment se mettre en valeur et utiliser les lumières à son avantage."
03 mai 2012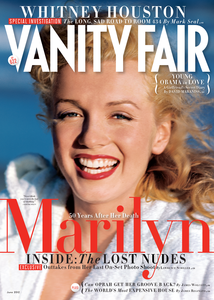 Le magazine américain Vanity Fair de juin 2012 consacre sa couverture à Marilyn Monroe et un article sur Marilyn en pages intérieures intitulé "A splash of Marilyn". [lire le sommaire du magazine sur leur site].
Prix: 8,99 €
---
A Splash of Marilyn
Just before Marilyn Monroe's shocking death, in 1962, photographer Lawrence Schiller hit the jackpot, capturing the world's most famous blonde at her most seductive. Fifty years later, in an adaptation from his new book, Schiller reveals the complicated woman he came to know, along with exclusive outtakes of the full Monroe.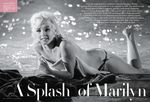 The Lost Marilyn Monroe Nudes: Outtakes from Her Last On-Set Shoot Revealed in June's V.F.
Publié le 1/05/2012,
en ligne sur vanityfair.com
"Fox [Studios] should start paying as much attention to me as they are paying to Elizabeth Taylor," Marilyn Monroe told Lawrence Schiller, hatching the idea that would turn out to be the break of the young photographer's life: for him to photograph her nude. In an adaptation of Schiller's memoir Marilyn & Me, the June issue of Vanity Fair reveals never-before-published pictures from that shoot, as well as details of Schiller's conversations with the star.

In 1960, as part of an ongoing battle to get Fox to take her more seriously, and out of jealousy over Taylor's success, Marilyn came up with an attention-grabbing plan: a poolside shoot in which she'd jump in the water with a bathing suit on—and come out without it. "Larry," she said, "if I do come out of the pool with nothing on, I want your guarantee that when your pictures appear on the covers of magazines Elizabeth Taylor is not anywhere in the same issue." Marilyn was making only $100,000 for what would be her last film, Something's Got to Give, in 1962, while Taylor was receiving a million dollars for Cleopatra. She wanted to show Fox that she could get the same kind of coverage as the publicity bonanza generated by Taylor's very public affair with her co-star, Richard Burton. When Hugh Hefner agreed to pay $25,000 for a nude shot of Marilyn—the most money Playboy had ever paid for a photograph—Schiller thanked her for creating such a big payday, joking, "See what tits 'n' ass can do?" "That's how I got my house and swimming pool," Marilyn said, laughing. "There isn't anybody that looks like me without clothes on."

Just 23 years old at the time, Schiller, at the set on assignment for Look magazine, had no idea that he was getting to know the icon in some of her most vulnerable moments. In an adaptation of his memoir about their sessions together, Schiller recounts intimate and telling conversations that illuminate the private struggles that consumed the starlet in her final days.
"I could tell you all about rejection," Marilyn said to Schiller. "Sometimes I feel my whole life has been one big rejection." "But look at you now," he said. "Exactly," she replied. "Look at me now." Confused, Schiller protested, "You're a star! Your face is on magazine covers all over the world! Everyone knows Marilyn Monroe!" "Let me ask you, Larry Wolf [Schiller first introduced himself to Monroe as the Big Bad Wolf]—how many Academy Award nominations do I have?" "I don't know," he said. "I do," she said. "None."

Marilyn even confided her deepest worry. "I've always wanted a baby," she said. "Having a child, that's always been my biggest fear. I want a child and I fear a child. Whenever it came close, my body said no and I lost the baby." She talked to Schiller about being afraid that she'd wind up like her mother, who had been in and out of mental institutions her whole life.
She reflected often on her assumed identity, and where Norma Jeane fit in. "I never wanted to be Marilyn—it just happened. Marilyn's like a veil I wear over Norma Jeane," she admitted to Schiller. During a photography session, she told him, "I always have a full-length mirror next to the camera when I'm doing publicity stills. That way, I know how I look." Schiller asked, "So, do you pose for the photographer or for the mirror?" "The mirror," she replied without hesitating. "I can always find Marilyn in the mirror."

However, Schiller reveals, Marilyn's attitude about her sex-symbol status fluctuated wildly. While she was at times boastful of her looks and what they procured for her, she was also by turns insecure and angry. "It's still about nudity. Is that all I'm good for?" she demanded of Schiller. "I'd like to show that I can get publicity without using my ass or getting fired from a picture," she continued. "I haven't made up my mind yet."

It was to be their last conversation: the very next morning, Marilyn was reported dead at 36. One of her final acts had been to return the nude photo to Schiller, which he found waiting for him at his house. She had written, "Send this to Playboy, they might like it."
Related: Read "Marilyn and Her Monsters," by Sam Kashner, from the November 2010 issue, which goes inside the troubled starlet's diaries.
Plus: a handwriting expert analyzes Marilyn Monroe's journal entries in a VF.com exclusive.