15 janvier 2017
The Lost Footage of Marilyn Monroe
That film image of Ms. Monroe's skirt rising high in a gust of air? It's a reshoot of a discarded and more risqué scene seldom seen until now.

published in January 13, 2017
by HELENE STAPINSKIJAN
en ligne sur nytimes.com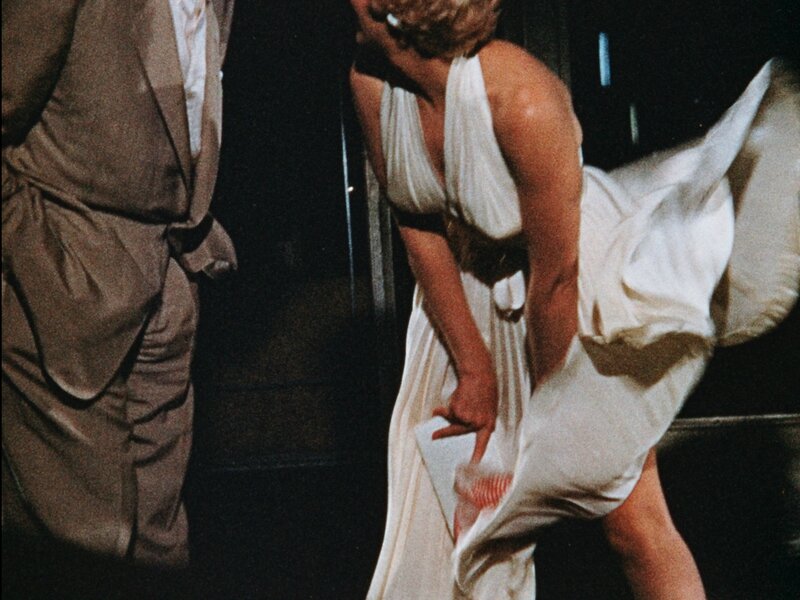 A still of Marilyn Monroe filming "The Seven Year Itch" on the Upper East Side from the found footage of Jules Schulback, a furrier and avid taker of home movies.
Credit Jules Schulback, via Bonnie Siegler
It happened one night in the late summer of 1954.
Jules Schulback, a New York furrier and taker of home movies, heard that Marilyn Monroe would be on the Upper East Side of Manhattan filming scenes again for her new picture, "The Seven Year Itch." Two days earlier, Mr. Schulback had taken footage of her with his 16-millimeter Bolex movie camera around the corner from his townhouse apartment.
So he grabbed the camera — the one usually used for family picnics and parades and the stuff of everyday life — and headed over to the subway grate in front of Wright's Food shop, just down the street from the Trans-Lux movie theater on Lexington Avenue and 52nd Street.
Though it was around 1 a.m., a large crowd had already gathered, mostly newspaper photographers and curious men waiting to see Marilyn. The movie studio and the director, Billy Wilder, had counted on this, inviting the press and the public to drum up buzz for the new movie, which starred Ms. Monroe as "the Girl Upstairs," who entices a middle-aged executive, played by Tom Ewell, while his wife is away with the kids for the summer.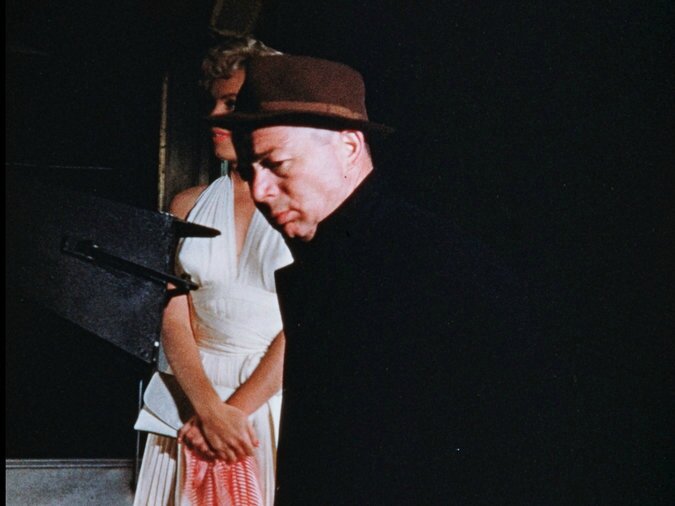 Mr. Schulback captured Billy Wilder, the director of "The Seven Year Itch,"
with Ms. Monroe in the background in her famous dress,
accessorized by a white clutch and a red-and-white scarf.
Credit Jules Schulback, via Bonnie Siegler
In the famous street scene, the two are leaving the movies as Ms. Monroe pauses over a grate to enjoy the breeze from the subway as it blows up her dress on a hot summer night. "Isn't it delicious ?" she purrs. The breeze came from a large fan under the grate operated by the film's special effects chief. The night — Sept. 15 — was actually quite chilly. But the stunt worked. It became known as "the shot seen around the world."

But there was a dark subtext to the comedy. Gathered at that late hour were hundreds of gawkers, almost all men, who catcalled and yelled things like, "Higher! Higher !" as Ms. Monroe's dress blew up over her head. For two hours, the men watched from surrounding buildings and from the street.
"Unfortunately, one of them was her husband, Joe DiMaggio," Mr. Wilder is quoted as saying in his biography, "Nobody's Perfect." "And he didn't like what he saw, or what everyone else was seeing."
Mr. DiMaggio hadn't planned on visiting the set that night, and was waiting for his wife at the St. Regis Hotel, where the couple were staying. But the columnist Walter Winchell had persuaded him to come along. Ms. Monroe was not happy her husband had shown up. But he was even more unhappy and angrily stormed off. Later that night the couple had a screaming fight in their room. The next morning, her hairdresser covered up Ms. Monroe's bruises with makeup. Three weeks later, Ms. Monroe filed for divorce.

Mr. Wilder never used the Lexington Avenue footage and reshot the scene on a closed lot in Hollywood, though photographs of that night appeared everywhere. Except for some brief, grainy shots from a newsreel covering the divorce, footage from that night was never screened.
"The footage immediately disappeared," Mr. Wilder said in the biography. "But one day I'm sure some film scholar will dig it up."

A filmstrip discovered in a shopping bag filled with home movies offers a rare glimpse of
Marilyn Monroe in color in New York.
By JULES SCHULBACK, VIA BONNIE SIEGLER
The story of the night Marilyn Monroe's white halter-top dress blew up was well known among Jules Schulback's children, and even among his grandchildren. His granddaughter Bonnie Siegler said he bragged from time to time about his personal film shoot with Marilyn.
"He was a real raconteur," said Ms. Siegler, a graphic designer who runs her own company, Eight and a Half. "I didn't know if the story was real." But even though she had never seen it, she often told people that her grandfather had footage of Marilyn Monroe on the subway grate.

Ms. Siegler's older sister, Rayna Dineen, said her grandfather, whom they called Opi (a German term of endearment), was rarely without his camera. "He would be filming everywhere, all the time." There were reels of vacations, family picnics, birthday parties and bar mitzvahs. He had even filmed a 12-minute day in the life of his daughters, depicting them waking up, brushing their teeth and going to school.
"But the Marilyn story was one of his favorite stories to tell," Ms. Dineen said.
It was just one of dozens of amazing tales. Mr. Schulback had a long, technicolorful life, one so filled with drama that his Monroe story sometimes seemed like a footnote.

In 1938, Mr. Schulback had argued with his family in Germany that Adolf Hitler was much more dangerous than anyone thought. According to Ms. Siegler, his family believed that Hitler's hate speech was simply rhetoric, and that he wouldn't act on anything he was saying. Mr. Schulback, 25 at the time, urged them to pack their bags and leave Berlin with him. But they resisted, opting to wait and see how things developed, never imagining the horror that awaited them and millions of other European Jews.
Mr. Schulback was not taking any chances.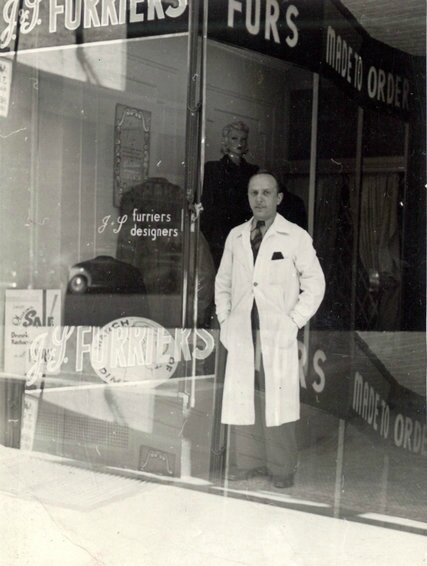 Mr. Schulback was a furrier by trade. He chronicled his family and the odd serendipitous moment in his neighborhood — such as Marilyn Monroe on location — with his 16-millimeter Bolex movie camera.
In 1938, Jews immigrating to the United States needed a sponsor, someone to take financial responsibility for them. Mr. Schulback sold everything he had, bought an expensive suit, booked passage on the Queen Mary, reserved a room at the Plaza and headed to America to find a sponsor for him and his wife, Edith, and their daughter Helen, who was then a toddler.

"He was like: 'I'm your lost, rich relative. I won't be a burden.' But he had no money. He played it," Ms. Siegler said. He secured a signature, then returned to collect his family, but was stopped trying to enter Nazi Germany by a suspicious border guard. Knowing the Germans were big fans of the 1934 Clark Gable hit, "It Happened One Night," Mr. Schulback told the guard he was the distributor for Mr. Gable's new movie. He claimed that if he couldn't enter the country, neither would the film. "The guy was like, 'Oh, we love Clark Gable,' and waved him through," Ms. Siegler said.

Mr. Schulback grabbed Edith and Helen, again imploring his other relatives to leave, and escaped back to the United States with a few suitcases, claiming to the Nazi immigration officers that his family was going on vacation. The date was Nov. 8, the day before Kristallnacht.

In Berlin, he had been a furrier, and his shop was destroyed that night. His remaining family — four sisters, parents and in-laws — would all perish in the Holocaust.
The United States was good to Mr. Schulback. He and his family lived a happy, successful life in New York, much of it preserved in his home movies.

As a child, Ms. Siegler loved going to her grandfather's Upper East Side apartment not just because of his great stories and sense of humor, but also because he lived opposite the New York Doll Hospital. From his apartment window, she could see the buckets of doll eyes and doll arms. "It was really intense," she said.

When Edith had a stroke in the 1970s, she was given only a few weeks to live. But Mr. Schulback, always a man of action, refused to let his wife die in the hospital and took her home. The couple moved into the ground-floor apartment of a building around the corner, and Mr. Schulback became her nurse. "Half her body was paralyzed, she couldn't speak," Ms. Siegler said. "But he loved her and took care of her for 26 years until she finally died."

After 35 years in that same apartment, Mr. Schulback — who had been president of the 61st Street Block Association — was forced to leave. The Andrew W. Mellon Foundation had bought the townhouse where he lived and the one behind it and wanted to reconfigure the property. So Ms. Siegler and her husband, Jeff Scher, helped move her 92-year-old grandfather to a new place on the other side of Central Park.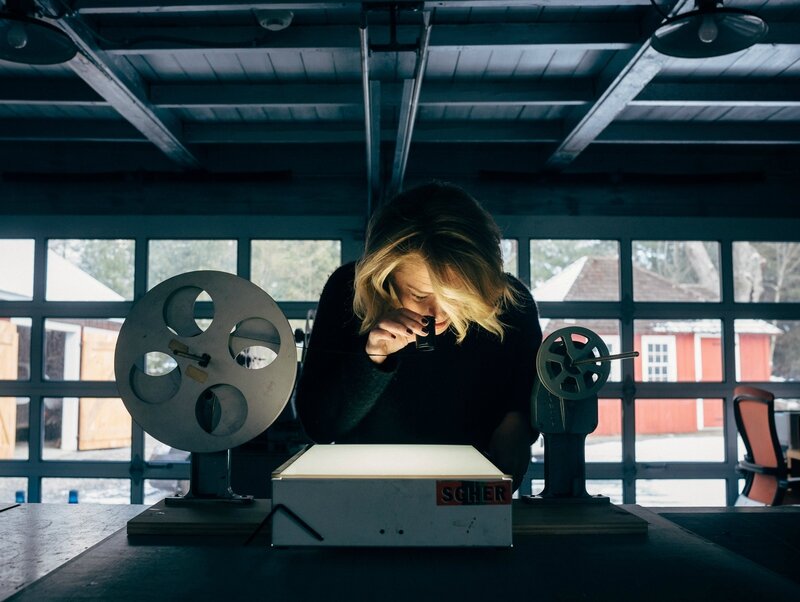 Bonnie Siegler examines film of Ms. Monroe taken by Mr. Schulback,
who was her grandfather, over a light box in her studio.
Credit Ryan Christopher Jones for The New York Times
In 2004, in the arduous packing up of Mr. Schulback's home, the couple came across a big stash of film. It was stored in a back room that the family called "Opi's fur room," where Mr. Schulback had once assembled garments from animal pelts for his business. "No one ever wanted to go back there," Ms. Siegler said. "But when we went in, we found this plastic bag filled with just tons of film, home movies, bought movies and everything mixed together."

Ms. Siegler's husband, an experimental filmmaker, couldn't wait to screen the films. He was particularly interested in seeing whether Marilyn and the subway grate footage actually existed. "It was like this family myth," Mr. Scher said. "So long rumored and never confirmed."

The same was true for its source material. For decades, innuendo swirled around the Lexington Avenue shoot for "The Seven Year Itch." Ms. Monroe and Mr. DiMaggio had married that January and had already had a bumpy ride, the Yankee Clipper enraged by her exhibitionism and by rumors of infidelity, according to Lois W. Banner, the author of the 2012 biography "Marilyn: The Passion and the Paradox."
"She was having an affair with her musical director at the time, and everyone knew about it in the business," said Dr. Banner, a professor emeritus of history and gender studies at the University of Southern California. So before he even arrived on set, there was tension. "DiMaggio," Dr. Banner said, "was not happy with Marilyn."

There are several theories as to why the footage from that night was never used. Some believe the Manhattan shoot was done purely as a publicity stunt, which was made even more sensational when Mr. DiMaggio showed up. Some biographers say the enthusiastic crowd was just too noisy, making the film unusable.
A third theory was that the footage was too risqué and Ms. Monroe wanted to shoot a more demure version, so as not to further infuriate her husband. There was even talk at the time that she wasn't wearing any underwear. Mr. Wilder tried to put those rumors to rest in his biography. She had put on not just one, but two sets of underwear, he said.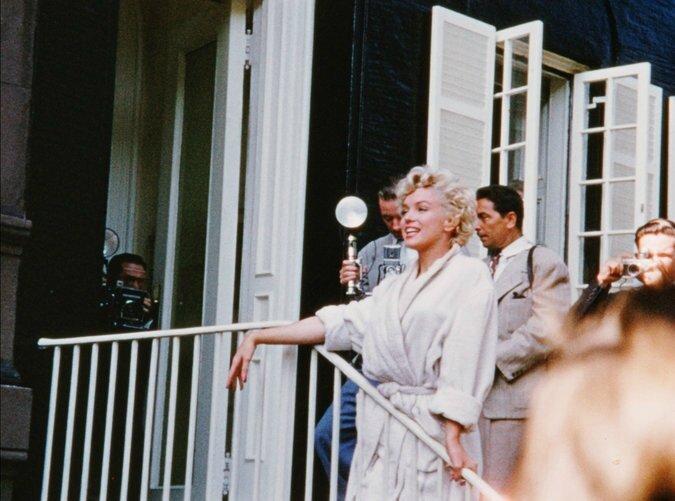 Before the billowing-skirt scene, Mr. Schulback filmed Ms. Monroe in a terry robe
greeting fans and members of the press on the stoop of 164 East 61st Street.
Credit Jules Schulback, via Bonnie Siegler
Dr. Banner said all three reasons quite likely played into the final decision to reshoot. "But the photographs of that night had gone viral by the time the film was being put together," she said, "and played a great role in her fame." The skirt-blowing scene used in the finished film is incredibly brief and tame. The image many people have of that moment comes from the press shots and publicity stills in New York, and not from the finished movie.

Back in the pelt room of Mr. Schulback's apartment, Mr. Scher excitedly gathered up the old metal film canisters. None were labeled, Mr. Scher recalled. Some of the film was off the reel and sitting there like big balls of spaghetti, as if there had been a projector mishap years ago.
Later that night in his studio in the couple's apartment on West 16th Street, Mr. Scher slowly and carefully wound the film, since some of it was very brittle and in danger of breaking. He did a few repairs and then began looking at it using a light box, spooling it from reel to reel by hand. There were about 50 rolls of 16-millimeter film and around 75 rolls of 8 millimeter.
There were the family outings and parades. The birthdays and bar mitzvahs.
And there, amid the mundane scenes of precious everyday life, was Marilyn Monroe, in crisp, colorful Kodachrome. "This stuff just popped out," Mr. Scher said. "It was real! Preserved like the home movies are, too. Just these moments in time."
Mr. Scher could clearly see the actress's dress billowing up. "Like a parachute with a pair of legs attached," he said. "It was startling. Like seeing a myth materialize."
It was a shadow version of lost footage amid home movies of a family that almost certainly wouldn't have existed had the Schulbacks stayed in Germany.

Ms. Siegler zeroing in to Ms. Monroe by using a photographer's loupe.
The Schulback footage has been seldom seen since it was taken in 1954.
Credit Ryan Christopher Jones for The New York Times
Mr. Scher called out to his wife: "It's really here!" They watched all 3 minutes 17 seconds in amazement.
"There was something so magical about it," Ms. Siegler said. "For years I didn't know if it was real. I certainly didn't believe it wholeheartedly. And there it was. It was like the end of the story."
The film starts with a spliced-in intertitle that reads "World Premiere," Mr. Schulback's little inside joke.
And then there is Marilyn Monroe, in a white terry robe, coming down the stoop of a white-shuttered building at 164 East 61st Street, between Lexington and Third Avenues. It was the earlier scene — before the subway grate footage — that Mr. Schulback had shot. Cameramen and press photographers are gathered outside as the actress smiles and waves.

Cut to Ms. Monroe in a second-floor window wearing a slip and blow-drying her hair. Mr. Ewell walks down the street and into the building. The film cuts inexplicably to 30 seconds of what must be a Shriners parade in Manhattan, then jumps to another intertitle, which reads "Our Baby."

And suddenly, there is Ms. Monroe again, this time on the subway grate in that famously fluttering white dress, holding a matching white clutch in her right hand and a red-and-white-striped scarf in her left.

Mr. Schulback was incredibly close, filming right behind Mr. Wilder's shoulder, stopping to wind his hand-held camera every 25 seconds. Now and then, a silhouette of the director's arm intrudes into Mr. Schulback's crystal-clear shot. At one point Mr. Wilder, in a fedora, passes across the frame. Ms. Monroe gets into position and yawns, while the cinematographer sets up the camera. Through a gap in the film crew, Mr. Schulback captures just her face, looking off to the left, serious and unsmiling.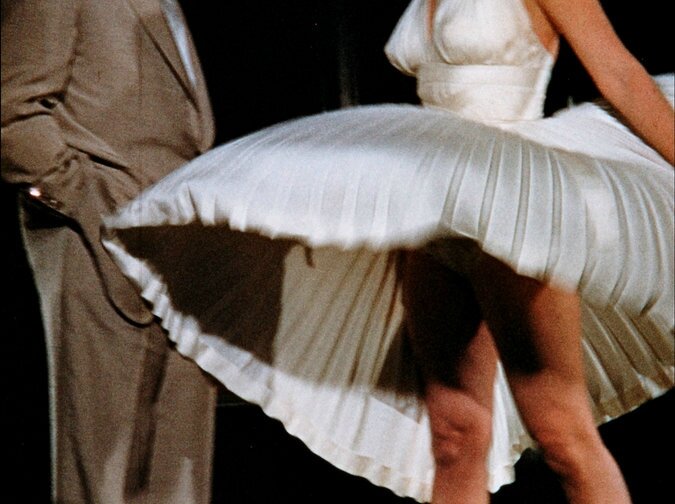 Another skirt-goes-wild still from the Schulback footage.
Credit Jules Schulback, via Bonnie Siegler
Then Mr. Ewell is there, chatting with Ms. Monroe, who pushes him into position. The dress flutters again, Ms. Monroe holds it down, bending slightly, smiling and talking to Mr. Ewell, but it flutters up some more and she laughs, her head thrown back. It blows up again, but she doesn't push it down this time, and it flies up over her head, clearly revealing two pairs of underwear that, because of the bright lights, do not protect Ms. Monroe's modesty quite as much as she might have liked.

Then, as suddenly as she appeared, Marilyn is gone, and the film reverts to home-movie mode: Edith Schulback walking on the grass at a family outing in the country. It's like being shaken from some crazy dream, back to reality.
Interest in that moment in film history from more than 50 years ago endures. The new movie musical starring Ryan Gosling and Emma Stone, "La La Land," makes brief filmic reference to it in the opening number, with a young dancer's yellow dress blowing up. And a Snickers commercial from the Super Bowl last year stars Willem Dafoe, Eugene Levy and a computer-generated Monroe on the famous set. "It's that iconic image," said Dr. Banner, the Monroe biographer. "People are still fascinated by the context in which it all happened."

After screening the film with her husband, Ms. Siegler immediately told her grandfather that she had found the footage. "I was so excited about it — more for the reason that his story was true." She shrugged. "But he never had any doubts." Mr. Schulback moved in 2005 and died six months later.
Ms. Siegler and Mr. Scher made a print and screened it for about 100 people in 2004 at the upstate home of their friends Kurt Andersen and his wife, Anne Kreamer. The two couples had started a small film festival for neighbors and friends, hanging a sheet on the side of a barn and serving popcorn, ice pops and beer.
The people in the audience that summer night had no idea what they were in for.
"That scene is one of the most iconic scenes in American cinema," said Mr. Andersen, an author, radio host and a founder of Spy magazine. "So to have film of it actually being shot, it's like watching the Zapruder film. It's just extraordinary."
The crowd that evening sat in silence as Marilyn Monroe's dress blew up on the side of the barn. "People were gob-smacked," Mr. Andersen said. "They were like, 'What did I just see ?'"

That was the only time anyone outside the family had seen the film. Until now.
Correction: January 13, 2017
An earlier version of this article misspelled the surname of the writer who screened the Marilyn Monroe home movie in his backyard. He is Kurt Andersen, not Anderson
---
> video 1

> video 2 (plans en rapproché)

captures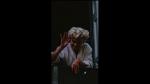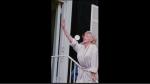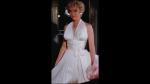 > captures dans les articles du blog:
screen caps on the articles in the blog:
13/09/1954 Sur le tournage de The Seven Year Itch 15 - partie 2
13/09/1954 Sur le tournage de The Seven Year Itch 15 - partie 1
15/09/1954 NYC - Sur le tournage de The Seven Year Itch scène 11
06 août 2013
Sept ans de réflexion
Sur le tournage - scène 11
Date: le 15 septembre 1954, à une heure du matin.
Lieu: entre la 51 et 52st Street, au croisement de Lexington Avenue.
Scène: il s'agit d'une scène mythique, l'une des plus célèbres de l'histoire du cinéma, qui reste sans doute la "scène la plus vue au monde", celle où la robe blanche de Marilyn se soulève entraînée par l'air d'une grille de métro. La presse en parla comme de "l'exhibition la plus intéressante depuis Lady Godiva".
Date: September 15, 1954, at one o'clock.
Location: between 51 and 52st Street on the corner of Lexington Avenue.
Scene: it is a mythical scene, one of the most famous in the history of cinema, which is probably the "most scene view in the world," the one where the white dress of Marilyn Monroe rises, driven by the blow of the subway grate. The press spoke of as "the most interesting exhibition since Lady Godiva".
---
Le tournage de cette scène eut des conséquences dans la vie privée de Marilyn Monroe en jouant un rôle déterminant dans sa relation de jeune mariée d'avec Joe DiMaggio: l'accès de jalousie de son époux. Au départ, Joe DiMaggio n'avait nullement l'intention de se rendre sur le lieu de tournage: il se trouvait dans un bar, à quelques pâtés d'immeubles de là, avec son ami Georges Solotaire. Mais sachant peut-être pertinemment qu'il avait tort, il fini par accepter de s'y rendre, après maintes insistances de son ami, l'influent journaliste people Walter Winchell, qui l'emmèna sur le lieu du tournage. Ensemble, ils traversèrent les cordons des policiers et se postèrent à côté de la première caméra. Joe ne put supporter de voir des milliers de gens déshabiller sa femme du regard des heures d'affilées et marmonna :"Qu'est-ce que c'est que ce cirque ?" et, en s'adressant à Winchell: "Je te l'ai dit que je n'avais rien à foutre ici ! Partons !". Choqué, il quitta le plateau plein de rage. Sans doute Walter Winchell avait prévu la réaction de Joe et parvint à le convaincre de venir sur le plateau, afin d'alimenter ses propres rubriques à potins. Une fois les prises de vues terminées, Winchell entraîna ensuite Joe dans la loge de Marilyn, qui, affalée dans un fauteuil, salua Joe: "Salut Giuseppe !"; Winchell percevant que sa gaieté n'était pas naturelle. D'ailleurs, presque aussitôt, une dispute entre le couple éclata, jusqu'au dîner. Winchell, gêné, finira par quitter le repas. De retour au Saint Regis Hotel, où le couple séjournait, ils eurent une violente dispute, et l'on rapporte que Joe devint brutal avec sa femme. Le caméraman chef opérateur du film, Milton Krasner, qui occupait une chambre au Saint Regis, fut réveillé par des hurlements de colère de l'autre côté du mur. Gladys Whitten, la coiffeuse de Marilyn, raconta que le lendemain matin, Marilyn lui a dit qu'elle avait appelé en criant de toutes ses forces Gladys et l'habilleuse. Gladys racontera plus tard: "(...) son mari était fou furieux et l'a battue. (...) Des coups aux épaules, on en voyait les traces; mais on les a fait disparaître avec un peu de crème teintée et elle a continué le travail." Amy Greene, la femme du photographe Milton Greene, rendit aussi visite à Marilyn pour essayer un vison: "J'étais assise sur le lit, dans son vison, et Marilyn commence à se déshabiller. (...) Elle enlève son corsage: elle était pleine de bleus dans le dos, je n'arrivais pas à y croire. (...) Elle ne savait quoi dire, et comme ce n'était pas une menteuse, elle dit simplement: 'Eh oui'. (...)".
Le lendemain de la dispute, le 16 septembre, c'est pourtant avec Joe que Marilyn reprit l'avion pour regagner la Californie. Trois semaines plus tard, la Fox publiera un communiqué de presse annonçant que le couple se séparait.
The filming of this scene had consequences in the private life of Marilyn Monroe playing a key role in its relationship with Joe DiMaggio: the jealousy of her husband. Initially, Joe DiMaggio did not intend to go to the set: he was in a bar a few blocks of buildings there with his friend George Solotaire. But perhaps knowing full well he was wrong, he finally agreed to go there, after much insistence of his friend, the influential people journalist Walter Winchell, who took him at the place of the shooting. Together, they crossed police cords and stayed next to the first camera. Joe could not bear to see thousands of people seeing his wife undressed by the air for hours and he muttered: "What is this circus ?" and, in addressing Winchell: "I have told you that I had nothing to do here. Let's go!". Shocked, he left the set full of rage. Winchell probably foresaw the reaction of Joe and managed to convince him to come on the set, in order to feed his own topic to gossip. Once the shooting ended, Winchell led Joe into the lodge of Marilyn, who slumped in a chair, bowed Joe: "Hi Giuseppe !" Winchell perceiving that his cheerfulness was not natural. In fact, almost immediately, an argument between the couple broke up until the dinner. Winchell, embarrassed, leaved during the meal. Back to St. Regis Hotel, where the couple stayed, they had a heated argument, and it is reported that Joe became violent with his wife. The cameraman cinematographer of the film, Milton Krasner, who occupied a room at the St. Regis, was awakened by screams of anger on the other side of the wall. Gladys Whitten, the hairdresser of Marilyn, told the next morning that Marilyn said she had called and shouted with all his might Gladys and her dresser. Gladys said later: "(...) her husband was mad and beat her (...) Shots shoulders, we saw the traces, but it was the away with a bit of tinted moisturizer. And she continued to work. " Amy Greene, the wife of photographer Milton Greene, also made a visit to Marilyn to try a mink: "I was sitting on the bed in her mink and Marilyn begins to undress (...) She takes off her blouse: it was full of bruising in her back, I could not believe it (...) She did not know what to say, and as she was not a liar, she simply said.. 'Yes' (. ..) ".
The day after the fight, in September 16, it is with Joe that Marilyn took the plane back to California. Three weeks later, Fox will announce that the couple were separated.
> Joe et Walter Winchell - photographies de Bruno Bernard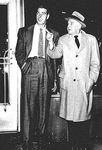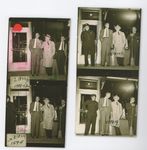 ---
> Dans le Trans-Lus Theater
> Le 15 septembre 1954 marque le premier anniversaire du Cinémascope
Date of September 15, 1954 marks the first anniversary of CinemaScope
- Marilyn coupe le gâteau avec Walter Winchell et Joe / Marilyn cuts the cake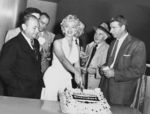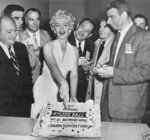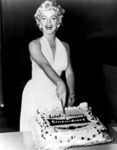 - Marilyn avec Earl Wilson et Gina Lollobrigida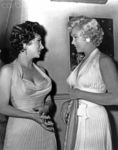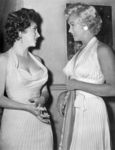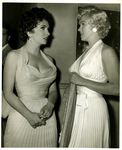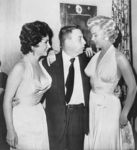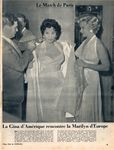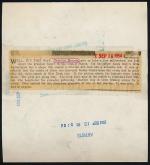 > Photographies de Milton Greene

> Photographies de Bruno Bernard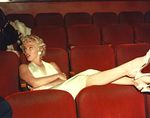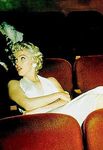 ---
> Autographe de Marilyn et Joe
signatures du 15 septembre 1954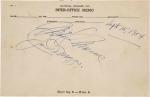 ---
---
>> sources:
- Livres: Bernard of Hollywood's Marilyn / De Norma Jean à Marilyn, de Susan Bernard / Marilyn among friends, Sam Shaw / L'Encyclopédie d'Adam Victor / Marilyn Monroe et les caméras, de Georges Belmont / Les trésors de Marilyn Monroe, de Jenna Glatzer / Les vies secrètes de Marilyn Monroe, d'Anthony Summers.

---
All photos are copyright and protected by their respective owners.
copyright text by GinieLand.
27 juillet 2012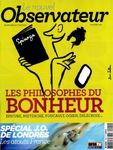 Le magazine français Le Nouvel Observateur n°2490, paru le 26 juillet 2012 consacre un article à Marilyn Monroe (chapitre 3, par François Forestier).
prix: 3,50 €
---
Chapitre 3: Et Marilyn créa l'émeute
Par François Forestier
en ligne sur nouvelobs.com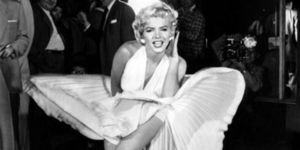 Avec « Sept Ans de réflexion » (1955), de Billy Wilder, Marilyn Monroe, dont on célèbre le 50e anniversaire de la mort, devient un mythe universel.
C'est un chaos indescriptible. Les voitures sont pare-chocs contre pare-chocs, la foule est compacte, les policiers à cheval tentent de se faufiler, des photographes se bousculent et des projecteurs sont installés sur les toits, comme pour un bombardement. Un petit homme, le chapeau noir de travers, court : il vérifie que tout est bien en place, que la vitrine du Trans-Lux Theatre, cinéma coincé entre une boutique de fleuriste et un coiffeur, est nettoyée et que la caméra est bien située. Billy Wilder est un perfectionniste qui travaille avec un chronomètre en main. Les gags et les répliques de son film, « Sept Ans de réflexion », vont être millimétrés, alésés. Survolté, il finit par s'asseoir, le coeur au bord des lèvres. L'acteur principal, Tom Ewell, est là, les mains dans les poches. La foule grossit.
Marilyn, elle, se prépare dans la chambre de son hôtel. Elle a mis une robe blanche, s'est fait coiffer méticuleusement et, l'angoisse vissée à l'estomac, attend en buvant du champagne et en gobant des calmants. Son mariage avec Joe DiMaggio, surnommé le Yankee Slugger (le « frappeur yankee »), est une déception : le joueur de base-ball est de plus en plus renfrogné, de plus en plus jaloux, de plus en plus terne. Le soir où Marilyn est arrivée au restaurant de Toots Shor en robe moulante, tous les copains ont immédiatement remarqué qu'elle ne portait pas de culotte. DiMaggio, rageur, a envoyé son épouse s'acheter un slip, manu militari. Toots Shor, le pote de toujours de Joe, a secrètement ouvert une petite caisse pour faire des paris : combien de temps le mariage va-t-il durer ? Moins d'un an, dit-il. Marilyn est une allumeuse.
La planète entière la désire. C'est l'idéal féminin, le top de l'érotisme, le rêve américain par excellence. Partout où Marilyn passe, c'est l'émeute. Quand elle a été au Japon pour son voyage de noces, en janvier, elle a été accueillie comme une vamp. Avec un peu d'étonnement, elle a constaté que son mari était une sorte de divinité, là-bas. Quand elle a chanté en Corée pour les soldats, elle a failli déclencher une autre guerre. Il n'y a pas, il n'y aura jamais, de star comme Marilyn Monroe. Elle adore ces milliers de regards qui la désirent, elle n'est heureuse qu'à ces moments-là. Puis elle éteint sa lampe intérieure et sort dans la rue, méconnaissable, les cheveux gras, le visage démaquillé, et personne ne la remarque. Elle s'est inventé un nom : Zelda Zonk. Et cette Zelda, personne n'en veut. Seule à la maison, elle ne se lave même pas. Sa femme de ménage ramasse les crottes du chien, le linge sale, les draps bouchonnés.
Billy Wilder attend. Marilyn a l'habitude d'arriver en retard, un peu par caprice, un peu pour se faire désirer, un peu par trac. Même à son mariage, en janvier dernier, elle était en retard. Wilder lui suggère d'aller prendre des cours « chez Patek Philippe, en Suisse, pour arriver à l'heure ». Son peu d'assiduité a valu à Marilyn d'être mise à pied sans solde par le studio. Elle s'est consolée en rendant visite à Joe Mankiewicz, le réalisateur d'« Eve », qui prépare « Blanches Colombes et vilains messieurs » avec Marlon Brando et Frank Sinatra. Pour le rendez-vous, elle s'est vêtue comme une showgirl, décolleté plongeant, robe moulante, rouge à lèvres flashy et moue de petite fille. Mankiewicz, qui n'a que mépris pour cette gisquette manipulatrice, la regarde et dit : « Allez vous rhabiller, Marilyn. » Elle est congédiée comme une soubrette.
« Sept Ans de réflexion » est une pièce de théâtre de George Axelrod, un scénariste de radio qui a travaillé avec Jerry Lewis et Dean Martin. Montée en 1952 au Fulton Theatre, la pièce a été un triomphe : elle raconte l'aventure estivale d'un type marié, dont l'épouse et les enfants sont en vacances, avec sa délicieuse voisine. Titre original : « The Seven Year Itch », traduisez : « la Démangeaison de sept ans ». Dès qu'elle a été montée, Charlie Feldman, l'imprésario de Marilyn, en a acheté les droits. Mais, immédiatement, la censure est intervenue. Il a fallu couper des répliques, changer la fin : pas question que le quidam couche avec la créature. Tout se passera dans sa tête et restera un rêve masturbatoire. Marilyn en rajoute. Quand un reporter lui a demandé si, pour ses photos déshabillées, en 1949, elle n'avait rien mis, elle a répondu : « Si. La radio. »
Il est 1 heure du matin. La foule s'est épaissie. Une voiture arrive. Marilyn en sort. C'est comme un ouragan. Elle porte une robe plissée qui frétille au moindre coup de hanche, le dos est nu, et le décolleté est maintenu par deux bretelles fragiles, qui peuvent glisser à tout moment. Pas de soutien-gorge. En 1954, c'est une incitation à l'émeute des frustrés, à la jacquerie des voyeurs. Les projecteurs s'allument, les flashs crépitent, les cordons de police menacent de se rompre. Billy Wilder, qui a été gigolo à Vienne et qui connaît la valeur d'une mise en jambes érotique, demande à Marilyn de prendre quelques poses sur une grille de métro. Elle s'échauffe. Wilder se réfugie derrière la caméra et donne le top moteur. Un grondement se fait entendre, un puissant souffle d'air surgit du sol, et les trois ventilateurs - ce sont en fait des pales d'avion - se mettent en route. La robe de Marilyn se gonfle, ondule, retombe. Les spectateurs en redemandent. Les flics aussi. Chacun envie les trois machinos qui actionnent les ventilos, ils ont le meilleur job du monde. Marilyn est belle à mourir.
Joe DiMaggio est cocu, et comment ! Il est jaloux, mais, malgré sa surveillance, Marilyn s'échappe. Elle passe ses journées avec Hal Schaefer, un petit musicien sympathique, elle a eu une aventure avec Frank Sinatra, elle n'hésite pas à faire entrer le livreur du pressing ou le visiteur de passage. A chaque fois, elle constate la même réaction incrédule : « Je vais coucher avec… Marilyn ? » Du coup, deux fois sur trois, les élus ont une réaction molle et sont privés de leurs moyens. Marilyn Monroe intimide, Zelda Zonk pas du tout. Elle vient de tourner « La Rivière sans retour », et Robert Mitchum l'a prise en affection tout en se moquant gentiment d'elle, après avoir passé quelques nuits avec elle. En revanche, le metteur en scène, Otto Preminger, a piqué des colères phénoménales à cause des retards de l'actrice et de la présence envahissante de la coach autoritaire, Natasha Lytess. Puis Marilyn a incarné une chanteuse de cabaret dans « La Joyeuse Parade ». Elle est fatiguée de ces rôles de bimbo. Elle veut devenir tragédienne, comme Duse ou Sarah. Déclamer du Shakespeare, scander du Yeats, la main vers le ciel. Faire des rôles « sérieux », bon sang de bonsoir.
Walter Winchell, le journaliste vedette de la radio, cherche Joe DiMaggio. Il le trouve au bar du Saint Regis, en train de siroter une bière. Il l'invite à venir sur le plateau. Le Yankee Slugger fait des ronds avec son verre. Il se fait tirer l'oreille. Il n'a pas envie. Winchell insiste. Finalement, DiMaggio le suit. Quand les deux hommes parviennent sur Lexington Avenue, c'est le souk. Il y a même des types suspendus aux toits. Les projecteurs balaient la foule. Impossible de s'approcher. DiMaggio veut s'en aller, quand un flic le repère. Il lui fraie un chemin. Miraculeusement, les gens s'écartent devant le seigneur des stades. DiMaggio entend des cris : « Plus haut ! Plus haut ! Encore ! » Et il voit une scène de rêve et de cauchemar. Le désir et la rage se télescopent en une déflagration atomique. Marilyn, la robe levée, montre ses cuisses. Ses jambes. Ses fesses. Elle a beau avoir mis deux culottes superposées, on voit bien qu'elle n'est pas une blonde naturelle. Les épaules nues, le visage levé vers le ciel obscur, elle danse, elle bouge, elle glisse, elle rabat cette satanée robe qui s'envole à nouveau, elle est offerte aux hommes, à tous les hommes. Elle fait un strip pour la planète entière. Joe DiMaggio s'étouffe de rage. Il est le cornard magnifique.
Il regarde les hommes, autour de lui, qui gueulent « Encore ! Encore ! », les yeux fixés sur l'entrejambe de sa femme. Il a envie de cogner. Il s'en va. Marilyn, inquiète, demande à Billy Wilder s'il pense que ça va durer, cette soirée. Non, répond Wilder, on a presque fini. Menteur, va ! Ils ne lèveront le camp qu'à 5 heures du matin, avec le petit jour. DiMaggio, effondré, s'est réfugié chez Toots Shor. Celui-ci regarde son copain de toujours et lui dit : « Tu croyais quoi ? C'est une pute ! Une pute ! » Joe s'en va. Il ne reverra plus jamais le malappris. La procédure de divorce est engagée quelques jours plus tard.
A Los Angeles, DiMaggio, désespéré, demande au journaliste Sidney Skolsky : « Toi qui sais tout, dis-moi, Il y a un autre homme ? » Il y en a dix, vingt, mais Skolsky ne dit rien. Une semaine plus tard, il revoit Marilyn lors d'une fête donnée en l'honneur de « Sept Ans de réflexion » : il y a là Claudette Colbert, Humphrey Bogart, Gary Cooper, James Stewart, Loretta Young et Clark Gable, cet homme que Marilyn a tant admiré dans son enfance. L'hôte, Charlie Feldman, est accoudé à la silhouette de Marilyn, robe soulevée, découpée dans du carton. « J'ai l'impression d'être Cendrillon », dit-elle. Dehors, un détective privé surveille la nouba. Il a été engagé par Joe DiMaggio pour espionner la belle infidèle.
Puis elle s'envole pour New York, où elle rejoint son nouvel amant, le photographe Milton Greene, avec qui elle va créer une société de production. Elle disparaît du radar de Hollywood. Zanuck, enragé, essaie de la retrouver, la convoque, lui envoie du papier bleu, la traque. Rien à faire. Zelda Zonk, anonyme, s'est fondue dans la foule. « Sept Ans de réflexion » est un triomphe, certes, mais Marilyn a trouvé une famille d'adoption : celle de Greene. Comme un coucou, elle niche dans le refuge d'autrui. Elle devient amie avec l'épouse de Greene. Elle lit des livres, écrit des bouts-rimés, patauge dans la piscine, rêve de jouer Grouchenka dans « Les Frères Karamazov ». Elle ne veut plus de « sex rôles ». Elle rompt avec la 20th Century Fox, malgré son contrat. C'est une décision maladroite, qui va lui coûter sa carrière, et, probablement, sa vie.
Les avocats entrent dans la danse. Zanuck est impitoyable. L'un de ses affidés déclare : « Marilyn est stupide. Elle est mal conseillée. » Convoquée par le studio pour faire des tests pour son nouveau film, curieusement intitulé « Comment devenir très, très populaire », elle ne daigne même pas se présenter. Elle préfère s'inscrire à l'Actor's Studio, et prendre des cours avec Lee Strasberg à New York. Celui-ci, soutenu par sa femme, Paula, va devenir le confident, le gourou, l'analyste, le professeur et, finalement, l'héritier de la Monroe. Avec lui, elle va se réinventer. Assise dans la salle du Studio, intimidée, les ongles sales, le regard perdu, elle passera des heures à absorber les théories philosophiques, les considérations sur le métier d'acteur, les conseils psychanalytiques. A l'autre bout de la ville, un homme se rend au théâtre pour les répétitions de sa pièce, « Vu du pont ». Arthur Miller passe tous les jours devant la silhouette en carton de Marilyn, robe envolée.
Les plans tournés à New York, la nuit du 15 septembre 1954, ne seront jamais utilisés. Ils seront refaits en studio. En fait, il ne s'agissait que d'un coup de publicité.
---
Marilyn dessine
le 28/07/2012
Par Bernard Comment
en ligne sur cinema.nouvelobs.com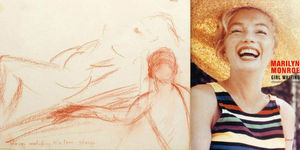 Chaque semaine, l'éditeur des écrits et dessins de la star - mandaté par la famille Strasberg - nous ofre un document rare. Aujourd'hui, le dessin d'une femme allongée après l'amour.
Lors de mes premières visites à Anna Strasberg, j'avais remarqué, suspendu au mur, un dessin à la sanguine et un jour mon hôte me révéla qu'il y en avait plusieurs autres. C'était à la fin de la conception du livre « Fragments », on aurait pu les ajouter à l'ensemble, mais j'eus tout de suite l'idée qu'il fallait faire un livre à part, et ne pas mélanger ce petit trésor plein de fraîcheur avec des textes qui relevaient d'une autre intention, d'un autre besoin. On peut écrire dans l'urgence, pour retrouver un semblant d'équilibre dans les « sables mouvants » de la vie. Pour le dessin, même quand il s'agit d'une esquisse, on a plus de distance, on regarde, on observe, on se souvient, et on dépose cela sur la feuille, en quelques traits plus ou moins appuyés.
Tout comme elle n'était pas poète, Marilyn n'était pas dessinatrice ni artiste. Mais elle avait, à l'évidence, un regard et un coup de crayon. Une sorte de grâce. Et des images de référence dans la tête. En voyant ce dessin, on pense à des poses classiques, comme autant de Vénus dans les tableaux de la Renaissance, ou encore à la très érotique série du « Peintre et son modèle » de Pablo Picasso. L'amante dort allongée sur le dos, les seins fermes et pointés en l'air, sans doute repus de l'amour à peine consommé (ou, variante possible : en attente de l'étreinte à venir). C'est un corps offert, littéralement ouvert, aux alléchantes courbes qui inspirent la vigueur de l'homme au premier plan, qu'un élan semble pousser vers l'avant. On ne sait pas très bien comment interpréter la position du bras gauche : en appui sur le bord du lit, ou amorçant une caresse ? Ce qui est très beau, c'est l'énergie qu'on sent sur le visage de ce personnage sans même le voir, une tension portée vers l'objet de son désir - assouvi ou non.
La plupart des dessins de Marilyn sont titrés par elle-même, et la légende apporte son poids d'informations, d'ironie décalée ou de contre pied - comme dans le verre de champagne qu'elle esquisse (« A Glass of Champagn the Morning After ») pour le reverser aussitôt dans le désenchantement du lendemain.
Pour compléter ces dessins inédits et souvent touchants et en faire un livre, il m'a semblé évident de faire apparaître une très belle série totalement inconnue de photos faites par le réalisateur Joshua Logan au soir du dernier jour de tournage de « Bus Stop », en marge d'un dîner donné dans sa propriété de Hollywood par un des fondateurs de la Fox, William Goetz, par ailleurs grand collectionneur d'art. L'actrice, mi-enjouée, mi-lunaire, y prend la pose devant des tableaux de Manet, Cézanne, Van Gogh, Bonnard, Picasso, et face à une sculpture de Degas.
Encore fallait-il une couverture. Pour « Fragments », j'avais opté pour un cliché sombre, nocturne, d'une Marilyn entre peur, stupeur et tristesse, qui correspondait à la tonalité du livre. Pour ce petit volume intitulé « Girl Waiting » (c'est la légende d'un des dessins), je voulais quelque chose de plus joyeux et lumineux, et j'ai enfin pu exploiter une photo que j'avais depuis longtemps en tête, découverte sur le site cursumperfcio.net (une mine de renseignements et de découvertes), qui montre une Marilyn rieuse, solaire, irradiante sous son chapeau de paille. Par recoupements successifs, j'ai acquis la certitude que la photo a été prise par Arthur Miller avec un Leica, en amateur, dans la torpeur légèrement venteuse de l'été à Amagansett au bout de Long Island. La femme de tous les rêves est saisie dans sa simple vérité, sans apprêt aucun, la bouche ouverte par le rire, les yeux mi-clos, plus belle que jamais, comme un pied de nez naturel, vibrant, vivant, à l'icône figée dans laquelle Hollywood avait cru pouvoir l'enfermer. On a l'impression de l'entendre rire dans la lumière du soleil.
Né en Suisse en 1960, Bernard Comment est écrivain, scénariste (pour Alain Tanner) et traducteur d'Antonio Tabucchi. Directeur de la collection « Fiction & Cie » au Seuil, il est l'éditeur de « Fragments », qui regroupe les écrits intimes, poèmes et lettres de Marilyn Monroe. Il est l'auteur, entre autres, de « l'Ombre de mémoire » (1990), « Roland Barthes, vers le Neutre » (1991), « Même les oiseaux » (1998) et « Tout passe », Bourse Goncourt de la nouvelle 2011.■
04 novembre 2010
Article du magazine américain Focus du 28 octobre 1953, rapportant une soirée caritative contre le cancer qui eut lieu au Ciro's à Hollywood où le journaliste Walter Winchell dansa avec Marilyn Monroe, profitant de l'absence de Joe DiMaggio qui se trouvait au Canada.
09 décembre 2007
Marilyn Monroe à la soirée caritative Damon Runyon (afin de récolter des fonds pour la recherche sur le cancer), qui était aussi la fête d'anniversaire de Walter Winchell, le 13 mai 1953 au nightclub Ciro's à Hollywood, avec Betty Grable, Herman Hover, Jane Russell, Walter Winchell, Louella Parsons, Darryl Zanuck, Joseph Schenck, Sheilah Graham, Sybil Brand...

Marilyn Monroe at a benefit party (the Damon Runyon Cancer Fund), and also Walter Winchell's birthday party, in 1953, May, 13, at Ciro's, in Los Angeles, with Betty Grable, Herman Hover, Jane Russell, Walter Winchell, Louella Parsons, Darryl Zanuck, Joseph Schenck, Sheilah Graham, Sybil Brand...

> Arrivée avec Betty Grable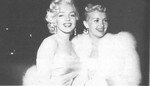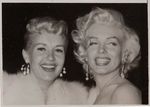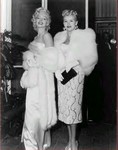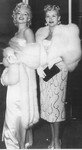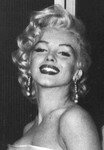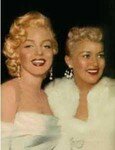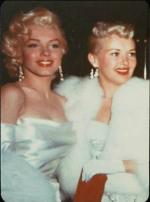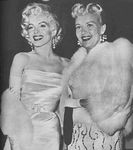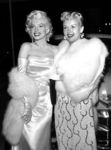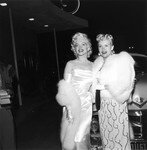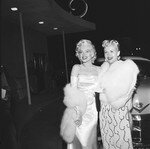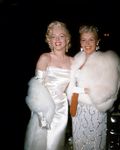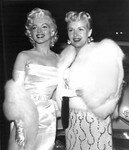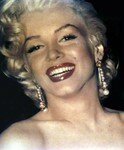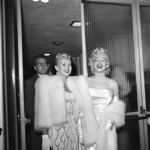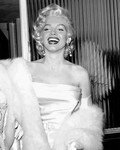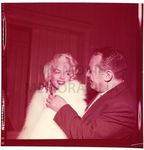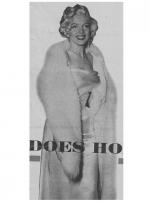 > Avec Herman Hover (propriétaire du Ciro's)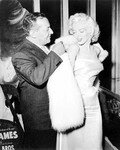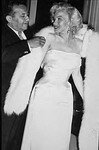 > Avec le journaliste Army Archerd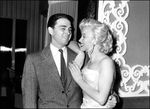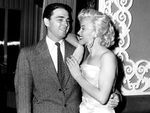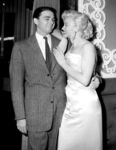 > Avec Betty Grable, Walter Winchell, Jane Russell (debouts)
et Darryl Zanuck, Louella Parson (assis)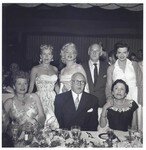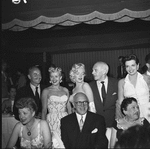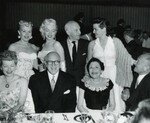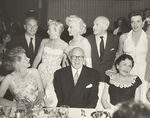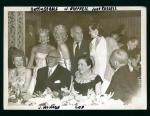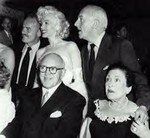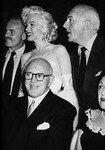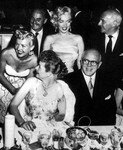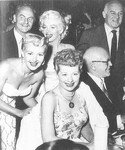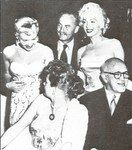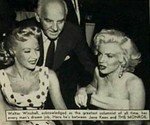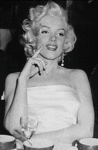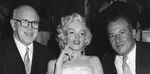 > Avec Jimmy Mc Hugh et Herman Hover

> Avec la journaliste Sheila Graham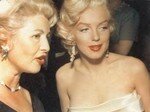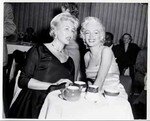 ---
>> Photo de Frank Worth>>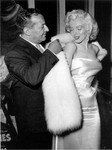 >> Photos de James Haspiel / Frieda Hull >>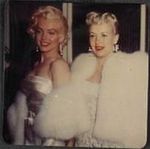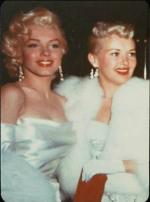 >> Photos de Murray Garrett >>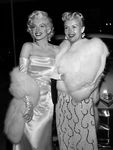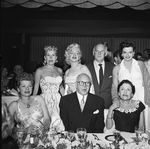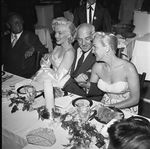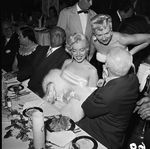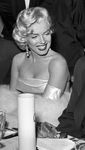 >> Photos de Darlene Hammond >>

---
---
> presse magazine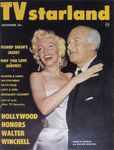 ---
© All images are copyright and protected by their respective owners, assignees or others.
copyright text by GinieLand.
Enregistrer
Marilyn Monroe à la station d'ABC en 1953
interviewée par le journaliste à potins Walter Winchell
!! HELP !!
Si quelqu'un connait les circonstances de cette photo (date, lieu, et événement), merci de laisser un commentaire svp !!
To marilyn's fans: if someone knows the circumstances of that photo (date, place and event), please let a comment ("commentaire") just below, thanks.

26 novembre 2007
Marilyn Monroe est élue "Miss Press Club" de l'année 1953: lors de la soirée organisée le 19 décembre 1953 par le Los Angeles Press Club, à l'Ambassador Hotel de Los Angeles, elle reçoit en trophée la boule de billard chiffrée "8". Elle poursuit la soirée au restaurant "La Rue". Marilyn porte une robe de Ceil Chapman.
Marilyn Monroe is elected "Miss Press Club" 1953: at the party organized in December 19, 1953 by the Los Angeles Press Club at the Ambassador Hotel in Los Angeles, she receives a trophy billiard ball numbered "8". She finishes the night at the restaurant "La Rue". Marilyn is wearing a Ceil Chapman's gown.

> Avec Florabel Muir (LA Mirror) et Walter Winchell (NY Mirror)

> Avec Walter Winchell et Ira Walsh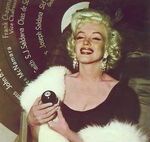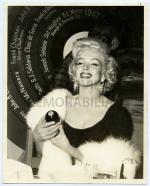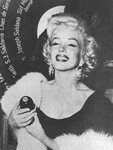 ---
photographies collection Frieda Hull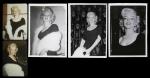 ---
> couverture de magazine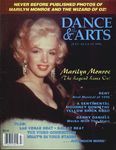 ---
Pour la séance photo officielle, c'est
le journaliste Walter Winchell qui remet le prix à Marilyn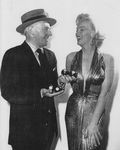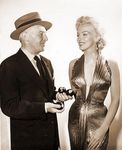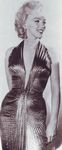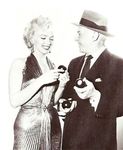 For the official photoshoot, this is
journalist Walter Winchell who presents the award to Marilyn
---
© All images are copyright and protected by their respective owners, assignees or others.
copyright text by GinieLand.
Enregistrer
Enregistrer
20 novembre 2007
Le 11 octobre 1953 se tient la première du film Les 5000 Doigts du Dr. T avec Tommy Rettig, à Los Angeles, Californie. Marilyn Monroe s'y rend en compagnie du jeune Tommy Rettig, le jeune garçon joue à ses côtés dans Rivière sans Retour.
Un photographe demande à Marilyn d'ôter son manteau pour la photographier, mais Marilyn refuse, répondant que ce serait mal perçu de s'afficher ainsi avec un petit garçon âgé seulement de 10 ans à ses côtés !
Marilyn s'est rendue à cette première avec Joe DiMaggio, qui préfère rester en coulisses.

On October 11, 1953, is held the premiere of the movie The 5,000 Fingers of Dr. T. with Tommy Rettig, in Los Angeles, California. Marilyn Monroe is accompanied by young actor Tommy Rettig, the young boy playing with her in River of no return.
A photographer asks to Marilyn to take off her coat to photograph her, but Marilyn refuses, answering that it would be badly perceived to be exhibited like that with a little boy aged only 10 years by her side!
Marilyn goes to this premiere with Joe DiMaggio, who prefers to stay behind the scenes.

> Marilyn avec Joe DiMaggio et le journaliste Walter Winchell
Marilyn with Joe DiMaggio and journalist Walter Winchell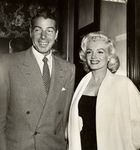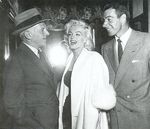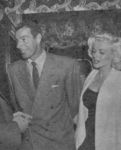 ---
> photographies collection Frieda Hull

---
© All images are copyright and protected by their respective owners, assignees or others.
copyright text by GinieLand.
Enregistrer