17 août 2021
Marilyn Monroe déguste un cornet de glace de chez Wil Wright de Beverly Hills - vers 1950
Marilyn Monroe enjoys an ice cream cone from Wil Wright's in Beverly Hills - circa 1950
- information au dos de la photographie -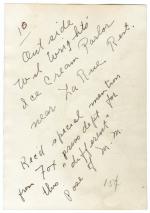 ---
© All images are copyright and protected by their respective owners, assignees or others.
copyright text by GinieLand.
14 août 2021
C'est pour un reportage photographique commandé par la presse que le photographe Mel Traxel va suivre Marilyn Monroe pour décrire à quoi ressemble son quotidien. Il semblerait que les prises de vues datent du 12 février 1952 (c'est la date qui figure tamponnée au dos des photographies).
Les photos servent aussi de support promotionnel pour l'université d'UCLA (Université de Californie à Los Angeles), que Marilyn fréquente en suivant des cours de littérature et d'histoire de l'art.
On la découvre aussi dans son appartement au Beverly Carlton Hotel.
Le reportage paraît dans les magazines américains Movies (en août 1952) et Movie Stars Parade (de mai 1953).

This is for a photographic report commissioned by the press that the photographer Mel Traxel follow Marilyn Monroe to describe what her daily life looks like. It seems that the shots date from February 12, 1952 (this is the date stamped on the back of the photographs).
The photos are also used as promotional support for the University of UCLA (University of California at Los Angeles), that Marilyn attends by following courses in literature and art history.
We also discover her in her apartment at the Beverly Carlton Hotel.
The report appears in the American magazines Movies (in August 1952) and Movie Stars Parade (in May 1953).
---
Beverly Carlton Hotel
---
- Séance de Gym -
Gym Sitting
C'est en général le matin que Marilyn Monroe s'adonne à quelques exercices physiques; pendant 15 minutes, elle soulève des haltères et des rouleaux. Son appartement est aménagé avec l'équipement nécessaire: table pour s'allonger, différents poids pour ajuster les haltères à soulever.
This is usually in the morning that Marilyn Monroe makes some physical exercises; for 15 minutes, she lifts dumbbells and rollers. Her apartment is equipped with the necessary equipment: table to lie down, different weights to adjust the dumbbells to be lifted.
- informations au dos des photographies -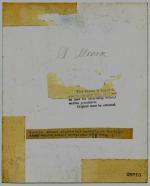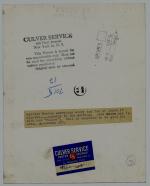 ---
- Séance de mise en beauté -
Beauty Sitting
Elle se met du vernis à ongles (une teinte rose claire) sur les ongles de mains et de pieds; elle utilise la marque Revlon.
Elle se met aussi des rouleaux dans les cheveux et fait fixer les boucles sous la chaleur d'un casque.
She puts nail polish (a light pink shade) on her fingernails and toenails; she uses the Revlon brand.
She also puts rollers in her hair and sets the curls in the heat of a helmet.

- information au dos des photographies -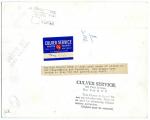 ---
- La vie quotidienne -
The Daily Life

Ranger ses vêtements, téléphoner, lire son courrier... simplement la vie quotidienne de n'importe quelle personne.
Tidying up clothes, making phone calls, reading mails ... just the everyday life of any person.

Elle pose fièrement avec la statuette Henrietta, qu'elle a reçu le 26 janvier 1952 , pour la catégorie de la "Meilleure jeune personnalité du box office 1951".
She is proudly to pose with her Henrietta Award received in January, 26, 1952, for the "The Best Young Box Office Personality in 1951".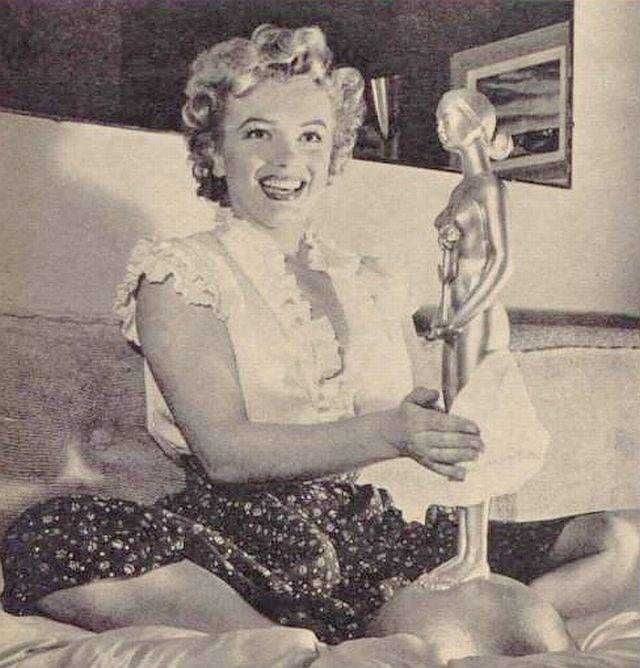 ---
L'heure de se lever ou de se coucher ? Marilyn règle l'heure sur son petit réveil.
Car Marilyn a un emploi du temps bien rempli: en plus de son travail au studio, elle prend des cours sur l'interprétation de la danse deux soirs par semaine, prend des cours de théâtre un soir par semaine et se rend à l'université d'UCLA tous les jeudis soirs.
Time to get up or go to bed ? Marilyn sets the time on her little alarm clock. Because Marilyn has a busy schedule: in addition to her work at the studio, she studies interpretative dancing two evenings a week and, attends acting class one evening a week and goes to UCLA university every Thursday evening.
- information au dos des photographies -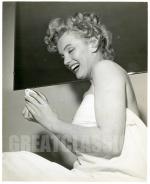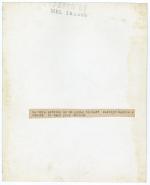 ---
UCLA
---
Tous les jeudis soirs, Marilyn prend des cours de littérature d'une durée de deux heures, dans le bâtiment annexe pour les formations en littérature à l'université d'UCLA de Los Angeles. Puis elle passe des heures à la bibliothèque de l'université pour faire de plus amples recherches sur ses sujets d'études.
Every Thursday evening, Marilyn takes literature classes for two hours session, in the extension building for backgrounds in literature at UCLA University in Los Angeles. Then she goes for hours to the university library to do further research on her subjects of study.
- A la boutique de l'université, Marilyn fait des achats
Elle écoute les conseils de l'étudiante vendeuse Vera Roush -
To the UCLA's bookstore, Marilyn is shopping
She listens the advices of student-salesgirl Vera Roush -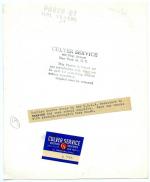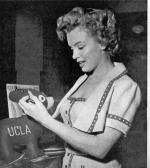 - En cours de littérature -
At the the literature course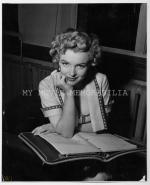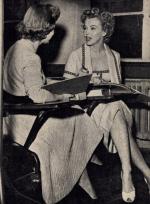 - Etude à la bibliothèque de l'UCLA -
Studying at the UCLA library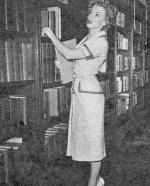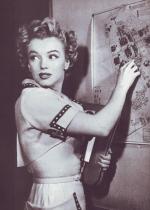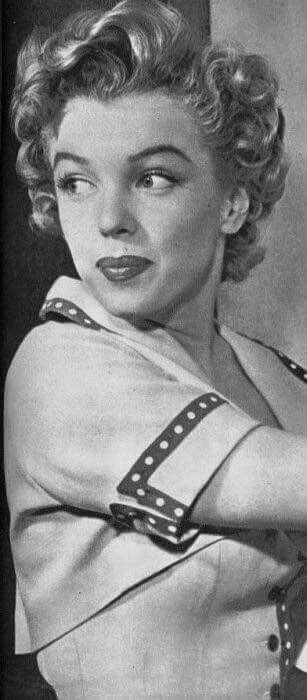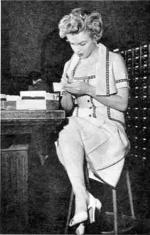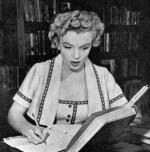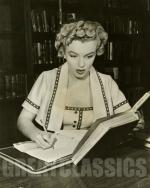 - A la cafétéria du Kerckhoff Hall de l'université d'UCLA
Elle discute avec l'équipe de basketball de la fac:
At the UCLA commissary of Kerckhoff Hall
She talks to the basketball team of the University:
Ronnie Livingston, Mark Costello, Don Bragg & Don Johnson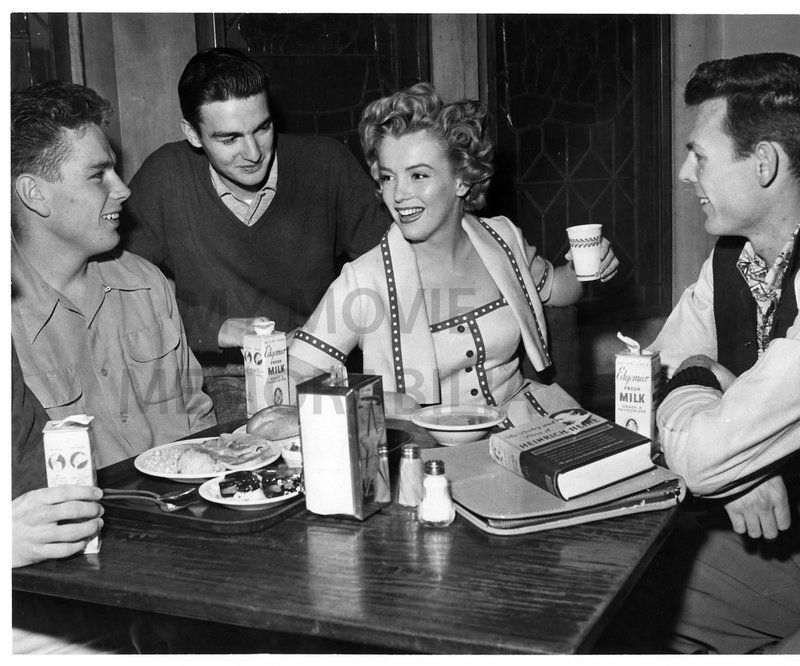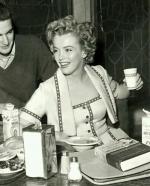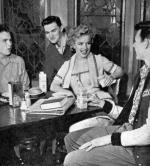 ---
Chez le dentiste Louis Armann
To the dentist's Louis Armann
---
Wil Wright's

---
Elle adore déguster des sundae chauds chez Wil Wright, qui était une chaîne de brasserie spécialisée dans les glaces aux Etats-Unis jusque dans les années 1970s.
Ils avaient plusieurs établissements, dont un à Beverly Hills (au croisement de Beverly Drive et Charleville) et aussi un dans le quartier de Westwood à Los Angeles.
She loves to eat hot sundae at Wil Wright, which was a chaine of ice cream parlor in the United States until the 1970s. They had several establishments, including one in Beverly Hills (at the corner of Beverly Drive and Charleville) and also one in the Westwood district of Los Angeles.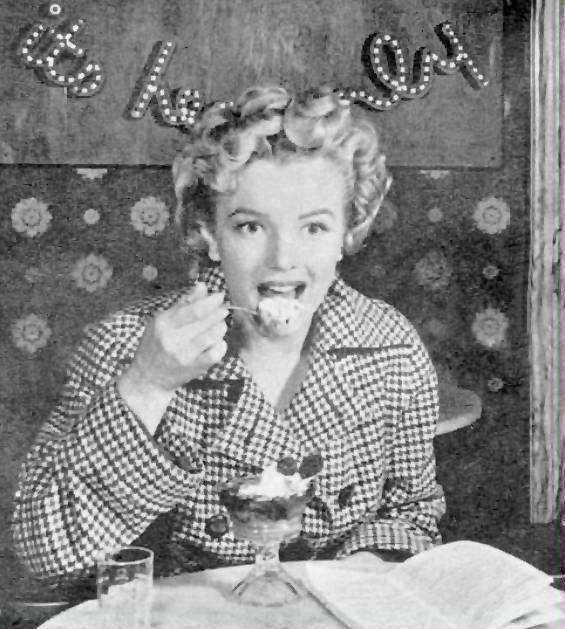 > Informations Wil Wright: Old Los Angeles Restaurants

---
- Dans la presse -
MOVIE STAR PARADE, 05/1953 - USA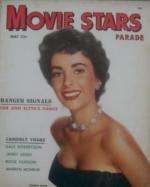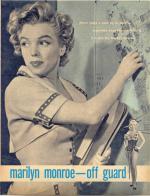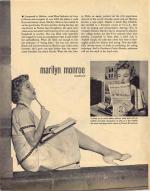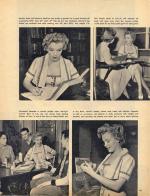 ---
© All images are copyright and protected by their respective owners, assignees or others.
copyright text by GinieLand.
25 mars 2011
Marilyn Monroe photographiée par André De Dienes
Début 1953 - Los Angeles - chez Wil Wright