21 juin 2012
Les Dates de sorties dans le monde


USA (Première Los Angeles): 4 novembre 1953
USA (sortie nationale): 5 novembre 1953
USA (New York): 10 novembre 1953
Suède: 22 février 1954
Japon: 17 mars 1954
Mexique: 26 mars 1954
Allemagne: 2 avril 1954
Argentine: 22 avril 1954
France: 30 avril 1954
Portugal: 17 mai 1954
Finlande: 21 mai 1954
Autriche: septembre 1954
Espagne: 27 septembre 1954
Danemark: 15 août 1955
Turquie: décembre 1955

Le Titre du film dans le monde
USA: How to Marry a Millionaire
France: Comment épouser un millionnaire
Belgique (flammand): Hoe men een millionnair huwt
Allemagne: Wie angelt man sich einen Millionär
Italie: Come sposare un milionario
Espagne: Cómo casarse con un millonario
Portugal: Como Se Conquista Um Milionário
Argentine: Cómo pescar a un millonario
Mexique: Cómo pescar un millonario
Brésil: Como Agarrar um Milionário
Norvège: Gift deg med en millionær
Hongrie: Hogyan fogjunk milliomost?
Suède: Hur man får en miljonär
Pologne: Jak poslubic milionera
Yougoslavie: Kako se udati za milionera
Finlande: Kuinka miljonääri naidaan
Turquie: Milyoner avcilari
Grèce: Pos na pantrefthite enan ekatymmyriouho
Danemark: Tre piger søger en millionær
Fiche technique
Réalisateur: Jean Negulesco
Scénaristes: Nunnally Johnson
Basé sur la pièce de Zoe Akins, Dale Eunson et Katherine Albert
Assistants réalisateur: F.E. 'Johnny' Johnston et Paul Helmick
Producteur: Nunnally Johnson
Production: 20th Century Fox
Musique originale: Cyril J. Mockridge
Directeur musical: Alfred Newman
Image: Joseph MacDonald
Montage: Louis R. Loeffler
Direction artistique: Leland Fuller, Lyle R. Wheeler
Décorateur plateau: Stuart A. Reiss, Walter M. Scott
Costumes: Travilla - département Charles Le Maire
Costumière: Ann Landers pour Melle Monroe
Maquillage: Ben Nye; Allan Snyder pour Melle Monroe
Coiffures: Kay Reed et Marie Brasselle
Effets spéciaux: Ray Kellogg
Genre: Comédie
Durée: 95 min
Technicolor, en couleur
Distribution (créditée)
Betty Grable: Loco Dempsey (Toctoc en VF)
Marilyn Monroe: Pola Debevoise
Lauren Bacall: Schatze Page (Charlotte en VF)
David Wayne: Freddie Denmark
Rory Calhoun: Eben
Cameron Mitchell: Tom Brookman
Alexander D'Arcy: J. Stewart Merrill)
Fred Clark: Waldo Brewster
William Powell: J.D. Hanley

Synopsis

Schatze Page (Charlotte en VF), une jolie jeune femme, loue un bel appartement à New York, qu'elle partage avec deux amies, Pola Debevoise et Loco Dempsey (Toctoc en VF). Monsieur Denmark, le propriétaire de l'appartement, a des problèmes avec le fisc et il s'est donc volatilisé dans la nature. Ce logement est un instrument dans leur stratégie dont l'objectif est de trouver un mari très riche, un millionnaire. Les trois jolies jeunes femmes, mannequins, n'ont pas d'argent et doivent alors vendre le mobilier de leur appartement.
Le premier homme qu'elles rencontrent, Tom Brookman, est pompiste; ce qui n'entre pas du tout dans leurs critères (en réalité, il est un homme d'affaires richissime mais elles ne le sauront que bien plus tard). Il sera à plusieurs reprises remballé au téléphone par Schatze.
Trois mois plus tard, grâce à Loco, elles sont invitées à une soirée prometteuse fréquentée par des millionnaires: Schatze rencontre un texan riche et veuf, J.D. Hanley ; Pola un beau borgne à l'apparence d'aventurier fortuné, J. Stewart Merrill ; et Loco un homme d'affaires qui se présente lui-même comme étant " l'homme le plus marié des USA ", Waldo Brewster.
Tom Brookman, qui a des vues sur Schatze, demande à ce que la maison de mode où travaillent les trois amies organise pour lui un défilé. Ce qui ne l'aide pas à la conquérir.
Loco part incognito en week-end dans le Maine avec son riche et marié Waldo ; elle y rencontrera Eben qu'elle croira un moment être un aisé propriétaire terrien. J.D. révèle son béguin à Schatze mais y renonce en raison de leur trop grande différence d'âge. Pola, alors qu'elle devait rejoindre son aventurier, rencontre dans l'avion Freddie Denmark qui lui révèle combien elle est belle avec ses lunettes. Une liaison débute tout de même entre Schatze et son Tom qu'elle croit toujours pompiste.
Finalement, un mariage est organisé entre Schatze et J.D. qui a changé d'avis. On apprend à cette occasion que Pola s'est mariée avec Freddie et Loca avec Eben. Schatze change aussi d'avis et épouse Tom malgré tout et surtout malgré sa modestie financière.
Une dernière scène dans un fast-food se termine par terre pour les trois amies: Tom révèle à tout le monde qu'il est très riche en sortant des liasses de billets. Il offre des hamburgers avec un billet de 1000 dollars: "Keep the change!" dit-il (Gardez la monnaie).

>> Sur le web:
- tout sur le film sur imdb (en anglais)
- infos sur le film sur wikipedia français
21 avril 2012
Comment épouser un millionnaire
Photos d'exploitation cinéma
---
- lobby cartes Italie -
---
- lobby cartes Allemagne -
05 mars 2012
Comment épouser un millionnaire
Photos scène 2
Pola (Marilyn Monroe) et Schatze (Lauren Bacall).
Comment épouser un millionnaire
Sur le tournage - scène 2

---
Photographies de Jean Howard
> Jean Negulesco (le réalisateur / the director) & Marilyn Monroe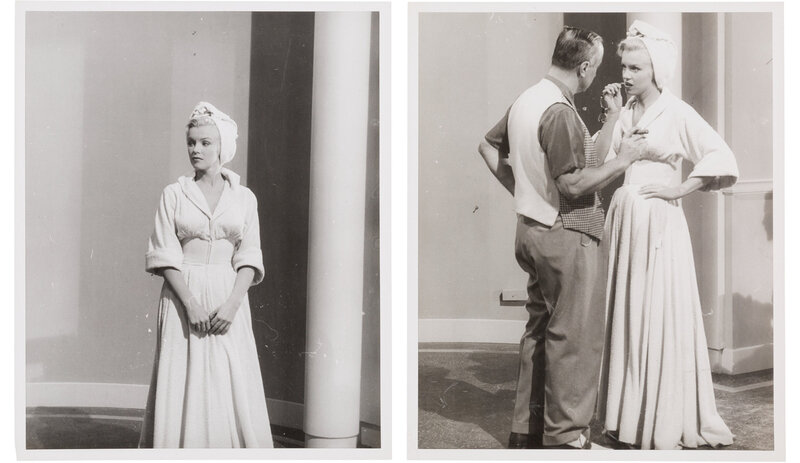 > Jean Negulesco (le réalisateur / the director),
Marilyn Monroe, Lauren Bacall & Betty Grable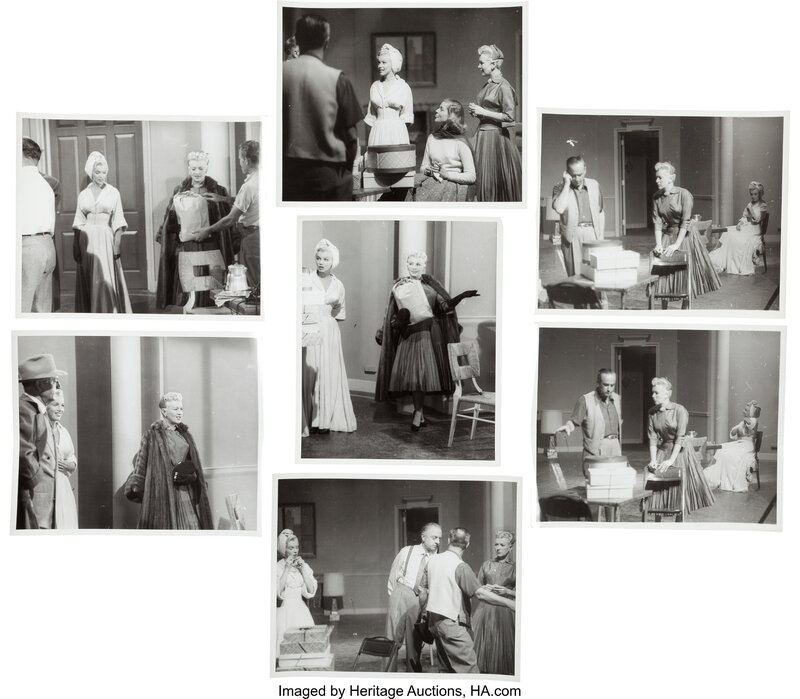 > William Powell, Marilyn Monroe & Lauren Bacall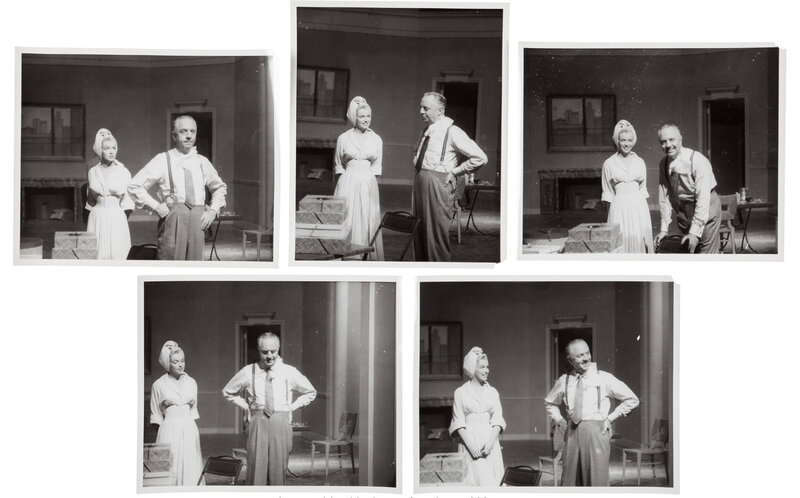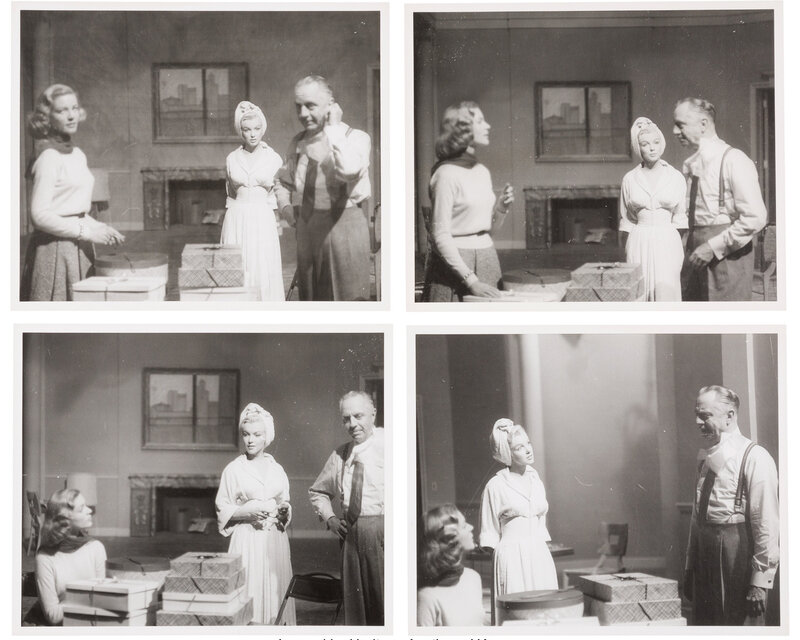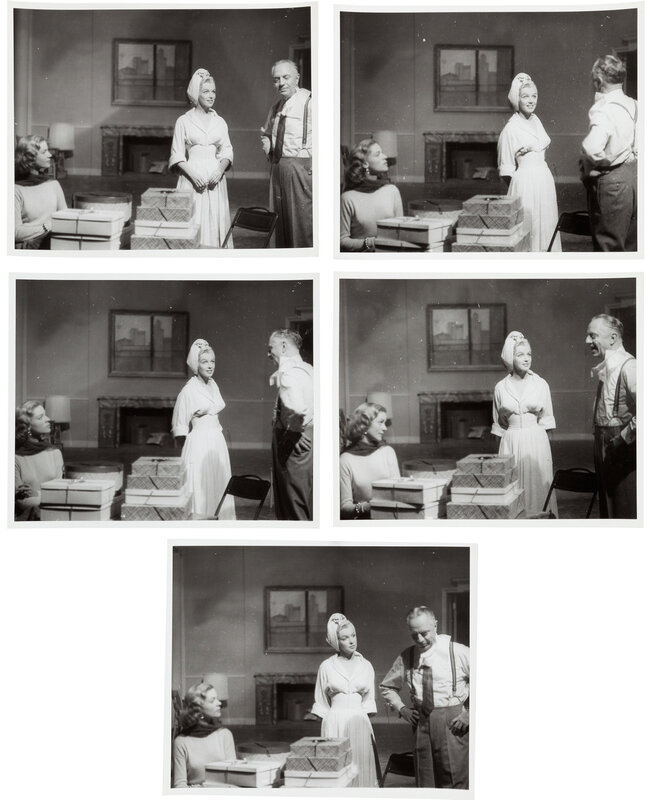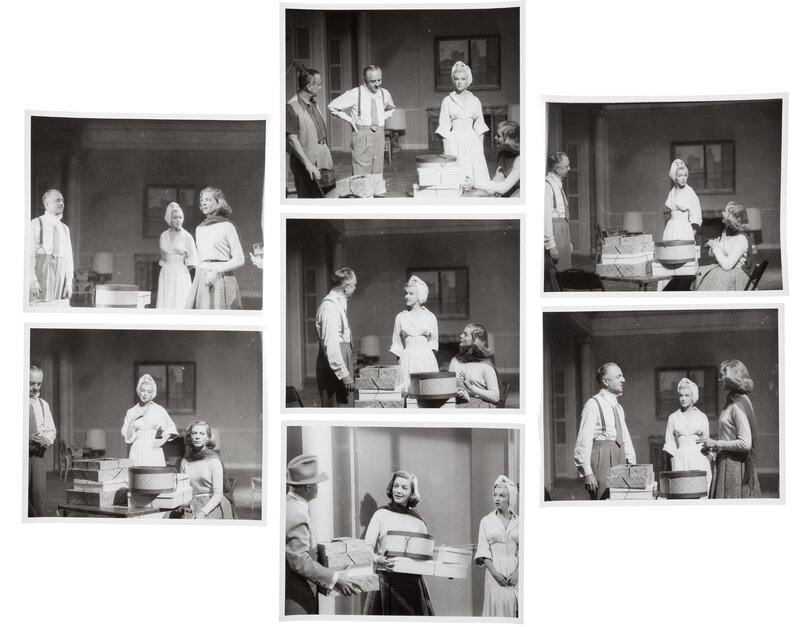 ---
© All images are copyright and protected by their respective owners, assignees or others.
copyright text by GinieLand.

21 février 2012
Comment épouser un millionnaire
Photos scène 7
Pola Debevoise (Marilyn Monroe) serre la main à J.D. Hanley (William Powell)
sous l'oeil de Schatze Page (Lauren Bacall).