02 juin 2012

Ca yest, le compteur de visites du blog a atteint un demi million.
Vous êtes donc 500.000 visiteurs à avoir visité le blog !!
Le blog rencontre de plus en plus de visiteurs chaque jour, et des internautes du monde entier parcourent les pages du blog quotidiennement.
01 juin 2012
*-*-*-*-*-*-*-*-*-*-*
Ce 1er juin 2012,
Marilyn fêterait
ses 86 ans ...
*-*-*-*-*-*-*-*-*-*-*
(¯`v´¯)__(¯`v´¯)__(¯`v´¯)
HAPPY
BIRTHDAY
MARILYN
MONROE
(¯`v´¯)__(¯`v´¯)__(¯`v´¯)
30 mai 2012
Marilyn sur le tournage du film Niagara en 1952.

17 mai 2012
Cette année 2012 marque le cinquantième anniversaire de la mort de Marilyn Monroe, disparue en 1962. Résultat: les éditeurs sortent une flopée de bouquins consacrée à la star. Dans les livres publiés cette année en France, on trouve 2 ouvrages qui citent le blog Divine Marilyn dans les sources webs:
D'abord, dans le livre Marilyn Monroe de A à Z par Isabelle Danel, publié en avril 2012 chez les Editions Tana:
---
Ensuite, dans le livre Monroerama par Françoise-Marie Santucci, paru en mai 2012 chez Stock: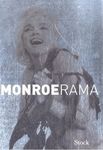 25 avril 2012
C'est avec quelques jours d'avance que je vous propose la nouvelle bannière du blog qui sent bon le printemps: une Marilyn très printannière dans une longue jupe aux motifs fleuris, assise dans un arbre. Photographie prise en 1953 par Milton H Greene.

23 mars 2012
Pour vous rappeler à tous que c'est bientôt la sortie du film My week with Marilyn (Une semaine avec Marilyn) en France -le 4 avril 2012- avec Michelle Williams dans le rôle de Marilyn.
17 mars 2012
... dans la rubrique des "Blogs à suivre" de ce jour sur Canalblog...


... Bienvenue aux nouveaux internautes.
Bonne Visite.
07 mars 2012
Nouvelle bannière du blog, avec une photographie de Milton H Greene, issue du film The Prince and the Showgirl (Le Prince et la Danseuse).

31 janvier 2012
... dans la rubrique des "Blogs à suivre" de ce jour sur Canalblog !


29 janvier 2012
Changement de bannière, avec une photographie issue de la dernière séance de Marilyn avec le photographe Milton H Greene en janvier 1957.