30 novembre 2016
Truman Capote,
Enfant terrible de la littérature américaine
Année: 2016
Réalisation: Adrian Stangell
Pays: Allemagne
Durée: 53 min
Une évocation passionnée de la vie et de l'œuvre de Truman Capote, auteur flamboyant et incorrigible mondain. Aux documents d'archives se mêlent des extraits des nouvelles et des romans de l'auteur, depuis "Les domaines hantés", son premier roman publié, jusqu'à son testament littéraire, l'œuvre inachevée "Prières exaucées".
Figure mondaine, auteur surdoué aussi célèbre pour son œuvre que pour ses frasques, Truman Capote (1924-1984) s'est fait connaître du monde entier en 1958 grâce à un court roman, Petit déjeuner chez Tiffany (adapté au cinéma dans Diamants sur canapé, avec Audrey Hepburn). Cinquante ans après sa parution, son "roman-vérité" De sang-froid (1965) n'a rien perdu de sa profondeur, et reste un monument de la littérature criminelle. Le documentaire suit l'ascension de ce jeune homme des classes populaires de La Nouvelle-Orléans, propulsé dès l'adolescence dans le monde journalistique et littéraire new-yorkais avant de devenir une figure de la jet-set.
Gloires et déconvenues
Amis, admirateurs, biographe et spécialistes évoquent l'héritage littéraire de ce talent d'exception, racontant avec passion ses gloires et ses déconvenues. Aux documents d'archives – dont des interviews marquantes de Truman Capote – se mêlent des extraits des nouvelles et des romans de l'auteur, depuis Les domaines hantés, son premier roman, jusqu'à son testament littéraire, l'œuvre inachevée Prières exaucées.
>> Diffusé en France sur arte le 16 novembre 2016
---
Retranscription des passages liés Marilyn Monroe:
(à 1min 45sec) 5ème avenue, n°727. Bienvenue chez Tiffany & Co, célèbre joailler new-yorkais, entré dans l'histoire de la littérature mondiale grâce à cet homme: Truman Capote. "Petit déjeuner chez Tiffany" est l'ouvrage le plus connu de Truman Capote. Au cinéma, c'est la légendaire Audrey Hepburn qui a incarné Holly Golightly, cette jeune texane fraîchement débarquée à New York en quête d'une vie nouvelle, de glamour, et d'elle-même.
Deborah Davis, écrivain: "Son style est admirable. Ses phrases sonnent comme une musique quand on les lit à haute voix."
(lecture d'un extrait): "Elle portait toujours ses lunettes noires, était toujours très soignée, témoignait dans ses toilettes d'un bon goût concerté à base de bleu et de gris, d'une absence de tape à l'oeil qui ne lui donnait que plus d'éclat."
Au moindre coup de blues, Holly Golightly, obsédée par les bijoux, fait une halte devant la vitrine du célèbre joailler.
Le roman est devenu un classique. L'écriture de Truman Capote y est pour beaucoup.
Peter Haag, éditeur: "Capote est un styliste. Il n'est jamais ennuyeux. Ses personnages sont si bien campés qu'ils prennent corps aussitôt. Il a un ton pour décrire les situations. C'est aéré, léger et intelligent."
(lecture d'un extrait): "On devrait pouvoir épouser des hommes ou des femmes ou... écoute, si tu venais me trouver pour me dire que tu voulais me mettre à la colle avec un cheval de course, je respecterai tes sentiments. Non, sans blague, l'amour devrait être permis ! Je suis pour à fond."
S'il est normal qu'aujourd'hui une jeune femme profite de la vie, et qu'elle ait beaucoup d'amis hommes; à l'époque, Holly Golightly fait figure de fille facile.
Gerald Clarke, biographe: "Holly Golightly n'est pas une prostituée. C'est une jeune femme qui fait des faveurs aux messieurs fortunés. On ne sait pas si elle couche avec eux ou pas."
Dans le livre, Holly est une fille de la campagne. Dans le film, une jeune femme élégante et raffinée. Bien qu'ami avec Audrey Hepburn, Capote trouvait ce choix malencontreux. Il aurait préféré voir Marilyn Monroe dans le rôle d'Holly.
Bob Colacello, écrivain et photographe: "La plupart des gens ne connaissent que le film avec Audrey Hepburn. Hollywood a beaucoup aseptisé l'histoire, comme le reste à l'époque. Dans les séries télé des années 50s, les couples dormaient dans des lits jumeaux, jamais dans un grand lit."
------------------------------
(à 21min 26sec) Truman Capote s'entoure de riches héritières, comme Gloria Vanderbilt ou de comédiennes et chanteuses, comme Pearl Bailey. Des grandes amies qu'il surnomme affectueusement "My swans" ("mes cygnes").
Deborah Davis, écrivain: "Il adorait les nighclubs et il adorait les femmes. Très jeune déjà, il s'entourait de belles dames. Ses relations étaient platoniques mais essentielles pour lui."
Jeune homme, Truman rêvait d'être richissime. Il s'avoure d'autant plus cette proximité nouvelle avec le gratin. Son "cygne" préféré est le mannequin Babe Paley. Comme toutes ces dames du grand monde, elle est en quête constante d'amusement et nul n'est plus amusant que Truman.
Deborah Davis, écrivain: "Truman veillait à ce que leur rouge à lèvres soit impeccable, repérait les couturiers qui les mettait le plus en valeur. il s'intéressait aux menus de leurs dîners, à tout ce qui les préoccupait elles-mêmes. Et il les écoutait, les conseillait. Il était leur meilleur ami."
Truman Capote n'a jamais caché son homosexualité, bien au contraire. Ainsi, il peut flirter ouvertement avec des femmes mariées, sans que leur mari ne leur jalouse. Ces messieurs ne voient rien à redire à ce que leurs femmes confient leurs secrets à Truman. Une naïveté qu'ils regretteront plus tard.
Capote observe les riches new-yorkais avec une pointe d'enthousiasme et d'envie. Il devient le point de mire de chaque soirée, l'amuseur de la jet set. Il peut bientôt se permettre d'être très exigeant avec ses accompagnatrices, comme il le révélera plus tard dans un autoportrait.
(lecture d'un extrait de The Dogs Bark): "Il y a des hommes avec qui j'aime déjeuner, et dans l'ensemble, je préfère les femmes belles, ou du moins, extrêmement séduisantes, très vives d'esprit et au courant. Mais je ne pense pas qu'une femme mérite la note maximale tant qu'elle n'atteint pas et ne maintient pas une certaine qualité de style, d'apparence et de bon sens enjoué qui dépasse le niveau facile de séduction propre à la jeunesse."
Parmi celles qui le mérite, il range Marilyn Monroe. Au début des années 50s, Truman lui consacre, comme à d'autres célébrités, un portrait qui fait sensation. Daniel Kehlman, auteur à succés en Allemagne, vit quelques mois par an à New York. Il a publié plusieurs articles sur Truman Capote, dont il apprécie particulièrement les impressions de voyages et les portraits.
Daniel Kehlman, écrivain: "Il était impitoyable envers ceux sur qui il écrivait. Pas dans le sens où il les dénaturait, il restait très près de qu'il estimait être la réalité. Mais son oeuvre se nourissait très souvent de cette proximité, de cette intimité qu'il créait sciemment avec eux."
Cela vaut peut être aussi pour son portrait de Marilyn Monroe.
Truman Capote: "Je connaissais Marilyn bien avant qu'elle ne devienne une star de cinéma. Nous avons toujours été très bons amis. Je n'y avais jamais réfléchi, mais nous avions énormément de points communs. C'est peut être pour cela que nous étions si proches."
(lecture d'un extrait): "La lumière baissait. Marilyn semblait s'estomper avec elle, se fondre dans le ciel et les nuages, s'amenuiser au loin. Je voulais élever la voix, couvrir le cri des mouettes, la rappeler: Marilyn, Marilyn ! Pourquoi faut-il toujours que les choses tournent de cette façon ? Pourquoi faut-il que la vie soit tellement dégeulasse ?"
---
© All images are copyright and protected by their respective owners, assignees or others.
copyright text by GinieLand.
Enregistrer
Enregistrer
Enregistrer
Enregistrer
27 novembre 2016
Marilyn Monroe à une soirée -événement inconnu - vers 1953
Marilyn Monroe to a party - unknown event - circa 1953
---
© All images are copyright and protected by their respective owners, assignees or others.
copyright text by GinieLand.

18 novembre 2016

Marilyn Monroe : la robe du «Happy Birthday» s'envole à 4,8 millions de dollars
Article publié le 18/11/2016
en ligne sur lefigaro.fr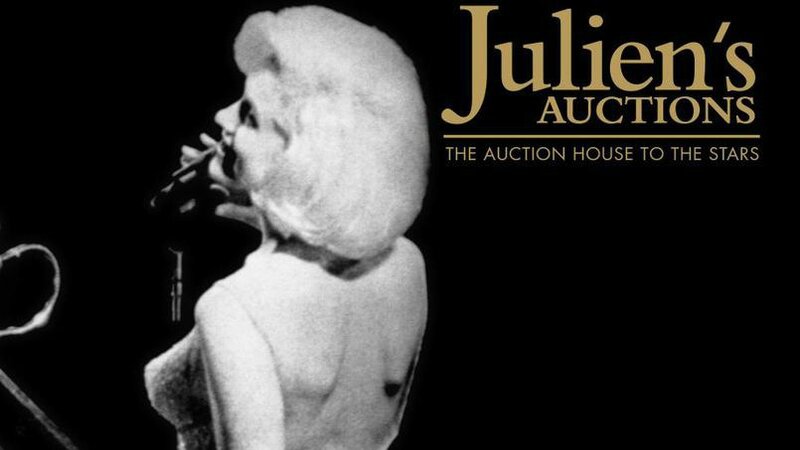 ENCHÈRES - Plus qu'un vêtement, l'étoffe incarne à elle seule toute la sensualité de la légende des années 50. Mise en vente le jeudi 17 novembre dernier à Los Angeles par la maison Julien's Auctions, elle a été acquise pour la royale somme de... 4,8 millions de dollars!
«Happy Birthday to you Mister President...» Les courbes affolantes de Marilyn Monroe n'ont pas fini de faire tourner les têtes. Le célèbre fourreau à paillettes porté par l'actrice en 1962 pour le 45e anniversaire du président Kennedy a été acquis pour la mirobolante somme de 4,8 millions d'euros. Un chiffre bien supérieur aux estimations de la maison Julien's Auctions, qui organisait la vente dans un quartier glamour de Los Angeles.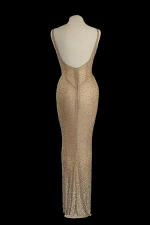 Il faut dire que l'étoffe moirée revêt désormais une dimension historique, sinon mythique. Cousue à même le corps de Marilyn, elle est indissociable du célébrissime «Happy Birthday» chanté lascivement par l'actrice en l'honneur de JFK pour son anniversaire, le 19 mai 1962. D'une couleur chair qui ne dissimulait rien de l'anatomie de l'actrice, brodée à la main de 2.500 cristaux, elle avait été estimée entre deux et trois millions de dollars par Julien's Auctions.
«C'est surtout le ton si intime et la projection sur les mots «Mr President» qui ont enflammé le public, la presse, et en ont fait un grand moment de culture populaire», souligne la maison d'enchères dans un communiqué. Susurrée, presque soupirée, elle a duré en tout «30 secondes, mais plus de cinq décennies plus tard, elle reste la plus célèbre version de «Happy birthday», relève encore Julien's Auctions.
La robe a finalement été achetée par Ripley's Believe It or Not! (Croyez-le ou pas!), un empire médiatique qui possède également une chaîne de musées, dont un à Hollywood, consacrés aux objets bizarres ou bien ayant une signification historique.
Elle avait été achetée lors d'une première vente aux enchères en 1999 par le riche homme d'affaires Martin Zweig pour la somme de 1,3 million de dollars. Le succès de cette robe est tel qu'un simple dessin de la robe par son concepteur, Bob Mackie, s'est vendu 10.000 dollars.
5,5 millions de dollars pour la robe de «Sept ans de réflexion»
Le record de vente pour une relique de Marilyn reste toutefois de 5,5 millions de dollars. Ils ont été versés il y a cinq ans par l'acheteur de la robe portée dans la scène du film Sept ans de réflexion où l'actrice, debout sur une bouche d'aération, tente avec un succès mitigé de l'empêcher de voler.
Parmi les autres objets en vente, une robe portée par l'actrice dans le film Certains l'aiment chaud, vendue 450.000 dollars, et une autre robe de soirée, pour 125.000 dollars, tandis qu'une paire de chaussures Ferragamo partait dans le même temps pour 34.000 dollars.
Le millier de pièces en vente jeudi soir provenaient de la collection de Lee Strasberg, coach en théâtre et ami de Marilyn Monroe, qui lui avait légué tous ses objets personnels. Celui-ci, qui avait également travaillé avec toute une palette d'acteurs dont James Dean, Dustin Hoffman, Jack Nicholson, Al Pacino, Jane Fonda ou Robert DeNiro, est décédé en 1982.
13 novembre 2016
Marilyn Monroe déguisée, porte une perruque brune et un foulard sur sa tête. Il était dans ses habitudes de sortir dans la rue perruquée de cheveux noirs afin de voir la réaction des hommes quand elle n'"était" pas Marilyn. Date et lieu inconnu. (Probablement années 1960s).
Marilyn Monroe wears a brunette wig and scarf around her head in disguise. She was used to dress in a brunette wig and going out to the street to see how men responded to her when she wasn't "being" Marilyn. Date and place unknown. (Probably 1960s' years).

---
© All images are copyright and protected by their respective owners, assignees or others.
copyright text by GinieLand.
Enregistrer
Enregistrer
12 novembre 2016
Instantanés de Maf, le (dernier) chien de Marilyn, pris dans son appartement de New York, en 1961. Photographies probablement prises par Marilyn Monroe.
Snapshots of Maf, the (last) Marilyn's dog, taken in her New York's apartment, in 1961. Photographs probably taken by Marilyn Monroe.
---
© All images are copyright and protected by their respective owners, assignees or others.
copyright text by GinieLand.
Enregistrer
Enregistrer
Photographies des perruches de Marilyn Monroe et Arthur Miller: Bobo, Butch, Clyde et Josua (nom incertain), prises en octobre 1958 par Marilyn Monroe.
Photographs of the pet parakeets of Marilyn Monroe and Arthur Miller: Bobo, Butch, Clyde and Josue (not sure by the name), taken in October 1958 by Marilyn Monroe.
---
© All images are copyright and protected by their respective owners, assignees or others.
copyright text by GinieLand.
Marilyn Monroe et son mari Arthur Miller probablement en 1957.
Marilyn Monroe and her husband Arthur Miller, probably in 1957.
Marilyn Monroe, Arthur Miller (assis derrière) et Eli Wallach
Marilyn Monroe, Arthur Miller (sitting in background) and Eli Wallach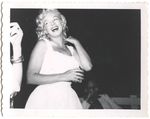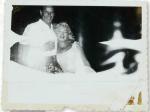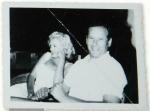 ---
© All images are copyright and protected by their respective owners, assignees or others.
copyright text by GinieLand.
Enregistrer
Vente aux enchères 'The Marilyn Monroe Auction' par Juliens Auction les 17, 18 et 19 novembre 2016 à Los Angeles, aux Etats-Unis.

Les quatre catalogues (photo ci-contre) sont vendus ensemble -en édition limitée- dans une boîte pour la somme de 300 $ sur le site de Julien's Auction.
Il s'agit de la plus grande vente aux enchères consacrée à Marilyn Monroe, depuis celle de Christie's en 1999, et répartie sur trois jours: cette vente contient 1015 lots en consultation sur julienslive , provenant de collections de David Gainsborough-Roberts (fan et collectionneur), de Frieda Hull (fan du vivant de Marilyn, faisant parti du groupe de fans les "Monroe Six"), de Lee Strasberg, de Bob Mackie (couturier), d'Allan Rich (acteur) et d'autres collectionneurs privés. Les lots sont de natures variés: bon nombre d'effets personnels de Marilyn (vêtements, accessoires de mode, bijoux, maquillage, meubles, lettres, états des finances, scénarios), ainsi que de nombreuses photographies rares de Marilyn prise sur le vif. Le lot le plus attendu est celui de la robe créée par Jean-Louis et portée par Marilyn lors d'une de ses dernières apparitions en public à l'anniversaire de John F Kennedy.
---
> Sur le blog - les 4 catalogues:
1/ Lot 01 à 69:
Marilyn Monroe Property from the collection of David Gainsborough-Roberts
2/ Lot 70 à 84:
Happy Birthday JFK Dress and related Property
3/ Lot 85 à 604:
Property From The Estate Of Lee Strasberg
4/ Lot 605 à 1015:
Déjà Vu Property from the Life and Career of Marilyn Monroe
---
> Sur le blog - les lots:
> Lots Photos 1-Snapshots
(Instantanés en public & privé / Bobines films & matériel photographique)
> Lots Photos 2-Photographies
( Famille, Enfance & Adolescence / Photos & Snapshots en public / Joseph Jasgur /
André De Dienes / Tom Kelley & Golden Dreams / Bert Stern / George Barris /
Milton H Greene / Divers photographes)

> Lots Photos 3-Carrière
(River of no return / There's no Business ... / The Seven Year Itch / Bus Stop /
The Prince and the Showgirl / Some Like It Hot / Let's Make Love / The Misfits /
Something's Got to Give / Divers Films / Presse & Autres)
> Lots Documents papiers 1
(Vie Privée / Mode & Beauté)
> Lots Documents papiers 2
(MM Prod / Carrière / Autographes - Fans)
> Lots Documents papiers 3
(Santé / Finances, Dépenses diverses / Maison / Divers)
> Lots effets personnels 1
(Vêtements / Costumes séances photos / Costumes de films & Bijoux / Chaussures /
Accessoires / Sacs / Bijoux / Cheveux / Beauté: Maquillage et Produits de Beauté)
> Lots effets personnels 2
(Maison, Meuble, Déco / Cuisine / Livres & Magazines / Récompenses / Divers)
> Lots art
(Art par Marilyn / Marilyn dans l'Art)
Enregistrer
Enregistrer
11 novembre 2016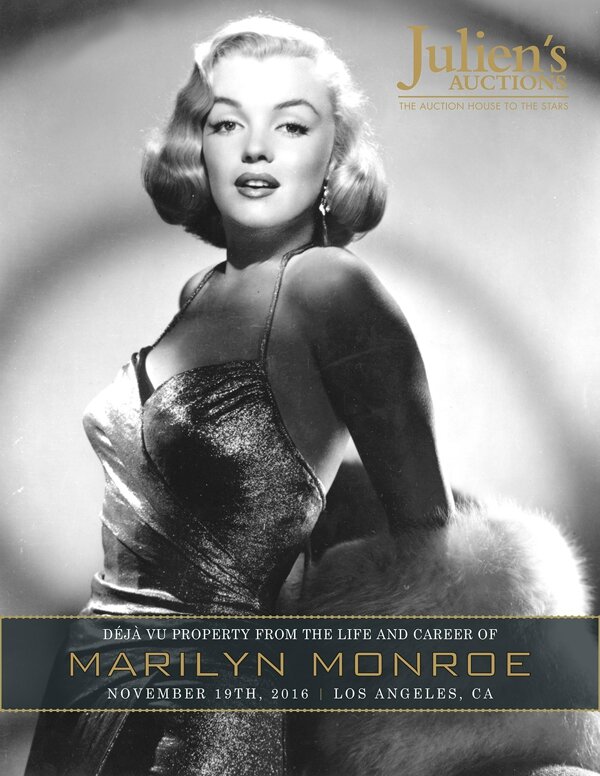 Catalogue "Déjà Vu Property from the Life and Career of Marilyn Monroe" issu de la vente aux enchères le 19 novembre 2016 par Julien's Auction à Los Angeles, aux Etats-Unis.
Le catalogue de 250 pages présente les lots (n°605 à n°1015) composés de collections de Frieda Hull (fan de Marilyn, faisant partie de la bande des "Monroe Six"), Bob Mackie (couturier de mode), Allan Rich (acteur): de nombreuses photographies prises sur le vif dans la rue ou lors de sorties en public (soirées, galas, premières), lors d'un tournage; des photographies officielles de films, de photographes (André De Dienes, Joe Jasgur, Cecil Beaton, Milton Greene, Douglas Kirkland,George Barris, Bert Stern...) des autographes et photos dédicacées; des magazines d'époque; des effets personnels (vêtements, bonnet, foulards, livres, chèques et factures, lettres, notes, tableaux, maquillage et produits de beauté ...), des esquisses de costumes de films...
> article Press Release: Frieda Hull :
Unprecedented Frieda Hull Collection and Archive Contains Never Before Seen Color and Black & White Candid Snapshots, Photographs and Slides, Movie Stills, Publicity Photos, Lobby Cards, Home Movies, and Autographs.
Frieda Hull was a member of the now famous "Monroe Six," a New York City based group of teenagers who photographed Marilyn whenever and wherever they could. As an airline employee, Hull was in the enviable position of being able to photograph Marilyn also on the West Coast. Much to Marilyn's surprise and delight, the group learned of her whereabouts from various sources, including movie magazines and her hairdresser. Many times the team simply waited for Marilyn outside of her hotel, her home, or events she was attending. Over time, Marilyn came to know each member of the group, even inviting them to the Roxbury, CT home she shared with then husband Arthur Miller for a picnic. Marilyn frequently autographed the photos the group had taken of her and also was known to give them gifts.
The extraordinary Frieda Hull Marilyn Monroe Photo Archive spans nearly the entirety of Monroe's career, from the late 1940s through to 1962. The collection includes photographs she and other members of the Monroe Six took of Marilyn, along with photographs she personally collected through the years. Rare items from the archive include unseen color photos of Marilyn as she sang "Happy Birthday" for President John F. Kennedy at Madison Square Garden on May 19, 1962, never-before-seen slides of Marilyn on location as she filmed the now famous subway skirt-blowing scene for The Seven Year Itch, a large collection of many unpublished photos of Marilyn at the 1955 premiere of East of Eden, rare photos of Monroe on the set in Phoenix while filming Bus Stop in 1956, and a photo of Marilyn with her dog Maf that is very likely a photograph never seen before.
Other rare highlights include eleven color slides which show Marilyn and Arthur Miller following the premiere of Some Like It Hot in 1959, some of which have likely never been seen. One slide in the collection shows Monroe sitting in the back of a vehicle with a bird in a cage on her lap, likely "Butch," the Millers' pet parakeet. Home movies in the archive show remarkable footage of Marilyn departing her apartment in New York on May 30, 1958. Other footage shows Marilyn attending an event at the Italian Consulate on May 13, 1959, where she received the David di Donatello Award for her work in The Prince and The Showgirl. The movie still and publicity photos in the Frieda Hull collection are unparalleled, with photographs from twenty-seven of Marilyn's thirty films, ranging in years from 1947 through 1962. The impressive Bus Stop archive includes approximately 150 movie stills, 30 publicity photographs, and 18 lobby cards.
The Frieda Hull Marilyn Monroe Photo Archive includes over 550 color and black & white candid snapshots and photographs, over 150 color slides, nearly 750 movie stills, publicity photos and lobby cards, and personal home movies.
Additional items from the Frieda Hull Marilyn Monroe Collection being offered at Julien's Auctions include autographed photos and snapshots, Frieda Hull's original ticket and program to a 1962 JFK Madison Square Garden gala, a Marilyn Monroe and Arthur Miller autographed Gladstone Hotel menu, Frieda's "Monroe Six" badge, a scarf Marilyn gifted to Frieda, a Marilyn Monroe calendar, and vintage Marilyn Monroe albums.
---
© All images are copyright and protected by their respective owners, assignees or others.
copyright text by GinieLand.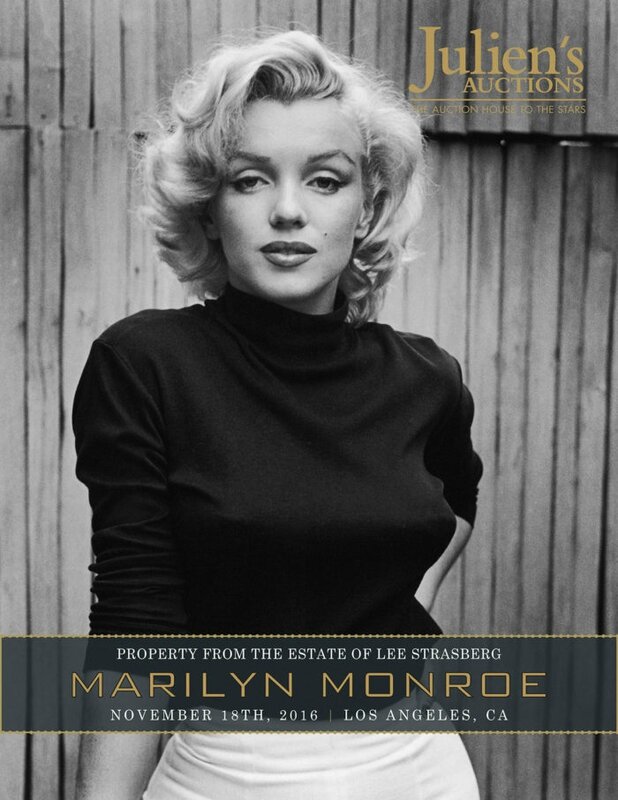 Catalogue "Property From The Estate Of Lee Strasberg" issu de la vente aux enchères le 18 novembre 2016 par Julien's Auction à Los Angeles, aux Etats-Unis.
Le catalogue de 426 pages présente les lots (n°85 à n°604) composés de nombreux effets personnels que Marilyn Monroe avait légué à Lee Strasberg: photographies de son enfance, photographies personnelles; lettres, esquisses et écrits personnels (dont certains ont été publiés dans le livre Fragments); chèques et chéquiers, reçus et factures, carnet de finances; répertoires téléphoniques; scénarios; chaussures, chapeaux, accessoires, vêtements et vestes; bijoux, montres et maquillage; valise, sacs et pochettes de soirée; livres; ustensiles de cuisine; meubles et objets de décoration; machine à écrire; appareil photo etc...
> article Press Release: Lee Strasberg :
Julien's Auctions, the world record breaking auction house to the stars, has announced on offer one of the most personal collections of Marilyn Monroe from the estate of Lee Strasberg. The auction will include a wide variety of documents and personal items once owned by Marilyn Monroe and represents the largest collection of Marilyn Monroe artifacts ever offered at auction.
Besides being an actor and director in his own right, Strasberg is considered the father of method acting in America. Strasberg revolutionized the art of acting by having a profound influence on performance in American theater and movies. A myriad of actors and directors from the United States and around the world gave Lee Strasberg credit for his influence on them, including Mike Nichols, Richard Harris, Dustin Hoffman, Jack Nicholson, Al Pacino, Jane Fonda and Robert DeNiro." Stars of Hollywood's silver screen era who trained under Strasberg include Montgomery Clift, James Dean, Jean Stapleton and of course, Marilyn Monroe. Marilyn developed a close personal relationship with Lee and his wife Paula, and she ultimately bequeathed all of her personal effects and clothing to Lee in her will.
"No one person ever really knew every facet of Marilyn Monroe, though countless books have attempted to piece together every first, second and third hand account of each encounter, often embellished through passage of time. Marilyn was a complex and beguiling figure in her lifetime, leaving generations of adoring fans to speculate, infer and debate about her life. What has resulted is a prismatic kaleidoscope image built upon both fact and fantasy." – Anna Strasberg
"This is one of the most important and historic auctions of Marilyn Monroe ever. This diverse collection gives us a most intimate glimpse of the screen legend. Never before have there been so many important artifacts from the life and career of the much loved global icon Marilyn Monroe as in our Nov 19th and 20th auction." – Martin Nolan, Executive Director of Julien's Auctions.
Perhaps the highlight of the items is one of just a few pieces of fine jewelry ever owned by Monroe: a ladies platinum and diamond cocktail watch with face reading "Blancpain, and the movement is signed Rayvill Watch Co. 17 Jewels, Unadjusted Switzerland." The sale includes other pieces of costume jewelry, compacts, cosmetics and a few pieces related to Joe DiMaggio. A DiMaggio highlight is an alligator men's accessory case with custom "JDim" initial in brass on lid with a combination lock closure set to "555" — a repetition of DiMaggio's Yankee number 5.
The sale will also include a beautiful 1950's brown alligator ladies handbag from I. Magnin & Co. with matching accessories, a grey pony handbag from Mexico still containing three one peso bills, and a number of other handbags, fur coats and stoles.
Of particular interest is a stunning ladies minaudière with the original box, featuring three compartments including one for loose powder with cotton buffer, mirror, comb, two mercury dimes, eight Phillip Morris cigarettes and a tube of used Revlon lipstick in "Bachelor's Carnation" with a date of 1947, a virtual time capsule of one of the star's nights out on the town.
The items in this collection also include documents that represent signposts containing unbiased factual information placing the star in a certain place on a certain day, the only tangible things left behind to mark simple and remarkable moments in her life and career, from a taxi receipt dated February 2, 1960 listing the trip details as simply "From: 904 To: 20th Century" to a check dated July 25, 1952 written in Monroe's hand to her mother Gladys Eley in the amount of $150.00 endorsed by her mother signed, "Mrs. Gladys P. Eley." In addition to household, food, fur, books, beauty, and clothing receipts, there are tax documents listing the star's expenditures in great detail, a collection of recipes given to her by friends, and of certain interest is her 1962 checkbook containing the filled out stubs of every check written from her account in the final year of her life as well as the checks written from her account immediately after her death.
The items provide an unprecedented look at the daily details of her life, offering yet another perspective of Monroe.
In addition to these extraordinary highlights from the screen icon's life are documents, correspondence, poems and intimate notes featured in the appropriately titled 2012 book Fragments. The book helped to piece together a more even-handed view of the icon, demonstrating her intellectual curiosity, vulnerability and humanity. The poems included in the book offer a deeply personal look into Monroe's thoughts, such as this excerpt: "Only parts of us will ever touch parts of others — one's own truth is just that really — one's own truth…" Many of the writings featured in the book are contained in notebooks that are included in the sale as well as lighter material like her now famous recipe for stuffing scrawled on a sheet of "City Title Insurance Company" notepaper.
---
© All images are copyright and protected by their respective owners, assignees or others.
copyright text by GinieLand.
Enregistrer
Enregistrer
Enregistrer
Enregistrer
Enregistrer