06 janvier 2008
Dates de sorties dans le monde
USA: 19 mai 1950
Suède: 14 août 1950
Finlande: 10 août 1951
Japon: 21 décembre 1951
L

e titre du film à travers le monde
Aux USA:
A ticket to Tomahawk
Autre titre anglais: The Sheriff's Daughter
En France: Le Petit train du far-west
Belgique: Peaux rouges et visages pâles
Italie: La Figlia dello sceriffo
Venezuela: La Hija del sheriff
Chilie: Mujer al fin
Finlande: Sheriffin tytär
Suède: Vilda takter i Tomahawk
Fiche technique
Réalisateur : Richard Sale
Scénaristes: Mary Loos et Richard Sale
Production: Robert Bassler
Société de production: Twentieth Century Fox
Musique: Cyril J. Mockridge
Photographie: Harry Jackson
Montage: Harmon Jones
Direction artistique: George W. Davis et Lyle R. Wheeler
Costumes: René Hubert
Maquillage: Ben Nye
Coiffures: Alma Johnson, Lillian Ugrin et Marie Walter
Décoration plateau: Thomas Little et Fred J. Rode
Pays d'origine: États-Unis
Format: Couleurs - 1,37:1 - Mono - 35 mm
Genre: Western / Comédie
Durée : 90 minutes
Distribution
Dan Dailey: Johnny Behind-the-Deuces
Anne Baxter: Kit Dodge Jr.
Rory Calhoun: Dakota
Walter Brennan: Terence Sweeny
Charles Kemper: Chuckity
Connie Gilchrist: Madame Adelaide
Arthur Hunnicutt: Sad Eyes
Will Wright: Dodge
Chief Yowlachie: Pawnee
Victor Sen Yung: Long Time
-> reste de la distribution non créditée, par ordre alphabétique:
Robert Adler: Bat
Raymond Bond: Stationmaster
Paul Brinegar: non crédité
Harry Carter: Charley
Edward Clark: Jet
Jack Elam: Fargo
Robert Filmer: Deputy Sheriff
Joseph Forte: non crédité
William Gould: non crédité
Tim Graham: non crédité
Raymond Greenleaf: Mayor
Paul Harvey: Mr. Bishop
Herbert Heywood: Old-timer
John Horan: Undertaker
Olin Howland: Railway Conductor
Mauritz Hugo: Dawson
Lee MacGregor: Gilo
Joyce Mackenzie: Ruby
Marion Marshall: Annie
George Melford: Stationmaster
John Merton: Clayton
Marilyn Monroe : Clara (danseuse)
Dick Ryan: non crédité
William Self: Telegrapher
Harry Seymour: Velvet Fingers
Jerry Sheldon: non crédité
Barbara Smith: Julie
Charles Soldani: Black Wolf
Shooting Star: Crazy Dog
Charles Stevens: Trancos
Clarence Straight: non crédité
Chief Thundercloud: Crooked Knife
Jim Toney: non crédité
John War Eagle: Lone Eagle
Guy Wilkerson: Dr. Brink
Synopsis

En 1876, la compagnie des diligences pense perdre son marché face à la concurrence du train, dont une ligne va bientôt rejoindre le trajet principal des diligences à Tomahawk dans le Colorado. Kit, qui veut que la diligence arrive à destination à temps, force Johnny à monter dans le train, où voyage la troupe de danseuses de Madame Adelaide.
>> Sur le web:
- tout sur le film sur imdb (en anglais)
- infos sur le film sur wikipedia français
- fiche film sur CinEmotions (en français)
- critique sur the new york times (en anglais)
Le petit train du Far-West
Les Affiches

Les Affiches Ciné dans le monde

Le petit train du Far-West
Photos d'exploitation cinéma
Le petit train du Far-West

---
Tests Costumes
---
Test Costumes de Marilyn Monroe
pour le film Le petit train du Far-West
- créateur: René Hubert -

Marilyn Monroe's costumes tests for A Ticket to Tomahawk
- designer: Hubert -
---
prises de vues le 5 août 1949
---
Tests Coiffure
---
prise de vue non datée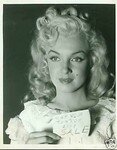 ---
© All images are copyright and protected by their respective owners, assignees or others.
copyright text by GinieLand.
05 janvier 2008
Le petit train du Far-West
Photos partie 1
Photos du film
Marilyn Monroe interprète le rôle de la danseuse Clara
Le petit train du Far-West
Photos partie 2
Photos de la scène du film où les danseuses
(avec Clara alias Marilyn Monroe)
chantent en choeur Oh, what a forward young man you are
>> la vidéo de la chanson ici
Le petit train du Far-West
Sur le tournage
Marilyn Monroe sur le tournage du film A Ticket to Tomahawk
---
* L'équipe du film se déplace à travers les USA
pour présenter le long-métrage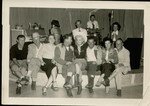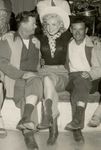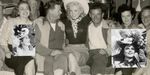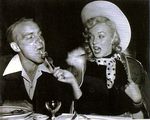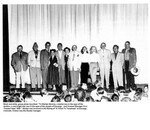 ci-dessous: L'équipe du film (Marilyn est 4ème en partant de la droite)
à la présentation du film au théâtre Kiva à Durango, Colorado en septembre 1949
Le petit train du Far-West
Captures
Captures d'écrans du film A Ticket to Tomahawk
>> source: captures sur Marilyn Monroe in pictures