03 juin 2008
Clash by Night
Le Démon s'éveille la nuit
Les Dates de sorties dans le monde
USA: 18 juin 1952
Suède: 4 août 1952
Allemagne: 31 octobre 1952
Finlande: 7 novembre 1952
Autriche: mai 1954
Danemark: 2 août 1954
France: 15 juin 2005 (resorti)
Le Titre du film dans le monde
USA: Clash by night
France: Le Démon s'éveille la nuit
Allemagne/Autriche: Vor dem neuen Tag
Italie: La Confessione della signora Doyle
Espagne: Encuentros en la noche
Grèce: Den axize na m' agapiseis
Grèce (autre titre): Sygrousis eraston
Venezuela: Desengaño
Portugal: Desengano
Danemark: Opgør i natten
Finlande: Purkaus yössä
Brésil: Só a Mulher Peca
Suède: Urladdning
Fiche technique
Réalisateur: Fritz Lang
Adaptation scénario: Alfred Hayes
d'après une pièce de Clifford Odets
Producteurs: Harriet Parsons, Norman Krasna
et Jerry Wald
Production: RKO Radio Pictures (1952)
et Warner Home Video (DVD 2005)
Musique originale: Roy Webb
Directeur musical: C. Bakaleinikoff
Image: Nicholas Musuraca
Montage: George Amy
Direction artistique: Carroll Clark
et Albert S. D'Agostino
Décorateurs plateau: Jack Mills
et Darrell Silvera
Costumes: Michael Woulfe
Maquillage: Mel Berns
Coiffeur: Larry Germain
Son: Clem Portman et Jean L. Speak
Effets spéciaux: Harold E. Wellman
Genre: Film Noir
Durée: 105 min
Noir et Blanc
Distribution (créditée)
Barbara Stanwyck: Mae Doyle D'Amato
Paul Douglas: Jerry D'Amato
Robert Ryan: Earl Pfeiffer
Marilyn Monroe: Peggy
J. Carrol Naish: Oncle Vince
Keith Andes: Joe Doyle
Silvio Minciotti: Papa D'Amato
Tony Martin: chanteur de 'I Hear a Rhapsody'
Synopsis

Alors que ses rêves de réussite se sont envolés, Mae Doyle revient chez elle, un petit village de pêcheur, après dix ans d'absence pour retrouver son frère épris d'une employée d'une conserverie de poisson, Peggy. Ce frère craint que Peggy, qui aime les émotions fortes, ne devienne à son tour comme Mae, dure et fatiguée. Mae, après une aventure avec un ami de son frère, s'éprend du patron pêcheur Jerry D'Amato et l'épouse en pensant qu'il s'agit de son véritable amour. Quelques mois et un enfant plus tard, Mae s'ennuie et tombe amoureuse de Earl Pfeiffer, un projectionniste charmeur et tourmenté au cynisme avéré. Leur passion commune va mutuellement les entraîner dans un cercle moral fait d'attirance et de répulsion, de domination et de souffrance...
>> Sur le web:
- tout sur le film sur imdb (en anglais)
- infos sur le film sur wikipedia français
- le film sur allocine (en français)
- des infos sur yozone (en français)
- critique sur the new york times (en anglais)
Le démon s'éveille la nuit
~~~ A propos de Marilyn Monroe et du film ~~~
Secrets de tournage ...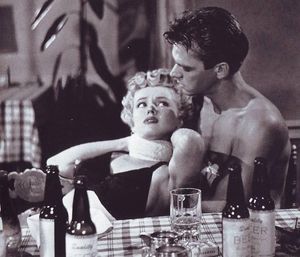 ... et anecdotes
Son rôle
Marilyn joue le rôle de Peggy, travaillant dans une usine de poissons et fiancée au personnage interprété par Keith Andes. Ce personnage de fille de la "working-class" menant une vie modeste et simple, au caractère bien trempé de garçon manqué, se trouvait bien loin des autres rôles plutôt glamour de blondes séductrices interprétés jusqu'alors par Marilyn. Pour appréhender ce rôle, Marilyn répéta longuement avec sa coach personnelle Natasha Lytess, qui accompagnait la jeune actrice tout au long du tournage, ce qui agaçait profondément toute l'équipe du film, acteurs et réalisateur compris. Pour renforcer son jeu d'actrice, Marilyn suivait aussi les cours de Michael Chekhov, un acteur russe qui travailla avec Stanislavsky.

D'après l'oeuvre de Clifford Odets
Les oeuvres du dramaturge américain Clifford Odets ont été maintes fois adaptées sur grand écran. Parmi celles-ci, figurent L'Esclave aux mains d'or (1939) avec Barbara Stanwyck, Une fille de province (1954), Le Grand couteau (1955). Toutes ces pièces ont été par la suite réadaptées pour la télévision américaine. Egalement scénariste et réalisateur, il a mis en scène le drame social Rien qu'un coeur solitaire (1944) avec Cary Grant et le drame judiciaire Du sang en première page (1960).

Joué à Broadway
Avant d'être adaptée au cinéma, la pièce de Clifford Odets avait été jouée à Broadway en 1941.
Tallulah Bankhead interpréta le rôle reprit par Barbara Stanwyck dans le film.
L'action initiale se déroulant à Staten Island, sur la Côte Est; elle a été remplacée, selon la volonté de Fritz Lang, par le petit village californien de pêcheurs de Monterey, donc sur la Côte Ouest des Etats-Unis.

Nature VS Civilisation
Le Démon s'éveille la nuit s'ouvre sur des plans d'animaux, des mouettes se déplaçant par groupes survolant le port. Les bateaux, alignés de façon symétrique, sont ici assimilés aux oiseaux. Puis la caméra se tourne vers les pêcheurs et leur travail quotidien. Cette séquence a des allures de documentaire et ancre le film dans une réalité naturaliste. Le cinéaste ne cesse, tout le long du film, de montrer l'opposition entre la nature et la vie humaine.

Barbara Stanwyck
C'est l'unique film que Barbara Stanwyck a tourné avec Fritz Lang. Habituée des films de Capra, qui l'a fait débuter à l'âge de 23 ans dans Ladies of leisure (1930), elle tournera, durant la suite de sa carrière, pas moins de quatre films avec le réalisateur d'origine sicilienne. Citons également d'autres noms de réalisateurs avec lesquels elle a collaboré : John Ford, Billy Wilder, Cecil B. DeMille, Preston Sturges ou bien encore Samuel Fuller.

Marilyn Monroe sous tension
Marilyn Monroe apparaît ici dans l'un de ses premiers grands rôles au cinéma. Fritz Lang se souvient : "Elle avait une espèce de timidité et d'insécurité, mais elle savait très bien l'impact qu'elle produisait sur les hommes. Juste au moment du tournage, l'affaire du calendrier éclata dans la presse, et elle devint littéralement épouvantée à l'idée de venir au studio. Elle était toujours en retard, et oubliait systématiquement ses répliques."
Fritz Lang tenta par ailleurs de virer l'encombrante coach, mais Marilyn alla se plaindre aux studios, et un compromis fut adopté, bien que les rapports entre Marilyn, Lytess et Lang s'en trouvèrent désormais dans une mauvaise ambiance.
L'acteur partenaire de Marilyn, Paul Douglas ressenta aussi l'insistance de Marilyn pour garder auprès d'elle sa coach. Cet acteur ancien vétéran était aussi très irrité par les retards constants de Marilyn. Quand à Barbara Stanwyck, cette dernière se montrait tolérante face au comportement de Marilyn, en l'excusant par son insécurité parmi un casting d'acteurs vétérans virils et machos.

Lieu de tournage
Le film a été intégralement tourné à Monterey, en Californie, péninsule s'avançant dans l'Océan Pacifique et située à 160 kilomètres de San Francisco.

I Hear a Rhapsody...
La chanson du film, I Hear a Rhapsody, a été interprétée par le comédien Tony Martin, vu dans Les Marx au grand magasin (1941) ou Au fond de mon coeur (1954) de Stanley Donen.

Une publicité en or
Le film rencontra un véritable succés dès sa sortie: tant populaire (le public fut au rendez vous), que par les critiques élogieuses concernant la performance de Marilyn. Mais si le film rencontra un succés aussi rapide, c'est grâce à Marilyn Monroe, car pendant le tournage du film, l'affaire du calendrier où Marilyn posa nue par le passé sous un pseudonyme, éclata au grand jour. Au lieu de nier sous les conseils des studios, Marilyn avoua qu'il s'agissait bien d'elle sur ses fameuses photos, prétextant son besoin urgent d'argent car ne mangeant pas à sa faim et devant payer les loyers, ce qui eut comme effet d'émouvoir le public qui se prit de tendresse pour Marilyn et en fit une star sex-symbol. Le mythe était né !
>> Source web allocine et howstuffworks
02 juin 2008
Le Démon s'éveille la nuit
Les Affiches

Les Affiches Ciné, cartes lobby,
jaquettes dvd et vhs dans le monde
- les lobby cards -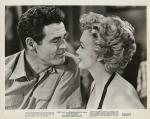 Le démon s'éveille la nuit

---
Tests Costumes
---
Les tests costumes de Marilyn Monroe dans le rôle de Peggy
Automne 1951

---
© All images are copyright and protected by their respective owners, assignees or others.
copyright text by GinieLand.
Clash by night
Photos Publicitaires
Photographies promotionelles de Marilyn Monroe
pour le film Clash by Night en 1952
Photographies de Rod Tolme
>>dans les coulisses
photographies de Bruno Bernard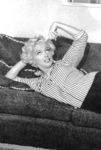 scènes de Peggy (Marilyn Monroe) dans son lit
dans Clash By Night (Le Démon s'évaille la nuit).
Clash by night
Sur le tournage
Marilyn Monroe sur le plateau de Clash by night
scènes de Peggy (Marilyn Monroe) à l'usine de poissons
dans Clash By Night (Le Démon s'évaille la nuit).
Clash by night
Sur le tournage
Marilyn Monroe sur le plateau de Clash by night
scènes de Clash By Night (Le Démon s'éveille la nuit),
où Peggy (Marilyn Monroe) porte un jean et un polo blanc.