15 février 2014
Marilyn: The Last Months
Authors: Eunice Murray, Rose Shade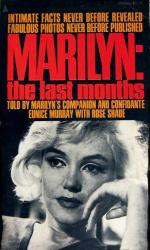 Publication Date: 1975
Nombre de pages 157 pages
Language English
Editeur: Pyramid Books
Prix éditeur: d'occasion dans les 70 Euros
ASIN: B004NFR0EW
Ou le commander ? sur amazon.com
Description: Livre écrit par Eunice Murray, la gouvernante de Marilyn, qui fut présente le soir de sa mort.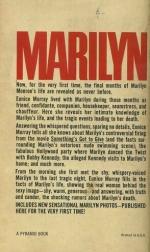 ---
Vous avez le livre ? Do you have the book ?
Apportez votre critique, votre avis ou votre note
10 septembre 2011
Japan Photo Book
Marilyn Monroe
Photographies
Auteur: ?

Date de sortie: 1975
Relié 158 pages
Langue: japonais
Éditeur: Hogashoten, Co., Ltd.
Dimension: 25,5 x 18,5 x 1,5 cm
ISBN: 978-3-8365-1185-8
Ou le commander ? avec un peu de chance, en vente sur ebay.com à 58 $
Présentation: Livre de photographies 'Memorial Album Book', 'Portraits and Snaps'.