06 février 2018
Le 8 juin 2017, lors de la vente aux enchères 'Historical & Pop Culture Auction' organisée par Profiles in History aux Etats-Unis, une guitare Fender à l'effigie de Marilyn Monroe, fabriquée pour le 40ème anniversaire des guitares Fender et du magazine Playboy (publiée dans les pages du célèbre magazine américain en décembre 1993) a été vendue pour la somme de 20 000 Dollars.

---
Description du lot sur le site invaluable.com:
122. Playboy 40th Anniversary Stratocaster – straight from the pages of Playboy and caught in the act of creation.
In 1953, Leo Fender retired to his garage shop in Fullerton, California to work on what he called an electrified Spanish guitar, something that could compete with the sound of a saxophone. Halfway across the country, Hugh Hefner sat in his Hyde Park kitchen laying out a magazine for men with the working title Stag Party. It would feature a calendar photo of Marilyn Monroe. Their creations – the Stratocaster and Playboy – would change American culture forever.
James Petersen, who wrote The Playboy Advisor for 20 years, discovered the shared anniversary and mentioned it to friends at Fender. John Page, head of the Fender Custom Shop, came up with the idea of a limited edition, Playboy 40th Anniversary Stratocaster. Almost immediately, it became apparent that the first centerfold would be the heart of the guitar – two of the sexiest shapes in the world – the sleek curves of Marilyn Monroe fit the sultry lines of the Stratocaster. Petersen and Page tossed ideas back and forth – placement of the Rabbit Heads, the official 40th Anniversary logo, and which LeRoy Neiman Femlin to use on the peghead (the mischievous creature adorned the Party Jokes page for more than 50 years). Included with the guitar are three folders documenting the design process. The Custom Shop faced a deadline – Playboy wanted a prototype to put in the Christmas Gift Guide in the December 1993 issue. This guitar was the result, seen by the more than 4.5 million readers who bought the issue. Between that appearance and the final limited edition run of 175 guitars, certain changes were made: the official LeRoy Neiman Femlin replaced the hand-drawn sketch by Pamelina. The official 40th Anniversary logo replaced an earlier, gothic logo. Two Rabbit Heads replaced the PLAYBOY logo on the 12th fret. The Limited Edition guitars sold out immediately, becoming the second most coveted and collectible of the Custom Shop guitars. This is the prototype as it arrived in Playboy's office, the summer of 1993 and is the only example of its kind. Comes with original "Fender Custom Shop" embossed leather and canvas gig bag with unused cable and tremolo bar. In pristine un-played condition. Also comes with hard shell transport case. From the collection of James Petersen. $20,000 - $30,000
16 février 2014
Les clins d'oeils à Marilyn au Cinéma
- Calendar Girl -

Ce petit film américain raconte l'histoire de trois copains qui, en 1962, se rendent à Hollywood dans l'espoir de rencontrer Marilyn Monroe. L'histoire se base sur l'histoire vraie de Gene Scanlon qui, en 1953, traversa les Etats-Unis pour obtenir un rendez-vous avec Marilyn Monroe, qui l'avait alors invité à dîner.
> la bande-annonce

> extrait (flashback)

---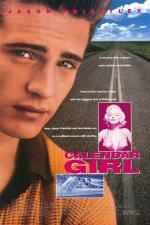 Film: Calendar Girl
Année: 1993
Pays: USA
Réalisateur: John Whitesell
Scénario: Paul W. Shapiro
Genre: comédie
Distribution: Jason Priestley (Roy Darpinian), Gabriel Olds (Ned Bleuer), Jerry O'Connell (Scott Foreman), Joe Pantoliano (Harvey Darpinian), Steve Railsback (le père de Roy), Kurt Fuller (Arturo Gallo), Lisa Walters (Delphine), Stephen Tobolowsky (Antonio Gallo), Emily Warfield (Becky O'Brien), Leslie Wing (la mère de Ned), Christine Taylor (Melissa Smock), Liz Vassey (Sylvia), Maxwell Caulfield (l'homme en peignoir), Chubby Checker (lui-même), Stephanie Anderson (Marilyn Monroe), Cortney Page (la voix de Marilyn Monroe), Tuesday Knight (la femme nue), Curt Truman (Bobby Kennedy Jr)...
L'histoire: Alors que Marilyn Monroe accède à la célébrité, trois amis d'enfance -Roy, Ned et Scott- obtiennent sournoisement des photos osées de la star afin de satisfaire leur plaisir pubère. Une fois adultes, Roy a les yeux fixés sur l'adhésion à l'armée malgré sa relation tendue avec son père. Son copain, Scott, a une prothèse à la jambe et doit se marier bientôt avec sa chérie Becky, tandis que son autre copain, Ned (surnommé "Bleuer") travaille dans un petit magasin de la ville. Les trois copains décident de partir en voyage pour aller à la rencontre de Marilyn Monroe.
Grâce à l'oncle de Roy, les trois amis se rendent en Californie où ils parviennent à voir un bref instant la fabuleuse et magnifique Mlle Marilyn Monroe. Leur quête malicieuse les mène à des bêtises, en élaborant de folles idées afin de rencontrer leur idole: ils mettent une vache devant la résidence de luxe de Miss Monroe, ils sont arrêtés pour excès de vitesse après avoir poursuivis Marilyn jusqu'à une plage de nudistes; le tout mené par une intrigue secondaire où ils doivent esquiver quelques méchants qui courent après Roy.
Ne parvenant pas à leurs fins, les garçons décident de repartir et se rendent une dernière fois en ville. Par surprise, ils rencontrent Marilyn qui accepte un rendez-vous avec l'un d'eux. Roy est d'abord désigné, mais c'est finalement Ned qui va passer une nuit fabuleuse avec la star. Les garçons se rendent à la maison de Marilyn pour apprendre qu'elle vient de décéder d'une surdose de drogues. Les garçons rentrent chez eux et poursuivent leur vie...
> Sur le web: le film sur wikipedia et sur imdb ((en anglais)
---
© All images are copyright and protected by their respective owners, assignees or others.
copyright text by GinieLand.
Enregistrer
30 janvier 2013
Marilyn Monroe,
La première biographie qui dit toutes les vérités
Auteur: Donald Spoto

Date de sortie: 1993
Couverture tissu ? pages
Langue: français
Éditeur: France Loisirs
Prix éditeur: ? Euros
ISBN-10: 2724277074
ISBN-13: 978-2724277074
Ou le commander ? sur amazon

Description: Ni scandaleux ni sulfureux, le livre de Donald, Spoto, qui retrace la vie et la carrière de la plus célèbre des actrices américaines, s'adresse aux véritables fans de Marilyn Monroe. Pas de ragots ici, ni de pathos, mais des faits, précis, détaillés, et une admiration sans bornes pour cette jeune femme fragile, en révolte contre son image de "blonde explosive". C'est une Marilyn, inconnue que vous découvrirez dans ces pages, même si vous croyez déjà tout savoir d'elle, de son enfance difficile, de ses mariages, liaisons, dépressions et autres mythes, démontés par l'auteur. Il n y a plus de starlette ni de star ici, mais une actrice belle et émouvante au-delà des mots, dont la vie semble enfin, pour la première fois peut-être- retracée dans toute sa magnifique et tragique vérité.
---
Vous avez le livre ? Do you have the book ?
Apportez votre critique, votre avis ou votre note (/10)