03 mars 2008
1/ Gala d'anniversaire de JFK
Le 19 mai 1962 Marilyn Monroe participe au Gala pour l'anniversaire du président John F. Kennedy. Elle est vêtue d'une somptueuse robe de soie cousue à même son corps, sous laquelle elle ne porte aucun sous-vêtement, et porte une fourrure d'hermine blanche qu'elle aurait empruntée au département costumes de la Fox (qui ne cautionne pas la venue de l'actrice au Gala de JFK). Une foule de 15 000 démocrates sont venus acclamer les 45 ans de leur président au Madison Square Garden à New York. Jackie Kennedy, la femme du président, est absente. Ayant consulté la liste des invités, elle a emmené ses enfants faire du cheval en Virginie. Jack Benny, Henry Fonda, Ella Fitzgerald, Peggy Lee et Maria Callas doivent se produire. Après avoir abusé du Dom Pérignon dans sa loge car pétrifiée par le trac, c'est comme à son habitude que Marilyn arrive avec environ 40 minutes de retard. C'est après plusieurs annonces infructueuses pendant lesquelles les roulements de tambours et les projecteurs éclairent une scène vide, que Peter Lawford (le beau frère de JFK) présente Marilyn en des termes plutôt ambigus: "Mr. President, the Late Marilyn Monroe" ["late" voulant aussi bien dire "en retard" que "décédée"]. Marilyn chante sur scène le désormais mémorable Happy Birthday et Thank you for the memory. Puis le Président exprime sa reconnaissance à la chanteuse en déclarant: "Maintenant que j'ai entendu un "Happy Birthday" chanté d'une façon aussi douce et agréable, je peux me retirer de la politique".
>> la vidéo du passage de Marilyn (et paroles de la chanson) à voir ici
---
> Photographies de Henry Grossman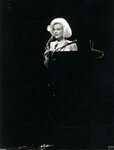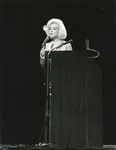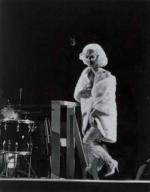 ---
---
---
---
Marilyn Monroe en fourreau blanc dans les coulisses du show d'anniversaire du Président John Fitzgerald Kennedy le 19 mai 1962 au Madison Square Garden à New York.
>> Marilyn escortée par son attachée de presse Patricia Newcomb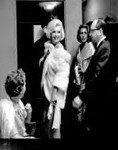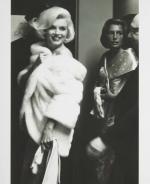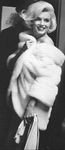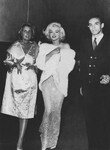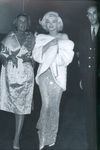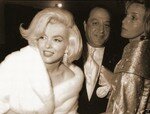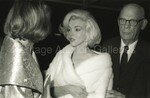 >> Marilyn au bras de son ex beau père Isadore Miller (père d'Arthur)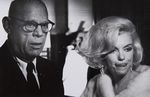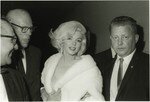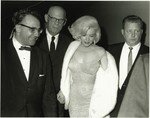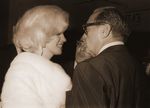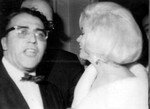 >> Marilyn discute avec Peter Lawford (beau frère de JFK)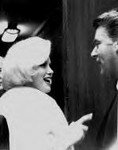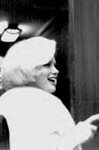 >> Le départ de Marilyn (et une carte postale)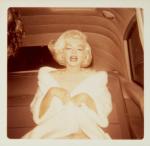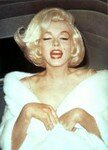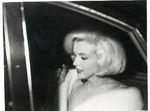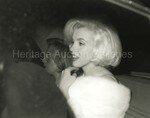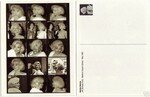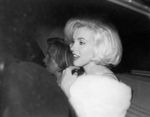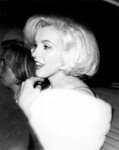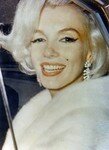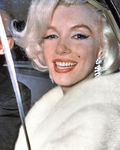 ---
- témoignage de James Haspiel, qui se trouvait dans le public

---
- L'autre cadeau de Marilyn à JFK -
- The other gift of Marilyn to JFK -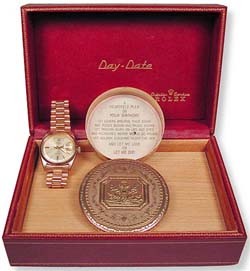 Outre son interprétation scénique, Marilyn Monroe offrit à JFK un cadeau privé:
. une montre Rolex en or gravée au dos [JACK - With love as always - from - MARILYN - May 29th 1962],
. accompagnée d'un poème intitulé "A Heartfelt Plea on Your Birthday" [Let Lovers breathe their sighs / And roses bloom ans music sound / Let passion burn on lips and eyes / And pleasures merry world go round / Let golden sunshine flood the sky / And let me love / Or let me die !]. Quand JFK reçut ce cadeau des mains de son aide de camp Kenneth O' Donnell, il aurait répondu à ce dernier: "Débarassez-vous en", au lieu de le jeter, ce dernier l'aurait alors gardé pour lui. La montre fut vendue aux enchères en 2005 pour la modique somme de 120,000 $.
(>> sur le web: article sur cbsnews et sur watchrolex
---
© All images are copyright and protected by their respective owners, assignees or others.
copyright text by GinieLand.