07 février 2014
Khaki Lace Top and Black Skirt from 'Bus Stop'
Blouse kaki et Jupe noire de 'Bus Stop'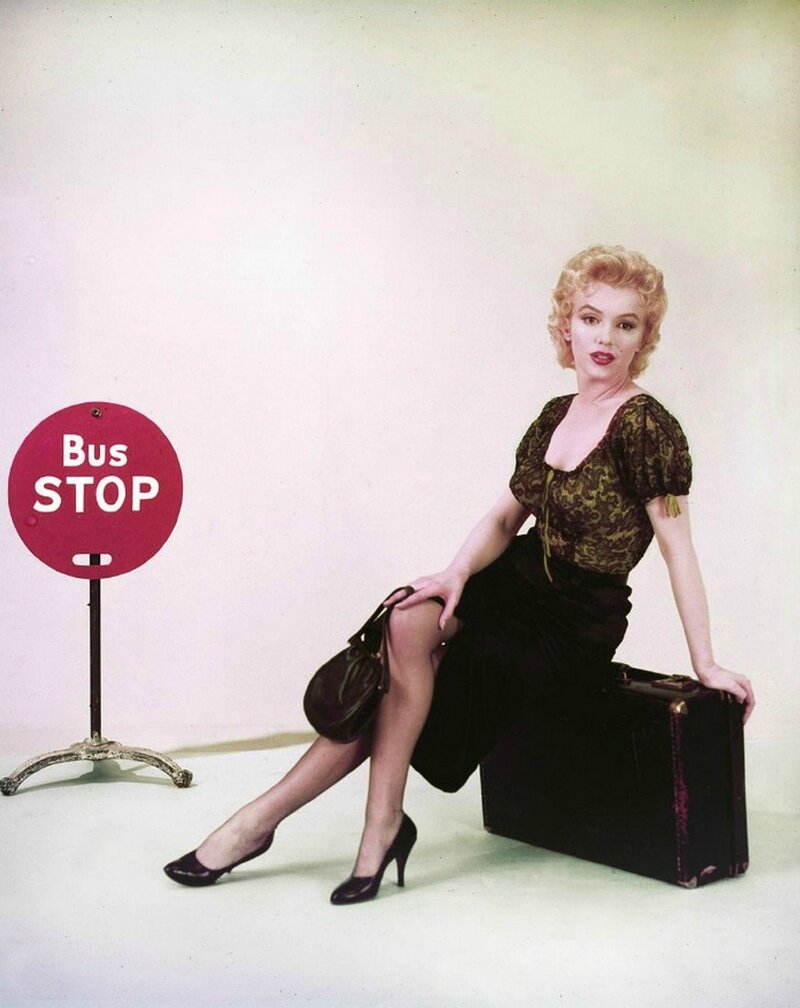 Beaucoup ont longtemps pensé que la tenue avait été conçue par le créateur et couturier de la 20th Century Fox, William "Billy" Travilla pour le film Bus Stop (Arrêt d'Autobus) tourné au printemps 1956. Cependant, il semblerait que Marilyn avait refusé les costumes de Travilla pour le film, qu'elle considérait bien trop beaux pour son rôle de Cherie, une chanteuse paumée d'un petit cabaret miteux, excepté le body de danseuse qu'elle porte quand elle chante "That old Black Magic" qui serait bien une création de Travilla pour le film; et qu'elle avait alors emprunté au département costumes de la Fox les autres tenues qu'elle porte dans le film. Or, on découvre -à tort- le nom de Travilla comme étant le créateur de cette tenue (blouse et jupe) pour les photographies des tests costumes qu'elle a fait le 3 février 1956:
> Marilyn porte la tenue dans une grande partie du film: dans la fameuse scène de la compétition de rodéo puis toutes celles dans l'auberge restaurant de Grace (scénes 7, 8, et de 13 à 17):
---
La Blouse
Le chemisier - blouse est de couleur vert kaki, doublé d'un tissu en dentelles noires transparent, qui dessine des motifs géométriques. Les manches sont courtes, et chacune d'elle est resserrée par une cocarde verte qui se noue, tout comme au décolleté, resserré par un cordon vert, que Marilyn a noué en corcarde et laisse pendre les extrémités.
> Le 15 avril 1956, Marilyn Monroe pose dans les décors de la Fox, pour des portraits publicitaires sous l'objectif de Milton Greene; elle porte la blouse de "Bus Stop" dans la séance nommée "Hooker Sitting", mais la jupe est différente (dans le film, c'est une jupe droite à gros boutons, alors que pour la séance 'Hooker', elle porte une jupe plissée évasée et ouverte jusqu'en haut):
> La blouse n'est pas une création pour le film "Bus Stop" et Marilyn l'a bien emprunté au département costumes des studios de la Fox. En effet, la blouse est portée par l'actrice Susan Hayward dans le film "With a song in my heart" ("Un refrain dans mon coeur") réalisé par Walter Lang et sorti sur les écrans américains le 4 avril 1952, et c'est le couturier Charles Le Maire qui était chargé de la création des tenues de ce film.
> Après le tournage de "Bus Stop", la blouse fut donnée au magazine Picture Show and Film Pictorial et a été gagnée par l'une de ses lectrices lors d'un concours.
>> Par la suite, la blouse fut vendue au enchères: d'abord, en 1988, par Sotheby's où c'est la sosie de Marilyn, Kay Kent, qui défila dans l'assistance en portant la blouse, qui fut rachetée par un homme d'affaire, Patrick Mills, pour la somme de 12 600 dollars, qui l'avait achetée pour sa fille de 16 ans qui souhaitait faire carrière au cinéma et dans la musique (voir l'article sur apnewsarchive.com):
>> Video "Blouse Auction 1988"


>> La blouse et la jupe se retrouvent encore aux enchères les 13 et 14 mars 2000, aux "Butterfields Auctioneers"sur Sunset Blvd à Hollywood. le costume de 'Bus Stop' étant estimé entre 15 000 et 25 000 $ (la robe de 'River of No Return' entre 30 000 et 50 000 $, et celle de 'Gentlemen Prefer Blondes' entre 15 000 et 25 000 $).
>> Puis la blouse a changé à nouveau de propriétaire; elle appartient aujourd'hui à David Roberts qui l'a prêtée pour l'exposition consacrée à Marilyn Monroe et organisée à Jersey en 2009:
La sosie de Marilyn, Suzie Kennedy, l'a aussi portée pour une séance de photos en 2009:
---
Inspirations
> L'actrice Jayne Mansfield porte une robe noire lors de son voyage promotionnel en Europe en 1957 dont le buste de la robe est fortement inspiré par la blouse: tissu noir en dentelles, au même décolleté. Photographies de Jayne prises le 26 juin 1957 à l'hôtel Dorchester de Londres en Angleterre; puis en France; et enfin, le 5 octobre 1957 à Frankfurt en Allemagne:
> La chanteuse et actrice Madonna copie des photos célèbres de Marilyn Monroe pour l'édition "Vanity Fair" d'avril 1991, sous l'objectif de Steven Meisel. Et pour cette séance, elle reprend la pose de la séance "Hooker" de Marilyn:

---
La jupe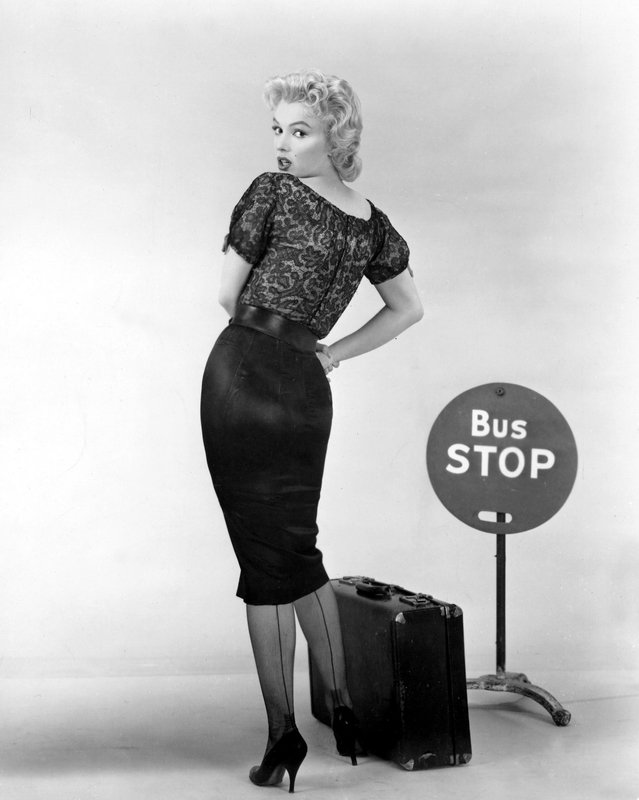 C'est une longue jupe noire droite et très près du corps, voire même moulante. Elle dessine littéralement les courbes de Marilyn. D'un tissu satiné, elle comporte huit gros boutons noirs sur le devant, et elle est fendue dans le bas. Marilyn la porte avec une ceinture noire, dont la boucle est aussi noire.
> On retrouve la jupe trois ans plus tard, portée par l'actrice d'origine suédoise May Britt dans le film "The Blue Angel" ("L'ange bleu") réalisé par Edward Dmytryk et sorti sur les écrans américains le 4 septembre 1959; l'actrice la porte non boutonnée, afin que la jupe soit fendue jusqu'en haut, pour accentuer le côté sexy de la tenue:
---
> article de presse

---
© All images are copyright and protected by their respective owners, assignees or others.
copyright text by GinieLand.
Enregistrer