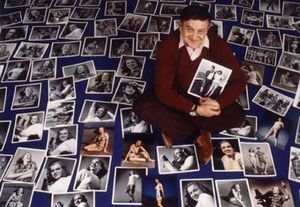 Le photographe Joseph Jasgur est décédé samedi 21 mars 2009 (deux jours avant son anniversaire) à Orlando en Floride, à l'âge de 89 ans. Né le 23 mars 1919, il passa sa vie à tenter de regagner les droits de ses photos de Marilyn.
>> news du site fan growingbolder (-en anglais)
In 1946, Hollywood photographer Joe Jasgur was asked to take some photos of Norma Jeane Dougherty. They turned out to be the photos that launched Marilyn's career.
Jasgur first met Norma Jeane on March 6, 1946. He got a phone call from Emmeline Snively who was the director of the Hollywood Blue Book Model Agency. She asked if Joe could do her a favor and take some pictures of a newcomer to see if the camera liked her.
Norma Jeane was just nineteen at the time. And yes, the camera liked her very much! And even more important, she liked the camera even more! Joe took some pictures in the alley behind his studio near the corner of Beverly Blvd. and Poinsettia Place. Less than a week later, on March 10th, Joe took Norma Jeane to the top of the Don Lee Towers above the "Hollywood" sign; she wore a plaid shirt and dungarees. Mrs. Snively liked the photos but wanted to see what would happen if she lightened and straightened her hair. Shortly after that, Norma Jeane and Joe were off to Zuma Beach in Malibu where he took pictures of her wearing a striped, two-piece bathing suit. Those photos did the trick.
Norma Jeane became one of Blue Book's most successful models. Through that exposure she came to the attention of the casting director at 20th Century-Fox and soon after, Marilyn Monroe was born!!!
But one of the photos Jasgur took on the beach is one of the most examined photos of her ever taken. It looks as though on her left foot she has six toes! Did she?
We set out in search of Jasgur and we found him! He was eager to show us the photo and talk about his recollections of one of the world's most enduring icons. The result, is this video interview.
Sadly, this may very well be the last on-camera interview he ever gave. Jasgur died on Saturday, March 21st, just two days before his 90th birthday.
We found Jasgur to be quite a character. But his later years were not happy ones. For years, he was embroiled in a fight for legal ownership of his photos, which included countless shots taken during World War II at the Hollywood Canteen, a nightspot frequented by the biggest stars of the day.
Jasgur also took crime photos for police investigations. His most infamous crime photo was of the body of the Black Dahlia, a murder mystery that remains unsolved to this day.
His case had been in bankruptcy court for a decade. He was still waiting for resolution at the time of his death. Jasgur died broke and alone in a nursing home. He had been suffering from dementia.
Nevertheless, Joe Jasgur has a place in Hollywood history as the man who took the photos that launched the career of the greatest icon the film industry has ever known. This story becomes an invaluable historical account of a fascinating individual
ayant ajouté cette info de dernière minute, et manquant de temps, je traduirai ultérieurement le texte en français.