Black and White Sleeveless Sweater Dress
robe sweat noire et blanche sans manches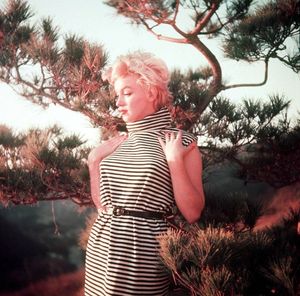 On ne connait qu'une seule séance photos où Marilyn Monroe porte cette robe, qui est une création du couturier Walter Bass: pendant l'été 1954 où Marilyn pose dans une villa de Palm Springs sous l'objectif du photographe Ted Baron. Cette robe ample, au col roulé et aux rayures noires et blanches, est à la fois moderne et classique. C'est une robe sportswear que Marilyn portait quand elle voulait être décontractée. Elle la porte tantôt avec une petite ceinture noire, tantôt sans.
---
En hiver 1957, Jayne Mansfield, l'actrice qui copie Marilyn, se rend au Japon pour le "USO Tour" de Noël, en compagnie de l'humoriste et comédien Bob Hope, afin de remonter le moral des troupes US postés sur place. D'ailleurs, un peu comme l'avait aussi fait Marilyn en se produisant sur scène en Corée en février 1954.
Jayne porte là-bas de nombreuses toilettes différentes (des robes décolletés ou non, de diverses couleurs), et apparaît un jour vêtue de la même robe rayée que Marilyn porta quelques années auparavant.
Elle va aussi porter la robe à d'autres occasions, comme sur les plateaux de tournage ou pour une publicité pour du maquillage.
---
All photos are copyright and protected by their respective owners.
Copyright text by GinieLand.
Enregistrer