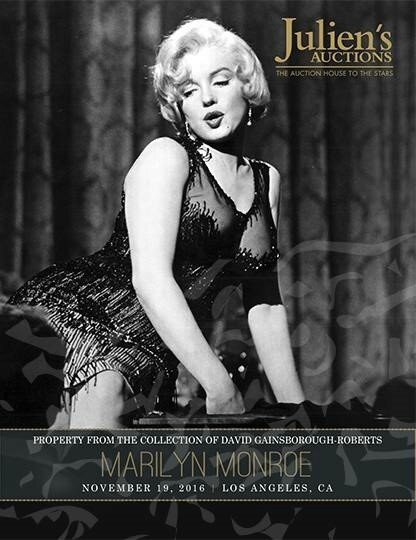 Vente aux enchères 'Marilyn Monroe' de la collection de David Gainsborough Roberts le 19 novembre 2016 par Juliens Auction à Los Angeles, aux Etats-Unis.
Le catalogue est en vente dans une boîte en lot avec 3 autres catalogues (et non à l'unité) au prix de 250 $ sur le site de juliensauction
> Bientôt les lots en ligne sur le site de juliensauction
Présentation: Auction includes David Gainsborough-Roberts curated collection of Marilyn Monroe film worn costumes, personal wardrobe, jewelry, and personal items. The sale features film costumes that represent an extensive portion of Marilyn's acting career, from Niagara (20th Cent., 1953) to Some Like It Hot (United Artists, 1959). The auction celebrates Monroe's life and consists of film costumes, designer wardrobe and costume jewelry, personalized gifts from Monroe, documents, personal correspondences and personal items.
Collector David Gainsborough-Roberts is known to have amassed the world's largest collection of Marilyn Monroe memorabilia which he has carefully and lovingly curated for years.
Costumes et Accessoires portés dans des films / pour des photos:
Highlights from this historic sale include Seven of Marilyn's most notable films are represented in this auction with many created by award winning designers and well known costumers of Hollywood yesteryear :
- a sheer black beaded and sequined dress worn by Monroe in her Golden Globe winning role Sugar Kane as she crooned "I'm Through With Love" in the award winning 1959 film Some Like it Hot;
- an elaborate embellished stage gown worn by Monroe as she sang "After You Get What You Want You Don't Want It" in the 1953 comedy There's No Business Like Show Business which was designed by one of Marilyn's all-time favorite designers, William Travilla;
- a pink linen halter wiggle dress designed for Monroe by Dorothy Jenkins for the 1953 thriller Niagara;
- a green satin one-piece with black sequins and gold fringe worn by Monroe as she sang "That Old Black Magic" in the 1956 film Bus Stop;
- the white full-length gown of satin with sheer overlay embellished with faux pearls created by Academy Award nominated designer Beatrice Dawson and worn by Marilyn in "The Prince and The Showgirl," the second of two films produced by Marilyn Monroe Productions.
- Additional film pieces offered include costumes from Gentlemen Prefer Blondes to Let's Make Love and The Misfits, along with a pair of rhinestone earrings worn by Monroe in How To Marry A Millionaire and a pair of sequin embellished opera gloves from the Rachmaninoff scene of The Seven Year Itch.
- Publicity worn items include the 19th century style bodice Monroe wore when she was photographed by Jack Cardiff in 1957, and also the lilac colored satin leotard Marilyn wore to be photographed by Richard Avedon when she posed as Lillian Russell for a 1958 feature in Life magazine.

Vêtements et effets personnels:
Monroe's personal style is represented by :
- a figure hugging black cocktail dress by Ceil Chapman, a favorite of Monroe;
- a slender fitting bias cut crepe evening gown worn by Monroe to the 1955 premiere of The Rose Tattoo;
- an embellished slubbed silk Lanvin gown;
- rhinestone jewelry;
- evening gloves;
- shoes.
Personal items include:
- prescription pill bottles,
- Victoria and Albert museum exhibited high heels,
- a plastic doll in the likeness of Monroe given as a souvenir at her 34th birthday party;
- documents and correspondences;
- household items;
- and Monroe's Detroit Free Press "New Faces Award" from 1952.
---
Exposition des lots :
> Londres - du 25 mai au 20 juin 2016
Design Centre, Chelsea Harbour
Lots Road
London
SW10 0XE
> Irelande - du 25 juin au 25 juillet 2016
Museum of Style Icons
Newbridge Silverware
Newbridge
Co. Kildare
Ireland
> Voyage en mer sur le QUEEN MARY 2
Depart de New York le 9 août 2016
Arrivée Southampton le 16 août 2016

> Los Angeles - du 14 au 18 novembre 2016
gratuit -Julien's Auctions
741 North La Cienega Boulevard
Los Angeles, California 90069

Enregistrer
Enregistrer