Télégramme de Sydney Chaplin (fils de Charlie Chaplin) envoyé à Marilyn Monroe le 10 juillet 1958; Sydney Chaplin connaît Marilyn depuis la fin des années 1940s, il la sollicite pour obtenir un petit rôle dans le film "Certains l'aiment chaud" qu'elle va commencer à tourner en août:
"C'était vraiment agréable d'entendre à nouveau ta voix / Dans mon livre, tu es toujours la même personne merveilleuse que tu as toujours été / Les choses ont été lentes dans le cinéma pour moi / Je suis sûr que quelques mots pour Billy Wilder de vous m'aidera à être dans le film en tant que l'un des hommes de la mafia de George Rafts / S'il vous plaît Marilyn faites cela pour moi car vous savez que je livrerai en ce qui concerne mon talent / Si j'obtiens une entrevue avec M. Wilder je suis sûr qu'il m'utilisera comme une faveur personnelle pour vous / J'essaierai de revenir sous 16 jours / Je télégrapherai encore ce soir / Je t'embrasse / Sydney. "
Telegram from Sydney Chaplin (son of Charlie Chaplin) sent to Marilyn Monroe on July 11, 1958; Sydney Chaplin knowns Marilyn since the late 1940s, he asks her to get a small part in the movie "Some like it hot" that she will start filming in August:
"It sure was nice to hear your voice again/ In my book you are still the same wonderful person you always were/ Things have been slow in pictures for me/ I am sure a few words to Billy Wilder from you will help me get on the picture as one of George Rafts mob men/ Please Marilyn do this for me as you know I will deliver as far as my talent is concerned/ If I get an interview with Mr. Wilder I'm sure he will use me as a personal favor to you many / Will try to return by sixteenth/ Will cable again tonight definitely Love / Sydney."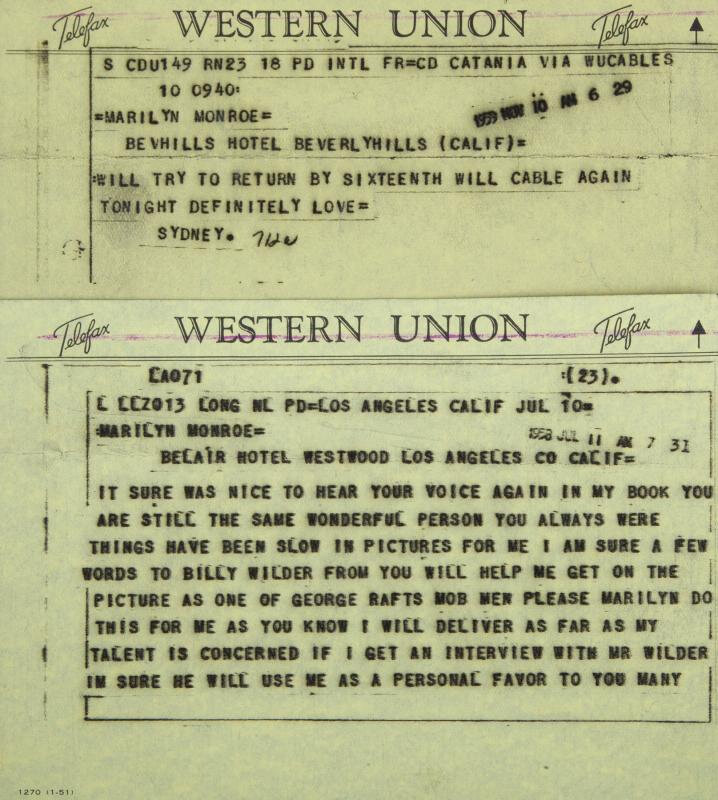 ---
© All images are copyright and protected by their respective owners, assignees or others.
copyright text by GinieLand.