Contrat signé par Marilyn Monroe le 03 juillet 1952 à Los Angeles, Californie, faisant état d'un accord publicitaire entre les studios de la 20th Century Fox et la marque de cosmétique The House of Westmore. A travers ce contrat, Westmore peut utiliser l'image et le nom de Marilyn et en contrepartie, une publicité de la sortie de l'un des films de Marilyn est mentionné.
Mention du contrat: "Le soussigné, Twentieth Century-Fox Film Corporation, une société de New York, donne et accorde par la présente à House of Westmore, le droit non exclusif d'utiliser le nom et l'image de Marilyn Monroe... Le dit nom et/ou image ne doivent être utilisés que par House of Westmore en relation avec son produit de cosmétique de la manière suivante: journaux, magazines, fenêtres et présentoirs de comptoir, matériel de point de vente."
Contract signed by Marilyn Monroe on July 3, 1952 in Los Angeles, California, reporting an advertising agreement between Twentieth Century Fox studios and the cosmetics brand The House of Westmore. Through this contract, Westmore can use Marilyn's image and name and in return, an advertisement for the release of one of Marilyn's movie is mentioned.
Contract statement: "The undersigned, Twentieth Century-Fox Film Corporation, a New York corporation, hereby gives and grants to House of Westmore, the non-exclusive right to utilize the name and likeness of Marilyn Monroe... Said name and/or likeness shall be used only by House of Westmore in connection with its product Cosmetics in the following manner: Newspapers, magazines, window and counter displays, point of sale material."

- contrat 1er exemplaire -
vendu aux enchères en 2017 par Profiles in History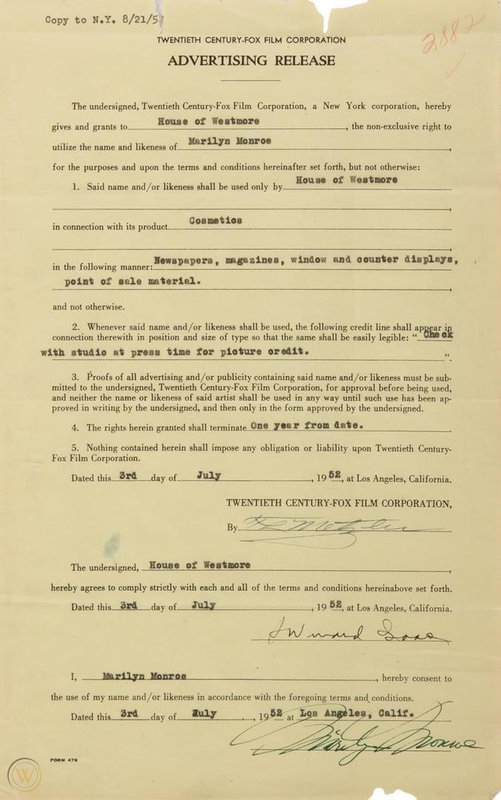 - contrat 2ème exemplaire -
vendu aux enchères en 2016 par Julien's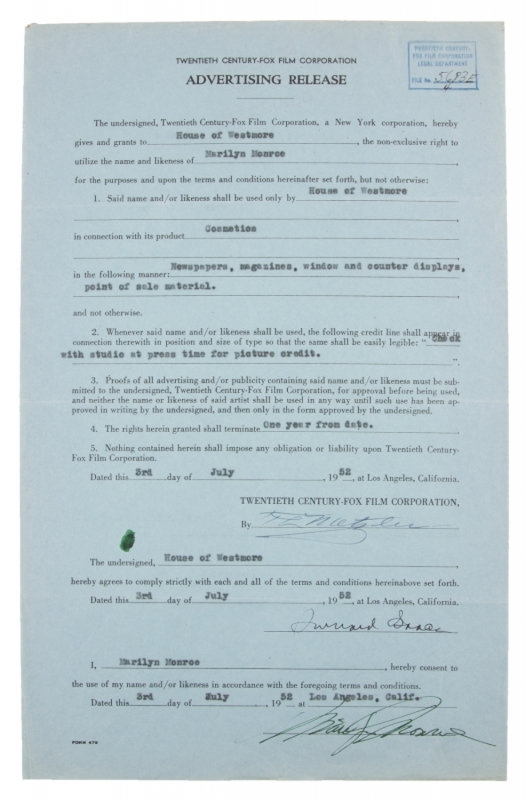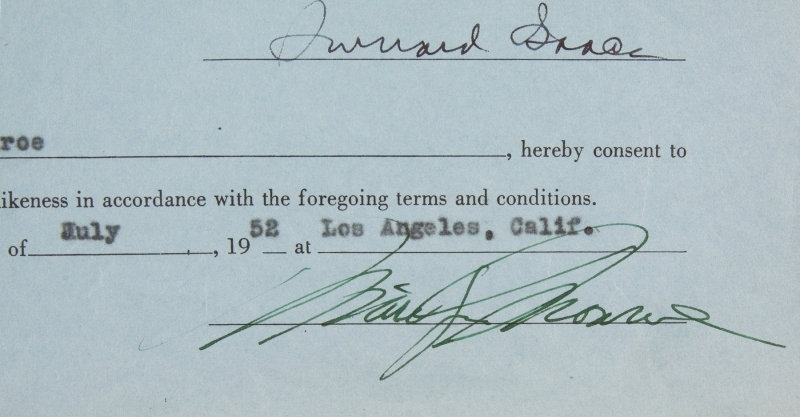 ---
Publicités pour le fond de teint liquide "True-Glo" des cosmétiques Westmore publiées dans la presse américaine en 1952 et en 1953: sur la photographie de Marilyn, s'y trouve la mention du film de la Fox "Niagara", qui sort sur les écrans américains en février 1953. La photographie publiée de Marilyn semble dater de 1951.
Advertisements for the "True-Glo" liquid make-up from Westmore cosmetics published in the American press in 1952 and in 1953: on Marilyn's photograph, there is the mention of the Fox film "Niagara", which is released on American screens in February 1953. The photograph published of Marilyn seems to ba dated in 1951.

- Publicité de 1952 -
Blog: Pub Westmore, 1952

- Publicité de 1953 -
Blog: Pub Westmore, 1953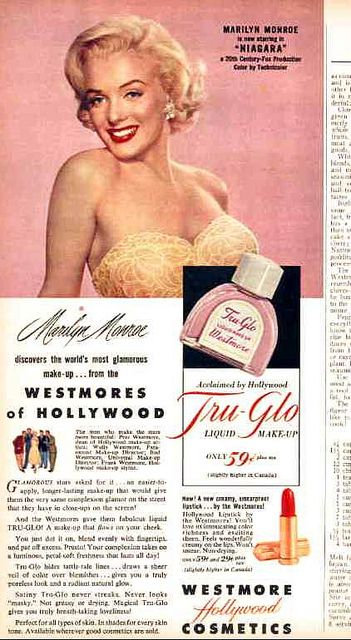 ---
© All images are copyright and protected by their respective owners, assignees or others.
copyright text by GinieLand.