28 janvier 2008
AS YOUNG AS YOU FEEL
Rendez-moi ma femme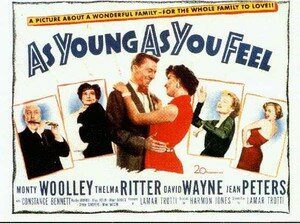 Dates de sorties dans le monde
USA: 2 août 1951
Suède: 21 juillet 1952
Finlande: 12 juin 1953
Hong Kong: 5 mars 1953
Autriche: 1955
Le titre du film à travers le monde
USA: As Young as you feel
titre du script: Will You Love Me in December?
France: Rendez-moi ma femme
Italie: L'Affascinante bugiardo
Autriche: Alter schützt vor Torheit nicht
Finlande: Ikuinen valehtelija
Suède: Plats för skratt
Venezuela: El Gran impostor
Fiche technique
Réalisateur: Harmon Jones
Scénaristes: Paddy Chayefsky et Lamar Trotti
Production: Lamar Trotti pour 20th Century Fox
Assistant réalisateur: Arthur Lueker
Direction artistique: Maurice Ransford et Lyle R. Wheeler
Décors plateau: Thomas Little et Bruce MacDonald
Image: Joseph MacDonald
Montage: Robert L. Simpson
Musique: compositeur: Cyril J. Mockridge
Musique: Maurice De Packh et Lionel Newman
Son: W.D. Flick et Roger Heman Sr.
Costumes: Renié et Charles Le Maire
Maquillage: Ben Nye
Genre: Comédie
Pays: États-Unis
Format: Noir et blanc - 1,37:1 - mono - 35 mm
Durée: 77 min
Distribution (créditée)
Monty Woolley: John R. Hodges
Thelma Ritter: Della Hodges
David Wayne: Joe Elliott
Jean Peters: Alice Hodges
Constance Bennett: Lucille McKinley
Marilyn Monroe : Harriet
Allyn Joslyn: George Hodges
Albert Dekker: Louis McKinley
Clinton Sundberg: Frank Erickson
Minor Watson: Harold P. Cleveland
Wally Brown: Horace Gallagher
Russ Tamblyn: Willie McKinley

Synopsis

Le lendemain d'un concert où il s'est fait remarquer en exécutant un solo pas vraiment prévu, John Hodges apprend qu'il est mis à la retraite de l'imprimerie où il travaille depuis des années car il a atteint l'âge de 65 ans. Son fils, sa belle-fille, sa fille et le fiancé de celle-ci compatissent. Mais John ne veut pas en rester là et souhaite rencontrer le Président du groupe qui possède la compagnie; mais le problème c'est que personne ne le connait et ne l'a même jamais vu. John écrit alors au directeur de son entreprise en se faisant passer pour l'état-major du président: celui-ci va venir de New York inspecter l'imprimerie dans quelques jours. John, étant dans la peau du président, fait visiter l'entreprise au directeur Louis McKinley; puis John et Louis sortent avec la femme de ce dernier au country club du coin. John en tant que président en a profité pour donner un ordre à la direction de réintégrer les forces de travail expérimentées pour qu'il puisse ainsi reprendre son poste. Le discours de John, à la fois libéral et social, fait mouche et traverse les États-Unis d'un bout à l'autre. Le vrai président est évidemment surpris et décide de remettre les choses en ordre mais il est un peu coincé dans son action car le groupe qu'il préside a fortement bénéficié de tout ce tapage. Après une visite impromptue du président à John, tout se termine bien : John va pouvoir retourner travailler, la femme du directeur McKinley, qui était tombée un peu amoureuse de John, revient à son mari, et le fiancé de la fille de John obtient une promotion donc ils vont pouvoir se marier.
>> Sur le web:
- fiche sur imdb (en anglais)
- infos sur le film sur le wikipedia français
- infos sur le film sur cinemotions (en français)
- critiques en anglais sur dvdverdict
23 janvier 2008
Rendez-moi ma femme
Les Affiches
Les Affiches Ciné et Cartes lobby, dvd & vhs
à travers le monde
>> Source web: affiches cartes lobby sur movieposter.com
Rendez-moi ma femme

---
Tests Costumes
---
Test Costumes pour le film Rendez-moi ma femme
- créateur: Renié -

Costumes tests for the movie As Young As You Feel
- designer: Renié -
---
prises de vues le 14 décembre 1950
---
prises de vues le 22 janvier 1951
---
© All images are copyright and protected by their respective owners, assignees or others.
copyright text by GinieLand.
22 janvier 2008
Rendez-moi ma femme
Photos partie 1
Ière partie des photos du film - scène avec
Marilyn Monroe (dans le rôle d' Harriet)
Rendez-moi ma femme
Photos partie 2

Marilyn Monroe dans le rôle d'Harriet)

Rendez-moi ma femme
Photos partie 3
scène avec Marilyn Monroe (alias Harriet)
21 janvier 2008
Rendez-moi ma femme
Vidéo extrait
Extrait des scènes de Marilyn dans As Young as you feel
Rendez-moi ma femme
Sur le tournage
Marilyn Monroe compte bien rester en haut de l'affiche !
---
---
- photographies de Earl Theisen -
20 janvier 2008
RENDEZ-MOI MA FEMME
~~~ A propos de Marilyn Monroe ~~~

Secrets de tournage ...
Son rôle
Marilyn Monroe, pour son 11ème film, se situe en 6ème position du générique. Elle joue le rôle de la secrétaire du directeur de l'imprimerie et fait montre de professionnalisme et de détermination puisqu'elle s'adresse même à son chef pour lui rappeler les devoirs de sa fonction lorsqu'il perd son sang-froid (ne pas rater l'instant où elle lui tire la langue, dans son dos). Il s'agit du premier film qu'elle tourne avec la Fox dans le cadre de son nouveau contrat.

Un tournage difficile pour Marilyn & la rencontre avec Kazan
Johnny Hyde, le mentor imprésario et amant de Marilyn Monroe, meurt d'une crise cardiaque le 18 décembre 1950. Chassée de l'appartement que lui louait Johnny et dépouillée de tout ce qu'il lui avait offert par la famille de celui-ci, Marilyn tombe dans la dépression, se sentant responsable de la mort de son pygmalion car elle ne se trouvait pas à ses côtés au moment de son attaque cardiaque. Cependant, il y au moins ce cadeau posthume qui ne lui sera pas reprit: Johnny a en effet insisté auprès des dirigeants de la Fox pour réengager sa protégée et c'est ainsi que le scénario d' As You as you feel lui ait été proposé. Marilyn partage ainsi l'affiche avec des pointures du cinéma d'alors: Monty Wooley, Thelma Ritter, Jean Peters. Mais lorsque débute le tournage, Marilyn a bien du mal à contenir son chagrin et s'effondre en larmes dans les coulisses. Le réalisateur Harmon Jones se plaint un jour du comportement de l'actrice à Elia Kazan, qui est venu faire un tour sur le tournage en compagnie d'Arthur Miller, le futur mari de Marilyn. Les deux hommes vont tomber sous le charme de la future star; Miller restant fidèle à sa femme, mais surtout étant trop timide pour aborder la blonde, Kazan séduit Marilyn, pour lui changer les idées et se remettre de sa peine. Leur liaison dura 6 mois.
Les scènes de Marilyn dans le film
1- Apparition à la 16ème minute, au bureau: courrier, téléphone, café pour le chef.
2- Passage remarqué par ses collègues dans le couloir pour se rendre à la réunion des cadres où elle prend des notes du discours du (faux) président.
3- Au country club, arrivant avec le chef du personnel, elle préfère s'en aller car elle voit que son chef est là aussi.
4- Au téléphone (qui a appelé?), elle explique le soir même à son directeur que sa venue au club se justifiait par une séance de travail. "En robe du soir?"
5- Au bureau, alors que le vrai président arrive.
6- Toujours au bureau, alors que le directeur se fait une petite crise.

Retrouvailles passées et futures
Avec les acteurs suivants, elle aura partagé l'affiche de Rendez-moi ma femme:
Jean Peters : O' Henry's full house (La Sarabande des pantins) en 1952 (cependant, pas dans le même sketch) et Niagara (1953)
Thelma Ritter : All About Eve (Ève) en 1950 et The Misfits (Les Désaxés) en 1961.
David Wayne : We're not married (Cinq mariages à l'essai) en 1952, O' Henry's full house (La Sarabande des pantins) en 1952 et How to Marry a Millionaire (Comment épouser un millionnaire) en 1953.
>> source: wikipedia