02 mai 2023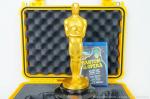 Enchères "Artifacts of Hollywood, Music, and Sports"
08 avril 2023
- 30 lots avec Marilyn Monroe -

> 08/04/2023, GWS AUCTIONS "Artifacts of Hollywood, Music, and Sports": Vente
---
Lot # 1: Marilyn Monroe's Orange Floral Bathing Suit
Marilyn Monroe's Personally Owned Orange Floral Bathing Suit From The Sydney Guilaroff Collection W/Notarized Letter of Provenance - This lovely orange floral one piece bathing suit was personally owned by Marilyn Monroe. The swimsuit has a back zipper, adjustable straps, and has "M. Monroe 1961" handwritten on the interior lining. The piece comes with a notarized letter of provenance from Marilyn Monroe's personal hairstylist Sydney Guilaroff, which states in part, "Marilyn gave me this one piece bathing suit with built in cups and zipper of orange, brown and tan flower design to add to my star worn collection. No one has worn it but Marilyn."
- Sydney Guilaroff was a hair stylist during Hollywood's Golden Age who was the first to receive on-screen credit in films. He worked for more than forty years at the Metro Goldwyn Mayer studios on more than a thousand films, and was instrumental in crafting many of the hairstyles which became the signature looks for numerous film stars. Guilaroff was a friend, stylist, and confidante to many Golden Age stars including Greta Garbo, Joan Crawford, and Audrey Hepburn along with Marilyn Monroe, and styled Marilyn's hair for her funeral in 1962.
Estimate: $1,000.00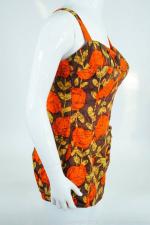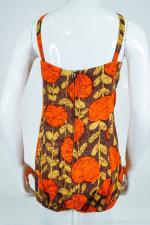 ---
Lot # 2: Marilyn Monroe's Personally Owned 1950s Red Velvet Gown
Marilyn Monroe's Personally Owned 1950s Red Velvet Gown From The Sydney Guilaroff Collection W/Notarized Letter of Provenance - This red velvet gown was personally owned by Marilyn Monroe. The gown has a sleeveless design with a back zipper and slit up the back hem. The piece comes with a notarized letter of provenance from Marilyn Monroe's personal hairstylist Sydney Guilaroff, which states in part, "Marilyn herself gave me this beautiful 1950s red velvet long dress to add to my star worn collection. No one has worn it except Marilyn."
Estimate: $1,500.00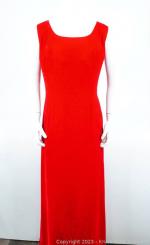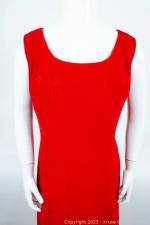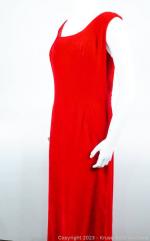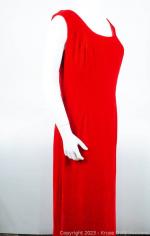 ---
Lot # 3: Marilyn Monroe's Silver Glitter Evening Gown
Marilyn Monroe's Personally Owned Silver Glitter Evening Gown From The Sydney Guilaroff Collection W/Notarized Letter of Provenance - This beautiful silver glitter evening gown was personally owned and worn by Marilyn Monroe. The gown has a sleeveless design with silver glitter stripes and accent beading at the waist. The piece comes with a notarized letter of provenance from Marilyn Monroe's personal hairstylist Sydney Guilaroff, which states in part, "Marilyn gave me this silver speckle sleeveless spectacular gown with rhinestone accents around the waist to add to my star worn collection. No one has worn it but Marilyn. She did have the gown let out and wore it to an event around 1960." It is visible where the gown was let out beneath the arms and around the bust (see photos).
Estimate: $1,300.00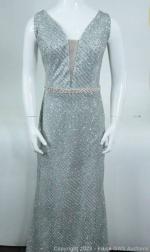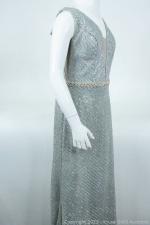 ---
Lot # 4: Marilyn Monroe's Rhinestone Choker Necklace
Marilyn Monroe's Personally Owned Rhinestone Choker Necklace From The Sydney Guilaroff Collection W/Notarized Letter of Provenance - This lovely costume necklace was personally owned by Marilyn Monroe. The necklace is made of silver metal with round and cushion shaped rhinestones. The necklace comes with a notarized letter of provenance from Marilyn Monroe's personal hairstylist Sydney Guilaroff, which states in part, "Marilyn gave me this costume 'Weiss' multi-shaped rhinestone choker necklace around 1954. No one has worn it since Marilyn."
Estimate: $1,300.00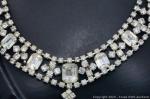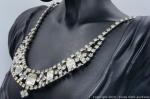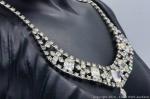 ---
Lot # 53: Marilyn Monroe's Black Sequin Cocktail Dress
Marilyn Monroe's Personally Owned Black Sequin Cocktail Dress From the Sydney Guilaroff Collection W/Notarized Letter of Provenance - This lovely black sequin cocktail dress was personally owned by Marilyn Monroe. The dress has a back zipper closure, double spaghetti straps, and is completely covered in shiny black sequins. The dress comes with a notarized letter of provenance from Marilyn Monroe's personal hairstylist Sydney Guilaroff, which states in part, "Marilyn gave me this spaghetti strap black sequin stretch cocktail dress to add to my star worn collection. No one has worn it but Marilyn."
Estimate: $2,000.00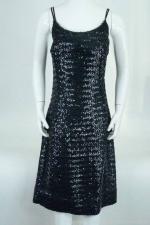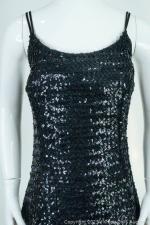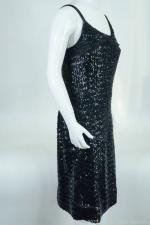 ---
Lot # 54: Marilyn Monroe's Weiss Clip-On Drop Earrings
Marilyn Monroe's Personally Owned Weiss Clip-On Drop Earrings From The Sydney Guilaroff Collection W/Notarized Letter of Provenance - These Weiss silver metal clip-on drop earrings were personally owned by Marilyn Monroe. The earrings come with a notarized letter of provenance from Marilyn Monroe's personal hairstylist Sydney Guilaroff, which states in part, "This pair of dangling multi-strand and size rhinestone clip-on earrings by 'Weiss' were given to me by Marilyn herself around 1960, to add to my star worn client personal item collection."
Estimate: $800.00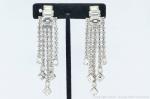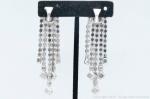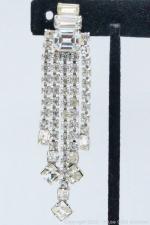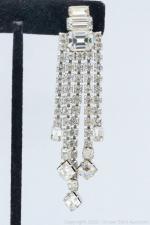 ---
Lot # 55: Marilyn Monroe's Cut Glass Bracelet and Bead Necklace
Marilyn Monroe's Personally Owned Cut Glass Bracelet and Bead Necklace From The Sydney Guilaroff Collection W/Notarized Letter of Provenance - This necklace and bracelet were personally owned by Marilyn Monroe. The lot includes an iridescent cut glass bead 3-strand bracelet with silver metal closure and 3-strand bead necklace. The lot comes with a notarized letter of provenance from Marilyn Monroe's personal hairstylist Sydney Guilaroff, which states in part, "This triple strand costume glass diamond cut crystal bracelet with silver metal and three round rhinestone accent and triple strand larger plastic diamond cut necklace with silver metal accents was given to me by Marilyn herself around May 1959, to add to by star worn client personal item collection."
Estimate: $1,000.00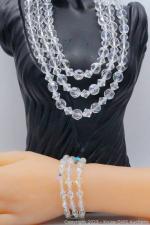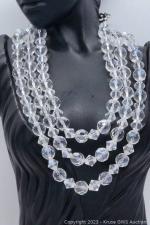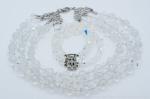 ---
Lot # 55 B: George Barris "Marilyn Monroe: Last Shoot" Signed Photo
George Barris "Marilyn Monroe: The Last Shoot" Signed 8" x 10" Photograph Printed From Original Negative #50/99 W/COA - This striking photo is a beautiful and rare photograph of Marilyn Monroe from the series entitled "The Last Photos", taken by photographer George Barris in 1962 just two weeks before Monroe's death. The series of photographs are considered the last photos ever taken of the icon. This is a type II photograph printed from the original negative, and is hand-signed by photographer George Barris. The photo is also numbered 50/99 inverso and bears the Edward Weston copyright stamp. The lot includes a certificate of authenticity. Measurements: 8" x 10".
Estimate: $1,000.00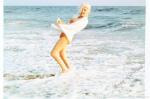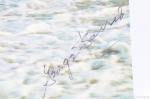 ---
Lot # 55 C: George Barris "Marilyn Monroe: Last Shoot" Signed Photo
George Barris "Marilyn Monroe: The Last Shoot" Signed 11" x 14" Photograph Printed From Original Negative W/COA - This striking photo is a beautiful and rare photograph of Marilyn Monroe from the series entitled "The Last Photos", taken by photographer George Barris in 1962 just two weeks before Monroe's death. The series of photographs are considered the last photos ever taken of the icon. This is a type II photograph printed from the original negative, and is hand-signed by photographer George Barris. The photo also bears the Edward Weston copyright stamp inverso. The lot includes a certificate of authenticity. Measurements: 8" x 10".
Estimate: $525.00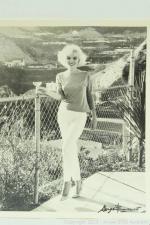 ---
Lot # 55 D: Marilyn Monroe Signed Black and White Photo (Framed)
Marilyn Monroe Signed Black and White Photo in Exhibit Quality Frame - This stunning black and white photograph pictures the blonde bombshell, Marilyn Monroe, looking directly into the camera in a full length pose draped in a semi-sheer nightgown and wearing slippers. The photograph has been boldly signed and inscribed "To __ Kisses, Marilyn Monroe". The photograph has been professionally matted and framed in an exhibit quality framed display. The photo was acquired from respected autograph dealer and authenticator Stephen Koschal, who is a Former Director of the U.A.C.C. and First Place Winner of the U.A.C.C. Sixth Annual H. Roger Phillips Memorial Award. Measurements: image-7.25" x 9.25", frame-19.5" x 16.5".
Estimate: $3,750.00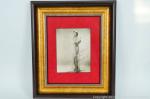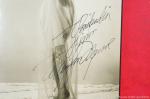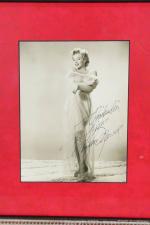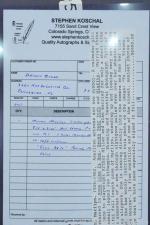 ---
Lot # 140: Marilyn Monroe's Personally Owned Underwire Support Bra
Marilyn Monroe's Personally Owned Underwire Support Bra From The Sydney Guilaroff Collection W/Notarized Letter of Provenance - This underwire support bra was personally owned by Marilyn Monroe. The piece comes with a notarized letter of provenance from Marilyn Monroe's personal hairstylist Sydney Guilaroff, which states in part, "This 1960's nude color strapless bra size 36C with the padding cut out of the cups was given to me by Marilyn herself around May 1962 to add to my star worn client personal item collection. Marilyn would cut the padding out herself to give her support in a dress when she wanted nipples to show through dress or she wore them to sleep because she was so worried about her breasts sagging."
Estimate: $750.00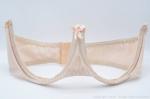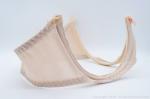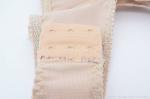 ---
Lot # 141: Marilyn Monroe's 1950s Sendra White Nylon Gloves
Marilyn Monroe's Personally Owned 1950s Sendra White Nylon Gloves From The Sydney Guilaroff Collection W/Notarized Letter of Provenance and Reference Photo - These Sendra white nylon gloves with ruffled cuffs were personally owned by iconic American actress, Marilyn Monroe. The gloves come with a notarized letter of provenance from Marilyn Monroe's personal hairstylist Sydney Guilaroff, which states in part, "Marilyn herself gave me this beautiful 1950s pair of white thin nylon gloves with ruffled edges to add to my star worn collection. No one has worn it except Marilyn."
Estimate: $750.00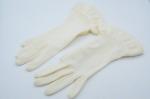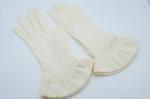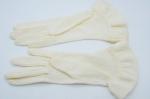 ---
Lot # 142: Marilyn Monroe's Multi-Colored Floral Tapestry Handbag
Marilyn Monroe's Personally Owned Multi-Colored Floral Tapestry Handbag From The Sydney Guilaroff Collection W/Notarized Letter of Provenance - This beautiful and colorful tapestry bag was owned by iconic actress Marilyn Monroe. The handbag features a multi-colored floral design with multiple compartments and a black leather top handle. The piece comes with a notarized letter of provenance from Marilyn Monroe's personal hairstylist Sydney Guilaroff, which states in part, "This heavy multiple compartment tapestry handbag with multi-color flower and leaf design was left at my studio when she flew in from New York and changed to get ready for a dinner engagement around 1960. Marilyn was pretty irresponsible with her things and when I told her that it was here, she told me to take anything left out of it and to give it away (which of course I couldn't)."
Estimate: $1,800.00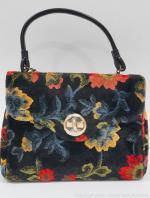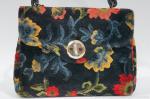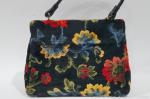 ---
Lot # 143: Marilyn Monroe's Personally Owned Clip-On Drop Earrings
Marilyn Monroe's Personally Owned Clip-On Drop Earrings From The Sydney Guilaroff Collection W/Notarized Letter of Provenance - These silver metal clip-on drop earrings were personally owned by Marilyn Monroe in the 1950s. The piece comes with a notarized letter of provenance from Marilyn Monroe's personal hairstylist Sydney Guilaroff, which states in part, "This pair of quarter size silver metal Florentine design clip-on hoop earrings were left in my studio when she changed to get ready for a party around 1953. Marilyn was pretty irresponsible with her things and when I told her that it was here, she told me to add them to my collection."
Estimate: $475.00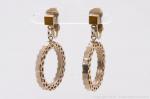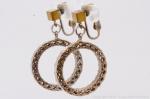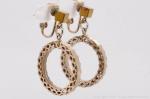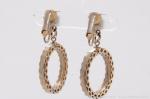 ---
Lot # 144: Marilyn Monroe's Black Silk Pleated Clutch
Marilyn Monroe's Personally Owned Black Silk Pleated Clutch From The Sydney Guilaroff Collection W/Notarized Letter of Provenance - This vintage black pleated satin clutch with gold metal trim was personally owned by iconic American actress, Marilyn Monroe. The piece comes with a notarized letter of provenance from Marilyn Monroe's personal hairstylist Sydney Guilaroff, which states in part, "This black silk pleated 9 x 6 gold metal trimmed evening purse with rhinestone encrusted closure was left behind when she changed to get ready for a party after I did her hair late in 1961. Marilyn was pretty irresponsible with her things and when I told her that it was here, she told me to add it to my collection."
Estimate: $1,800.00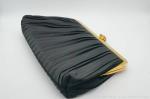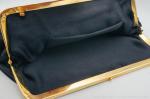 ---
Lot # 145: Marilyn Monroe's Rhinestone Embellished Bra W/COA
Marilyn Monroe's Rhinestone Embellished Bra From Her Studio Trailer in Exhibit Quality Framed Display W/COA - This Magicform under wire bra was obtained from Marilyn Monroe's studio trailer by a gentleman who was working refurbishing studio trailers and acquired it from Marilyn's trailer where it had been left behind. The bra is heavily embellished with rhinestones and floral embroidery on the cups, and notably has the straps cut. Marilyn Monroe was known to cut the straps on the back of her bras and tie them around the neck to give a higher life as opposed to when worn the conventional way. The bra has been professionally matted and framed to museum quality with several lovely photos of the actress. The lot will come with a certificate of authenticity and a typeset description of the piece from the person from whom it was acquired, who sold the piece for a friend who was the sister-in-law of the gentleman who refurbished Marilyn's trailer. Measurements: 31.75" x 37.5".
Estimate: $1,700.00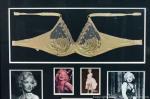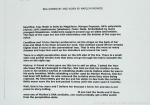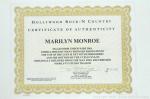 ---
Lot # 146: Marilyn Monroe's Rhinestone Bib Necklace
Marilyn Monroe's Personally Owned Rhinestone Bib Necklace From The Sydney Guilaroff Collection W/Notarized Letter of Provenance - This lovely costume necklace was personally owned by Marilyn Monroe. The necklace is made of silver metal with round and teardrop rhinestones that hang and create a bib-style design. The necklace comes with a notarized letter of provenance from Marilyn Monroe's personal hairstylist Sydney Guilaroff, which states in part, "Marilyn gave me this large 'Weiss' costume rhinestone 'bib' type necklace with many different sized stones and a pendant like rhinestone highlight to add to my star worn collection around 1955. No one has worn it but Marilyn."
Estimate: $1,800.00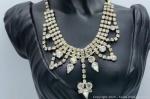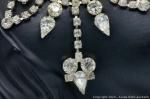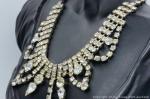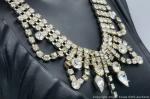 ---
Lot # 151: Marilyn Monroe Lock of Hair in Exhibit Quality Display
Marilyn Monroe Lock of Hair From the Collection of Harold Shigley in Exhibit Quality Framed Display W/Letter of Authenticity and More - This is a genuine lock of hair which was cut from Marilyn Monroe by her hairstylist Sydney Guilaroff. Guilaroff was a hair stylist during Hollywood's Golden Age who was the first to receive on-screen credit in films. He worked for more than forty years at the Metro Goldwyn Mayer studios on more than a thousand films, and was instrumental in crafting many of the hairstyles which became the signature looks for numerous film stars. The lock comes with several documents including a letter of authenticity from Ryan Mack of Griffin Memorabilia, which states in part, "I have removed pieces of Marilyn Monroe's hair from a lock originally obtained by her hairdresser, Sydney Guilaroff on the set of 'Something's Got to Give' on June 1, 1962." The lot also includes a copy of an original Certificate of Authenticity and Provenance from American collector Harold Shigley, whose collection contained iconic items such as an uncirculated $10,000 bill, burial ring of Leonardo da Vinci, nails from Jesse James' coffin, and the doorknocker from the home of Christopher Columbus, among others. Sydney Guilaroff and Harold Shigley were good friends, as is documented in the accompanying copies of correspondence from the stylist, and Shigley was given the lock of hair from Guilaroff during their more than 50 year friendship. The lock of hair has been professionally matted and framed in a wood and gilt frame along with a photo of the iconic starlette. Measurements: 17" x 21"
Estimate: $600.00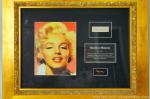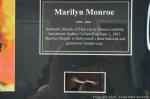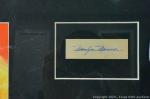 ---
Lot # 152: Marilyn Monroe Personally Owned and Used Hair Pin
Marilyn Monroe Personally Owned and Used Hair Pin in Exhibit Quality Framed Display W/COA - This framed presentation contains a hair pin that was personally owned and used by Marilyn Monroe. The pin is framed together with a lovely photo of the star with a similar pin in her mouth, and a photo getting her hair done. The lot comes with a certificate of authenticity from Mark Bellinghaus. Measurements: 15" x 12".
Estimate: $300.00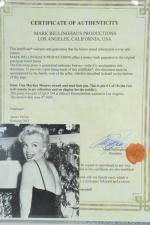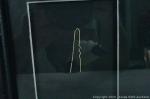 ---
Lot # 153: Marilyn Monroe Owned and Worn Stocking Remnant 37/300
Marilyn Monroe Limited Edition Owned and Worn Stocking Remnant Numbered 37/300 W/COA and Provenance - This limited edition piece includes a remnant of a nude stocking that was owned and worn by Marilyn Monroe. The presentation is numbered 37/300, and comes with a certificate of authenticity from John Reznikoff. Reznikoff also included supporting provenance by way of a photocopy of the original auction listing in which several of Marilyn Monroe's stockings were sold. The stockings were given by Marilyn to Marianne Geltner, who was the cook at Parkside House in Surrey, England in 1956 where she resided while filming The Prince And The Showgirl.
Estimate: $300.00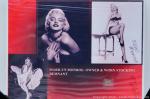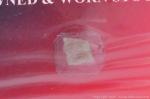 ---
Lot # 177 A: George Barris "Marilyn Monroe: Last Shoot" Signed Photo
George Barris "Marilyn Monroe: The Last Shoot" Signed and Numbered Photograph Printed From Original Negative W/COA - This striking photo is a beautiful and rare photograph of Marilyn Monroe from the series entitled "The Last Photos", taken by photographer George Barris in 1962 just two weeks before Monroe's death. The series of photographs are considered the last photos ever taken of the icon. This is a type II photograph printed from the original negative, and is hand-signed by photographer George Barris. The lot includes a certificate of authenticity which states that the photograph is "Printed from the Original Negative, Hand Signed and Numbered Inverso." Note: The photograph is framed and the back is not visible. Measurements: Frame-21 x 18 inches, Image-approximately 11 x 14 inches.
Estimate: $750.00

---
Lot # 177 B: George Barris "Marilyn Monroe: Last Shoot" Signed Photo
George Barris "Marilyn Monroe: The Last Shoot" Signed and Numbered Photograph Printed From Original Negative W/COA - This striking photo is a beautiful and rare photograph of Marilyn Monroe from the series entitled "The Last Photos", taken by photographer George Barris in 1962 just two weeks before Monroe's death. The series of photographs are considered the last photos ever taken of the icon. This is a type II photograph printed from the original negative, and is hand-signed by photographer George Barris. The lot includes a certificate of authenticity which states that the photograph is "Printed from the Original Negative, Hand Signed and Numbered Inverso." Note: The photograph is framed and the back is not visible. Measurements: Frame-21 x 18 inches, Image-approximately 11 x 14 inches.
Estimate: $800.00

---
Lot # 177 C: Marilyn Monroe II Mixed Media by Nastya Rovenskaya
Marilyn Monroe II Original Mixed Media on Paper by Nastya Rovenskaya W/COA (Framed) - This mixed media art piece titled Marilyn Monroe II was made by Russian artist Nastya Rovenskaya. The art piece features hand painting on a print of Marilyn Monroe, and is hand-signed by the artist. Nastya Rovenskaya is a master of pop and street art, and is regarded as one of the most innovative and exciting artists on the international stage. She constructed a unique technique of pop art using free brush strokes with acrylic and oil paints. The piece comes with a certificate of authenticity from Yosi Gol Art Gallery and Publishing. Measurements: 49"x40", 58"x49" framed.
Estimate: $750.00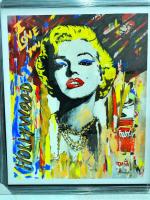 ---
Lot # 179: Andy Warhol Signed "Marilyn Monroe" 1986 Print #063/200
Andy Warhol Signed "Marilyn Monroe, 1962" Limited Edition 1986 Color Print #063/200 W/COA - This is a limited edition color print published in 1986 by the Royal Palace Gallery, after Andy Warhol's work featuring iconic film star Marilyn Monroe, "Marilyn Monroe, 1962". The print is signed by Andy Warhol and numbered 063/200. The print also bears the embossed gallery seal on the front along with the Royal Palace Gallery stamp and representative signature on the back. The print comes with a certificate of authenticity from Royal Palace Gallery, and a letter from the gallery confirming that it was printed in 1986 by the Cartier Foundation as part of an exhibition by the Museum of Modern Art, N.Y. Measurements: 11" X 14".
Estimate: $5,250.00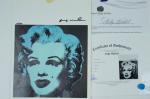 ---
Lot # 180: Andy Warhol Signed "Marilyn Monroe" 1986 Print #034/200
Andy Warhol Signed "Marilyn Monroe, 1967" Limited Edition 1986 Color Print #034/200 W/COA - This is a limited edition color print published in 1986 by the Royal Palace Gallery, after Andy Warhol's work featuring iconic film star Marilyn Monroe, "Marilyn Monroe, 1967". The print is signed by Andy Warhol and numbered 034/200. The print also bears the embossed gallery seal on the front along with the Royal Palace Gallery stamp and representative signature on the back. The print comes with a certificate of authenticity from Royal Palace Gallery, and a letter from the gallery confirming that it was printed in 1986 by the Cartier Foundation as part of an exhibition by the Museum of Modern Art, N.Y. Measurements: 11" X 14".
Estimate: $2,400.00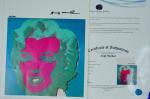 ---
Lot # 183: Sunday B. Morning "Marilyn Monroe 11.27" Print W/COA
Sunday B. Morning After Andy Warhol "Marilyn Monroe 11.27" Silkscreen Print W/COA - This silkscreen print titled " Marilyn Monroe 11.27" was published in 2018 by Sunday B. Morning featuring the work of Andy Warhol. The print is printed on 'museum board' with the highest quality archival inks, and the colors are absolutely vibrant and stunning. The print comes with a certificate of authenticity from Sunday B. Morning, and is stamped in blue on the back with "Published by Sunday B. Morning" and "fill in your own signature". Measurements: 36" x 36".
Estimate: $100.00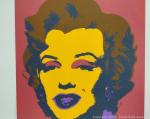 ---
Lot # 184: Gail Rodgers "Marilyn Monroe" One-of-a-Kind Silkscreen
Gail Rodgers "Marilyn Monroe" Signed One-of-a-Kind Hand Pulled Silkscreen on Canvas W/LOA - This one-of-a-kind silkscreen print was made by Gail Rodgers, and depicts the iconic American starlet, Marilyn Monroe. Gail Rodgers combines silk-screening with hand painting to create original one-of-a-kind designs and portraits that have caught the eye of numerous art collectors and A-list celebrities alike. This silkscreen is printed on canvas with hand painting, and is hand signed by Rodgers in the bottom left corner. The lot includes a letter of authenticity. Measurements: 23" x 24".
Estimate: $120.00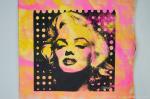 ---
Lot # 185: Death NYC "Marilyn Monroe" Signed Lithograph #30/100
Death NYC "Marilyn Monroe" Limited Edition Signed Lithograph #30/100 (Framed) - This lithograph from NYC street artist, Death NYC, depicts Marilyn Monroe with devil horns. The print is signed "RAW" (an alternative alias of DEATH NYC), dated 2016 and numbered 30/100 by the artist. The lithograph is framed in a black bamboo motif frame with the Death NYC authenticity sticker affixed to the back of the piece. Measurements: 19" x 14". DEATH chooses to keep her identity anonymous, she believes that it gives her more freedom to continue to work on the street. She began painting on walls and floors of popular shops in Soho and Chelsea area of New York City. She gets the name DEATH from the abbreviation of Don't Easily Abandon The Hope. DEATH tries to ridicule the mainstream media by making fun of popular images.
Estimate: $225.00

---
Lot # 186: Death NYC "Marilyn Monroe" Signed Fine Art Print #11/100
Death NYC "Marilyn Monroe" Limited Edition Signed Fine Art Print #11/100 W/COA - This fine art print was made by NYC street artist, Death NYC. The print depicts Marilyn Monroe against a background of the iconic Christian Dior print, and is signed in pencil by the artist and numbered 11/100. The print comes with a certificate of authenticity and Death NYC sticker. Measurements: 17" x 12".
Estimate: $140.00

---
Lot # 187: George Barris "Marilyn Monroe, Malibu 1962" Poster
George Barris "Marilyn Monroe, Malibu 1962" Poster From Edward Weston Collection W/LOA - This poster on paper pictures an image titled "Marilyn Monroe, Malibu 1962" taken by famous photographer George Barris. The poster is from the Edward Weston Collection, Marilyn Monroe Weston Editions Ltd. and comes with a letter of authenticity. Measurements: 29" x 23".
Estimate: $25.00

---
All photos are copyright and protected by their respective owners.

18 septembre 2022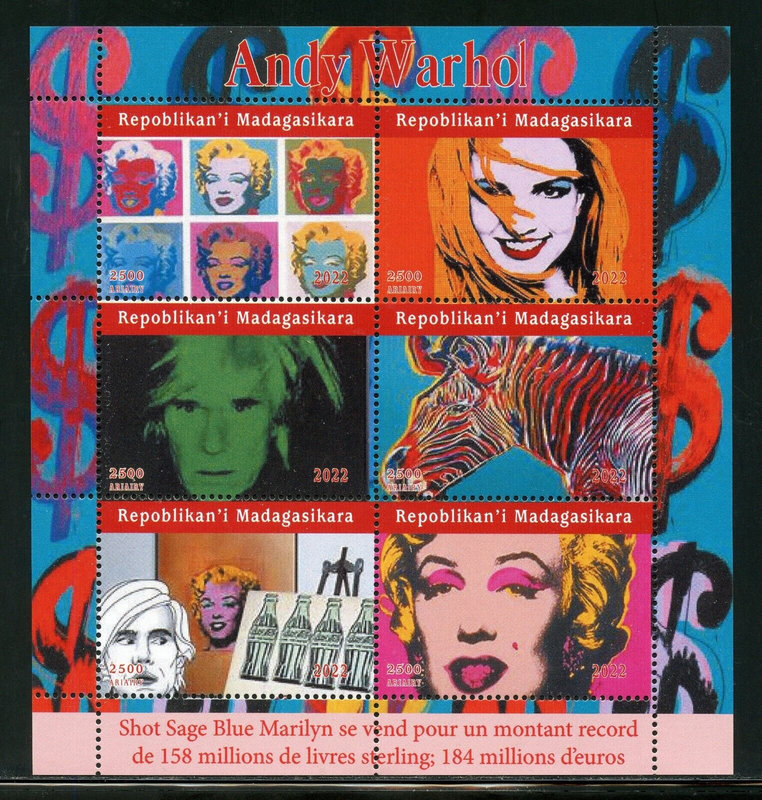 ---
© All images are copyright and protected by their respective owners, assignees or others.
10 mai 2022
« Shot Sage Blue Marilyn » (1964) - portrait de Marilyn Monroe par Andy Warhol - a été vendu aux enchères lundi 09 mai 2022 à New York pour 195 millions de dollars chez Christie's, ce qui en fait aujourd'hui le tableau du XXe siècle le plus cher vendu (le record absolu revenant au tableau "Salvator Mundi", attribué à Léonard de Vinci et acheté 450 millions de dollars en 2017 par le prince héritier d'Arabie saoudite Mohammed Ben Salman). L'enchère n'a duré que 4 minutes et selon la presse américaine l'acquéreur serait le marchand d'art new-yorkais Larry Gagosian.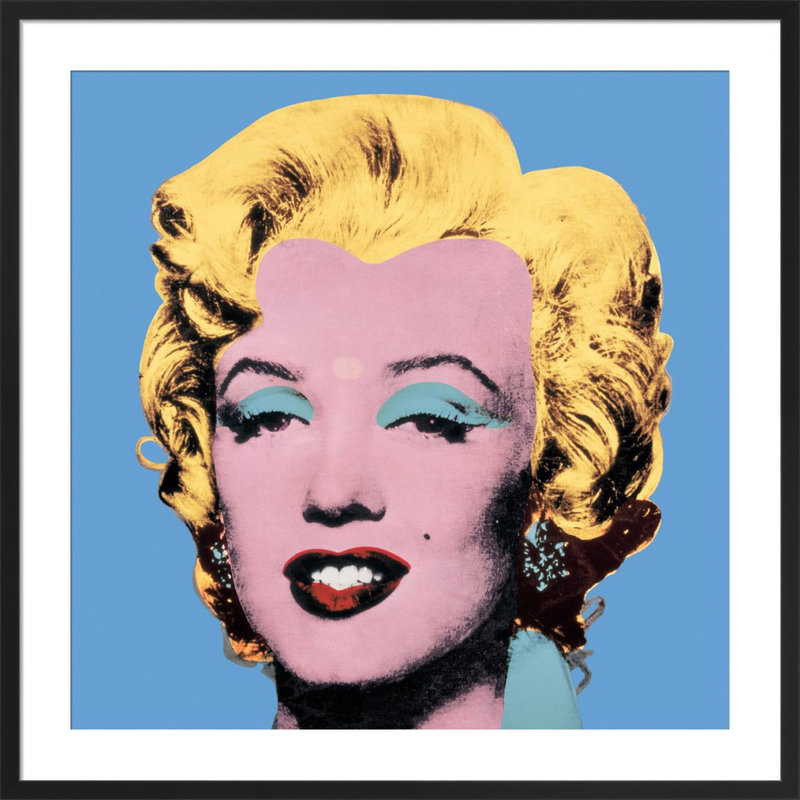 "Shot Sage Blue Marilyn" (1964) - portrait of Marilyn Monroe by Andy Warhol - was auctioned on Monday May 09, 2022 in New York for 195 million dollars at Christie's, making it today the painting of the 20th century the most expensive sold (the absolute record goes to the "Salvator Mundi" painting, attributed to Leonardo da Vinci and bought for 450 million dollars in 2017 by the Crown Prince of Saudi Arabia Mohammed Ben Salman). The auction lasted only 4 minutes and according to the American press, the buyer would be the New York art dealer Larry Gagosian.
---
© All images are copyright and protected by their respective owners, assignees or others.
copyright text by GinieLand.
13 février 2014
Ada Martini par Vincent Alvarez.
pour le magazine Red Collector, juin 2012
10 juillet 2010
La mannequin britannique Kate Moss, surnommée "la brindille" s'est inspirée de Marilyn Monroe pour certaines séances photos au cours de ces dernières années.

---
Tout d'abord comme ici pour W magazine d'avril 2006 où, sous l'objectif du duo Mert & Marcus, Kate apparaissait blonde platine, coiffure brushing surélevée, un verre à la main puis allongée sur un lit, ce qui n'est pas sans rappeler la dernière séance de Marilyn par Bert Stern.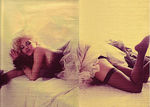 ---
Pour la campagne de publicité pour Longchamp d'hiver 2007, Kate est photographiée par Mario Sorrenti et arbore une chevelure coupée au carré, gonflé au brushing et blond blanc, la couleur que Marilyn arborait les dernières années de sa vie; de plus le maquillage de Kate -trait épais d'eye liner- et l'expression de son regard -tête penchée en arrière et yeux mi-clos- sont inspirés de Marilyn.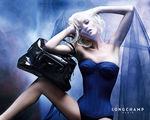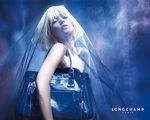 ---
En 2008, la campagne d'Yves Saint Laurent choisit Kate pour représenter le rouge à lèvres: la photographie de cette campagne publicitaire s'inspire directement des photos que Marilyn avait barrée avec un marqueur lors de sa dernière séance d'avec Bert Stern.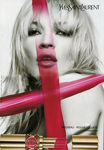 ---
Pour l'édition britannique de Vogue en décembre 2008, Kate Moss, photographiée par Nick Knight, est en couverture dépliante: cheveux courts et blonds, regard de séductrice, nue dans un drap blanc, le bras étiré vers l'objectif: cette pose lascive, langoureuse et sensuelle n'est pas sans évoquer les poses de Marilyn dans des lits de draps blancs (de Kirkland ou de Stern).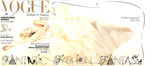 ---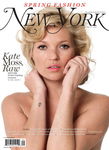 Dans le New York magazine de février 2009, c'est le photographe Bert Stern, auteur de la fameuse dernière séance de Marilyn, qui photographie Kate; et il semblerait qu'encore une fois, il se soit inspiré de sa séance d'avec Marilyn: studio au fond neutre, le modèle est seul face à l'objectif et joue avec l'objectif: jeu de regard et jeu de vêtement, poses à demies-nues, et différentes expressions du regard. Kate y apparaît encore blonde (mais désormais un blond plus naturel, finit le blond platine) et cheveux ondulés au rouleau. (>> voir les photos sur le site nymag )
---
Pour finir, même dans l'art Kate copie Marilyn: l'artiste Banksy a reprit les célèbres portrait de Marilyn par Andy Warhol pour les adapter sur Kate Moss !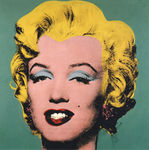 07 mai 2010
Pop Art par Ron English
>> site officiel Popaganda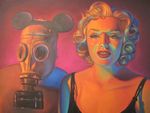 Marilyn et les seins de Mickey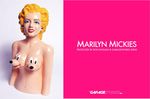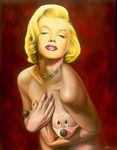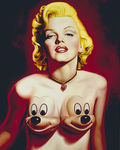 Marilyn Manson (morphing Marilyn et Charles Manson)

15 décembre 2007
En 1965, Mel Ramos devient célèbre
grâce à ses peintures de femmes nues
vues au travers d'un trou de serrure:
les "Peek a Boo".