13 novembre 2007
Dangerous Years



Les Dates de sorties dans le monde

USA: 7 décembre 1947
USA, Los Angeles: 16 janvier 1948
Angleterre: 15 novembre 1948
Mexique: 30 mars 1950



Le Titre du film dans le monde

USA: Dangerous Years
Argentine / Mexique: Juventud en peligro
Brésil: Idade Perigosa
France: Les années dangereuses
Roumanie: Ani periculoşi
Yougoslavie (Serbe): Opasne godine



Fiche technique

Réalisateur: Arthur Pierson
Assistant réalisateur: Paul Wurtzel
Scénariste: Arnold Belgard
Producteur: Sol M. Wurtzel
Producteur associé: Howard Sheehan
Directeur photographie: Benjamin H. Kline
Musique: Ralph Stanley
Son: Max M. Hutchinson
Montage: Frank Babridge, William F. Claxton
Chef décorateur: Al Greenwood
Maquillage: Jack Casey
Coiffures: Irene Beshon
Production Pays : Etats-Unis
Société de production: 20th Century Fox [us]
Genre : drame
Film en noir et blanc
Durée : 1h 02min



Distribution (créditée)

Billy Halop (sous le nom William Halop) : Danny Jones
Scotty Beckett: Willy Miller
Richard Gaines : Edgar Burns
Ann E. Todd : Doris Martin
Jerôme Cowan : Weston
Anabel Shaw : Connie Burns
Darryl Hickman : Leo Emerson
Dickie Moore : Gene Spooner
Harry Harvey Jr. : Phil Kenny
Gil Stratton (sous le nom de Gil Stratton Jr.) : Tammy McDonald
Harry Shannon : Judge Raymond
Donald Curtis : Jeff Carter
Joseph Vitale : August Miller
Marilyn Monroe : Evie
Nana Bryant : Miss Templeton
Tom Kennedy : Adamson

> reste de la distribution non mentionné dans le générique,
par ordre alphabétique:
Eddie Borden: spectateur à la cour
Eddie Coke: journaliste
Steve Darrell: policier
Mimi Doyle: journaliste
Fred Howard: employé de bureau
Charles Anthony Hughes: policier
Bill Hunter: policier
Charles Mash: porte-parole du comité des citoyens
George Meader: Dr. Oliver Hughes
Howard Negley: policier Sgt. Stanton
Fred Sherman: Freddie, journaliste
Geroge Sherwood: petit rôle
Lee Shumway: Alec, intendant
Brick Sullivan: policier
Eddy Waller: Jock Nealy
Claire Whitney: une femme


Synopsis

résumé: Danny est le chef d'une bande de délinquants qui accomplissent des méfaits des plus divers. Un soir, une de leurs tentatives de cambriolage tourne mal et se termine par le meurtre d'un professeur. Danny, accusé du meurtre, est alors arrêté et traîné en justice.
en détail: Les habitants de Middleton, qui craignent Dieu, craignent que le Gopher Hole, un nouveau restaurant routier à l'extérieur de la ville, ne fasse dériver leurs enfants adolescents. Jeff Carter, un enseignant local qui dirige également un club de jeunes pour les garçons, regarde de plus près l'endroit pour voir si les inquiétudes sont justifiées.
Jeff découvre qu'un groupe de garçons de la ville, dont Willy Miller, Gene Spooner et le dur à cuire Danny Jones, cambriolent un entrepôt en ville. Jeff essaie de les arrêter, mais pendant la lutte, il est abattu par Danny. Les garçons s'enfuient en utilisant le camion de livraison du père de Willy, mais le camion est reconnu par un témoin travaillant à l'entrepôt. Les garçons se cachent au Gopher Hole, rejoignent un jeu de cartes et agissent comme s'ils y avaient passé la nuit. La police arrive bientôt au Gopher Hole et arrête les garçons. Danny est le seul garçon qui n'est pas mineur et il est poursuivi pour meurtre au premier degré par le procureur de district Edgar Burns.
Au procès, Burns affirme que Danny avait prévu de tuer Jeff à cause de leurs précédents accrochages et parce que Danny détestait Jeff. Un autre garçon, Leo Emerson, raconte comment Danny a encouragé les garçons du club de jeunesse de Jeff à visiter le Gopher Hole, puis les a conduits à d'autres activités telles que le jeu et le vol de stations-service. Lorsque Jeff a essayé d'arrêter les activités de Danny et a même offert à Danny un emploi au club de jeunes, Danny a refusé et a menacé de frapper Jeff pour son ingérence. Leo a mis fin à sa propre relation avec Danny lorsque le père absent de Leo est revenu à la maison familiale. Willy admet avoir pris le camion de son père sans autorisation et servi de guetteur lors du vol de l'entrepôt, mais pendant le processus, il révèle que son père le maltraite physiquement. Doris, une adolescente solitaire qui est négligée par ses parents et amoureuse de Danny, essaie de s'allonger sur la barre pour le protéger, mais s'effondre sous la pression du procureur de district Burns.
Avant que l'accusation ne termine son dossier, la fille bien-aimée de Burns, Connie, a failli provoquer un scandale lorsqu'elle admet avoir été une amie proche de Danny il y a dix ans, alors qu'ils vivaient tous les deux dans un orphelinat. Burns explique qu'il a ignoré pendant de nombreuses années qu'il avait une fille, puisque son mariage a été annulé et que sa femme a disparu sans lui dire qu'elle était enceinte. Quelques années plus tard, Mlle Templeton, la propriétaire de l'orphelinat, l'a contacté et il a ramené Connie à la maison. Connie n'a pas pu dire au revoir à son ami Danny avant de quitter l'orphelinat et n'a plus eu de contact avec lui jusqu'au procès.
Mlle Templeton, désormais âgée et en mauvaise santé, vient pour voir Danny, après avoir lu l'affaire dans les journaux. Elle révèle à Danny que c'est lui, et non Connie, qui est l'enfant de Burns, et qu'elle a menti et falsifié des dossiers pour faire passer Connie comme l'enfant de Burns à sa place, parce que Connie était plus faible et allait mourir si elle n'était pas retirée du orphelinat. Mlle Templeton veut le dire à Burns, mais Danny lui fait promettre de ne pas révéler le secret, car il ne veut pas ruiner la belle vie de Connie avec l'homme qu'elle pense être son père. Néanmoins, Mlle Templeton essaie quand même de dire le secret au tribunal, mais est interrompue par Danny admettant publiquement avoir tiré sur Jeff, scellant ainsi son sort. Pendant que Danny parle, Mlle Templeton meurt à la barre avant de pouvoir témoigner.
Au final, Danny est reconnu coupable du meurtre de Jeff mais parvient à échapper à la peine de mort, obtenant à la place une peine de prison à vie. On lui rappelle que même avec une condamnation à perpétuité, il peut sortir pour bonne conduite, et Connie et Burns promettent de l'aider de toutes les manières possibles.

summary: Danny is the leader of a band of delinquents who carry out the most diverse misdeeds. One evening, one of their burglary attempts goes wrong and ends in the murder of a professor. Danny, accused of the murder, is then arrested and brought to justice.

in detail: The God-fearing residents of Middleton are worried that the Gopher Hole, a new roadhouse restaurant outside of town, will bring their teenage kids to ruin. Jeff Carter, a local teacher who also runs a youth club for the boys, takes a closer look at the place to see if the worries are justified.
Jeff discovers that a group of boys from town, including Willy Miller, Gene Spooner and the tough Danny Jones, are robbing a warehouse in town. Jeff tries to stop them, but in the struggle, he is shot and killed by Danny. The boys flee, using Willy's father's delivery truck, but the truck is recognized by a witness working at the warehouse. The boys hide out at the Gopher Hole, joining a game of cards and acting as if they have been there all night. The police soon arrive at the Gopher Hole and arrest the boys. Danny is the only boy who isn't under age, and he is prosecuted for first degree murder by district attorney Edgar Burns.
At the trial, Burns claims that Danny had planned to kill Jeff because of their previous encounters and the fact that Danny hated Jeff. Another boy, Leo Emerson, tells how Danny encouraged the boys at Jeff's youth club to visit the Gopher Hole, and then led them into other activities such as gambling and robbing gas stations. When Jeff tried to stop Danny's activities, and even offered Danny a job at the youth club, Danny refused and threatened to punch Jeff for interfering. Leo stopped his own involvement with Danny when Leo's absent father returned to the family home. Willy admits to taking his father's truck without permission and serving as lookout at the warehouse robbery, but in the process reveals that his father physically abuses him. Doris, a lonely teenage girl who is neglected by her parents and is in love with Danny, tries to lie on the stand to protect him, but breaks down when pressured by district attorney Burns.
Before the prosecution rests its case, Burns' beloved daughter Connie nearly causes a scandal when she admits to being close friends with Danny ten years ago, when they were both living at an orphanage. Burns explains that he was unaware for many years that he had a daughter, since his marriage was annulled and his wife disappeared without telling him she was pregnant. Some years later, Miss Templeton, the proprietor of the orphanage, contacted him, and he took Connie home. Connie was unable to say goodbye to her friend Danny before she left the orphanage, and had no further contact with him until the trial.
Miss Templeton, now elderly and in poor health, arrives to see Danny, having read about the case in the newspapers. She reveals to Danny that he, not Connie, is actually Burns' child, and that she lied and falsified records to pass Connie off as Burns' child instead, because Connie was weaker and was going to die if she wasn't removed from the orphanage. Miss Templeton wants to tell Burns, but Danny makes her promise not to reveal the secret, as he does not want to ruin Connie's good life with the man she thinks is her father. Nevertheless, Miss Templeton tries to tell the secret to the court anyway, but is interrupted by Danny publicly admitting to shooting Jeff, thus sealing his fate. While Danny is talking, Miss Templeton dies on the stand before she can testify.
In the end, Danny is convicted of Jeff's murder but manages to escape the death penalty, instead getting a sentence of life in prison. He is reminded that even a life sentence may be ended early for good behavior, and Connie and Burns promise to help him in every way they can.
---
DVD

- sur le blog: Dangerous Years en DVD
---
Sur le web:
- le film sur imdb (en anglais)
- infos sur le film sur wikipedia (en anglais)

---
© All images are copyright and protected by their respective owners, assignees or others.
copyright text by GinieLand.

12 novembre 2007
Dangerous Years
Les Affiches
---
- USA -
- presse 1948 -
---
- Mexique / Argentine -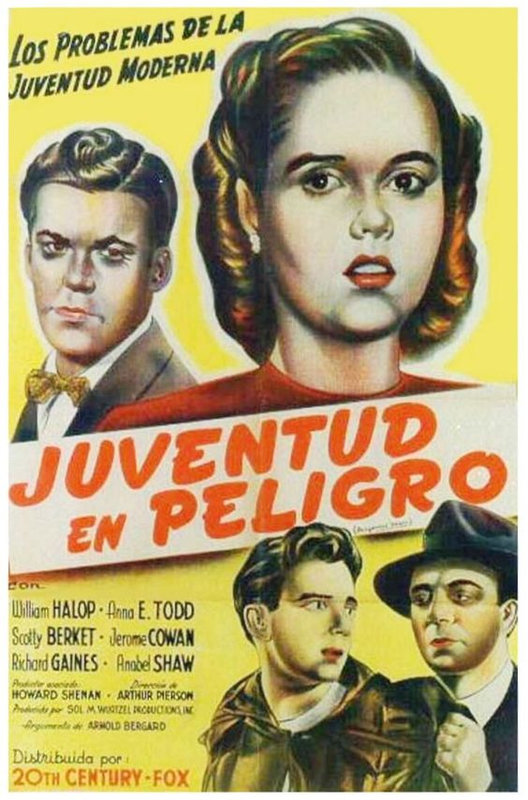 ---
© All images are copyright and protected by their respective owners, assignees or others.
Dangerous Years

Photos d'exploitation cinéma
Cinema Lobby Cards

---
- lobby cartes USA -
serie 1
---
- lobby cartes USA -
serie 2
---
© All images are copyright and protected by their respective owners, assignees or others.
Dangerous Years
Photos Publicitaires
---
Darryl Hickman, William 'Billy' Halop, Scotty Beckett, Ann E Todd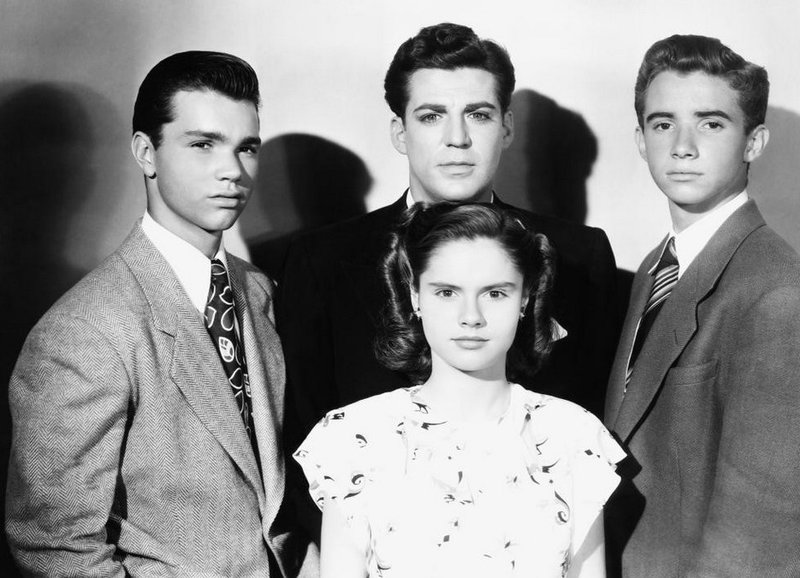 ---
Jerome Cowan, William 'Billy' Halop, Richard Gaines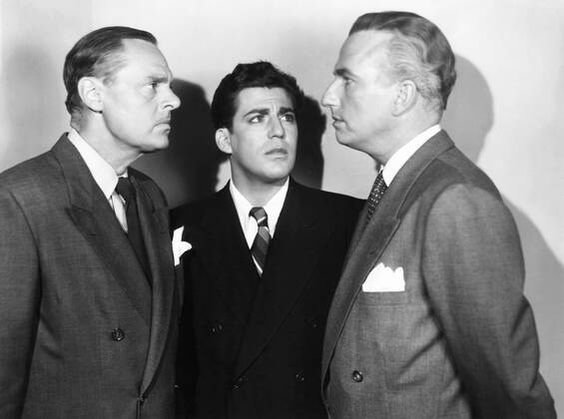 ---
Scotty Beckett, William Halop, Darryl Hickman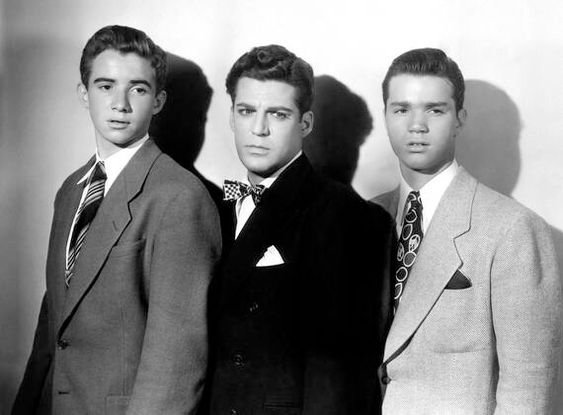 ---
Scotty Beckett, Dickie Moore, Harry Harvey Jr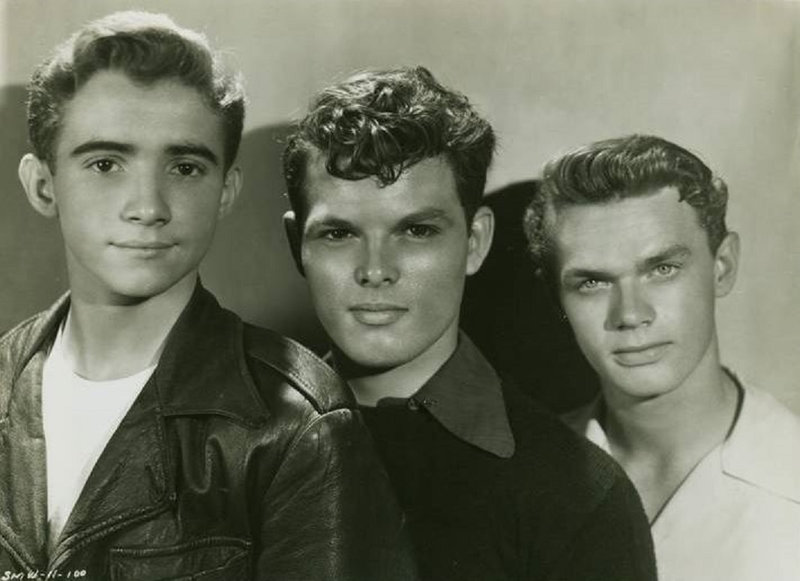 ---
Darryl Hickman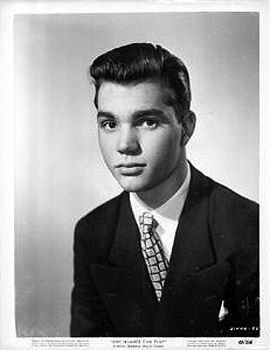 ---
© All images are copyright and protected by their respective owners, assignees or others.
copyright text by GinieLand.
11 novembre 2007
Dangerous Years
---
Captures - Générique d'introduction
Captures - Introductory credits
Pour son deuxième film qu'elle tourne, Marilyn Monroe est créditée dans le générique du film, même si son rôle est mineur, elle figure à l'écran suivant qui répertorie les seconds rôles.
For her second film that she is shooting, Marilyn Monroe is credited in the credits of the film, even if her role is minor, she appears in the next screen which lists the supporting roles.
---
© All images are copyright and protected by their respective owners, assignees or others.
copyright text by GinieLand.
10 novembre 2007
Dangerous Years
Scènes de Marilyn

---
Marilyn Monroe apparaît à quatre reprises dans le film; elle y interprète le rôle de la serveuse Evie du bar Gopher Hole où les jeunes se retrouvent.
Marilyn Monroe makes four apperances in the film; she interprets the role of the waitress Evie of the bar Gopher Hole where the teenagers meet.
---
Scène 1
La première scène de Marilyn Monroe à la 5ème minute du film: Willy Miller (Scotty Beckett) et Gene Spooner (Dickie Moore) entrent dans le bar. Gene retient le bras d'Evie, l'invitant à sortir mais elle se refuse à lui.

The first scene of Marilyn Monroe at the 5th minute of the film: Willy Miller (Scotty Beckett) and Gene Spooner (Dickie Moore) enter in the bar. Gene grabs Evie's arm, inviting her going out but she refuses him.
---
Scène 2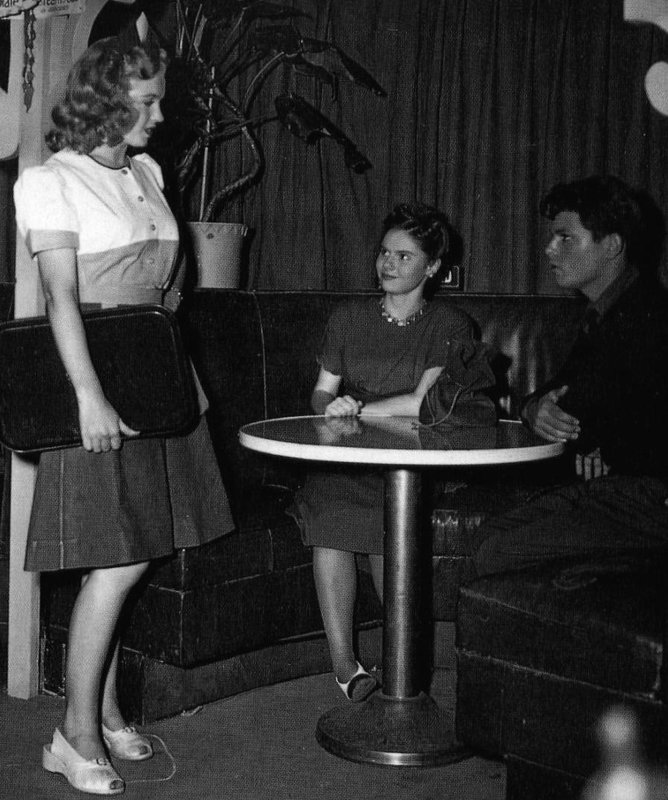 La deuxième scène de Marilyn Monroe à la 7ème minute du film: on la voit en train de servir, lorsque Gene Spooner (Dickie Moore), attablé avec Doris Martin (Ann E Todd), l'interpelle par "Miss" pour passer commande. Evie repart et Danny Jones (William 'Billy' Halop) arrive.
The second scene of Marilyn Monroe in the 7th minute of the film: we see her serving, when Gene Spooner (Dickie Moore), sitting at a table with Doris Martin (Ann E Todd), challenges her by "Miss" to place an order. Evie leaves and Danny Jones (William 'Billy' Halop) arrives.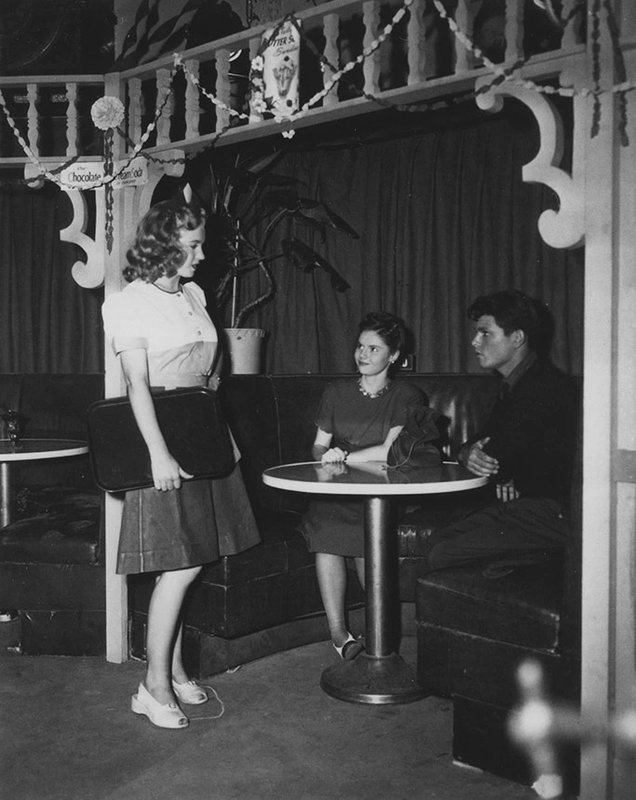 - captures -
Danny discute avec Gene et Doris quand Evie revient avec son plateau et sert la table (deux cocas), elle demande sèchement à Gene l'argent pour payer, et Danny lui lance la monnaie sur son plateau. Elle se retourne alors vers Danny avec un large sourire pour le remercier.
Danny is talking with Gene when Evie comes back with her tray and serves the table (two cokes), she curtly asks Gene for the money to pay, and Danny throws change at her on her tray. She then turns to Danny with a broad smile to thank him.
- captures -
---
Scène 3
La troisième scène de Marilyn Monroe à la 21ème minute et 25 secondes du film: on la voit servir la table où sont assis Willy Miller (Scotty Beckett) et Gene Spooner (Dickie Moore); Gene suivant du regard Evie et tournant la tête en sa direction quand elle s'éloigne.
The third scene of Marilyn Monroe at the 21st minute and 25 seconds of the film: we see her serving the table where Willy Miller (Scotty Beckett) and Gene Spooner (Dickie Moore) are seated; Gene follows Evie and turns his head in her direction as she walks away.
- captures -
---
Scène 4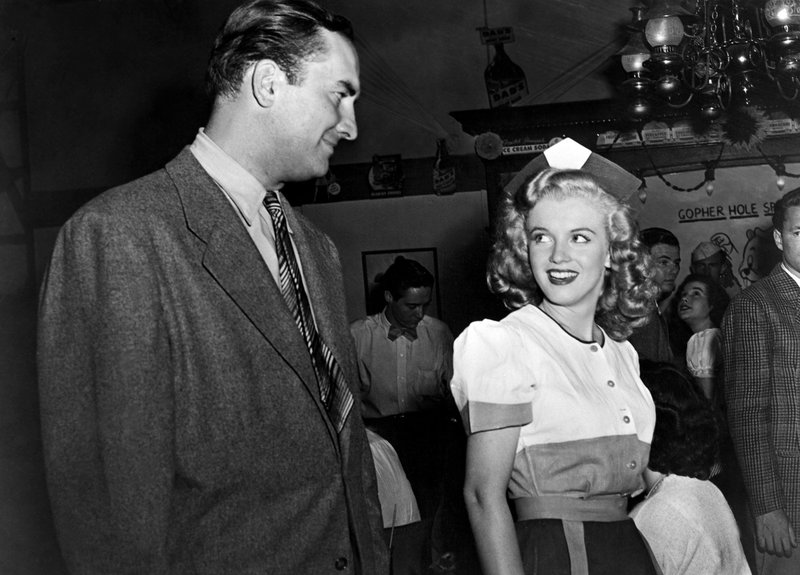 La quatrième scène de Marilyn Monroe à la 23ème minute du film: Jeff Carter (Donald Curtis) entre au Gopher Hole. En s'avançant, il passe à côté de Evie, qui se retourne en le fixant du regard et elle le siffle.
The fourth scene of Marilyn Monroe at the 23rd minute of the film: Jeff Carter (Donald Curtis) enters the Gopher Hole. As he walks forward, he passes next to Evie, who turns around staring at him and she whistles at him.
- captures -
---
© All images are copyright and protected by their respective owners, assignees or others.
copyright text by GinieLand.
06 novembre 2007
Dangerous Years

Les critiques
The reviews
---
The Daily Plainsman - April, 25, 1948
(USA)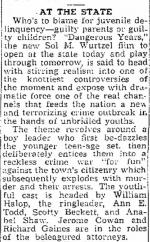 AT THE STATE
Who's to blame for juvenile delinquency - guilty parents or guilty children ? "Dangerous Years," the new Sol M. Wurtzel film to open at the state today and play through tomorrow, is said to bead with stirring realism into one of the knottiest controversies of the moment and expose with dramatic force one of the real charnels that feeds the nation a new and terrorizing crime outbreak in the hands of unbridled youths.
The theme revolves around a boy leader who first be-dazzles the younger teen-age set. then deliberately entices then into a reckless crime war "for fun" against the town's citizenry which subsequently explodes with murder and their arrests. The youthful cast is headed by William Halop, the ringleader, Ann E. Todd, Scotty Beckett, and Anabel Shaw. Jerome Cowan and Richard Gaines are in the roles of the beleagured attorneys.

À L'ÉTAT
Qui est responsable de la délinquance juvénile - parents coupables ou enfants coupables ? "Dangerous Years", le nouveau film de Sol M. Wurtzel qui sortira aujourd'hui et se jouera jusqu'à demain, perlera avec un réalisme émouvant dans l'une des controverses les plus nouées du moment et exposera avec une force dramatique l'un des véritables charniers qui nourrit la nation d'une nouvelle flambée de criminalité terrorisante aux mains de jeunes débridés.
Le thème tourne autour d'un garçon leader qui éblouit d'abord les jeunes adolescents, puis les attire délibérément dans une guerre criminelle imprudente "pour le plaisir" contre les citoyens de la ville qui explose par la suite avec des meurtres et leurs arrestations. Le jeune casting est dirigé par William Halop, le meneur, Ann E. Todd, Scotty Beckett et Anabel Shaw. Jerome Cowan et Richard Gaines sont dans les rôles des avocats assiégés.
---
The Anniston Star - September, 12, 1948
(USA) -
Drama Of Youth At Noble Today
"Dangerous Years," the startling film drama on juveline delinquency will be the feature attraction at the Noble Theatre today and Monday, starring William Halop, Ann E. Todd and Scotty Beckett.
"Dangerous Years" is a story of a group of average youngsters who are all too easily enticed through their hero-worship of a newcomer, who is older, more wordly and with easy money to flash, to engage in criminal assaults on the community. The local youngsters drop their juke box haunts and follow his tin whistle into bravado robberies, gaily conceived in a newly formed "night club". In the probings of Danny, the ring-leader, the film gathers momentum. He is brought to trial for a murder executed on one of these crime outings and the testomonies bring to light the scars of an unwanted, unloved babyhood which, despite later environment, compelled the urge for notice and resulted in the pitiful ruination of his young life.
Drame de la jeunesse chez Noble aujourd'hui
«Dangerous Years», le film dramatique surprenant sur la délinquance juvénile sera l'attraction principale au cinéma Noble aujourd'hui et lundi, avec William Halop, Ann E. Todd et Scotty Beckett.
"Dangerous Years" est l'histoire d'un groupe à peu près jeunes qui sont trop facilement attirés par leur culte du héros d'un nouveau venu, qui est plus âgé, plus mondain et avec de l'argent facile à flasher, pour se livrer à des agressions criminelles contre la communauté. Les jeunes locaux abandonnent leurs repaires de juke-box et suivent son sifflet en fer blanc dans des vols de bravade, gaiement conçus dans une "boîte de nuit" nouvellement formée. Dans les investigations de Danny, le meneur, le film prend de l'ampleur. Il est traduit en justice pour un meurtre exécuté lors de l'une de ces sorties criminelles et les témoignages mettent en lumière les cicatrices d'une enfance non désirée et mal aimée qui, malgré l'environnement ultérieur, a contraint l'envie de se faire remarquer et a entraîné la ruine pitoyable de sa jeune vie.
---
Motion Picture Herald - 1948
(USA) - par William A Weaver
Some of the causes of juvenile delinquency, and some of the adult policies designed to offset them, are explored interestingly here in a melodrama forcefully directed by Arthur Pierson.
Certaines causes de la délinquance juvéline et certains adultes policiers désignés pour les arrêter , sont explorés ici d'une façon intéressante avec vigueur dans ce mélodrame réalisé par Arthur Pierson.
---
Liste critiques et articles parus dans la presse d'époque
List of reviews and articles published in the period press
source liste sur AFI Catalog
Box Office - 20 December 1947
Film Daily - 19 December 1947
Hollywood Reporter - dates:
18 July 1947 (p.14)
25 July 1947 (p.18)
12 December 1947 (p.3)
Independent Film Journal - 2 August 1947 (p.39)
Variety - 17 December 1947 (p.8)
---
© All images are copyright and protected by their respective owners, assignees or others.