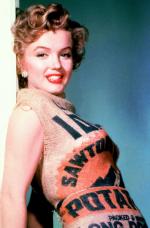 Cette séance photos de Marilyn Monroe vêtue dans une mini robe taillée dans un vrai sac à pommes de terre, reste l'une des plus célèbres car abondamment diffusée dans divers journaux aux Etats-Unis au cours de l'année 1952.
Le photographe serait Earl Theisen et il est fort probable que la séance a lieu en février 1952, en même temps que d'autres prises de vues par Theisen.

This photo shoot of Marilyn Monroe dressed in a mini dress cut from a real potato sack, remains one of the most famous because it was widely distributed in various newspapers in the United States during the year 1952.
The photographer would be Earl Theisen and it is highly likely that the shoot will take place in February 1952, along with other shots by Theisen.
---
L'Histoire
Il existe différentes versions de l'histoire à l'origine de cette séance:
1/ Quelqu'un aurait déclamé que Marilyn était si belle, qu'elle parviendrait à rendre un sac à pommes de terre 'sexy'. Et c'est pourquoi cette séance photos aurait donc été organisée.
Dans la même version mais avec une variante: ce serait Marilyn elle-même qui aurait dit qu'elle pourrait rendre un sac de pommes de terre 'beau et sexy'.
2/ Ce serait à la fin de l'année 1951 à une soirée de fête de fin d'année au Beverly Hills Hotel OU ce serait le 26 janvier 1952 à la cérémonie des "Henrietta Awards", que Marilyn Monroe est vêtue d'une robe rouge au côté très décolleté, sa tenue est jugée "provocante"; une journaliste aurait décrite Marilyn comme "ordinaire et vulgaire", allant même jusqu'à affirmer que Marilyn aurait meilleure allure vêtue d'un sac à patates. La Fox (par son publicitaire Roy Craft) décide donc d'organiser une séance photos faisant ainsi porter à Marilyn une robe en sac à patates, spécialement conçue pour elle et montrant ainsi le sens de l'humour de l'actrice qui a décidé de prendre la critique au mot.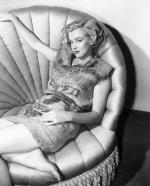 Marilyn a en fait déjà posé dans une robe sac à pommes de terre (Deschutes) vers octobre 1951 sous l'objectif du photographe Earl Theisen (voir la séance de 1951, Los Angeles - Marilyn en Sac à Patates "Deschutes" ); mais les photographies n'étaient sans doute pas assez "sexy", le sac qu'elle portait en robe était plus large, et ses poses plus sages (assise dans un large fauteuil), ce qui expliquerait la raison pour laquelle la Fox refait faire une séance photos, avec un autre sac à pommes de terre (Idaho) en robe plus courte, plus moulante et prenant des poses de "pin up".
Quelque soit la version, le service publicitaire des studios de la Fox s'est surtout appuyés sur les critiques vestimentaires faites sur Marilyn dans la presse pour diffuser les photographies de cette séance, en envoyant une bonne centaine de photographies aux rédactions, et tel qu'on peut le lire dans les divers articles publiant les photographies (les premiers articles sont publiés fin février 1952, soit peu de temps après la cérémonie des Henrietta où Marilyn s'est beaucoup faite critiquée par sa robe rouge d'Oleg Cassini).
Il semble que les tirages originaux de cette séance sont aujourd'hui très rares car Marilyn n'aurait pas aimé ces photographies et c'est à la fin des années 1950s (en 1958 ou 1961 selon les versions), qu'elle aurait barré de croix rouge la planche contact originale qui se trouvait au service publicitaire de la Fox.
Les photographies connues aujourd'hui de cette séance proviennent donc des tirages envoyées par la Fox aux services de presse à l'époque; au début des années 1980s, un tirage original est retrouvé dans un garage: la photographie est alors éditée en poster, vendue par la chambre de commerce de Twin Falls et sert de support publicitaire pour promouvoir les pommes de terre.
Le musée de la pomme de terre de l'Idaho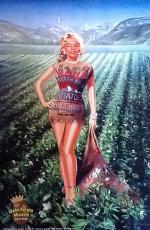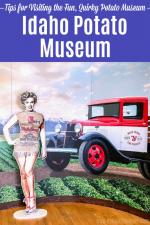 Le sac à pommes de terre
Sur la robe faite en toile de jute d'un sac à pommes de terre,
y est inscrit:
US N°1 Idaho Potatoes
Sawtooth Brand Potatoes
Packed & Shipped by
Long Produce
Twin Falls, Idaho
100 lbs. net
A Twin Falls (ville de l'Idaho), Bill Long, son frère Jack Long et un ami Bernie Reiss ont travaillé à mettre les pommes de terre en sacs pendant l'hiver 1951. Quand les photographies de Marilyn vêtue en robe sac paraissent dans la presse au premier trimestre de l'année 1952, Bill Long demande à Bernie d'écrire une lettre de remerciement à la 20th Century Fox pour la publicité gratuite, accompagnée d'un sac de pommes de terre pour Marilyn; mais Marilyn n'aurait jamais reçue le cadeau: "Il y avait pénurie de pommes de terre à cette période, et des employés du service publicitaire ont tout volé. J'en ai jamais eu une seule. C'est pourquoi je demande toujours: « Pouvez-vous faire confiance à un homme du service de publicité ou non ? »"
En retour, les fermiers reçoivent une photographie dédicacée par Marilyn, que Long accroche au mur de son bureau et qui restera six ans, jusqu'à ce que leur entreprise soit rachetée par une autre compagnie et que Bill Long décède d'une attaque cardiaque, la photographie disparaît.
---
The Story
There are different versions of the story behind this session:
1 / Someone would have claimed that Marilyn was so beautiful, that she would manage to make a potato sack 'sexy'. And that's why this photoshoot would have been organized.
In the same version but with a variant: it would be Marilyn herself who would have said that she could make a bag of potatoes 'beautiful and sexy'.
2 / It would be at the end of 1951 at an end-of-year party at the Beverly Hills Hotel OR it would be on January 26, 1952 at the "Henrietta Awards" ceremony, that Marilyn Monroe was wearing a red dress with a very low neckline, her outfit is considered "provocative"; a journalist would have described Marilyn as "cheap and vulgar", even going to say that Marilyn would look better wearing a sack of potatoes. The Fox (through its advertising agent Roy Craft) therefore decides to organize a photoshoot making Marilyn wear a dress in a potato sack, specially designed for her and thus showing the sense of humor of the actress who decided to take criticism at its word.
Marilyn has in fact already posed in a potato sack dress (Deschutes) around October 1951 under the lens of photographer Earl Theisen (see the 1951, Los Angeles - Marilyn en Sac à Patates "Deschutes" ); but the photographs were undoubtedly not enough "sexy", the bag which she carried in dress was larger, and her poses wiser (sitting in a large armchair), which would explain the reason why the Fox is doing again a photoshoot, with another sack of potatoes (from Idaho) in a shorter, more tight-fitting dress and taking "pin-up" poses.
Whatever the version, the publicity department of the Fox studios mainly relies on the clothing criticisms made on Marilyn in the press to distribute the photographs of this session, by sending a good hundred photographs to the editorial staff, and such as we can read it in the various articles publishing the photographs (the first articles were published at the end of February 1952, that is to say shortly after the Henrietta ceremony where Marilyn was much criticized for her red Oleg Cassini dress).
It seems that the original prints of this session are very rare today because Marilyn would not have liked these photographs and at the end of the 1950's (in 1958 or 1961 depending on the versions), she would have crossed out, with a red cross, the original contact sheet at the Fox publicity department.
The photographs known today of this session therefore come from the prints sent by Fox to the press services at the time; in the early 1980s, an original print is found in a garage: the photograph is then published as a poster, sold by the Twin Falls Chamber of Commerce and served as an advertising medium to promote potatoes.
The potato sack
On the burlap dress of a potato sack, is written there:
US N°1 Idaho Potatoes
Sawtooth Brand Potatoes
Packed & Shipped by
Long Produce
Twin Falls, Idaho
100 lbs. net
In Twin Falls (city in Idaho), Bill Long, his brother Jack Long and a friend Bernie Reiss worked to put the potatoes in sacks during the winter of 1951. When the photographs of Marilyn dressed in the sack dress appears in the press in the first quarter of the year 1952, Bill Long asks Bernie to write a letter of thanks for the free publicity to the 20th Century Fox, accompanied by a bag of potatoes for Marilyn; but Marilyn would never have received the gift: "There was a potato shortage on then, and the boys in publicity stole them all. I never saw one. It just goes to show why I always ask, 'Can you trust a publicity man or can't you?' "
In return, the farmers receive a photograph autographed by Marilyn, that Long hangs on the wall of his office and which will remain for six years, until their business is bought by another company and Bill Long dies of a heart attack, the photograph disappears.

---
---
- Dans la presse -
The Syracuse Herald Journal, 25/02/1952 - USA
AP Wire Photo, agence de New York, 25/02/1952 - USA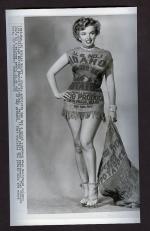 Rapid City Journal, South Dakota, 29/02/1952 - USA
Brainerd Daily Dispatch, 01/03/1952 - USA



The Independent, 12/03/1952 - USA
The Daily Register, 13/03/1952 - USA
The Mirror Australia - 22/03/1952 - AUSTRALIE




The Truth, 16/03/1952 - AUSTRALIA
Honolulu Advertiser, 17/03/1952 - USA
Stare, magazine n°6, 1952 - USA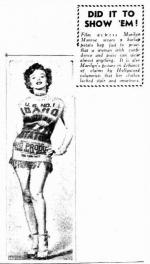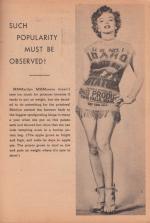 The Times News, Twin Falls, Idaho, 10/1977 - USA
The Times News, Twin Falls, Idaho, 02/01/1982 - USA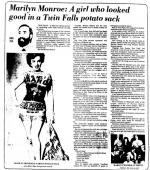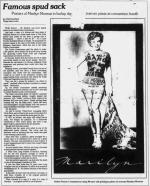 The Times News, Twin Falls, Idaho, 15/07/1984 - USA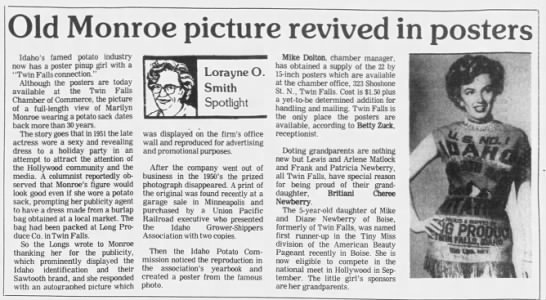 The Times News, Twin Falls, Idaho, 18/03/2008 - USA

- sources articles de presse -
Forum ES
article "Womens History Month" sur seletyn.com
---
Bien qu'il semble que le photographe de cette séance soit Earl Theisen,
Although the photographer for this shoot appears to be Earl Theisen,
Earl Theisen (agence photofest + getty qui gère les droits de Theisen)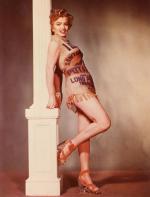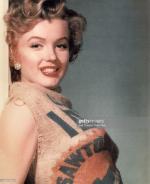 on retrouve pourtant parfois d'autres noms de photographes
selon des sources pourtant plutôt sérieuses:
however, we sometimes find other names according to rather serious sources:
Gene Kornman (information presse d'époque)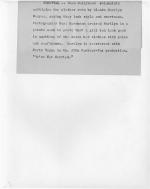 Laszlo Willinger (sur artnet)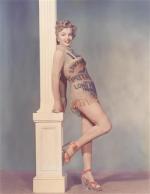 ---
- Magazines -
World Picturial, 1952 - JAPON
Flix, 1953 - AUSTRALIE
Sun Valley Magazine, 12/2015 - USA
---
sources internet
article "If there had been internet in 1951" sur timeline.com
article "Marilyn Monroe in a potato sack" sur dangerousminds.net
article "Hollywood Flashback" sur hollywoodreporter.com
---
© All images are copyright and protected by their respective owners, assignees or others.
copyright text by GinieLand.