Grauman's Chinese Theater
6928 Hollywood Boulevard,
Los Angeles, Californie

Le Grauman's Chinese Theatre (traduit littéralement par le "Théâtre chinois de Grauman") est une salle de cinéma située au 6928 Hollywood Boulevard, à Los Angeles en Californie. Elle se situe également le long du très célèbre et historique trottoir Walk of Fame.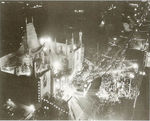 Débuté en janvier 1926, sous l'impulsion d'un groupe d'investisseurs mené par Sid Grauman, propriétaire du Grauman's Egyptian Theatre situé à proximité et ouvert en 1922, cette salle a ouvert le 18 mai 1927 après 18 mois de travaux. L'inauguration de la salle a lieu avec le réalisateur américain Cecil B. DeMille qui y présentait son film King of Kings (Le Roi des rois) (photo ci-contre).
Le Grauman's Chinese Theatre a été le lieu de plusieurs avant-premières, de soirées d'anniversaires et de 3 cérémonies des Oscars avant le 21ème siècle. En 2001, le Grauman's Chinese theater est intégré au centre commercial Hollywood and Highland. Ses six salles de cinéma sont gérées par le groupe Mann Theatres et le Kodak Theater, situé juste derrière, et accueille désormais chaque année la cérémonie des Oscars.
La salle, qui compte parmi les plus célèbres du monde, présente en avant-premières la plupart des grandes productions hollywoodiennes, dans des conditions de projection parfaites. Ses horaires d'ouverture vont de midi à minuit.


À l'extérieur, devant ce bâtiment, les plus grandes stars du cinéma immortalisent leur passage en laissant leurs empreintes de pieds et de mains dans le ciment, et ce, depuis les années 1920.
Il existe plusieurs versions qui seraient à l'origine de cette cette coutume hollywoodienne. L'actrice Norma Talmadage aurait accidentellement marché dans le ciment frais. Mais dans une courte interview donné le 13 septembre 1937, Sid Grauman raconte comment l'idée lui serait venue: "par pur accident. J'ai marché dans le ciment, pendant que le théâtre était en construction. Donc, j'ai demandé à Mary Pickford de faire la même chose". Quand à Jean Klossner, le chef de chantier à l'époque, raconta qu'il a "signé" son travail dans le ciment et qu'ainsi, lui et Grauman ont pensé que c'était une bonne idée à développer. Sa signature et l'empreinte de ses mains, datant de 1927, sont encore visibles aujourd'hui.
La première grande star à mettre ses empreintes est Norma Talmadge, suivie ensuite de Douglas Fairbanks, le troisième partenaire financier du théâtre.
Chaque année, trois nouvelles empreintes s'ajoutent à la collection qui compte pas moins de 200 empreintes et signatures différentes de célébrités.
>> Les stars laissent leurs empreintes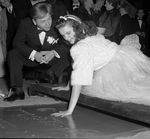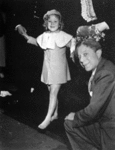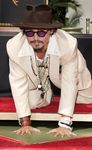 Les empreintes les plus originales sont:
les verres de lunettes d'Harold Lloyd,
les cigares de Groucho Marx et George Burns,
les baguettes magiques des acteurs d'Harry Potter Daniel Radcliffe, Emma Watson et Rupert Grint,
les jambes de Betty Grable,
le poing de John Wayne,
les genoux de Al Jolson,
les lames de patins à glace de Sonja Henie,
les nez de Jimmy Durante et Bob Hope,
les pistolets des acteurs de western William S. Hart et Roy Rogers,
les sabots du cheval "Tony" de Tom Mix, ceux de "Champion" de Gene Autry, et ceux de "Trigger" de Rogers,
mais aussi les personnages de R2-D2 de Star Wars, de Donald Duck.
C'est le 26 juin 1953 que Marilyn Monroe et Jane Russell laissent ensemble leurs empreintes de mains et de pieds, ainsi que leur signatures, servant aussi de promotion de leur film Gentlemen Prefer Blonds.
>> Voir les photos de Marilyn au Grauman's Chinese Theatre
>> sources web:
Site officiel manntheatres.com
L'histoire du théâtre sur wikipedia.fr
Histoire et Liste des Personnalités sur wikipedia.org
Anecdotes sur britannica.com sur seeing-stars.com et sur historichollywood.biz
Photos d'empreintes sur album FlickR de Floyd B Bariscale